"Only the big industries need digital marketing!"
"I have a small business, why would I need digital marketing or SEO?"
"Only the youngsters use social media, so what's the use of digital marketing when I would not be able to reach everyone?"
What do all of these questions have in common?
These all are just Digital Marketing Myths which you should not dwell upon.
The information I'm about to offer you will startle you.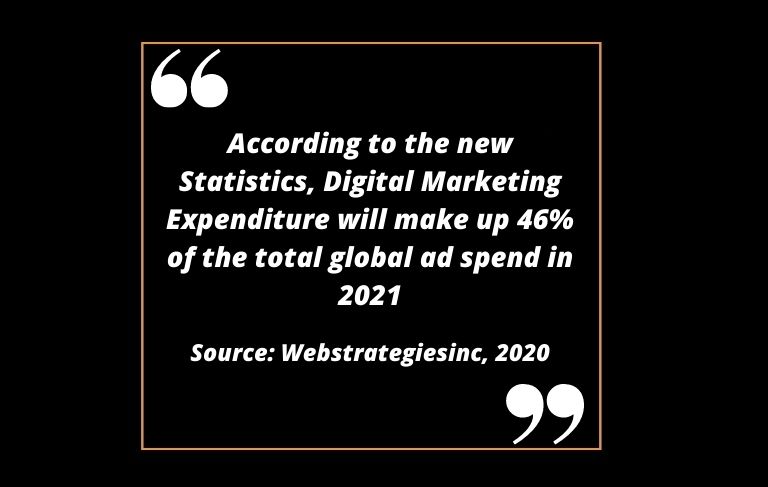 This statistic should be enough to burst your myth regarding digital marketing. Digital marketing is the most expanding field not only in America, Canada, or England but globally.
Still, confused?
Don't worry! I am here to bust all the common myths. So, keep reading to know why all those digital marketing myths, which you have been hearing till now, are not true.
Also, we will discuss some interesting facts about digital marketing.
So, let's get started!
Data About Success of Digital Marketing
So that they can derive immense profit in return.
This data should be enough to let you know how fast the world is moving towards digital marketing by leaving traditional marketing behind.
Let's get to the myths now.
Digital Marketing Is For Big Businesses
This is one of the most common digital marketing myths among new businessmen is that they think Digital Marketing is only for the big industries or organizations.
So, as a small company owner, why do I need that?
This myth is not true at all.
Every business can use digital marketing, whether you have only a single employee or you have thousands of them. You can always use Digital Marketing to grow your business further on the next level.
Even if you have a local small business, it would need Local SEO, the smallest part of digital marketing, to bring more and more customers to your shop.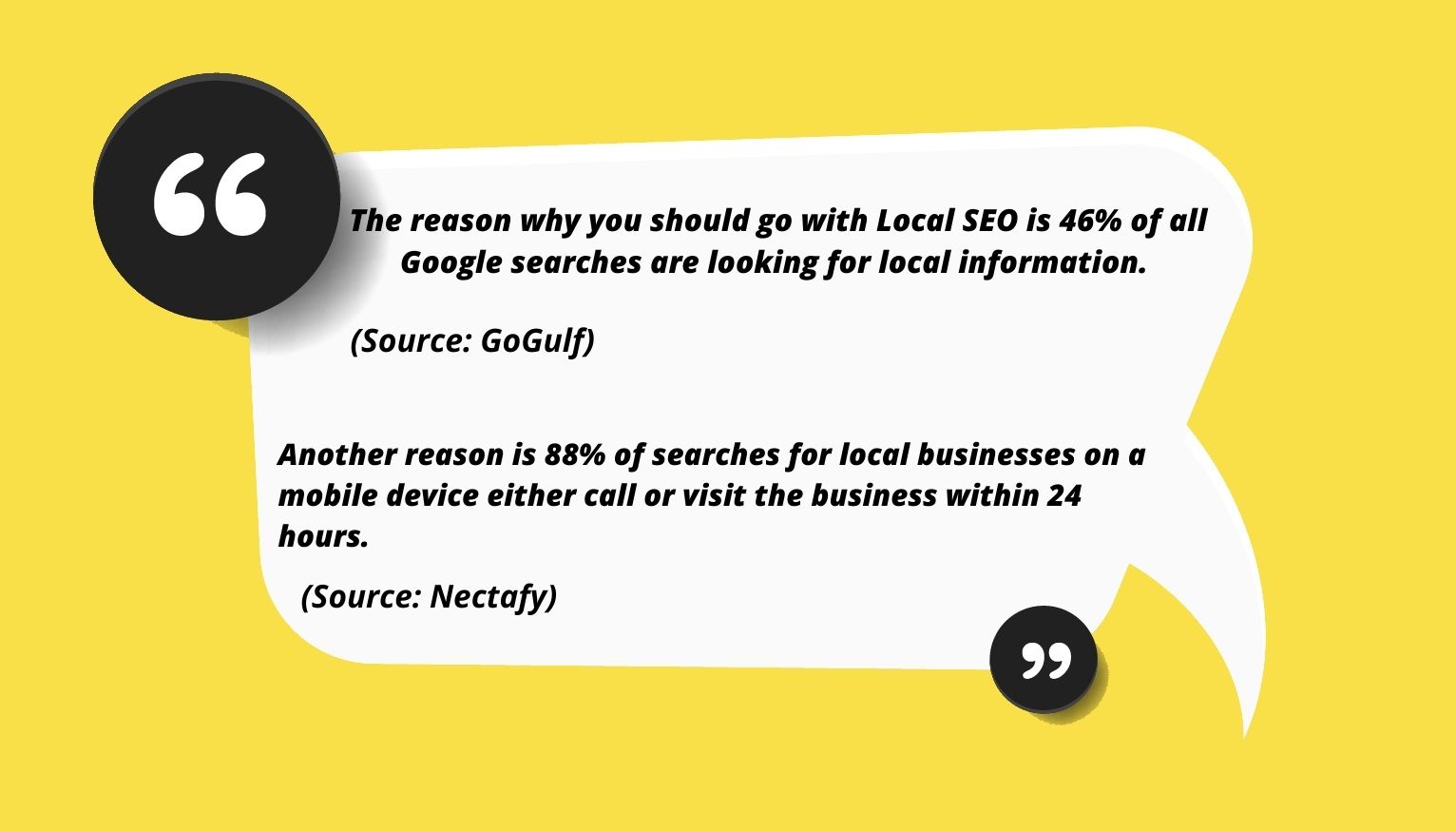 These statistics should be enough to tell you why your small business should choose Local SEO.
Now the question that might be buzzing in your mind is; "Okay! I got the point. I have a small business so I should go with Local SEO. but, what if I have a small online business?"
Well, in that case, Digital Marketing is much more important.
Let's say if you are a freelance writer, designer, or developer and you need to find more clients for that.
Digital marketing can do that for you.
It will create a website for you and work with all of your social media platforms. A Digital Marketing expert will work on the rankings of your website and try their best to get you more clients.
So, the thing which you have been hearing your lifetime is that Digital Marketing is only for big businesses is not true at all.
Digital marketing helps in all kinds of businesses.
If My Competitors Are Not Doing It, Why Should I?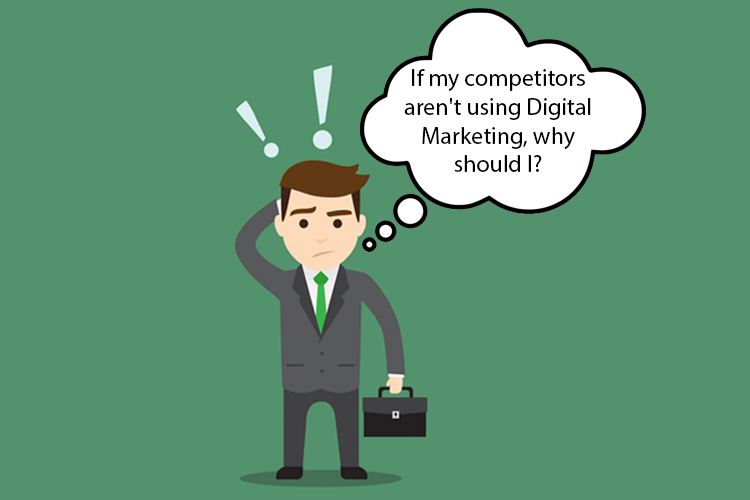 It is also one of the most common digital marketing myths. Many business owners think that if my competitors aren't using digital marketing then why should I do that?
However, it is the sole reason you should use digital marketing to stay ahead of your competition.
This will also expand your brand exposure before your competitors and you will reach your target audience more effectively than your competitors.
Hence, you will see better results in clients and customers than your competitors.
EARLY BIRD GETS THE WORM
Heard this quote before?
This phrase is the best fit according to the situation.
It's a proverb that highlights the importance of starting something sooner than others in order to get the best results.
This is one of the digital marketing facts is that, if your competitors are not doing so you must do that.
Then, go with major Digital marketing tactics like; Email marketing, Video content, SEO, and many more other things.
I hope now you have got an understanding of why it is so important to go with digital marketing services before your competitors.
Having A Business Website Is Just Enough
Really??? That's not true at all.
Just imagine, If you only have a business website how will you make sure that your targeted audience will find it?
So, How can you say that having a website is enough for Digital Marketing?
And what about social media marketing?
How would you target the audience that is sitting on Social Media with your website?
You can't. That's why you need Digital Marketing.
Digital marketing ensures the targeting of both the audience on Google and social media.
Digital Marketing fact here is, you need to have strategies, like SEO Content creation, along with the website to grow more and to come into the eyes of the right audience.
Now, Let's Understand further Why Having A Website Is Not Enough In Digital Marketing
Without Digital Marketing, A Website Is Just An Online Business Address
If you have a website but don't go with SEO or not promote it on other social media platforms, then your website would be just an Online Business Address.
It would be like a person getting lost in the crowd with no identity until you show up.
And for showing up your presence, you need Digital Marketing so that people can find you.
Digital marketing grants identity to your Online Business Address.
It makes you unique in the crowd. It also helps you know your audience and target them.
Also, if you want to go with SEO or PPC, you must have a website for that.
I hope now it is clear to you why having a website only is not enough.
Email Marketing Doesn't Get Desired Results
There are lots of people who share their experience of Email marketing and say that Email marketing doesn't get desired results, probably because their Email content doesn't match with the interests of the recipient.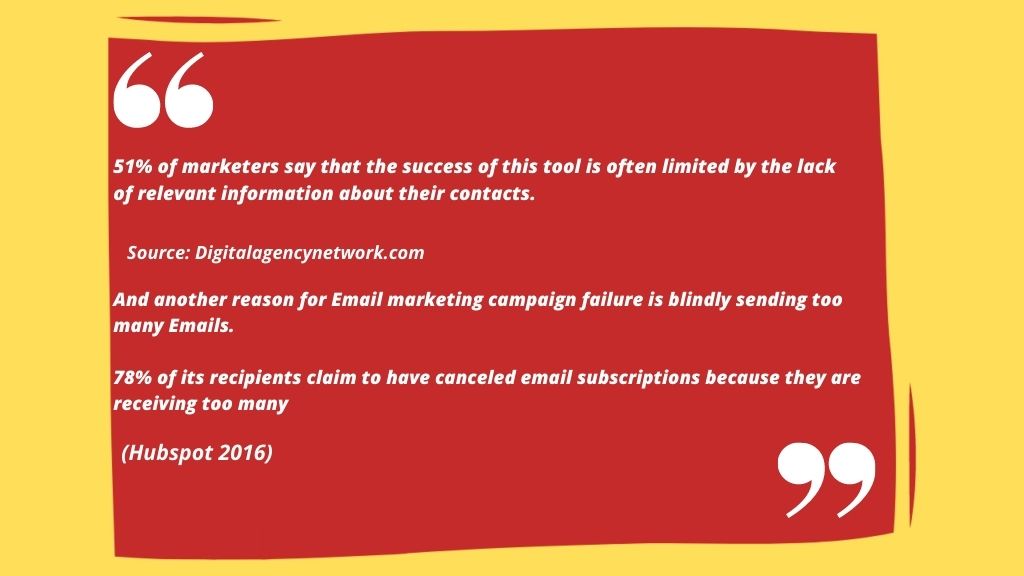 Email marketing is the smallest part of it and this is one of the digital marketing facts is if you successfully want to run your Email marketing campaign, you need to stop flooding emails that are not relevant to your recipients.
So, now we have got the point of why Email Marketing does not work sometimes.
But the thing is,
Sometimes, Email marketing campaigns don't work, it doesn't mean at all that it is never going to work.
Do you know 89% of marketers consider their Email Marketing Strategy successful?
Source: campaignmonitor
Yes, this data is absolutely true!
Email Marketing campaigns could be very successful if you apply all the techniques properly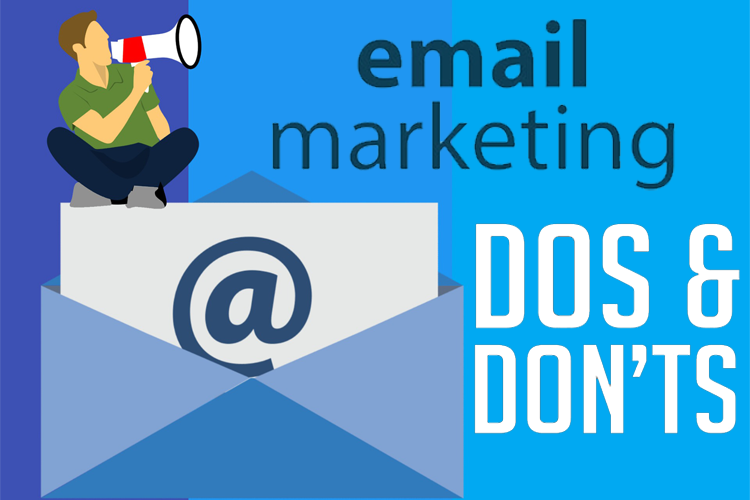 What are those techniques:
A) Make Sure You Create An Impression
When writing an email, make sure that the title of the content grabs the attention of the recipient.
If you are not creating such content, then you are just wasting your Time and Money.
B) Make sure your Email communicates
It is totally useless to write content that speaks the bookish language. Nobody is going to read it.
Your content must be in a conversational form.
You need to talk to your recipient.
C) Make Sure It Makes Them Take Action
It is total stupidity if you send the mails to your desired audience but don't provide them an option to take action.
Then, what is the point of writing a mail, if you are not allowing your audience to take action after they read your mail?
So, keep these things in your mind while writing emails for your desired recipients and join the club of 89% of marketers who consider their Email marketing strategy successful.
Read more: Email Marketing: Budding Trends Busted!
It Will Just Take A Couple Of Days To Show Results
No, that's not true at all. You will not see any results for 6 months.
Shocked??
But that's true!!! There's no chance of seeing any results before 6 months no matter how much you try.
Though it takes too much time, they are worth the wait.
Also, the time duration of seeing results depends on the Business as well.
For instance, it will take a long time to show the results if the market is saturated with so many businesses and renowned brands dealing in the same products or services as yours.
It happens due to the crowd of other brands.
In such cases, it will take a little longer for the brand to create its unique identity in the crowd.
Besides this, the results depend on your budget as well.
A higher invested budget means more time and effort invested in Digital marketing. The more time and effort you put in, the faster you will see results.
And one last thing is that the time duration of getting results depends on your Focus Area.
This means that whichever strategy you use to increase the number of visits to your website, whether organic SEO or PPC, will be successful.
You might see faster results with PPC but you will start getting fewer clients once you stop doing PPC.
So, you would want your company to align both the campaigns SEO and PPC.
Overall, the time duration of the results depends on the various factors which I have explained above.
But, don't expect any results before 6 months and always keep this thing in your mind.
Digital Marketing is not the destination but a journey!
Digital Marketing Is Not As Effective As Other Marketing Tactics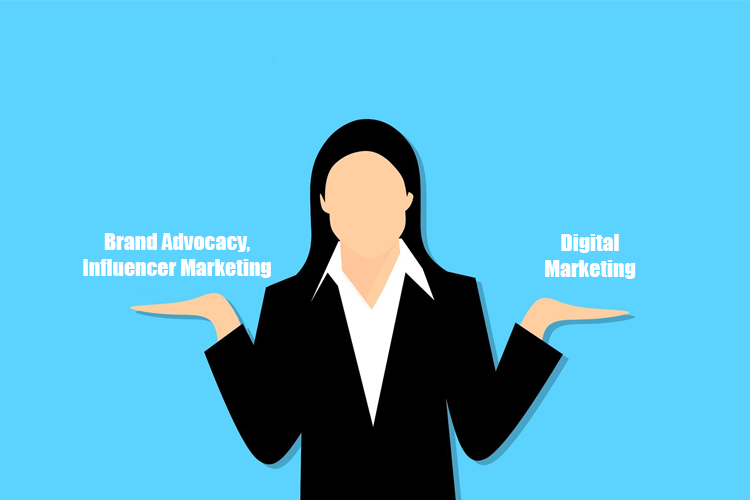 Next on our list of Digital Marketing myths is other marketing tactics are more effective and Digital Marketing should not be prioritized.
Sometimes, the question that might buzz in your mind is "Is Digital Marketing Worth It?"
Well, the answer is, YES! 100% YES!!
If you are still believing that other marketing tactics like Referral, brand advocacy, influencer marketing, and affiliate marketing are much more beneficial than digital marketing, then you are wrong.
Because more than 70% of internet users research companies before visiting or buying their products.
Source: studio22.com.au
Here you have a good chance of converting those searchers into your customers with the help of Digital Marketing.
If you don't prioritize Digital Marketing for that 70% of the searchers, you will end up losing potential customers.
It is still not too late to go with Digital Marketing.
Nobody Reads The Long Paragraph Content on Websites
It is one of the most famous digital marketing myths that nobody reads the content on websites.
It is not like nobody reads the content. People do read your content if it is worth reading, and you have given full information about everything properly.
People only read word-by-word content if the reader is genuinely interested in it.
So, the thing is, you must engage them in your content otherwise your reader will behave as usual by skipping the content and read-only highlighted keywords, subheadings, bullet lists, and half the word count.
Overall, you need to write attractive content for your website so that your readers will actually read that.
Rules For Writing Content On Website
1. Before writing content, you must have the buyer persona of your audience. You must have an idea about what kind of people are going to read your content.
2. You must follow the Cone Principle For Information model while writing content for a website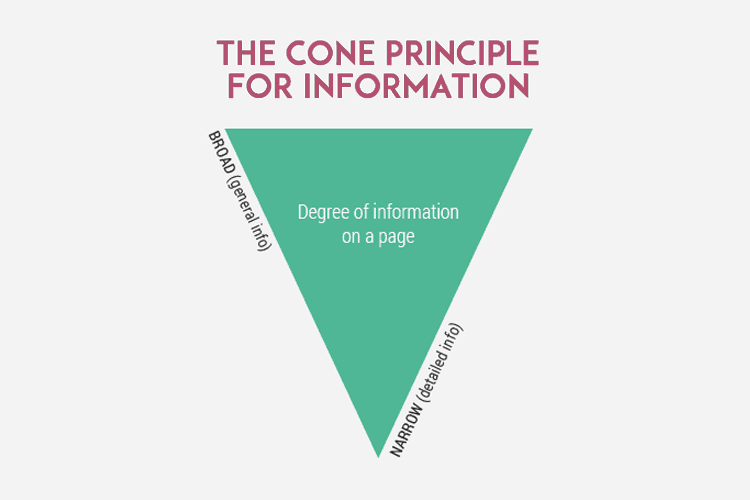 3. Make use of simple conversational language and short paragraphs. Your content must be easily readable.
4. Always write in an Active voice. Always denote your user by using words like; "you", "yourself" and "let's".Try to have a conversation with your audience by using such words.
5. Give them real-life applicable tips in your content.
If you write content while keeping such things in mind, you will definitely get the audience reading your content.
Read more: Step-by-Step Content Creation Guide [Writing to Publishing Content Successfully]
Only Young People Use Social Media
That's not true and I will prove it with facts and data. Let's discuss the data of each social media platform.
Let's start with one of the most famous social media platforms i.e., Facebook.
Age of internet users who use Facebook
86% of people ages 18-29 use Facebook
77% of people ages 30-49 use Facebook
51% of people ages 50-65 use Facebook
34% of people that are 65+ years old use Facebook
So, if you are still thinking that only young people use Facebook then get this thing out of your mind.
INSTAGRAM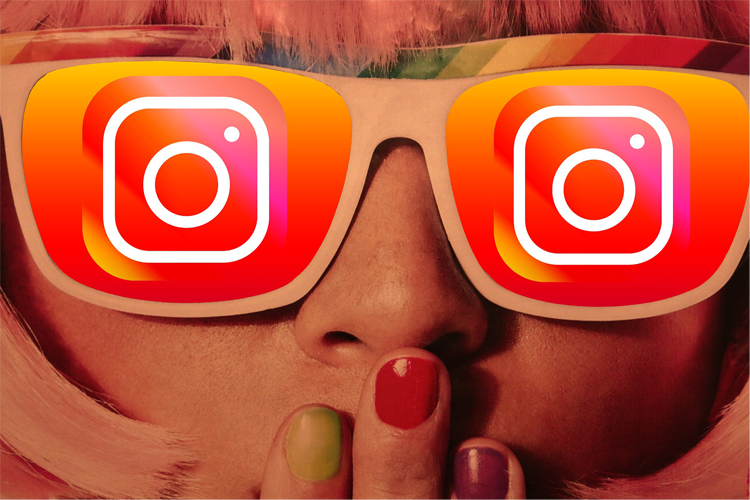 Age
67% of people ages 18-29 use Instagram
47% of people ages 30-49 use Instagram
23% of people ages 50-64 use Instagram
8% of people that are 65+ years old use Instagram
PINTEREST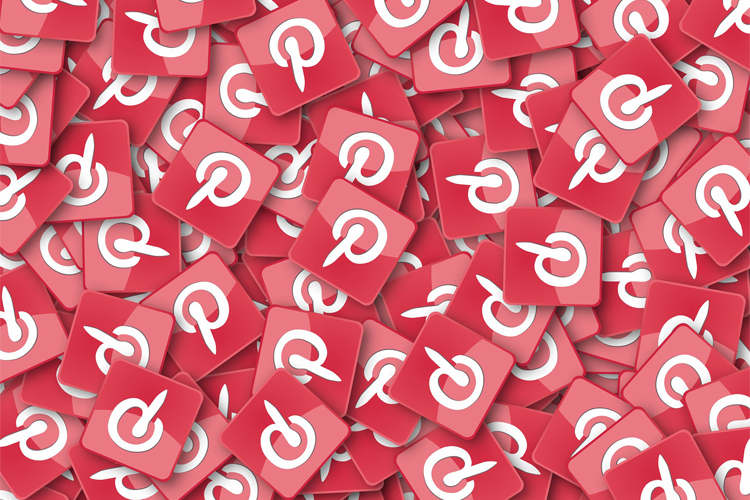 Age
34% of people ages 18-29 use Pinterest
35% of people ages 30-49 use Pinterest
27% of people ages 50-65 use Pinterest
15% of people that are 65+ years old use Pinterest
TWITTER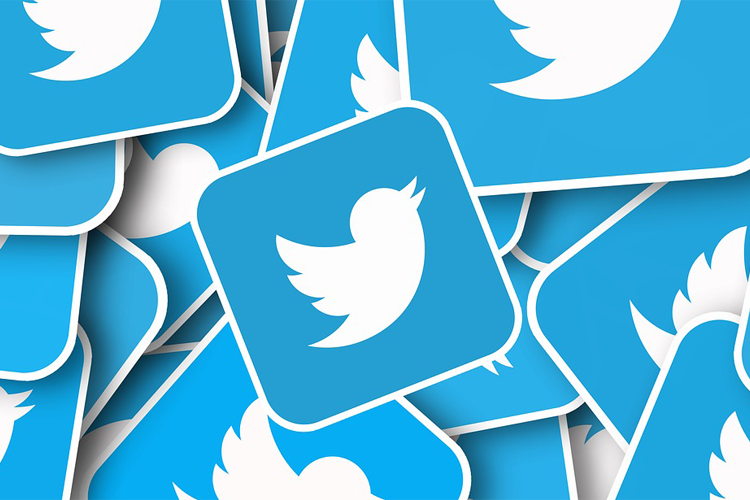 Age
38% of people ages 18-29 use Twitter
26% of people ages 30-49 use Twitter
17% of people ages 50-64 use Twitter
7% of people that are 65+ years old use Twitter
LINKEDIN
Age
21% of people ages 18-24 use LinkedIn
60% of people ages 25-34 use LinkedIn
17% of people ages 35-54 use LinkedIn
3% of people that are 55+ years old use LinkedIn
Source: khorous.com
These facts should be enough for you to know that it is not true that only young people use social media.
People between the ages of 30 to 55 are also on social media.
So you can also target those people.
You can take advantage of digital marketing if you properly target the right audience of the right age group.
What Is The Need Of Having An Account On Every Social Media? 
That's not true!!! To enhance your brand awareness, your business must have an account on every social media platform.
One profile is not enough at all.
Because your target audience is present on every social media platform.
So you can't neglect any platform.
Who knew that social media might help you generate leads. Also, if you share the links of your website page through social media, it will enhance the website traffic.
Your social media accounts act as a sales funnel- a process through which a lead becomes a customer.
With social media, you have a chance of your post or brand going viral.
Of course, it is not that easy, but you have a chance if you use social media.
Through social media and being direct there with your audience, can get you to know better about market behavior.
Also, you can keep an eye on the competition. When you use social media, you can easily watch out for your competitors and plan accordingly.
This is the advantage of digital marketing if you have your business account on every social media platform.
Read more: The Impact of Digital Media – The Society, Future, and Our Lifestyle.
SEO Doesn't Work
Sometimes, when SEO doesn't work and you keep asking questions to yourself "is SEO favorable?"
But, there are several reasons behind it that you need to understand why SEO doesn't work sometimes.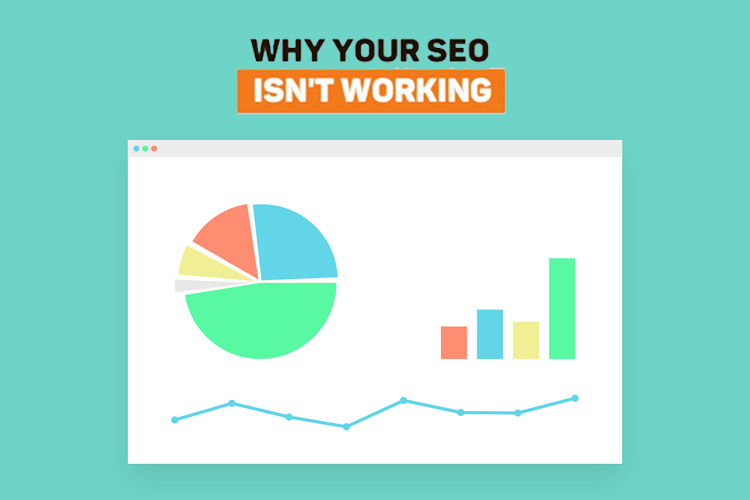 If SEO isn't working in your favor, it is because your strategy is too bad or the SEO Expert you have chosen is not appropriate.
Another reason why SEO is not working in your favor is: you are not tracking the data.
When you don't track your data, you will never be able to understand where the problems are going.
Another reason is, the content published on your website is too bad or is not optimized properly.
No Interlinking is also one of the reasons why SEO doesn't work.
Using Black Hat SEO Techniques is also a reason why the ranking of your website is decreasing.
Here are some of the reasons why SEO does not work sometimes.
Working on SEO is an advantage of digital marketing. If you take care of all these things, SEO will work out in your favor for sure!
Read more: What Are SEO Services & What's Included in SEO Services Provided by Digital Marketing Agencies?
BONUS POINT:
Free Resources To Learn Digital Marketing In 2022
https://www.youtube.com/channel/UCNp0z57JXTQHm6S7wqTKC_A
Time to Wrap Up!
Still thinking about how worthy Digital Marketing is?"
Yes, absolutely!!! Digital marketing is worth it! It is worth each coin of your hard-earned money!
Here we have seen all the common digital marketing myths that are popular in our society!
If you really want to grow your business and generate more traffic and leads, you need to get out of these myths first.
FAQs
Question 1: I Have A Small Business Selling Earrings Online, Does Digital Marketing Suit My Business?
Yes, digital marketing absolutely suits your business. It is for every type of business.
Question 2: What Are Those Techniques That Come Under Local Seo?
Local SEO is for those who have Local shops and stores and want to target people on a geographical location basis.
It consists of techniques like;
GMB(Google My Business)
3 Map Pack Rankings
Reviews and Ratings
Citations
Social media
Ads campaign
Question 3: Is It True It Will Take Only 6 Months To Get Results After Doing Digital Marketing?
Well, it depends on what level you want your website and business to reach.
Question 4: How Can I Make My Readers Read My Contents On A Website?
For that, you need to keep some rules in your mind that I have already mentioned above in the article.
Question 5: Do I need to change the SEO Expert if it doesn't work in my favor?
Well, you first need to find out where you are making mistakes. If your SEO strategy is poor then you need to work on your strategy and if there is something wrong with your SEO expert then you need to change him.