If you already have experience in blog writing, you know how much effort it takes.
From researching on the new topic to pressing the publish button, it is a very lengthy process and takes even days to write a blog.
And when you don't get any results or traffic even after working hard for days, it could be a major letdown for you.
Then, you might keep asking yourself the question "how to write a blog post that drives traffic?"
Well, sometimes it happens to almost everyone.
Why? Because there are about 70 million posts being published each month by WordPress users.
Source: optinmonster.com
Such a crowded place it is, making it difficult for blogs to rank #1 on Google.
But don't worry! We have an ultimate solution for this problem.
Here I have brought you blog writing tips to increase Google ranking.
So, let's get started and dive into the ocean of Blog Writing Tips.
What Does Blog Ranking On Google Means?
Blog ranking on Google means getting your blog listed in search results when somebody searches by the relevant keywords.
As a content writer of the website, it should be your fundamental aim to get your blog rank high on G
Google.
Now, just answer a simple question.
How many times do you even go to the second page of the search results?
Never.
Right?
And trust me, everyone else out there does exactly the same.
I hope now you have got an idea about how important it is to rank high on the Google search engine results page.
If your blog is not ranking on the Google search engine results page, nobody will ever get to see your blog ever.
It is important for your blog to rank high on the Google search engine results page because this is exactly where the traffic comes from.
So, now I am going to tell you how to write a blog post that will improve your Google Ranking.
How to Write a Blog Post That Ranks #1 on Google?
Find Topics Within Your Niche
Before you even start writing, you first need to find out the topics within your niche. Finding the right topics within your niche is not very difficult. You just need to do the research properly.
So, here are some tips to do research to find out the right topics within your niche.
A) Pick A Topic That People Want To Read About
You will have to choose the topics people are interested in. For selecting such topics you need to do marketing research.
Let me tell you the best application for doing market research, that is, Google Trends.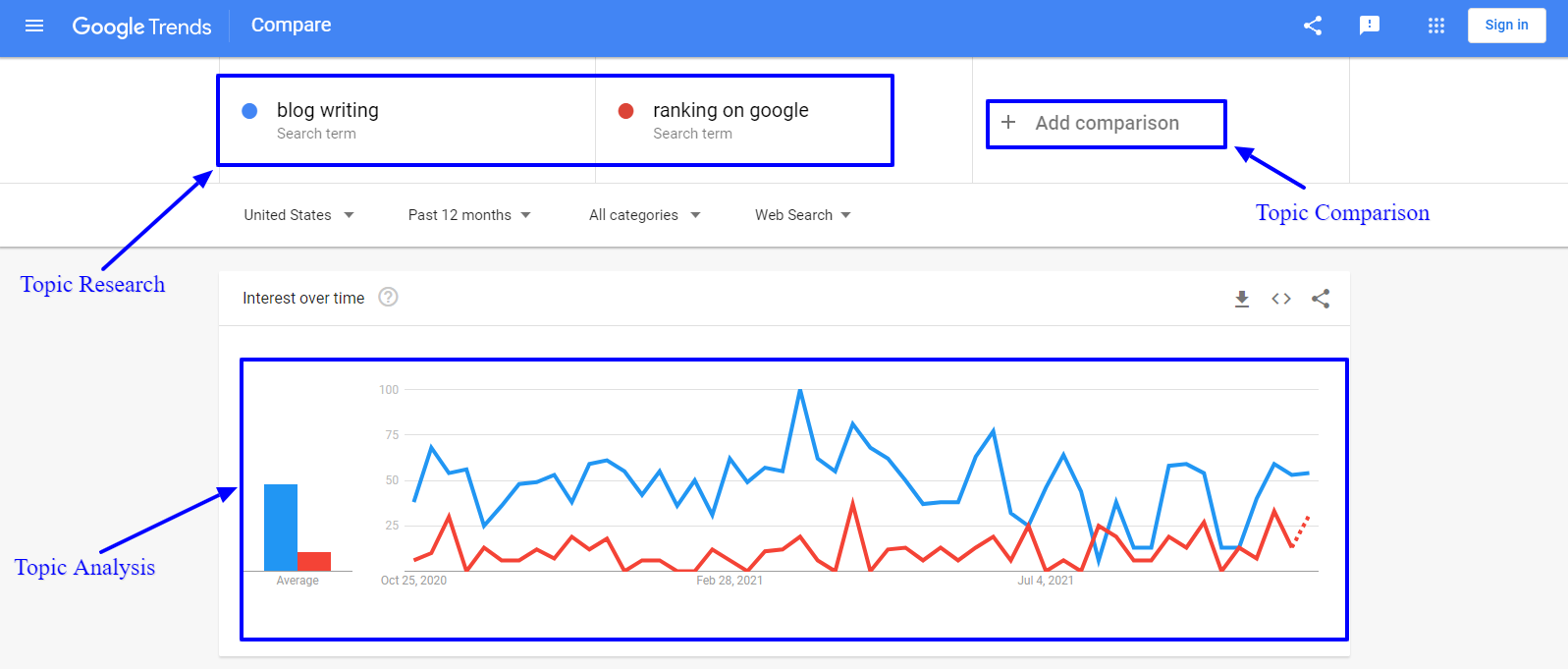 By using Google Trends, you can find the topics that are fresh and are in trends. This is an important step because the graph shows whether people are interested in reading the respective topic or not.
You can compare multiple topics at the same time.
You can even compare the topic by sub-region in Google Trends.
With the help of this tool, you can find the best topic to write about.
B) Take Help Of The Tools Like Ahrefs
You might be thinking; "how would Ahrefs help me find the best topics to write about?"
Well, it will surely help you find the best topics.
Eager to know how?
I will explain it to you by a step-by-step process to find the trending topic.
A) First of all, you need to do the competitor analysis. For that, you can take the link of your competitor's top-ranking blog and paste it here in 'Site Explorer'.

B) After clicking on the Search button, the screen will show something like this. Here you will see the whole analysis of the article.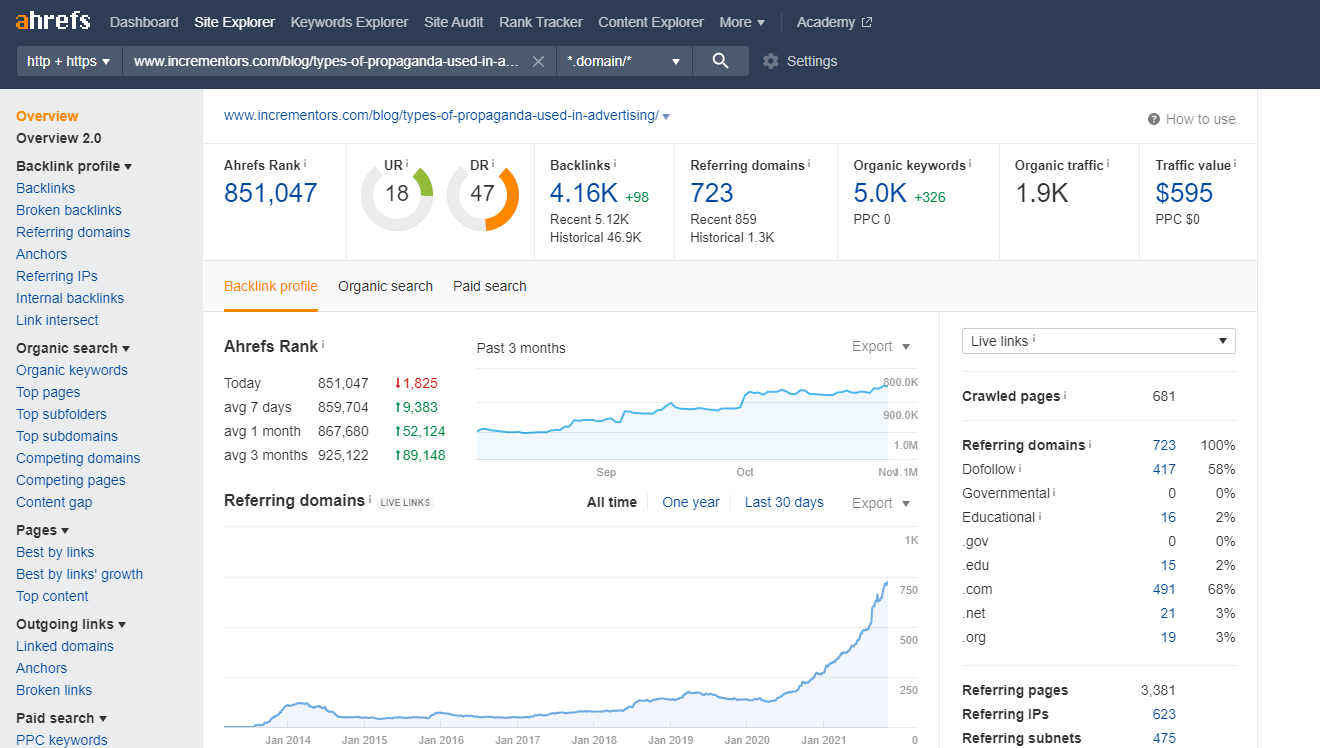 C) Then, click on Organic Searches. Here you will get the lists of the keywords ranking on the top.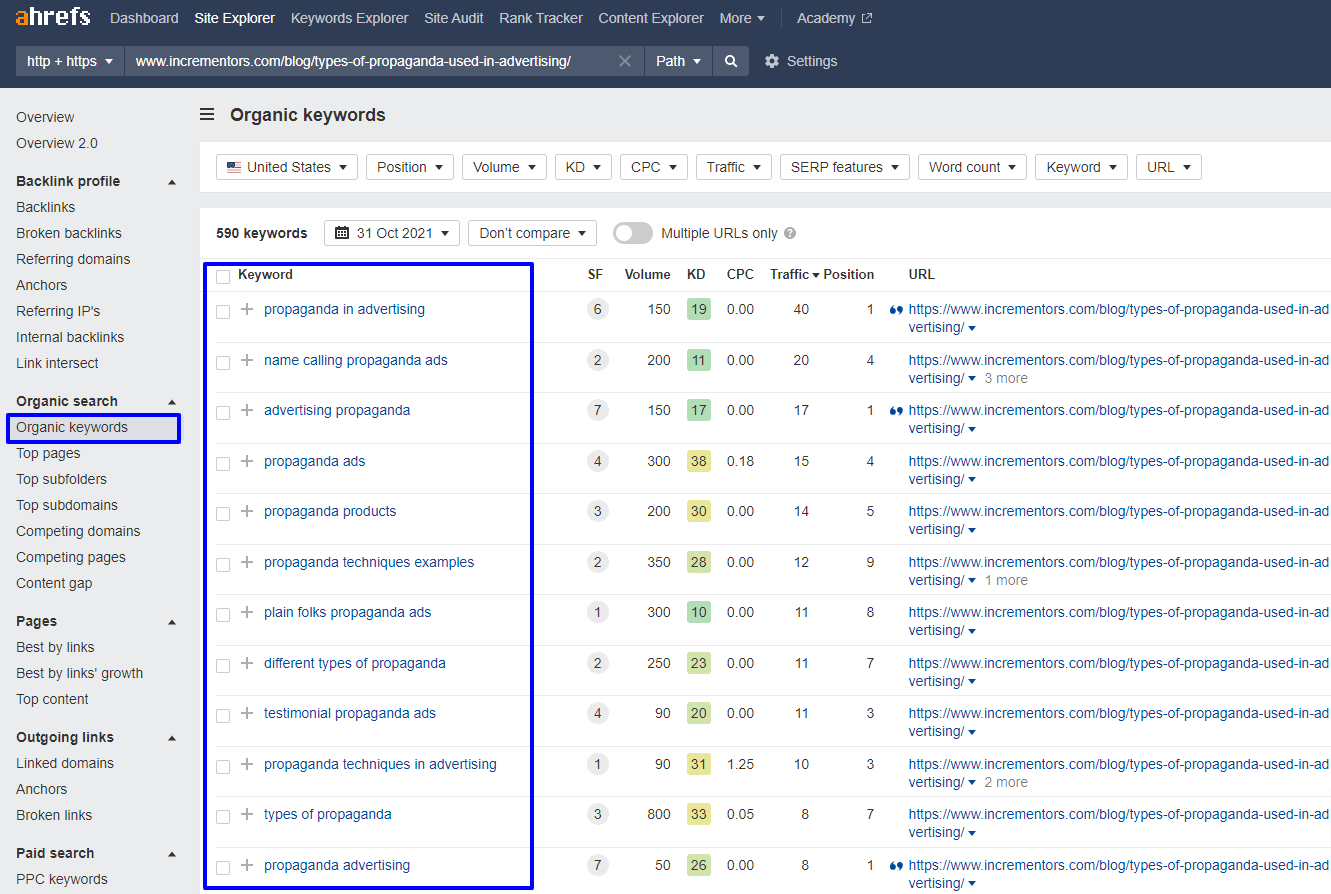 D) You can use these keywords in your article. Plus, you can also apply some keywords in making the title for your articles.
Apart from that, you can also find out the Target Keywords and Keyword Variations for your articles.
After exploring all this data, you can easily make the searchable titles and keywords to add to your blog articles.
By applying this tactic, you can easily improve your blog ranking and rank high on Google.
Create Buyer Persona
You must be wondering, "What is this new term called, buyer persona?"
And even if you have some idea about buyer persona, you might be thinking "Is it necessary to create a buyer persona for blog writing?"
For your kind information, It is very important to create a buyer persona even for blog writing.
"A buyer persona is an imaginable representation of your audience"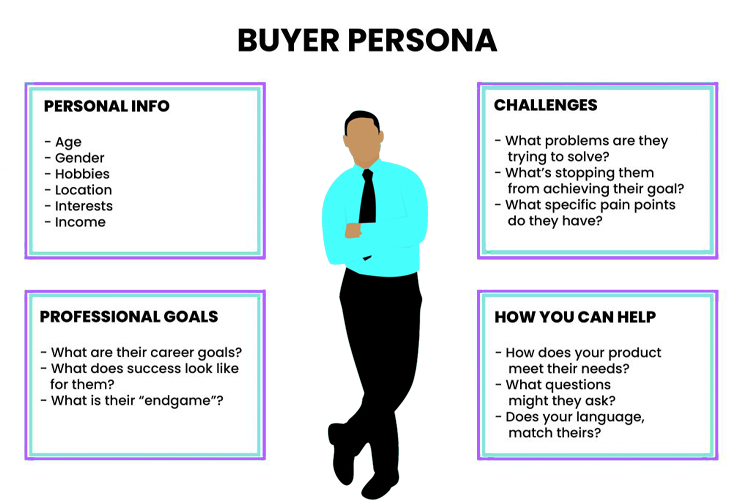 A well-worked buyer persona will help you do your task a little better because then you know the ones who are going to read your blogs.
Now, I Will Tell You Some Benefits Of Creating A Buyer Persona:
A well-researched buyer persona will help you in many ways:
A) You will get to know your audience better.
B) In what unique way you are going to serve your audience.
C) What challenges your audience might face.
Read more: How to Create a Buyer Persona- To Better Understand Your Customers
Focus On Your Keywords
Using relevant keywords for blog writing is an important part of SEO Strategy.
Knowing how to use keywords, meta title, and meta description in the article will give your blog an immense boost which will help you to rank #1 on Google.
It doesn't matter if you are a start-up or experienced organization in the world of the internet, it is not possible to rank high in Google without proper use of keywords.
Because your keywords serve your target audience.
Now, let's understand how you can select the right keywords for your blog articles:
A) Find Keywords From Google Source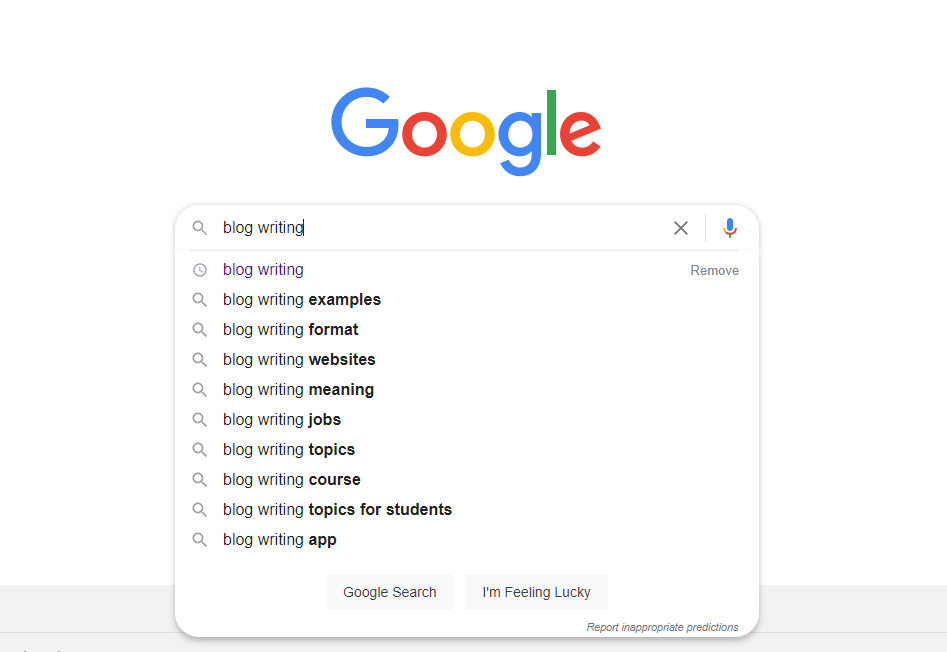 Google has more data than any other platform. You can use "Google Autosuggestion" to find the relevant keywords for your articles.
These suggestions are based on the popularity of the past searches on that respective keyword.
So, you can use those autosuggestions as keywords in your blog articles.
B) Get Into Related Searches
You can find relevant keywords in "Related Searches" as well.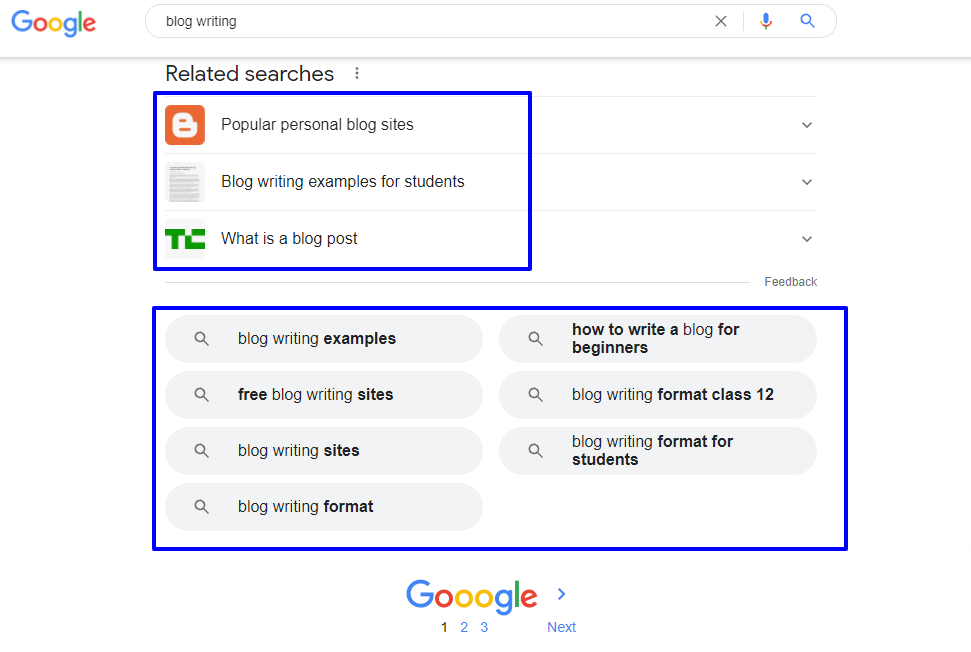 These suggestions come down in the SERP(Search Engine Results Page). Google will show you results that are relevant to your target keyword.
C) People Also Ask
This is also the best way to find out the relevant keywords for your article. Here, you can find out the questions people are asking relevant to your keywords.
D) Use Keyword Research Tool, KeywordTool.io

This is a tool, named Keyword Tool. You can use this tool for free or you can purchase its premium version as per your requirement.
With the help of this tool, you can discover thousands of long-tail and short-tail keywords.
If you use keywords in your articles after conducting proper research, your blog articles will rank #1 on Google for sure!
Why? Because these are the keywords that people are actually searching for and it is essential to rank high in Google.
Invest Some Time In Competitor Analysis
If you want to rank #1 on Google, you will have to beat the competition to become number #1. You will have to be closer to them to know their strategy.
So, here I have brought you some tips to do competitor analysis within your niche.
First of all, you need to understand some things like,
A) What Type Of Content Or Tactic Work For Them?
B) Where Your Competitors Are Lacking Behind?
C) Compare Their Engagement rates With Yours.
D) Check Out The Quality Of Your Content VS Competitors.
E) Find Out What Opportunities They Don't Have.
F) How Engaging Their Content Is
G) The Frequency Of Their Blog Posting
If you have proper answers to all these things, you can easily beat the competition in blog writing.
Before we talked about the competitor analysis that you can do on your own without the help of any tool.
Now, we will discuss the competitor analysis in which we will take the help of some tools.
There is a tool named, SEMrush.

This is one of the best tools for competitor analysis. You can use it for free for some time.
But later, you need to pay for it.
You can easily get your competitor analysis with the help of this tool.
Semrush also provides data about Domain Authority, Page Authority, Alexa ratings, average traffic, and backlinks volume, so that you can improve your blogs.
You can also find targeted keywords and keyword variations on your competitors' blogs and later use them for your blogs.
This tool will open a full analysis of your competitor before you.
After getting the full competitor analysis, you can easily build a strategy for your own blogs and work accordingly.
That's how you can increase google ranking
Spill Out Your Creativity
"Creativity is the key"
If you want to know how to write a blog post that your audience feels connected to, you need to be creative with your words.
If you are not creative enough, people will never engage with your content.
Here are some tips to be creative with your blogs:
A) Just write your heart out.
B) Write strong and bold headings, and pick hook points in your titles and headings
C) Write a strong introduction and connect with people.
D) Pick the images that speak something.
E) Use a conversational tone in your blog
If you keep these things in your mind while writing your blog, it will definitely help in ranking articles high on Google.
Why? Because these are the things that bind the reader with words.
But… but… but…
We are not finished yet.
Here I have brought you a complete checklist to find out if your content is going in the right direction or not.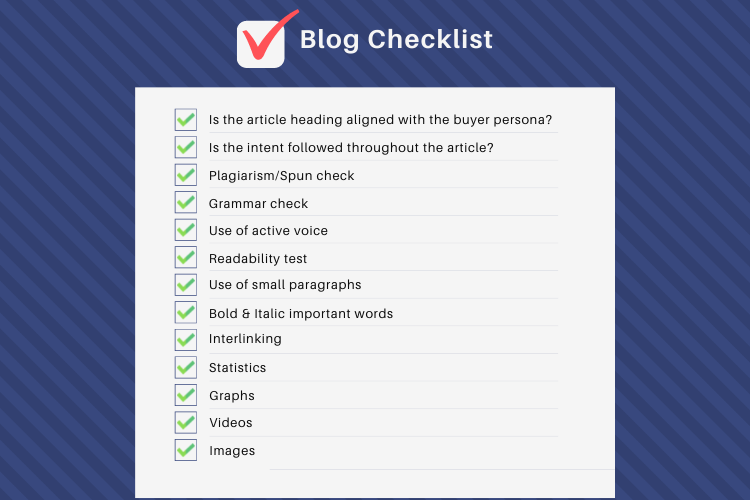 If you carefully and consciously use this checklist, The question does not arise that your article should not rank.
Add Alt Text Images
You might be wondering after reading this title, "I want to know how to write a blog post that drives traffic, but what is this Alt Text Images? And, how is it going to help my blog articles increase Google ranking?"
Trust me, it does help your blog articles become top-ranking blogs.
Want to know how?
Let's read it further.
First of all, we will discuss, what is Alt Text Images.
"If an image on a webpage fails to load on a user's screen, alt text is the textual material that shows in its stead."
For example, you can see this picture: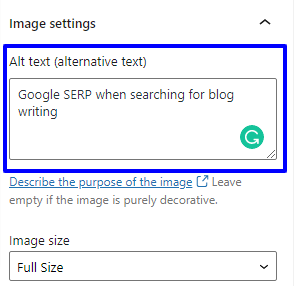 This feature is also used for Google crawlers. When Google crawlers come and read your content, they don't read the entire thing or look at the images.
They use Alt Text images to read the images in the content. So, basically, it is not used for humans but for Google crawlers.
While writing for Alt text images, you need to be clear, specific, and peculiar about the description of the image.
Also, your Alt Text Image description must include your "Target Keywords" along with keyword variation.
Some points to keep in mind before writing an Alt Text Image description:
A) Keep your Alt text shorter than 125 characters.
B) Apply keywords
C) Don't start your description with texts like "image of…". Be specific.
D) Don't put your keyword in every image
E) Don't make grammatical errors.
If you seriously take care of such things, the crawlers will definitely take your blog seriously and may rank it higher.
Provide Your Visitors CTA (Call To Action)
If there's a question always raised in your mind, "How to write a blog post that drives traffic?"
Then, the chances are you are probably trying to generate money from blog articles.
Just answer a simple question; "what is the point of writing an article if you don't get any conversion?"
I hope you don't want visitors to come and just get bounced back forever.
Right?
Well, nobody wants that.
So, you must provide them with some CTAs, so that they remain engaged with you.
The call-to-action could include:
A) Click on any other blog relevant to the topic.
B) Sign up to Email
C) or, Purchase the product.
Or it could be anything as per your choice but the fact that I want to let you know is you will have to provide some CTA for your visitors.
Also, it is beneficial for your impression before the Google bots.
When Google bots get to see that your blog is getting many clicks on the CTA or many activities are taking place by the visitors, it will take it positively and improve your Google ranking.
Generate High DA Backlinks For Blog
This is one of the most important factors if you are wondering "how to write a blog post that drives traffic?"
Let's understand this concept with an example.
"What if somebody tells you a news or story without any reference or source, would you believe it?"
No, right?
There would be no surety about that news or story.
The same thing goes with Google.
When you write a blog post, Google checks if other websites or platforms are using it as a reference or not.
The backlinks your blog post is getting are evidence of Google of your trustworthiness.
Your backlinks are the surety for whatever that you are telling is true and factual information.
So, try to generate as many backlinks as possible.
For doing this, you can take help of "Forum Posting", "Reddit" and "Quora"
It is defined as making connections and building relationships with a number of visitors and helping them solve their problems and queries.
You can choose any relevant forum that falls under the niche of your blogs, and once you are done giving solutions to their specific problems, you can leave the link of your blog below that.
To understand this more clearly, you can look at the image below.
The question was asked on the Forum and I answered it by giving the link below so that they can read my full blog and give me backlinks when they find the information useful.
You can also use Forum for generating traffic and getting backlinks for your blogs.
And the same thing you can do on 'Quora'.
First, look at the image below:
There was a question asked on Quora according to my niche.
I replied to the question and gave the link to my blog below.
There's a high chance that my blog will get a backlink if people like my answer and the blog that I have given a link for.
The same thing you can do on Reddit.
You can use all these platforms for free to generate backlinks for your blogs.
Aim For Long And Engaging Content
The high visits on your blog or website don't determine the actual traffic of your website.
Why? because many of the visits bounce back.
So, it is very important to keep your visitors to your page.
But the question here arises is, "How is it possible? How will you make your visitors stick to your site?"
This is actually possible.
Wondering how?
Let's see…
The first thing you should keep in your mind if you are trying to get your visitors to stay stick is writing long and engaging content.
It is really very important to write engaging and long content. Your content must provide everything that your reader wants to know.
If you become successful in providing each and every detail to your customer, he will surely get stick to your page.
Here are some tips to write engaging content:
1. Use Attractive Headlines
Do you know that most people don't even read further than just titles?
So, in this case, you need to write attractive headlines to grab the attention of the readers.
They should be short and eye-catching.
2. Be Specific With What You Want To Say
Don't try to confuse your readers by giving so many details in a single title.
Just get to the point of what you want to say and what you want them to know.
Your reader just wants to know the point-to-point answer. So just stick to it. Try to be specific as much as possible.
3. Write Short Sentences
Don't write your blog in long paragraph form as it may be difficult for your readers to go through it.
Use small sentences as much as possible.
Also, break your posts into bullet points and subheadings.
Your readers will bounce back if you don't format your article properly, especially on mobile devices where they have small screens to look at.
4. Focus On The Flow
Try to go with the flow when writing an article. Don't break the flow of your article with heavy words. Keep it simple and flowing.
If you take care of these things, it will help you improve your google ranking.
Read more: Step-by-Step Content Creation Guide [Writing to Publishing Content Successfully]
Work On ON Page SEO
After applying all these tactics that I have mentioned above, you also need to work on your ON-PAGE SEO to rank higher on Google.
It's a way you structure your page for boosting your rank on Google.
Even if you write the best content by your end, you will have to accept the fact that Google doesn't interpret your content as your readers do.
Your blog has to communicate well to the Search Engine Algorithms as well.
If you want to rank higher on Google, you will have to show Google the central word you are writing about.
All these things can be done just by including keywords in:
A) Meta descriptions
B) Content of the page along with Keyword variations.
C) Alt text
D) URL
You need to add your targeted keyword in these places.
While writing a Meta Description, don't forget to keep your meta description around 155 characters, use targeted keywords in it and ensure it matches the content of the blog.
However, you need to avoid some things in your content because Google is highly concerned about the user experience.
And I believe you don't want your blog to be ranked lower. So, avoid the things that I have mentioned below:
A) Don't stuff keywords forcefully.
B) Avoid short contents
C) Avoid information segregation.
If you take all of these things into consideration, there is no doubt your blog will not rank higher.
BONUS TIP: TOOL FOR BETTER CONTENT WRITING
SURFER
For creating SEO-friendly content, Surfer's Content Editor is one of the best content writing tools. The interactive editor checks out the keyword density, word count, headlines, and readability of your content while you type.
You can make corrections to more than 500 data points in one go, and compare your content with the organic competition.
This allows you to create content better than the competition on search engines.
It is not necessary to switch windows or copy long parts of content to use the tool.
Just plug your content document into the tool, enter your target keyword, and watch your progress in a nifty window to the side.
The tool generates a content rating for each piece you enter, which you can use to assess the quality of your content right away.
The Content Editor is part of the Surfer Toolkit. You can integrate it with Google Docs and WordPress. To see the tool in action, sign up for the 7-day trial for just $ 1.
Conclusion
Here are some of the tips and tactics to make your blog rank higher on Google. These are some of the best practical tips to apply to blog writing that will make your ranking higher and boost your article higher.
You need to target the right audience within your niche. For doing so, you need to conduct the proper research and apply the tactics that I have mentioned above.
Then only your blogs will be able to rank higher on Google.
If you have any doubt or queries, you can leave a comment below in the comment section and I will reply for sure.
FAQS
Question.1 Is all of these things enough to increase Google ranking?
Yes, if you carefully work on every tactic that I have explained above, it would be enough to improve your Google ranking. Even if you don't get results, you need to check where you are lacking and improve it.
Question. 2 Can I write SEO-friendly blogs with the help of these tactics?
Yes, you can easily write an SEO-friendly blog with the help of these tactics. It includes picking up the topic your audience is interested in, right keyword research, and following the intent.
Question.3 The tools that you have recommended in the article are free?
These are partially free but for the upgraded version, you will have to buy the subscription.
Question. 4 What do I need to be focused on to write a quality blog?
For that, you just need to follow the checklists that I have given above to write a blog that will rank higher on Google.
Question.5 What tools or platforms do I need to use to generate backlinks?
For that, You can use Forums, Quora and Reddit. All these platforms are free to use to generate backlinks for your blogs. I have mentioned above how you can use these tools to generate backlinks.