Even if you have a succeeding company or a small business.
Your business' SEO is the only effective and impactful way to make sure you are visible to Your Target Customers.
So, it is extremely necessary to determine where your target customers can find you, which requires an SEO strategy.
According to a research by smallbizgenius,
75% Of Searchers Never Click Past The First Page Of Results
Meaning that 70% of internet users would not look past the first SERPs of Google and so, won't even try to find results on the second page.
So, you have to gear up on all search engine optimization complexity and the ever-changing algorithm of search engines that discover the relevance of your content, index your website and rank it on SERPs.
Because the goal of any SEO tutorial is to get visibility.
To gain visibility, you must have a basic understanding of SEO, how search engines play a major role in enhancing your website, and lastly, some common and everlasting techniques that help your website rank.
So, worry not!
Here we have an SEO tutorial for beginners to learn all about SEO( Search Engine Optimization).
But before that let's understand What SEO is.
What Is SEO?
SEO Stands For Search Engine Website
Search Engine Optimization is a term used by ranking experts that determines the increasing visibility of your website by practicing techniques and gaining organic search results.
As Moz put it about SEO,
The theory is that you can't achieve the needs at the top without ensuring the more fundamental needs are met first.
Meaning the SEO for your business website should start at the basic level.
SEO is a self-paced, ever-changing, and algorithm-dependent technique used to attract customers as well as Google bots.
It's all about putting in the "how-tos" of ranking and establishing a platform so that your users can easily access your websites.
Now, the SEO applied to the website is analyzed by Search Engine Bots for indexing and ranking according to the relevance and authority for fulfilling searchers' queries and wants of products and services.
You should start learning SEO tutorial step by step, starting with the very basics of how search engines work to techniques that would strengthen your visibility and help your business rank now and forever.
Let's start with learning SEO tutorial step by step:
How SEO Works Step By Step
SEO is done step by step on your website to build its brand authority among online traffic.
Many traditional companies have understood the advantage of the internet and are more willing to move toward digital marketing campaigns and take advantage of the elements in SEO that attracts their targeted users.
And you know what, this has never been crazier before!!
According to a report by Hubspot,
61% of marketers say growing SEO and organic presence on their websites is one of their top inbound marketing priorities.
This means SEO not only helps in increasing organic traffic on the SERPs but when properly done, it can boost conversion rate and help earn major revenues for your company.
Here Are Some Steps In Which SEO Works:
i. A properly established SEO strategy helps your company to earn your targeted users with whom the objective of your business, products, and services, are discussed openly.
Here, for the first time keywords are analyzed.
ii. Keywords are the bread and butter to lure your customers in and therefore, help in finalizing your website's ranking.
The keyword must be included in Metadata, Title, Headline, or Content as done in the HTML code below.
Here, you are practicing the SEO techniques for visibility on SERPs.
Read More: Tweaks For Page Title & Meta Description That'll Boost Your SEO Traffic & CTR
iii. The SEO techniques include On-page SEO and off-site SEO tech to gain your website to be seen by not only the Google crawlers but also build authority through its elements such as backlinks, page load speed, and responsiveness.
Backlinks are the best SEO technique to build your authority and trustworthiness digitally as shown in the bar graph below:
Here, you are targeting visibility and increasing your brand's online traffic through crawlers analysis and ranking.
iv. Implementing well-suited methods of SEO in your website, now you have to monitor their performance and keep optimizing your website accordingly.
The performance and regular updates make your website more compatible to rank online through the tools available. This gives you enough data on your website on where you are lacking and where you need to work such as: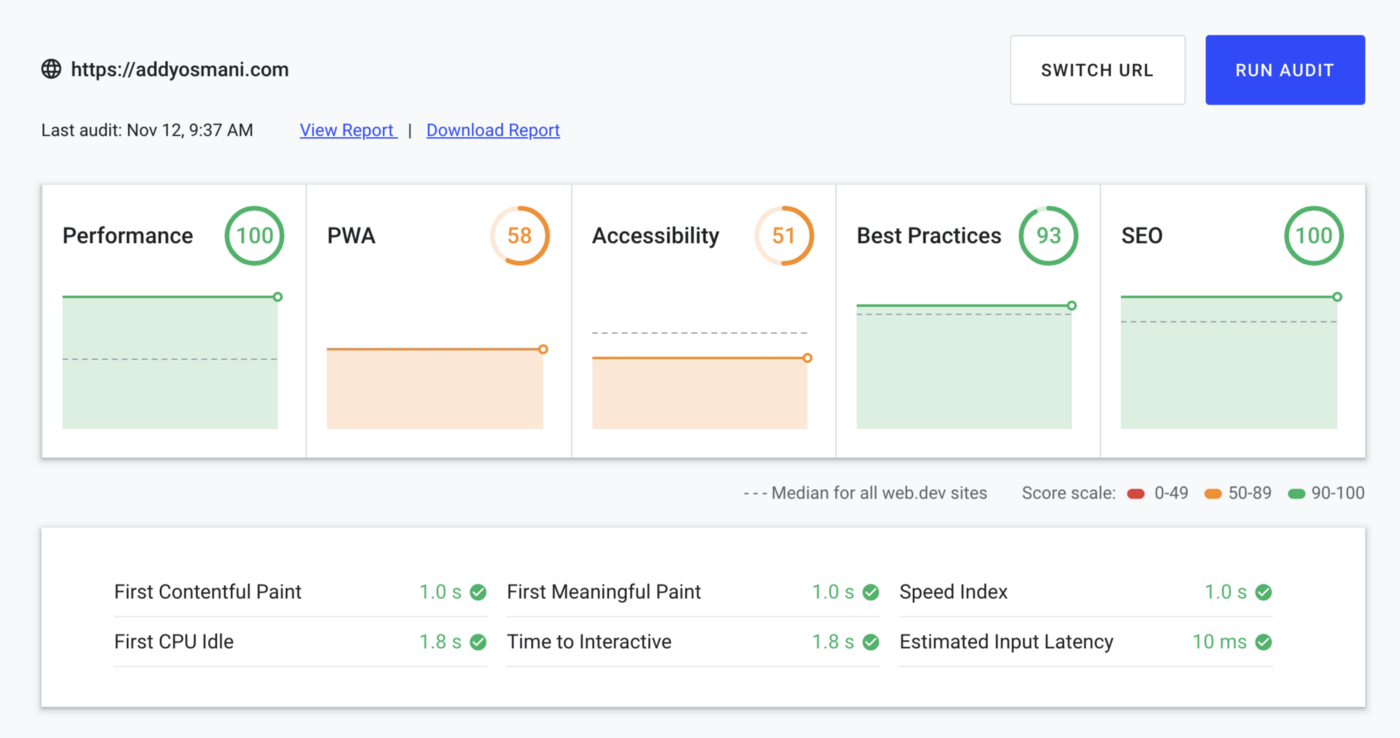 Here, the need for monitoring, and analyzing is highlighted, and then re-optimizing your SEO methods accordingly.
These steps are untimely and help your "your good to go" attitude while keeping in check whether your website's visibility is accomplished as per the search engine's guidelines.
Types Of Search Engine Optimization Techniques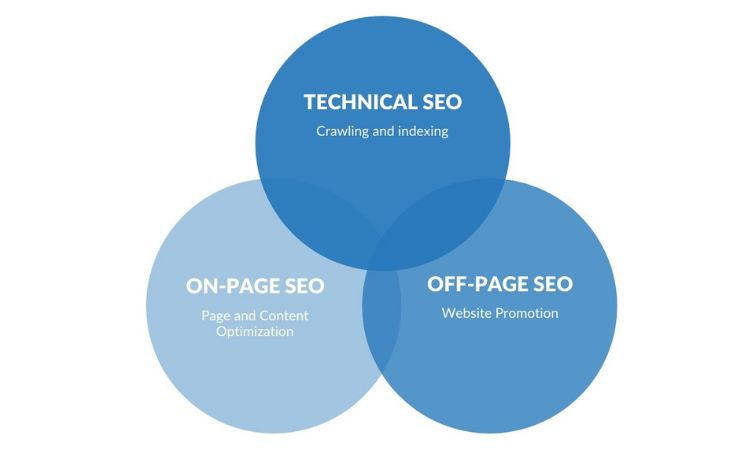 On-Page SEO
In this method, the main focus is the relevance of the content within your website, so that it is analyzed to rank in SERPs among your industry competition.
Keyword Research is done to include keywords that are relevant to searchers' queries are included in the blogs, their title tags, and the metadata of your content as shown in one of these SEO plugin focus pages given below.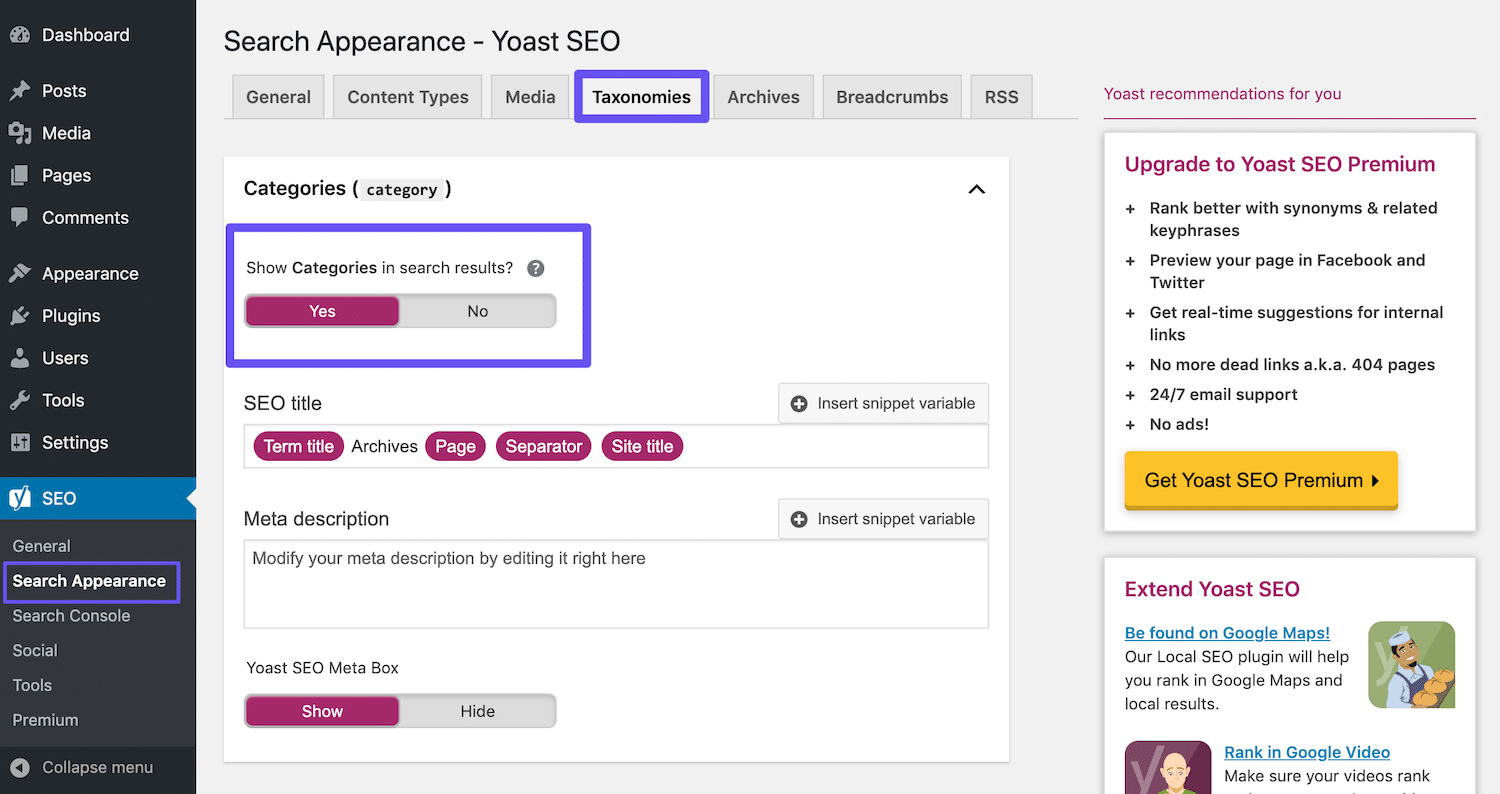 These keywords included in the main content of your web pages helps the searchers to easily find your content as they are ranked by the search engine.
The On-Page SEO Includes:
A. Keyword Research & Implementation In Content, Metadata, And Title Tags
Keywords are unique to the searcher's query and therefore, are analyzed by Google bots to find relevant materials from your website and present them on SERPs.
So, you must use long-tailed keywords which are the most accurate phrases that are used by searchers that consist of your target audience.
B. Title And Header Tags Must Be Optimized
Title and header tags are the way of distinguishing your Title from Sub-titles and subtitles from sub-headings.
Shown in the picture below are the different title tags and headers present in a doc.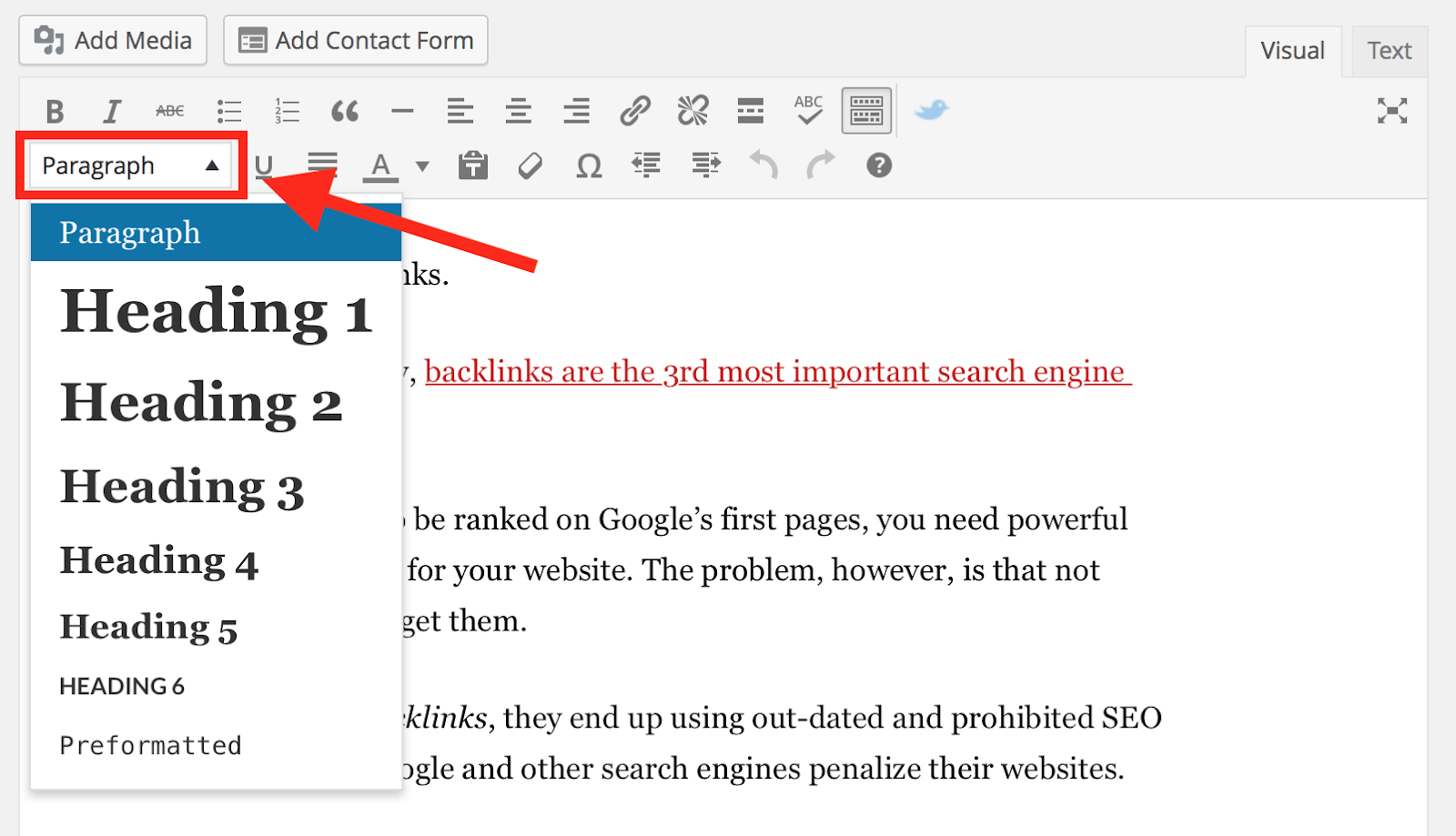 This On-page element helps in improving the visual aspect of your content and allow a user to easily distinguish between content.
C. Meta Description For Viewers
The meta description is a mini-Ad of your content in SERPs of a searcher's query. It is the first snippet or portion of a text a viewer reads, so it must be optimized as per the requirement of the searcher's need.
You can include keywords, CTAs, hyperlinks, contacts, and other improving elements so that users are compelled to open your content page.
Read More: How To Write Meta Descriptions For Blogs
D. Organizing Site Structure & URL Structure
Using short and keyword-rich URLs helps customers as well as Google crawlers to analyze your website more easily and rank it in SERPs.
Your URLs are to be included in such a structured way that your site is easily navigable for ranking purposes as well as exploration.
Now, the picture below is a brief way of providing a structure to an e-commerce site that is selling clothes.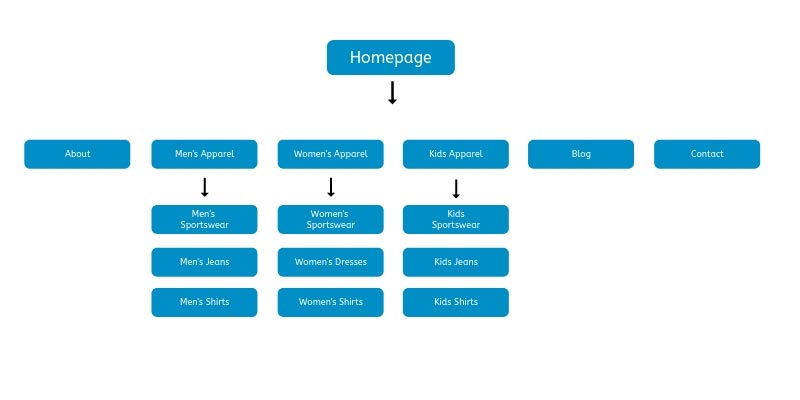 Here, the website starts with the homepage and is divided into 5 sub-domains, from which three are further divided.
Organizing site structure helps in easy exploration and crawling which results in the ranking of your website accordingly.
E. Image Optimization To Engage Users
Image optimization is giving your users the right image for your viewer to explain some important topics through visualization rather than texts.
This improvement also includes naming your image properly, using Alt tags, and providing captions for them. Now, to make your image a social media marketing element, you can further use proper image format and even, use sitemaps for them.
Lastly, keep your image compressed as it can cause slow loading of your web page.
Read More: Everything You Need To Know About Image Optimization
F. Interlinking Content With Anchor Text
You can keep your users engaged with your content by practicing anchor text for hyperlinks to other content on your website,
These are simple texts that are clickable and can direct your customers to other interesting content that they can further read and learn from.
Given below are the two examples of anchor text used in between text, these appear blue and are clickable.
G. Find And Fix Duplicate Content, Tags, Or Meta Descriptions
Duplicate content can cost your website's authority on SERPs.
Though these contents are unavoidable and created by the source of origin of your hyperlinks provided on social media platforms, GMB, and forums. When these links direct the organic traffic to your website the URL is duplicated and so is the content in it.
You can, however, use Canonical or Noindex for every duplicate URL but one whose content must receive all its authority.
Read More: Top 10 On-Page SEO Techniques for Higher Ranking
Off-Page SEO
Off-page SEO is a very important digital marketing technique used by businesses online to perform one specific task, which is to improve your ranking in SERPs.
This method uses elements that are not on your brand's website to accomplish building authority online.
And to do so, some of the major Off-page SEO techniques are:
A. Content Creation & Sharing
Content is the breadwinner of your website as it keeps your users engaged and provides them something to explore.
Secondly, content accomplishes your expertise among online customers' and your users' sharing your content online on different platforms gives your website the authority needed to rank your website.
So, on your website provide a sharing button so that your users could easily share on their respective chosen platforms.
Read More: Step-by-Step Content Creation Guide [Writing to Publishing Content Successfully]
B. Social Media Marketing
Facebook, Twitter, and other platforms where you know your customers are where you share your website's content so that the customers you are targeting know about your presence online too.
This social media marketing is a method on how to use Yoast SEO for social implementation and promotion through engaged users who are social bees and share good content.
And Yoast provides such plugins in their SEO section as shown in the picture below.
Yoast is a WordPress plugin and provides various Yoast SEO tutorials such as how to add keywords in SEO Yoast and using SEO plugin focus pages to enhance your website's crawlability.
So, if you are using WordPress you must know how to use Yoast SEO and implement them correctly within your WordPress website.
Read More: Tips To Make A Successful Social Media Campaign
C. Post On Industry-Related Websites
The content of your website is engaging and posting such content on Facebook, Twitter, and other industry-related platforms can help your website get recognition among users.
Make your online presence more effective with ranking and conversions by posting them on some industry-related forums.
D. Backlinking
Providing content on query sites like Quora, guest posting for other websites, and replying to the users in comments of your industry-related platforms or your community forms, are some of the places where you can share your link to get organic traffic.
Read More: Anchor Text: An Ultimate Guide About Building Backlinks
E. Forum Posting
Forums are a place of open discussions between customers, customers and sellers. When carried out correctly, forum posting benefits your business with new customers and a better understanding of your customers.
Customers or potential customers today require a unique and purposeful conversation with your business to gain opportunities for sales and loyal customer-building.
It is an approach for the long term, as it builds a trustworthy reputation, builds your brand's awareness online, and is a great way to keep existing or potential customers engaged.
All of these techniques help in building your links authority and you get strong b
Therefore, the ultimate goal of Off-page SEO is to demonstrate your website's expertise, authority, and trust among users so that you can build an audience.
Read More: 6 Off-Page SEO Techniques To Boost Your DA
Technical SEO
Technical SEO is about the smooth User Experience and accessibility of your website for your online traffic.
And if your website is unable to provide the most fundamental element of SEO in your website, your users won't be able to perform any significant activity on your website.
So, here are some of the technical SEO that is essential for your website today:
A. Site Speed
Site speed is a very important aspect to gain organic traffic on your websites.
According to pieces of research by Google,
53% of mobile users abandon sites that take over 3 seconds to load
And according to blue corona,
Two seconds is the threshold for eCommerce website acceptability. At Google, we aim for under a half-second.
So, Google prioritizes web pages that load faster because they provide a better user experience. So, keeping an eye on your web page's loading speed is a must.
You can use tools provided by Google such as PageSpeed Insights to analyze your website's loading speed as well as get suggestions on what is causing such a dilemma and how you can aid it.
B. Mobile Friendly Website Design
The technical side of your website is ruled by whether it is optimized for other devices such as mobiles.
As every other person around you has indulged in smartphones, the need to check whether your website is mobile-friendly or not is at a high today.
Google provides the data of 50% of shoppers to return to a business that provided a mobile-friendly experience for them.

One of the free tools available online to test such technical aspects of your website is the Mobile-Friendly Test.
C. Least Or 'No' Use Of Java Content
Java content makes your website heavy to load and there causes delays in page loading speed.
So, don't put any format such as Java, Flash, Splash, or Animated Gifs that can cause your content to load slower than needed.
Javascript drop-down menus are used by websites to avoid crawlers visiting anything except your home page. Though if you need to use these formats, provide text links below so that the visitors can view them on a new web page.
D. Check Dead Links And Other Crawling Errors
Crawlers are very clear on where the website needs crawling and if your content is duplicated, or your webpage has been deleted, crawlers get confused.
So, keep in check if your website has any dead links and redirect them or replace the URLs with the ones that are working. Look at the picture below that shows the diagnosis of these errors through tools provided online.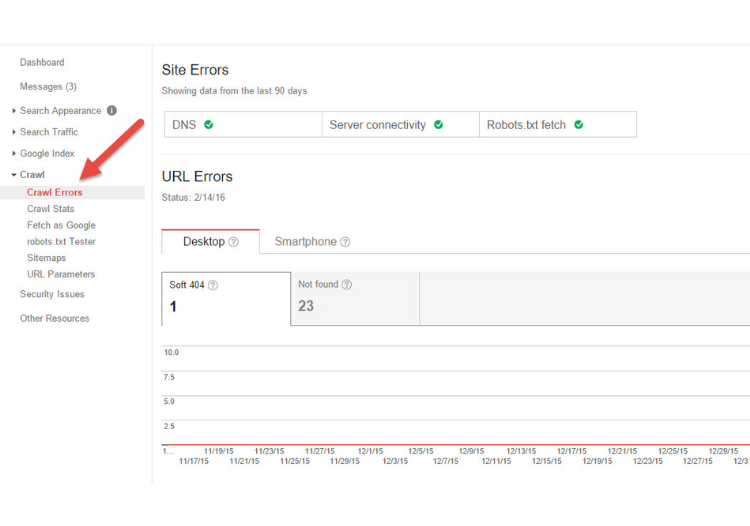 Some tools such as Screaming Frog, and Google Search Engine provide you with such crawling errors and also provide suggestions to take action.
Now, you can also provide Noindex URLs or Robot.txt pages at the beginning of your sitemaps, so crawlers know these pages are to be avoided when crawling for data and analysis.
E. Using HTTPS Instead Of HTTP
Online security is a very important element when it comes to the content available and stored in your database.
HTTP was an unsecured pathway that was used by websites before HTTPS was introduced with the implementation of an SSL certificate on your website.
This makes your websites secure by encrypting important information that makes sure that no data breaches take place and that your website is secure for transactions.
F. Provide Schema And XML Sitemap
Structured data is needed to help the Search Engines know your website, and its content better. This is a format, known as schema.org, fixed for search engines to understand your database and put those in a bigger place called SERPs.
This schema-rich site structure helps your content to shine in SERPs with stars and badges.
An XML Sitemap on the other hand works for all the page's authority and serves as a roadmap of your site for easy navigation by the search engines.
So, a structured sitemap and structured data exclusively promote search engines' interest as shown in the illustration below.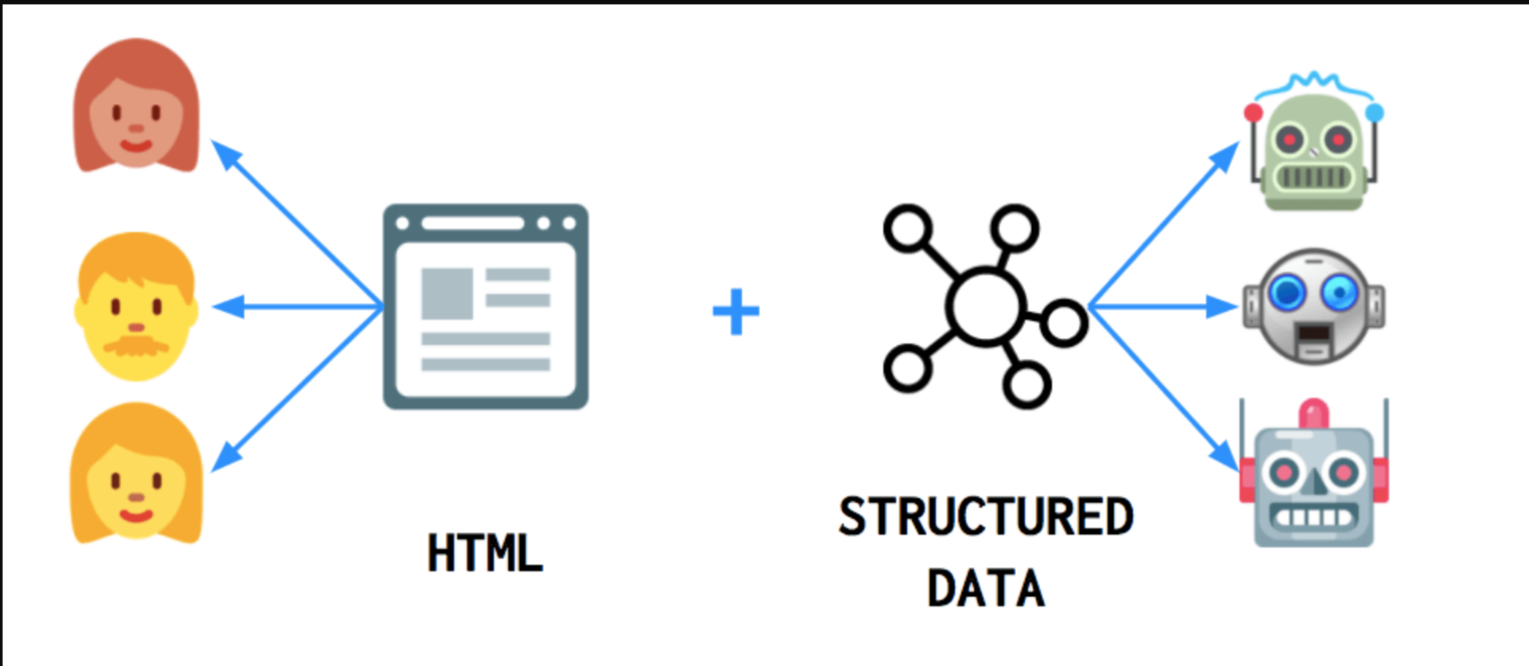 Though if you prefer, you can easily provide interlinking within your page's content, they work fine but they are in other website formats that require more effort for search engines to crawl.
So, schema-structured data and an XML sitemap provide an easy pathway to Google so that it can crawl, index, and rank your website on the SERPs for your targeted audience.
Some Basic SEO Strategies You Can Use Right Now
Here were the most essential SEO methods for making your business grow and flourish while maintaining an appropriate SERP ranking for your brand's visibility.
A. Your content must closely match the Search Intent of your target users' queries.
B. The Metadata of your content is displayed on SERPs and is the first thing that your users view.
C. Your website Content Should Be For The Searchers. That means, use phrases that are long-tailed keywords, semantic keywords, and are searched by your targeted users.
D. Target The Right Keywords in content and in headings of the content that would be first viewed by your targeted users.
E. Your Website's Responsiveness to the devices used by your users such as mobile responsiveness and template designs.
F. The faster your webpage loads the greater the User-Experience, and the easy it is for your users to explore your website.
G. Provide a Short, Keyword-rich URL for your website's webpage.
H. Authority online through Promotions On Social Platforms of your brand is the cheapest and most effective way to keep your customers.
I. Your content must Build Backlinks to gain more traffic and build authority in the analyses of Google crawlers.
J. Promoted materials online through Inbound As Well As Outbound Links that build your authority and give your website visibility among Google crawlers.
K. Regular Update of content as well as your website SEO techniques to remain ranked in the SERPs.
L. Remain In Touch With Your Audience through news, announcements, and other elements available in SEO.
Conclusion
This post poses as a very fundamental SEO tutorial for beginners that provides you with almost all the SEO terms for beginners like crawling, indexing, intent, organic, and ranking.
With these terms, you also now, understand the basic SEO strategies that you can use right now with these on-the-spot, tried, and accomplished optimizing techniques.
This makes your brand visible among the SERPs searcher's query and catches the eye of users online, follow the Google guidelines, learn new updates, and keep monitoring your rank.
For more marketing tips and services, you can schedule a free-of-cost 30-Minute Strategy session with our experts. In this call, our experts would discuss your business and provide you with the free strategies that you can use to boost your sales and revenue.