Everyone knows that SEO aims at enhancing the ranking of the website.
But did you know that there are several factors that contribute to the effectiveness of SEO?
The factors include, content, site structure, links and many more other factors.
Do you remember the periodic chart of chemical elements that we were taught in school?
Same type of structure is there for the SEO periodic table. All of the website ranking variables are also included in the SEO periodic chart.
It doesn't matter if you are an experienced SEO professional or a beginner, the SEO periodic table is always useful to a webmaster and especially in 2022 you must know about it.
Basically, the SEO periodic chart has listed all the important SEO ranking factors.
So, let's understand everything you need to know about the SEO periodic table.
First of all, we would understand what the SEO periodic table is.
What is an SEO periodic table?
I'm not going to go through the SEO periodic table right now since it could be confusing. But I'd want to start with a chemical periodic table example.
If you recall the chemical elements periodic table, it included rows and columns with reactive and non-reactive elements as well as their element mass, number, and symbol. It looked something like this,
Now, let me connect this concept to the SEO periodic table. First, I would show you the periodic table, and then I would explain it to you.
This is exactly what the periodic table looked like, right?
But now we are going to talk about the SEO periodic table.
The SEO periodic table was created by Search Engine Land in 2011. It contains the proper combination of ranking factors, and the SEO periodic table is now a globally recognised tool.
Also, the tool can help you select the right SEO practices. Search Engine Land regularly makes updates in the periodic table according to the updates in SEO.
The overall periodic table would give you an idea about the best practices in SEO whereas the niches section would be focused on the variations of SEO for three new areas: Local, Publishing and E-commerce.
Basically, this table is an ultimate guide to the ranking factors of the website, toxins and traps.
With the help of this table, you can learn about:
A) Factors behind the success of SEO strategy.
B) Things that are harmful to the search ecosystem's health.
C) Deep information about new SEO niches update.
The reason why this periodic table is important to understand is because it provides a full chart about the ranking factors of websites in SERP.
So, let's understand the chart in detail.
As you may know, there is no one factor that determines a website's rating, and the SEO periodic table lists all of the elements that influence a website's ranking.
Schedule a free-of-cost 30-Minute Strategy Session with our experts.


The SEO periodic table is divided into the 6 categories. Content, Architecture, HTML, Reputation, Links and User.

And each category contains certain elements which we would discuss further in detail.
Within the divided category, the elements are weighed and scored differently in the periodic table.
As you can see in the image below, the score part is on the upper right hand side of the symbol.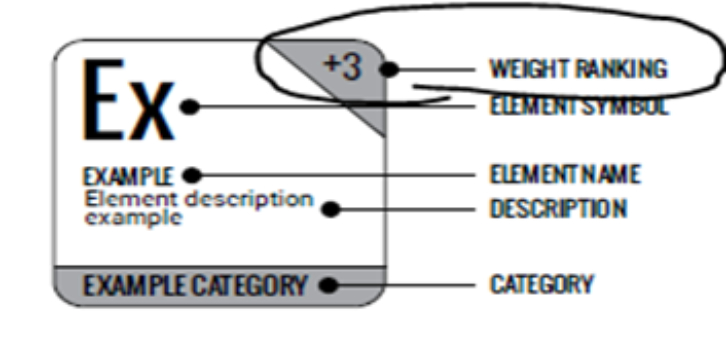 In this table, the elements of each category are weighed on the basis of its importance in SEO ranking.
You can easily see the weights at the top right corner of the element's symbol. Weights run from +1 to +5 on the positive side and -1 to -5 on the negative side.
An element with a score of+1 would not have the same influence as one with a weight of +5.
And then, there is one more column in the SEO periodic table that is for TOXINS. These are negative SEO practices that you must avoid at any cost.
"Toxins are activities that can affect your SEO and potentially get you punished by search engines"
Toxins are often weighted with "negative marking," such as A -5.
Now, let's understand each SEO periodic table group and their elements
SEO Periodic Table Group and Their Elements
As we have already discussed, the SEO periodic table is divided into 6 positive groups. Those are:
Content, Architecture, HTML, Reputation, Links and User
Now, we are going to discuss each of the periodic table groups and elements in detail.
So, are you excited?
I am sure you are.
Content
When it comes to SEO, content is extremely important.

Do you know a website can be penalized by Google'spanda algorithm for having poor, shallow, and thin content?

That's why it is important to develop high-qualitycontent along with in-depth research so that your website can be ranked high in SERP.

Now the question here arises is, "On what scale does Google judge high quality content?" Don't worry! I am here to finish your doubt.

Just look at the image below carefully. There are some factors on which Google judges the content of the website. Those are,

Keyword research (Rs) to determine what consumers are looking for and then incorporating those keywords (Kw) into your content.

Quality (Qu) is more significant, since it demonstrates how crucial it is to have well-written pages that bring value to readers.

Furthermore, search engines reward Freshness (Fr), giving sites that are updated regularly a higher rating.

Then comes Multimedia (Mm) images and video as they are significant ways to offer high-quality material with Depth (Dt), deep research about the topic.

Last but not least, Answers(An), compose information in a "question-answer" structure so that it can appear on the snippet in search results or as a voice search result when someone searches for the same phrase.
Architecture
The way your site is structured tells search engines about the content of your pages.

This would also ensure that if a customer clicks on your website, they would be presented with a fast-loading, malware-free landing page (SERP).

Everything from the URLs you employ to the page load speed to your security and crawlability is included in this category.

One of the most important elements here is crawl(Cr). The reason why I am saying so is because if a search engine cannot crawl and index your website, how would you be able to appear in the search results?
Right?

And then comes Mobile(Mo) which represents optimizing your website for mobile users so that they can also visit your website through mobile.

Because in the research of 2015, Google found out that there are more Google searches from mobile than desktop and tablets.

And then, comes the Speed(sp), your website should have a good loading speed. Your website should open within the first 3 seconds of the user clicking. Google has also made this a ranking factor.

Then comes the architectural problem of including correct handling of duplicate material by defining Duplicate(Dd). Include relevant contextual keywords in the permalinks of your pages to show search engines and visitors that the page has the content they're looking for.

This year, Search Engine Land has also added some more elements in Architecture to enhance the page experience, like: Structure(St) and Parity(Pr)

Structure(St) is all about the information architecture of your site. It instructs the search engine how to explore your domain along with providing website visitors a concept of what you do, and how to discover what they're searching for.

Search Engine Land has also added Parity(Pr) which means no matter which device a user searches for your website, it should provide the same user experience.
HTML
Search engines search for familiar formatting like Titles(Tt) and Headings(Hd) to know what page content is all about, assuming that these suggestions would work for human readers just as well for them.

However, this does not end here.

Search Engines use certain attributes like Schema (Sc) markup and Meta Descriptions (Ds) as clues to the page's meaning and purpose.

Because Google no longer requires AMP, Search Engine Land deleted that element and replaced it with two new ones: Image Alt (ALT) and Content Shift (CLS).

Picture ALT text enhances image SEO and accessibility.

ALT text is used by screen readers to help readers with understanding of the picture. Also, it helps the Google bots know what a picture is all about.

Image alt text can also help with image search, allowing your site to appear in image search results.

The aspects of visual stability are the focus of Content Shift (CLS).

Cumulative Layout Shift, which is part of the Core Web Vitals and overall page experience upgrade.
Reputation
I know, you must have heard about the concept of EAT and if not, then let me explain it to you.

EAT stands for Expertise, Trust and Authority

You must focus on the factors listed in the graphic below in order to establish a reputation for your website.

This EAT concept comes under the Reputation column of the SEO periodic table.

Expertise (Ex) and Trust (Tr) are two indicators that directly address how your site fits within its specialization – is it the most authoritative in its area, and has that reputation been established over time.

That is the optimum in terms of these characteristics.

What authority (Au) gives sitelinks, mentions, shares and more for your knowledge about the topic.
Links
Links have been a factor in Google's ranking algorithm for a long time.

The higher the link quality, the better your SEO efforts would be.

You should focus on the anchors that other sites utilize when connecting to your site. However, if your site is linked to high-quality sites, connecting might be more useful.

Keeping this in mind, the image depicts several key components that might help you improve your connections. When Google debuted its then-revolutionary PageRank algorithm in 1998, it made it evident that links played a role in how well a page performed in searches.

The better for your SEO, the greater the Link Quality (Lq) and the more relevant the sites that link to yours are.

Then there's Anchors (An), which is the text that other websites use to connect to yours. Is the link language more along the lines of "disseminating inaccurate information about Lepidoptera" or "the greatest authority on butterflies"?

Finally, the bigger the Quantity (Qt) of high-quality links pointing to your website, the better for your SEO. After all, link-building firms were founded on this concept.
User
In the SEO periodic table, the user is a key aspect.

It has an influence on your ranking in a certain country or region. For example, your site's content and language make it distinctive to a single nation.

User engagement is also crucial in this case. Furthermore, you must ensure that your sites are both interesting and match the user's objective.

The graphic depicts some key aspects of the User Group that you should think about.

User-specific characteristics would also influence how you rank in a given Country (Cy) or Locality(Ly), and although this is significant, there's not much you can do about it except make sure your site communicates to people in the region where your audience resides.

User Experience (Ux) refers to how people engage with your website.

The amount to which your website fulfills the searcher's purpose would play a factor in how your site gets ranked for comparable queries, thus intent (It) is also crucial here.

Engagement (Eg) is important about ensuring that you satisfy the user's purpose and don't make them return to the SERPs to discover what they were searching for.
Toxins
Those six groups would tell you what you need to do to increase your website's search engine rating.

Here are some things to stay away from.

These factors might have a negative impact on your rating. In the periodic table, they are referred to as TOXINS. Keyword stuffing, stolen material, hazardous content, and manipulating search engine crawlers are all instances of poisons or bad SEO.

Negative SEO methods, gimmicks, or shortcuts to get ranking are referred to as toxins.

Negative SEO strategies, on the other hand, should be avoided because they would eventually hurt your ranking.

You should avoid the picture since it includes TOXINS or unethical SEO techniques. Each unethical SEO activity receives a penalty.

Such unethical activities include, cloaking,keyword stuffing,buying backlinks and spamming, using bad content, piracy, malicious behavior like, phishing malware and hacking and the last one is, instructiveness.

So, avoid all such activities as much as possible.
Local
Local SEO allows your website to show up in local map packs. This necessitates a comprehensive GMB profile as well as a NAP.

To learn more about what you'll need to conquer the local SEO aspect, look at the image below. When it comes to local SEO, we know that focusing on Locations (Lc) and making sure your Citations (Ci) are set up and accurate to show up in the local maps pack.

This includes NAP (name, address, and phone number) uniformity across platforms and citation sites, as well as a full GMB (Google My Business) profile, which involves selecting the appropriate categories, keeping your listing updated, and engaging with your listing on a regular basis.

Reviews are, of course, an important part of GMB listings (REV).

It's crucial to not only have a plan in place for soliciting customer reviews, but also to make sure you're asking the appropriate questions in order to obtain keywords in those reviews.
Publishing
Every day, a publishing site such as a news portal creates a vast volume of material. As a result, it's critical to keep them organized.

In a nutshell, you should focus on the items shown in the graphic below.

Every day, a publishing site creates significant amounts of information, thus it's vital that Archives(Av) are in order.

A strong, well optimized Archive acts as a content pillar in your industry or coverage area. News also benefits from investments in Top Stories (Ts) and Discover(Dc)

Image Required (Ir) is another important factor in showing up in these features.

To appear in the above-mentioned news search results, every news page must feature at least one picture. If the height is 800 pixels, images should be at least 1200 pixels wide.

Then, search engines recommend having a set of Flexible Sampling (Fs).

If your news is only available to subscribers, try to attract new subscribers and give them complimentary content.
Ecommerce
Let's discuss them further:

Ranking a "normal" page in search results might be very different from ranking a "retail" page.

Your Product Descriptions (Pd) should be full and informative, But most importantly, they should be unique. Don't rely just on the content provided by the manufacturer. Provide your own content.

Your product Architecture (At) must be user-friendly and provide consumers with quick access to the information they want.

Pagination (Pg) is another factor to consider in ecommerce SEO: Ensure that site structures are not overly complex, while offering a great user experience.

A good ecommerce SEO strategy would include being a part of Google's Merchant Center (Mc) to manage your inventory displays in Google product search.

It's also critical for SEOs to make sure the URL structure (URL) is simple to understand. This informs customers about where they came from on the website

Finally, for items, offers, and reviews, it's vital to maintain your Structured Data (Sd) up to date.

You would be an expert in every aspect if you followed all of the methods detailed in the SEO periodic table.
Conclusion
So, this blog was all of everything you need to know about SEO periodic table in 2022. SEO isn't a coincidence. It's also not a question of chance.
It's all about producing high-quality content, optimizing your site's performance, establishing links to reputable websites, selecting the proper keywords, and most importantly, avoiding harmful measures to boost your rating.
With the help of the SEO Periodic Table, you can ensure that all of the boxes have been checked.
For more marketing tips and services, you can schedule a free-of-cost 30-Minute Strategy session with our experts. In this call, our experts would discuss your business and provide you with the free strategies that you can use to boost your sales and revenue.
FAQs
1. How does the SEO table work?
SEO periodic table provides the technique of obtaining visitors from search engine results that are free, organic, editorial, or natural. Its goal is to boost your website's ranking in search engine results pages. Remember that the higher up on the list your website is, the more people would see it.
2. What is the SEO process?
Six main steps make up the SEO process: research, which includes company research, competition analysis, current state evaluation, and keyword searches. Decisions on how to handle content, establish links to the website, manage social media presence, and technological implementation tactics are all part of the planning and strategy process.
3. What are the four steps in the SEO process?
Step 1: Target Market Business Analysis
Step 2: Keyword Research and Development
Step 3: Content Optimization and Submission
Step 4: Continuous Testing and Measuring
4. What are SEO tools?
SEO tools give information and notifications regarding your website's general health and success. They can assist you in identifying areas of potential as well as flaws or concerns that may be preventing you from ranking and obtaining awareness in the SERPs.
5. What is the Google PageRank algorithm?
Google's PageRank (PR) algorithm is used to rank web sites in their search engine results. PageRank is a metric for determining how important a website's pages are. According to Google, PageRank calculates the importance of a website by measuring the quantity and quality of links that point to it.