SEO is important for a website's online visibility. We all know that.
SEO has the ability to take your website to position no. 1 in SERP or it can take your website to even better, position zero.
At the same time, most people are afraid of taking up SEO services by getting into the traps of SEO myths that are quite popular in the marketing industry.
Such myths stop them from making a decision to take up SEO services.
Rather SEO myths are the prime reasons why big organizations fail to attract their dream clients.
To ensure that you are on the right path to SEO, check out these 9 myths and facts about SEO.
So, let's get started!
Some Common SEO Myths
It's time to see some of the most common SEO myths and facts that are stopping you from growing.
SEO Is Dead
Well, this is more straight nonsense than a myth. I agree, SEO is dead but it is for those who are trying to get a ranking with the help of black hat SEO. The reason why I am saying so is that many black hat SEO strategists try to use their strategy to get a higher ranking but after the penalty from Google, they can't do anything. That's why such people spread the rumor that SEO is dead.
Let me be clear,
SEO IS NOT DEAD
Let me prove this,
This is my blog traffic achievement with the help of SEO. I use SEO tactics to get traffic to my blog posts.
Do you really think SEO is dead?
This is one of my blog posts ranking in SERP.
And if I check the keywords the blog post is ranking on, I see this.

4.3k organic search traffic. Do you really think now if it is just by chance or is it the magic of SEO?
So, trust me SEO is not dead. The black hat SEO techniques are dead.
Google Only Ranks New Content
'Freshness' is a ranking element that is affected by the query. As a result, it is more important for some inquiries than others. It all relies on whether the content's freshness has an effect on its quality.
Because SEO is always changing, updated content is important for many SEO-related questions.
When the content gets published. New information and facts keep on coming into the market. So, it is extremely important to keep your content updated by the time.
Also, this is the parameter Google judges the content. While significant updates receive more attention from Google, modest adjustments to a website are still vital since, as previously said, a page's freshness degrades with time, regardless of how evergreen it is.
Read more: Top 10 On-Page SEO Techniques for Higher Ranking
SEO Is All About Ranking
That's true, the user is less likely to sift through several pages and is more likely to change the search phrase or glance at the first few links. As a result, the business gets marketers that promise to rank your page and make it the ultimate SEO aim.
But, spoiler warning, merely having a better position doesn't mean you'll get more visitors from searches.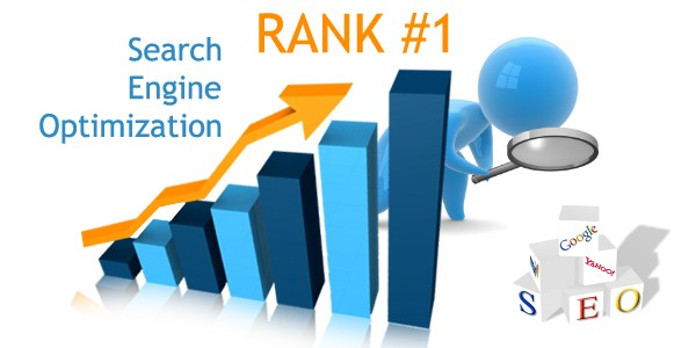 Higher ranks will get you recognized, but the possibility of people clicking on your link is entirely dependent on how well you employ meta descriptions, titles, snippets, and other elements.
A better ranking indicates that you did a good job with your keyword research and looked into the more complex factors so that your target audience didn't just pass you by. Hope you get the point. SEO is not only for the rankings!
Also, SEO affects many areas, including usability, user experience, website structure, etc. the ranking can never be the main goal and is overrated.
The Home Page Should Have Lots Of Content
A common SEO misconception that must be addressed before we all wind up with complex, huge home pages that mislead users.
With the rise of landing pages and reduced home pages, having too much material on the homepage will not produce the desired outcomes, and will likely result in greater bounce rates since visitors will not interact with your website.
Instead of starting with the homepage, focus on optimizing each page of the website to direct the relevant audience to that page.
This approach ensures that your target audience discovers relevant material immediately away, which will lead to more conversion chances.
The fact is, the homepage must have at least 500 words. That may seem like a lot, but if you divide it down into well-designed sub-parts, it won't be that intimidating.
You're more likely to rank for certain keywords if you have more material on your site.

Similar to the last SEO myth, many people believe that having many pages is the best option. While it is advised that information be broken out to guarantee relevancy, creating too many pages will not boost results.
Despite popular belief, the search engine does not recommend websites with more than one or two pages. It all comes down to the relevancy and uniqueness of your material in the end.
Read more: Tips To Build A Landing Page That Actually Converts
Longer Content Has More Value
Finally, having a large amount of material on your website will not improve your search engine ranking or appeal to your target audience. Most businesses fail to see that the goal is to develop content that will appeal to the target audience, not only to be ranked.
In a world where people's attention spans are shortening, having too much content will sabotage the entire attempt.
Rather than focusing on generating a lot of content with a lot of keywords, aim to create precise and targeted content.
This will increase conversions and, when combined with the correct Call-To-Action, will improve user experience.
Depending on your business specialization or what you've been reading, you may already have a strong opinion on whether lengthier content is a vital component of your content marketing strategy or whether it's all been exaggerated.
One thing is undeniable: Google continuously serves up lengthier material to its users. The more essential issue, though, is why, and what it entails for your own content development techniques.
However, 32% of experts believe that it depends on the niche if longer content has more value.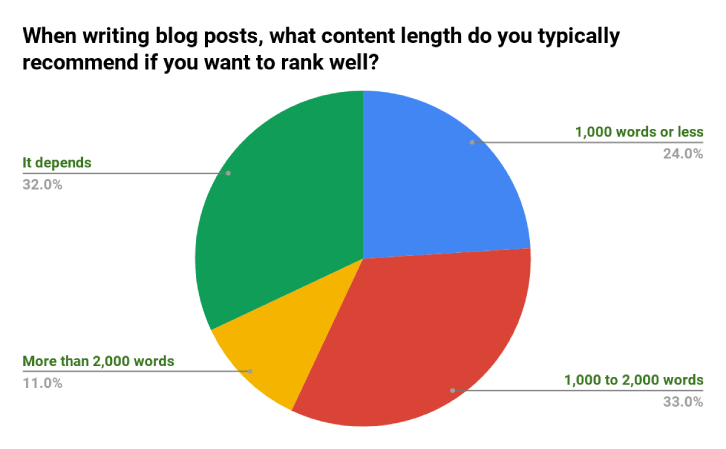 XML Sitemaps Will Boost Rankings
Do you have the Google XML Sitemaps generator installed on your WordPress site? Can a sitemap help you improve your search engine rankings?
An XML sitemap is required if you want to develop a crawlable site, even if it isn't the most significant factor in your rankings.
The Google XML sitemaps generator will build an updated sitemap with your new pages and submit it to Google and other search engines each time you publish a new post or amend an old article.
What we do know is that an XML Sitemap aids in the speedier crawling and indexing of new sites by search engines.
Trevor Foucher and Susan Moskwa of the Webmaster Tools Team presented at Search Engine Strategies in Chicago in 2008 as part of the Sitemaps Panel. "Will a sitemap help me rank better?" was one of the numerous questions they were asked.

Trevor's response is as follows: The real rankings of your web pages are unaffected by a sitemap. Sitemaps act as a guide for Google, providing more information about your site, such as ensuring that all of your URLs are indexed for simple indexing. Except for ensuring that it ranks rapidly, it isn't actually the cornerstone of content marketing.
This is still true today, despite the fact that it was ten years ago. When the URLs are prioritized, a sitemap might eventually lead to higher visibility for your website. That is not, however, a guarantee.
A fast tip: If you haven't already done so, you should install the Google XML Sitemaps generator on your WordPress site right now. It's impossible to predict whether or not your rankings will increase. However, it will help Google find your new material more quickly.
PPC Improves Organic Results
Paid search and keyword bidding are excellent ways to increase your exposure and reach your target audience. Your organic results, on the other hand, are unaffected by sponsored search. A search engine separates organic and sponsored search results and displays them in various sections.
There appears to be no association between organic and paid rankings. They work in a variety of environments.
You may target additional keywords and simply test different campaigns with sponsored advertisements. More significantly, having your sponsored ad appear above the search ranks might help you establish your brand identity.
Paid search can assist you in defining and refining the terms you want to target organically by providing reliable statistics. After all, measuring the ROI of a purchased search link is considerably easier than measuring the ROI of a free organic listing.
Additionally, paid ad click-through rates will provide the ideal terms to optimize for high-quality organic searches.
So, while the sponsored search can certainly assist improve the conversion rate of organic results, it will not help with rankings.
Read more: Is SEO a Perfect Replacement to PPC for Online Vape Shops?
Social Media Is Not A Ranking Factor
Is it true that links from Facebook, Twitter, and other social media sites have an impact on ranking? Do social signals play a role in Google's ranking algorithm?
Brian Dean performed an excellent job of identifying the 200 ranking variables used by Google. Is that, however, all there is to it?
No, I don't believe so. Social metrics are crucial for integrating all of the other search engine ranking variables together and making them operate together.
The advantage of social metrics is that, unlike your personal brand, they can be tracked and assessed precisely.
Personally, I feel that social media and search are linked. Google and Bing both utilize social media data to decide how beneficial your site is and where it should be ranked.
Because social signals do not transfer direct link juice to a specific website, the influence of social signals on rankings may be subtle.
Although the higher ranks may not stay long, you would see a significant spike in search traffic when power users promote your content on social media networks.
It's important to keep in mind that seeing increased search traffic and rankings takes time, especially if you're entirely focused on social signals.
I advocate that you improve your site traffic by using SEO, blogging, and social media marketing while also building your brand.
Read more: Tips To Make A Successful Social Media Campaign
H1 Tag Is The Most Important Element
Prior to Google Panda, all of your on-page SEO efforts held a lot of weight in Google's views. However, time have changed.
Although H1s are vital, there is little evidence that they can improve your search ranks.
The bulk of individuals in the internet marketing business worries about styles since they have a plethora of software tools for creating high-converting landing pages and can at least create a simple HTML web page.
However, in non-internet-related businesses, those men are less concerned with header tags, but they still value high-quality content. That is why they are successful.
Overall, I propose using heading tags not because you want to improve your search rankings, but because it will improve your users' experience. They'll be able to traverse your site more quickly and distinguish between subheads and the body of the text.
H1 – H3 tags, depending on your WordPress theme or design, will break up enormous volumes of content into readily consumable portions.
Remember that if your readers enjoy your content and stay for a while, Google will reward you with higher search ranks and more traffic.
Conclusion
In this blog, we have seen some of the most common SEO myths popular in the marketing industry, which you should know to grow digitally.
If you really want to create brand awareness, you must stay away from all kinds of SEO myths. Many people think that SEO is dead but the fact is SEO is not dead and flourishing by the time. So, avoid such myths as much as possible.
If you have any doubts or queries, you can just comment it down below in the comment section. I am going to reply for sure!
For more marketing tips and services, you can schedule a free-of-cost 30-Minute Strategy session with our experts. In this call, our experts would discuss your business and provide you with the free strategies that you can use to boost your sales and revenue.
FAQs
1. Is SEO really that important?
Whether you've been doing SEO for a long time or are just getting started, it may be a valuable source of traffic and leads for your website. SEO can help local businesses, those that want to reach a bigger audience with their content, and those who want to use a multichannel strategy.
2. How does SEO work?
The method of gaining traffic through search engines' free, organic, editorial, or natural search results is known as SEO. Its purpose is to improve the visibility of your website in search engine results pages. Keep in mind that the higher your website is on the list, the more people will see it.
3. How can I optimize my website for search engines?
How to optimize a website for search engines
– Conduct keyword research and utilize phrases that are relevant
– Use keywords all across your page
– Permalinks should include SEO
– Make use of existing material by linking to it
– Create material that is of excellent quality
– Improve the quality of your photographs
– Page loading time.
– Remember to include a mobile version
4. What can I do to boost my Google SEO ranking?
To boost your search engine optimization, use these tips (SEO)
– Publish content that is both relevant and authoritative.
– Regularly update your content.
– Metadata is information about information.
– Have a site that is worth linking to.
– Make use of alternative tags.
5. What is the monthly cost of SEO?
How much money should you set aside for SEO? If you engage a top-tier SEO service to handle a local campaign, expect to pay $500.00 per month or more. For a national or global campaign, a monthly budget of $2,500 to $5,000 is necessary. Some businesses provide a "trial package" with no strings attached for a discounted fee.