To maintain your ranking in the ever-changing world of SEO (Search Engine Optimization), you must keep up with the latest trends in SEO. Citation building is a critical component of local SEO. This guide will outline the best citation practices for 2023 and the coming years.
Did you know that citations are one of Google's most important ranking factors? Even if you have a strong link profile, your SEO efforts will be ineffective unless you include citations.
Accurate citations of a local online business can help improve your local search engine rankings as one of the key ranking factors in local SEO.
You must create a website listing on any of the available local directories and platforms, and include all relevant information. That is what local citation building is.

However, there is a lot more to know when it comes to creating citations for local search engine optimization, which you will get to know further.
Stay with this blog because I have a gift for you at the end of the blog, I promise!! Which will help you skyrocket your citation building.
This guide will cover everything there is to know about local citation building. So, let's get started.
What Are Local Citations?
Local building citations are business listings on platforms such as Yelp and Facebook. It includes your company's name, address, and phone number, also known as the NAP information.
Those who are searching the internet for information about local businesses may come across citations in business directories, Google My Business, review sites, social media platforms, and other local media outlets.
These citations are used by search engines like Google to verify the relevance and authenticity of data, confirming your business's existence while consumers use them to compare and find local businesses.
Let's take a look at the list of additional components of local citation building:
Business Categories
Additional Phone Numbers And Email Addresses
Business Description
Operational Hours
Directions On How To Get There (Physical Location)
Reviews
Images
Links To Business Pages On Various Social Media Platforms
Payment Acceptance Forms
Google Maps And Co-Ordinates
Videos
Taglines
Types Of Citation For Local SEO
Now that we've covered the basics of citations, let's look at the two types of citations: structured and unstructured.
Structured Citations
A structured citation lists a company's NAP information, which includes its name, address, and phone number, in a consistent format. These types of citations can be found in social media profiles and directory listings.
Each company's business profile is displayed in the same way, and the service page is built around the data mentioned above.
The majority of structured citations can be found on general and local business directories such as Yelp and the Better Business Bureau for the area.
Industry-specific directories, such as TripAdvisor, are also excellent resources for locating a local business's name, address, phone number, and hours of operation.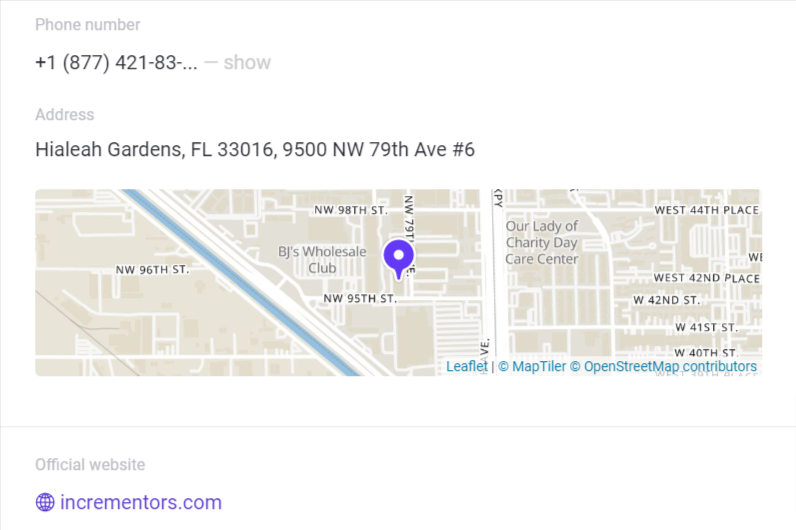 Unstructured Citations
Although unstructured citations are uncommon in local SEO, they are not without value.
These citations do not adhere to any structured listing format, with data grouped by fields, such as the company's name, address, and phone number. Instead, the information can be disseminated.
For instance, if a local newspaper or blog post mentions your company in an article,
Contextual mentions of the company are also common in blog posts and forum threads.
Unstructured citations may be difficult for search engines to scrape, but they are still important for local Search Engine Optimization (SEO).
See the example below: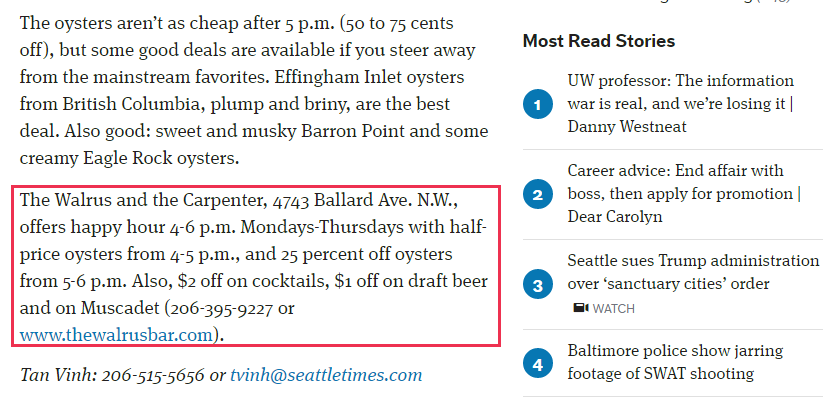 A website has mentioned the other brand's NAP. One of the best examples of unstructured citations.
For you to have a clear understanding of both the citations, here is an image below that would assist you.
The Importance Of Citations In Local SEO
Let's take a look at how citations can help you build a business or local citation building strategy. Citations, after all, can help you rank higher in local searches.
Improves Local Pack And Local Rankings
The accuracy of data, the quality of directory listings, and the number of business citations are all important ranking factors for SEO. Although citation signals are not a ranking factor, they do have an impact on the local pack and organic search rankings.
If the data obtained by search engines such as Google is consistent across different business listings and platforms, the company has a better chance of ranking higher on the SERPs. Inconsistent listings and NAP information mentioned in directories may hurt local SEO rankings.
As a result, it is critical to select citations wisely, as Google evaluates any local business's online presence based on relevance, consistency, and quality.
Helps Earn Referral Traffic
Citations help generate valuable referral traffic, so make sure your company is listed in as many directories as possible. After all, potential customers will use local search citations within business listings to find relevant products and services on different directories and platforms like Yelp.
For example, customers looking for a restaurant might go to TripAdvisor, while those looking for a hotel might go to Booking.com. Instead of conducting a Google search, most users go directly to these apps or websites. That is why it is critical to ensure that your company is listed in industry-specific directories.
Boosts Online Visibility On SERPs
In organic local search results, reputable directories such as Yelp, Google My Business, and Foursquare rank highly. You could try to compete with these titans, but it's better to join them.
These online business directories increase the chances of local businesses ranking on the first page of the SERPs.
In fact, according to a local SERP study, these directories receive the majority of first-page clicks, including local pack and PPC, when a consumer searches for a business online.
Provides Link-Back Opportunities
Obtaining link-backs to your website from trustworthy and authoritative sites is critical for SEO, and this is where citations come into play. Nowadays, the majority of business listings include a website URL, and the majority of websites display them as "do follow" links.
Search engines, such as Google, use them to pass link equity to your website, thereby improving SEO.
Read More: Dofollow vs Nofollow Link: Which One is Better?
Provides Opportunities For Third-Party Review
Relevance, proximity, and prominence—defined by positive online mentions and an industry reputation—are the three pillars of ranking in the Google local pack. Many citation websites also function as review sites, where customers can describe and rate their local business experiences.
Business listings on GMB, Yelp, and other platforms can be extremely beneficial if you provide prompt and dependable customer service. After all, Google trusts these citation sites, so local directory listings dominate the first page of search results.
How To Build Local SEO Citations?
Local listings will benefit from structured and unstructured citations, but don't overdo it in terms of quantity. Rather than listing your local business in every online directory, concentrate on quality and authenticity.
Data Aggregator Listing
With thousands of online business directories ranging from Google My Business (GMB) to Yellow Pages, manual or direct submission of NAP information may result in many gaps.
This, in turn, will jeopardize data accuracy across various online directories.
Data aggregators can help solve the problem by collecting relevant information about local listings and distributing it to various other websites on the internet. This will assist your company in establishing numerous citations to build a successful local SEO strategy.
To ensure data accuracy, data aggregators help distribute your information to various sites online using a consistent name and other business details. The same business information is distributed across directory sites online. Data aggregators are typically trusted websites that offer additional tools and valuable insights.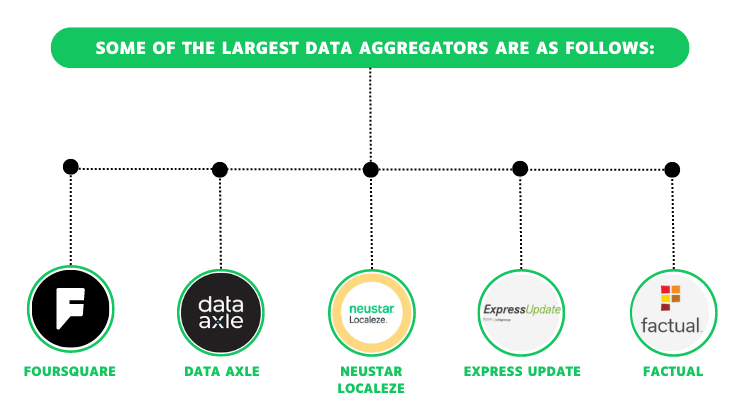 Factual Express Update and Neustar Localeze are both free, automated data aggregators that you can use to claim, submit, and manage your business listings. You must search for your company online and claim the listing.
If it isn't there, create one. Just make certain that any duplicate listings are claimed.
Remember to double-check your company's name, address, and phone number (NAP information).
Claiming the listing is important because it verifies that you are the owner of that specific local business. This gives you the authority to maintain its online presence. Every local business index has its own claim procedure, which includes distinct steps.
Most directories and websites will ask if your company is already listed in their database. Because of user-generated content, there is a good chance that there is some record of its presence online. You may have previously worked with a local SEO agency.
Enter the business name or phone number to see if your company already has a Google My Business profile or is listed. Then, go over the business information and update or add relevant information. After all, the NAP information should be consistent across all platforms.
Following the completion of the information, the verification process will take place in one of three ways:
Via phone call—verification using a pin
Via email—by clicking on a verification link
Via post—PIN verification
Remember that the time it takes to complete the verification process and see your business online will vary depending on the platform. To avoid further delays, avoid making any changes to the information or data in the submitted business listings.
Direct Submission To Core Sites
Many reputable sites will receive your NAP information from data aggregators, but not all.
That is why it is critical to submit accurate business information to key sites.
This should include more than just your company's name, address, and phone number; it should also include relevant information such as operating hours and products or services.
Apple Maps, Bing Places, Yellow Pages, BBB, Yelp, and Facebook are examples of these sites. You don't have to submit to every citation site you come across because some don't get enough traffic. Look for worthwhile websites and local directories.
Submission To Reputable Industry-Specific Local Sites
As a local business, it's critical to look for industry-specific opportunities in your community.
The physical location of your local business will provide more opportunities for local SEO citations. You should also join local business associations such as the Chamber of Commerce.
Here are a few options for finding these citation opportunities in your area.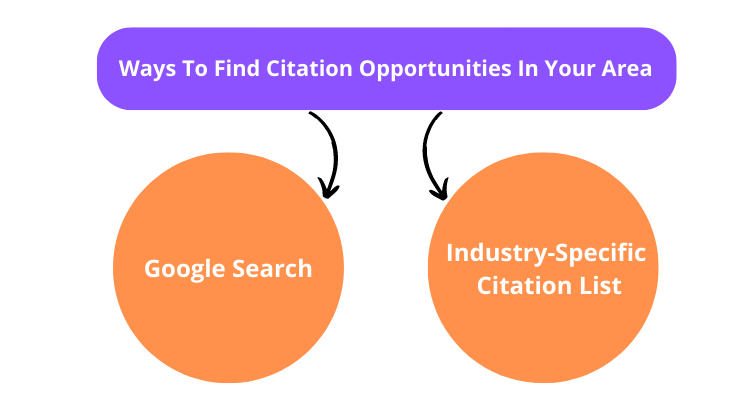 Google Search
Enter your location and industry into Google followed by the phrases "business directory," "business listings," and "chamber of commerce." You'll come across a variety of sites to submit to; use your discretion to determine which ones are worthwhile.
Industry-Specific Citation List
You can find a relevant citation opportunity for your company by using an industry-specific citation list (which is usually available online). These lists save you a lot of time by assisting you in getting listed on sites relevant to your business.
API Citation Submissions
Using APIs (application program interfaces), citations can be submitted in an automated manner. APIs are coded to function autonomously, so no manual effort is required. They are used by the majority of citation providers to submit them to local business directories.
Each API comes with a predefined network through which it typically provides information. Companies, such as Yahoo and Yext, may have exclusive partnerships.
That being said, it's important to note that API solutions come in two flavors:
The first version acts as a "data layer," providing accurate data to business directories. This data is then layered on top of the existing data.
In other words, you will be paying to have your company's information appear above the existing page data. However, this is a temporary solution, and you must continue to pay for that listing to remain active.
The second version, API, is used to submit data directly to the database, which results in permanent business listings, but this is not always the case. This is because the information provided by these APIs is based on data pushes.
Even if you cancel, the listings will most likely revert because there is no evidence that the data is incorrect.
Optimizing Local SEO Citations
Local citation building is more than just disseminating your company's NAP information across the web. It is critical to optimize your business listings to attract potential customers to your website.
When it comes to optimizing local citations, keep the following in mind:
Make Use Of Descriptions
Allow search engines like Google and potential customers to better understand your local business by providing detailed descriptions that explain what it is about and what it offers. Describe your business listing precisely without stuffing keywords or focusing too heavily on sales.
Check the image below and see how I have added a description for one of a citations website.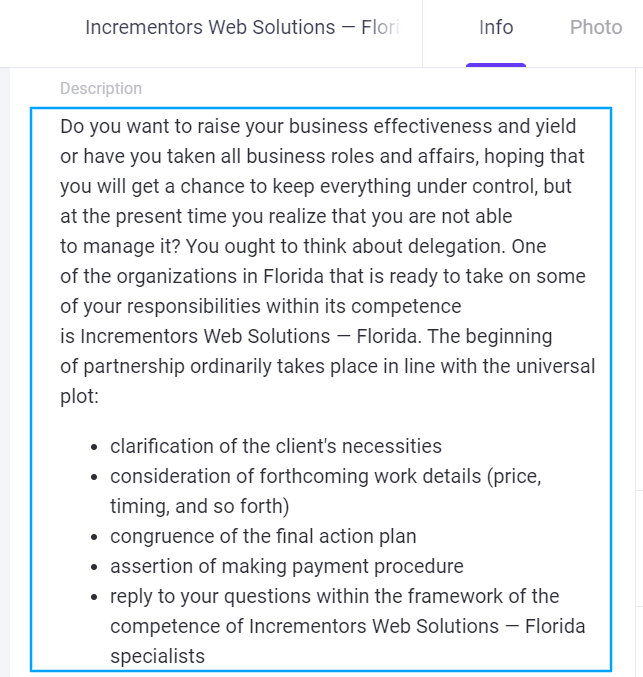 Add Images
When you submit your business listing to platforms such as Google My Business (GMB), you can include photos to increase online visibility and conversion rates. To showcase your business, try sharing a variety of images, including photos of the products you offer.
Let me show you an example of my website. See the images that I have added.

Read More: Everything You Need To Know About Image Optimization
This guide will help you optimize your image for Internet.
Include Business Categories
local citation building platforms, such as Google My Business (GMB), give you the option of categorizing your local business as primary or secondary.
This will assist search engines in matching your company with the appropriate expertise and search query areas. You can also compare the categories to competitors' to ensure you're on the right track.
Google uses this as an online reference for what your website is about and whether or not it is relevant to a search query.
Having Positive Reviews
A local business website with positive online reviews will significantly boost its local rankings, as great reviews are an important SEO ranking factor. Google will assess the quality and authenticity of the business by examining third-party review sentiments.
Use Your Website Link
If you have multiple physical locations and offer a variety of services, your website link will aid in directing search engines and readers to the site's specific pages. This is important for such businesses because it keeps search engines from getting confused.
NAP Information Consistency
Your company's NAP information consists of its name, address, and phone number, and it should be consistent across all online business directories and platforms.
A Gift For Readers
So, you have read this blog till now because you wanted to learn about local citation building and as I promised you above that I have a gift for you at the end.
Here is "500+ Top Local Business Listing Sites – Citation Database". These top local business listing sites will skyrocket your local business for sure! So try them once.
Conclusion
I hope this article has helped you understand what local citations are, how they work, and where and how to find them. You should now have a basic understanding of the process of obtaining local citations.
Make good use of it. But, as with anything in the digitally connected world, don't take this information for granted. For regular updates, you should check SEO-related blogs, websites, and other sources.
Did you know I provide a wide range of SEO and related services, including complete local citation building and fully managed SEO? If you're interested—or simply curious about what I have to offer—please let me know. We're here to assist you and your company!