Do you want to get more visitors to your content on every platform?
Of course, who doesn't want that?
But it requires lots of new content to post and that too on a daily basis!!
So, how are you going to manage it?
Well, that's possible with the help of content repurposing.
It's a way of transforming your content in another format and presenting it to a whole new target audience on a different platform.
And in this blog, I am going to share some of the best ways you can repurpose content.
So, let's get started to dive in.
But before going further, I would like you to watch a video that is going to help you.

Benefits Of Content Repurposing
If you have ever been to an art school, then you must have known how you used to create a new craft using some waste material. This is what is called creativity.
And this is exactly what you need to do in content repurposing. But things are slightly different here. You don't need to use your rough content to create new content, but you need to transform one content into another for new platforms.
Content repurposing is the whole game of creativity at its peak.
While introducing you to content repurposing, I will also explain the advantages using Salma Jafri's explanation on writing for Search Engine Watch.
The way she describes content repurposing is just on another level.
Salma says, "You don't have to create content day in and day out. You just have to work on getting the content you already have in the hands of more people."
I hope you already have guessed what she is trying to make us do.
but if you are still confused, here is the clear explanation.
She is just asking us to work and convert the content we already have so that we can target the large audience.
There are lot's of benefits of content repurposing, those are:
1. High boost in SEO: Multiple pieces of content on the same topic will lead to more possibilities to target a certain keyword. Also, if you post the repurposed content outside the website, you can receive quality backlinks to your website or page.
2. Reach out to a new audience: If you are publishing content on a single platform, you may interact with only one group of customers whereas repurposing the content for other platforms will allow you to meet a new audience, which might be interested in your content.
Michael Brenner of SAP says,
"Multi-channel marketing … provides the content our audiences are searching for, in all the places they search."
Let me explain this concept with an example,
I had a podcast in which I talked with Sara Nay, who is the COO at Duct Tape Marketing, Founder of Spark Lab Consulting, and the host of the Agency Spark Podcast.
And believe me, I got lots of likes, comments, shares, and views on that podcast video. But that was not enough to satisfy me.
Through this podcast, I targeted the audience on youtube only.
But for a wide range of targeting, I transformed this podcast video into a blog post and got the audience from there too.
24 Proven Inbound Marketing Strategies to Acquire New Customers
And I got clicks, traffic, and even a high impression on that page too.
This is how content repurposing helped me target a new audience through Google.
3. Repeat your point: Have you heard about marketing's "rule of 7" which states that a buyer needs to hear your message at least 7 times before he converts to a customer?
This is exactly where content repurposing works in your favor.
With content repurposing, a buyer gets to see your content with the same niche on different platforms.
Thus, he will be a loyal customer.
How To Find Content For Repurposing
Now that you already have lots of content like blog posts, podcasts, youtube videos, infographics, and video tutorials. The confusion to choose the right content for repurposing is quite normal. Right?
But no worries!
I will help you choose the right content.
There are two things that you should take into consideration while finding the right content for repurposing.
One is evergreen content and the other thing is, quality of the content.
Choose the content which is everlasting and will not vanish by the time. Let's say if you created a blog post on "how to grow your business digitally?"
This topic is evergreen as business owners want to read such content on a daily basis and it never gets old. Whatever year it is, business owners are constantly interested in learning how to build their businesses online.
So, use such content for repurposing. Also, check the quality of the content.
Ways To Repurpose The Content
Before I elaborate on the ways to repurpose content, I would like to share a glimpse of what you are going to learn further.
Create Blog Posts
Do you know a blog post can generate high traffic to your website?
Also, the topics that last forever have the potential to drive more visitors to your website.
So why don't you repurpose such content into blog posts?
The quality content can spin off more high-quality repurposed content and your target audience can be benefitted from many platforms.
Let me explain.
A few months back, I created a video on How to Improve Landing Page Conversion & Get More Leads
Which did well.
Later, I also created a blog on this topic Tips To Build A Landing Page That Actually Converts
See, I played smartly and got the audience from both platforms.
To do this, you need to create lists of the videos that you have posted. Also, check if the content is evergreen for your audience and then convert them into other content.
For eg: after repurposing the video content into blog posts, I also created posts for social media.
This is exactly how content repurposing is done.
Hence, I created 3 content out of a single content.
Design A Book
Have you seen a book on my website? If not, visit the anchor link and you will find it below.
Many people think it is quite difficult to release a book if you work in a company. But trust me, it is not as difficult as it seems.
I receive so many questions regarding "how did I create a book in so little time?" or "how did I do research for the book?"
Well, that is one of my secrets and I am elevated to share this with you.
The things that I did to create this book will help you create books for your website too.
You know it well, I was writing blogs for years on many different topics. There were so many topics on business growth too.
So, I took some of the best topics and did extra research on them, and transformed it into a book.
That's how I was able to create a book in such a little time.
You can also do the same. Just find out the everlasting topics within your blog posts and start working on a book right now! You can design it by yourself with the help of tools like papyrus.
Once you have created a book, you can use it to enhance the subscribers and leads for your business.
Write Guest Posts
If you already know about guest posting, you know how beneficial it is for building brand awareness, relationships, boosting authority, and reaching a new audience.
Guest posting is an act of contributing content to other brands' websites or blogs and the website owner gives a backlink in return.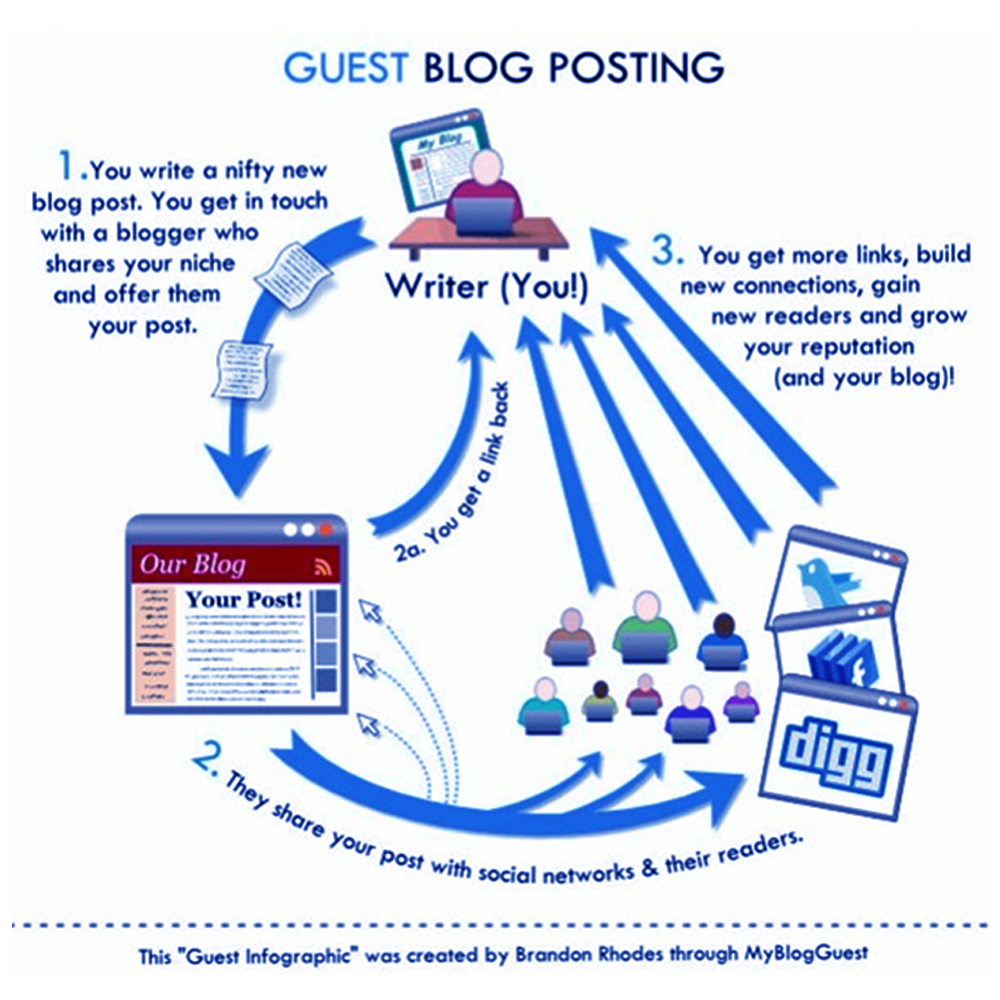 It works for both PR(Public Relations) and SEO initiatives.
You may repurpose your content, such as YouTube videos, blog posts, and infographics, for guest posting on other websites.
Here is a process to go with guest posting:
1. Select content which is still relevant.
2. Find opportunities for guest posting.
3. Create topics out of your old content.
4. Write a post worth posting.
5. Follow up on your work
6. Track your results
That's how you will be able to generate more traffic and visitors to your website.
Make Podcasts
Do you know that over 51% of the United States have listened to at least one podcast?
Source: hubspot
So, Isn't it a beneficial deal to repurpose your blog content to podcasts?
For doing this, you need to take an evergreen topic and then convert them into a podcast script.
Making podcasts out of your blog content is extremely beneficial for both SEO purposes and for organizing the content that will be helpful for readers.
And one of the best things about blogging is, it's a seasonal approach. You can make your own seasons for podcasts. Also, you will have much time to think and create the podcasts.
While creating a podcast, just keep asking one question to yourself, "would I listen to this If I need information on this topic?"
This question will guide you through the process.
Still, if you want to give your podcast some extra touch up, you can use some paid tools like Mixer and Adobe audition.
Once you have these tools, you can easily repurpose your content into a podcast.
Create Slideshows
Have you seen content in a slideshow or presentation like this?
They are quite popular on the internet but you cannot just copy and paste your content on SlideShare.
The thing is, you need to create a main idea outline and then fill in the relevant details.
Consider the following elements for creating better SlideShare content:
A) Keep only 15 words per slide
B) Add visual contents. BBC's audio slideshow presentation expert, Paul Kerley, recommends approximately 8-10 images per minute.
C) Mark Luckie, a journalist and interactive designer, advises that each photo should appear on the screen for no less than 3 seconds, but no more than 10.
D) Have your theme color.
E) Incorporate many different colors into your website.
Well, it is a choice of the template what kind of presentation you want to show to your viewers.
Steps to sketch the SlideShare:
A) Have an outline
B) Add details of what you want to say in each slide.
C) Sequence your slide effectively.
Tadaa… you have your SlideShare ready.
Use White Papers
Do you know that white papers are the most preferred option for corporate purchase choices?
– Eccolo Media's 2014 B2B Technology Content Survey Report
Now the question that might be buzzing in your mind is, "what are these white papers?"
Well, white paper is a marketing tool that positively promotes your brand by presenting facts, figures, and other solid elements that reflect on what you're delivering.
It somewhat looks like this: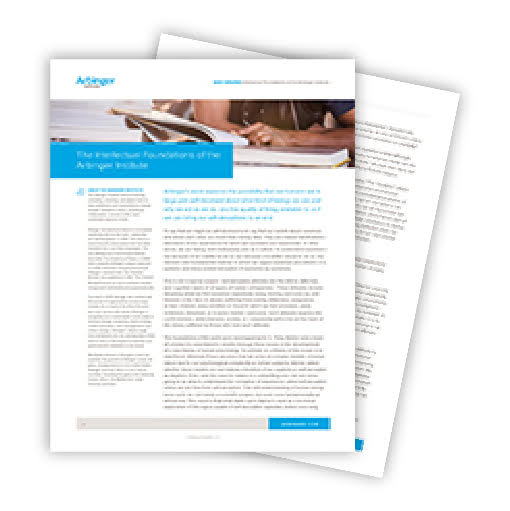 In other words, they are informational documents issued by a company to promote and highlight the features of solutions, products, or services that they provide.
They are considered as most authoritative and informative material as they are covered with data and facts.
Writing white papers are quite easy.
You just have to start with the title and start giving points in favor.
Blog posts, youtube videos, and social media posts content can be used in writing white papers.
Post On Quora
Almost everyone plans for posting on 4 big social media platforms. Facebook, Instagram, LinkedIn, and Twitter.
But have you ever considered posting content on Quora?
Now, you might be wondering what's the benefit of posting on Quora?
But trust me, it is extremely beneficial.
You can easily repurpose your content to reply to the questions of users on quora.
If you publish good content and include a link to your blog, you will receive a lot of visitors in return.
Let me explain this with an example.
I wrote a blog on my website, 11 Website Copywriting Tips to Boost Sales
Though I got lots of impressions and visits on my blog, still I wanted some more people to visit on my blog, that's why I started answering the questions of the users on quora by repurposing the content.
See the screenshot below.
that's how I got the audience from quora as well and built authority in the eyes of users.
Post On Social Media
That's one of my favorite kinds of content repurposing, creating content for social media.
When people hear about content repurposing for social media posts, they only wonder about posting a relevant picture to their blog along with a caption and link.
The posts on social media will only work better if you know what post will do good and at what time.
It's the type of posts that matters.
A research work done by Frac.tl and BuzzStream, in which they analyzed the 2000,000 pieces of content from different niches and found out in different months, different sorts of postings from various social media sectors do better.
I hope now you have got the point that what kind of social media posts will be benefited for you.
In short, working on posts that start with, "what", "how", "why" can greatly increase the number of shares on social media.
So, create social media posts as per the graph and see the tremendous results.
Create Infographics For Pinterest
This is one of the easiest things to do. An infographic can provide complete data of your blog post.
If you have used lots of data in your content, consider going with an infographic for content repurposing.
And the plus point is, the infographic will also make the data easily understandable.
Infographics are just a simple way to relate data and break up the blog posts into the important points of the blog.
You can use free tools like Piktochart and Visually. They provide platforms to non-designers to create their own infographics free of cost.
Analyze your youtube video scripts and find out the facts and data that you have posted in it and then make the infographic out of it.
See, it is that simple.
Craft Email Series
Some content from your content pipeline can be transformed into an Email series or newsletters.
Let me explain this with an example:
I have written this blog post about content repurposing, so the methods I am talking about can be repurposed into an email series or newsletter by adding some images, infographics, and data.
Isn't this a good idea?
That's how you tend to enhance the age of your content.
Once you have your Email series ready in your hand, you can offer the subscribers a series of Emails and use them to generate leads, customers, and subscribers.
Refresh The Old Content
Whenever I see my old blog posts, I still feel the need to edit them. Not because they are written badly but because of the update in the topic by the time.
When I write something, the data gets updated by the time, which is why I need to update my blogs by adding additional data and information.
It always happens. Even if you have written something with 100% accuracy, it would still need edits and updates.
Modifying old content can be a very straightforward process and help you get more traffic.
Conduct Webinars
The next thing you can do for content repurposing is to host a webinar and allows you to both present a topic and engage your audience in conversation.
Your existing blogs content or youtube videos can be repurposed into webinars where you can use the series of your blogs for the presentation.
This will help you in two ways:
First , it will help you build the credibility of your brand.
And the second is, it will help you target a large no. audience.
That's how more people will know your brand.
Micro-Blogging
I know you might be thinking, what is this new term called micro-blogging?
Don't worry! I am here to help.
Well, if I talk about micro-blogging, it is not a new term. Almost everyone does that. It's a way of saying a lot with few words.
One of the biggest platforms for micro-blogging is Twitter.
You can share your own researched data and statistics to post on Twitter by showing its relevance to your brand.
You can take the example of my Twitter handle.
I used the data & statistics from my articles for micro-blogging and believe me, I got results.
So, find out your blogs consist of some relevant data and use them for micro-blogging on Twitter.
For creating images on Twitter, you can use tools like Canva.
Create Video Tutorials
Have you seen "how to do" videos on the websites? Those are called video tutorials.
You can make them target a vast audience.
What you need to do is to take a blog and turn it into a video tutorial and teach the world.
But before that, you need to create a video planning for the tutorial which includes,
Step 1: Identify and learn about your target audience.
Step 2: Create a storyboard and a script.
Step 3: Make a recording of your narrative.
Step 4: Record the video.
Step 5: Make some changes.
Step 6: Include a video introduction.
Step 7: Create and distribute.
See, it is that simple.
Create Thought Leadership Content
Thought leadership content is quite different than just creating E-books, crafting E-mail series, and hosting webinars.
A thought leadership content is "an approach content"
When you are talking about "thought leadership of your brand", you are describing the way you want your brand to be seen by customers, competitors, and audience in general.
Now, the thing that you can do to create thought leadership content is re-read the blogs on your website and find out the tags and lines which better symbolize your brand and can create your brand's image as a thought leader.
Or, you can do one more thing. Find out the researched data and facts in your blog posts and show them to the world as a leader in the industry.
Make Case Studies Out Of Your Content
Another way you can repurpose the content are the case studies.
Case studies are the most successful form of marketing to companies.
According to the Content Marketing Institute's 2014 B2B Small Business Content Marketing Report, People prefer plain text case studies to other types like presentations or movies.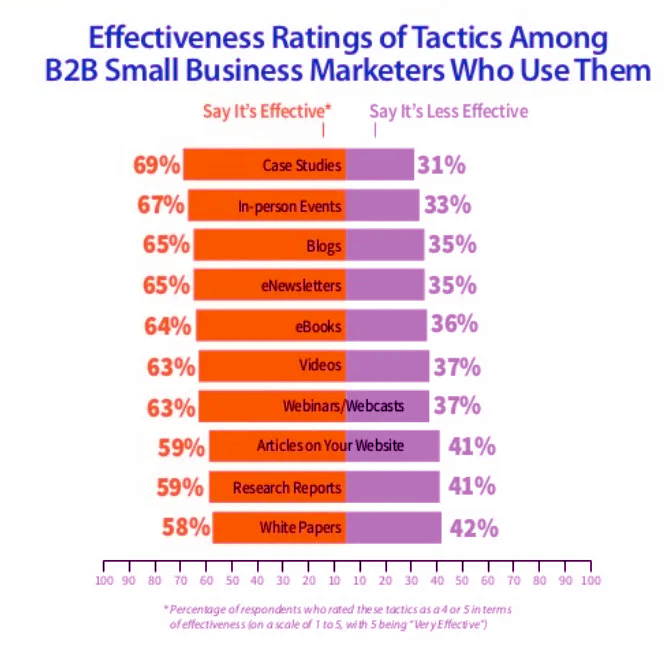 According to the Eccolo research mentioned above, your case study might be 500 words or 1500 words long, as long as it goes straight to the point without fluff or filler.
You can use the case studies to tell the story behind your brand.
Show your brand as a hero which is helping people come off the problems. Tell your client's narrative and share the wonderful outcomes you achieved for them.
Tell your audience how you overcame the problems and the way you helped your clients and customers with the help of your content.
Turn Your Clients' Questions Into FAQs
According to a report called The Real Self-Service Economy, 70% of website users now expect a company's website to include a self-service application.
A well-written FAQ can help you turn a potential buyer into a high-paying customer.
You can add a separate FAQ page on your website.
Just note down what type of questions your clients ask the most or you can go to Google SERP and see what questions are usually asked by the audience.
Take them and create FAQs out of them and answer those questions through your own researched content.
Create Online Courses
Let's say, if you are a digital marketing agency, then you may create a course about SEO or digital marketing.
Yes, you can do that!
It is very simple. Let me explain.
If you are a digital marketing agency, you must have lots of material on marketing posted on youtube and website as well.
Gather the stock material on a particular niche from your industry and compose an offline course out of it.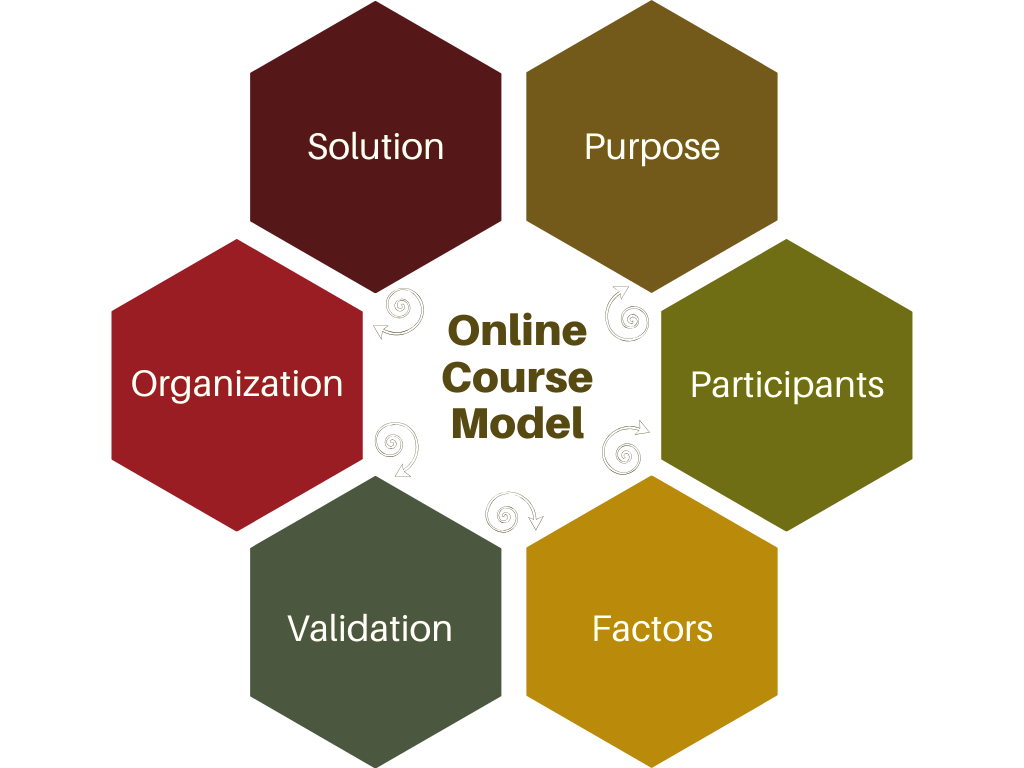 Now, it's up to you whether you want to create it in a video lesson form or a readable guide. The choice is yours!
Creating courses will favor your brand in many different ways like,
1. It will increase brand awareness.
2. It will enhance the authority of the brand.
3. You can get more visitors to your website.
Build Instructographic
Let me explain this point with an example. You must have a lot of "how-to" and "step by step" guides on your website blogs.
Put them together and create Instructographic.
Let me show you an example of Instructographic:
This is exactly how an instructographic looks like. This instructographic started with the question "how to link Pinterest to Facebook" and was answered accordingly in the instructographic.
Let's assume you have a written "how-to guide" that is fairly detailed and thoroughly documented.
However, if you want the material to be simple to visualize and communicate, it's possible that an instructographic may suffice.
They help in adding value to the product page.
Create Downloadable PDFs And Checklists
The next thing that you can do is create downloadable PDFs and believe me when I say that's quite easy.
What you need to do is to take your "how-to" guides and make checklists of the important points.
Confused?
Don't worry!
I will explain this with an example:
I created content for a blog post on my website about Step-by-Step Content Creation Guide [Writing to Publishing Content Successfully]
Well, if you see in this guide I have also talked about some do's and don'ts for blog writing.
So, later I also created a checklist for content writing out of this blog post.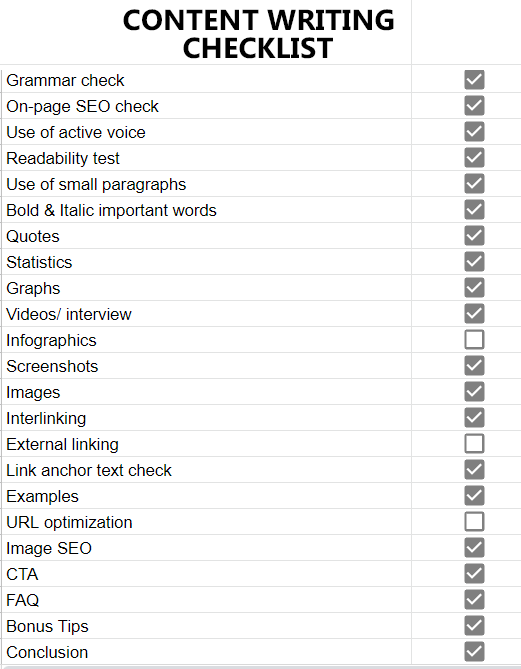 So, you can also do the same as they are extremely important and people do take them seriously.
Also, you can convert such guides into downloadable PDFs for the vantage of the audience.
Make YouTube Videos
Making YouTube videos has a good scope in building brand authority and awareness. As you already know things have changed and people are also moving from readings to visuals.
You can take advantage of it.
There is a large audience that doesn't like to read but sees visuals. This is exactly where you can use youtube videos.
The reason why videos are better than articles is, a video post tends to say things in simpler ways than written content.
Only significant information for a viewer, such as content and examples, can be included in the videos.
And most importantly, the viewers can see live examples of things before themselves which is impossible to show in articles.
Syndicate The Content
Have you heard about the barter system? If yes, then you will easily understand the concept of content syndication.
When there was no concept of money in the market, people used to exchange things.
This is exactly what happens in content syndication.
Content syndication is when a piece of your blog post gets posted on popular sites relevant to your niche.
The third-party gets the free and relevant content and in return, the content provider gets the attention and exposure and also a backlink to their website.
So, you can easily use the content syndication as a repurposing to get more traffic.
What you need to do is to tie up with the brand with the same niche as yours and give them short and repurposed content.
In return, you will get more traffic to your website.
Social Media Live Sessions
Going live on social media platforms is the best way to use your repurposed content.
Go live before the audience takes full research about the respective topic.
Of course why not?
You are going to talk to the audience, you need to be fully prepared.
First of all, select a topic you are going to talk about from the blog posts. Read that blog and gather knowledge.
Then, use social media to announce the topic on which you will be living.
Then, practice a lot before you go live.
And, that's how you used social media live sessions to repurpose the content.
Start Blogging On Off-Site Platforms
There are several off-site platforms on which you can start blogging by repurposing the content to create more brand awareness and brand authority.
You can use platforms like medium, substack, and Hubpages.
Repurposing your content and publishing it on off-site platforms is the easiest way to get some more views on your content.
Trust me, this will give you some extra impressions, likes, comments, and share on your content.
Also, this does not take much time. It only takes 30 to 45 min to publish the entire repurposed blog on off-site platforms.
Building Broken Backlinks
Building broken links is a strategy in which you first identify a broken link and recreate the dead content then tell anyone linking to the dead resource to instead link to your recreated content.
You can easily repurpose content for broken backlinks strategy as nobody wants broken links on their website. Right?
So, if you have a broken backlink issue on your site, you can easily repurpose content for fixing the broken backlink.
What you need to do is, create content for broken links and paste it on the page while fixing the broken backlink.
Just repurpose content from any platforms of your brand(youtube videos, podcasts, blog posts, or social media) and add them to broken backlinks.
Tips From Experts On How To Repurpose Content
Paige, Mavens Moguls

1. Turning a series of articles, blog postings, or newsletters into a Book or Ebook
2. Turning each chapter of a book/e-book into a series of articles, blog postings, or newsletters
3. Turning every piece of content into a tweet
4. Share links to the content on all your social media platforms
5. Finding like-minded groups with a newsletter or website to do a swap and share content with each other's audiences
Craig, Globerunner

One tip for repurposing content is when you are working with video. One of the things you want to always do when you upload a video to YouTube is to go over the Closed Captioning to make sure that it is accurate and your words in the video match the words that show up for Closed Captioning. There are several reasons for this. A lot of times the words don't match up and you want to provide the best experience for your viewers who are using Closed Captioning. But when you do this, you also can copy the text from the video and easily create content with it. Whether you want to make it a standalone blog post, break it up into segments to add to other content, or use it for social media posts. It is a terrific way to get multiple pieces of content out of one "task".
Tim, Coffee Geek TV

1. Republish blog content

You can try content syndication to present your content to a new audience on other relevant sites, review and update your content to appeal to your audience with the newest information, redirect a successful piece of content to a new audience, or summarize your content to create a comprehensive and useful ebook.

2. Turn blog content into video/audio content

Based on your blog content, you can create short videos (eg. Tiktok, Instagram Reel or IGTV, Youtube Short), long videos (eg. Youtube), and podcasts to diversify your content, reach new audiences and direct them to your other platforms like a flywheel.

3. Turn blog content into visual content

You can summarize your blog content in the form of an infographic or slides, which can attract more audience via image search and be used for link-building efforts.
Christopher, Wealth Awesome

Here are some of my proven techniques to repurpose content for my website
1. Use testimonials and statistics for social media posts.
2. Update old blog articles with fresh information.
3. Create podcasts from blog posts.
4. Create video content from blog articles.
5. Gather content to write an e-book
Scott, WL

Re-purposing my content is a technique that I've been using, most people take it as a mediocre move but it's crucial for running the business, I take it as a game-changer for my business. Some tips to re-purpose my content are like making sure I had created content.
Like in e-commerce marketing platforms this will help reinforce my business brands by using the same idea to reach other platforms like social media, YouTube adverts to scale up my business awareness.
You should be able to organize and store your content, this can be through multiple storage sites such as Google drive or dropbox, by having saved previous content you can remodel the content or reuse it to reach a different target group or market. Sometimes the content can be used to rekindle the previous audience to remind them of your brand's existence.
Eva, Discovering Hidden Gems

My favorite way to repurpose content as a blogger is to create new blog posts on overlapping topics. For example, when I visit a new destination for a week-long vacation, I don't just write one blog post. I write one post featuring the accommodations we stayed in, one post featuring all of the sightseeing and attractions we visited, and one post featuring all the restaurants we tried.
Depending on the destination, certain attractions will also have their dedicated blog post such as a National Park (or any attraction where we were hosted). When I create content this way, I can incorporate aspects of each one into all of the others without starting from scratch every time.
Conclusion
I have elaborated the 25 ways to repurpose the content in different ways. Through repurposing the content, you will get to express your brand as much as possible and build brand authority in the eyes of the audience.
The tactics I have elaborated above are the most effective and practical.
Repurposing not only helps in generating more content to publish but also helps in boosting SEO and reaching out to new audiences.
So, the techniques I have elaborated must be followed.
For more, you can watch a 30-minute strategy session
FAQs
Question.1 How can I reuse content on Instagram?
The ways you can reuse content on Instagram:
1. Promote a blog post on Instagram.
2. Use quotes from success stories.
3. Make the most out of data visualization.
4. Share insights via Instagram graphics.
Question.2 How to repurpose IGTV?
Repurposing IGTV is quite easy. Just take the video made some edits to share it on youtube. Tadaa… your repurposed video is ready.
Question.3 How to repurpose content to drive SEO rankings?
For that you can use the following tactics:
1. Publish blog content on medium or off-site platforms.
2. Take your high-performing content.
3. Audit existing content
Question. 4 How do I repurpose Email content?
1. Create roundups from previous blog posts.
2. Develop and promote an ebook.
3. Turn data from presentations or other sources into an infographic.
4. Develop a case study from your company's internal data.
Question. 5 How to repurpose video content?
1. Turn your video into an audio podcast.
2. Covert video into a blog post.
3. Make infographics out of your video.
4. Make SlideShare presentations out of your video.