Readers, Marketers and Bloggers, you have been going on and on about the lack of audience or you having an audience that counts your own family members.
The thing is Blogging today is purposed to attract and engage your audience and this is done to compel them to achieve your marketing goals.
So, instead of fighting the attracting and engaging skill of your content, be ready for SEO blog writing according to user intent.
Because according to some reports by ConvertKit, "69% of bloggers were in the 25-44 age range, and 23% were 45 or older."
This makes a total of 32 million bloggers in the US alone with 570 million blogs on the internet.
Look at the statistic given below that shows an increase in the number of bloggers year after year in the US alone.
You must be expecting a higher traffic from your blog when you write a user intended article but if you are not getting the expected traffic, what do you think is the problem?
The problem could be that you may not be using the key elements in your SEO blog writing , from which one is using long-tailed keywords or maybe you might have over-used it.
Keywords inside a blog helps your user easily find your content but over-using keywords could create disruption in audiences' reading too.
And if this excessiveness is caught by the search engine such as Google your content would become irrelevant for the online users making you lose rank on SERPs.
Because come on, you wrote 1500 words blog posts taking at least 3.5hrs to achieve one of these two goals :-
1. Keeping your reader interested
2. Solving their problems while earning revenue
And on that note you understand that writing is a time-consuming skill and with the number of blog writers increasing at a 14% rate since 2014, providing a population hike from 27.4 million to 32 million according to the Statista Research Department.
So, of course, that's not all the work there is, the work is never finished here.
Right?
As you, selecting a topic and researching it, writing that interesting piece and publishing it, this whole process is rather lengthy and demanding.
And to get the most of your blogging, you have to optimize your blog for your targeted users, that is why SEO is important for blog writing.
In this blog, I have provided you with some SEO blog tips that would help you achieve your goals.
Let's start.
How To Write SEO Friendly Blog Posts
Blog writing for SEO is the best way to perform in this digital arena to keep your website visible, build your business' credibility and site's authority over time with the help of your intended users by providing them with solutions they desire.
WordPress owns 64.2% of the market share, powered with 35% most popular webpages in the web development industry, blogging is the number one traffic source for high-income bloggers is organic traffic from Google.
So, keeping up with all the elements of how to write SEO friendly blog posts is the necessity of today. As according to a statistic by optinmonster,
"72% of online marketers describe content creation as their most effective SEO tactic"
Here, marketers describe content creation to be a traffic-driver that creates a living of an average monthly income of $8000 a month as per a Semrush report.
So, here are some trial and applied SEO blog tips on how to write SEO friendly blog posts for beginners for achieving their marketing goals.
Target Audience
The first step to SEO blog writing is to start selecting headlines. Your need as a business is to know your audience, specifically the audience that you want to target with the content of your blogs.
This is according to a report by Demandgenreport.com, "Blogs affect customers' buying decisions as 47% of them go through 3 to 5 blog posts before the buying process."
Making "Knowing your target audience" to be the priority on your SEO checklist for blog posts so that you are clearly prioritizing your customer's experience for your marketing goals, similar to the statistics below.
Being clear about the importance of customer experience, the next step is to use long-tail keywords within your blog as it helps the search engine crawlers to analyse your blog for relevancy to your target audience's query
This makes the next step in how to write seo friendly blog posts for beginners.
Targeted Keyword
The other aspect of your blog writing for SEO is giving a clear user intent through content to your target audience and what better way than by putting keywords within your content.
Keywords are the metrics used by search engines to rank your content in the SERPs results, which makes it vital for your SEO blog post checklist.
Keywords are the phrases that your target audience specifically searches for to get products and services that companies like yours provide. They may buy these products and services from you, making them your customers.
So, SEO blog writing works for the content that has the right amount of keywords, the search engine prioritises your blog to be relevant to your customer's query.
And you get the engagement by understanding the intent of your customer and their purchase decisions of products or services that you are promoting to sell online, which can be helped with through your SEO blog writing.
Warning: Using keywords too many times in your SEO blog post can lead to keyword stuffing and the search engine might not consider your blog relevant for customers and audience you are targeting.
Impressive Metadata
Metadata is a mini-advertisement of the content that you have produced within your blog and vamps up your customer's decision to whether to continue with your content or not.
The screenshot given below shows a SERPs result that describes what your customer looks at when they see your blog.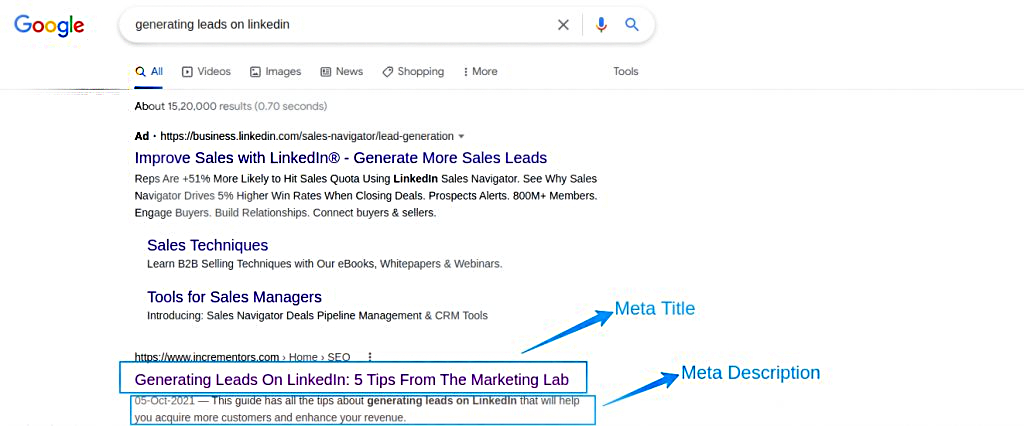 See this is what a customer reads first!
So, optimizing your Meta title or your content headline along with keeping your meta description in hand, that is already deciding what your meta description should read like to attract your customer is a necessary step in writing blog content for SEO.
Now, the important things to keep in check for optimizing your blog content's metadata are:
1. Keep your meta title below 60 characters and meta description below 160 characters, so that your customers can understand your user intent clearly and make a solid decision.
2. Put long-tailed keywords in your blog content's headline as when Google provides result to a user query, your headline and description must contain keywords and their semantic, so that Google crawlers could easily select them
Look at some how to title and describe SEO blog writing examples.
A. Put numbers in the Title.
Example – "9 ecommerce SEO tips that actually works"
B. Put out an offer or deal in description.
Example – "In this blog I provide you with some Free Website Builders (+Examples)"
C. Your title should reflect what the blog is about. That is to give a solution savvy vibe to your target audience.
Example – "How to do SEO for zero click searches"
This as a whole describes your intent of the blogs to your readers and provides a short summary to them.
Read More: Tweaks For Page Title & Meta Description That'll Boost Your SEO Traffic & CTR
Long & Engaging Post
Keeping your users engaged requires that your writing blog content for SEO must be composed of at least 2000+ words.
According to Buffer.com, "7 minutes is a preferred reading time for blogs by readers."
Providing you with the required length of an article which is a minimum of 1,600 words that takes about 7-minutes to read and a maximum of 2000+ that keeps your target audience engaged.
Though, there is a minimum of 300 words criteria too, according to Forbes, which is for those bloggers that do not have enough skills to write long articles and are trying out blogging for domain authority as well as for generating revenue.
According to SEMrush, "While shorter articles are preferred, longer articles do better in rankings and website visits because they are more comprehensive."
Even when 75% of people prefer reading articles under 1,000 words, the majority and ranking length remains above 1500, as you can see in the graph below.
To make a blog post for SEO, provide some facts, statistics and details about the products and services that you are promoting and the industry you are working for. This helps you generate the revenues that you hoped for.
Also, keep your paragraphs short and to-the-point and this would certains the effectiveness of your blog SEO services as you rank on SERPs.
Read More: Step-by-Step Content Creation Guide [Writing to Publishing Content Successfully]
Easy & Simple Language
Blog SEO services includes writing short paragraphs for your audiences to make it easy for them to understand the intent of your blog's content without getting bored.
Your SEO blog writing must compel your user to take some kind of action within your website and products and services that you are promoting. This can be achieved by simple words and to-the-point information while using shorter paragraphs and subheadings.
Because if your readers are unable to understand your language, how would they be compelled? Why would they take actions that confuse them?
Thinking about these questions the only way you can solve this dilemma is by keeping your language mild that is,
1. Use simple, common words that compose your traffic query
2. Do not use complicated words that are graduation level or above
3. Use some examples to get your point through to the user.
4. Use of active voice. This helps your blogs to speak directly to the users
5. Keep your grammar in check, when necessary.
Keeping in mind, the points you use should be communicable and easy language for your audience for a better user experience.
Semantics, Snippets And Voice Searches
Keywords are the necessary evil in a blog but from the last decade a new species has taken its place named Semantics Search.
In this type of search, search engines like Google, Bing and others understand the search intent by crawling through the information such as user location, search history and similar keywords that customer has searched.
Hence, the invention of a new Google search feature featured snippets, that helped another trending feature, the Voice searches providing a direct answer to online user's query.
And according to Advanced Web Ranking, "Answer boxes or Featured Snippets secure almost 32.3% CTR."
So, featured Snippets do make a contribution in your online visibility and therefore is included as a point in your blog post SEO checklist.
Now, shown in the picture below is a snippet that shows the result of "build brand image" and produces a result that is most relevant to the users.
Now, your blog content must be optimized for such new features by adding following SEO blog tips:
1. Choose a high volume and low competition keyword for a topic which would be your high priority keyword known as primary keyword and put it in your blog.
2. Find, LSI or related searches by your audience which are related to your primary keyword, and insert them with your blog content.
3. Use headings, subheadings and other listicle formats within your content. These helps you getting the #0 position on the SERPs.
4. Keep your blog post voice search optimized as that also helps in your visibility and CTRs.
Keeping your visibility in check, increasing your CTR and optimizing your blog for new search engine features such as voice searches, you have to keep updates with the latest technology in demand.
Keep A Structured Plan
Structure forms function, so to achieve the ultimate function of your SEO blog post, you need to create a structured format for your blog post.
This means to have a clear format of each post that must have:
1. An Introductory Passage (Introduction of your topic)
2. Body of the content (subheadings, points, listicles, Bonus Tips, Tools, etc)
3. Conclusion (Short summary and conclusion with compelling CTA phrases)
These three points outline gives you a brief of what your structure should be like and you can add and subtract any one according to your blog's need.
Look at the format on the picture given below that states that how a blog post contain a fitting title, subhead (content) and a conclusive "what's next"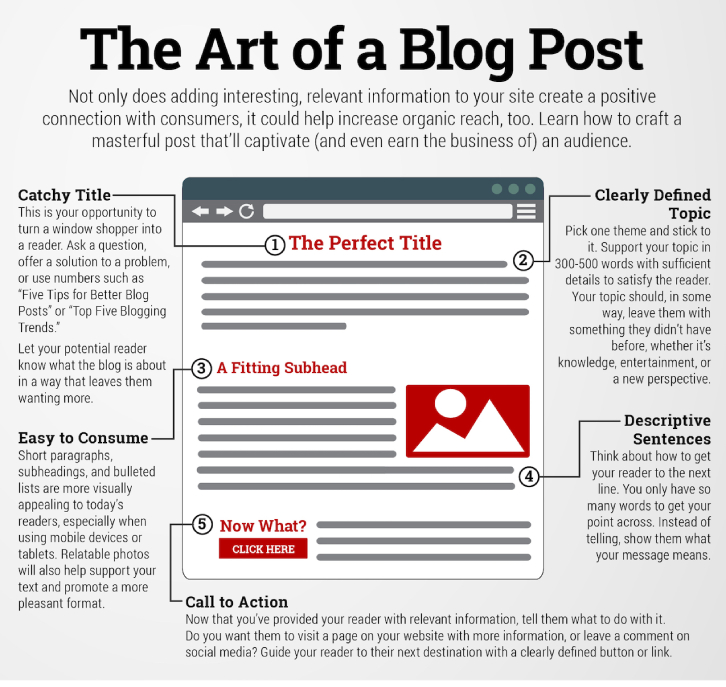 This keeps your idea of creating content clear and you have a smooth ride in creating it.
Linking To The Rescue
Blog writing for SEO needs an associate such as other published blogs to enhance its relevancy of your new blog in addition to presenting your audience with something more to read related to your topic.
According to a Backlinko, "Long blog posts have 77.2% more inbound links compared to shorter posts."
So linking whether internal or external requires a maximum of 2000+ words in your content to gain more backlinks and therefore comes in the SEO checklist for blog posts.
The picture below shows the blog post authority that is progressed through interlinking within your website's content and external linking through content from other websites or from your own websites.
The backlinking builds the authority of your website which is another metric of search engines that supports your website's ranking and helps you build your website's and blog post's authority among its online peers.
And this is why, many marketing websites use blogging in their content marketing strategy to get powerful link-building strategies by putting a strong impression on Google crawlers and gaining rank in the SERPs.
Check For Grammatical Mistakes & Plagiarism
Writing may be about knowing the basics to write and create direct content that provides information but blogging is about getting in contact with users' empathy and appealing to their query.
This brings us to the global arena of marketing and so, when you are blogging, you are not only writing for readers but also for the search engines that appreciate high quality work through visibility, sharing and ranking.
That is why, a blogger, marketing content writer and other vocational individuals writing should at least provide 2 to 3 edits and checks for any type of grammatical mistakes, error or plagiarism. This is done to create credibility as well as to avoid search engines alerts.
The stats below shows how a bad user experience can hurt your website majorly, and that is why, keep your user experience in check whether it be unpleasant grammar or duplicacy at regular intervals.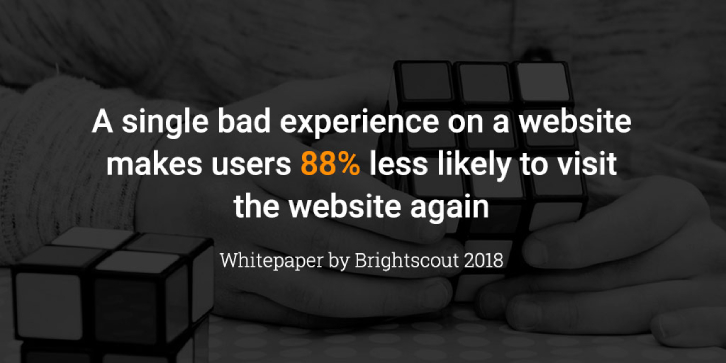 Plagiarism is unacceptable and can easily be checked by some tools provided online such as Dupli Checker, Copyscape, Grammarly. These are free tools that help identify blog content that is mistaken or intentionally copied to increase domain's authority.
This requires correction because it can instead decrease your blog's authority online because Google checker identifies it to be copied which is punished by either deleting your blogs or deleting your account due to regular plagiarism problems reports.
So, keeping in check of grammatical mistakes and plagiarism helps you write SEO friendly and original content which increases your website's authority.
Use Visual Content
Words may define your topic but images, gifs, infographics and videos put a different kind of energy into your blog.
With at least 90% of bloggers today include images in their blog posts, 1 in every four includes videos which are the 34% that reports of getting better results, the use of visual content along with the wordy passages as a whole provides your website with authority.
Even Orbitmedia.com proves it with this statement that, "39% of bloggers who add 10 or more images in their posts report strong results."
The above statistics provide you with enough number that these visuals are an important part of a blog too. Now, the thing is these are not limited to just put them within a blog post for SEO.
Putting any visual content in your blogs requires for you to check for three things:
1. Clarity of your visual content.
2. Compression of these files. The compressed files reduce the file size but not the quality of the image and would not slow down your webpage loading speed.
3. Keep copyrights in check. Try to use royalty free images with your content.
Using visual content this way will help you achieve your goals to appeal to your audiences' visual minds. You get on how to write SEO friendly blog posts and build your authority among the 20 billion blogged pages.
Updates are your way of showing your audience how active you are in their life with one post on social media, a little email to their inbox or even a reply to their certain comments on your blog.
The thing is updates is interconnected part of blogging with, "38% of bloggers say that they update their old blog posts."
Many bloggers forgets to update their old blogs or thinks that those are unnecessary tasks and they should move forward onto new topics.
This is a mistake on its own as every webpage or blog page on your website adds up to make your website's authority, so, if you are ignoring updating those, people won't want to share those because they are as we say "old" and do not stick to this trending market today.
Look at the graph below that shows how only Google traffic that is organic traffic stays on your blogs.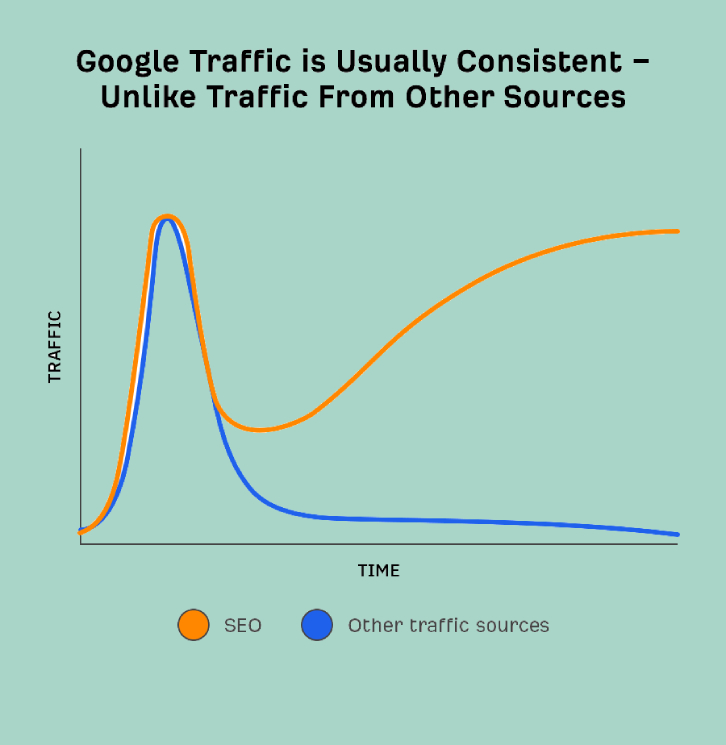 While that is true, Google's metric centralises the authority to the pages that are recently visited and as your blog posts are not updated, those pages become irrelevant to Google crawlers. Making your webpage not shown in SERPs and you lose your rank.
Bonus Tip
In the bonus tip I would like to suggest that your content's visibility matters on all types of devices. So, the mobile-friendliness of your website, blog or any other streaming media is required as more than 50% of the world population now uses mobiles to do searches.
Look at the picture below that shows the statistics of using Mobile compared to that of desktop.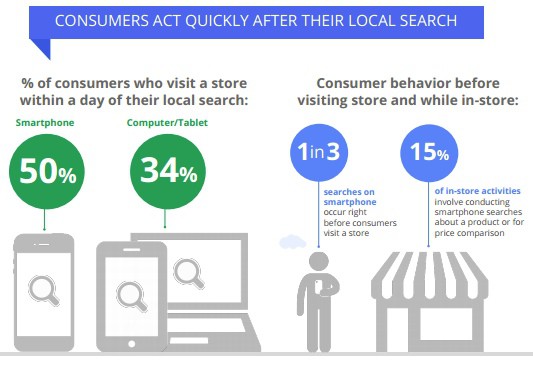 Some tools for checking whether your blog is mobile friendly or not after getting published online are: –
1. Google's Mobile-Friendly Test
2. Page speed insights
3. RankWatch
4. W3C Mobile Checker
5. Bing Mobile Friendliness Test Tool
Conclusion
Keeping your old blog posts updated, your current SEO features such as voice search, semantics in hand and your structure plan ready for posts. These and other SEO blog tips on how to write SEO friendly blog posts for beginners provided above makes you visible online.
Now, you know that to write a compelling article for your audience and the search engine as both factors decide whether you rank online or not.
For more marketing tips and services, you can schedule a free-of-cost 30-Minute Strategy session with our experts. In this call, our experts would discuss your business and provide you with the free strategies that you can use to boost your sales and revenue.