"Content is the king"
We all know that.
But, do you have any idea that content plays an important role in selling the products as well?
Your content can help you attract more and more visitors when applied with SEO tactics.
It can be your biggest salesperson.
You can even build the authority of your brand through content.
Now the question that might be buzzing in your mind is, "How can I get the most out of content that can help me sell products?"
Don't worry! I am here to help.
This blog will enhance your knowledge about how to write content that will boost your sales.
So, let's understand further but before going to the tips, we will understand the types of content.
Types Of Content
You can easily determine which type of content your audience feels connected to, once you understand how the market is changing today.
You must also know how many types of content you can create to sell your products naturally. Some of them are as follows:
Videos 
Blog content
Products awareness surveys
Ebooks
Email marketing
This does not end here.
"According to research by Content Marketing Institute and Marketing Profs, the content that produced the best results are,
Virtual events/webinars/online courses (58%).
Research reports (48%).
Short articles/posts less than 3,000 words (48%).
Ebooks/white papers (47%).
Case studies (39%).
Videos (38%).
In-person events (37%).
Long articles/posts more than 3,000 words (32%)."
Source: searchenginejournal.com
Now you must have got an idea of how many types of content you can use for selling the products naturally.
Such contents are used in product selling because they are in high demand in this digitalized world.
Before You Prepare For Creating Content
There are two things that you need to consider before you create content that sells your product.
Define Your Product Goals
Before you come to create a content, you must define what you want to achieve through your product.
Product goals offer how it is going to generate revenue and accelerate business growth.
In simple words, it's a future benefit from the product.
For clear understanding, you can look at the image below:
Understand Your Audience
Understanding your audience is the second most important thing for successful content creation.
Spend some time in research and you will have a full understanding of your audience.
The diagram I have shown below will help you find your target audience. Look at it carefully.
Some Tips To Create An Effective Content
Have Conversation With The Customer
Just imagine how you feel when you are warmly welcomed by someone. This is exactly how you need to make your customer feel.
In the conversational content, the goal is to make them feel important and address the needs in their language.
You must write something they actually want to read, listen and engage with. The messaging must be in a very meaningful way.
You can even use the headlines to make your customer feel important. It's not all about the headline but maintaining a personal touch with the audience by communicating.
Here's the example of a famous brand, L'oreal Paris; "Because You're Worth It"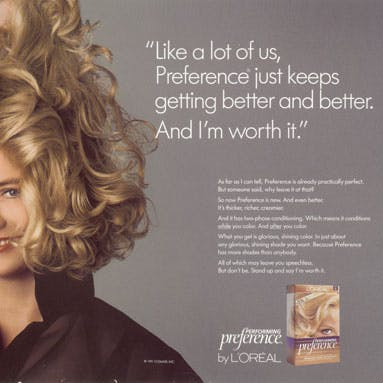 L'oreal Paris is actually making its customers feel important by saying "you are worth it".
Since then the tagline "you are worth it" has become symbolic and empowers women.
Here the goal is to make customers agree with what you say. Write your content in such a way that it makes the customers feel connected.
Focusing on the word "you" makes your customer feel important and appreciated. Also, they feel a personal connection with the brand.
Narrate A Story
The second thing you can do to create the perfect content is to narrate a story.
Now the question that might be buzzing in your mind is, "How can I narrate a story and how would it help me sell the product?"
Trust me it will!
Let me explain this with an example from Nike.
Have you heard about Nike's equality campaign?
If not, let me tell you.
Nike already has a stronghold at storytelling. I am elaborating about one of their best campaigns i.e., Equality.
It sends a powerful message about the company's role as a force for positive change in the world.
Nike wanted to underline that justice may have different forms but people are welcome to develop their opinion in the ways suitable to them.
The second thing Nike was focused on educating people and appreciating equality.
It doesn't matter if the court listens to the speech on the street, justice should be everywhere and people themselves are responsible for it.
Watch the video here: Nike Equality Campaign
Nike is providing something to athletes more than just a pair of sneakers and this story is the live example of it.
You can also use the tactic of storytelling to sell your products naturally.
Read more: Storytelling In Content Marketing- Everything You Need To Know To Become A Good Storyteller And Start Selling
Make Your Content Expert
This type of tactic is usually applied on website pages, but you can use it for other content as well.
When a customer sees a product, he wants to know everything about the product before spending his hard-earned money.
Whatever may be the questions that come to their mind. Just make your content an expert source of information for them.
You can start surveys and polls and try to answer their questions as much as possible.
Give answers about how your product can be best for their needs and desires.
Use A Unique Tagline For Your Product
Your product tagline is as important as the product.
Because it represents your product around the world. So make sure, it is inspiring, attractive, and appealing.
It is a kind of short statement that tells what a brand or product is all about.
Also, it represents you among the crowd of competitors.
Now, the question here arises is, "How will a product's tagline help in creating content that sells products naturally?"
Let me explain this concept with help of an example, airbnb.com
Airbnb chooses the tagline "belong anywhere" which symbolizes Airbnb is not just a hotel, it's a home.
As per Airbnb CEO Brian Chesky
"It turns out the answer was right in front of us. For so long, people thought Airbnb was about renting houses. But really, we're about home. You see, a house is just a space, but a home is where you belong",
Airbnb's tagline defined everything that the audience needed to be heard.
This is exactly how your tagline should be when creating a tagline for your product.
Nail The Headline
There are several competitors in the market, how will you increase the click rate by making the customers feel attracted to your brand?
Just think about it!
I have a great solution for this i.e., "write attention-grabbing headlines for your content".
A great headline can increase your click through rate.
The question here arises is, what makes a headline attractive?

For a great headline, remember the 4Us.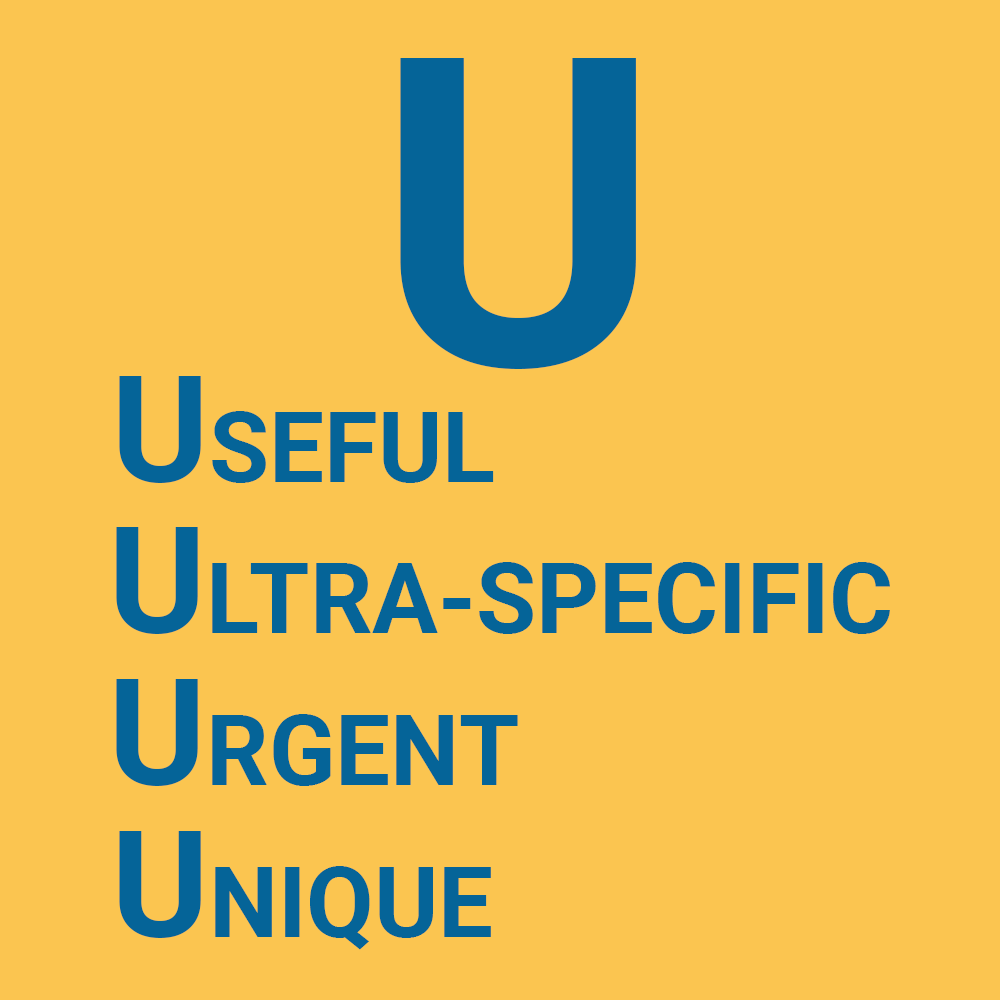 i) Useful: Why is this blog useful?
ii) Ultra-specific: How can the customers learn from the content?
iii) Unique: What makes the content unique?
iv) Urgent: Why should customers read this?
Using this 'U' technique will help your content sell products more easily.
Don't Forget The SEO
Every time you publish a blog, you create a page that needs to be indexed and crawled for ranking on SERP.
If you pay attention to SEO, you will understand the importance of keyword research, optimizing the content, or updating the old content.
Your Content can generate traffic, increase conversion rate, and brand awareness once it is optimized.
The SEO tactics you can apply in your content are:
i) Use relevant and long-tail keywords
ii) Optimize the title tags
iii) Optimize the images
iv) Include keywords in URLs
v) Write compelling meta descriptions
SEO works in the same way for videos as well.
Use Evidence-Based Suggestions
Customers will be more likely to trust your brand if they see a high number of positive reviews.
Now, the question here arises is, how can you use evidence-based suggestions while content creating?
Don't worry! I will help you.
Well, it is very simple to understand. What you need to do is to use your reviews and ratings while creating content.
For clear understanding, Just watch this video and you will understand how we used Evidence-Based suggestions for the content.
You can also create such content and use evidence-based suggestions.

Automate Your Content
The next thing you can do, after creating amazing and mind-blowing content, is to automate your content with the help of CRM (Customer relationship management) software.
Such software automates the process of content creation for the product with the help of a sales funnel.
That's a perfect software to look for automated content distribution solutions.
Use your automation to keep track of metrics and make modifications along the process of content creating and distribution.
Bonus Tip
I would like to recommend you a CRM automation software that I also use.
It is ZohoCRM
ZohoCRM is one of the most effective CRM products on the market. It is quite easy to use for creating content and finding appropriate time for posting it.
Also, this automation software will help you create new leads through online platforms.
Conclusion
So, here are the tips and tactics that will help you in creating content that sells your product naturally. Before going further, you must define your product goals and understand your audience
Don't forget "Your content is your biggest salesperson" and work accordingly. And it will drive results for sure!
You can use all the tactics I have explained above to create content that will help you sell the products naturally.
Work on all these things and see tremendous results.
FAQs
Question.1 How to create unique content?
For creating unique content, keep some points in your mind like,
i) Never copy the text form anywhere
ii) Use multiple sources for research
iii) Use your own writing style.
iv) Give your text a unique structure
Question.2 How do I become a good content creator?
To become a good content creator, you need to:
i) Study your audience carefully
ii) Establish your brand voice
iii) Understand your KPIs
iv) Offer solutions to the problems
v) Create the content on a regular basis
Question.3 What are examples of content creation?
i) Cartoons and Comic Strips
ii) Visuals & Pictures
iii) Notable Quotes
iv) Allegorical Images
v) Short How-To Videos
vi) Screenshots
Question.4 What are the guidelines for creating content?
There are 3 guidelines for content creation:
i) Research the target audience.
ii) Choose your social media platforms
iii) Draft your post.
Question.5 How do I create my own business content?
i) Define Your Goal
ii) Define Your Audience Persona
iii) Create A Content Segmentation Grid
iv) Ensure All Your Content Has A Call-To-Action
v) Build an Editorial Calendar
vi) Work accordingly