Content marketing is one of the best ways to attract relevant users to your website & turning them into paying customers. It helps you to influence customers throughout their buyer journey. According to the State of Content Marketing 2020 by SEMrush, 94% of marketers surveyed across 39 countries, are investing in content marketing.
If you manage to publish consistent content it can be a game-changer for you, according to the recent research by Semrush on average, companies who write blogs consistently produce 67% more leads per month.
That's is huge for any E-Commerce business.
Content marketing covers various content types but here we're going to talk about the role of blogging in the growth of your E-Commerce business.
You'll know about what, why & how of eCommerce blogging from beginning to end.
What Is Ecommerce Blogging
Ecommerce blogging is a way to write consistent content, content that specifically targets users, based on the stage of their buying journey. It can be educational that explain about your product & how it can solve the challenges which they're facing.
It also helps to increase the organic traffic of your site, rank your site for multiple keywords. Finally, present you as an industry thought leader.
Why Ecommerce Businesses Need a Blog
Online selling is becoming more & more competitive there are an estimated 12 million – 24 million eCommerce sites across the entire globe, and it's increasing day by day. So if you want to stand apart from them, then blogging could be your greatest asset. Blogging can help you to get more leads & drive more sales.
Benefits of Ecommerce Blogging
Getting Organic Traffic From Google
If you are publishing consistent blogs on your website it means you're getting more & more pages index in the Google database, as a result, if interested people search on Google related to your product or services then chances are you'll show up in the results.
No one can deny the benefits of ranking on Google, because it's the biggest search engine in the market, maintaining a 92.47 percent market share as of June 2021.
Just imagine if you can rank on top 10 results on Google for your top business keywords, that will present you as an industry expert.
It helps you to get your target audience on your website for free, the only thing you need to do is put your time & effort to write quality content that people love to read.
Brands You as an Industry Experts
Nowadays more & more people are giving importance to the brand image of the business.
No one can deny the importance of branding. Branding is something that shows your product's unique selling point, that helps people to choose you over your competitors.
Through your content, you can make people aware of your business values, mission & purpose, and why they should choose you over others.
If they become happy with your products they turn into loyal customers & become your brand advocate as well. Blogging is something that helps you to present your unique brand voice in form of lots of prospects.
People want to buy from experts, through your content you can show them your credibility that will boost your sales & increases trust.
Help Customers to Spend More Time on Your Website
If people spend more time on your website this will send a positive impression about your site to Google, which eventually helps you in ranking.
Most of the eCommerce websites do a big mistake by not giving their visitors something to engage in, selling only products is an outdated model, if you won't get the most out of it.
For example, if you're in the cosmetics business you can add customers' reviews of your products that work as social proof.
If you sell electronic devices then you can add comparison posts or unboxing videos of them.
Boosts Your Conversion Rates
You can write content as per the marketing funnel, according to the customer's buyer journey. Then you can add a call to action to push in to complete the desired goal.
Using a conversion rate optimization strategy effectively can boost your revenue significantly.
Creates an Online Community
The online community is where like-minded people come to discuss the same topic, you can easily do this by creating a discussion forum or enabling a comment section on your website.
You can also participate actively to address their challenges. If you pay attention to your customers then they will pay attention to your business it's as simple as that.
It helps in building real connections with people that turn into your brand advocate.
Builds Brand Loyalty
Blogging helps your customers to positively associate with your brand. People with strong brand associations repeatedly buy products no matter how strongly competitors lure them.
You can understand by the real-life example of Apple products users, they don't bother about competitors' product price, features, or any other thing. They buy Apple products as a means to show their social status in society & the excellence of their product.
According to Semrush loyal customers are 50% more likely to try your new products than a new one. With your blogs customers come to know more about you, the more they know about your business, the chances are they going to buy from you, by adding a great customer experience they will easily turn into loyal customers.
Increases Lifetime Value of Customers
Lifetime value is the relationship duration of your customer with your brand & the value they add to your business by buying products from you repeatedly.
If you're competitor-focused, you have to wait until there is a competitor doing something. Being customer-focused allows you to be more pioneering.

Jeff Bezos
For instance, if people come to your site & find your content helpful, then chances are they will come again when they want to solve their challenges. This will increase the possibility of buying from you again & again.
You Can Use Your Blog Content for Social Media Pages Content
Your blogs can save a lot of time, instead of creating posts out of scratch, you can repurpose them & use them for your social media pages.
How to Write a Blog for an Ecommerce Website
Writing a blog takes more than just writing, it requires a clear understanding of your audience, figuring out their pain points & coming up with blog idea that fulfills their needs.
It requires planning and consistency, you need to be clear with your goals then implementing these strategies to turn ideas into reality.
Here are steps for writing an effective blog
Documented Ecommerce Blog Strategy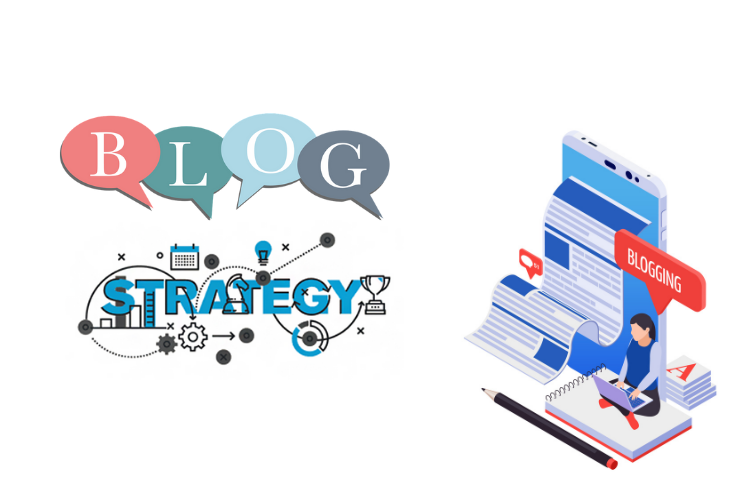 Documented blog strategy is a way of clearly mentioning business goals that you want to achieve through your content.
A healthy content strategy consists of these key areas:-
Your business goals, brand identity, target audience, smooth content creation & publishing process, distribution plan, KPI's, & tools & technology.
They are few content marketers who just publish & forgets.
But to get success in your eCommerce blogging you need to have an effective documented blog strategy that lets you measure, improve, & grow your audience.
According to the content marketing institute, 65% of the most successful content marketers have a documented strategy vs. 14% of the least successful.
How to Generate Ecommerce Blog Ideas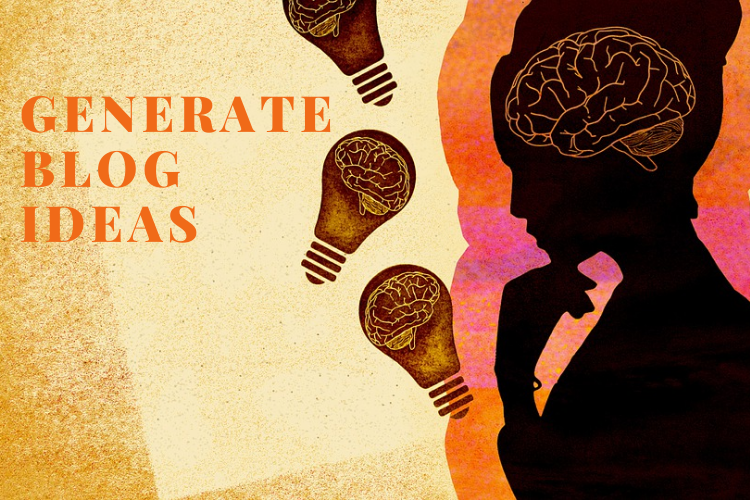 I think this is the major problem for most content writers, they can easily run out of new blog ideas. But don't worry I'll share the secret strategy that I use to come up with a ton of new ideas within minutes.
First, of all list down your seed keywords, these are the keywords related to your product & services.
Let's say you're a yoga equipment seller, so your seed keywords would be Yoga Block, Yoga mat, Yoga gloves.
Then use Google search engine, just type your seed keyword in search box & it'll show you autosuggestions.
Here I searched for yoga gloves, & Google is suggesting me few frequently asked queries as per my queries.
I can save them & brainstorm them to come up blog ideas as per searcher intent.
For example I can write upon the Definitive yoga gloves buying guide.
And add these Google suggestions in my article subheadings.
For more blog ideas nuggets as per your seed keywords, you check out people also ask & related searches.


Bonus Tip
You can use Google free keyword planner tool to come with more eCommerce blog ideas.
Here is the step-by-step guide on how to use Google keyword planner.
Another advanced tip is, you can use Google search operators to steal blog ideas from your competitor's content.
The first list down your top five competitors, then search the content by using this search string for example-: site:example.com "your seed keyword"
As a digital marketing agency, I will use this search string.
site:webfx.com "SEO Guide"
Here you can see lots of ideas based on my seed keywords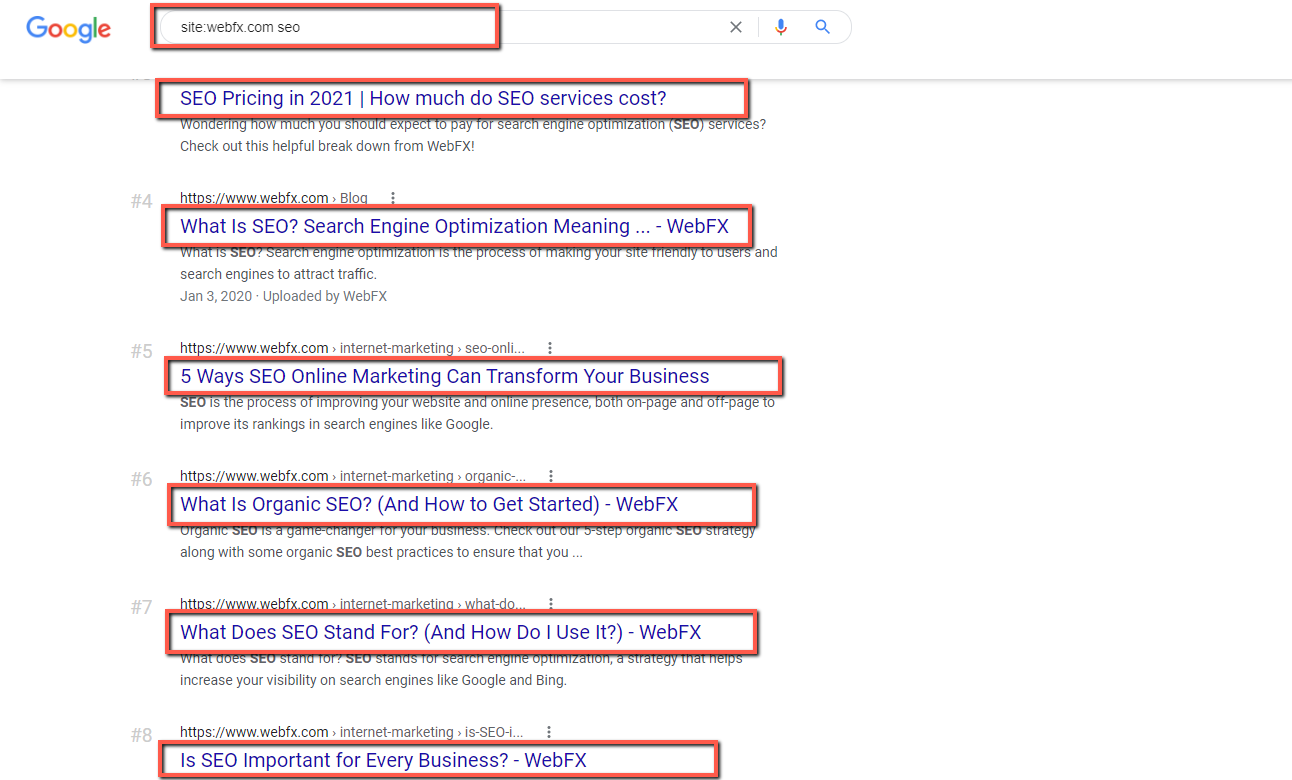 Other ways of finding new blog ideas are using Quora & Answer the Public.
Quora is a question & answer website, by just entering the seed keyword in the Quora search box you'll find out lots of blog ideas to write about.
Answer the public is another alternative to quora, it's professional tools & comes with a basic free version that gives you up to three searches a day. You can also pay $99 a month for a pro version.
It's very easy to use just enter the seed keyword & it will show the results by categorizing them into:-
Questions – e.g. "what" "when" "can"
Prepositions – e.g. "for" "is" "near" "with"
Comparisons – e.g. "and" "vs" "or"
Alphabetical – e.g the keyword, followed by every letter of the alphabet
Writing & Publication Part of Effective Content
Now we're going to discuss the main part of eCommerce blogging the writing & publishing part of it. If you do the right thing in this part then no one can stop you to rank on Google. Because as the popular saying content is king, so give your heart, soul & mind to the king & rest will follow.
After figuring out blog ideas you need to jump into the content creation process, which consists of research, competitor content analysis, outline creation, writing the first draft, editing, review & finally publishing.
Another question arises which is who is going to write the content. There are many options available.
Here are popular options for content creation:-
In-House Writing
If you're a large size business then it is would be easy for you to hire an in-house content team. But for small business, it can be little challenging because it makes an imbalance between the cost of hiring a writer & the output he provide.
Work With an Agency
You can outsource your writing process to an agency it will help you to make the writing process very quick, they are professionals, they know what they do.
But you have to be very careful to select them. Due to increased competition, you can easily be caught in a low-quality content writing service agency.
Work With Freelancers
These are the individuals who work remotely, the benefit of hiring a freelance writer is you can choose from verities of writers, who are experts in lots of niches. Outsourcing your writing process gives more time to focus upon core business growth strategies.
Write Content According to Buyer's Journey
You can't just write every piece of content in the hope that people immediately buy your products after reading it. Nowadays people want to make informed decisions, first, they want to know about their problem, then they compare the best possible solution after that they make the final decision.
If you don't have goal chances are you'll end up nowhere. Write your content while keeping in mind the customer marketing funnel stage, by doing so you'll increase the chance of achieving your business goals.
There are four stages of the customer's buyer journey. Which consists of Awareness, consideration, decision.
You have to target your audience at each stage.
Here is the infographic that illustrates the marketing funnel and content for each stage.
Content for the Awareness Stage
In this stage, people are not aware of your business & its product. So here your focus needs to be on building trust & showing your expertise through your content. You educate them by writing how-to or other informational content. This type of content is highly targeted to educate them to show your credibility.
Content for the Consideration Stage
This is an important part of the marketing funnel, where. Here customers are aware of their problems & know how they can be solved, but still, they are considering other alternative options.
For you to achieve your goals, visitors must first achieve theirs

Bryan Eisenberg
Usually, people decide based on various factors it can price, quality, or brand value. Your primary work is to highlight your product's unique selling point in your blog to stand out in the eyes of your prospects.
Content for Conversion Stage
In this stage, the prospect is completely convinced that you're the right solution for their challenge & want to buy from you. Here the key determinant factor is, making the buying process as smooth as possible.
According to Techjury, 86% of customers say that they are ready to pay more if it means getting a better customer experience.
Optimizing the mobile cart and checkout experience is more important than tweaking your desktop design

Linda Bustos
This states that giving a great customers experience can be significantly beneficial for your business.
Content for Building Loyalty
Once people buy from you it's not the end of their relationship, in other ways, it's a new beginning of your relationship. Your responsibility increases to make sure they have a positive brand image in their mind after the purchase.
You can do this by giving the best after-sales service.
If you succeed in building loyalty among your customers then they will repeatedly buy from you even though you don't intentionally market to them.
Promote Your Product Naturally in Your Content
It's very easy to carry away from the main intent & start self-promoting your products, this is the way of hard-selling & personally speaking people hate it.
People don't like to be sold but they love to buy

Jeffrey Gitomer
In this hyperconnected world, you need to take an inbound marketing approach. That's the holy grail of success.
You need to add your product's CTA's in a way that complements your content, & influences people to take the appropriate actions.
Distribute Your Content for More Reach
It's not enough to write & publish content, for the success of your blog you have to distribute & promote it strategically. You can do this by using various media known as owned, earned & paid.
Owned media is something that you own & have full control over it, an example of it is your website, email newsletters, your social media pages.
Earned media consists of brand mentions on other websites, social sharing by industry thought leaders, reposts & reviews by experts.
Paid media is the way of leveraging online mediums like search engines ads, social media ads.
You should have a good balance of all three of them to get the most out of it.
Measure the Performance of Your Blogs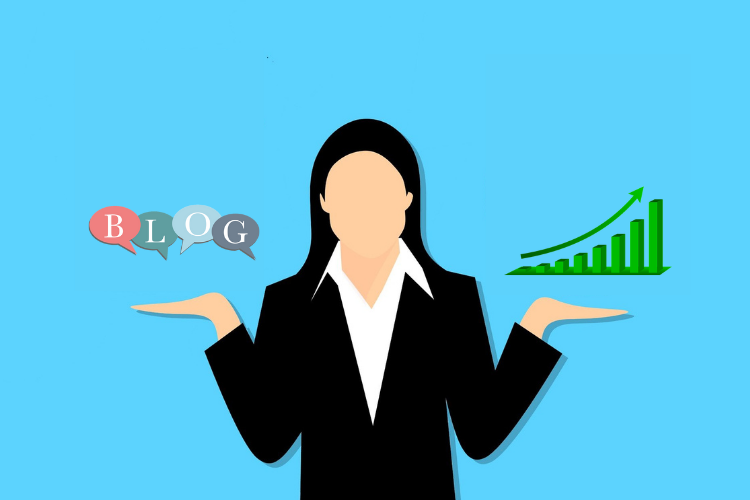 Whatever you do, you must measure the outcomes of your efforts, otherwise, you can't make improvements.
You need to be clear with your key performance indicators. A few important KPIs to track are overall blog monthly visits, traffic source breakdown, top viewed post, number of social shares.
Right Tools to Make Your Writing More Effective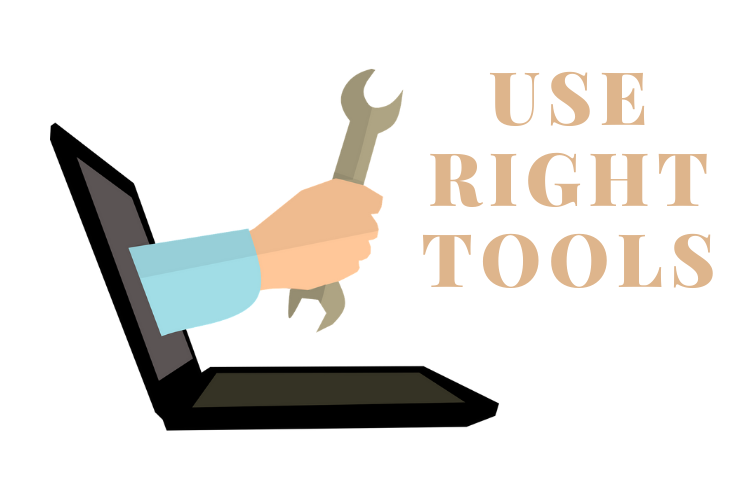 Tools are very important to streamline the writing process. Having the right set tool can save a lot of time & help your content to stand out from others.
Here is the in-depth article that described how to write a quality blog post, in which I mentioned the most productive blog writing tools.
Conclusion
I think this guide is enough for you to kickstart your eCommerce blogging journey, go & experiment with it, always keep in mind, give complete focus on giving the best service to your customers, help them to overcome their challenges, then nothing can stop you to take your business to new heights.