Are you looking for lead magnet ideas but can't seem to come up with any that your target audience would be interested in?
Lead magnets are essential for increasing conversion rates.
Your lead magnet, whether it's a discount or an eBook, may make or break how many new leads you get. It will also have an effect on the quality of the leads.
The Lead Magnet's purpose is to increase the amount of targeted leads you receive for an offer.
It's the very first step in my Customer Value Optimization method.
In this blog, I am going to share some lead magnet ideas that are going to help you convert the traffic.
But before I share the ideas, you must watch this video.
Now, let's come to the Lead Magnet Ideas
The first thing that you should understand about the lead magnet is an efficient marketing tool for obtaining a prospect's contact information.
What Makes A Good Lead Magnet
Here are some things which jointly make a good lead magnet.
Solves A Genuine Problem – Your lead magnet won't function if it doesn't address a real problem for your customer avatar, or if it doesn't provide them something they actually desire.
Promises (And Delivers) One Fast Victory For Your Audience – Your lead magnet should promise (and deliver) one quick win to your avatar. In other words, it should make it simple for them to do anything.
Specific- Don't make a lead magnet about anything that's too broad. The more precise your lead magnet's advantage is, the more likely it is to convert potential consumers (and the better if you can customize this lead magnet to a unique landing page!).
Short To Consume – Because PDF checklists are so quick and easy to understand, they tend to convert quite well. Your prospects may be intimidated by eBooks or long papers.
High Perceived And Real Value – Your lead magnet should have a high perceived and actual worth.
Instantly Available – Your lead magnet will be most effective if it can be provided immediately. People are addicted to rapid satisfaction.
These qualities of lead magnets will lead to lead generation.
Lead Magnet Ideas
The first and foremost step to generate the lead is to create a Lead Magnet.
Lead Magnet is basically a free offer that you provide to your customers in exchange for their contact information.
This can be anything like
A free guide
An Ebook
A Checklist
Quiz
Templates
White Papers
You all must have seen these types of things before!!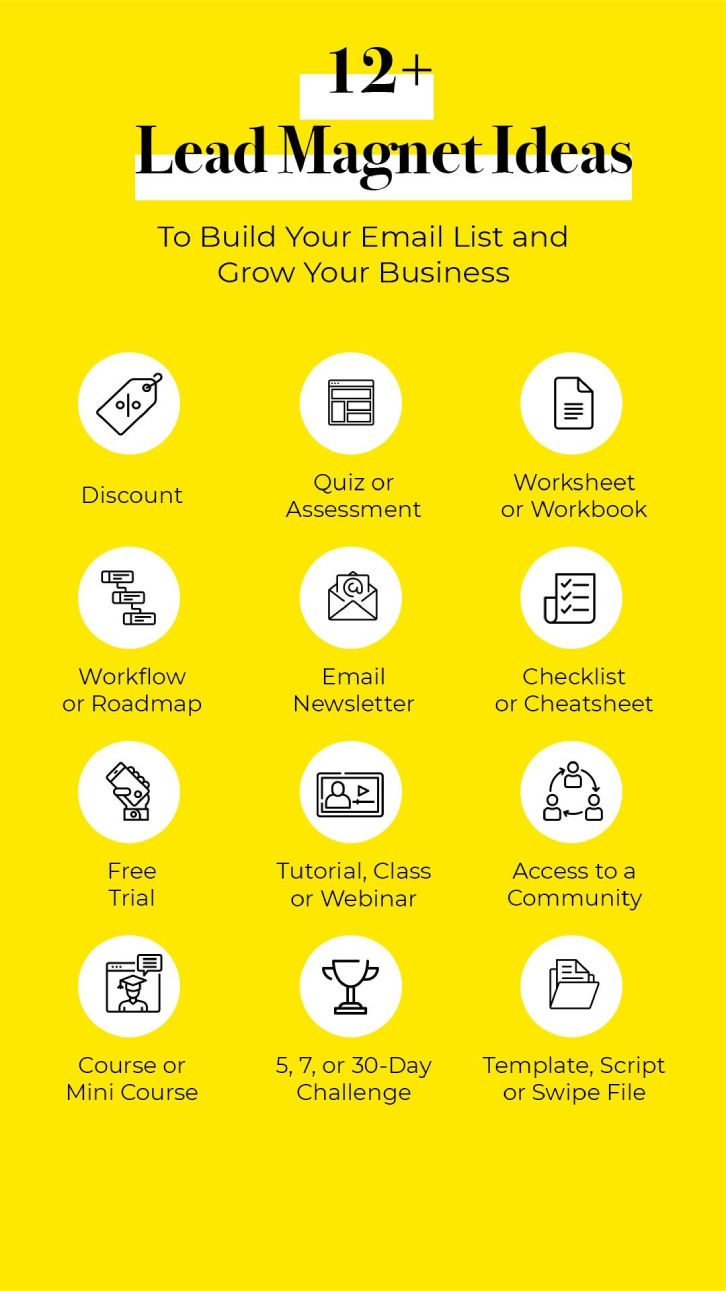 If you have ever downloaded anything from the internet that required you to put your email address or phone number in it, then you have probably downloaded a Lead Magnet.
So, let's see some of the best lead magnet ideas
Template
A template may be anything that gives the user an outline or a starting point and asks them to fill in the blanks.
The Magic Email Template is a wonderful example–something that entrepreneurs and small company owners can easily copy and paste, change a few phrases, and send off to engage with industry influencers and VIPs right away.
Create a full library of templates, like Digital Marketer's Ultimate Facebook Ad Template Library, to push your lead magnet even farther.
Webinars
Webinars allow your audience to engage with compelling video material and, in many cases, ask questions during a Q&A session.
Webinars may generate leads for months, even years, if you make them available on demand after the first live event.
Each webinar should be focused on a single issue or pain point. DocuSign is excellent at this.
There's no question what each of these is about, or who they're meant to serve.
Short E-book
Ebooks and other resources, like whitepapers, address a specific issue. They can be as little as a few pages to as long as 100+ pages, much like whitepapers.
Unlike whitepapers, though, ebooks aren't data-heavy; instead, they're easy to read and typically conversational guides that help readers completely comprehend a topic.
Ebooks may be informative, interesting, or even visually stimulating.
The ebook collection at Search Engine Journal is a fantastic example of the potential of this lead magnet structure.
Each one delves deeply into a single topic, assisting the reader in completely mastering it. That's well worth exchanging email addresses for.
Samples And Trials
Who doesn't want to sample something before they buy it?
Sephora has taken the typical in-store experience of product sampling and applied it to the internet world, with the option of having two product samples mailed to your house.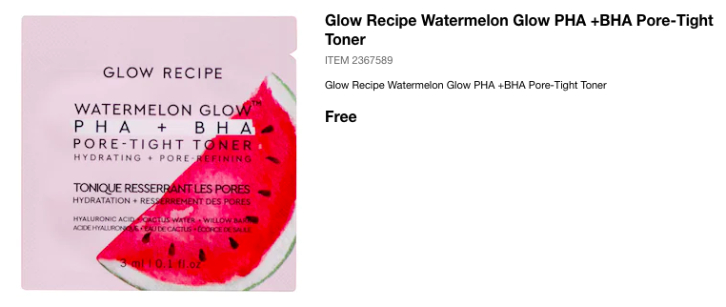 These lead generator samples must, of course, make their way there.
You must either sign in or submit your address and email address as part of the guest checkout procedure in order to process your free samples purchase.
And it's there that you'll be invited to sign up for further information.
This lead generator is even more effective since if you enjoy the goods, you'll be more responsive to subsequent offers and more inclined to purchase right away.
Case-Studies
As part of the negotiating and sales process, case studies may give persuasive proof of your company's expertise.
However, there are a few ways you may use them to generate leads.
One method is to make the case study a downloadable PDF that must be "gated" by requiring registration, like we have provided a separate page for case-studies.
The third (and, in my opinion, more interesting) method to leverage a case study for lead generation is to present it as news or blog material with calls to action peppered throughout.
Wood Mackenzie, a research and consultancy firm, demonstrates how it's done with examples like this one.
The article is labeled as editorial material and may be seen on the internet for anybody to read. This also aids in attracting organic search traffic.
And, like the finest case studies, it connects with the reader right away rather than approaching them with a "Look what we accomplished!" attitude.
On the case study page, you'll be prompted to contact their team and discuss your particular circumstances twice as you learn more about how to manage LNG procurement as a first-time buyer.
Checklists
To-do lists and checklists are becoming increasingly popular. Many people have abandoned the pen and paper in favor of digital options.
Todoist is a digital to-do list app, for example. It is used to coordinate the lives of over 10 million individuals.
What do lead magnet theories have to do with this? Make a checklist if you're not sure what to do. "101 Things to Check Before Driving Your Car Away From the Dealership" or "The Ultimate Pre-Baby Checklist" are two possibilities.
Many businesses and verticals can benefit from this sort of lead magnet. It's also simple to make and provide as a free download to email.
Infographics
Do you have any idea that infographics can boost your web traffic up to 12% and In a Venngage survey, 42% of marketing respondents said that creative graphics, such as infographics, are the most engaging with their consumers.
Make the important infographic available for your customers free of cost.
MarketingProfs designed a long-form infographic about content marketing that is both attractive and informative. You might do something similar for your audience and tease them with a snapshot of a piece of the design.
That's only a little portion of the image, but it illustrates the infographic's worth to the prospect.
These are some ideas for lead magnets that your prospect will not be able to ignore.
Increase The Visibility Of Lead Magnets
Promote Your Lead Magnets
Once you have developed a lead magnet that you know your audience can't refuse.
If people are not aware of your lead magnet, you are not going to get any leads. And the best way to promote your lead magnet is by ADVERTISING!!
For example, you can run ad campaigns on social media that can target a certain number of people who are most likely to be interested in your lead magnet.
For instance, a physical therapist might target young athletes or a dentist might target people with teeth issues.
You can also run search engine campaigns, like running Google Ads for people who are searching for keywords related to your business.
Then you can direct them to a landing page that has your lead magnet on it, or some type of free consultation.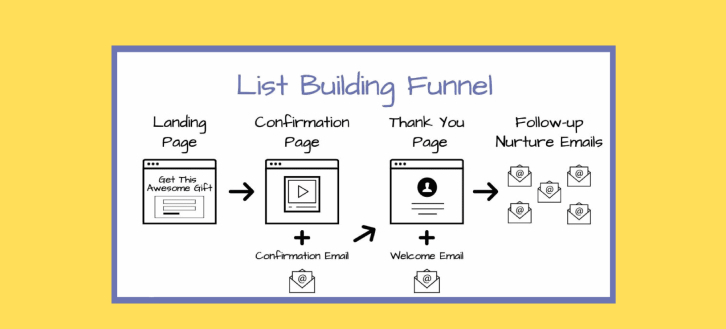 And if you guys are looking for quick exposure, you can run ads whenever your target audience is present like on Facebook, Instagram, LinkedIn, or on search engines, events, etc. As long as you have properly designed a lead magnet, you should be able to generate warm leads.
Help People Find Your Business For Free
Advertising your lead magnet will only take you so far. At some point, you would want to develop an engine that generates leads without relying on paid ads.
Now there are hundreds of businesses that believe in generating organic leads online. If you want to do the same, this is what you have to do:
First, you need to have attractive content that solves the problem of your audience. In order to grow through organic marketing, you need to have a lot of content that people can find on their own.
If you are not having any content that means you are not having any asset or tool to attract customers to your website. This is why people say "content is the king".
When it comes to content, you should be creating both micro and macro content. Macro content is basically your blogs, videos, etc, micro-content includes memes, quotes that are quick and easy to connect on social media platforms like Instagram.
The key here is to create content that is easy for people to find.
So now the second thing you need to do is optimize your content.
For example, your content needs to be optimized to appear for certain keywords on Google. Or your Youtube videos should be optimized for the keyword people search for on youtube.
SEO is more of a science than an art. You just have to understand the algorithm of different platforms on which you are publishing the content and then you can reap the benefits of organic visibility.
Conclusion
In this blog, we have seen some best lead magnet ideas that would help you convert leads into customers. Also, I have discussed what makes a good lead magnet along with how you can enhance the visibility of lead magnet.
If you apply all or even some of these lead magnets to your website, it is going to show you results for sure!
If you have any query or any doubt, you can just comment it down below in the comment section and I am going to reply for sure!
For more marketing tips and services, you can schedule a free-of-cost 30-Minute Strategy session with our experts. In this call, our experts would discuss your business and provide you with the free strategies that you can use to boost your sales and revenue.
FAQs
1. How do you drive traffic to a lead magnet?
Promote Your Lead Magnet Through Social Media
Make it the cover photo on your social media page.
Set it as the link in your Instagram bio.
Regularly post about it on social media.
Pin it to Pinterest.
Add it to your IGTV or YouTube video descriptions.
Run Social Ads on Facebook and Instagram.
2. Where can I post a lead magnet?
Your website homepage
Navigation or navigation button
Footer or pre-footer
Your blog sidebar
Within a blog post
Tools and resources page
Website pop-up
About page
3. How do I advertise lead magnet on Facebook?
Change Your Facebook Page's CTA Button and Add a Trackable Link
Make Your Cover Image Do All the Heavy Lifting
Promote Your CTA Button
Create Lead Generation Posts
Create Lead Generation Posts with a CTA Button
4. What is Facebook's lead magnet?
Lead magnets are the incentives you offer a potential customer in exchange for their contact information. Great lead magnets can turn your social media advertising into a powerful acquisition channel.
5. How does social media promote lead magnets?
Smart Ways To Promote Your Lead Magnet With Social Media
Add the link to your bio
Pin it to the top of your Twitter page or your Facebook page
Use your cover photos on Facebook or Instagram
Use pieces of your lead magnet as social content
Experiment with social media ads
Promote it more than once