There's no doubt that a landing page is one of the most important elements for lead generation.
No matter how much the website is SEO friendly, you will not be able to convert website visitors into customers if the landing page is not attractive.
The landing page helps in attracting the visitors' attention to the services you provide by eliminating all other distractions.
Your job is to provide the maximum information in simple words. People will also get motivated to visit other pages.
Now, the question that might be buzzing in your mind is, "How can I build a landing page that actually converts?"
Well, don't worry!
Here in this blog, you will find some of the best expert tips that will help you build a landing page that actually converts.
So, let's get started!
Before You Build A Landing Page
You must be very clear about these questions before you build a landing page:
1. What is the goal?
2. Who am I competing against?
3. Who is my audience?
4. How did they get to my landing page?
These questions are important because they provide the plan for how the landing page is going to look like.
Tips To Build A Landing Page
Eye Catchy Headline
The great David Ogilvy said:
"On average, five times as many people read the headline as read the body copy. When you have written your headline, you have spent eighty cents out of your dollar."
There's no doubt your headline is the first thing that a visitor sees when he lands on your website.
Your headline can either make them stay on your page or leave it.
It's all up to your headline.
So, how will you make them stay on your website?
Don't worry!
I am here to help.
I will explain to you some characteristics of the best headlines that you should keep in mind. They are as follows:
1. Clarity: A headline should not be stuffed with metaphors or figures of speech as it makes it understandable for many people. Use simple words so that visitors can connect to the headline as soon as they see it.
2. Relevance: Make the content of your website relevant to the headline.
3. Empathy: Use empathy in your headline with visitors' problems. Demonstrate the pain point of the customer with your headline.
For example, you can see my website. The headline clearly specifies what I want to convey to my audience and has all the characteristics that I have explained above.
When I say "Boost your sales in the next 6 months", I am addressing the pain point of the visitor as he doesn't have leads and customers.
Being Straightforward Is Good
Have you ever heard, "Keep it simple, stupid!"
Try to use the same philosophy here. A large number of texts can be distracting, confusing, and overwhelming because who has time to read all that stuff?
So, embrace the space and keep the text and images on the page simple and to the point.
In total, what you need to do is to cut all the unnecessary information and keep only what is important for a visitor.
Or, even if you have lots of things to say, use bullet points or short paragraphs to make it easier for the visitors to read.
For example, you can see the screenshot from my website.
I properly used the white space and broke the paragraph into short sentences that makes the content easily readable for visitors.
Stick To Simplicity
Besides what is written in your copy, it is equally important how it appears on various screens.
No matter how elegant and eye-catching your newly found font might look on your computer, you have no way to guess how it will look on your visitors' computer (or mobile device).
If the copy is unreadable or barely readable, your visitors won't bother with deciphering what you mean and will close the page.
So instead of an artistic font, pick a clear and easily readable one. Make sure there are no spelling or grammatical errors – many companies forget about triple-checking their headlines and end up with more or less glaring typos in their headlines.
Create Urgency
Have you heard about 'loss aversion'?
This is exactly what you need to do to build a landing page that actually converts.
If you are new to this concept, let me explain this to you in brief.
Limited-time offers are based on the psychological concept of loss aversion, which states that people would rather avoid losses than acquire profits.
Now the question here arises is, How would you use this psychological concept to build a landing page that actually converts?
Trust me, you can use it.
Let me explain to you how.
Urgency is a great way to convince the visitor to convert.
When a visitor sees that they have a limited time period to purchase something or avail any benefit, it creates a sense of urgency in their mind, which eventually leads them to make decisions urgently.
They are much more likely to take action now, out of fear of missing out on an offer.
There are plenty of ways you can use urgency tactics on your landing page – by using words like "Limited time offer" or "Only now," or emphasizing that only a set number of customers can get it. Don't go overboard with it though – the more often the urgency is used, the less effective it gets.
For example, you can look at the image shown below:
Loading Speed Matters
Your website loading speed matters more than you think.
Loading speed refers to the time it takes to load the whole content of the page which includes text, images, and videos.
The loading speed depends on a number of factors including, page type, user behavior, file sizes, website server/host, inefficient code, hotlinking, and too many plugins and/or widgets.
Jillian Streit, a Website Strategist at Blue Frog says,
"Page speed has been a ranking factor for many years, and with Google's shift to mobile-first indexing, it is even more important to focus on your website's mobile loading speeds."
In fact, The first five seconds of page-load time have the highest impact on conversion rates. (Portent, 2019)
Website conversion rates drop by an average of 4.42% with each additional second of load time (between seconds 0-5). (Portent, 2019)
Source: hubspot.com
The thing is, The quicker your page loads, the higher your conversion rates will be. The loading time of websites gives your customers too much time for second thoughts, and they might close the page before it even fully loads.
The fewer things are on your landing page, the faster it will load. So get rid of anything that isn't necessary (like background animations, several pictures, plugins). Remember about resizing all images on your page too!
Don't Distract The Customers
The next thing you should be focused on is not to distract your customer by showing so many things at the same time.
If there are too many things going on your landing page (videos, links to articles, animations, several CTA buttons, and so on), there is a chance that your customer will direct their attention to them rather than your offers.
Just imagine, if a visitor is close to converting but then something else caught their eye, and you lost that sale.
I don't think you want this to happen to you.
So, remove anything that is not strictly related to your offer – anything that might distract your visitors from filling out your form or clicking on your button should be deleted.
For example, you can check out my website, incrementors.com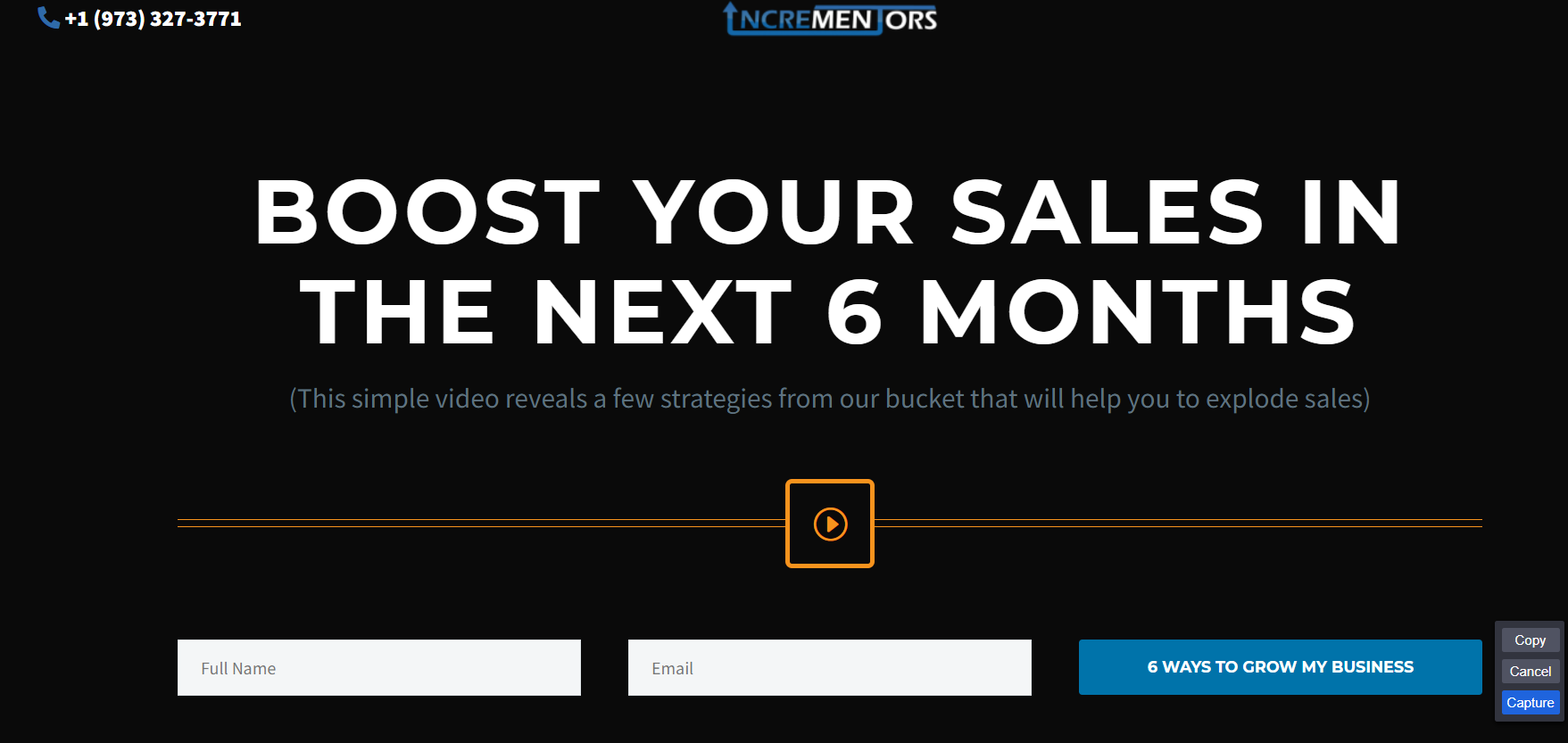 My website is distraction-free for visitors.
For making things clear on your website, you must be very clear about two questions,
Question.1 What's the action you want your visitors to take most?
Question.2 What action do your visitors want to take most?
These questions will help you build a landing page that actually converts. Your action should be simple, distraction-free, and realistic.
One CTA Button Is Enough
48% of landing pages have multiple offers packed into one page, because companies think that the more proposals are on the website, the bigger the chance the customer will click on something.
So they make a landing page that asks the customer to buy their product, sign their newsletter, like them on social media, share the page with friends, and also read their newest article on the blog.
Now, which of the customers of the link should pick?
With so many options available, the customer might end up not choosing anything at all – this is the so-called "paradox of choice."
Let me give an example from my website.
I used only a CTA button on my landing page, that is, "30 Minute Strategy Session" as I didn't want to confuse my visitors and wanted them to take this action only.
If you want to have a useful landing page, you should ask for one and only one thing – if you have more goals in mind, it's better to prepare separate landing pages for each of them.
Read more: What Is A Call To Action: 9 Killer Tips To Create CTA To Boost Your Leads
Have you heard about 'Lead generation friction?'
If not, let me explain.
Once a visitor visits your website, it's your job to keep them there.
So, if there are links on your landing page that can move your visitors, you are taking the risk of distracting them.
A navigation menu usually has plenty of navigation links – but the only link you need on a landing page is the link that is relevant to your campaign.
You want your customers to do one and only one thing – like register for your newest webinar.
Anything else like a distraction on the landing page increases the risk your customer will click away from your landing page and possibly not even come back – so why put a navigation menu with links to your articles or your company bio there?
One of the best ways to reduce the lead generation friction is to simply remove the main navigation from the page. Simple as that!
Make The Forms Appear Shorter
An average internet form has 11 fields – besides name and contact address, companies often ask for occupation, age, location, interests, and plenty of other things.
But is it really necessary to know what company they work for right away?
Probably not.
Customers don't like it when companies ask them about such things either – the longer the form, the less likely they are to complete it.
After reducing their contact form from 11 to 4 fields, Imagescape saw a 120% conversion increase. What's more, a short form also prevents customers from getting distracted while filling it.
Long forms are especially annoying for mobile devices users – writing on mobile is inconvenient enough, no one will have the time or the patience to fill several fields while using a tablet or smartphone.
Leave just two or three fields on your landing page – you'll get the rest of the information (if you need them) later.
For instance, you can look at the image below:

On my website, I only asked for the information that is necessary by making the form shorter.
Don't Forget The A/B Testing
You got your landing page up and running? Don't just leave it there – keep an eye on the website performance.
Did your conversions increase? Are there any issues with the website? If the landing page isn't performing as well as you expected or if you want to improve your page further, testing different designs of your landing pages is your best option.
By regularly A/B testing your landing page, you can get closer to the best version of your landing pages – and get more conversions.
Just remember to not check more than two elements at once, or you'll get confused about what is working and what isn't.
You can even test the headlines with A/B testing.
Want to know how? Let me explain.
Make two headlines along with the CTA button and just check out which CTA button gets more clicks.
That's how you will get to know which headline is better.
For more testing, you can even create two landing pages and then check out which landing page is getting more responses.
And keep that page as final.
Bonus Tip
I want you all to watch the video I have given below. This video talks about some of the best tools for building a landing page like OptimizePress, Lander, InstaPage, Unbounce, and many more.
Trust me, this video is filled with so many magical tools that are going to help you build a landing page that actually converts.
Conclusion
Here in this blog, I have explained all the tactics which will help you build a landing page that actually converts. But, before we build a landing page, it is important to ask some questions that I have already explained above.
A landing page is actually very important when it comes to generating leads and customers. So, make sure it is appealing, attractive, and provokes the visitors to take actions you want them to take.
FAQs
Question.1 What is a good conversion rate for a landing page?
The average landing page conversion rate falls around 2.35%. The top 25% of sites are converting at 5.31% and above, while the top 10% are looking at 11.45% and above.
Question.2 How can I write content for a landing page?
Tips to write content for a landing page:
1. Know your audience.
2. Write clear and to the point.
3. Use passive voice.
4. Describe the benefits
5. Write appealing headlines.
Question.3 How much should a landing page cost?
If you want to hire a digital agency to create a landing page, you will have to pay from $600 to $3,000 per landing page in the US.
Question. 4 How do I promote my landing page?
The easiest way to promote your landing page is to copy the URL and share it in email campaigns or social media platforms. You can find your campaign URL in a few different places. Immediately after you publish, you can copy your URL from the confirmation page. You can also copy your page's URL from the Campaigns page.
Question.5 How do I get organic traffic to my landing page?
Ways to increase traffic to your landing page:
1. Advertise
2. Use social media
3. Write appealing headlines
4. Start guest blogging
5. Target long-tail keywords.
6. Write SEO friendly