If You Are Not Growing, You're Dying

William S. Burroughs
Have you understood the context of this quote in relation to your business?
In any aspect of life, if you are not growing, you are probably dying and it goes the same with the businesses as well.
The growth culture is a Central Component of the any company. Every other operation revolves around it. Growth is a framework and drives all other operations.
Growth-focused companies attract the best team and best clients because Great People Seek Growth.
According to the U.S. Bureau of Labor Statistics, about 50% of all new businesses survive 5 years or more, and about one-third survive 10-years or more. What this statistics says is, most of the business is deemed to fail if they don't have the clarity before jumping into the arena of the Business world.
Here I will discuss the top 5 common reasons for business failure, having a good understanding of them help you to avoid them. But as you know life is still complex & unpredictable so you have to always prepare for the random event, & use it for your growth.
Reasons Why Successful Companies Stop Growing
Sometimes, even the owners don't know the reason behind the stagnant growth of their business which will eventually go to failure.
There's no one way to grow a business & the same with the downfall of the business. There are several reasons when a business fails or stops growing.
Now, the question that arises is, how will you know if you stopped growing?
What are those parameters by which you'll determine your growth?
Here Are the Most Common Reasons Behind the Stagnant Growth of the Business
Weak Leadership
First of all, we will understand the term 'Leadership'
Leadership is the ability of an individual to influence and guide the followers or other members of an organization in the right direction.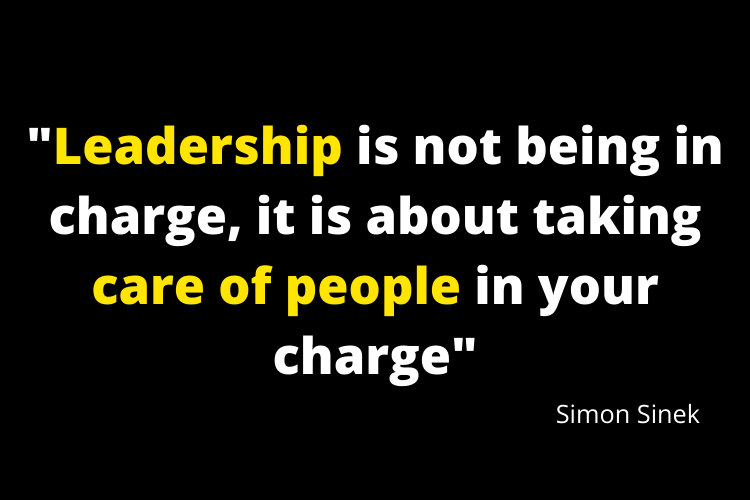 So, in an organization, if a leader is weak or doesn't possess a good ability to lead, then how is the organization going to grow?
Poor leadership can be defined as a lack of vision and ability to provide direction to the team.
Poor leadership will always disagree with new opinions and perspectives.
This type of leadership can misguide the employees about their jobs, roles, and responsibility in a company or organization.
In the book, The 21 Irrefutable Laws of Leadership John C Maxwell, has defined the term leadership and its laws.
His definition of leadership is "Leadership is influence, nothing more, nothing less"
Now, the second thing is the consequences that you'll face when you are not an effective leader.
What are those consequences?
The first consequence that you'll see at your work is that You'll lose Motivation.
Poor leadership will negatively impact performance and management.
Not only will you lose the vision but also you'll lose the motivation to come up with new creative and innovative ideas to contribute to the company's growth.
The next impact that you'll see is that it will create a Poor Work Culture in your workplace.
Also, you'll fail to Meet Your Goals due to poor leadership.
Read More: How Is My Website Connecting With the Goals of My Business?
How to Identify It?
Before identifying whether you're a good or a bad leader, you first need to figure out whether you are actually a Leader or not?
Yes, you read that right!! Sometimes, people call themselves a leader but in reality, they are just a boss like all others.
Sometimes, people confuse between Boss and Leader. They think being a boss and being a leader in the same thing but that's not true at all.
Here's you can learn the difference between the two terms through the picture shown below: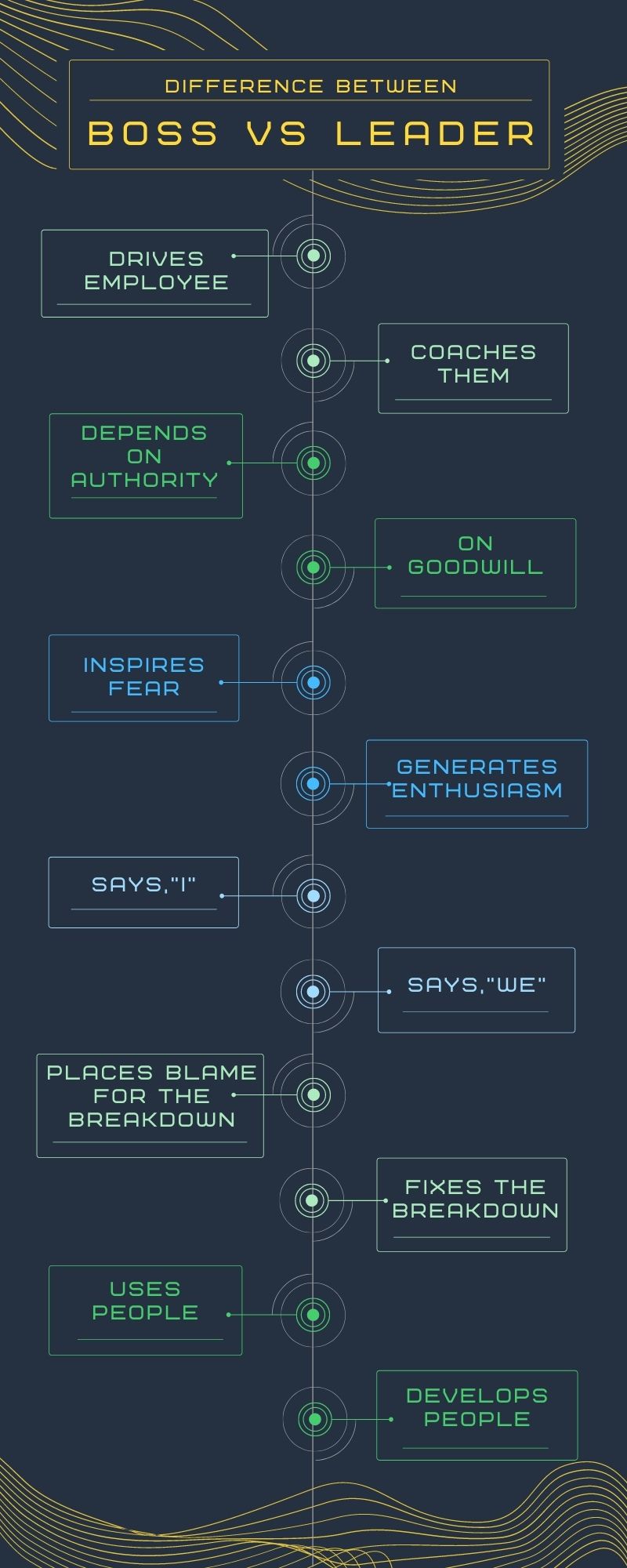 So before being a Good Leader, you need to be a Leader first.
Now, Let's Learn How to Identify Poor Leadership
Inability to Communicate Well
When the leadership is poor or weak, they lack communication with the team. Communication issues in an organization are common but too much of it shows the sign of poor leadership which can also affect the work process.
Commanding Rather Than Influencing
You can influence someone in a positive or negative way, but leadership is all about touching people's life in a positive way.
So if the person is commanding rather than influencing then he must not be a leader for sure.
Lack of Focus
Leaders who are not focused will fail themselves and their team as well they lack discipline will adopt the wrong behaviors.
Good Intentions must be there with results for leaders to be effective.
No Integrity
Have you heard that quote?
"Integrity is the most valuable and respected quality of leadership. Always keep your word."
If yes, then you must have guessed what I am going to talk about further. Integrity is a must, not only in the business but also in every aspect of life.
No matter how capable you are or how much ability you possess, if you are not truthful with your employees or with yourself, you are going to fail your Organization.
The followers are going to follow the leader, so if the leader is engaged in some unethical activities then the employees under them are going to be like their leader for sure.
Read more: How to Become a Thought Leader in Your Niche
How to Fix Leadership Issues?
Keep Yourself Motivated
The teammates follow you. You'll have to keep yourself motivated for them because they will do the same as what you are doing.
If you don't keep yourself motivated, how is the team going to perform well?
Develop a Learning Environment for Your Employees
Your employees want to grow in their careers and it is your job as a leader to help them grow.
Provide them a learning environment for their development, you need to push them and guide them.
It means looking for strengths and recognizing potential.
Another important part of developing and mentoring employees is giving recognition.
Everyone wants to be feel heard, appreciated and seen. So do your employees. Appreciate them when they do something good.
Developing Your Skills
If you want to be a good leader or want to fix your leadership issues, you will have to develop your skills first.
When you take care of yourself and work on your personality, it becomes easy to guide others too and take lead.
Bad Planning and Lack of Strategy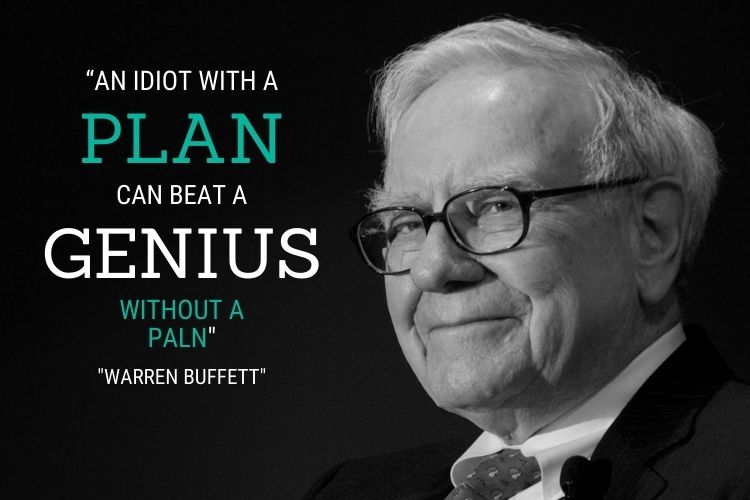 If you fail to plan, you are planning to fail

Benjamin Franklin
Heard this quote before?
That's 100% true!!!
Business planning includes long-term planning and short-term planning as well. The plan should include where the company or organization is going to be in the next 3-5 years.
When thinking about growing a company, a leader needs to conduct market research, competitor analysis, consumer behavior, and business strategies.
A business plan also includes some important things like financial information, the budget of a company, cashflows, accounts, debt, holdings, and shares, and the list goes on.
Without all this information and planning, you will not be able to grow your company and your growth will be stagnant after reaching a particular point.
The planning includes:
How many employees you can afford
How much cash flow do you have to invest
What type of employees do you need to hire for your organization.
In which department of the company do you need to improve
What equipment you can afford to buy.
How much capital do you need to invest in marketing?
We can take an example from Nokia and its Poor Planning and Downfall.
Now we will focus on what went wrong with Nokia. What all mistakes have Nokia done that lead to its downfall? It was not a single factor behind this but a bunch of reasons that caused its downfall.
Let's discuss each reason briefly.
Nokia's stubbornness regarding smartphone evolution
Nokia's ill-timely deal with Microsoft
Their unsuccessful umbrella branding strategy
Nokia didn't pay attention to software evolution
Nokia overestimated their Goodwill
Lack of innovation in their smartphones
Here we saw the reasons why Nokia failed as a company.
Generally, when a startup fails it's because of bad planning and strategy and the same thing happened with Nokia.
Now we will discuss the consequences companies face when they lack good planning and strategy and how it affects their growth.
The first consequence we will see in the company is the downfall of Productivity Rate.
When the planning is not done correctly, the other team members can get confused about what they are working on and this will lead to lots of confusion and a low rate of productivity.
The second consequence will be Dissatisfied Customers. Of course, when there is poor planning, customers will not be able to meet their needs and desires. Hence, there will be unsatisfied customers.
You won't be able to predict the upcoming problems and risks. When your planning is poor you will not be able to foresee what's going to come up in your ways and hence it will lead to business failure.
How to Identify It?
General Confusions
You'll always see confusion among your employees. They will always ask 'what's going on?' or how to do this? Or how to do that? Generally, it happens due to bad planning.
Reconsider Decisions
You'll always see yourself and your team coming back to the decisions that have been already taken because decisions are never seen to be made.
Missing Responsibility
There will always be missing accountability. Misunderstandings will often occur about who will do the specific job.
Long and Regular Meetings
There will always be 'long and regular' meetings. It happens due to continuous issues resolution and unfinished tasks.
How to Fix It?
Think About Your Consumer
Your focus must be on your consumers. When working on your business strategy, keep your customers in your mind.
How can you get your products or service into your consumers' lives and meet their needs?
Have an Understanding of Your Competitors
While keeping your focus on your consumers, you must not forget your competitors because those are the ones you are competing with.
You must have competitors if you want to grow.
As Gianni Versace quoted
"It is nice to have valid competition; it pushes you to do better".
Mission and Vision of the Company
Make sure every member of your team is dedicated to the mission & vision of the company that includes your team, managers, and stakeholders. Then only they will be able to walk step by step with you.
Copying Others and Not Being Unique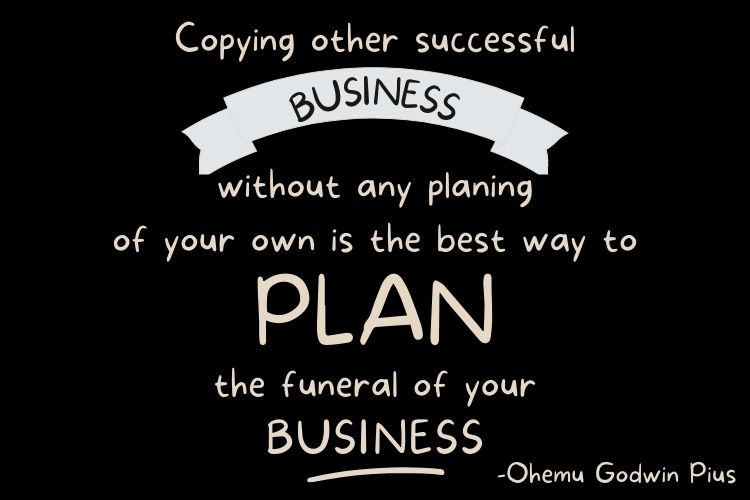 This quote from Dhemu Godwin Pius. He is warning about copying a business model without planning of your own.
Copying others is the fastest way to fall in any business. These questions will remain unanswered "How are you different from others?" "Why consumers should choose you over others?"
So if you are the same as others, your potential customers won't choose you over others.
As the famous billionaire businessman, Jack Ma has quoted:
"You should learn from your competitor, but never copy. Copy and you die"
Many people have gone into a business idea thinking if others doing it, they can also be successful in it if they try.
The first consequence you'll see if you copy others is legal action against your business.
When you try to copy others, by making a counterfeit product of the original company, it will ruin your image in the market. It will also affect your products' image as well. Eventually, you'll lose your customers.
The second consequence you'll see before yourself is the reduction of sales because people will know you are using cloned products. So of course, they won't choose your products before an original product. Why would anyone buy a cloned thing before an original product?
To protect yourself from such issues, you must avoid copying using your ideas.
How to Fix It?
Have your own creative ideas, they are important for your business growth.
When you have your unique ideas, people want to know you, they want to connect with you.
So when you have your ideas, you have a great chance of having a large audience.
Make your USP (unique selling proportion) before marketing and targeting your audience.
Failure to Connect With the Target Audience
When you can't connect with your target audience, your business will eventually fail for sure.
"Focus on identifying your target audience, communicating an authentic message that they want and need, and project yourself as an "expert" within your niche."
Kim Garst
An inability to connect with your customers means that you are unaware of your potential consumer's wants and need.
You need to ask yourself certain questions. Is it to evoke emotions? Is it to attain a certain status? How is your product help them solve their problems?
A small group of consumers can provide the organization a large opportunity to grow because A product designed for this target consumers will easily capture their business.
So, if a business doesn't have its target consumers then the business is going to fail eventually.
The other consequence you'll see is you won't be able to create brand loyalty.
Now the question is,
When you don't have your target audience how are you going to create your brand loyalty in the market?
How to Identify It?
You Are Not Aware of the Wants and Needs of Your Consumer
So when you are not aware of the needs and wants of your audience, how are you going to fulfill their desire and wants?
So when you don't have a clear idea about your consumers' wants and needs, your business will eventually stop growing.
Not Evoking Emotions
Nowadays, people don't want to be feel sold forcefully, they want to buy the products just to feel good.
They don't buy products because they need them but to evoke positive emotions.
If you are unable to connect with your audience that simply means, you aren't evoking their emotions to make decisions.
Your Content Doesn't Evoke a Call to Action
From your website to your advertisement, your content must push users to take an action.
Read More: Learn 11 Conversion Rate Optimization Hacks & 6 Avoidable Mistakes to Skyrocket Your Sales
You Don't Have a Clear Knowledge of Your Target Audience
If you're trying to market to everyone, you won't connect with anyone.
It is better to make clearer your target audience.
Try to narrow it down as much as possible, as doing so will help you create your message more engagingly.
You are not data-driven. You are just making your assumptions and your decisions are not based on facts.
How to Fix It?
Create Unique and Valuable Insight Content
It's very important to create unique content that only comes from you and not from your competitors.
And if you have unique and provoking content your audience will automatically gravitate towards you.
Use Humor and Compassion
Don't underestimate the power of evoking emotions. These emotions are great to tap because humans love to relate.
You can use these emotions to influence their decisions.
Remember, next time, when you write any content or create any commercial, make sure you use emotions or humor so that your audience can feel relevant.
Ask Them Questions to Make Them Think of You
It is one of the easiest ways to emotionally connect to the audience.
This is exactly what Nestle did to their product maggie
They asked the consumers to write their life stories related to maggie and they got it printed on the wrapper of the maggie.
The commercial went viral. People started talking around about it. The commercial did well.
Lack of Personal Growth
Yes, you read that right.
Your personal growth, your mindset, and your habits everything matters in business.
Personal growth empowers you to produce better results and meet your goals.
So when you lack personal growth it will affect your business and your business might stop growing.
Because when you are not focused on your personal growth, you will lack other skills too, for instance, public relations skills, communication skills.
Personal growth can develop emotional growth, mental growth, and becoming a more considerate, and positive person.
How to Identify It?
Lack of Discipline
If you have great ambition about the things you would like to achieve as a company.
But lack self-discipline, you will always be disappointed in yourself.
And also, you must accept the fact that you are lacking self-discipline.
That's the biggest barrier to your growth as a company or as an individual.
Lack of Motivation
Motivation comes with growth and self-motivation comes with personal growth.
If you lacking self-motivation, you must understand that somewhere there's a lack of personal growth as well.
Here we can see how important personal growth is for companies' growth. ,
Lack of Responsibility
Not taking responsibility for your life is also a sign of a lack of personal growth.
Repeatedly blaming others or circumstances for what happens in your life or happens at your workplace is a way of avoiding your responsibility.
You must understand the fact that these are the barriers to your personal growth and your company's growth as well.
How to Fix It?
Be Curious and Stick To It
There's no school like life and there's no teacher like curiosity

Priyanka Uniyal
If you want to go far in life, you'll have to be curious, curiosity is a must.
Why? Because it directs you and clears your vision in life and above all, It goes hand in hand with personal growth.
Make "why" and "how" a part of your life and stay committed to the "learning attitude" towards life and that's how you'll grow.
Cultivate Healthy Habits
You cannot change your FUTURE, you can change your HABITS. And surely your HABITS will change your FUTURE

DR. APJ Abdul Kalam
Our habits directly affect our future. There's no doubt about it.
And this is the thing we can improve it on daily basis little by little. Then, our habit becomes a way of life. It becomes the way we live.
Creating habits is a lifestyle shift that brings constant changes.
Don't Get Complacent
Being complacent can kill your growth. Because when you think you are successful enough or you've achieved enough, you would not want to work more.
Then, you are at risk.
Don't let yourself stop from setting higher goals in life.
Conclusion
Here you got the knowledge about the top reasons why businesses fail & how to overcome them to have sustainable growth.
Let me know in the comment box what do you think about it.