Search by voice has become common among businesses and users. From audio recordings to content readings, the market has adopted this technology as a rank builder and marketers have been pursuing it to enhance their business online.
The voice search market has gained its popularity since the innovative 'Google Assistant,' days of 2011 and since then, the search engine has become a battleground for it.
So, optimizing your business for voice searches is required for successful business.
Otherwise, you're essentially losing customers every minute of every day and meeting fewer goals daily. Hence, it creates the need of optimizing the content for voice search.
The explanation for this situation is simple: nowadays consumers prefer to search by pronouncing terms rather than typing them in.
As per statista report on "The future of voice recognition"

"As of 2019 an estimated 35 percent of U.S. households are equipped with at least one smart speaker and by 2025 forecasts suggest that this penetration rate will increase to around 75 percent."
This could be proven by another statistic by Oberlo, stating that 71% consumers prefer voice-placed queries rather than typing them.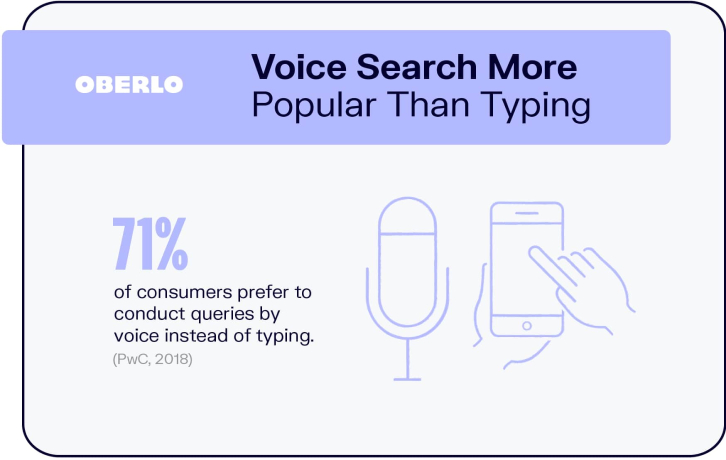 Therefore, the convenience of voice search to users has pushed it to the forefront of search marketing and made Voice Search Marketing, The Future Of Digital Marketing.
But, before we get into the nitty gritty details of its perks, let's go over the basics of "What Is Voice Search?"
What Is Voice Search?
Voice Search is a 2011 technology, a novelty of Google that allows users to find queries over the browser or an application using voice commands.
Users basically have to speak a specific query directly into a device rather than typing keywords into a search engine and they receive the most relevant answers that are FAQs or listicles.
Now, You must have called out to your mobile phones or a voice-enabled device for a query.
"Ok Google, …?" or "Google, …?"
This is the phrase used for activating your Google Assistant that provides smart-speaker services of feeding your query within its programme using mobile App (such as Chrome) or innovative tools (such as Google Nest smart speakers)
With the customer using voice-enabled devices at least 42% people agreed that voice assistants are revolutionary inventions based on their choice of speaking rather than typing for finding solutions on a search browser. Read the statistics below.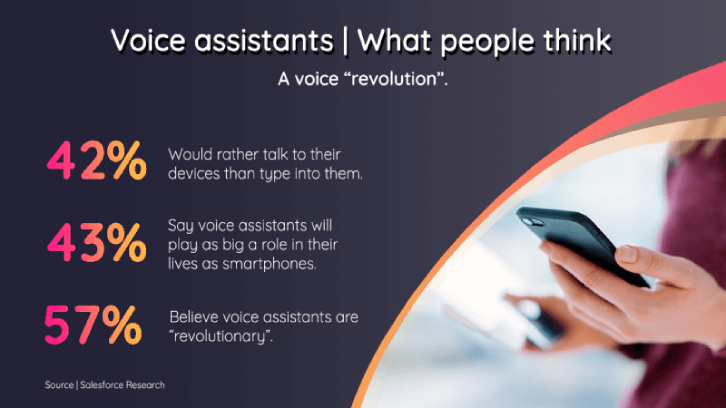 A decade old technology, voice assistants provide queries solutions through advanced speech recognition systems that are found in smartphones too and has been said to be increasing the number of users by 2024.
Hence, Voice search has replaced the search bar tech and now, has become the new way of making queries on the Internet. The online arena keeps on changing and the fight over new features would be fought with something new and trending.
What, as a business you can accomplish is marketing them for your customer satisfaction and earn your revenue.
How To Do Voice Search Marketing?
Here are some tips through which you can easily perform voice search marketing
Perform User-Centric SEO
Ranking, Traffic, Bounce Rate. All of these terms and many more are important step regards by search engines such as Google, which selects your website's content with most relevant customer queries. Basically, making your business user ready.
One such feature of SEO is tied to Voice search Marketing that works metrically for your business and search engine to gain traffic and choose user friendly sites respectively is
The Featured Snippets (or The Answer Boxes or The Position #0).
The screenshot below shows a snippet of "Linkedin marketing hacks"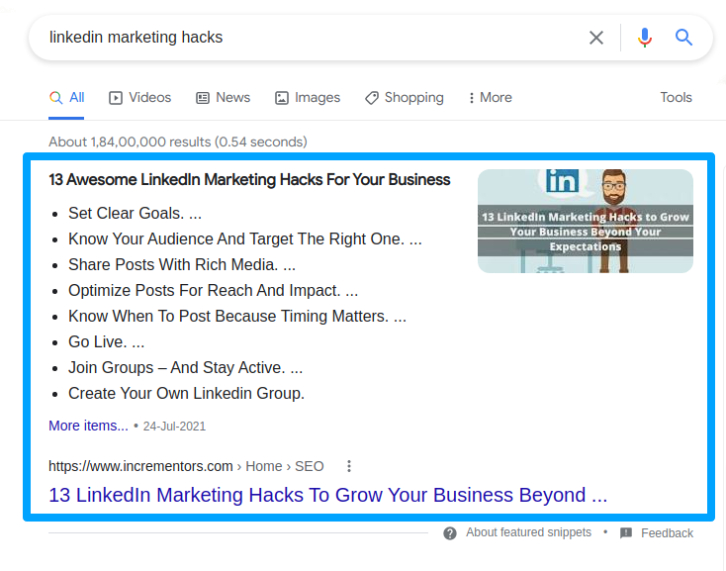 Showing the snippet, the above picture points to some of the features of content such as they are in list form, query or FAQs format, definitions, steps, tables and video format.
These features make your content look specific, time saving and especially user-oriented in the eyes of your search engine which selects your content relevancy in terms of customer query.
Some stats and statements are provided below to highlight the strength of Featured Snippets, that are:
A.) Ahrefs suggests that
"you'll get 31% more traffic if you have a featured snippet which is in retrospect of how Google chooses featured snippets."
B.) For Google voice search,
"Google's automated systems determine whether a page would make a good featured snippet to highlight for a specific search request. Your feedback helps us improve our search algorithms and the quality of your search results."
Google, here, put forth another user-centric algorithm to measure your website content and its relevance with customer query and provides your business with another opportunity for customer attraction.
Turn On Voice Search & Delete "Hey Google"
Tracking whether your device is recording your conversation and files is essentially a feature to look out for, as this would help you secure your industry and provide a vital experience to your customers.
From a report by Statista,

"By 2024, the number of digital voice assistants will reach 8.4 billion units – a number higher than the world's population."
This statistic suggests the unstoppable future of voice search and a predicted voice digital audience in the digital marketing arena.
So, preparing yourself ahead of your technology comes in the big picture of your business.
Here you can simply access the saved recordings on your "Hey Google" queries that are saved on Your Google Account.
1) Open this webpage "Google My Activity".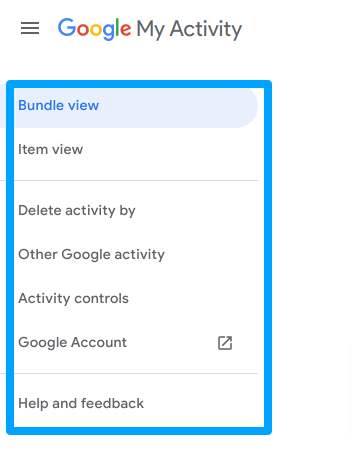 2) Open the main menu through the Hamburger button (blue circle in the picture below) and tap "Delete Activity"
3) Select the option suitable for you, that is either one-by-one or delete it all at once or today or last week. (below)
Contact Updated
Updating your businesses and their contact information online, especially on GMB is needed.
This is to make sure that your business profile is current and you are not losing potential customers that used voice searches to find a local business.
Now, according to some local SEO statistics, you can actually reach your customer by updating your business profiles on search engines because
"78% of location-based mobile searches result in an offline purchase."
And
"Local searches result in purchases 28% of the time."
That is, when people use voice search keywords, they are focusing on finding the businesses that are close to them, the results are typically chosen by Google, which chooses the most authoritative business.
So, your business name, its locations, and contact information must come clearly in SERPs and some reviews may build customers' trust for your business, so add them too.
Your customer search queries simply as,
"Google. Restaurant near me."
"Cheap mechanic near me"
"Custom jewelry shops near me"
These terms are selected based on customer needs of the time.
These stats work their case on search engines such as Google, Bing, Apple and so, keeping your GMB profile update is done to not miss out on the "near me" customers that are basically at your "doorstep", your business.
Putting Relevant And Conversational Content
Now, as far as a query goes, your website's content is the main resource from which search engines would select data relevant to solve the search query made by the customer.
So, You need to work on how to optimize your content for voice search as per the "Featured Snippet" guidelines and also, use long-tailed queries to rank on the search engine.
Some places that you can get user-centric query content are from: "People Also Ask", Ahrefs, etc.
"11 Best Keyword Research Tools In 2022"
"How to Choose the Right Local SEO Service Provider For Your Business"
Putting relevant and personalized content helps you connect with your customers better and your conversational tone within the content and the specific scale of information helps them choose your business and establish your expertise.
Human speech is being used to acquire data for voice search technology, which is based on audio recordings of individuals.
So, the fact is your content must provide user-oriented content to communicate with search engine users, web crawlers and your prospective.
Content Promotion
If your website receives a lot of online traffic, the search engine crawlers would find you far more relevant.
As a result, optimizing a page for voice search marketing also includes social platform marketing, which is where the majority of your customers hang out.
According to a Backlinko study, your website receives far more attention on social media than it does on other platforms.
"Content with high levels of social engagement tends to perform well in voice search. In fact, the average voice search result has 1,199 Facebook shares and 44 Tweets."
If you're not on social networking sites like Facebook, Twitter, Instagram, or LinkedIn, these figures should persuade you to do so because clients are what make your content rank.
The more you communicate with your users on social media platforms, the more they feel driven to learn more about your company and may become a customer or offer you a link.
Whether Google voice search chooses your material or not, the linking does strengthen your authority among other domains.
The goal is for your business to be ranked higher which in return would help you recognize voice searches.
Work On "Instant Gratification"
Your target customers want fast satisfaction, that is instant gratification.
This means they would want an instant solution rather than practice the whole guide to accomplish their task or answer their query.
So, they'd prefer to check your business listings than go to a company's website these days and would directly contact you for their business growth which works in your favor.
Though you have to provide more responses that offer solution-focused voice search results and content.
The first guide website provides some important and interesting voice search statistics,
"Smart speaker sales will surpass tablet sales by 2021 and 58% of consumers find local businesses using voice-activated search."
The figures show the increased numbers of voice-activated devices than those of tablets, which should force you to think about voice search making an impact in the marketing arena.
Voice searches work on customer-oriented content, products, and services that help you gain clients to boost your revenue.
Advantages Of Voice Search Marketing
Global Technology
Being a global technology, voice search is multilingual, so has entered the lives of over 111.8 million people in the USA. Making them become Center-Of-The-Home technology used by everyone.
As current voice search statistics reveal, almost 50% of all searches in 2022 are done speaking, making voice search marketing the best ad on digital strategy to your business with its mainstream popularity increasing day by day as in the USA shown in the graph below.
Easy-To-Use
Implementing a voice search software or tools does not require heavy code knowledge or a great amount of money. First of all they are basically provided in any piece of technology, mobile, tablet, laptops beforehand.
And if your customers do want to integrate them with a camera, Television, etc, then, you can use tools which are readily available online at an affordable price.
"55% of users say that the major reason they use the voice assistants is that these applications allow them to interact with their devices without using their hands."
Provide Insights Into Customer Behavior
With 4.08 billion digital voice assistants in use since 2020, it is predicted to double by 2023, around 8 billion.
And as they have been integrated in customers' lives at the fundamental level of buying toilet paper for houses, the need for voice search SEO is at the peak today.
Look at the graph below.
This integration is a need for users as well as businesses because for consumers it works as a friend and for businesses the information that they collected through these assistants can be used to learn consumer behavior.
This helps in forming personalized bonds between the businesses and customers via calls, ads, emails, etc. Hence, this is a convenient way for customer interaction and their brand engagement.
Promotes Local SEO
Local SEO includes updated GMB and other search engine profiles, customer reviews, citations, backlinkings for building authority locally.
Basically users voice search for local businesses, making this one of the most needed advantages of voice search.
With 90% growth in just two years, the "near me" phrase has made the column of the voice search marketing guidelines. The Google voice search assistant has taken homes as its center and helps local businesses to be found easily.
Promotes Customer Satisfaction
With voice search marketing totally dependent on speech recognition technology and metrics, the need of business to provide and promote customer satisfaction is achieved at the most basic level.
So the advantages of voice search is to promote customer satisfaction by,
A. Giving dialogue interaction with users who recognize it to be friendly for them.
B. It saves a lot of time with voice recognition & therefore, increases productivity
C. The audio messaging facility makes speech more preferable than typing (Customer)
D. The real time text-to-speech module of these voice searches give instant solutions
E. User-centric updates make them much more accepted among users.
F. Quick Responses = Leads Satisfaction = Conversion/Subscribers
These are the advantages of voice searches for your businesses that can help you with your visibility and conversion would occur at financial level.
Conclusion
Google voice search has become common among households, offices, school and college going children too. We'll soon be able to have actual talks with our smart devices using the conversational tone we're using now.
Keep in mind that google voice search has transformed the worldwide market at its core, therefore engaging in voice search marketing will increase brand recognition, online transactions, and revenue.
Therefore, voice search marketing is a need of today and a certainty of tomorrow.
For more marketing tips and services, you can schedule a free-of-cost 30-Minute Strategy session with our experts. In this call, our experts would discuss your business and provide you with the free strategies that you can use to boost your sales and revenue.