"If You Target Everyone, You Don't Target Anyone"
That's absolutely true!
When people start marketing, they think only traffic is everything and forget to target their specific audience from the niche.
Many marketers think only generating traffic to the website is everything and forget to target their specific audience from the niche.
Marketing is tough and requires lots of dedication, capital, and effort. So, why waste it on the wrong people.
I want all my readers to avoid such mistakes.
So, here I have brought you a blog that will help you define your target audience and take essential steps towards the success of your business.
Why Is The Target Audience Important?
The business which understands the importance of the target audience has a better chance of convincing customers to support them.
Understanding the importance of target customers will help you distinguish between the different types of audiences.
Also, it will help you understand better what type of consumer segments support your product and are going to purchase again and again.
Now, We Will Understand Why Is The Target Audience Important
1) Improves Marketing: The marketplace is too differentiated. Target audience helps you understand the demographics of the audience that you should target.
Basically, it clears the way for your potential customers and makes marketing crystal clear for you.
2) Helps In Prioritizing The Resources: When you are clear about your target audience, you can easily prioritize the resources used for marketing.
As businesses can easily evaluate which segment of the audience is most likely to purchase their product.
Hence they can invest their resources effectively to save it from going in vain.
This is why a Target audience is important in any business.
Read more: Build Your Audience: Why It Is the Next Big Thing to Build Your Audiences to Build Your Brand
Difference Between The Target Audience And Buyer Persona
Till now, we have learned why the target audience is important in a business.
Now, we will understand the difference between the target audience and buyer persona. Many people think there's no difference between them.
But that's not true at all.
Let me explain to you how!
Since you already know the definition of the target audience, I will not bother you by explaining it again.
Let's come to the point.
We define our target audience with data like,
i) Age
ii) Gender
iii) Location
iv) Qualification background
v) Social status
Example of Target Audience: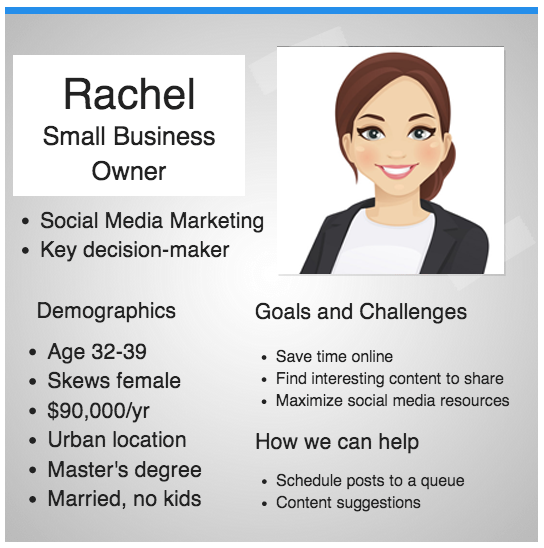 Another example of target audience:
Let's say you have a business selling fictional books then your target audience could be, a young man- loves to read fictional books, ages 20-35, lives in New York, monthly income of $1000- $3000, passionate about reading books.
Whereas a buyer persona is the representation of your ideal and potential customer who can buy products and services from us.
It's an imaginable representation based on proper research. This fictional character has the characteristics of our real and potential customers.
For a clear understanding, you can see the image below:
In general, the target audience is the real audience and whole while the buyer persona is the fictional representation that is specific.
How To Define Your Target Audience?
The first step of creating a successful marketing campaign is to define your target audience.
To define your target audience, you can just simply start with asking questions like,
i) Who are they?
ii) What are their challenges?
iii) Where do they find information?
iv) What benefits do you offer?
v) Where can potential customers find your product/service if they need it?
If you can clearly answer these questions, you can easily define your target audience. It is as simple as that.
These questions are necessary because it keeps you hooked to the target audience.
Can You Target More Than One Audience?
Sometimes it is important to think about the quantity of the audience you are trying to reach.
Your target audience could be a number of people–dozens or even hundreds— with varied goals, needs, traits, and points of view.
Marketing is a very creative, concentrated, and specific process.
You will be able to develop a stronger and direct message once you know your target audience. It will eventually lead to an increase in conversion rate and generate excellent ROI.
So, even if you have two different audiences, try to find something they have in common.
The more market you try to reach, the more diluted your message will be.
You will have to be careful to keep your message focused on each individual audience.
Types Of The Target Audience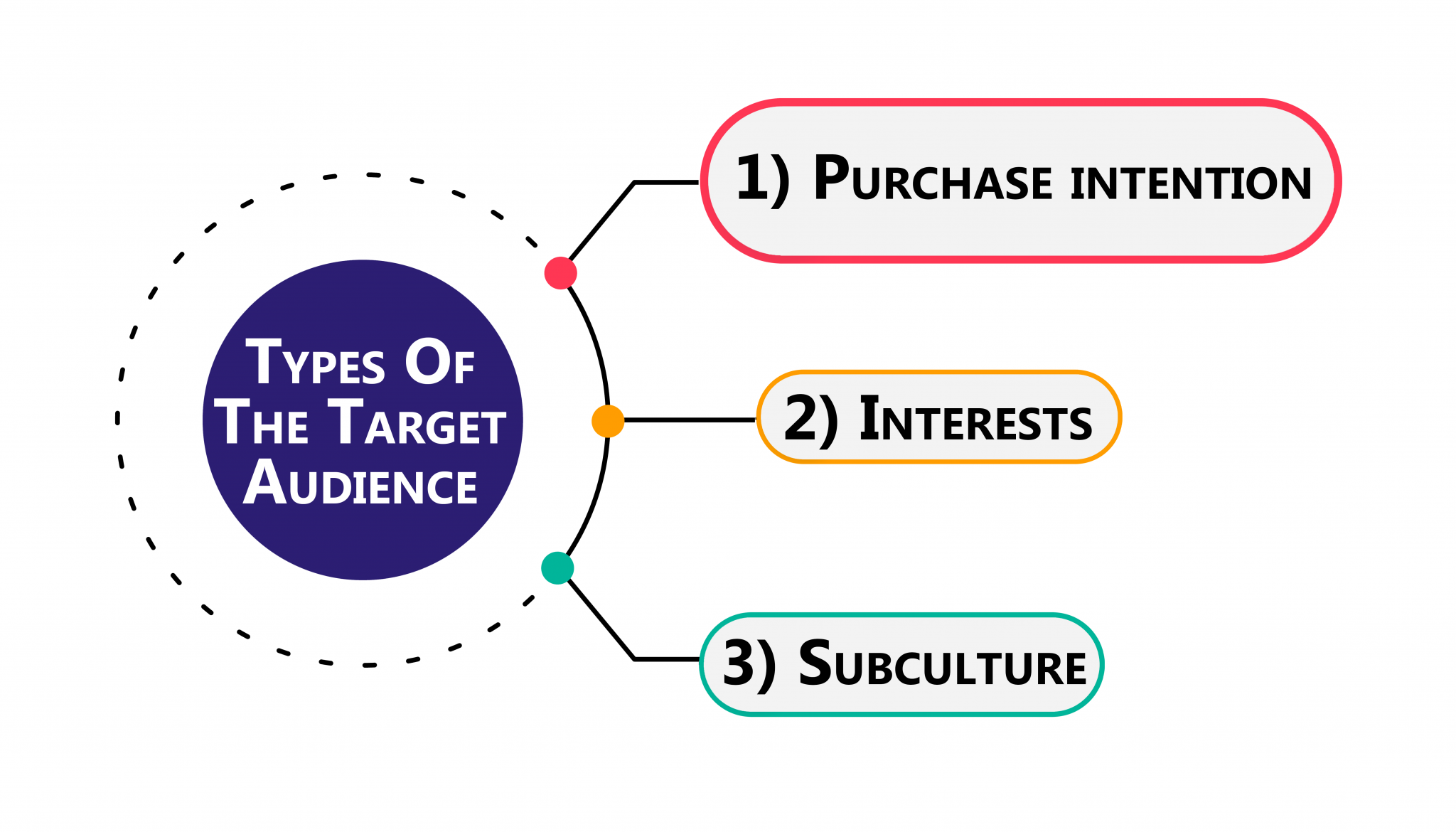 When we are talking about the types of target audience, it actually means more ways to define who you are creating a marketing campaign for.
We can categorize our audience further into groups such as.
1) Purchase Intention: This is a group of people who are seeking additional information about the product before making a purchase.
For example, when consumers buy a new laptop, bike, or car.
This information is required in order to determine how you can better target your messaging to your target audience.
2) Interests: This information is based on the consumer's interests such as his hobbies, likes, or dislikes.
This information allows you to relate to your audience and uncover buyer motivations and habits.
For example, if a consumer was interested in bike racing, he is more likely to purchase a new bike.
Another example, If you discover that a high percentage of potential customers are interested in traveling, you can include that message into your marketing effort to reach a larger audience.
3) Subculture: It is a group of people who have common experiences. Cultural music can be taken as an example of a subculture.
People use subculture for their identification and brands use the subculture to know who they are reaching out to.
Now that you have learned the types of the target audience, it's time to learn how to find your target audience.
How To Find Your Target Audience?
Market Research
The first thing that you have to do is to conduct market research. For doing this, you can do this by performing a SWOT (Strength, Weakness, Opportunities, and Threats) analysis.
Now the question that might be buzzing in your mind is," How will SWOT analysis help me find the target audience?"
But, trust me. It will help you for sure!
This type of market research can determine,
i.) Location
ii.) Demographics
iii.) Psychographics
iv.) Market trends
v.) Economic shifts
vi.) Customer's buying habits
vii.) Persona
viii.) pain points
ix.) Motivations
x.) Competition
Besides this, you also need to understand the competition as well. Pull out the relevant information about the industry and use it to analyze the competition.
Then, you have to identify the audience your competitors are targeting and why?
That's how you will be able to identify your potential customers.
Another way to find out your potential customers is your 'existing customers'
Yes, you read that right.
If you want to find more people like them then, find out what makes them stick to your brand? what interests them? And what do they like or dislike?
That's how you will get to find your target audience very easily with the help of your existing customers.
Check Your Website Performance
You can also find out your target audience by checking out the performance of your own website.
Monitor your best and worst-performing content areas and you will get to know what your audience likes or dislikes.
A website is the online representation of your company that the target audience sees first.
Monitor what interests them, Working on what interests them will bring you more customers.
Also, you can do one more thing that is, track the activities of the visitors on your website.
Check out on what page your visitors visit frequently and in which activities they engage the most. Collect this data and then use it to identify your target customer.
You can use cookies on your website to track the activities of the visitors.
After that, you will have proper identification of your target audience.
Use Social Media Analytics
Check out on which social media platform the audience remains more active?
The reason why I am asking to use social media analytics is it gives you a huge set of insights for free.
The insight looks something like this: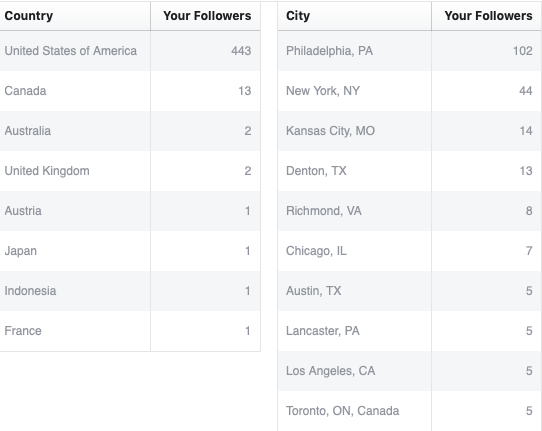 Though this information is quite similar to Google analytics, it will provide you with critical information that you need to find your target audience.
Then, you need to check out on which platform your audience engages more?
Does the audience engage when you post on Instagram or when you create a poll on Twitter?
Keep this question in your mind while analyzing social media and you will get a clue about who your target audience is and on which platform they are highly active.
Every social media platform has a different audience, that's why it is important to check out the analytics of social media.
For instance, the young generation tends to stay active more on Twitter whereas old people tend to stay active more on Facebook.
The analytics of social media can tell you the demographics of the people who engage with your account or posts.
Hence, you can easily find your target audience through social media analytics.
Know Purchase Path And Pain Points
It is important to understand the purchase path and pain points along with finding your target audience.
You will have to understand your audience's different considerations of the purchase path.
One way to understand this is to consider a question.
"What does my target audience want to achieve?"
And this question will make you create a persona of your potential customer which I have already explained above.
You will create a persona addressing his problems center around the purchasing cycle.
That is awareness, consideration, and decision.
Once you have understood the purchasing cycle and watch out for your audience's activity.
You can easily find out what your audience wants and what their pain points are regarding the respective product or service.
And once you know the wants and pain points of the customers, you can create a hook point or message that is specifically designed for those audiences. It will result in moving down through the sales funnel.
Read more: How to Use Data-Driven Digital Marketing to Solve Your Customer's Pain Points
Use Google Analytics
Google analytics provides authentic data about the visitors of your website.
This information acts as a key insight to know what channels your audience is coming from and what type of content they are engaging with.
Also, it will provide you with data about your audience's demographics and critical information that will help you find out your target audience.
You will get the data divided into sections like age, gender, and location which will help you in analyzing the data.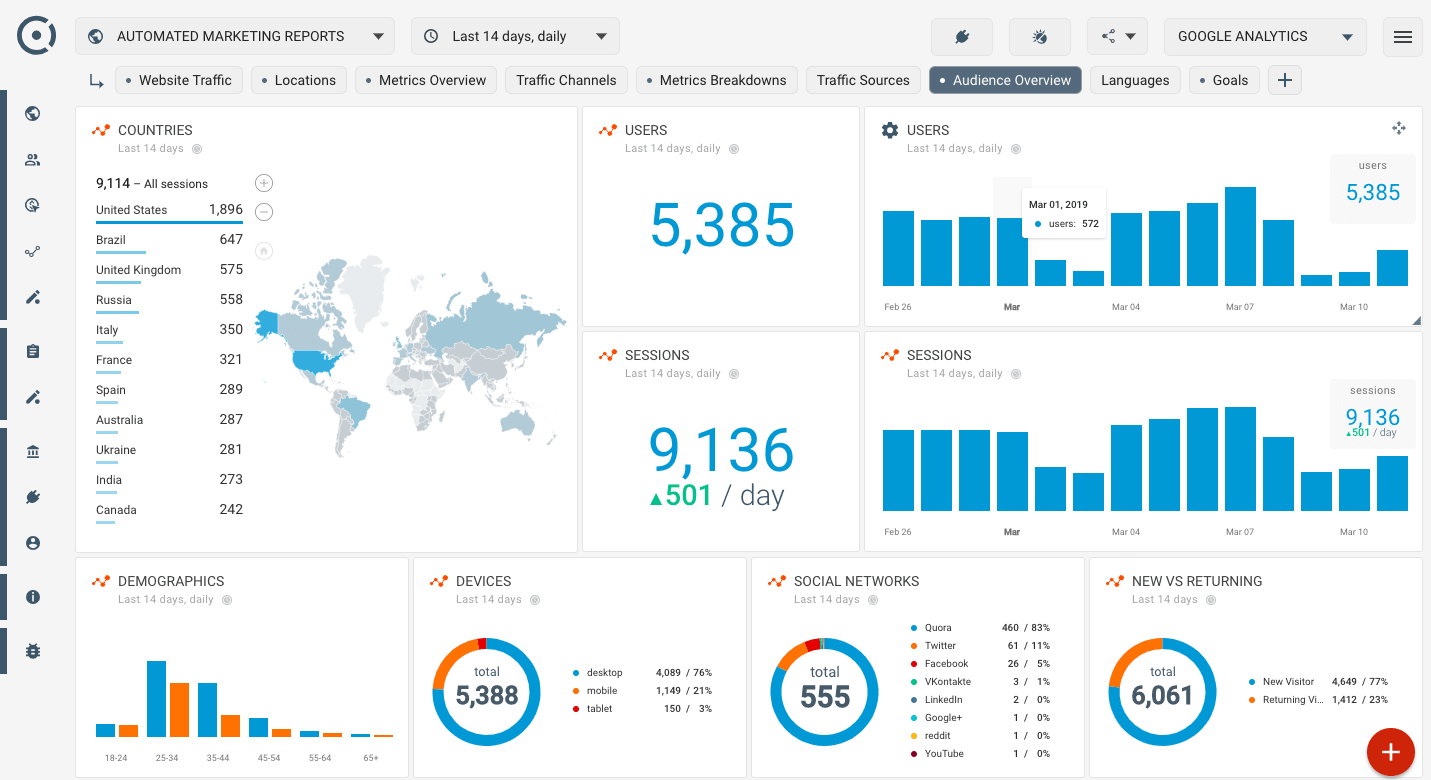 The above example is an overview of what google analytics shows you.
It will also provide you data about your audience like the behavior of the audience, conversion rate.
Basically, Google analytics will create a report about your target audience.
Create Content For Your Target Audience
Now that you know your target audience, it is time to create content for them.
You already know who your target audience is, what they want, and what are their pain points.
It is very easy for you to create content for them.
But there's some preparation that you need to do before you create content for your target audience.
Let's say, your target audience is students and they want to learn digital marketing.
So, before creating content for them, you will have to do some research and understand what your target audience is exactly searching for in digital marketing.
For that, you need to conduct some keyword research first and then create content for them.
For doing keyword research you can use, Google keyword planner, Ahrefs, or SEMrush
Read more: Step-by-Step Content Creation Guide [Writing to Publishing Content Successfully]
Content Creation For The Different Parts Of The Funnel
Now, I am going to provide you with an image of the content creation funnel which will eventually lead to more customers.
Look at the image given below.
Awareness: This is the first type of content that you create to generate awareness and teach people about the topics they are interested in. It is like educational content.
Interest: This is the time when the customer is in a problem and tries to solve them. This is the funnel where conversion happens.
Decision: This is where the customer makes purchase decisions.
Action: It is the funnel where the customer finally purchases your product to resolve his issue.
So, you can create content on your website while keeping this funnel in your mind to get more conversion rates.
Tips From Experts On How To Target The Audience
Linda, soupply

From a social media standpoint, social media ads are targeted by geographics, demographics, and psychographics. There are also influencer platforms such as Grin that allow us to search for influencers within the same criteria as well. The best part is that the platforms have data and analytics that allow us to find look alike audiences.
Jack, How I Get Rid Of

Look at the competitive landscape: Sometimes, your own competitors will indirectly give you a hand in finding your target audience. By looking at what they're doing, you'll get an idea of what type of people you should be attracting from within your industry.

Know what your target audience shouldn't be like: This one involves a little reverse engineering. If you haven't given this that much thought yet, you can go the opposite way and determine the type of audience you don't want to attract. After ticking out some categories, you'll be able to narrow things down better.

Study your customer base: With this one, the answer is already on the surface. Take a look at the people who are already buying your products. See what they all have in common. From there, you can have a good idea of what your target audience pretty much looks like.
Olivia, CocoFax

Google Analytics: Google Analytics is a tool that may assist you in figuring out what your audience's interests are. You may extract demographic data about your audience, such as age, location, gender, behavior, device used, interests, language, and more.

Cloohawk: Cloohawk is a social media assistant that can help you find the right audience for your products and services. The program can find and build a list of people who are most interested in your interests.

Audience: Audience is yet another social media management solution that aims to pinpoint the most appropriate audience for your business. This tool can locate a vast audience that is ideally suited to your business.

AgoraPulse: AgoraPulse is a social media management application that helps you figure out who your target audience is. AgoraPulse allows you to interact with your audience and followers from a single platform.

QuickSprout: QuickSprout is a social media management application that aids businesses in determining their target market. This tool may be used to research numerous criteria and create a client persona as a result.
Maryolin, Twibi

Consider targeting your audience by their mobile phone OS. You can also target business owners in Facebook ads based on their computers' OS.
If your business offers a product or service related to online events, you can use Facebook's Live Events parameter to connect with the people planning such events.
Consider sending ads to your audience based on their email domain.
Joe, Good Cloud Storage

Google Analytics is a great tool to find out your target audience. It provides extensive data of your viewers which helps in analyzing your audience. It will help you to determine from what channels your target audience is coming from and on what type of content they're engaging the most.
Create Personas to learn about the needs of your target audience. It is based on data, surveys, digital engagements to gain maximum information on the needs of the buyers. Think with Google- it shows various marketing channels that help you find your potential customer base.
Conclusion
So, I have described the whole process of finding the target audience and converting them into your customers. First, you need to define your target audience and I have already explained above what type of questions that you need to keep in mind while defining your target keyword.
Besides this, Each and every tip that I have elaborated in the article is applicable in real life. You can even try them right now.
Apart from that, I have also elaborated how can you create content for your target audience along with the funnel.
If you still have any doubts or queries, you may comment it down below in the comment section and I will answer for sure!
FAQs
1. Why target audience is important for a website?
Focusing on the target audience will help you create an authoritative website for them. While keeping your audience in your mind, you can easily create content appealing to them.
2. What is the importance of the target audience for the website?
If you keep your target audience in your mind while designing the website, you will be able to create an authoritative website for them. It will also enhance your brand's credibility, and give your website higher rankings.
3. What is the importance of the target audience in communication?
Communication and marketing professionals have recognized the importance of identifying the target audience.
They identify the target audience for running their campaign, understanding the needs, roles, and desires of the people they are going to target.
4. What are the benefits of audience analysis?
Here is the list of benefits of audience analysis:
i) Attract new customers
ii) Time saving
iii) Cost-efficient
iv) Market analysis
v) Easy product marketing
5. Which type of questions can I consider during the survey of finding my target audience?
Questions you may ask:
i) What demographic are you targeting?
ii) Where does your target audience live?
iii) What industry does your target audience work in?
iv) What hobbies does your target audience have?
v) How does your target market think?
vi) How does your target audience communicate?