Search Engine bot index and rank your website, but you hold more power over the robots than you can even think.
This power is provided you by the robots.txt text file which is one Robots Exclusion Protocol (REP) with directives such as Meta Tags and Sub-directives such as 'follow' and 'no-follow' links.
In webmasters tools, robots.txt sitemap provides the locations of web pages to your website that need to be crawled and indexed.
In Google's words,
"A robots.txt is a plain text file that follows the Robots Exclusion Standard."
Furthermore, the often-overlooked robots txt file follows protocol for robots, and Google explains,
"A robots.txt tells search engine crawlers which URLs the crawler can access on your site. This is used mainly to avoid overloading your site with requests; it is not a mechanism for keeping a web page out of Google."
This robots.txt SEO is followed and recognized by all the major search engine players – Google, Bing, and Yahoo!.
The thing is robots.txt allow specific user agents (known as webpage crawling software) on your website which can or cannot crawl it according to the instruction given.
Now, the basic format of robots.txt is to instruct the spider bots of the search engine against some specific sites that use user agents with 'Allow' and 'Disallow' directives.
So, in this blog, you would discover robots.txt best practices for to boost your SEO (Search Engine Optimization) game.
Let's get started with "How Robots txt SEO is Important For Businesses?"
Why Robots.txt SEO Is Important For Your Website?
Your business requires all types of files and features that could promote your content, product, and services so that you can attract your target audience to come to your website.
To reach the target audience, the first step is ranking on the first page of SERPs, and Google bots crawl your website to assess index and rank.
And search engine bots are the "good citizen" of the web according to Google, that they have a single duty of crawling websites online without degrading their quality experience to your target users.
But if, even after months of applying SEO techniques and work to your website, you are still questioning,
"Why is your website not ranking?"
Well, there could be three specific reasons that caused your website to not rank which is discussed below along with the reason why your website needs robots.txt SEO.
Indexed Non-Authority Or Low-Quality Pages
Your non-authority or low-quality pages can ruin your business's overall analysis and would decline your SERPs ranking online.
These low-quality pages include – internal search results pages, a staging version of a page to check certain functions and elements, or a login page for users.
These pages are the ones needed for certain tasks on your website but do not require to be discovered by every random target user that is directed to your website.
So, indexing these pages under robots.txt can get you the overall performance that you expected by creating them as secret directories within your webpage that could be visited by users but not crawled by Search Engines.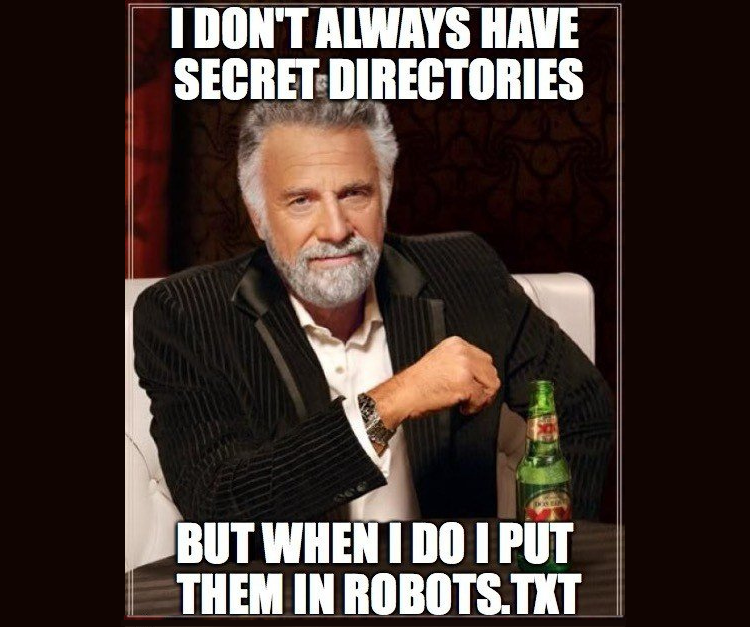 Creating a robots.txt file and then, including URLs of pages that have no building authority help you manage the pages on your website that need to be crawled, indexed, and would get ranked for their best metric authority.
Crawl Budget Limit Maximised
A crawl budget limit is when the search engine bots are unable to index all of your webpages due to page crowding, duplicates, and any such errors.
According to the Google blog on 'What Crawl Budget Means for Googlebot'
The 'Crawl Rate Limit' limits the maximum fetching rate for a given site.
So, to overcome such restrictions, you can block unimportant web pages such as thank you pages, shopping carts, and some codes by including their URL in robots.txt directories which would limit the access of these pages to crawling.
The screenshot below shows a URL inspection that is disallowed to be crawled and is, therefore, showing a message of "URL is not available to Google"
The above URL is not available to Google crawling due to it being "Blocked by robots.txt"
And the important, face-value pages would be indexed much better and would provide an expected authority to your website on SERPs.
Indexed Resources With No-Authority
Unimportant images, scripts, or style files are resource files that may be useful for your website's structure but do not function as need-to-be-crawled resources because they do not affect page functions.
You can, therefore, use robots.txt directive or meta ones to prevent them from getting indexed. For multimedia resources such as PDFs, and images the best option would be to use robots.txt files as meta directives don't work well for them.
Note: If the absence of such resources puts a damper on Google crawler's understanding of any of your webpages, don't block them
This could cause Google to not be able to analyze pages that depend on those resources very well and would disrupt your indexing.
Your website is still capable of working without robots.txt allows or disallows directives and gets ranked on SERPs but still keeping your robots.txt SEO updated can benefit your website with better authority and ranking online.
A robots.txt is a part of the Robots Exclusion Protocol (REP), it's main function is to keep these crawlers away from private folders, resources not affecting websites to be not analyzed, and alter robots move over your website content material.
Working Of Robots.txt Directives
Robots.txt is the essential part of crawling and indexing, that is why it becomes essential for webmasters to provide search engine robots with clear instructions so that all the pages on your websites are discovered.
The location of the robots.txt should always exist on the root of the domain, that is the top-level directory of a site which must be on a protective protocol.
The supported protocols are FTP, and HTTP/HTTPS
Now, for this, the instructions are given by robots.txt files with the following directives given below:
i. User-Agent
ii. Disallow
iii. Allow
iv. Crawl Delay
v. Sitemap
These directives are the common terms used in robots.txt files to instruct search engine crawlers.
Let's understand these technical terms with examples.
User-Agent
There are many search engines on digital platforms that are used as User-agent to access your site's content to index them. User-Agent is the agent, one of what is Googlebot in SEO, to command over their crawling ability.
Therefore, you can provide strict instructions on which search engines can crawl your website and display its content online.
Some useful User-agents are Google bot, Google bot-Image, Bing bot, Slurp, and Baidu spider.
Now, understand creating a robots.txt file for your website to allow/disallow a single search engine on your website.
Here,
User-agent: *
Disallow: /
Here, the user agent * is called the wildcard and is used to disallow all other crawlers to be able to analyze your website.
User-agent: Googlebot
Allow: /
In this step, you are allowing only Google bot to crawl your website, index its content, and rank it accordingly.
Disallow
This second line command in a robots.txt file supports the search engine to crawl your website but does not allow the content to be crawled or allowed to access files and pages whole pathways are provided under the 'Disallow' directives.
For example,
User-agent: *
Disallow: /testimonials
Here, the page pathways for 'testimonials' are not allowed to be accessed by any search engine bots, and therefore, the no-authority page is not indexed in the GSC making no error in ranking.
Allow
This directive allows the Google bots to access certain pages or directories that you want them to access and crawl.
When this command is given the bots can access the page or sub folder even though the main folder or page that they are in is disallowed.
For example:
User-agent: Googlebot
Disallow: /testimonials
Allow: /testimonials/crawlabletestimonials
Here, you can collect that the file "portfolio" has been disallowed to crawl whereas the allow has enabled crawler, Google bot to access the URL of the file within the portfolio.
Crawl Delay
Most directive just commands the Search Engine Crawlers to allow or stop access to certain pathways of a page or directory, in crawl delay, the main function is to delay crawling on a certain website.
Crawl Rate is a setting that stops the access to your website for a few or many seconds provided in the settings of the GSC as shown in the picture below.
Note: This directive or term is not supported by Google bots but to set a time delay in accessing, crawling, and indexing a page, you can change the 'crawl rate' within the Google Search Console settings.
Sitemap
The sitemap is another command set within the robots.txt SEO files to specify the pathways on your website that crawlers can crawl and index.
A sitemap is an XML file that is submitted directly to the robots.txt files by writing them in text form for the crawlers to understand.
For example:
User-agent: *
Disallow: /blog/
Allow: /blog/post-title/
Sitemap: http://www.example.com/sitemap.xml
You can either provide all the sitemaps in the robots.txt files or you can also, directly submit the sitemap to each search engine's webmaster's tools and you won't need to do it in a robots.txt files, though you would have to do this individually for each webmaster tool of each search engine.
So, make way for some of the best practices for robots.txt SEO as they would make your more in control of the web manager of your websites and create successful pathways for Google bots.
7 Best Practices For Robots.txt SEO
Content Must Be Crawlable
Content on your website must be relevant, crawlable, and important.
The unimportant content includes comments in your website's coding, mistakenly copied codes, or duplicate content which makes it very hard for the Google bots to crawl, index, and rank your web pages.
To overcome this keep checks on your page's content and the directives used on certain non-reliable and unimportant URLs that were used in the Robot.txt SEO.
This is done to make sure all important pages are crawlable and the content in them would provide some real value when they are ranked on SERPs.
Using Disallow To Duplicate Content
Duplicate content is a very common phenomenon that occurs on the web caused due of locations, and languages, the URL of your website's page.
Be aware it can happen to any of your pages!!
So, to avoid making them crawlable in Robot.txt, you can use the directive, Disallow: to command Google that those duplicated versions of your web pages are not to be crawled which blocks this type of content.
But the thing is if Google can't crawl it, it won't be available to users as well due to changes in URLs of different locations directed to your website.
So, to escape such traffic loss, you can use another tag or option of canonicalization as shown in the data below.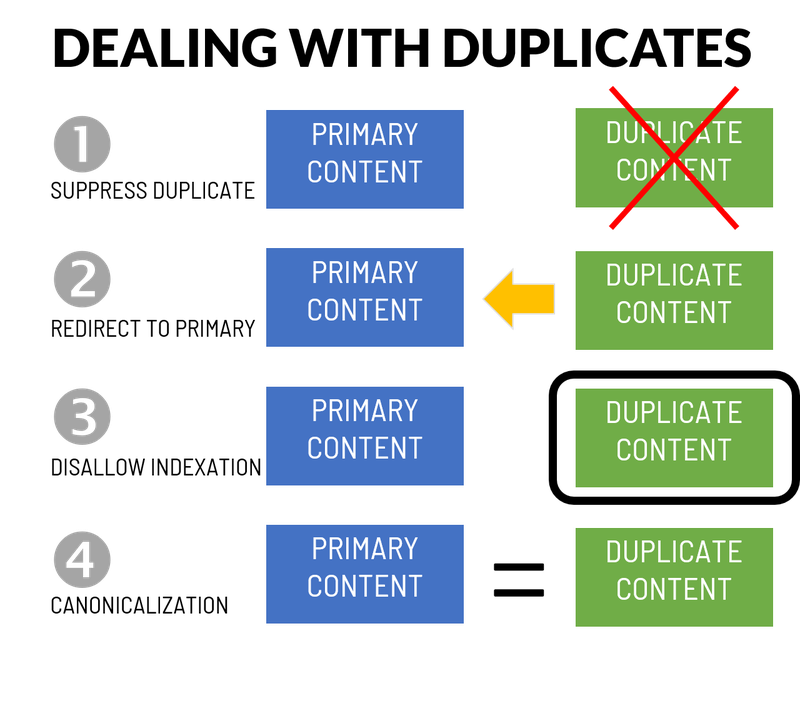 Therefore, instead of robots.txt, you can use canonical tags which are a better option to block the crawlability of these duplicate web pages but still transfer their authority to the main URL or page, helping your website rank.
Do Not Use Robots.txt For Sensitive Information
Sensitive Information or data includes information about your customers, your company, your website, and even your employees that could be used to harm them financially or otherwise.
Simply put, Using the robots.txt file to hide private user information and other won't work and the data would still be visible.
That is why keeping them secure is the priority of any website.
This happened because other webpages may be linked to such personal files which are allowed to be crawled. This gave the bots new diversions or pathways for their crawling.
And the pages with such personal information get indexed.
The problem is if these types of files are indexed your information and information of your customers would be available online and your website becomes insecure for your users.
The problem was created due to common robot.txt directives which were improved by using the "Noindex, follow" robots meta directive as shown in the illustration below.
You can also use password protection. The Noindex meta directive used under robots meta tags instructs the crawler to not crawl certain web pages or files and your website security remains.
Use Absolute URLs With Case Sensitive Terms
URLs are case-sensitive elements of a website and in a robots.txt file, you are using such URLs to define the pathways that search engine bots could crawl which are given after a directive such as allow or disallow.
On the robot.txt file, the content within has directives that are instructions for Google bot to access or stop crawling a path of URL specified as shown in the picture below.
The thing is the directives would only be followed by crawlers if the path given in the robots.txt file is valid.
Because when a website works on too many sub directories the absolute URLs are essential to provide the right direction of crawling to Google or it gets confused.
Also, keep in mind the file name of the directory must be "robots.txt" or the crawler won't recognize it and won't meet your demands.
So, checking every URL, even the ones that were automatically set in could save you bucks of trial runs.
Specify User-Agent
Google bot, Google bot-Image, and Bing bot are some User-Agents that might choose to ignore this robots.txt file as a command of rules to process your website due to a corrupted file name, or wrong URLs.
And that is why the user agent must be specified when using the robots.txt file so that your website understands that you have to use the same files for every webpage whether nationally or internationally.
Placing Robots.txt In Root Folder
The most common mistake of a website is when the robots.txt file is not put in the root folder of the website.
This is similar to missing your file altogether to be uploaded on your website causing Google bot to not have access to the commands at first so they take their path of crawling your website.
And you don't wanna do that.
So, the best practice for you is to put the robots.txt file on the home page or the root folder.
Monitor Your File's Content
Monitoring an already existing robots.txt file on your website which is submitted as the commanding version to Google would help it or any other search engine to proceed better with caching the contents of the robots.txt file once a day.
You should monitor your file's content for robots.txt SEO so that,
i. Your commands for web pages are updated.
ii. You could make sure that no content that you wanted to be crawled is blocked.
iii. Easily provide updated sitemap URL in the content of the robots.txt files.
iv. Changing the file names and using directories, and sub directories for instructing the search engine crawler.
How To Create Robots.txt File
Creating a robots.txt file and making it generally accessible and useful for your websites generally involves four steps:
Create A File Named Robots.txt
You can only create one robots.txt file with that name in almost any text editor (Notepad) as shown in the picture below.

Now, save these files in the same format at the root of the applied website host, so that crawler accesses them first and foremost and doesn't crawl any unauthorized files to crawlers.
Add Rules To The Robots.txt File
Rules are commands that begin with User-agent: and then deliver directives one per line in text files (as shown in the robots.txt notepad file above).
You supply information about search engine bots in the first line, which pages or files are not allowed in the second line, and then you provide access to the website page in the third line.
Upload The Robots.txt File To Your Site
When you have provided the directories in the robots.txt files and saved them on your computer. Now, you have to upload this file on your website which depends on the site and server of your website.
Test The Robots.txt File
The last step of creating a robots.txt file is by testing whether the file is publicly accessible and whether Google can analyze it online as shown in the picture.
Once you have uploaded and tested your robots.txt SEO for your website, you can now get your website crawled in a controlled manner as Google crawlers would find your robots.txt file automatically and start using it immediately.
Conclusion
The robots.txt SEO can prove to be a real handy but effective way to control your website's page analysis when search engines crawl them to assess, index, and rank your website because only the sites you want your website to be ranked for are crawled.
So, I hope you understand the ways for creating your robots.txt file correctly which are thus, meant to be creative with your SEO and provide a better experience to Google bots as well as your target audience.
This implies you're letting bots explore your website through the appropriate pages and directories, allowing your material to be organized in the SERPs the way you want it.
For more marketing tips and services, you can schedule a free-of-cost 30-Minute Strategy session with our experts. In this call, our experts would discuss your business and provide you with the free strategies that you can use to boost your sales and revenue.