For a generation that can't deal with blurred selfies, how are you wishing to fit bad images within your blogs?
Do you know images attract up to 30% more traffic than complete-textual content? Also, nearly 18% of your total revenue generation is based on google image search.
It is the second most prominent way of searching for information.
Maybe you should spend a little more effort and research on what kind of images go with your blog content. Copied or disfigured images within your blog can be a HUGE factor to judge your content's quality.
Google and people's needs have evolved and they have learned to throw a tantrum when they don't see something new.
People prefer infographics to long never-ending blogs. Gone are the days when you could make it work with Shutterstock or Slideshare images in your blog.
I believe I have convinced you enough to work your way around image SEO to gain the maximum profit.
Keep reading to explore different levels and segments I sorted out that are required to level up your image SEO game and attract visitors to your niche.
Let's discuss all the little things that you miss out on when it comes to image optimization.
But, first of all, we will understand what image optimization is.
What Is Image Optimization?
Image Optimization is the process of minimizing the file size of your images as much as possible without losing image quality in order to keep page load times as low as possible.
Don't worry if these words are too technical for you.
Understand it like this:
What do we require from a website apart from the knowledge? That it provides a good user experience and how do you achieve that? By reducing the loading time, and being interactive.
But what about the images? Images must be vibrant and relatable.
Now a vibrant image can be a large file which may degrade our site's loading time.
Dealing with all these parameters and enhancing our website images without hampering user experience is image optimization.
I've categorized different steps into groups for your better understanding.
Attract more customers with Everything You Need To Know About Image Optimization

Fetching Optimal Criteria For Image Selection
Vector Or Raster- Choose Wisely
Choosing the right image type is the beginning of your image optimization process.
You must choose the image type that is easy to work with and is adaptive to changes that you are further going to do on them.
We have two types of images: Vector And Raster both have their pros and cons. Let's look into them.
If I talk about vector images, they are simple images made up of lines, points, and polygons.
These images are appropriate for high-resolution as there is very minimal pixelation when you zoom in.
This provides you with the flexibility to use the same image on a varied platform, it is less hassle when it comes to turning them into a responsive image. Vector images can be easily used for logos, icons, etc.
While on the other hand working with raster images is a tedious task. They are made up of various overlapping rectangular grids, each grid stuffed with pixels.
Though these images are better from an artistic point of view, they provide life-like depth and impression, they take a toll on the site's loading speed.
Moreover, raster images require you to save a lot of file variation for responsive designs.
"In my view, you must come up with a suitable ratio of both the image types and use them collectively. You cannot neglect any image type when it comes to image searches."
Know Your Image Formats
With the wrong file type, you might come across issues like blurred images, slow loading pages, or a blank ugly box with alt text on the screen. Ultimately degrading your website's image.
Now that we are aware of what image type we are choosing, you must also analyze which file type works the best for you.
Besides that users frequent with image searches are particular about image format as well, you must consider the format accordingly.
While vector images leave you with no choice but SVG, raster images come with a few image formats to choose from such as JPG, PNG, GIF.
JPG: This format allows you to construct good quality images for much less file size. Although these images tend to lose some minor image details completely i.e. these are lossy.
It is a widely used image format. Around 72% of websites used jpg format for their images. because of the smaller size, it gets easier for you to upload and download these images.
PNG: This file format allows you lossless compression but at the cost of the file size. You must use PNG image formats only when you need the minor details of the image.
GIF: GIFs are the best choice if you are looking for animations, at present nearly 27% of websites use GIFs.
WebP: It is a new image format provided by Google, it allows better outcomes for both lossless and lossy compression.
When compared to PNGs, WebP lossless images are 26% smaller, whereas WebP lossy images are 25-34 percent smaller than comparable JPEG images.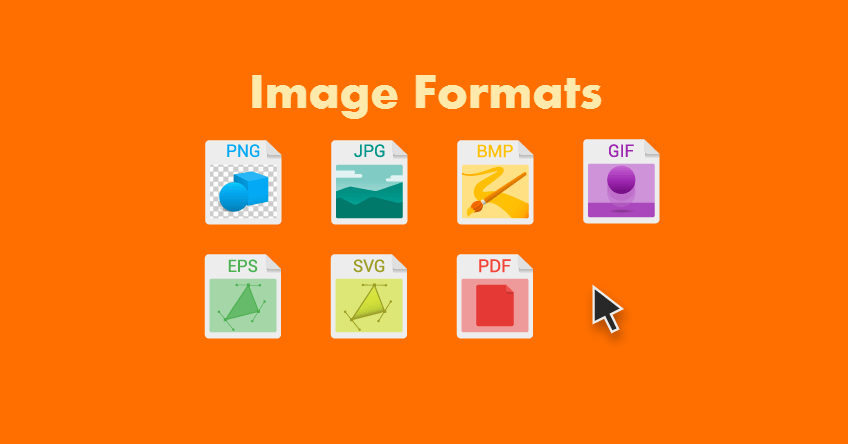 Create Unique Images
We have already covered this topic in the introduction itself. If you are putting an effort to create content then, why dissolve it with copied images right?
Pick up your tools and brushes and put out something original, not to mention you'll be rewarded by Google.
You cannot depict your point of view from some downloaded picture, why not create yours. Image seo provides you with the opportunity to grow your creativity and come up with something exciting.
Put Together Your Image
Remove Unnecessary Images
When you come across a site that has a lot of images popping in and out or just randomly sitting there without any need. How do you feel?
You get annoyed right! That is exactly what happens to your site visitors when you stuff in a lot of irrelevant images in the name of SEO
Don't fill up the pages with a lot of pictures, even if they are relevant.
You want to use photos to make your content stand out and be able to communicate in more detail. Since images add a lot of weight to web pages, it is wiser to remove the image that isn't adding any value to your content.
According to Google, the conversion rate of pages with fewer photos is 38% percent more than pages loaded with images.
It is not always better to have more photos. Pages with a few eye-catching photos are more likely to be featured in search than pages stuffed with them.
Avoid Texts In Images
To enhance your image SEO game avoid adding text to images it's of no use since the crawlers can't read the text from your image, it decreases the chances of picking up that image for search results
Take a look at it this way:
You post a picture with texts, now google's crawler starts crawling your site, but it isn't advanced enough to understand what's written within the image, clearly, for that you need human intelligence and sadly crawler's haven't evolved to that extent yet.
Now, what happens with a crawler's inability to read your image? How does it affect you? Your image loses the chance to get featured in image search results.
You should not use text in your pictures. If you want to make a decorative heading, you can use HTML and CSS. This not only improves usability and readability but also makes the text mobile sensitive.
Avoid Copyright
I feel you, we live in a fast-paced, forever-engaged world. Using 100 % original photos in your content isn't always an option.
However, if you're going to use non-original files, double-check that you have all of the correct permissions.
Look out for the best places to find royalty-free stock photos for your website if you're not sure how to get started.
Some of the sites allow you to change the images in any way you like, so with a little creativity over image editors and Photoshop wizardry, you might at least make them look semi-original.
Decide Image Layout
Compressing The Image Files
Compressing images directly relates to the website's loading time thus it is the most important and simplest task of the whole checklist.
You don't want people to turn away without looking at your work because it takes too much time to just load.
Compressing images provides you to showcase the same photo but for a much smaller file size.
You can perform it in many ways either by changing the image format or by simply using the tools to compress the image.
Resizing Images
Is your image too big or do you have a lot of white space in your web content? Resizing images can do the trick for you. The major question here arises is how to resize an image?
The browser can automatically resize images larger than 720 pixels on a well-coded website.
Although the image is displayed at 720px, if we upload a 6000px large image, the browser would still need to load the entire image. That will take a long time,
Therefore it is a better choice to resize images as per the targeted devices to avoid the hassles of delayed page loading time. This is particularly important if you're using a responsive design.
Define Scales
Scaling your images can be understood as resizing images to suit the dimensions of your website.
When your images are oversized and you use HTML and/or CSS to resize them so they appear correctly, the browser has to do more work, which slows down the page speed, which we don't want.
You may use the browser's tools to find out how large the picture should be.
Then, in your favorite image editor, resize the image to the required measurements for what you'll be using it for.
Adjusting Dimensions
When searching for photos on Google, you'll find that images that are unusually big or wide don't show up. The most common aspect ratios you'll see are 4:3 and 16:9.
These ratios are ideal for images on the website.
I suggest you use these aspect ratios while adjusting your image dimensions.
The 16:9 ratio is ideal for the desktop version of your website whereas the 4:3 ratio works well with the mobile. Resize images as per these ratios for better results.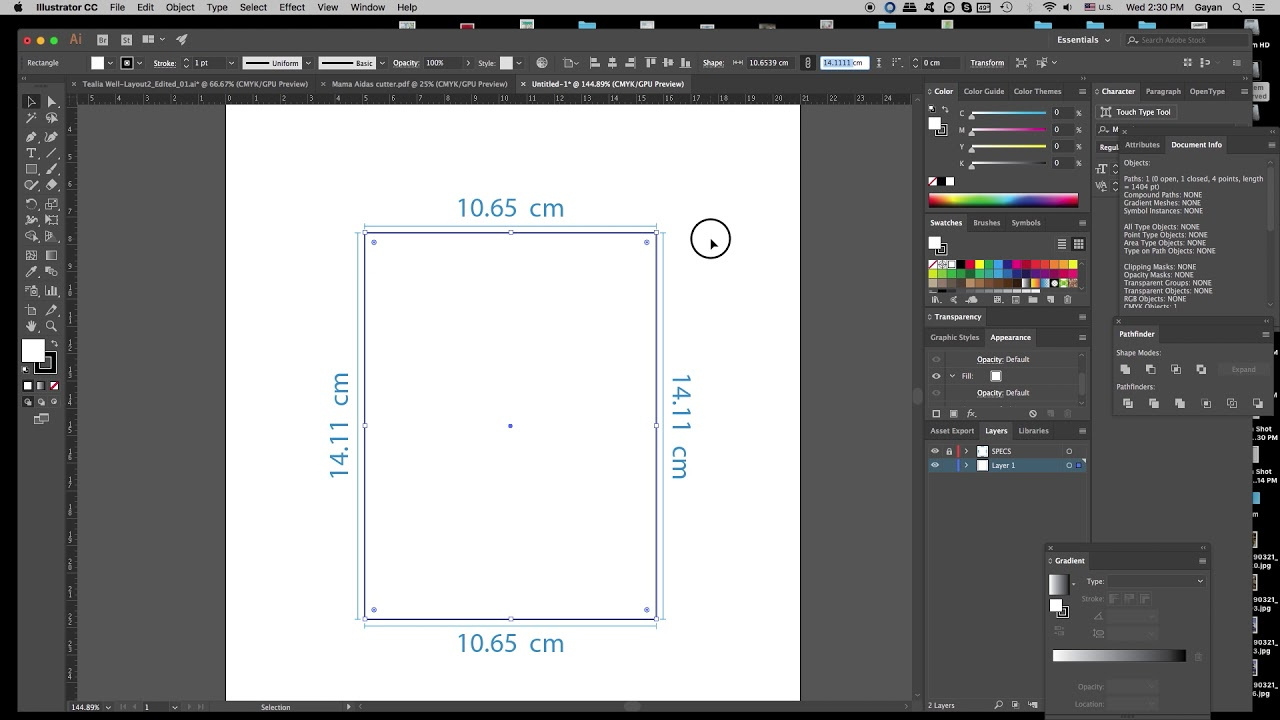 Include Retina Images
Retina displays have double the number of pixels as standard displays.
Retina images as high-definition screens become more popular, we can expect this to become more likely, particularly because Google rewards sites that have a better user experience.
It's easy to create a Retina image for the internet.
All you have to do is replace your site's pictures with versions that are twice as big and tall. It's a little more difficult to serve the right picture to compatible devices, but you can make it simpler with a plugin like WP Retina 2x.
Image Recognition
Customize Image File Names
You need to add image names. Search engines aren't able to categorize your images until and unless you add names to them.
These names are your opportunity to add in the keywords and attract traffic to your page.
Most people don't care about the image name; some images are named with random numerals and alphabet combinations. Give each of your photos a descriptive file name.
Reasonable image naming would assist Google's algorithm to understand the image's subject matter.
Since machines are not as intelligent as humans, providing them with the correct data by following the Google image guidelines would aid in the display of the required image.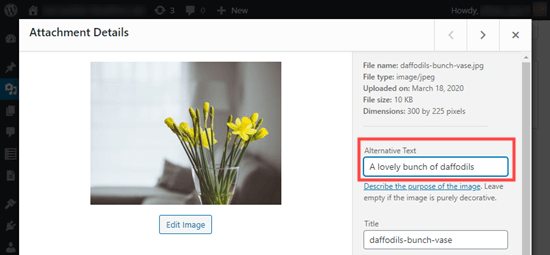 Use Alt Tags
You should write a brief summary of your image in the alt attribute to make it more accurate.
You want to explain the picture in such a way that even if anyone couldn't see it, they'd still understand what's in it, and hence what you're trying to say by using it.
Include Captions And Surrounding Texts
Captions and other text accompanying your image provide meaning for your image.
Although captions aren't required for all photographs, they work in a similar way to call-outs in the body text.
They're four times more likely to be read because they're separated from the rest of your text and highlighted.
However, captions aren't the only text that matters. You'll want to position your keywords and related phrases close to your star photos, which you want Google to focus on the most.
Ensure Text Complements The Image
Search engines will use the copy on the page to assess the importance of your photos. If there isn't enough context to illustrate an image, add more relevant text and, if possible, describe the image.
Furthermore try and use your keywords in the page URL, meta description, and text surrounding your image.
Image Delivery
Use Responsive Images
Making sure you're using responsive images is another way of serving your images properly. You won't be trying to serve a broad picture on a small mobile device this way.
The "srcset" attribute is used in responsive images to provide the browser with a list of multiple images in different sizes from which to choose.
It loads the required size file instead of uploading and serving the largest image file.
I understand you aren't trying to rate those photos in the quest, but they can significantly slow down your page speed on a mobile device.
Verify that large background images are sensitive at the very least, as this will add the most weight.
Consider Lazy Loading
Lazy loading can speed up loading on long pages with a lot of images below the fold by loading them only when they're needed or after the main content has finished loading and processing.
Enable Browser Caching
Browser caching refers to the storage of images or other files in the browsers of your users.
As a consequence, when they visit your website in the future, things will load quicker for them.
Overall, HTTP caching will reduce the time it takes for your page to load on subsequent visits.
Bonus Hacks
Build XML Image Sitemap
You should build an image sitemap to ensure that Google indexes all of your files. If you regularly update your content, have an e-commerce site, or have a new site and want Google to index your photos as quickly as possible, image sitemaps are essential.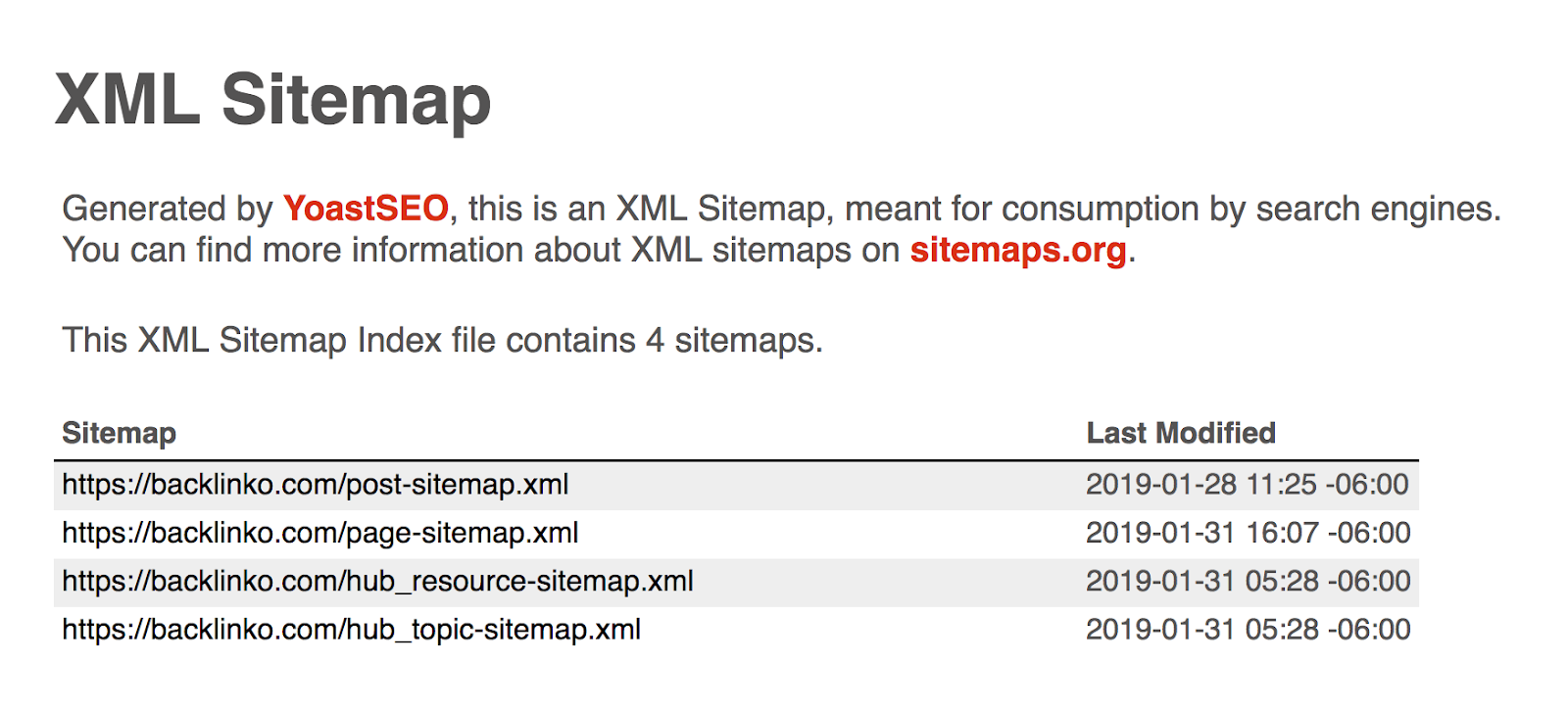 Use Social Media Tags
What are social media tags, and how do you use them?
Social media tags allow you to mark your content and then when someone shares it on social media, they share exactly what you want them to.
For example, you must have shared a post on Facebook where the image is an ad from the page rather than the featured image. You can do this with the aid of social media tags.
Open Graph, Facebook's social media tags language, is sponsored by Facebook, Twitter, LinkedIn, and Pinterest. Therefore open graphs can be used on any social platform without restriction to put value to your image searches.
The Important Open Graph Tag For Your Images Is og: Image.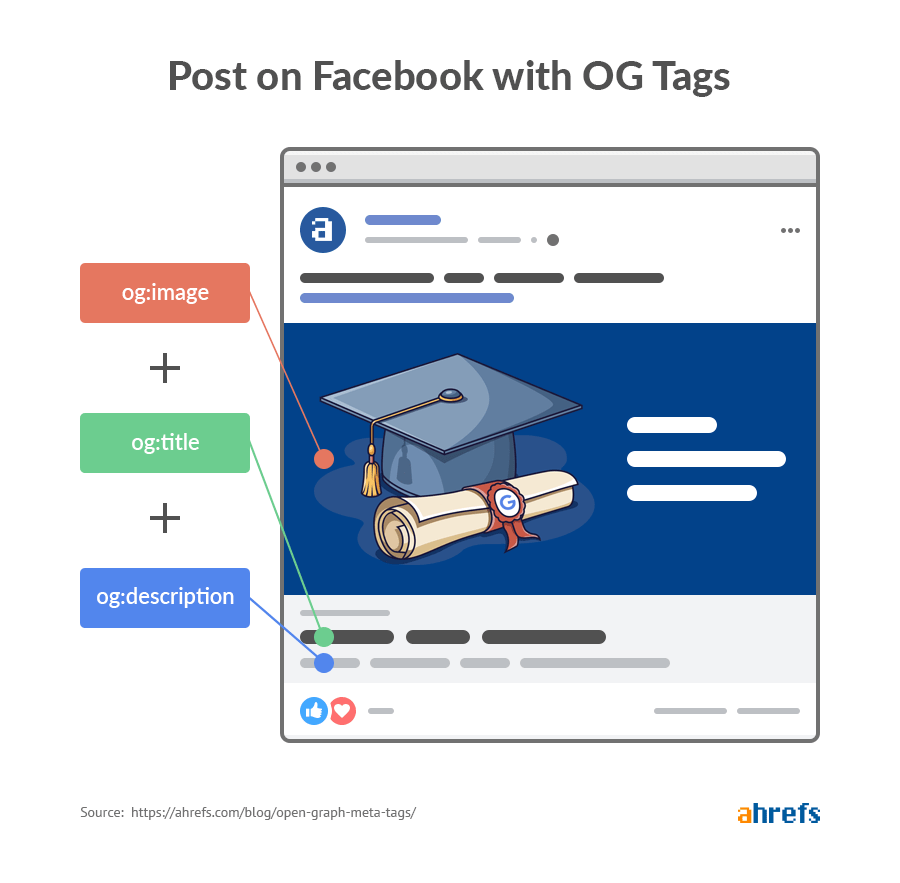 og: image allows you to specify what image you want. Facebook and other social networks to display when someone shares your post.
The ideal image size for Facebook is 1200 pixels x 627 pixels or a ratio of 1.91/1 ratio. This will ensure that your image covers the full width of the feed. If your image is smaller than 400 x 209, then it will only appear as a small thumbnail.
To use the og:image tag, you would need to put this in the <head> section of your webpage:
<meta property="og:image" content="http://www.yourdomain.com/image-name.jpg" />
Tools and Facilities
Enough about the ways to optimize your image. Now you must be thinking about where you can perform all these tasks right? We have ample tools available freely online.
According to your requirements and convenience, you can use them. Dig in for a few options below!
Online Image Optimizer
Dynamic Drive's Online Image Optimizer allows you to easily optimize images in all major formats. It also facilitates you with the cross conversion of image formats as well. So as per the requirement of time you can switch from JPGs to PNGs in a blink.
Online Image Optimizer, unlike some other image optimizers, also allows you to upload images via URL. So with this tool, you can easily optimize the images that are live on your website as well.
The only little flaw is that it doesn't take input photos in bulk, you have to upload one image at a time and that image can only be 2.86 MB in size.
Resize Photos
Another free image compression tool for image optimization is Resize Photos.
It doesn't only deal with images for a website but also for newsletters and forums
It includes just a few straight steps: directly upload your photos and choose a compression level from 1 to 100. Then save your compressed images to your computer!
During the optimization process, you can also use image effects from the tool's gallery. Captions, photo effects, borders, reflections, shadows, and rounded corners are some of the effects available.

Compressor.io
Compressor.io as sophisticated as the name sound it does ensure that image quality is preserved while with high compression levels.
It works on various file formats and helps you to easily optimize JPEG, PNG, GIF, and SVG images. Compressor.io is capable of reducing file sizes by up to 90% or more!
Its drawback is once again it's upload limitations. You can't optimize more than one image file at a time with Compressor.io.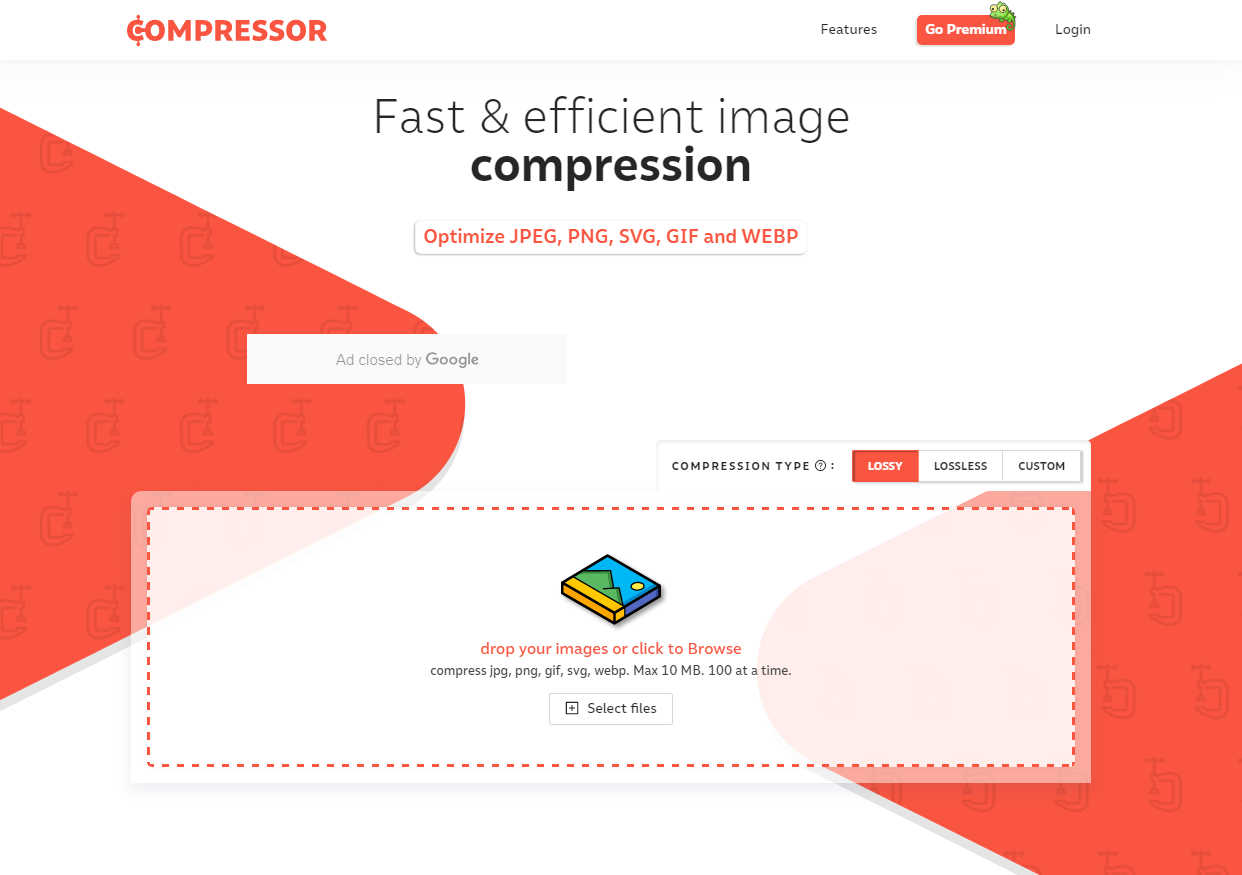 Gift Of Speed
To optimize your PNG and JPEG image files, GiftOfSpeed provides a range of image compression tools. It uses several images compressing techniques to keep file sizes as small as possible.
You can also resize photos for a better online output with GiftOfSpeed.
The disadvantage of this tool is that it only allows you to upload multiple files for PNG optimization, not JPG optimization.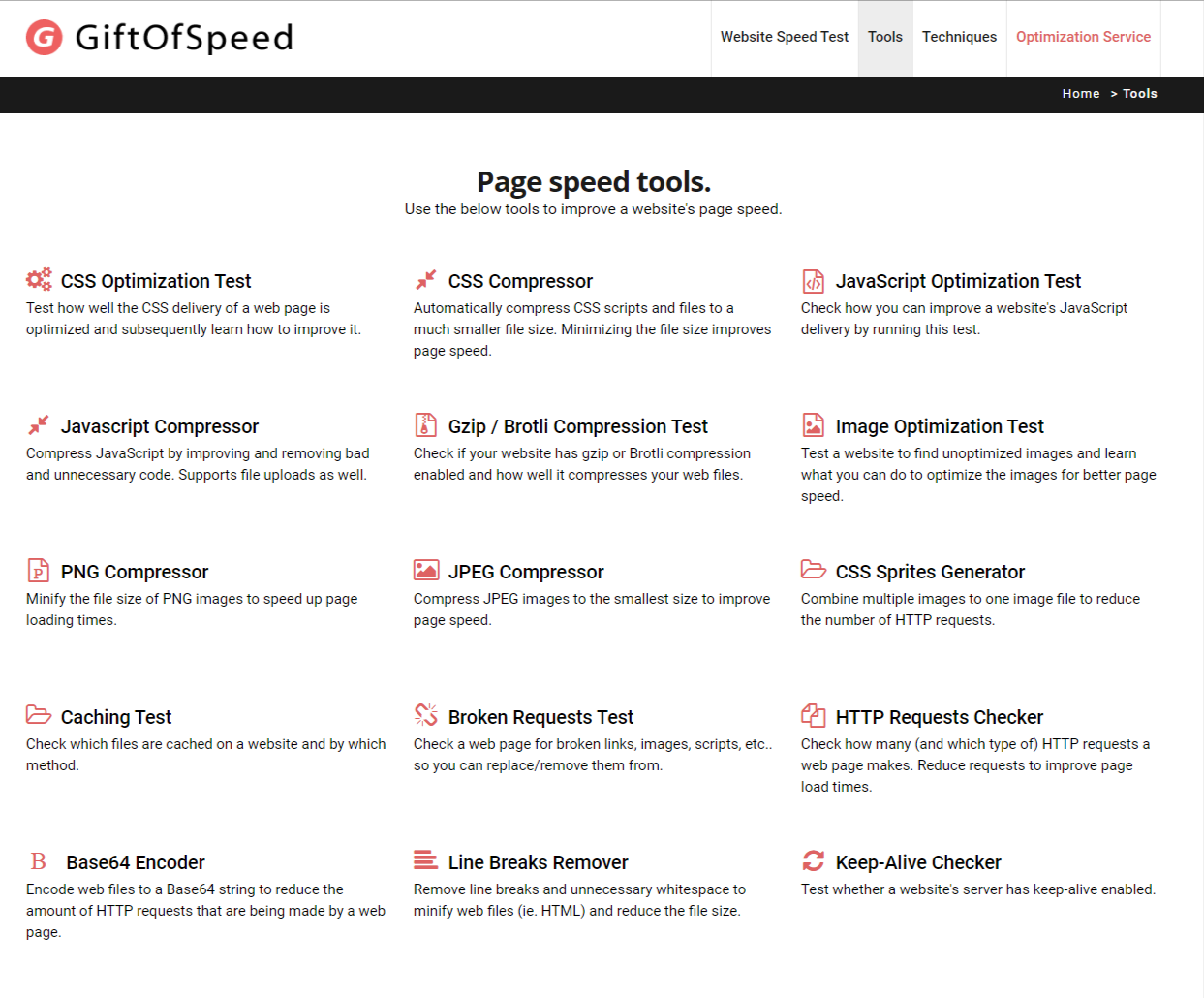 JPEG Optimizer
You can use JPEG Optimizer to upload and compress your images online. This easy tool only works for JPEG files, as the name suggests.
JPEG Optimizer is special in that it helps you to resize your image files before optimizing them.
You can save even more time by resizing images, and you won't have to break your workflow into two phases with this online platform.
You can also choose your own optimization level in JPEG Optimizer, giving you more control over the image quality of your optimized file.
This function is particularly important for photographers, who must strike a balance between maintaining quality and conserving space.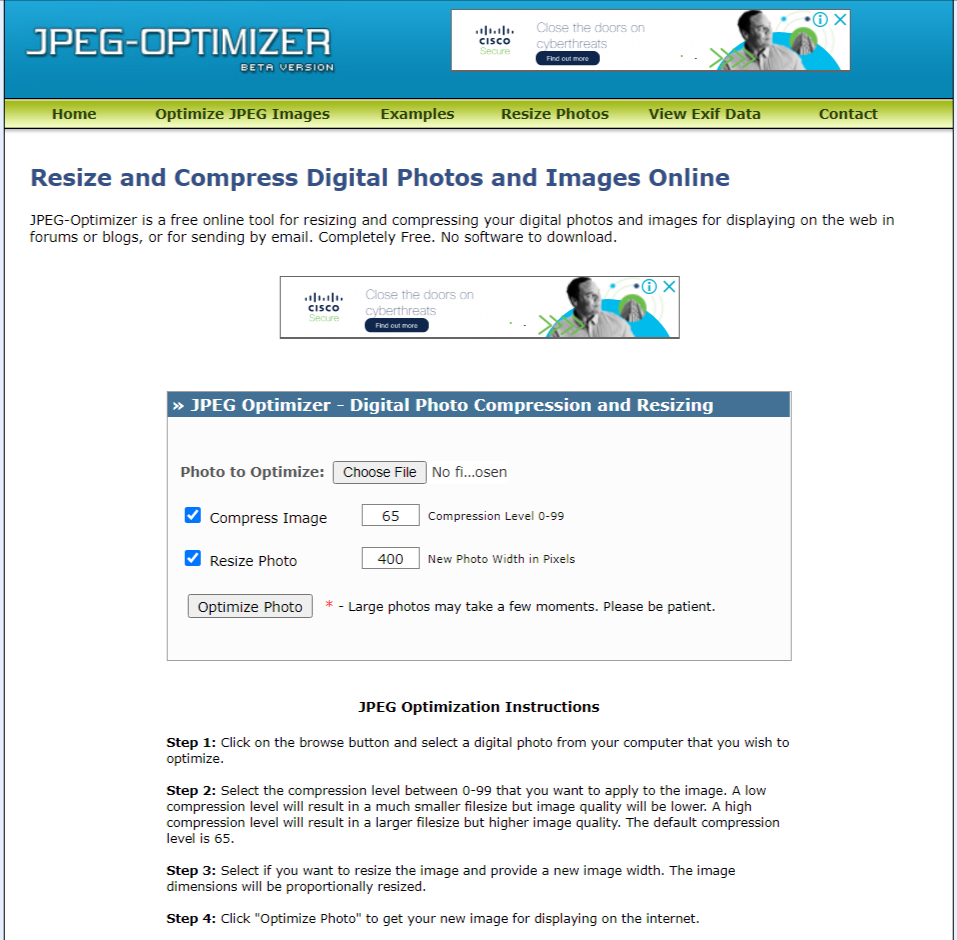 Conclusion
Glad you made it till the end. You are all caught up about the little things you might need to make a huge difference for your website's traffic. You'll be surprised how much effect image search traffic can have on you.
SEO practices need a regular check and image seo is no exception. It isn't something you do once and then put it on the back seat. You must stay consistent and keep up with frequent evolving trends.
Also with the facilities of free tools in your reach, it's a piece of cake
Still, if you find it troubling to do it yourself you can have a free consulting 30-Minute Strategy session with our experts and rock that image game!
FAQ
How To Optimize Images For The Web?
Ways to optimize images for the web are:
Use Descriptive And Straightforward Language When Naming Your Images.
Make Sure Your Alt Attributes Are Optimized.
Consider The Dimensions Of Your Picture.
Reduce The Size Of Your Image Files.
Select The Appropriate File Format.
Make Your Thumbnails As Good As Possible.
Use Sitemaps To Help Users Find What They're Looking For.
Keep An Eye Out For Unique Pictures.
When Utilizing Content Distribution Networks, Take Caution (Cdns)
Put Your Images To The Test
Why Should You Optimize Images?
Optimizing images for the internet includes speeding up your site and reducing page load time. A few milliseconds could mean the difference between winning or losing tens of thousands of website users. And you'll need those visitors to improve your web lead generation.
What Is Image Optimization In SEO?
Image optimization is the process of shrinking the file size of your images as much as possible without losing quality in order to keep page load times as low as possible. It's all about image optimization. That is, getting your product and decorative images to appear in image search results on Google and other image search engines.
What Are WordPress Image Optimizer Plugins?
These are a few wordpress image optimizer plugins
Optimole
Imagify
Smush Image Compression and Optimization
EWWW Image Optimizer
ShortPixel Image Optimizer
Compress JPEG & PNG images by TinyPNG
What are image optimization techniques?
Some techniques that can be used to level up your image seo practices are:
Using the right image dimensions.
Use the proper image format.
Reduce the size of your images.
Make use of modern JPEG.
Improve picture delivery.
List Free Image Optimization Tools?
There are a lot of freely available too that can help you ace your site's image seo:
JPEG Optimizer
Optimizilla
Kraken.io
Optimole
ImageRecycle
CompressNow
Trimage
Online Image Optimizer
What Is Reverse Image Search?
Google reverse image search provides you with the facility to find out where an image was first published, other pages that have published the same image, different sizes of the same image, and similar images.
What is imageoptim?
Imageoptim is an image editor application for MAC. It works on a variety of image formats, the application offers a lot of functionality such as an image compressor, image resizer, generating the sharper images, etc. to improve the image seo of your website.