Do you feel like building a website is quite difficult? Well, everyone feels so!
Because of course why not? You need to create a website that requires tons and tons of codes and would have to pay a hefty amount for maintaining a web hosting account.
Well, all of that may be true.
But, don't worry! Because I've done the job for you and found some of the best free website builders available on the online market today.
Many of the free website builders such as Wix, Squarespace, are rocking the internet with their website maker templates and features.
Nowadays, everyone is influenced by the online market and they need to move as fast as the next website online.
And so do you, isn't it?
Let's make your job absolutely easy and you can create a great website with desired website builder templates and beautiful features it provides.
Of course there are a lot of website builders you could choose from, like ucraft, yola, squarespace, wix.com in the online market and so on and on it goes.
In this blog, I would recommend the 5 builders that have free website builder templates or features you could use.
But before that, I would like you to watch this video.
So, let's get started!
The Best Free 5 Website Builders
Wix
Wix has the stamp of being "Best Overall".
For you, the main difference between Wix and any other website maker is that Wix is an unstructured editor that gives you a high degree of flexibility. You can work with their 800+ templates and themes while taking advantage of their custom domain that is free.
Also, you can view this informative graph that puts Wix as first amongst best free ecommerce website builders in 2020 which has reached 200 Million subscribers in 2022.
So, basically, it provides you with the authority to grab any element and put it anywhere you think is best on the page that you are creating. It is one of the best free website makers. So, if you are new and are not sure of which free website builder and domain suits you, you can try Wix out.
According to W3Techs,
"Wix is used by 2.9% of all the websites whose content management system we know which is 1.95% of all websites."
As, Wix offers you with the widest set of features such as
1) Stunning templates and total design freedom with advance web designing features.
2) Advance SEO tools with Mobile optimization
3) An exclusive and extensive app market
4) Unlimited fonts, scroll effects and media gallery
And from here you can find a complete online business solution.
Schedule a free-of-cost 30-Minute Strategy Session with our experts.


For your satisfaction I have provided some templates for the eCommerce website within the Wix builder, take a look below.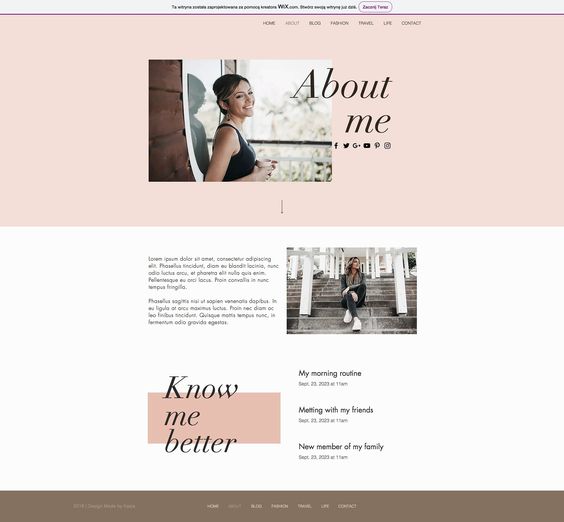 Now , with these templates along with 800+ themes available, you can create an HTML5 website and mobile optimized site by using "drag and drop tools" provided on this platform online.
You are given, free website builder with a large number of tools, capabilities, and options, though with Wix's free version your website is a home to the advertisements by the website, which is unlimited with ads.
Another of its great stand-out features is: Wix is a free website maker that provides its own web hosting as well as domain naming, both of which are available in free and paid versions on your App store.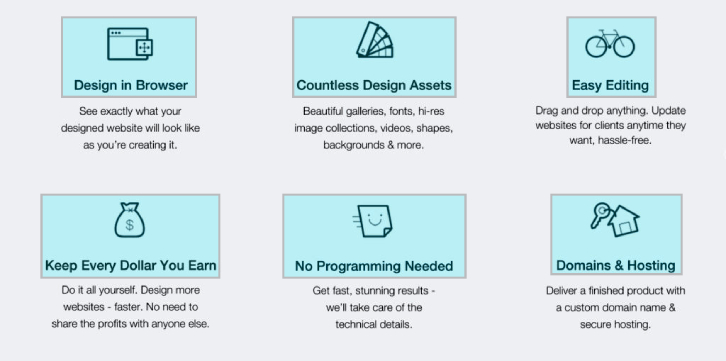 Wix has been improving its features for a decade now and,as a result, you may cult out your website through internationalization and content writing.
With such strong and simple-to-use tools for creating your own website, there must be a few drawbacks, which include:
1) The templates are not interchangeable after it is online.
2) With the free plan Wix watermark would come too
3) If you want to do tracking, you would need a paid plan
4) Your site would not be transferable, if you want to leave wix as your builder.
With pros and cons in mind, you can start working on Wix, you would just require your email address and from there you can start your journey, as a beginner or much more.
Just use the free version of Wix at its best, and later on if you are comfortable with the website and get a handle of the feature within the builder, you can easily pick up a premium plan that starts at 14$ and that too Ad-free.
WordPress
WordPress is the best free website builder for starters.
This is the most popular website builder in the world with 14.7% of the world's top websites powered by its features of providing you with WordPress software as a service.
This feature frames WordPress as the best free website maker for small businesses and some other features where you have unlimited pages, flexible post scheduling and many more such features.
At first, this was a blog writing application that later took over two-thirds of the internet publishings today. You can read the statistics on the wordpress' website as shown in the picture below.
Here, you can see the call-to-action headline that powers WordPress with the authority of being one of the best free website builders in the online market today.
A quick note for you: WordPress.com and WordPress.org are two different platforms.
So don't get confused between the two,
On one hand, 'wordpress.org' is the original software where you can build a website that is 100% free but still requires a domain name and website hosting separately.
On the other hand, 'wordpress.com' is a hosting service operated by the company Automatic which has the same co-founder of Automatic Inc, Matt Mullenweg.
It provides you with website builder templates and features to work on the front-end of a website that could be customized for free. You can manage hosts and publish your website for free here.
Check out this data: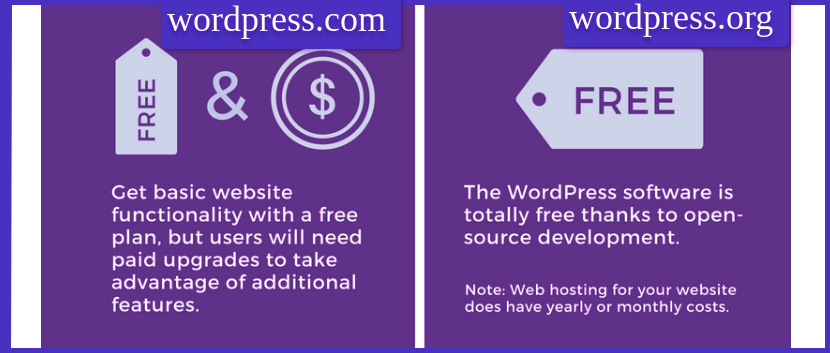 Now, back to wordpress.com, this is the best free website maker for those bloggers who want a website to host their blogs as this maker includes a large number of themes and thousands of easy to install add-ons to choose from.
It's advantages are:
1) With an advanced block editor WordPress tools make it easy to customize the size, color, and placement of each element separately.
2) It is very easy to use for beginners with many templates to create a stunning portfolio, eCommerce website, and blogs.
3) With ample templates and plugins, it also provides you with traffic information.
4) 3GB of storage space and unlimited bandwidth.
But if you want, you can also buy a domain from WordPress without upgrading your current free plan which costs you around $5.
The major drawback of using WordPress, that is it has many features that are locked such as the limitation on editing the elements which means you can't just select an element and edit it.
No, you would have to work within the constraints and do some limited edits which are allowed by the theme editor and for more you need to go for a premium option, that you can upgrade when you need to.
WordPress Features:
1) Provides quality add-ons and support
2) Optimization Tools
3) Feature-rich eCommerce systems
4) Gives its own hosting service
5) Can shift to other hosting providers
The features of WordPress are for beginners, writers or bloggers who are interested in setting up their website.
Now, if not upscaling to the 'drag-and-drop' features of Wix's templates, this is one of the best free website builders available in the online market today.
If you don't want to spend a lot of time on web design but yet want to customise your site, this website builder may irritate you and make you feel confined.
Webflow
Webflow is ideal for freelance designers or startups.
If you have a bit of technical knowledge or a web designer background or even if you don't have both, you can start with a tutorial that teaches you how to build a website from scratch.
This link will take you to the main page of the webflow website, and the main page seen in the image below will give you enough of their "free for life" credo.

This best website builder freely provides you:
1) 100+ hours of tutorials.
2) Full design control with an accomplishment of at least 2 projects in your hands.
3) Customisation with CMS (Content Management System).
4) Richness of content and design around that content.
5) Updates everything without touching a line of code.
The tutorials and the design built from it, basically, makes webflow the user interface for HTML and CSS coding, which is more of the best website builder free services that you can use.
Now, this makes it powerful, isn't it?
You are basically getting a free manager for your visual content on the website.
Now, the key thing is to understand that Webflow gives you the flexibility of front-end coding without actually requiring you to learn to code. The picture below shows some of the tools and feature that you can customise for your website.
Basically, we can adjust the heading tag or change the border radius of the CTA button. This is done with the help of padding and border radius which are CSS properties and Webflow is taking these properties and organizing them into an interface for you and you get the end result.
I would say Webflow has a learning curve for you which is definitely going to help, if you want to learn the fundamentals of web designing.
Though, with so many pros it has cons too, which are:
1) You can't transfer your domain to Webflow because it is not a domain registrar.
However, you can connect any name you control to a Webflow site by using their Domain Name Server(DNS) records to point to the domain you want to transfer to the Webflow servers as shown in the picture below.
2) Webflows transactional fees begin at $79 and their free projects are unhosted too.
So, if you are so hell bent on building an eCommerce site, I would recommend you to rather use Shopify or Squarespace
3) For the logo and branding of your website you have to go pro.
But, if you are a beginner and you get the handle of its features, you can start with a paid plan of $12/ month (annual plan) or $15/month (monthly), which gives a total of 100 more pages with CMS.
Now, webflow may be a bit hard to get but its market position puts it within the best free website builder for small businesses that draw high traffic from around the globe. Two of the most famous websites using webflow are Discord and Upwork.
Shopify
Shopify is known as the best eCommerce platform.
While allowing you to set up an online store where you can sell your products, it also lets you organize your products, customize your storefront, accept credit card payments, track and respond to orders with no back-end work (or coding) at all.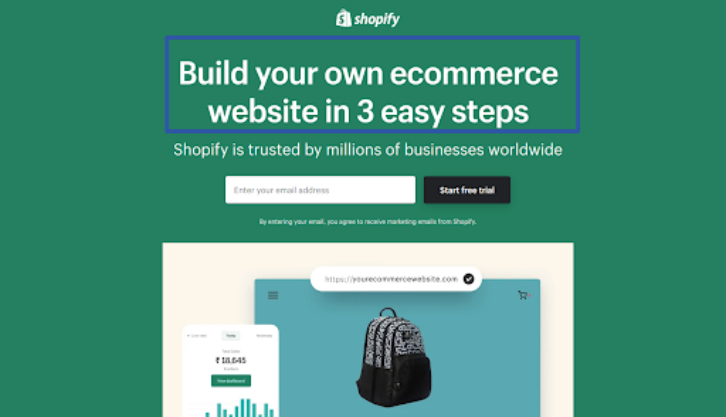 With more functionality than any of the hosted website makers, Shopify is the most powerful eCommerce and online store.
Its best free website maker features are:
1) You can sell anywhere, i.e., on Facebook, Google, or on Etsy.
2) Easy-to-use and user-friendly store and eCommerce website. Stunning eCommerce features and mobile friendly websites available.
3) It has Management softwares that provides installation updates as well.
4) It provides backups to keep your store up and running.
5) Integrated Payment is done by "Shopify Payments" which accepts credit cards and third party gateways such as Net banking, wallet payments, etc. It has 1000+ integrations available.
6) You can choose a website template and then customize it as per the need of your business.
7) Highly engaged community
According to Shopify,
"In the US, 81% of Gen Z consumers prefer to shop in stores to discover new products and more than 50% say in-store browsing is a way to disconnect from the digital world."
These features make Shopify the best free ecommerce website builder among any of what is the best free website builder. Look at this Internal Shopify Data below.
This application also provides app store access from which you can add an extra feature of payment mode, making Shopify as the best website builder for small businesses.
Additionally, it provides APIs that let two software communicate with each other and you don't have to worry about a technical team to integrate your components.
Shopify has far more apps than their competitors today, and they are leading in apps the same as they are leading the list of best free ecommerce website builders. As per shopify,
"It is one of the most popular ecommerce platforms on the planet, with a 32 percent market share in the U.S."
They are more user-oriented than most free website builders in the market today which can be seen by their data collection of what consumers want to know given below.
They are more user-oriented than most free website builders in the market today which can be seen by their data collection of what consumers want to know given below.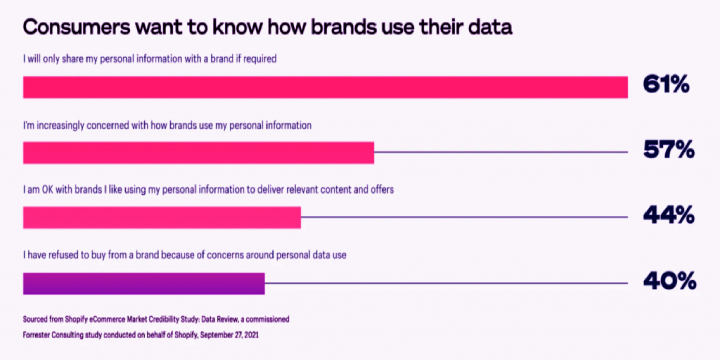 Shopify has far more apps than their competitors and their lead in apps is just getting bigger and bigger every day.
Now, let's get to the cons of Shopify:
1) Shopify charges an additional 2% transactional fee.
That makes its payment model to be very expensive as it forces you to use it or the charges are as high as 2% per payment.
2) It is very difficult to transfer websites from shopify platform.
3) You get only a 14 day trial for free.
This allows you to create your company website and then upgrade to its basic plan, which starts at $29/month and includes a $79 upgrade for Shopify and a $299 advanced plan, which is significantly more expensive.
Shopify is for those who want a problem free ecommerce website builder that adapts to the need of current trends and provides your website with greatly vast traffic.
Squarespace
Squarespace is great for blogging and for building small eCommerce websites.
This is an easy-to-use, self-hosting maker which is similar to Shopify but also has best website builder templates and features that makes its popularity and market to be all-rounder.
Started in 2003, it provides you with beautiful templates and outstanding features that are used to build a website from scratch as its main page headline suggests "Everything to sell anything"
The suggested line is true in all its forms as this is the best free website builder for small business and highly recommendable for you, if you are in the visual media, entertainment, dining, or fashion industries.
Because it's templates include a clean style that you can utilize with its drag and drop tools, as well as some optional email capture features that help you manage your clients and reservations.
The flexible designs are built from an already built template and are already optimized for smartphones, that is you can reach a wide range of users with no coding at all.
Some of its templates are provided below.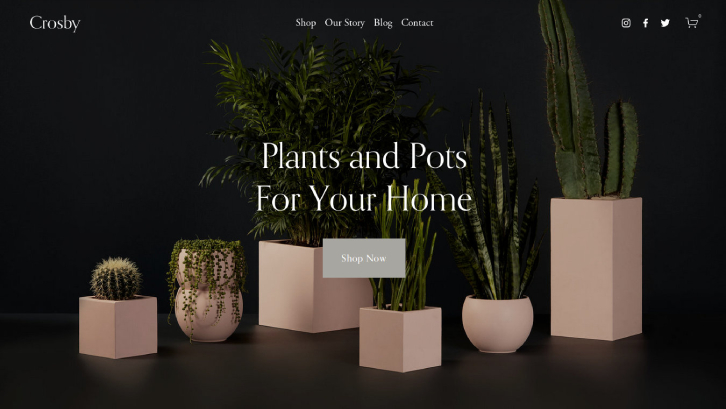 For more templates checkout Squarespace's Best templates which makes it amongst the best free ecommerce website builders.
Squarespace is the best free website builder for small businesses according to our research. Let's check out its other features that makes it best suited for you:
1) It has a free hosting service.
Meaning you can host your own website with a free domain name and if you want, you can upgrade to its paid version which starts at $12/ month with unlimited storage, bandwidth and a domain too.
2) Its powerful photo editing tools allow you to better tailor your products and services to today's visual watching customers.
3) The logo maker gives your specific brand a customised touch.
This can easily be made by you and you can even download it, if you have a squarespace account.
4) It has Scheduling software.
It lets you pre-program your new to-be-launched product or new blog post, even without being on site, there is no need for attaching a software to do extra work.
5) It provides Google's Accelerated Mobile Pages which is free SEO for your site
6) It even includes podcasts and commenting for interaction with your users when blogging.
Now, with most of these pros out of the way, you need to know that about 1.8% of all websites are built with squarespace as per the W3Techs.

With 3.79 million unique subscriptions, as per backlink,
"Squarespace generates 70.71% of its revenue from US customers. As of March 2021, that amounts to $127.04 million for the year."
Now, this is a 25.38% increase in the US market.
Some cons of squarespace:
1) There is no backup or restore feature.
2) Low page speed
3) It's not as simple to use as the other "drag and drop" builder templates (such as Wix).
4) Limited to no inclusion of third party service
It only allows Stripe, Apple Pay, and PayPal for payments which can be a hurdle for a growing business but offers a 24/7 service to its users.
With these pros and cons, you could choose if Squarespace is your go-to platform for building websites.
Though it does provide you freedom by allowing you to pick a template, add some information, and push the "go" button, still it lacks the design authority and freedom that other builders provide.
Conclusion
Today the web design market is flooded with many options to design a website. But, when it comes to ease and time-saving properties, website builders are there to do the job for you.
The major point of these best free website builders is that they are good for even non-tech people, who have no coding knowledge at all.
With trials of any of the above website builder templates, you can easily get the hang of their features and start working on your website and even launch your own blogging and eCommerce website.
For more marketing tips and services, you can schedule a free-of-cost 30-Minute Strategy session with our experts. In this call, our experts would discuss your business and provide you with the free strategies that you can use to boost your sales and revenue.