Many influencers, marketers, gamers and don't know how many people struggle a lot with ranking their videos on YouTube. They keep on searching for how they could rank their video but alas! They find only repeated tips and tactics. They never get to the point where they could improve their ranking and get as many views as possible.
Sounds familiar? Right?
No worries! I am not going to teach you the same things the other blogs are teaching you. This is going to be a different and game changer for your YouTube channel. Trust me!
If you pay attention, you can clearly see that YouTube is also a kind of Search Engine and Search Engine Optimization also works on YouTube.
Now, you might be wondering:
But, how to rank videos on youtube?
Well, for that, you need to understand some things.
To create a good experience on the platform, YouTube ensures that the users easily find the videos of their interest. Therefore, the platform created an algorithm that is capable of ranking the best videos in the search.
And this germinated a challenge before the YouTubers that whoever wants more visibility on YouTube, must apply some tactics and strategies so that their videos appear in a better position.
In this blog, I am going to talk about those SEO(Search Engine Optimization) tactics that you can apply right now and get your videos to appear in a better position.
Are you ready to know? I am sure you are!
So, let's get started to dive into the journey of YouTube SEO for beginners.
Read More: YouTube Marketing Tips to Promote Your YouTube Channel
What is YouTube SEO?
Now, you might be wondering, I know about what YouTube SEO is. I have already seen lots of videos and read thousands of blogs. But what I am going to tell you about YouTube SEO, nobody will tell you.
So, don't skip this part and do read this.
If you are even a little bit familiar with SEO, you must have known how we optimize the website. The same thing goes with YouTube as well.
But before we move further into understanding about the YouTube SEO, let's see some data and statistics that would help you understand why you should go with the YouTube SEO.
I hope the data given above in the image should be enough to convince you why you should choose to do SEO for YouTube.
For beginners, we can say, YouTube SEO is the set of strategies for optimizing the videos and the channel in order to enhance the user experience. It can be applied to enhance the visibility of your videos. Though, it would also require some of the youtube specific optimization strategies. 
Now, the question here arises is, what kind of strategies do you need to follow? Or how to rank videos on YouTube?
Don't worry! I am here to explain each and every strategy that you would need.
But, before moving further, let's understand how the search engine algorithm of youtube works.
How Does The Search Engine Algorithm Work?
Before you even start doing SEO, you must first understand how the search engine algorithm of youtube ranks the video, then only you would be able to optimize your videos and channel in order to appear in a better position.
Youtube explains its discovery and search engine algorithm in just two sentences.
YouTube says, "Videos are ranked based on a variety of factors including how well the title, description, and video content match the viewer's query. Beyond that, we look at which videos have driven the most engagement for a query, and make sure it's easy for viewers to find those."
So, yes if you are thinking keywords are important, then, yes keywords are extremely important from the 'on-page' and 'in-video' perspectives.
But you should not forget the main ingredient of youtube videos and that is High Engagement.
You must keep people watching your videos if you want to rank better on YouTube. The percentage of your video that people watch is known as Audience Retention. To put it another way, if your video keeps people on YouTube, it will rank higher in search results.
Understand the concept with the help of an example. Let's say, you want 4000 hours of watch time in 1 minute. See the calculation in the image below:
We just double both values since one hour = 60 minutes. 4000 hours x 60 minutes = 240,000 minutes! To reach 4000 hours of YouTube view time, you'd need to gain 240,000 minutes of YouTube watch time.
If you drive good engagement on your video, YouTube will reward you with more Visibility.
I know the question that might be buzzing into your mind is, "I create nice videos, even then I don't get an audience that would engage with my videos. What can I do next to have high engagement on my videos so that youtube naturally ranks my videos?"
Don't worry! I am going to talk about all the engagement factors along with SEO strategy. So, keep reading this blog!
Let's first discuss the smartest YouTube video strategy. I am going to show you a picture that will help you understand the relationship between the keywords and search intent which is the first step for high visibility and engagement.
And, to match the search intent you need to find which type of keywords people are using while searching for the products or services related to your business.
By doing YouTube SEO keyword research, we try to find out what stage of the user journey the searcher is based on the search intent of the query.
it's a game that starts with understanding the keyword intent that your users are using to find your video.
Understand the intent with the help of the image shown above.
If a user searches with the keyword, "Digital marketing", that time the user is in the phase of Awareness and is aspiring to know about the following term. So, if you find a good volume on such keywords, you must create a video keeping that intent in your mind.
Then, comes the second keyword, "SEO in digital marketing". If a user is searching with this keyword, that means he is in the phase of Consideration. That means, the user might be thinking about taking up the services of digital marketing and that's why searching with such keywords.
So, In such a case the intent of your video should be about educating people about SEO and its benefits.
Because this is the time, your target customer is thinking about taking up the services and you must attract them to your brand. So, show them how you and your brand can help them.
Then, if I were to talk about the third keyword that my target audience might use i.e., "Incrementors services". If any user is using such a keyword, he is in the phase of Evaluation or Purchasing.
Here, the user's intent is to make the purchase while evaluating my services. So, In the video, I must talk about my services because my user is intended to know about the services which I provide.
Do you see how the 'keywords' and the 'intent of users' are directly proportional to each other? This is exactly how you need to create content on YouTube while keeping the intent and keywords in your mind.
Now that you have understood the relation between both things. It's time to understand how you would find the right keywords to create your video.
The question is also quite obvious. No worries! I will help you find the right keyword that might bring you views in millions or even billions.
So, are you ready to know those techniques? I am sure you are!
Find Your Target Keywords
As you already know, the first and the foremost thing to optimize is, your Target keywords.
So, now I am going to teach you some of the best techniques to find the target keywords within your niche.
Create Keywords List
This is the first step to generating the list of potential keywords on which your video might rank. One of the best platforms from where you can find the target keywords is YouTube itself. Shocked?
But that's true! Let me tell you how.
Go to the search bar and type the word or phrase you want to create your video for.
See… I just typed "off page" and got so many keyword ideas. This is a great source of keywords. Why? Because these are the keywords people have really searched for. So, why don't you use them?
Trust me… you don't need to wonder if those keywords are popular or not? Or will you get the ranking on these keywords or not?
Of course, you are going to get the ranking if you use these keywords. The next thing you need to do is to find the most popular video in your niche and check out how they have embedded the keywords.
Most YouTubers put the keywords in Title, Description, and Title Tags.
You see the strategy below: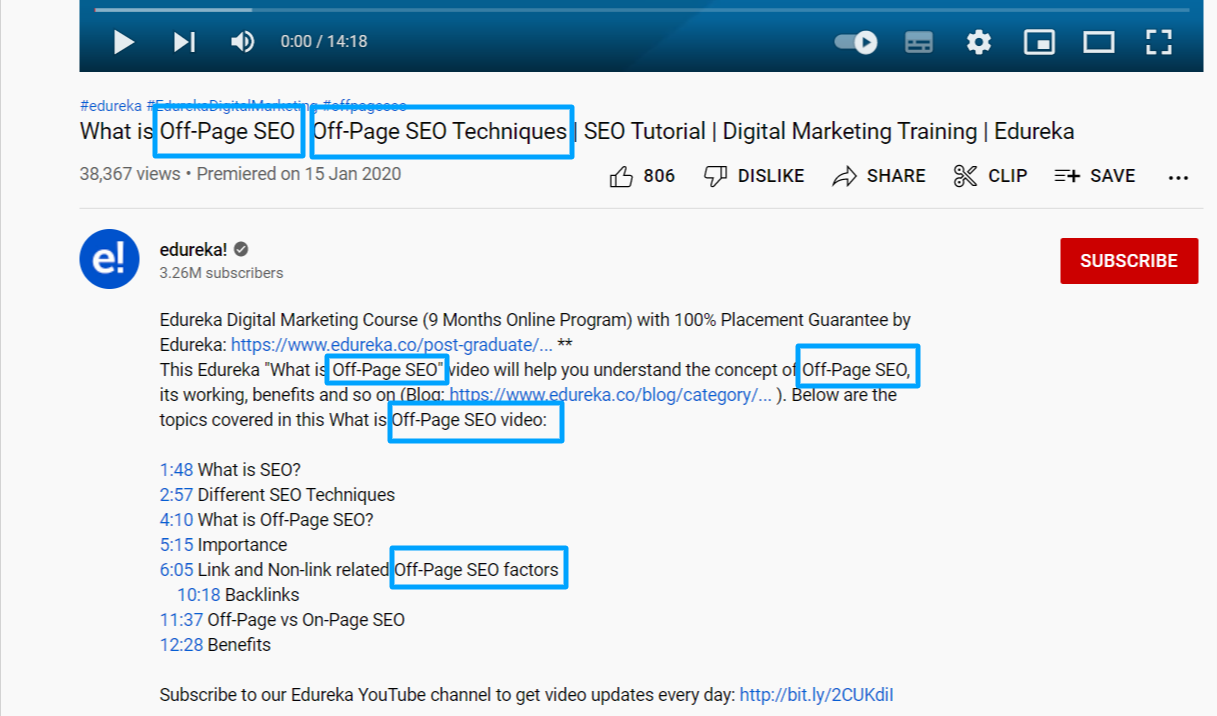 See how the keywords are embedded in this video and how many views this video received. That's the magic of keywords.
But if your channel is new, don't add this much of keywords lest YouTube may penalize your video or channel for over-optimization.
For your convenience, if you are eager to find the keywords from other's channels, I would like to recommend you the VidIQ Chrome extension. You can add your YouTube channel through this extension and compare your channel with other channels along with finding new Target keywords.
I am damn sure, this extension is going to help you for sure! So, do use this and comment it down below in the comment section and let me know if this extension helped you.
The next thing through which you can find the keywords is Google. Just type on Google, off page site:youtube.com
The number you are seeing here, shows the total number of youtube videos that are present on YouTube on that keyword. The higher the number the higher the keyword is competitive.
So, you should choose the keyword competition as per your niche. The video titles that come under such titles, can help you find the keywords in your video niche.
The last step to finding keywords for your YouTube video is, a Google Keyword Planner
See how it goes: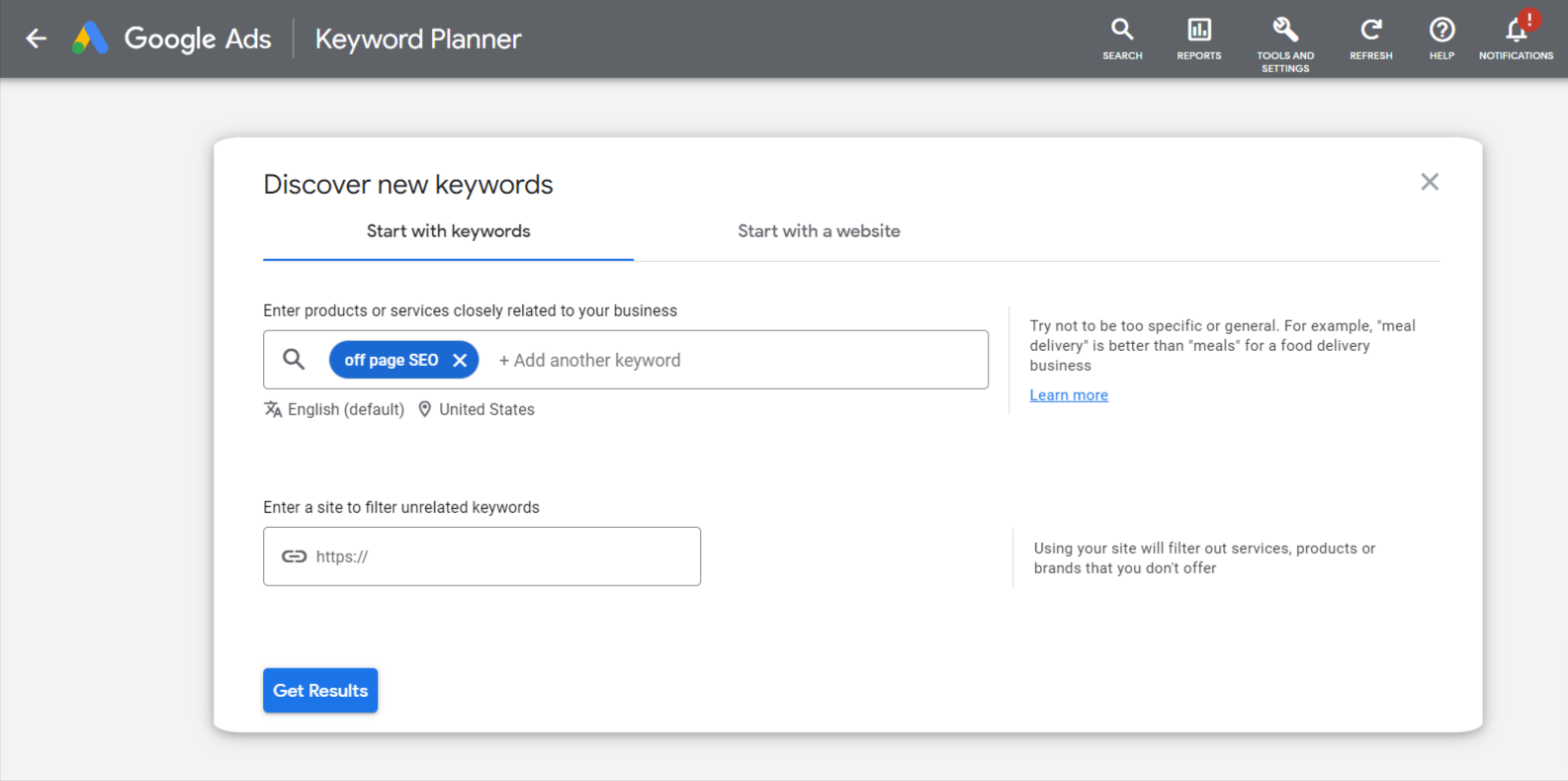 I just typed the keyword. Now, see the results I received below:
See how many new keywords I received through Google Keyword Planner.
Now you might be wondering, I am looking for keyword research for YouTube, then why should I use Google Keyword Planner?
Well, the answer is, that YouTube is not only the platform people search videos for.
People do search for things on Google and when they find any relevant video as per their requirements, they do click on that.
So, don't you want a keyword that is viable for both the search engines? I hope it is clear to you that your goal is to rank your video in both search engines.
Let me give you a bonus tip if you are eager to rank on Google too. Do you have any idea that your video can get 2X or 5X views if your video gets ranked on Google as well?
Now the question that might be buzzing in your mind is, how to rank videos on google?
No worries! I am going to disclose the secret.
So the trick to ranking your video on Google is to optimize your title around the keywords that already have video results.
If you pay attention, you will find Google ranks videos only for certain types of keywords. So, it becomes more important to understand what type of keywords are those.
Google tends to rank videos on keywords that start with:
[keyword] video
How to [keyword]
[keyword] tutorial
Tour of [keyword], could be a city name
[movie title] review
review
Such type of keywords Google ranks the video on.
Do you need proof?
See how Google ranks the videos on the keyword, "How to do off-page SEO"
This is how the search engine algorithm of Google works for YouTube videos. I hope the techniques that have been elaborated are going to help you get the list of finest keywords.
Use these techniques to get the finest keywords as per your niche and then, let's get started with our second step i.e., understanding the youtube ranking factors. 
YouTube Ranking Factors
Now, because you have found the keywords on which you should make the video to rank higher. It's high time you understand the YouTube ranking factors.
Because when you understand the ranking factors, you can easily optimize them for ranking your videos.
The first thing you need to understand before you go on understanding the ranking factors is that there are two algorithms that work on YouTube.
One is the Recommendation Algorithm which recommends the videos on the YouTube homepage as per your watched videos and the other one is the Search Algorithm, which ranks the content as per your searched keyword.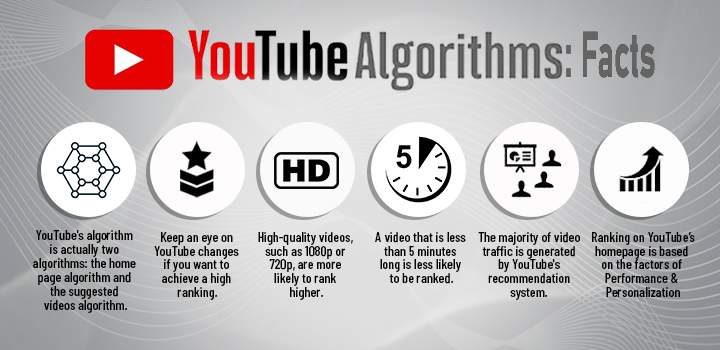 The information that I am going to provide you is all about the YouTube Search Algorithm and of course, we are talking about ranking your videos when somebody searches for the video.
The ranking factors on YouTube keep on changing every year. "In 2011, the top-ranking factor was clicks and views. In 2012, the top-ranking factor was watch time and from 2015 to now in 2022 the top ranking factor is user satisfaction".
Also, you should create long videos for YouTube that covers the topic in depth. The longer videos tend to outrank the shorter videos.
Let me show you a graph:
Source: Backlinko
In fact, the average length of a video ranking on YouTube video is 40 minutes and 50 seconds. – says Backlinko
Even YouTube has also confirmed that a video's total watch time is a key ranking signal.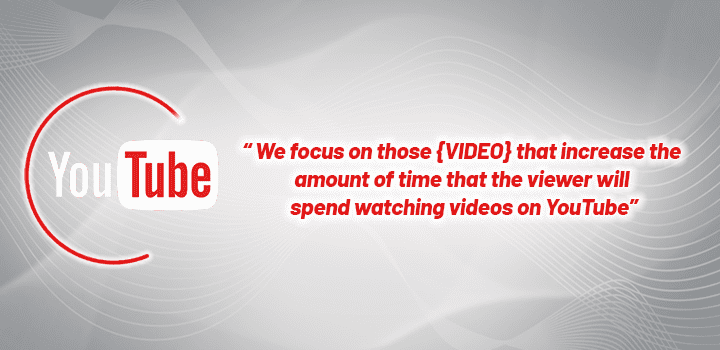 Source: Backlinko
And now, let me tell you a fact, the YouTube video watch time increases when you care about the User Satisfaction.
Now the question here arises is, what all things come in User Satisfaction?
Well, there are several things that define User Satisfaction which I am going to explain below:
Relevancy: All the things that you have put in Title, Description, Hashtags, and Video content must be relevant to all. If you are adding an irrelevant title, a description that does not match the user intent, and video content that does not match the keyword. Then, your video definitely is not going to rank at all. All the things that are crucial for a video, must match with each other and should be relevant.
Engagement: Your video content must have a high engagement that refers tocomments, likes, share, watch time and subscriptions. YouTube keeps an eye on all these things and ranks the video accordingly.
Also, the platform takes the engagement signals to determine the relevancy of the channel.
Quality: Here quality refers to whether the video determines EAT(expertise, authoritativeness, and trustworthiness) in the given topic.
YouTube says, "Finally, for quality, our systems are designed to identify signals that can help determine which channels demonstrate expertise, authoritativeness, and trustworthiness on a given topic."
So, make sure that whatever that you are creating the content on, you must have all of these 3 things. You will have to prove to YouTube that you are an expert in the topic that you are talking about and have the authority to talk about that along with you are also trustworthy.
Then, let's come to our next ranking factor for ranking on Youtube. 
Personalization: YouTube tries to determine relevance for each user by showing the results of their past searches. So, you also need to make sure that your video intent also matches with the other videos in your niche so that when a user is watching other videos from your niche, your video can easily rank according to their past searches.
Also, you need to understand that YouTube is more likely to rank your video at the signal of Relevance, Popularity, and Freshness.
One thing here you need to have clarity on is that there is a difference between the Google algorithm and the YouTube algorithm.
The Google algorithm aims at providing relevant results to users whereas the YouTube algorithm aims at providing the most satisfying results to users and to determine the most satisfying results, YouTube considers some things like,
How much time did users spend watching the video?
Did the user like the video or dislike it?
Did the user comment?
Did the user click on the subscribe button?
Did the user turn on the bell icon?
Did the user watch other videos from the same channel?
All of these things are a strong signal to the YouTube algorithm. So, make sure you live upto all these factors.
These factors will take you to the top of SERP. YouTube clearly understands the user satisfaction. So, in order to live upto all these factors, you need to create more and more satisfying content so that your audience engage with your videos and that signals the YouTube that your video has the potential to come on the no.1 position on YouTube.
I hope that the ranking factor must be clear to you now. So, it's time to understand how you can make your video rank on YouTube by making some tweaks. For that, you need to understand how you can optimize your videos and YouTube channel.
Now, I am going to explain how to do SEO for your YouTube channel. So, please keep reading.
Youtube SEO Tips
Till now, you have seen the basis of YouTube SEO. Now, it's time to learn about YouTube SEO for beginners in detail. The following YouTube SEO tips given below will help you understand youtube deeply if you are just beginner to Youtube SEO. 
On-page SEO
Mainly the On-page SEO takes place by optimizing the title, tags, description, and thumbnail. Because these are the things people click on your video by looking at. If each of the things is optimized for a user attraction, nothing can stop your video from getting more clicks and views.
So, are you ready to know how to work on the on-page SEO of the youtube channel? I am sure you are!
The 4 things Title, Description, Tags, and Thumbnail are directly proportional to CTR(click-through rate).
1. Craft The Perfect Title
This is one of the first YouTube SEO tips you should pay attention to. Do you know that YouTube launched Beta Studio in march 2018? It is their new analytics platform. The platform added a new metric that is, 'impressions click-through rate'. 
Basically, the platform is pushing the creators to increase CTR in their video analytics funnel.
Youtube says, "You can increase the chance of YouTube suggesting your content by increasing your click-through rate and your video watch time".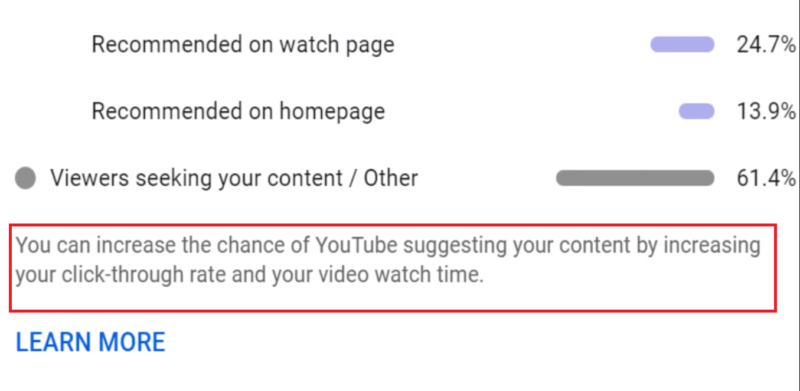 Basically, you have higher chances of getting your video suggested to users outside of organic search.
Now the question that might be buzzing into your mind is, how can I optimize my title to get more and more views?
The first thing that you need to do is to add keywords to your title. YouTube itself advises that you use the most relevant keyword in your title as long as it is not inaccurate.
Brigsby's study confirms that 90% of the top ranking videos have at least added a target keyword in their title. So, try to be the part of that 90% tribe by getting your video ranked with the target keyword.
See the graph below: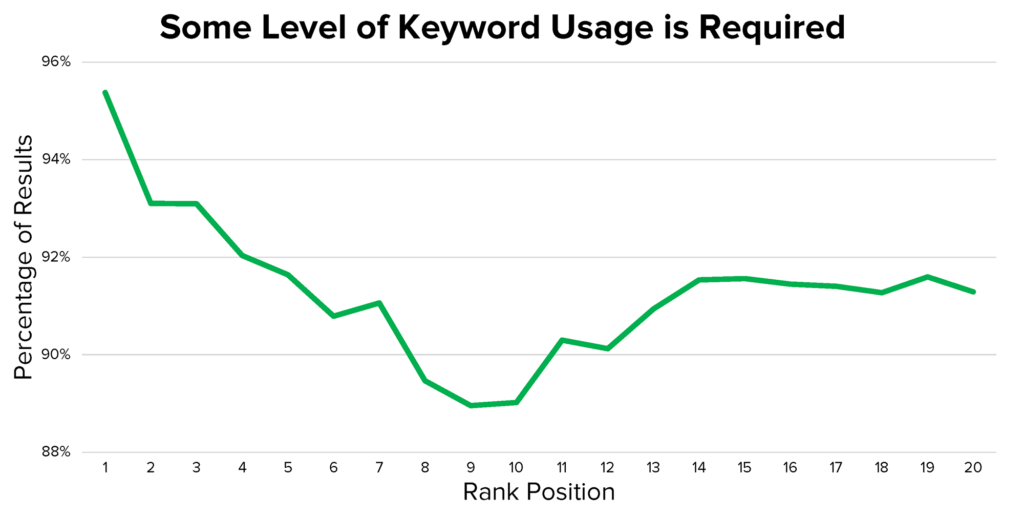 Source: Ahrefs
Read More: Top 10 On-Page SEO Techniques for Higher Ranking
2. Make Your Title Under 60 Characters
The second YouTube SEO tip is the title character. The title is the first thing that a user sees when your video shows up in SERP. So, make it count. Youtube recommends keeping your title concise by keeping all the relevant information. 
From a search perspective, it would be beneficial if you do it this way.
Let me show you an example.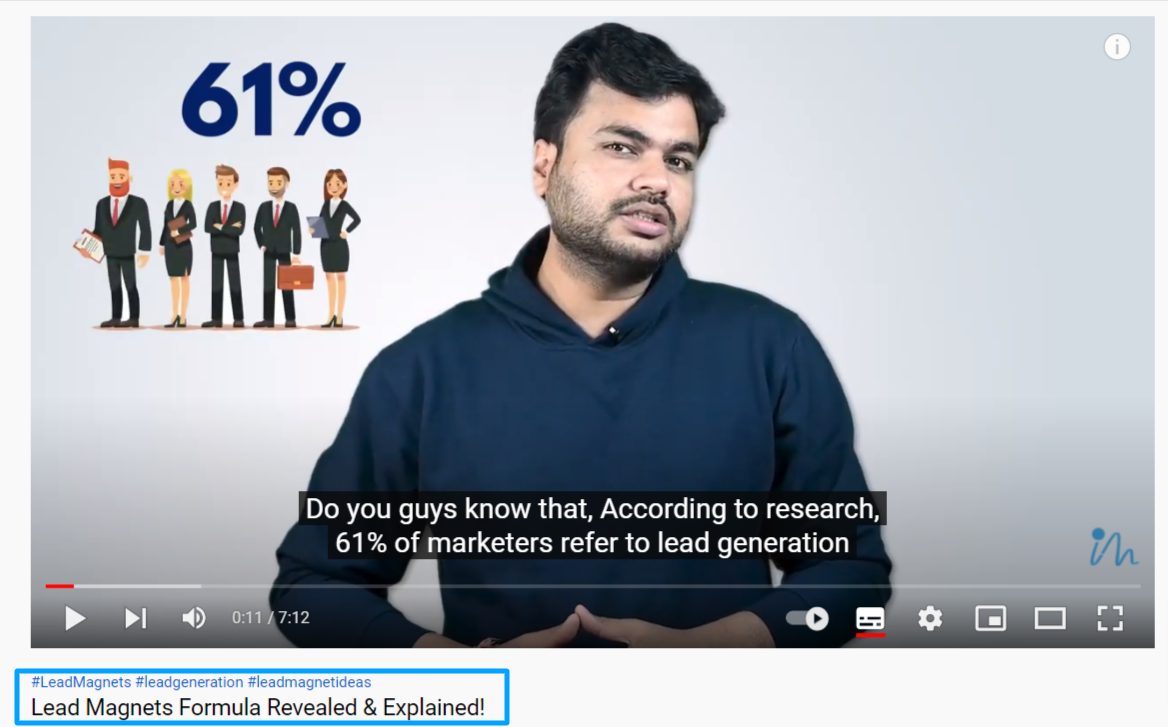 See… how I used the target keyword in upfront of my title. Also, it is very beneficial to keep your title short as it prevents losing the clicks.
I hope it is clear to you how your title should be.
3. Evoke Curiosity
Writing catchy headlines are extremely important for the sake of more clicks and views on the video. So, you must evoke curiosity through your titles.
To evoke curiosity you can add numbers or power words. The reason why I am saying so is that it gives a more specific view of your content. It makes the title reading easier for the reader. Also, they stand out from the crowd of the videos.
Let me elaborate on what I am trying to explain:

Suppose you want to make a video on 'how to catch a fish. So, you can make your title like, '10 stunning ways to catch a fish without a rod'.
Tell me honestly below in the comment section which title seems more appealing? '10 stunning ways to catch a fish without a rod' seems to be more appealing. Right? The reason is, that I added a number along with a power word i.e., stunning.
That's the magic of the power words. The point I am trying to explain here is that dull and unattractive titles are not likely to stand in the competition.
As a bonus tip, I would like to suggest Sharethrough. This tool will help you write titles that get views. Click on the link and get free access to the tool.
4. Create A Thumbnail That Is Compatible With The Title
Thumbnail is the first thing the user sees before clicking on the video and I believe it is one of the most difficult parts to execute. The thumbnail describes 90% of your video.
The Creator Academy Research says that 90% of the best-performing YouTube videos have custom thumbnails
Here's the technical parameter for the thumbnail as prescribed by Google.
1280 x 720 pixels
16:9 ratio
< 2 MB
.jpg, .gif, .bmp, or .png format
See what thumbnail I used for the video below.
You must pick an image that seems interesting. Also, do not try to do anything tricky with your thumbnail that may reduce your clicks. As it would be like deceiving your users. It would seem like, over promising and under delivering. So, don't do anything like that.
If you want to create a good YouTube Thumbnail, you can get a template downloaded from a button below:
The custom thumbnail option is available only for the verified accounts. Check out YouTube verification instructions.
5. Write A Nice Description
YouTube itself says that using the 'right' keywords can help you rank your video in YouTube SERP. A study done by Briggsby found that 75% of the top 20 results used the same match for description.
See the graph below: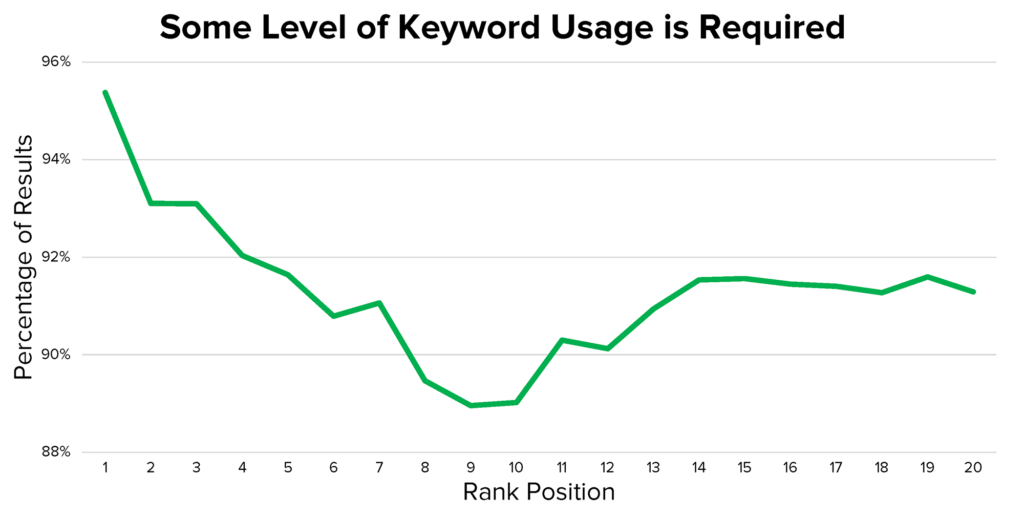 Source: Ahrefs
I don't think so if I need to explain how to find the target keywords and add them in descriptions. As I have already elaborated above.
Also, the longer descriptions work much better than the shorter descriptions. But you should also mind the fact which I am going to tell you now. According to YouTube Help, the official character limit for YouTube is 1000 characters.
6. Add Tags
This is one of my favourite youtube SEO tips. Adding tags is the next way you can make your video rank on YouTube. It helps your video rank on the search and suggestions page. 
However, YouTube tries to simplify it by recommending adding keywords and phrases that perfectly describe the video.
Since you already know how to do keyword research and optimize your title and descriptions, adding tags should be pretty straightforward for you.
Here you can use the VidIQ extension to see the tags that have been used in the video.
See the image below: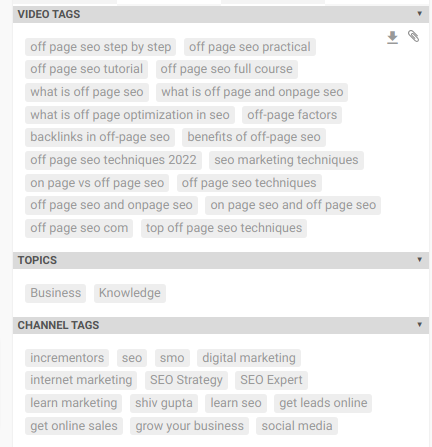 Just look at the image above, the strategy that I used to add tags in my videos. See and analyze the difference between the video tags and channel tags. The video tags that I used were all relevant only to the niche of the video whereas the channel tags that I used were all relevant to my channel's niche. I used my organization's name along with the services that I provide. See the tagging strategy that I used.
But, there is one more thing that you should understand is, according to YouTube guidelines, the tags are often useful if you misspell the words but if you overuse them, you will be violating the youtube spam policy.
This is how the tags are added in the video.
Optimize Your Videos
Now that you have learned the on-page SEO to rank your video higher, but have you ever thought even if your video ranks higher on YouTube SEO what if your content is not good then, what Youtube will do to your video?
As I clarified above in the blog, youtube ranks the video on the basis of User Satisfaction and User Engagement.
So, just imagine even if you have perfectly worked on video SEO and your video got ranked higher but the video content doesn't seem appealing to the user and they don't engage much with your videos then the chances are YouTube will downgrade the ranking.
So, it is quite important to create an appealing video along with working on YouTube SEO. if you want more and more views on YouTube, you will have to maximize the long term viewer engagement and user satisfaction.
And this is going to happen only when your video content is attractive and engaging.
Now the question here arises is, how do you create an attractive video for users? You might be thinking now, "Do I need to go through a different blog to know about how to create an engaging video on YouTube?"
No. that's not the case. I am here to teach you how you can rank your videos. So, I am definitely going to teach you how you can create a high-retention video.
Now, I am going to give you some tips and tricks to optimize your video as per the desire of the audience and these youtube SEO tips to make them engage with your content. 
1. Create A High-Retention Video
Well, creating high-retention videos happens step-by-step. We just cannot describe it by you do this or do that and taddaaa your highly-engaging video is ready. No! It never happens like that.
It is a process that happens step by step.
Are you ready to know the steps? I am sure you are.
So, let's get started!
The video creation starts with planning. This is the first step that we need to follow.
2. Plan Your Video
Well, I am ready to accept that all my videos that you watch on YouTube are scripted and of course, why not. It is also very important. We can't just go in front of the camera and start speaking. Shooting a video takes lots of time along with effort and preparation.
Anyone can get stumped while speaking in front of the camera and so do I. so, it is better to get prepared earlier.
With the preparation and script in your hand, you can just go on the flow and everything will fall into the line.
So, it is better to prepare earlier rather than just go before the camera and start speaking even if you are an expert in your niche.
Let me share a tool for video scriptwriting software, Caltex.

The above image is the homepage of the software, Caltex. The software is extremely useful for scriptwriting. The tool is affordable, flexible, and professional. You can even collaborate with your script writing team through the software. The tool is best for planning in real-time and having an organized structure of your script and other tasks related to scriptwriting.
And that's how you are going to get high-retention videos for your channel. Use this tool and I hope this is going to help you create a better script for your channel.
3. Give Your Audience A Strong Hook
Do you know that 10-15 seconds of your video is the most important for your video success? The reason why I am saying so is that this is the time when your audience can bounce back from your video or can go on watching the video or even better if they like one video on your channel, then chances are they can even go on watching every video on your channel and enhancing your watch time.
And it is only possible when you give them a strong hook point when the video starts. It is important to get the attention of viewers before you give them value through your content.
A 2015 Facebook/Nielsen study found that- even if a viewer watched a video for only one second, that single moment still increased recall, brand awareness, and purchase consideration. Build your video's hook as if it were the only few seconds that your viewer saw.
However, each niche would require a different kind of hook point.
Let me explain with the help of an example.
See in the video below how Mama Natural hooks its audience just in 2 seconds.
I know it's yuck!! But you understand the point that I am trying to explain. The brand just held the attention just after the model said, "I think I am going to eat my placenta"
It just hooked everyone like, what she has just said! That's how it is done. Try to grab the attention of viewers in just 2 to 3 seconds.
And you can do this by doing the things elaborated below:
Start your video with a question
Start your video with an amazing fact.
Show an emotion
Use a motion
Start your video with a joke or quote
All these are tips to hook your reader. Apply them today to engage your viewers.
4. Ask Viewers To Engage
How can you make your audience like, comment, and share your video? Along with creating videos that resonate with your audience, you can ask your audience to like and comment.
Don't worry! You won't sound needy.
Trust me, it boosts the engagement of your video. There is a fact that you need to accept is that majority of the viewers are not going to watch your video so it's better you ask them to like your video when it starts.
5. Edit Your Video
If you watch my YouTube video, you have seen the way my video opens up along with the edits that I have made in my videos.
The quality of videos has improved and it seems appealing.
Let me show you one of my videos.
See how my videos have been edited. The videos have been edited perfectly and are appealing to users. This magic is done with the help of software called Adobe Premiere Pro. This is one of the secrets that I disclosed before you.
Some other software and tools I would like to recommend to you for video editing are Pinnacle studio and CyberLink PowerDirector.
Promote Your Videos
So, now you have created a fine and appealing video for your audience and you know how you can even optimize your video for high ranking on youtube along with creating an highly engaging video.
Then, the last thing which is left is promoting your video. There are lots of ways you can promote your YouTube Videos.
So, let's get started with the points.
1. VeeFly
If you have a good marketing budget, you can go with this platform too. VeeFly makes your video go viral! This is not a bad deal, you will get thousands of views just in exchange for some dollars.
Plus, you will be able to track the performance with self-serving dashboards. The software is made for every size and every niche.
2. Use StumbleUpon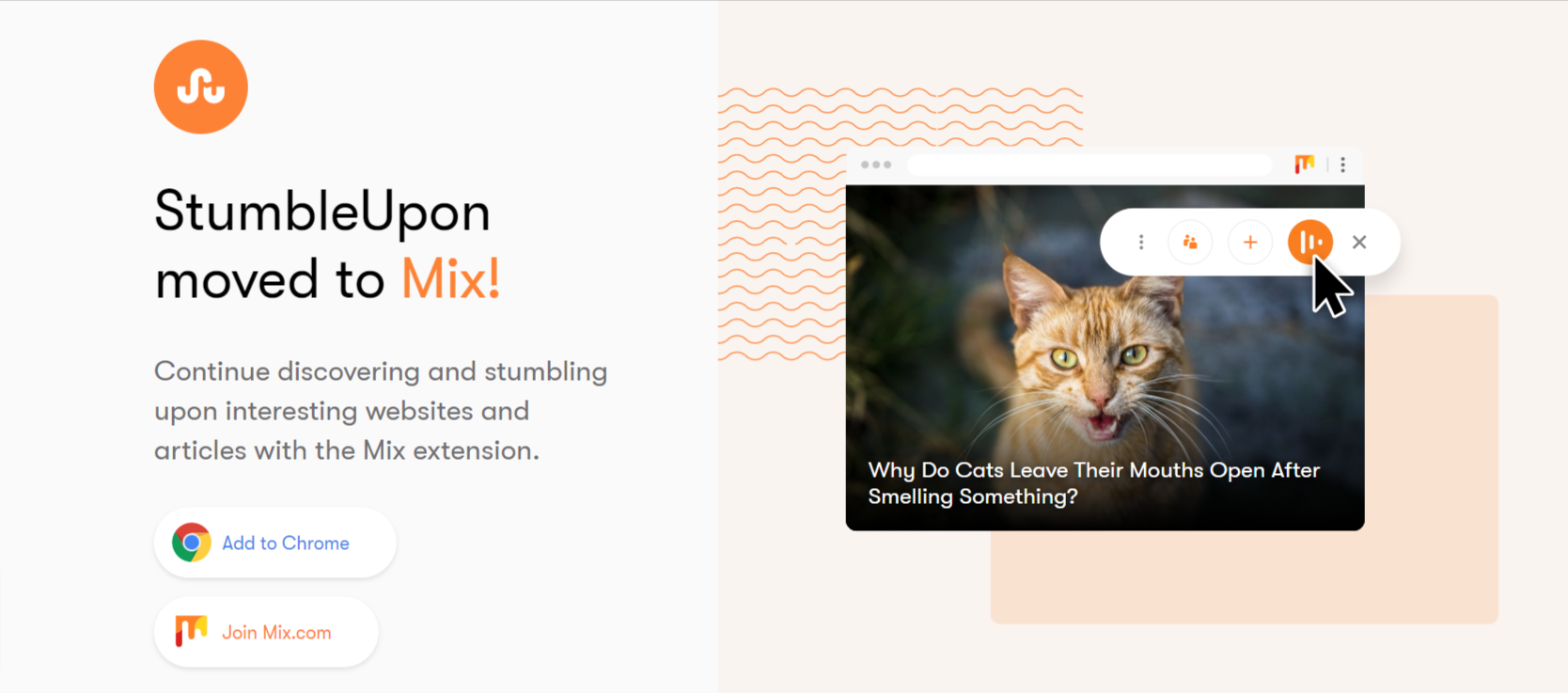 StumbleUpon is a platform you can promote your YouTube videos on. It is a social network platform that helps people discover interesting and unique things across the web. Trust me when I say that interesting and informational videos thrive on StumbleUpon.
It is a platform where you can just share your video content with the people interested in your niche. What you need to do is to build a community or fan base and then share your video content there and get more and more views on YouTube.
However, building the fan base takes time and effort but is not impossible. So, go and try now.
3. Respond To Comments
The very first way to promote your video is to engage with the people who are engaging with you. Respond to each and every comment on your video.
Youtube has found that youtubers who receive a heart-reaction on their comment are most likely to click and see the notifications.
So, engage as much as possible.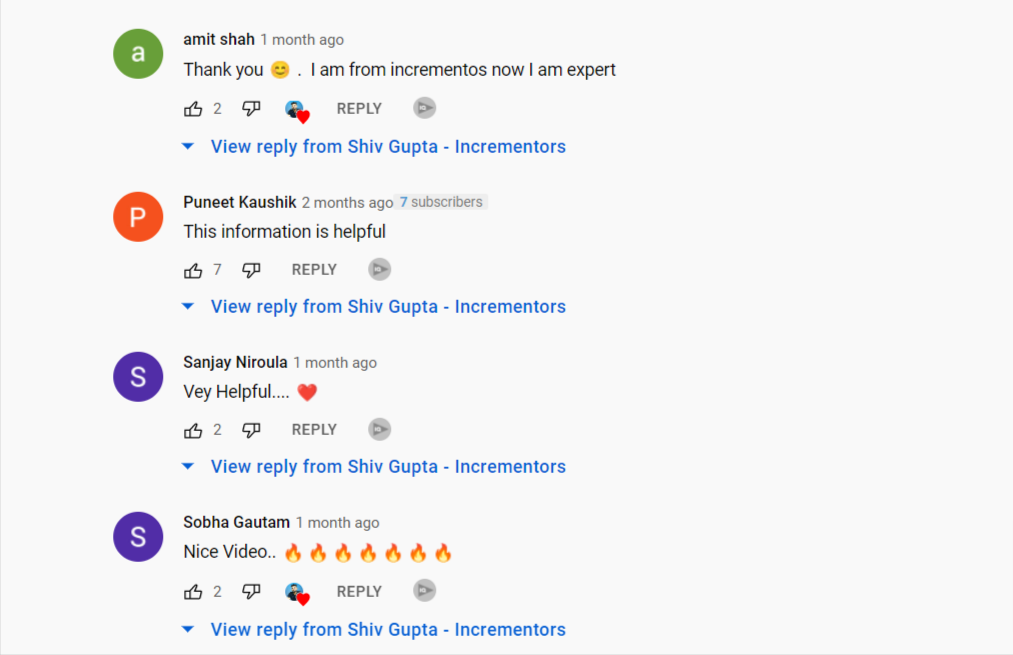 See the above image, I have replied to each and every comment on my channel to make sure the users come again and again.
4. Promote YouTube Channel On Forum
The forum can be the best place to promote your channel for free. Try to get engaged in a conversation with forums of your niche. To get the actual results from the forum, you must deliver some value in the conversations. Don't just pop up into the conversation and write, "here's the link to my new youtube video. Watch the video" instead, get engaged in the conversation and then, try to solve their problem with your published video.
5. Answer Questions On Quora
Quora is one of my favorite platforms where we can just answer the users' queries and get my videos promoted.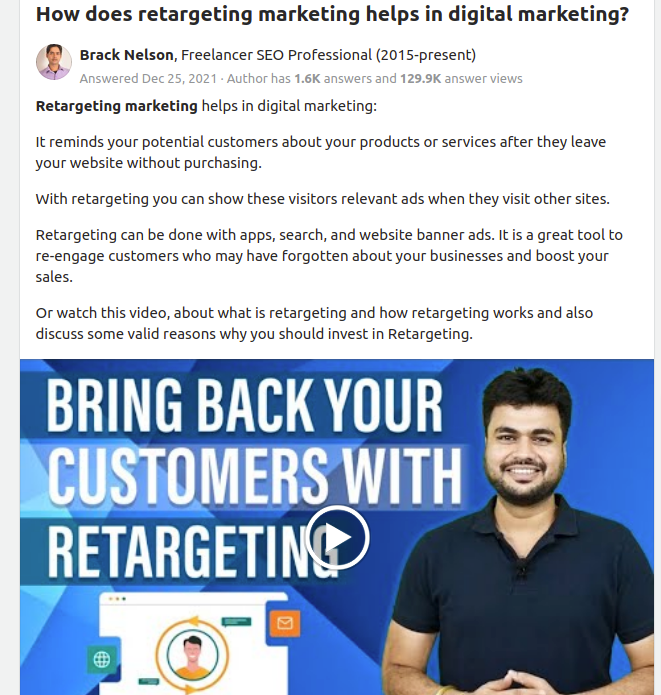 See the image above of how I use the same strategy for my YouTube channel. I answer on Quora to get more views on my YouTube videos. And trust me, this tactic does help me with getting views so, you can also use that.
So, here are some techniques for the promotion of the YouTube videos which are extremely important for getting views on your channel.
Conclusion
YouTube SEO is all about optimizing the title, description, tags and thumbnail. However, that doesn't mean we would forget about the youtube ranking factors.
This blog covers each and every angle through which you can make your Youtube video rank in SERP. For instance, the target keywords, youtube ranking factors, on page seo, video optimization and the ways to promote the videos.
All these things are enough to rank your video if you apply them properly and carefully. So, do apply these techniques and comment down below in the comment section and let me know which tactic was best for you!
For more marketing tips and services, you can schedule a free-of-cost 30-Minute Strategy session with our experts. In this call, our experts would discuss your business and provide you with the free strategies that you can use to boost your sales and revenue.
FAQs
1. Are Keyword Research Tools Needed For Youtube Videos?
Yes, keyword research tools are extremely important for youtube videos. They are extremely important to find the trending keywords on which videos are ranking from your niche. Keywords are useful for the better searchability and visibility of your video.
Some of the best keywords research tools for YouTube videos are, Ahrefs, TubeBuddy, Keywordtool.io, and Kparser
All these tools are paid but their free version is also available. So, check out this tool to find better keywords.
2. How Do You Get 1000 Subscribers On YouTube?
Well, it is not that difficult if you go step by step:

1. Break your goal into small goals
2. Add youtube subscription button to your videos
3. Identify your customers
4. Collab with other youtubers
5. Follow the techniques which I have elaborated above
3. How Do I Find My Youtube Ranking?
The simple trick is you can use tools like, tube buddy. Go to the youtube watch page via Tubebuddy's videolytics and under the tag section, you can find out the position you are ranking on any particular keywords.
4.What Is The Fastest Way To Get Monetized On Youtube?
You need to use your end screens and cards. If you are eager to monetize your youtube channel then you should be highly focused on increasing the watch time of your youtube videos.
5. What Should A Beginner Post On Youtube?
A beginner should post something valuable, interesting and relatable to the audience. But don't expect your first video will get tons of likes, shares and views.