The internet has probably been man's greatest invention since sliced bread, created the virtual world that can be credited as a huge human accomplishment.
Now the various range of devices supports its usage, it's in everyone's reach. And even as we speak of devices, there have been several advancements in both software and hardware.
No one can deny the fact that the impact of digital media is quite noticeable in our society and it has both positive and negative effects.
Where our day-to-day activities became dependent on it whether it is entertainment or learning. It became our most important need to navigate this world more efficiently.
Get More Traffic, Leads & Sales

We see a new smartphone, or a new laptop with an up-gradation quite often. So with all that digital media around us, the biggest question is how does it impact us? How does it impact our society, the next generation, or even our lifestyle at large?
What is Digital Media
Digital media is a way to express opinions or ideas in digital form through digital devices. It is a quick, easy, and effective way of communication and distribution of the content.
This includes text, audio, video, and graphics that are transmitted over the internet or through other digital mediums such as television radio.
Digital media content can be created, distributed, and modified via digital devices, which is something that differentiates it from traditional media.
Impact of Digital Media on Society
The world has picked up the pace, everyone is just too busy. One cannot simply afford to lose a day's track to keep himself updated with information. The world as we know is something that changes daily, there is always something new happening.
And the electronic devices which are connected to the internet constantly supply the information we need and it is not just restricted to the internet.
All the applications and multimedia stored in the device's storage and drives keep us engaged all the time. It has both a negative and positive effect on our society.
Positive Effects of Digital Media
Ability to Learn New Skills
The internet has been a blessing since its beginning for learners, now if you have a smartphone or any other digital device connected to the internet.
Then you can learn anything from cooking to coding, you just need curiosity and consistency in your efforts. Most importantly it is self-paced and you can choose from the tons of learning resource available.
Digital media has an important role in the field of education. When it comes to interactive learning that is actively used in modern education structures.
Digital media enhances a child's learning process. Even with digital devices, user interface and interactive applications assist in one's motor skills and application skills.
And we all know how an interactive application is much better at user interaction and feedback than a book.
Just imagine if the internet wasn't there in this critical time of coronavirus pandemic. How effectively it helped people to remain connected with their loved ones virtually and in learning when school and colleges were closed.
Ability to Communicate
Because of the internet, anyone can express their experiences or knowledge with everyone around the globe thanks to the Internet. Bloggers can develop highly engaged readers who trust them.
Other platforms like social media have enabled people to communicate with a much greater number of people on a global scale, which allowed diverse people to meet in one place.
It also allowed people to raise their voice against social issues, they can directly communicate with big organization and personalities that cause the problem in people life
Opportunity to do Business Digitally
If you have an idea to sell something it could be a product or service that adds value in people's lives. Through your website, you can sell it anywhere in the world.
When it comes to the marketing of your product, even that can be done digitally by leveraging Digital Marketing strategies like search engine optimization, social media marketing, and email marketing.
The Internet provides the advantage to promote your business online through paid advertising.
Real-Time Information
Also, the importance of digital media cannot be neglected in the field of journalism and mass communication. In a competitive and speedy world, it is vital for a news agency and broadcasting channels to get maximum coverage.
Learn How to Do Social Media Marketing

For instance, if you're a die heart fan of football, due to your busy working schedule you cannot follow all the important matches, all around the world.
You can catch up on all live updates on your phone or you can record the complete match on your device so that you can watch it later at your convenience.
The Decrease in Print Media
Newspapers are sometimes said to be 'silly in their method'. In print sheets a lot of paper is used excessively which is made from trees, ink is overused in the printing process, all just to provide news of the previous day.
However, its working is questioned furthermore by the advancements digital media has made. Why read yesterday's news while you can catch breaking news on a news channel or get the latest news stories on your smartphone?
Digital media has been an indispensable catalyst in technological advancement and human growth. We can now sit at home, read all about any event, from any corner of the world, and the choice is all ours too.
Negative Effects of Digital Media
Addiction to Digital Media
Addiction is an engagement in behaviors that become compulsive and often continue despite having harmful effects.
Increasingly, addiction to mobile devices, addiction to social networking sites, such as Facebook, Instagram are prevalent in our society. Excessive usage of these leads to withdrawal symptoms such as feeling anger, tension, and depression when Internet access is not available. This makes individuals dependent on the internet.
We all have heard how playing games on a computer or a gaming console harms our eyesight or does nothing to produce any physical work. How we are addicted to checking messages and taking social feeds on websites.
Negative Effects on Cognitive Development
New generation children get in touch with internet-connected devices early in their development that certainly has a significant effect on their cognitive development if they use these technologies in excess.
Like it's found in children with excessive involvement with these activities having diminished ability to read, loss of analytical thinking, inability to remember things, decreased attention span, and slow information processing while learning something new.
From these facts, we need to be a little aware before using them as the old saying goes that excess on anything is harmful. Keep it in moderation for your mental and physical well-being.
Information Overload
There is an almost infinite amount of information available on the internet. Estimates are that the big four (Google, Amazon, Microsoft, and Facebook.) store at least 1,200 petabytes between them. That is 1.2 million terabytes (one terabyte is 1,000 gigabytes).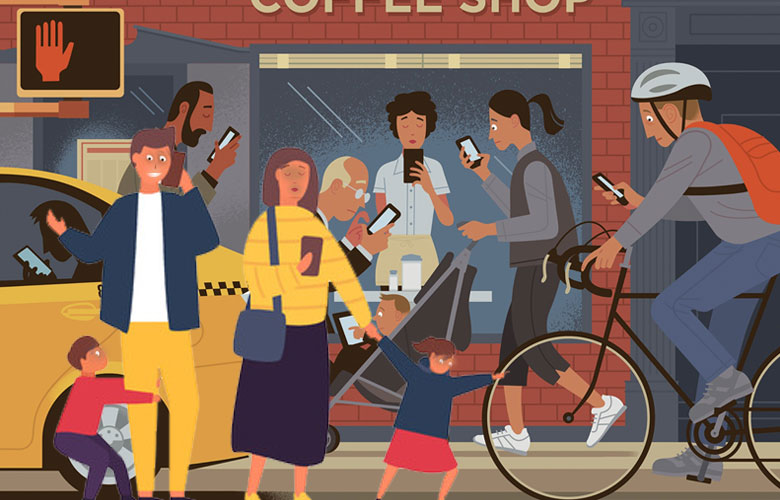 As a result, it makes it difficult for a decision-maker when he faces a variety of information on the same topic that contributes to confusion rather than clarity and makes it difficult to choose better in important situations of life.
Increased Website Traffic By
+95%
Case Study
Increased Conversion Rate By
+37%
Case Study
Increased Lead Generation By
+60%
Case Study
"We measure our success by how much we WOW our clients."
Case Study
SEE HOW WE CAN HELP YOU
GROW YOUR BUSINESS
Enter your website to get started now
Conclusion
Surely digital media has its downsides in the above-mentioned article, but we carelessly overlook the benefits of man's second-best invention and its partner, digital media.
Apart from that, digital media's impact has been worthy to take note of. It has not only provided a new dimension to our lifestyle, but has also lead to the development of communication skills, and worldwide accessibility.
Digital media has also provided a thousand more ways of entertainment and recreation. Amidst the criticism that it allows little or no physical exertion, there have been applications and devices created to provide physical and fitness development.
So the good rule of thumb is keeping a healthy balance between real and virtual life, we need to learn, how to use it effectively instead of getting used by it
Reach More Patients Online
When you partner with Incrementors, we'll help you earn visibility for the keywords your target audience is searching, and earn more patients for your practice.