Do you know that LinkedIn is 277% more effective at generating leads than Twitter and Facebook?
Not only this, 79% of marketers see LinkedIn as a "very good" source for generating leads.
Yes, that's surprisingly true!
Many B2B marketers also report that they get 80% of their social media leads from LinkedIn and 94% of B2B marketers use LinkedIn to distribute content.
So, do you also want to skyrocket your business with LinkedIn marketing strategy?  If yes, get ready for an exciting journey!
Because in this LinkedIn marketing guide, you are going to learn 13 surprising LinkedIn marketing hacks to grow your business.
Are you ready? Let's go…
What Is Linkedin Marketing?
If you don't know then let me tell you that LinkedIn has over 660 million users across the globe? Yes, you are thinking right. It is a huge social media platform. In fact, it is one of the top social networks today.
On LinkedIn, you can make connections, generate leads, promote your brand, build business relationships, share your ideas and content, and, surprisingly, you can also drive traffic to your website! This process is known as LinkedIn marketing in the online world.
Read More: Generating Leads on LinkedIn: 5 Powerful Tips 
How To Use Linkedin For Business
There are many ways to do LinkedIn marketing. And I'm going to cover a few for you!
Many people look to LinkedIn only as a job-finding tool. And that's not the whole truth.
LinkedIn provides a promising opportunity to connect with business leaders, entrepreneurs, and like-minded professionals.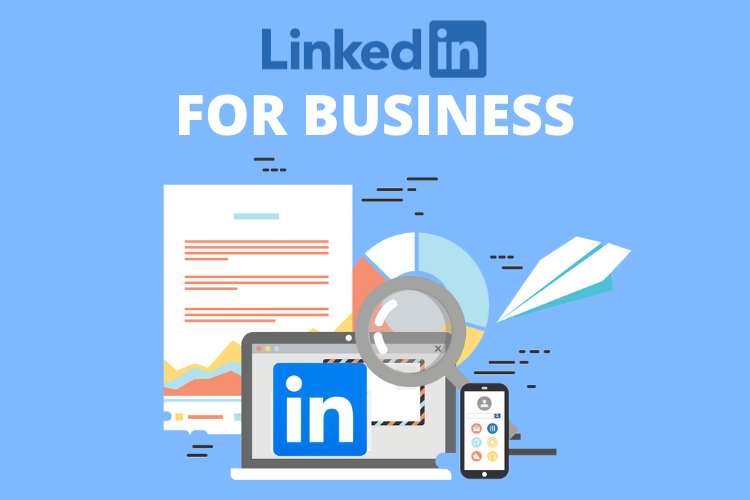 Linkedin can be used for business owners, like building a relationship with people of your industry niche, staying up-to-date with the latest industry trends, and generating leads for your products or services.
You should definitely make it a part of your business marketing strategy.
LinkedIn can also help you in establishing your domain and reaching out to your ideal target audience.
Ok. So how you can use LinkedIn for business?
I've got it covered for you.
Create A Captivating Business Linkedin Page
Before starting LinkedIn marketing, you would need to create a LinkedIn page for your company.
Here I'm giving a quick and practical guide to set it.
Please follow the steps below and create one so we can go further.
How To Create A Business LinkedIn Page?
1. Go to LinkedIn Marketing Solutions website by logging in to LinkedIn.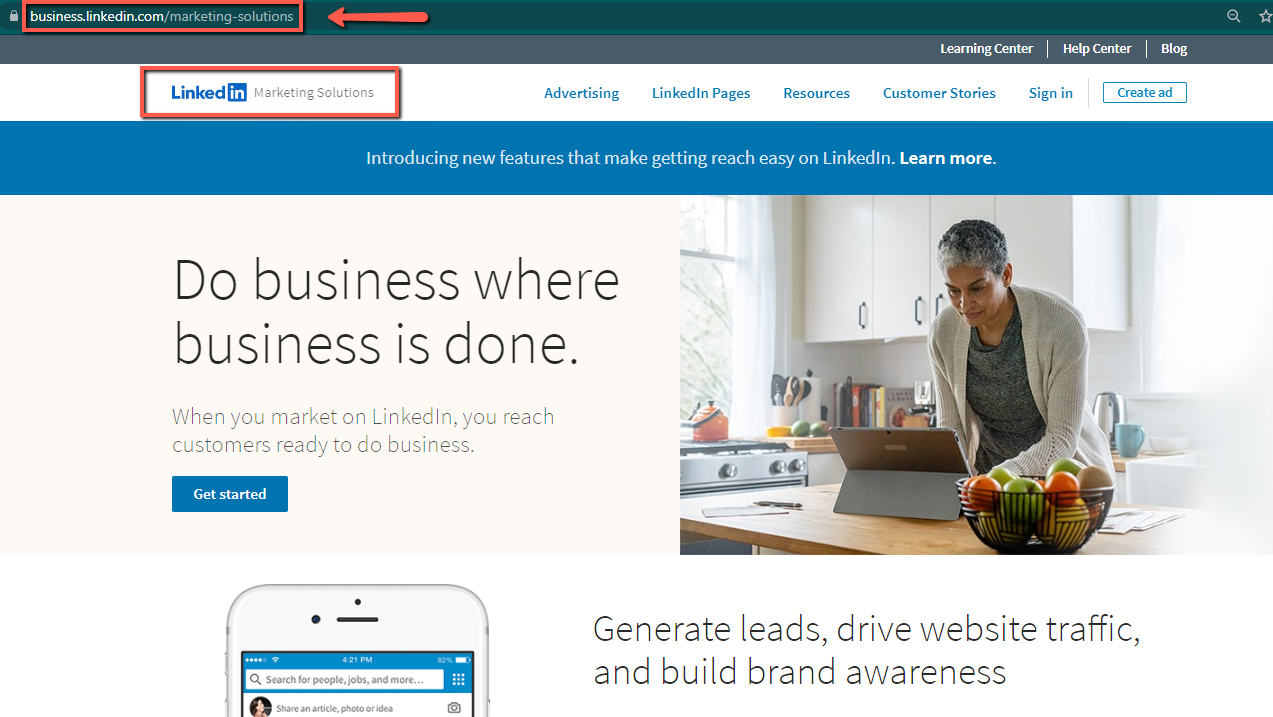 2. After that, click on the LinkedIn Pages button. And you will be redirected to this page. Click on the Create your page button.

3. Now from the next page select your appropriate category for your business.
Now fill in the Company details box. And choose a good username for your brand or company. If possible, try to make it the same as your other social media handles' username.
After doing that, you can see the preview of your page on the Page preview box.
Next, you have to upload your company logo and tagline. You can skip this option but I will suggest not to. Because companies with logos represent trust and quality and attract six times more visits than without ones.
And finally, click the Create page button.
Complete Your Page
what you've created above was a basic page. If you want to optimize your page for LinkedIn marketing, you got to add few more details and take it to next level.
This way, you can effortlessly provide important information about your business to your visitors. moreover, this can also improve your Google ranking and LinkedIn search results.
This is why a complete page gets 30% more views than incomplete ones.
And who doesn't want to get more views, right? So let's do it also.
To add more info, go to your profile and click the Edit button with the pencil icon:
And start adding morel information starting with the Description box:
This box is your chance to tell people about your visions, mission, and your values. Also, offer your products or services' description in 3 to 4 short paragraphs.
Make it sound human and not too technical. The description must be in your brand voice.
Plus, your description is gonna show on the Google result preview, so make it SEO friendly by combining some relevant keywords.
Location
Here you should include your store or office locations. You can also add multiple addresses by selecting +Add Location.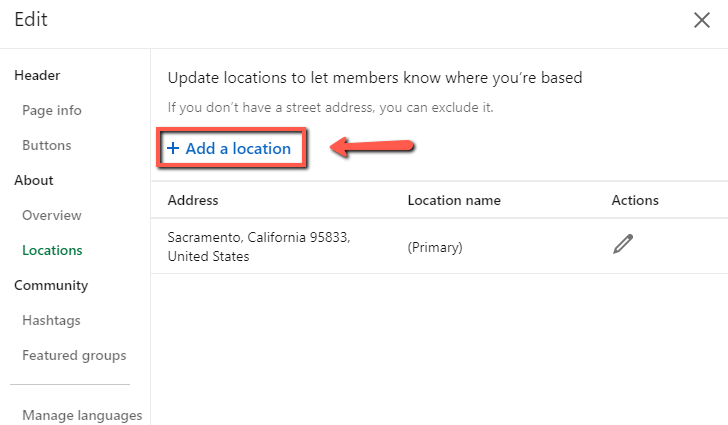 Hashtags
Yaay! You can add up to three hashtags and make your profile more searchable!
Just make sure the chosen hashtags are highly relevant and are being commonly used in your industry.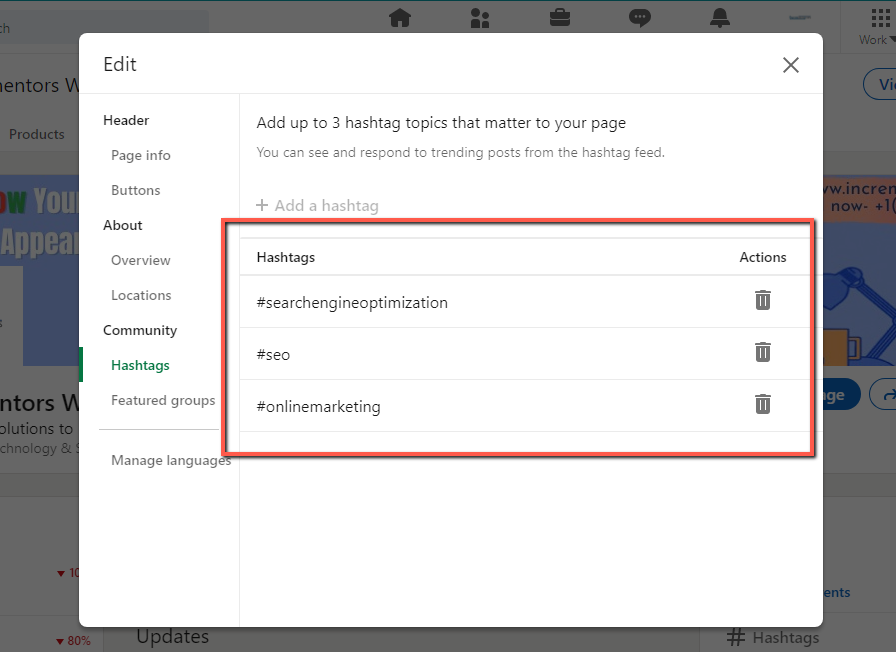 Cover Photo
Do you see the blue image in the screenshot below? This is your cover photo section.
You can make your LinkedIn business page more professional by uploading a cover photo. This will help to make LinkedIn marketing easy.
Don't upload too busy or cluttered images though. And the photo should be 1584 (width) x 396 (height) pixels, as recommended by LinkedIn itself.

Custom Button
You can also add a button to your profile to encourage your visitors to take action.
The button options are: Visit the website, Contact us, Learn more, Register, and Sign up.
Also, don't forget to add the connecting URL so when people click the button land on the page you want them to land on.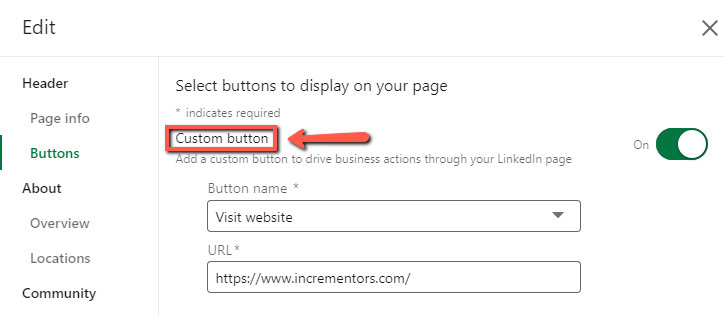 Manage Language
Do you have a global brand? If yes, then you can add your name, tagline, and description in more than 20 different languages.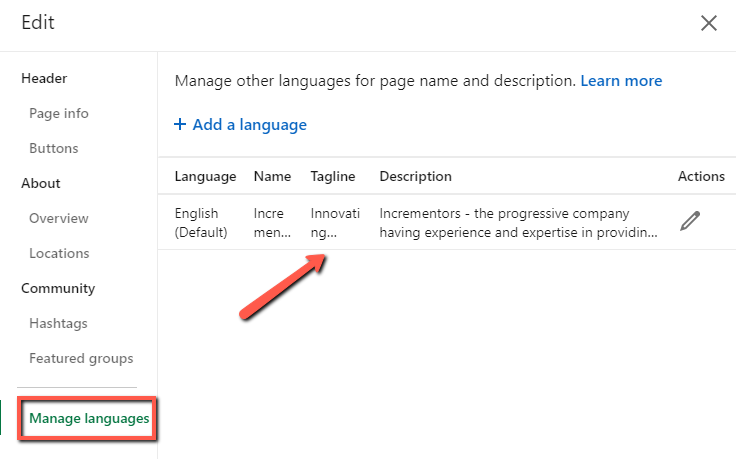 You can also watch Hootsuite's video to grab a few more optimization tips.
It's the time to announce "we are ready!!"

After finishing up the page creation, let people know you are all set to rock and roll! Invite people and companies to follow your page.
Share your brand stories via page. Share your teams' and leaders' thoughts, so potential customers and employees can have a glimpse of your culture and values.
Sounds exciting, right!!? Let's do it…!!!
Create A LinkedIn Marketing Strategy
So now as your Company Page is ready to go, it's time to create your LinkedIn marketing strategy.
So how do you think of a LinkedIn marketing strategy?
You can watch my video on the same topic as well to know more about it.
Simple, ask yourself what goals your company wants to accomplish via LinkedIn? Do you plan to use LinkedIn for hiring, social engagement, connecting with customers, or all of these? Are you going to include paid ads in your LinkedIn marketing?
Want to create an excellent LinkedIn marketing strategy? Learn about LinkedIn demographics first.
LinkedIn demographics can tell you what kind of people use the platform, from where you can get more audience, what's the people's education, what's the income-base of your audience, and a lot more.
Plus, you can also observe and inspect your competitors. See how they are using their page, what they are talking about with customers, how often they are posting content, and how you can do something different and extra than them.
Believe me, creating a LinkedIn marketing strategy is more than thrilling!!!
But don't worry, I'm not gonna hang you out to dry with just creating a LinkedIn marketing strategy.
In fact, I'm going to take you on a more exciting journey than this one. So put your reading glass on, hold yourself, and be ready!
Read More: How LinkedIn Can Be Used to Expand Your Business Online?
13 Awesome LinkedIn Marketing Hacks For Your Business
Set Clear Goals
Marketing without defining your goals is like running a race without a finish line.
The above quote is enough to tell why you need to set your goals for successful LinkedIn marketing.
Before starting your LinkedIn marketing journey, you need to outline the clear objectives you want to achieve on your way and where do you want to reach. That can be listening on your audience, engaging with other brands, telling people about your online presence, or anything you wish to do with your brand.
The goals may be different regarding whether you are planning LinkedIn b2b marketing or b2c marketing.
However, if you don't want to know what your goals should be, I have a tiny list that might come in handy to you:
Build Brand Awareness
Strengthen Brand Reputation
Engage With Your Target Audience
Generate Qualified Leads
Sell Your Product Or Service
Defining your goals can really make your LinkedIn marketing voyage smooth and productive.
Know Your Audience And Target The Right One
Once you have a clear list of your LinkedIn marketing goals, It's time to outline the people whom you will be targeting on LinkedIn. That organization of people is called your targeted audience.
So how do you do that? Well, you can simply outline your audience based on different parameters such as location, age, industry, job title, etc.
Let's say you are running a LinkedIn b2b marketing campaign, and your goal is to sell SEO tools to online marketers. In this case, your target audience may be online marketing professionals. They may have job titles such as "SEO expert", "digital marketer", etc.
Outlining your audience can especially help you in the LinkedIn lead generation ads campaign.
However, just defining your target audience is not enough, it is also important to have a deep understanding of what they want, what they like, and talk about. 
Even not only this, but you also want to know what your existing audience wants and their likes and dislikes.
You can use the LinkedIn analytics section on your Company Page to learn more about your existing audience aka followers and page visitors.
This can be really helpful to gain meaningful insight into your customers.
By this, you can easily know what kind of content they prefer and create an explosive LinkedIn marketing strategy.
Don't worry, you will learn about the analytics part later in this guide.
After understanding your audience, it is time to serve them what they want.
Now you have read your audience's mind and you know what exactly they want, you are ready to share your rich content posts!
So what kind of content are you gonna serve your visitors? 
Well, according to LinkedIn, posts with images get 98% more comments than those without.
Plus, according to Linkedin Marketing Solutions, if you can post with custom collages with 3-4 images then it will perform even better.
Along with images, you can also upload PDFs, PowerPoint, or SlideShare presentations to make your post rich and comprehensive.
And videos are five times more attractive on LinkedIn than others.
One more exciting thing, LinkedIn native videos auto-plays when someone scrolls by it. By that, it does a good job of catching people's attention.
And one more exciting thing, Videos that are hosted on the platform are also prioritized by the LinkedIn algorithm.
And also, don't forget to add closed-caption so that can people with hearing impairment and sound-off viewers can also watch it.
Optimize Posts For Reach And Impact
LinkedIn's algorithm uses these signals to rank posts:
Personal connections
Interest relevance
Engagement probability
In other words, LinkedIn cares for people. It shows people what they are looking for and interested in, and what can engage them from the accounts they care connected with.
Your post should be able to do the same.
LinkedIn also allows you to notify the employees if you think they'd be interested in the post.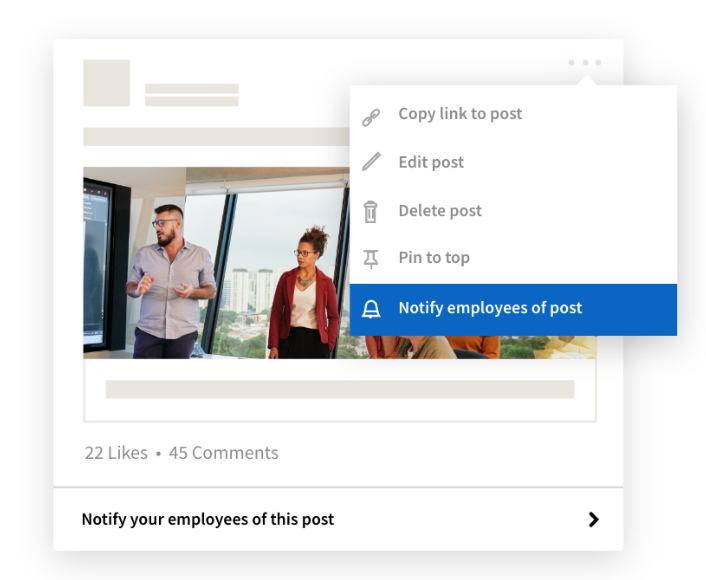 Here are proven tips that will help you in business posts:
Write strong headlines for articles
Keep your posts short. If needed to post long, use paragraph breaks or bullet points to make it more readable
Share relevant content with perfect timing
Use images or video to lure people
Keep your posts short. If needed to post long, use paragraph breaks or bullet points to make it more readable
highlight key stats, points, and quotes
Add a clear CTA (call-to-action)
Tag people and pages mentioned
Lead with a question to prompt responses
Create LinkedIn polls for feedback and engagement
Include two to three relevant hashtags in a natural way
Write strong headlines for articles
You can get more Unique LinkedIn Post Ideas here.
Know When To Post Because Timing Matters
If you are really serious about building an audience on LinkedIn, you need to post regularly. Brands that post once a month gain followers six times faster than those that don't. And companies that post weekly attract two times more than the monthly ones. And those that post once a day get even more eyeballs!
But, No matter how often you post and how engaging your posts are, if you don't post them at the time your audience is available, you won't get enough attention.
So when do you post for your business?
As per Hootsuite research, the best times to post on LinkedIn are 7:45 a.m., 10:45 a.m., 12:45 p.m., and 5:45 p.m. EST.
And for LinkedIn B2B marketing, Wednesday is the perfect day!
However, you may have a different audience, so use LinkedIn analytics to observe what times work for you.
If you want to, you can also schedule your LinkedIn posts with tools like Hootsuite.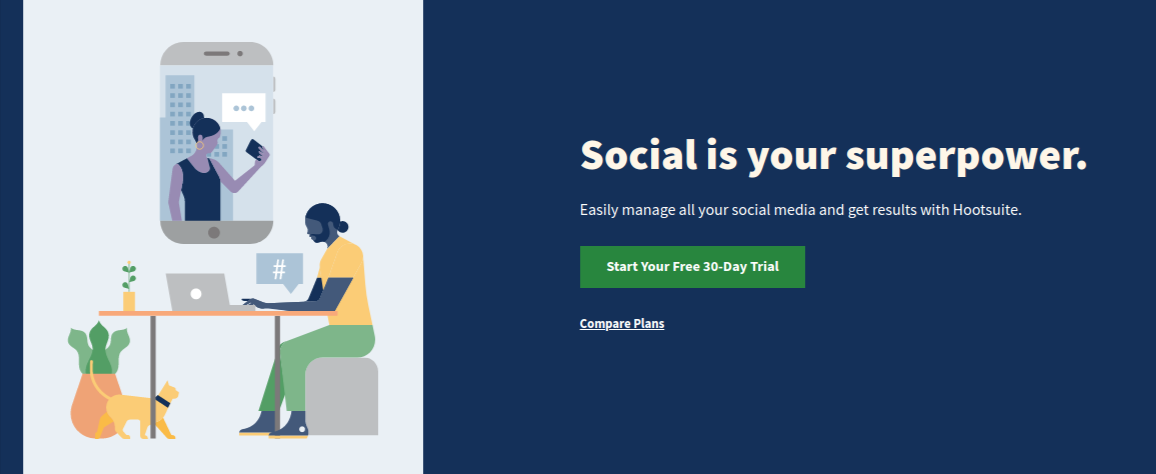 Go Live
Now, the mind-blowing fact –
LinkedIn says that live videos see 24 times more engagement than pre-recorded videos. Yes, you read that right. And that's huge!!!
No, I'm not lying –
As a brand, you've got plenty of reasons to go live. You can use live broadcasts for interviews and webinars, you can host a virtual event, or you can teach people about your products.
This can ignite a fire chat with your customers if you respond to their questions and comments, which can be a big bang in achieving your LinkedIn marketing goals.
Join Groups – And Stay Active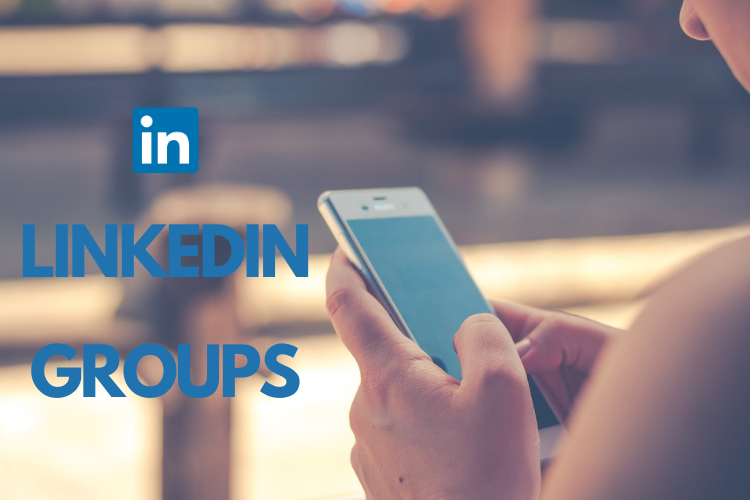 If you are a small business owner, joining relevant LinkedIn groups can be a game-changer idea. How?
This is a great way to Eavesdrop on your audience and know what they are talking about which can help you in knowing what they want. Eventually, you will also be able to offer them solutions with your products or services.
One more cool thing about the LinkedIn groups is that you can also message the group members even if you aren't connected with them.
LinkedIn InMail adds up quickly, so this would be a great way to connect with your potential customers without spending money on LinkedIn lead generation ads. So join as many groups as you can.
Create Your Own Linkedin Group
Want to know a secret sauce to boost your business with LinkedIn marketing? well then.
After joining the groups you got a perfect place to look for your prospects. You know where they are hanging out.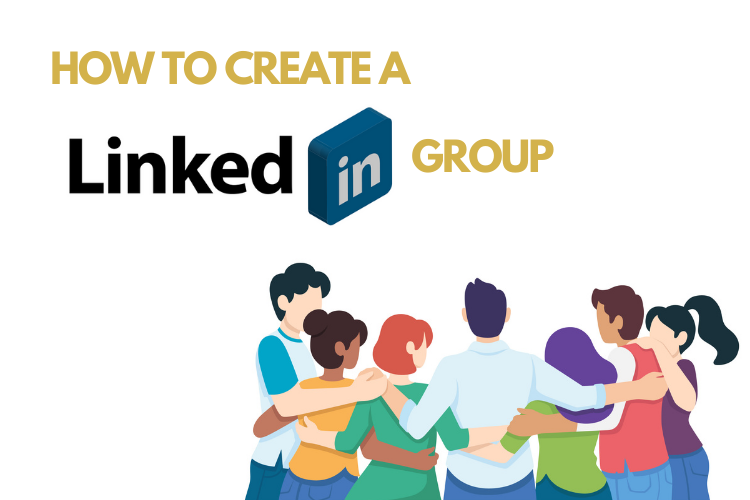 The next step is to observe those groups and find your prospects. How to do that? Simple.
Then filter the list of the prospects by outlining as per your target. This could be a job title or something like their interests.
After that, create your own group and invite them to join your groups with personalized invitations.
Once these invitees join your LinkedIn group, you've got all your fish in the same barrel – all your potential customers in one place!
As this is your group, you have total control over this and no competitors can get into this.
Now you are ready to share great, catchy, and valuable content in your LinkedIn group that your prospects will love and can eventually turn into leads and then customers!
Warning:- Avoid over sales pitches and spam. This can harm your brand's reputation and break your audience's trust.
More excitingly, you will also get a built-in email list, by which you can set up an email marketing strategy and inbox them your offers, discounts, and more.
Overall, this is a great strategy to build your brand and generate leads to boost your business with LinkedIn marketing.
Launch A Showcase Page
Do you have multiple buyer personas for your business? That's an exciting thing!
You can show off your different products and services to different groups of audiences with LinkedIn Showcase Pages.
Showcase Pages allow you to create focused, detailed content for multiple buyer personas.
Additionally, you can create a personalized experience for the audience you are selling to.
Therefore, the LinkedIn audiences interested in your company's specific offerings can follow the respective showcase pages. They can do this without having to follow your LinkedIn company page.
For example, Adobe has made five showcase pages for its different products and communities:
Image Source – Adobe on LinkedIn
Learn From LinkedIn Analytics
We were talking about it above, remember? But we got to skip it. So now let's see how it can help to achieve your LinkedIn marketing goals.
With LinkedIn Analytics, you can see how people find your page and what section engages them more, Which CTA drove the most action, and also, what flopped.
You can also compare page views for your different tabs, see how much traction your Showcase Page is getting. Also, by visitor demographics, you can have a sense of who's interested in your company and who isn't.
If you want to see how your page is performing compared to your peers, you can check the Companies to Track table. With the help of this section, you can compare your page ranks with total followers and new followers. You can also see your every post's engagement rate.
Bonus Tip – You can also learn about a client or competitor's employees from the People tab of their business LinkedIn pages. There, you can see where they studied, what job they were doing, their skills, etc. This can help you to make your LinkedIn marketing journey more insightful.
Avoid Hard-selling And Do This
So until now, you have established yourself as a subject matter expert in your niche. People like your pages and love to read your content.
But do you know what they don't want? – Hard sell on them.
Yep. If you try to hard-sell your products or services in your content or keep stuffing ads in them, you will soon irritate your customers enough to leave your business LinkedIn page.
I know you are just trying to promote your brand. But hard selling is not a good idea.
So what's a good idea?
Well, use your LinkedIn handle to build your brand awareness, connect and network, share info, position your company, build an online reputation, invite people to events, and promote gated content.
Use LinkedIn Marketing to 'warm up' your targeted buyer persona and convert them into leads. And then, when it's the right time, get personal with them by using direct emails. Pick up the phone and fix a meeting.
Make Connections, Build Relationships, And Nurture Them
After following the above process, you can easily connect with a large audience.
As a business, you should connect to your buyer personas, strategic partners, other industry people, and other businesses as well.
Once the connections are made, you can decide how to nurture a specif connection to build a strong relationship. A good relationship between a business and customers can lead to skyrocketing of your business eventually.
After building a relationship by selling customers your products or services, you need to show them that they are at the right and trustworthy place. You need to take care of them by asking them how they feel about your products, what they liked and disliked most.
Remember, retaining your existing customers is far more important than making new ones. That's why this is one of the most important parts of your LinkedIn marketing.
Follow The LinkedIn Marketing Blog
LinkedIn currently has more than half a billion users.
And they are not done yet.
They want to make it go 3 billion!
And to accomplish that goal, they are constantly building resources on their own official website.
Such as the LinkedIn Marketing blog.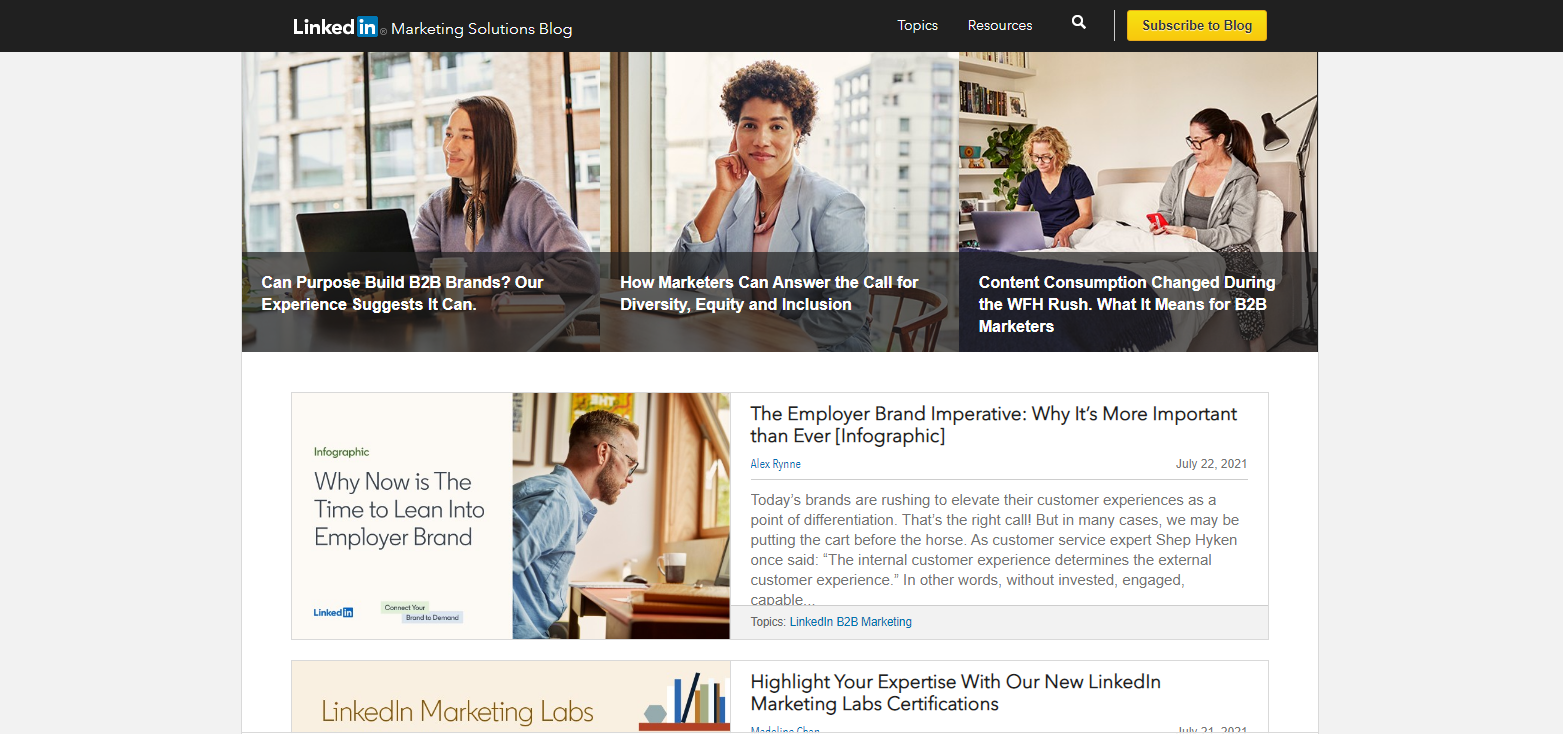 You know what, this section is specifically made to help businesses improve their LinkedIn marketing.
So what are the perks of it?
Glad you asked that.
Well, you can explore this resource to take ideas on how to use LinkedIn's marketing tools, catching up with their updates, learning about new features, and more.
Ok, so now you are loaded with LinkedIn Marketing strategy and tips, it's time to load the tools!!
Some Best LinkedIn Marketing Tools
1. Canva
If you want to design stunning image posts for your LinkedIn marketing strategy, Canva is the tool for you!
It offers free image creating and customization tools (in-app purchases are also available.)
Moreover, you can also create GIFs and Videos with your own recordings, stock footage, or graphics. Plus, you will also get a free-to-use music library so you don't have to worry about licensing tunes.
Got an event presentation or whitepaper to share on LinkedIn? You have SlideShare.
With SlideShare, you can upload your PDF, PowerPoint, Word, or OpenDocument file to share with your followers.
Believe me when I say  SlideShare uploads can each have more than 70, 000 monthly visitors. It records analytics too. So with it, you can also see what page is getting more clicks and shares, and update them with popular slides to make them even richer.
3. Open for Business
LinkedIn's free Open for the Business feature is a gift for solo entrepreneur or small business owner
This feature is for personal LinkedIn profiles. You can sign up for this by clicking the Showcase services you offer on your profile and fill in info about your services.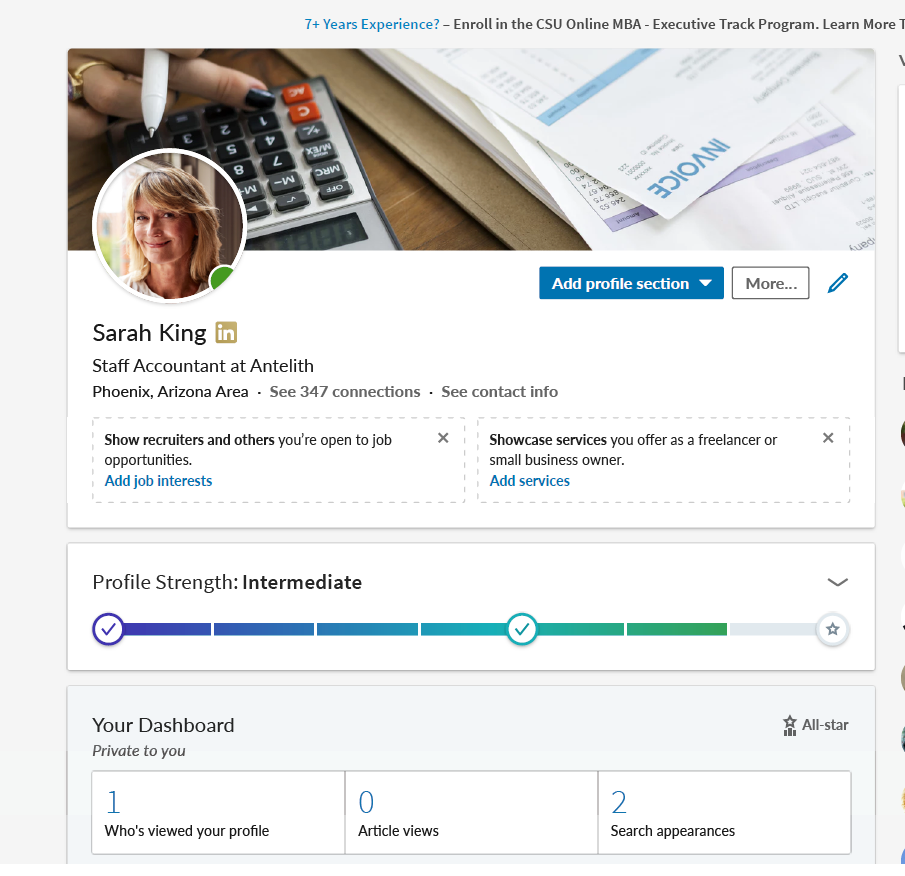 After that, LinkedIn members will be able to find you through the Service Provider search filter.
Time To Wrap Up!
At the end of this insightfully exciting journey, we can say that LinkedIn is a goldmine for every business out there. 
I hope this actionable strategy, proven tips, and amazing tools, will help you skyrocket your business with LinkedIn marketing.
However, if you need any help with generating leads and growing your business on LinkedIn, you can ask in the comment section below.
Good luck and happy LinkedIn-marketing!
FAQs
How is LinkedIn used for marketing?
With LinkedIn, you can create an audience base and share your brand. You can engage with the audience, generate leads and sell your products.
How do I promote my page on LinkedIn?
You can share your page with your audience and invite them to follow it. Also, post content regularly, link your email to the page with the help of LinkedIn buttons.
How do I create a marketing strategy on LinkedIn?
To create a LinkedIn marketing strategy, you need to set your objectives, understand your audience, create rich content and share with the audience.
How can I use LinkedIn to promote my business?
That's very simple. Create your company page, Highlight your business, create rich media content and start sharing with people.
How often should you post on LinkedIn?
Three times a week is considered a good frequency. However, if you can post on daily basis, then you can get five times more views than those who don't.