Ever since Google & Facebook restricted Bail Bonds businesses in May 2018 from advertising on their platforms, a large proportion of businesses like Bail bond agents, bounty hunters, bail bondsman and Bail bond financing are putting their way towards SEO.
"We're announcing a new policy to prohibit ads that promote bail bond services from our platforms." – Google
"Faced with the arrest of a loved one, many people lack the money to post bail, leaving them vulnerable to exploitative bail bond offers that can lead to insurmountable debt. Similar to our ban on ads promoting specific kinds of short-term loans, like payday loans, we'll now prohibit any ads promoting bail bonds on Facebook." – Facebook
This prohibition has made organic search a main source to get more bail bonds leads. It becomes very challenging when a large number of businesses compete against each other to achieve top ranking. One can only succeed if they have a unique and well-planned marketing strategy. Customers who seek a good bounty hunter or bail bonds agent are looking for immediate help, a bondsman who can be trusted, provides quick response and moral support.
Attract more clients with Bail Bonds SEO marketing

Search Engine Optimization is becoming a very intuitive and competitive process. There is always scope to improve and do better with regards SEO. Bail bonds have recorded a major hit in organic traffic over the past couple of years. In order to dominate SERPs as a Bail Bonds Business, one must consolidate SEO Strategy that consists of these items: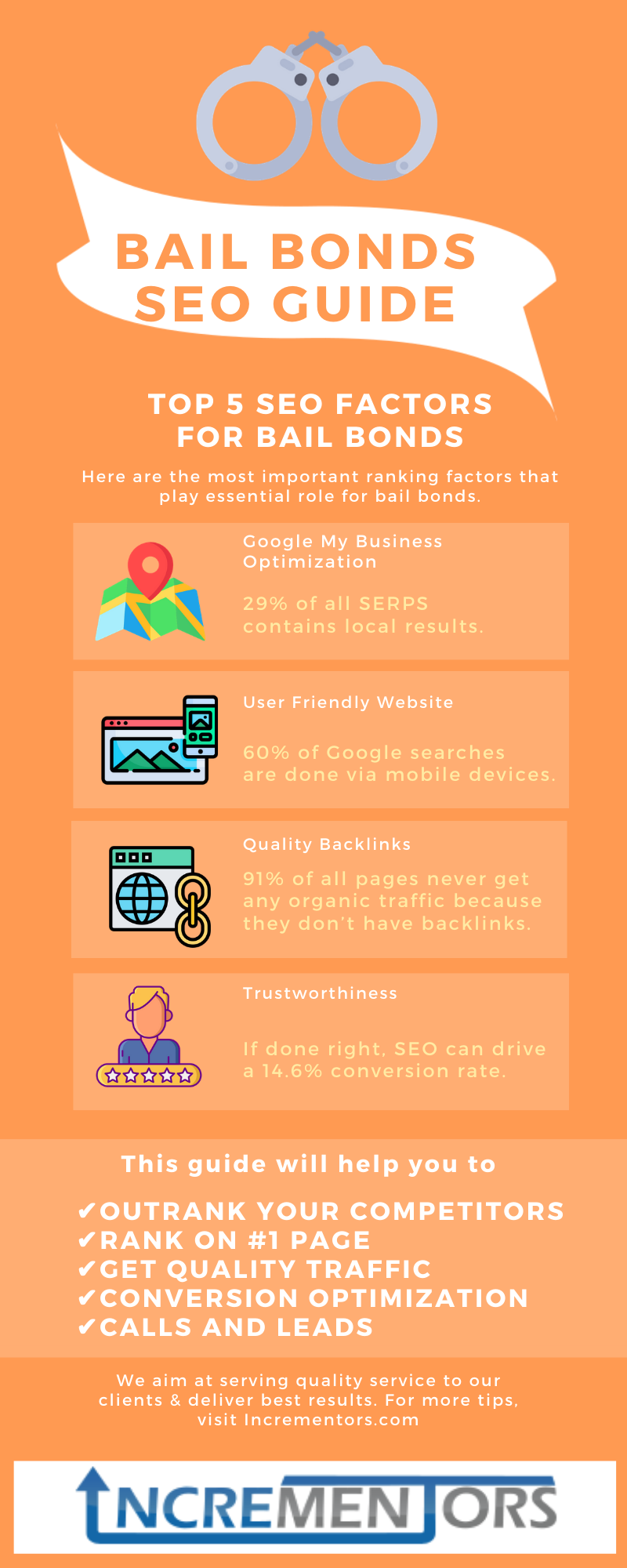 Step 1: Google My Business (GMB) Page Optimization
Google My Business is a free business listing service by Google which helps to reach and engage with local customers across Google Search and Maps. All types of local businesses can list themselves on GMB, however, it becomes imperative for Bail Bonds business to get one immediately since Google Maps contributes to a large proportion of searches in this industry. It plays a vital role with SEO and local presence. Google uses Google My Business listing details as primary database for NAP details and rate local presence based on that. By creating GMB, you are letting Google know what your business is all about, make it easier for your business to be found on Google Maps and more. One can even create GMB without having a business website
This image shows Google Map results within Google search result page that is called Google 3-Pack Listing. Any bondsman can win a huge traffic and visits at their office by pushing themselves just on Google 3-Pack Listing. Basically, Google collects all the business information and listings on Google My Business platform and then rank them accordingly.
If you don't have a GMB listing for your business then, you must go ahead and create one. Make sure to provide correct information while submitting your application. You will receive a postal code within 2 weeks at your business address to verify your ownership and presence in that address. Once you submit the code, your business listing will be verified. Make sure you choose the right business category for example "Bail bonds".
If you already have a Google My Business Page then, you should make sure the following things are aligned well:
Full address
A reachable phone number
Business description
Working hours
Links to social profiles
Images of Office from outside
360° images of the office
Business logo
Optimize your GMB listing as much as possible. It would increase the possibility of getting to the top of local 3-pack listing under bail bonds category.
<
Step 2: Make Our Site User-Friendliness
Having a user-friendly website is one of the most important things to worry about. It not just drastically increases the conversion rate of your website, reduces bounce rate and existing rate. It also improves the overall organic ranking of your website. Bail bonds are not an exception here. Customers looking for a reliable bondsman near them would land on the website and their final decision would rely on the first impression. How can you win faith and yet look good in the eyes of Google? Just follow these simple steps:
Responsive Web Design
Most of the Local Audience use mobile devices to find an agent or company in their city. In 2020, responsive web design is a must have feature for any business. It becomes terrifying for customers when they visit websites on their mobile and see odd elements, you will never get that customer making a call to your office. It is very easy to build a new responsive website these days or optimize old one with better themes and layout.
Increased Website Traffic By
+95%
Case Study
Increased Conversion Rate By
+37%
Case Study
Increased Lead Generation By
+60%
Case Study
"We measure our success by how much we WOW our clients."
Case Study
SEE HOW WE CAN HELP YOU
GROW YOUR BUSINESS
Enter your website to get started now
Fast Page Loading Speed
Page loading speed is a game changing ranking factor. In our analysis of bail bonds industry SEO, we observed that more than 80% of the websites which were ranking on the top page of Google were having very fast loading speed. You are just letting users interact within your website fast. Even Googlebot will fetch and index your web pages quite fast. To improve page speed for your business website, you can take the following steps:
Choose image dimensions and product angles wisely
Whatever you do, don't place the large size image on your website and simply shrink the dimensions via the source code. Instead, compress the image wisely and use proper alt tags.
Reduce the file size of your images
Keep your image file size below 70 kb. That can be difficult at times, especially for larger images.
Reduce the file size of your images
Use image format JPEGs
Use Content Delivery Network
Cross Browser Compatible
All the modern web browsers are good enough to read complex codes JS and display CSS. However, you should test what pages on your website look like on top web browsers like Chrome, Safari, Firefox, Opera etc. Sometimes, some webpages couldn't load properly on some browsers but works fine on others.
Test your domain and fix it today: https://try.powermapper.com/

Say No to "Page Not Found"
Page Not Found is one of the most critical on-site issues that you should fix. Customers who need help with getting their loved ones out of Jail would never wish to land on a page that shows 404 or "Page Not Found" Error. Mostly It occurs when you change the URL of a page and forget to put redirection to the new URL. You can use Screaming Frog tool to get a complete list of 404 Errors and fix them.
Quality Content
Content quality plays an essential role to let your users stay on your website or make an appointment. At the same time, it lets you gain better ranking against the competitors.
Readability
No grammatical errors
Use of easy to understand language
Structure of the content
Keyword Usage ( Keyword Proximity, Keyword Density & LSI Keywords )
You should have a blog on your website where you post regular content and updates within Law Industry or Bondsman niche.
Put Local Business Schema
Putting a local business schema will let you interact with Google in a positive way. We provide a free tool for that. Please Try it out:
Step 3: Acquire High Quality Backlinks
Building high quality backlinks is key factor to outrank your competitors. When you are in the Bail Bonds industry, you need to keep on building links from other law related blogs. There are various techniques to secure backlinks, you should try various techniques. This is how you rate the quality of a backlink:
Website must be in the same niche ( Law or Bail Bonds niche )
Domain authority should be high
A good domain age
Less spam score etc.
These are some link building techniques that we recommend:
Create Local Business Listings
When you list your business in local web directories, you not just get more exposure from those websites. You will also get better local singals and boost your Google Maps listing. Always create a listing on a website which includes your category. We would like to share some websites where you can blindfoldedly list your bail bonds business today:
List of Citation Websites For Bail Bonds
alphalegal.com
americastop100attorneys.com
attorneyslawyer.org
avvo.com
bailbond.com
bestlawyers.com
canadianlawlist.com
courthousesquare.com
dilawctory.com
fcdcorp.net
findabankruptcylawyer.com
findacriminaldefenseattorney.com
findafamilyattorney.com
findlaw.com
gaylawnet.com
hg.org
justia.com
lawfiles.net
lawfirms.com
lawguru.com
lawlink.com
lawqa.com
lawreferralconnect.com
lawyer.com
lawyercentral.com
lawyerlegion.com
lawyers.uslegal.com
lawyersdb.com
leadcounsel.org
legaldocs.com
legalfeefinancing.org
legalwebfinder.com
list-lawyers.com
listalegal.com
nolo.com
pathlegal.com
town-court.com
usaattorneys.org
wallethub.com
lawyers.com
lawyerprofiles.com
lawyerucla.com
find-a-lawyer.com
lawyer-directory.net
lawyer-map.com
lawyerfindonline.com
lawyerintl.com
lawyerintown.net
lawyerlighthouse.com
lawyerlinks.co
lawyerloops.com
lawyersattorneysusa.com
lawyerusa.org
help-lawyer.com
lawyerratingz.com
Fix Incorrect Business Listings
The process of fixing incorrect business listing is also known as fixing NAP inconsistencies. It is more important to fix all the incorrect business listings than creating new listings. There are tools like Yext & BrightLocal that will let you find all your incorrect business listing within a matter of 5 mins. You can follow these simple steps to make sure your business have perfect business listings:
Find Incorrect Business Listing
Check if you already have access to those websites
Update your business details if you already have the logins
Claim your business if you don't have access to those listings
Fix them when your access has been approved.
Create Social Media Accounts
Building a strong online presence and brand reputation comes from how active and available you are across the Internet. Creating social media accounts adds additional benefit over the current online visibility. It sends better social signals, you get customers queries from other platforms and you can interact with the audience you know better.
Article Sharing
Create more engaging articles about your locality, niche and share case studies. This process will let search engines rank you well since this is purely synthetic process of getting backlinks.
PPT/Infographic/PDF/Video Sharing
You can effectively use digital assets such as PPT, PDF, Infographics, PDFs, Videos to gain more backlinks for target keywords.
These are some websites from where you can get authoritative backlinks:
PPT Submission Websites:
http://www.powershow.com
http://www.authorstream.com
http://en.calameo.com
https://www.wattpad.com
http://www.slideworld.com
PDF Submission Websites:
https://www.edocr.com
https://www.soup.io
https://app.box.com
http://www.pearltrees.com
http://www.slidesnack.com
Video Submission Websites:
https://www.youtube.com
http://www.dailymotion.com
http://www.veoh.com
http://www.vimeo.com
http://www.myspace.com/video/user-videos
http://www.metacafe.com
Infographic Submission Websites:
https://magic.piktochart.com
https://fancy.com
https://www.thinglink.com
http://imgur.com
https://visual.ly
https://www.flickr.com/
dropshots.com
http://imgfave.com/
plurk.com
www.tumblr.com
Guest Posting
Guest posting is most popular among all the link building practices. The power of guest post links are comparatively much higher than regular backlinks. Because guest post based backlinks associate content with them. You must produce good content within your niche to start getting backlinks from guest postings.
Reach More Clients Online
When you partner with Incrementors, we'll help you earn visibility for the keywords your target audience is searching, and earn more clients for your practice.
Step 4: Improve Trustworthiness
Get SSL
You are missing a huge cake of traffic if your website is not in SSL in 2020. Google definitely counts it and other search engines too. If you search for bail bondsman near me, you will see that all the results that pops up will have secured websites. So, if you are beyond in this race you should buy an SSL from your hosting provider. It is very cheap.
Put Testimonials
Show best of your work and customer feedback to let other customers know your work. You can do it the same way, you can see some proof of our work at the end of this article.
Motivate Customers to Leave Good Reviews
For a long term business strategy need to keep improving and build strong track records. When it comes to SEO, this takes the form of Google Review or Comments on your blogs etc. You can simply send a "Thank You" email to your customer who are satisfied with the work and ask them to leave a good review with 5-Star Rating.
Case Study
We would like to demonstrate our expertise with Bail Bonds businesses.
We started working with the owner of VIP Bail Bonds & PDQ Bail Bonds in Aug 2018 till June 2019. Throughout the age of SEO campaign, we were able to drive remarkable improvements in keyword ranking and conversions. Since Google restricted advertisements on their platform, the client was struggling to get business running. He came to us with a request to start getting calls and sales for keywords like
Denver Bondsman
Denver County Bail Bonds
24 Hour Denver Bail Bonds
Arapahoe County Bail Bonds and more
When we started working on the campaign, clients only had an average of 3-5 calls and leads per day from both of their websites. Throughout the life of the campaign, we were able to deliver significant results. From nowhere, now the client is able to keep all of their employees busy and produce more work due to the smart SEO investment that he made. He hired us with hope for revival and we did it. We are very happy to show some of our results that we produced on this project:
Douglas County Bail Bonds
Jefferson County Bail Bonds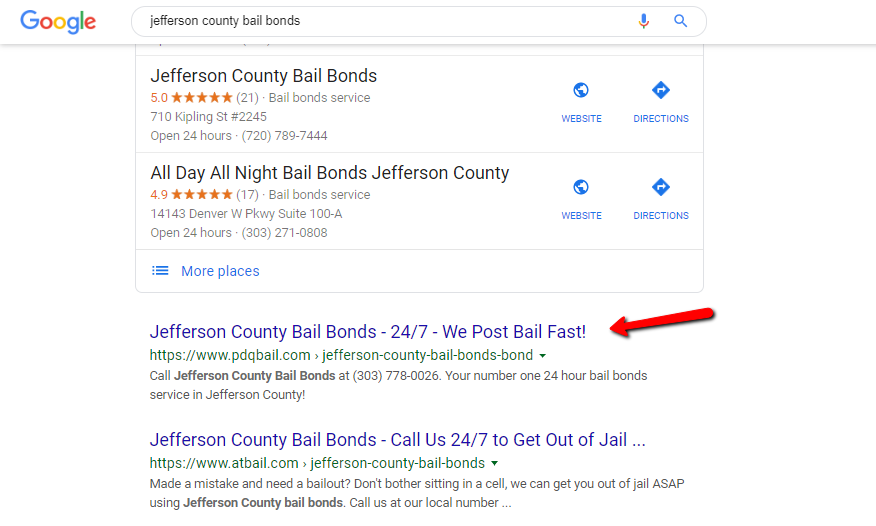 Adams County Bail Bonds
Arapahoe County Bail Bonds
Source:
https://www.blog.google/products/ads/google-bans-ads-for-bail-bonds-services/
https://www.facebook.com/business/news/restricting-ads-for-addiction-treatment-centers-and-bail-bonds