The marketing field is ever-changing. It gets updated by the time- the technology and trends are never stagnant.
That's why it is important to keep yourself updated with the new facts and data to stay ahead of the competition.
But the question here arises is, "how would you keep yourself updated and go with SEO(Search Engine Optimization) and Digital Marketing?"
Well, the best way to keep yourself updated is with data, facts and statistics. Here is the given data and statistics which would help you go with Digital Marketing.
So, let's get started!
Digital Marketing Statistics
Global Digital Marketing To Reach $786.2 B By 2026
The pandemic made people stay at home and work remotely which eventually resulted in business owners inclined towards Digital Marketing. This eventually provided so many opportunities for business owners to target their audience online with digital marketing tactics. Also, business owners are realizing that they have chances of higher returns by investing in Digital Marketing. It is going to be the future!
75% Of Marketers Claim That They Have Built Business' Trust With Digital Marketing
People buy from you when they trust you. Hence, you need to have a strong digital marketing strategy to build trust among your customers. This data is the clear proof of why you should invest in Digital Marketing.
Read More: Best Marketing Strategies To Attract Your Dream Customers
49% Of Businesses Say That Digital Marketing Gets Them The Best ROI
Of course, Digital Marketing has the potential to grow the business at the highest rate and the data is proof.
Read More: 10 Digital Marketing Myths You Should Stop Believing Now To Grow Your Business In 2023
Successful Brands In The US & UK Spend 21% Of Their Budget In Digital Marketing
The world's leading research and advisory company, Gartner, came up with these statistics in 2018. The research found that big brands spend 8.9% of their budget on digital advertising, 5.3% on paid advertising, and 7.0% on offline advertising.
The Global Digital Advertising Market Is Estimated To Reach $786.2 B By 2026
This data was published by GIA(Global Industry Analyst), the premier market research company, which released a report titled "Digital Advertising and Marketing – Global Market Trajectory & Analytics".
The US Spends Over $190 B On Digital Ads
This is more than what China, UK, Japan and Germany spend on Digital Ads.
Digital Marketing Visuals
In 2021 And 2022, 63.2% Of Businesses Highly Rely On Visual Content
Since, people are after visual content, they prefer visual content before written content. Now businesses rely highly on visual content.
Marketers Create Visual Content Mainly For Blog Posts
A research found that, marketers create 35.5% visuals for blog posts, 19.3% for Facebook, 13.9% for Instagram, 12.7% for Landing Pages, 12% for Linkedin, 6.6% for print and branding materials.
9.4% Marketers Claim That Their Marketing Strategy Is Nothing Without Visuals
52% of marketers claim that it is very important. 24.6% of marketers say it is quite important and 1.8% of marketers say it is not important at all.
40.8% Of Marketers Claim That Original Graphics Helped Them Reach Their Marketing Goals
While 23.7% of marketers say videos and presentations are highly helpful. 8.9% of marketers say that stock photos are extremely helpful.
Designs And Visual Content Is The Biggest Challenge For 23.7% Of Marketers
This is the biggest challenge because it takes time, creativity and high efforts all at once.
Read More: How To Optimize Images For Visual Search?
Content Marketing Statistics
Blog Posts With 2000+ Words Are More Likely To Rank
Some research claims that blog posts with 2000+ words are more likely to derive high SEO results.
Content Marketing Costs 62% Less Than Traditional Marketing
The fact is, it costs 62% less than traditional marketing and gives 3X many leads. Content marketing is best for building a trusting relationship.
Lead nurturing stats show that by aligning your content with your prospect's buyer journey you can increase the CRO by 72%.
Read More: The Reach, Engagement, and ROI of Content Marketing vs. Native Advertising
60% Of People Purchase Things After Reading Blog Posts About It
This data should be enough to understand why you should go with blog posting. It helps the target audience have a better understanding about the product or service which you are going to sell them.
Content Marketing Costs 41% Less Than Paid Advertising
Paid advertising which gives better visibility to the website, has been very popular among the marketers. However, marketing stats show something different, content marketing costs 41% less than paid advertisement.
78% Of Marketing Officers Sees Content Marketing As Future
Modern marketers see content marketing as the future of the industry.
SEO Data & Statistics
74% Of Organic Search Traffic Comes From Google
This is the reason why most of the business owners want to optimize their website mainly for the search engine, Google. After Google, there is Bing with 10.62% and then after that, there is Baidu with 9.75%.
Read More: Ways to Get More Organic Traffic to Your Blog and Website
The First Five Results Of Organic Search Results Get 67% Of All Clicks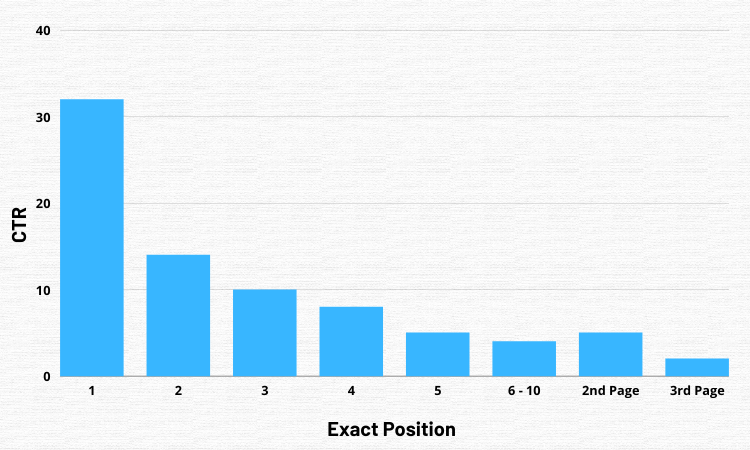 You must understand, most of the users like to click on the organic results first before the Ads. A report by CTR states that, simply paying for Google Ads is not enough because users prefer organic results before paid Ads.
Most Of The Website Get 8.1 Clicks Per Query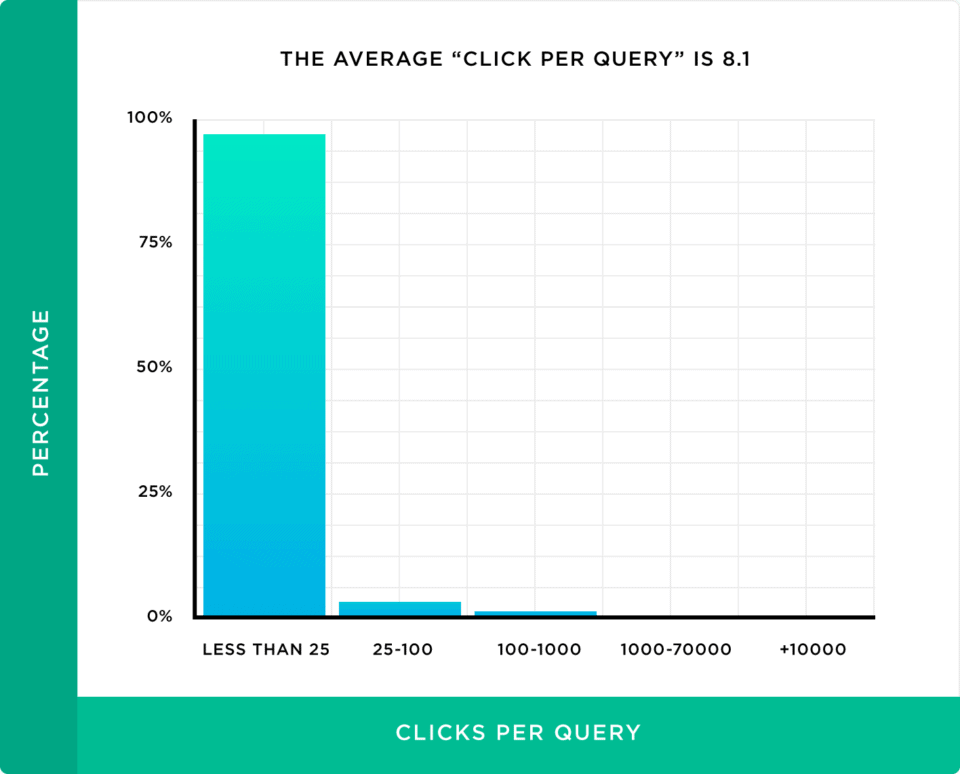 It happens due to the low number of impressions. It results in a low number of clicks, which is 8.1% of per query.
75% Of Organization Claims, SEO Is The Most Efficient Technique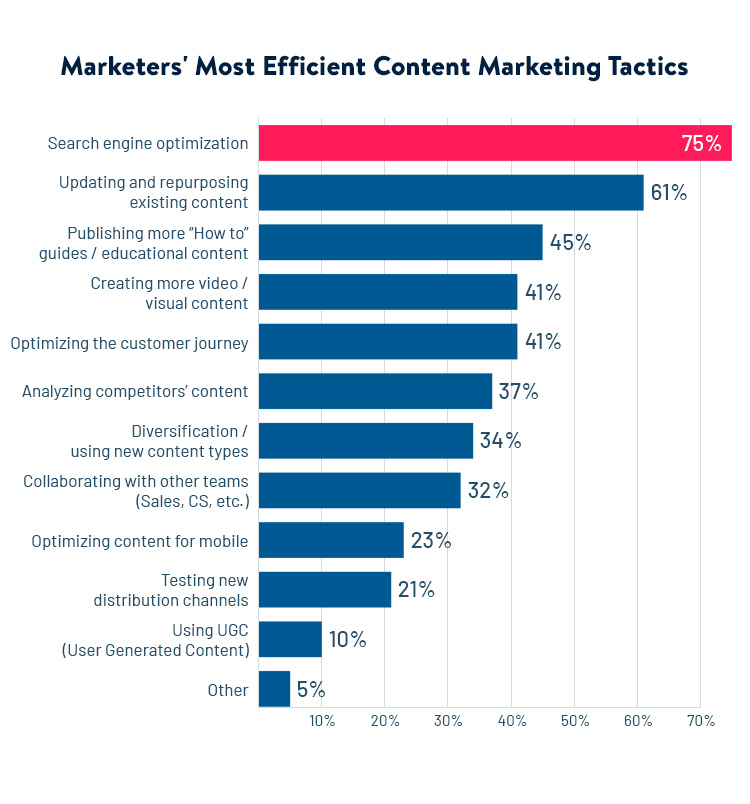 The majority of businesses believe that SEO is the most efficient marketing tactic. It provides long-lasting results. Whereas 61% of marketers believe that repurposing the content is the best technique.
25% Of Companies Invest In Mobile Optimization As SEO
Since Google is now mobile-centric and gives high priority to the mobile-optimized website, it made 25% of companies invest in Mobile Optimization.
Read More: An Introduction To Mobile SEO Best Practices
71% Of Marketers Say That Using Strategic Keywords Was Their No.1 Marketing Strategy
Since keywords are the most important element for the website and it works well with marketing strategy. 71% of the marketers use keywords strategically.
69% Of Marketers Invested In SEO In 2021
SEO has been or going to be one of the most powerful marketing tactics.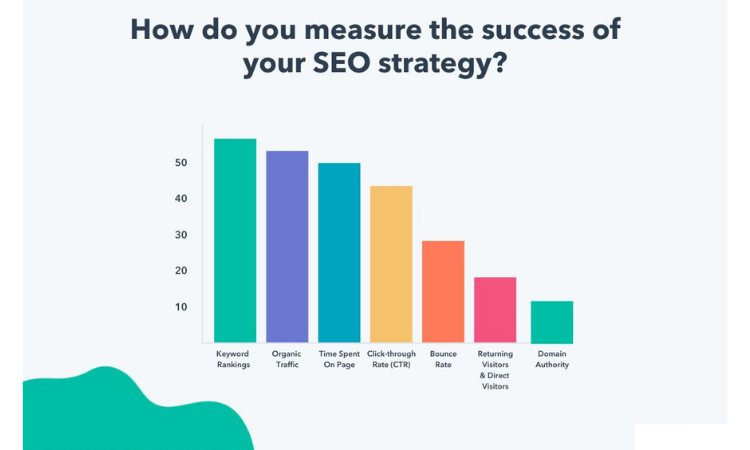 Social Media Marketing
87% Of B2B Marketers Use Social Media Marketing For Content Distribution
The content distribution can be done through youtube videos, blog posts and social media, but 87% of B2B marketers use social media for content distribution as it is easy to reach to the new audience.
Read More: Tips To Make A Successful Social Media Campaign
70% Of Users Watch Facebook Stories
In a survey of 250 users, 70% of the users claimed that they watch facebook stories more often than instagram and snapchat stories.
Read More: Facebook For Business: Everything You Need To Know In 2022
73% Of Social Media Marketers Set The Goal Of Acquiring New Customers
73% of marketers try to get new customers through social media marketing.
Facebook Is The Most Popular Social Media Platform
Facebook is used by 94% of B2B and B2C businesses.
There Are 25 M+ Brands In Instagram
People Follow Their Favorite Brands On Instagram
This is fact and the graph should be enough to convince you.
Read More: 9 Powerful Tips For Your Instagram Marketing Strategy
18 To 34 Years Old Are Highly Active On Instagram
68% Of Marketers Use Social Media Influencer In Campaign
80% of Online Consumers Make Purchases after seeing it on Social Media Ads
Pay-Per-Click Marketing
Emarketers Claims That PPC Ad Spending Will Reach Over $485.26 B In 2023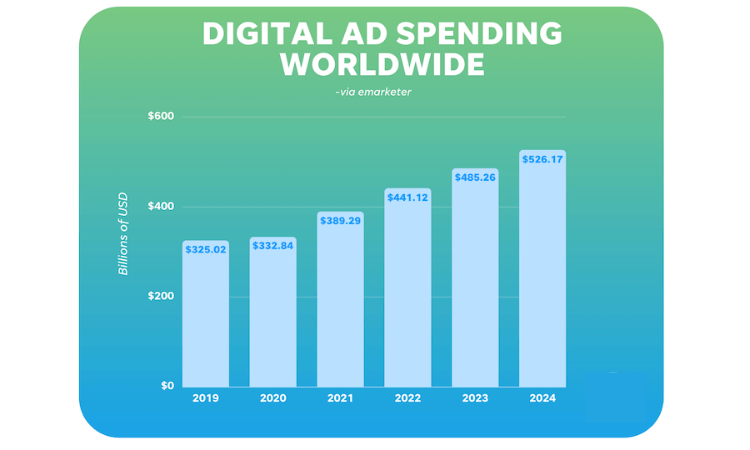 74% Of Brands Claim That PPC Is A Huge Driver For Their Business
It was stated in a survey by Hanapin Marketing in the PPC report 2019-2020, that PPC is the high revenue driver.
96% Of Brands Spend Money On Google Ads
In the survey of PPC report 2019-2020, 96% of brands accepted the fact that they spend money on Google Ads.
Read More: Is SEO a Perfect Replacement to PPC for Online Vape Shops?
Conclusion
This blog is filled with researched facts, data and statistics which are going to help you know digital marketing better.
The data shows the clear and cut facts about digital marketing. It will give an overview of the future, past and present of Digital Marketing.
For more marketing tips and services, you can schedule a free-of-cost 30-Minute Strategy session with our experts. In this call, our experts would discuss your business and provide you with the free strategies that you can use to boost your sales and revenue.