Every SEO professional understands the significance of anchor text because it plays such an important part in link building.
Also, they would agree that this is the most productive way to rank your website, but it is still a tricky job.
You see, back in the 1990s, when optimization of websites started, blackhat search engine experts did anything and everything to rank on Google.
However, with Google implementing over 200 metrics, one of which is anchor text analysis, the complexity factor has increased, and more factors are taken into account when establishing links with anchor text.
Look at the picture given below, Google uses these 7 algorithms from which Google Fred works under checking up on the link quality while others work together to rank your website.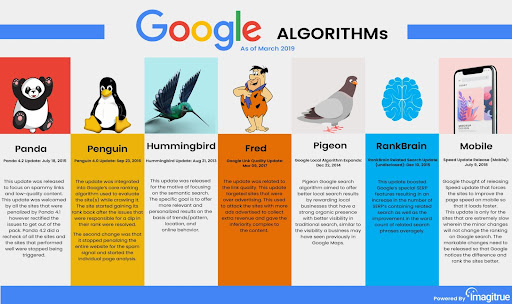 So, you see the algorithms keep on changing and Google is working on making it more user- centric.
Therefore, in this blog, I am going to provide you with an anchor text guide to help you in building backlinks.
Here, you are going to know about optimization of your website using link building strategy and stay off the Google link penalty that can cause your website to rank low.

So, let's get started with this amazing guide.
But, before we dive into the depths of Anchor text, let's first understand what anchor text is.
What Is Anchor Text?
You may find that Anchor text is used by every person online, whether consciously or unconsciously.
It might be that you have just clicked on or just hovered over a text that is mostly blue colored in a blog or webpage. This can be seen in the picture below.
This is an anchor text for your webpage's hyperlink (or just link) which would direct you to another page of the same website or a different one.
So, simply put, anchor text is a clickable text visible to your user that links two web pages.
Although this may appear to be a minor aspect of SEO, it has a significant impact on your rankings in search results done by Google. Your website could easily be penalized if it has even one backlink from an irrelevant website or a link that appears spammy to Google.
Schedule a free-of-cost 30-Minute Strategy Session with our experts.


So now, it's time for you to understand the importance of anchor text links.
Importance Of Anchor Text
Both Google Analytics and your traffic uses different types of anchor text to be directed to your website. So, you must understand the importance of anchor text for the optimization of your website.
Your anchor text helps Google crawler to easily crawl through your website while gathering information about your users frequent visits, relevant linking and other such parameters.
And if your website has a clear-cut categorized system of webpages, it would help your website to rank and get indexed within the search results.
But if Google finds unrelated, unnatural or repetitive bad links in your site's link platform, it would penalize your website. This means your website won't be visible on Google again.
As Google's Search Advocate, John Mueller in an interview said that

"Any kind of negative SEO or any kind of irrelevant backlinks, unnatural backlinks that as much as possible we're able to ignore them completely."
Now, this basically means Google ignores and blocks these bad links within your website as these are more vulnerable to be attacked by blackhat and other disturbing elements online.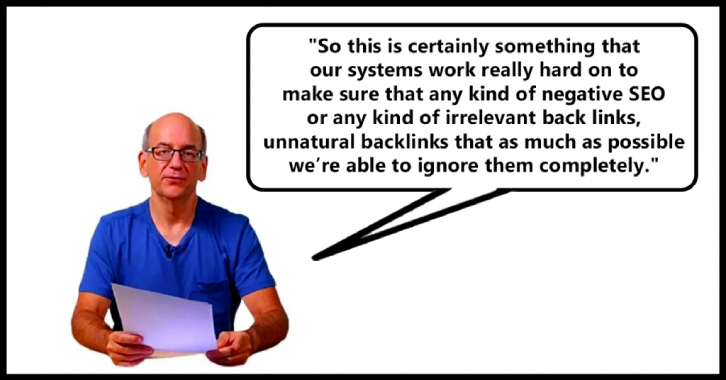 So, "it is better to be safe than sorry"
If your anchor text is unrelated to the topic on which your users are reading, it would bother them because it would disrupt their flow. This backs the importance of anchor text because your users frequent visits to your website is a metric for Google Algorithm.
So, always use relevant anchor text on your web page that:
1) Must be related to the current topic of the page.
2) The hyperlink's information must be related to the current page.
The anchor text helps your traffic to easily navigate within your website and so, avoid using any hyperlink with unrelated topics. And even using too many anchor text hyperlinks, can cause your user to feel agitated.
Your attentiveness for your users' preferences and space helps you to build the trust you need for the journey ahead in the digital market.
HTML And Anchor Text Optimization
Most external and internal links use anchor text that connects your website.
Now, as anchor text links provide you with traffic, they should have,

A) Low keyword density (few words),
B) To-the-point face value (clear in what the webpage would give your user), and
C) Relevancy of the topic (Anchor text should be relevant to both, the source page and the targeted web page)
It's ideal to have all such functions when you are performing anchor text SEO, as it would help Google to easily navigate your website.
But more than this, it gives your link uniqueness when Google runs its diagnosis within your website, and keeping the Google algorithm happy is a necessity. Right?
Now, In case you don't know how to put a hyperlink in your anchor text, look at this ahrefs anchor texting,

From the above pictures, Pic 1 shows the anchor text used: "keywords" and Pic 2 shows hyperlink that is attached to the anchor text within the source code of a webpage: "http://ahr…."
Let's understand the example of an anchor tag, its elements and the working of HTML anchor text code,

<a href="http://www.incrementors.com">Incrementors SEO Services</a>
In this code the necessary elements are:
Anchor element tag: <a href=""> (opening tag) and </a> (closing tag),
Target link: "http://www.incrementors.com", and
Anchor text: "Incrementors SEO Services"
Using these components in your backend html codes, the result would be: Incrementors SEO Services
Now, as we understand the importance of anchor text attributes in coding, we can study examples of anchor text and its different types. Let's get started.
Types and Examples of anchor text
With years of evolution in the digital world, SEOs worked hard to provide us with any and every anchor text that could be available or used today.
Here, is a list of types of Anchor links that are used by websites whether it be within the website or the backlinks
A) Exact Match Anchor Text
When you use the page's exact targeted keywords to rank for an anchor, this is an exact match anchor text.
Example: Look at the images below for proper references.
You see, Pic1 shows the anchor text on a page and Pic2 shows a new webpage which has exactly the same keywords that were used as the anchor text in the previous one.
B) Partial Match Anchor Text
When you put extra keywords or only some part of your targeted keyword, this is your partial match anchor text.
Example:
If I use "Anchor Text Guide" as my anchor text for this page
C) Phrase Match Anchor Text
Phrase Match Anchor Text, also known as Keyword variations or LSI Anchor Text is basically a variation of phrase you want to rank for. It contains your targeted keyword amongst other keywords related phrases.
Example:
If you want to use Anchor Text for a hyperlink on the topic "What is bounce rate?"
The Anchor text could be, "What is a bounce rate in SEO", "What is bounce rate in Google Analytics" and any of the other most searched keywords shown in the picture below.
D) Branded Anchor Text
When you use your brand name within your anchor text, this is brand anchor text. Look at the picture given below
Example:
My company's brand name, Incrementors, has been used here as a anchor text "Incrementors SEO Platform"
E) Naked Anchor Text
The anchor text which is the exact URL of a webpage and is directly used as such, shows naked anchor texting.
Though, this is a less popular method of employing text because it can appear awkward in the middle of a paragraph.
Example:
If you use your hyperlink or URL as such like this www.xyzpqr.com as anchor text.
F) Generic Anchor Text
This is essential Call To Action text that compels your user to jump to the targeted webpage.
Many of the websites are preferring these nowadays, so it's practically impossible to know what to expect as a generic anchor text.
Example:
"Info", "hurry", "learn more", "For more information", and "this page" are some examples of such anchor text.
G) Images Anchor Text
Every business, nowadays, produces their own images within their content, so that they don't get caught in the copyrighted works. So, using image anchor text is similar to using call to action text discussed before.
In Images anchor text, you basically use the image as an anchor text.
Example:
The ads on a webpage work as an anchor text to direct your user to the targeted hyperlink when clicked.
Anchor text is a component of wonder within a website and with different types, you can choose anyone as per your preference.
Also, the picture given below shows how much in-depth anchor text distribution needs to be applied within a web page of your website.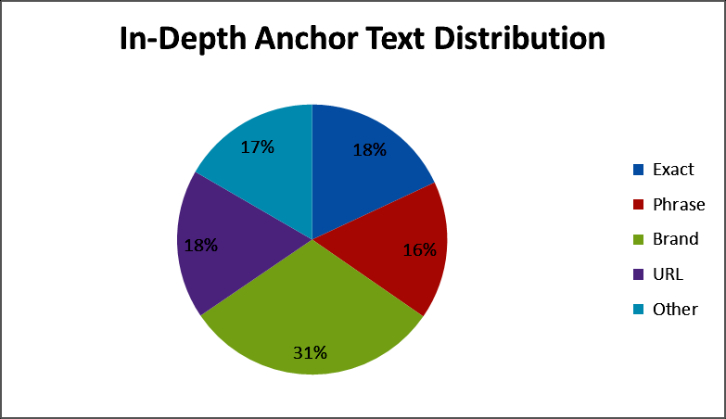 As anchor text optimization helps you, your users and Google Analytics to navigate within your website for respective purposes.
What Impact Does Anchor Text Have On SEO?
Google employs the anchor text to find out which web pages are about what, so that Google can rank the websites properly.
When Google was initially proposed, an entire portion of their white paper was dedicated to anchor text:
"The text of links is treated in a special way in our search engine. Most search engines associate the text of a link with the page that the link is on. In addition, we associate it with the page the link points to."
Anchor text gives the most objective description of a link than the pages can provide themselves through metadata.
Anchor text for backlinks should come from unbiased third-party sources.
Prior to 2012, marketers fooled Google algorithms by using a lot of exact match anchor keywords.
Even if your site isn't relevant to the content of the anchor text, having a lot of keyword-rich anchors that lead to your site would help you rank first for your goal keywords.
How To Optimize Anchor Text?
The current advice for anchor text optimization is based on Google's recommended practices for ranking on Google.
Google's BERT upgrade, which employs natural language to better comprehend and rank sites, was introduced in 2019.
This suggests that Google is paying more attention to the context hints provided surrounding the anchor text rather than simply the anchor text itself.
As it seeks to give consumers with the proper answers to search queries, this puts user experience at the center of its thinking.
Here are some things that you can do right now to optimize the anchor text:

1) Don't connect to or earn links from sites:
Google is just as interested in which sites you link to as it is in which sites connect to you. You would be penalized if you link to a site that distributes wrong information or engages in spamming behaviors, unless you make the link a no-follow link.
2) Make sure your anchor text is appropriate:
Relevancy is critical, and Google considers if the terms being used offer value to user searches. Always use anchors that make sense and are related to your service.
3) Internal linking should avoid keyword-rich anchors:
Because Google knows you're in charge of your keywords, they'll assume you're trying to manipulate ranks if you use a lot of exact match anchors. Add generic, long-tail, and relevant anchors to your internal link profile.
4) Pay attention to what you're saying:
Make sure the information around the anchor text is written in natural language, as Google's algorithms would look at paragraphs and phrases to determine where you are going to get ranked.
5) Keep an eye on your ALT tags for images:
All of your photos should contain ALT tags, which would aid in the support of images that are utilized as links.
6) Maintain Guest Blogging:
Guest blogging should continue to be a component of your link-building and anchor-building strategy.
Getting a link from a site that Google considers authoritative and has well-optimized anchor text would help your rankings rise.
Types Of Files For Anchor Text Optimization
You are much aware now that anchor text works as a bridge between two different web pages online.
But do you know?
That anchor text can also be used to link a web page with
1) Other pages that exist within your website.
2) web pages that are on different websites
3) Using anchor links to connect an on-cloud document such as pdf files, doc files, etc.
Here, different types of files that can be used for optimizing your website are given. You have to keep checking whether your backlinks or links of your website are not turned into bad links.
Bonus Tip
Softwares For Anchor Link Analysis
Some of the hot shot softwares that you can use for checking out your anchor links are:
A) Google Search Console
This is a free tool by Google that collects data from your website for search engine optimization purposes but only provides basic data of your website.
You have to login with your Google account. Once you are in, find the Google Feature "Fetch" in the "Crawl" section of Google Webmaster Tools as shown in the picture below.
You have to submit the URL in the "Fetch and render" section and now, you have to wait for it to be analyzed which may take some time.
When it's done you can check your responses and results as per your requirement.
B) SEO Moz

This is an open site explorer which means it is an openly acknowledged search engine.
You can check your link against your competitors with just a free login. It can pull up to 1,000 links for analysis beyond that which requires payment. Anchor text analysis is available along with the ability to export to Excel is built-in.
Though basic linking data is free and for an increased number of data such as links and keywords, the Pro version is paid monthly and yearly starting from $99.
There are many more free and paid tools to analyze your anchor links such as Ahrefs, Bing Webmaster Tools
Conclusion
The last two decades has seen evolutionary changes whether discovering new components within a website like anchor text or improved algorithms by Google ranking Systems to analyze websites online.
Your website's requirement for recognition is due to its relevance to user query and so, Google's algorithm serves the purpose of providing highly relevant solutions to its users.
Your business needs visibility. This is why anchor text optimization is used for hyperlinks. An anchor text gives you information about targeted hyperlinks which helps both user and search browser.
Now, anchor texts and backlinks are your preferable route to get that visibility by using these internally and externally for a better user experience using different features and types as per your need.
For more marketing tips and services, you can schedule a free-of-cost 30-Minute Strategy session with our experts. In this call, our experts would discuss your problems and provide you with the free strategies that you can use to boost your sales and revenue.