In today's world, where almost every business is running after digital marketing, SEO and lead generation started going hand in hand.
This creates an urge to go with powerful lead-generating SEO Strategies. And, here comes the most part of SEO i.e., Lead Generation From SEO.
And if you are eager to generate leads from SEO, you will have to ensure that your page ranks higher on SERP. After all, 67% of the clicks get the top 5 search results.
Can you imagine how tough the competition is getting?

And if you are not able to place your web page in the top 5 places, how would you be able to generate leads?
Right?
No worries! This is exactly where Search Engine Optimization works. By optimizing your web pages for SEO, you will easily be able to get a higher rate of clicks or even generate leads.
Want to know how?
In this blog, you are going to learn how to generate leads through SEO.
But before we move further, let's learn what SEO lead generation is.
What Is SEO Lead Generation?
SEO Lead Generation is a process of creating appealing and actionable blogs relevant to your target audience and then capturing their contact information and nurturing them as leads.
Some webmasters create SEO Strategies and generate backlinks for their website to boost their online visibility and then, they give an untenable lead magnet. Together all these things lead to business.
How To Generate Leads From SEO?
Generating leads from SEO is a whole process, from getting customers to read your blogs to become leads. It's a whole setup process that is divided into phases.
You need to understand. In order to make a blog reader become a lead, you need to create the phases of the whole process.
Let's understand the phases:
So, these are the phases of SEO Lead Generation that you need to make your users go through.
Now, let's discuss each of them.
Target The Right Audience With Keywords
Targeting the right keywords as per your niche and target audience is the first thing that you do before you make the website visitors your leads.
Because you generate keywords to create appealing content for your target audience. And when your target audience finds the content helpful, they do convert.
So, choose your keywords wisely.
Here in the image given below, I have tried to show you how many types of keywords are used in content
This is how the keyword intent goes and you need to make sure your content also follows the same keyword intent.
Get visitors to your website with the Informational Keywords. Give them information about the content. And when they are informative enough, they are keen to buy your product and services.
Such keywords are in the range of transactional like 'buy' or 'service' or 'service cost'. Such keywords represent that your target audience is in the phase of the transaction. He may have an intention of purchasing.
Let me elaborate on the point with the help of an example:

Let's say, you have a business selling cars and you also have a website and you wish to rank your website when the target audience searches for the particular keyword relevant to your niche.
If a searcher is searching with the keyword, 'chevrolet cars' then the searcher might want to get the details of new cars from the same brand. If the searcher is searching with a keyword, 'Chevrolet Cars Price' then he might be comparing the car Price and has an intention to buy.
If the searcher is searching with the keyword, "best place to buy chevrolet cars in new york". This reflects a strong sign of purchasing intent. Such keywords show the user is genuinely interested in purchasing.
Of Course when you have clearly understood the keyword intent, you need to find out what your target market is searching for regarding your products and services.
Ask yourself, "What My Target Audience Is Searching For?"
Though it may seem easy to you, you should not forget the fact given by Ahrefs, More than 90% of keywords don't even get more than 10 monthly searches.
So, basically, you need to get your target keywords from the remaining 10% of the keywords which is not going to be as easy as it may seem.
You may take any keyword and write content on them and get the top position in SERP in that keyword. But if nobody is searching for that particular keyword, you will not get any visitors and nobody will see your content.
Then, you can get keywords with high search volume and low competition or whose competition is manageable.
Then, it raises the question, "how would you find such keywords?"
Digital Marketing Expert says, Keyword Relevance is one of the most important things and high search volume is the second most important thing. By using a fine keyword research tool you can satisfy both of your needs regarding your keyword research.
Try Ahrefs, for example.
You can go through the guide by clicking on the link if you are eager to know how to use Ahrefs.
Read More: Ahrefs Guide: The Most Comprehensive Guide Available on the Internet
Or else, you can also use other keyword research tools like SEMrush, Ubersuggest, Moz, etc. Many other tools are also available out there on the Internet.
Read More: 11 Best Keyword Research Tools In 2022
Satisfy The Search Intent
Satisfying the search intent is the second most important thing after keyword research. It results mainly both in building high authority and getting more and more visitors to your website.
The more high-quality content you create, the more authority it conveys and at last convert those visitors into leads.
There is one more thing that you need to understand. There is a reason why users keep on going back to Google for their queries. Google gets the best page results for the search query of its users. This is what makes it the best Search Engine.
You also will have to keep up with that in order to rank on Google. If your content satisfies the user query and gives relevant answers to the user's keyword then Google will surely rank it higher.
To measure the quality of the content, Google keeps an eye on two things: how many backlinks a site has and the second is, how long a visitor remains on a page. The more a visitor spends time on a page, the more it represents user-friendly content.
Because, Google's main goal is to provide a relevant page to the user's query.
And this is exactly where the search intent comes in. when you actually satisfy the search intent, visitors remain on your page for a long time which sends a signal to Google that they have found what they were searching for.
And hence Google shows it to more people by ranking it higher in SERP.
You can easily satisfy the search query intent by creating the best piece of content that answers the question of the user.
It Would Require You Do Some Things:
Take care of users by answering them clearly and concisely.
Engage the reader by giving them a new idea, appealing images, and facts & figures.
Give them practical and applicable tips which they can use in real life.
Following these 3 tips will not only get your visitors to take action immediately but also create your unique identity as an authentic source.
Read More: A Complete Guide To Search Intent SEO
Create Valuable Content
So, now you have clearly understood what kind of keywords you need to put in. It's time you understand how to create content that is helpful for your audience and solves their problem.
As per the reports of Databox, 40% of SEO Experts say that companies under-invest in quality content.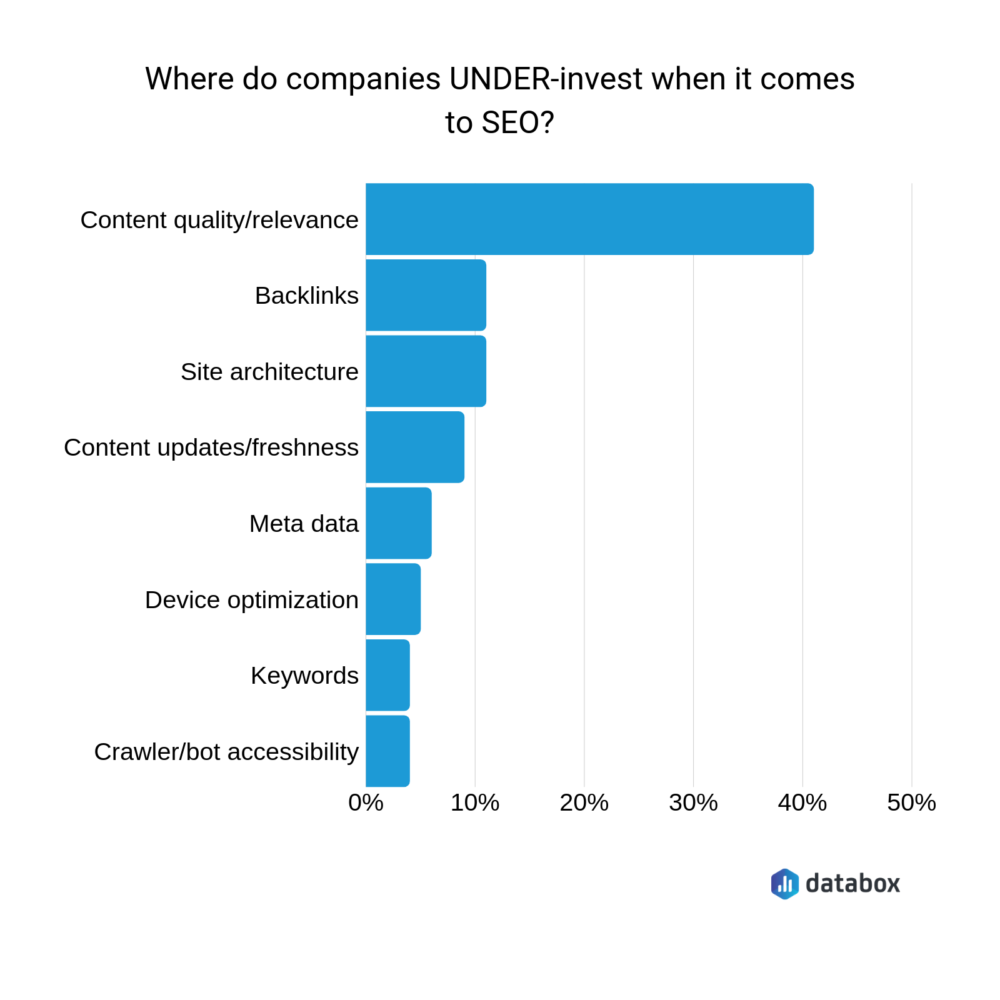 You don't need to be one of them. Quality content does matter.
The problem-solving high quality content makes the user stay longer and makes your content get higher rankings on Google.
See the Google guideline below:
As you must have seen in the image above what Google says, Thin content may suffer in SERP, because that doesn't provide enough value to the readers and differentiates your web page with other web pages.
And of course, when you don't satisfy the user and answer him properly by providing valuable content, it might make your site fall down in rankings.
So, now you must have understood what kind of content Google wants to see from your side.
Beside this, If you take even your example, you only want to visit the website that solves your problem first rather than just trying to sell you directly.
So, create valuable content that solves the problems of the user and get them as your SEO Leads.
Even if you are not sure about how to write such content, click on the link and get to know the whole process about how to write a valuable content or blog.
Read More: Step-by-Step Content Creation Guide [Writing to Publishing Content Successfully]
Generate Backlinks
And the correlation is clear over here:
More backlinks = more traffic = more leads
When you get to know that top results on Google get 320% more backlinks than other blogs, then the correlation must be clear to you.
The more backlinks your page has, the better it is.
Backlinks from high DA websites will help your page rank on Google. Just the opposite, if you get links from spammy websites can negatively impact your page: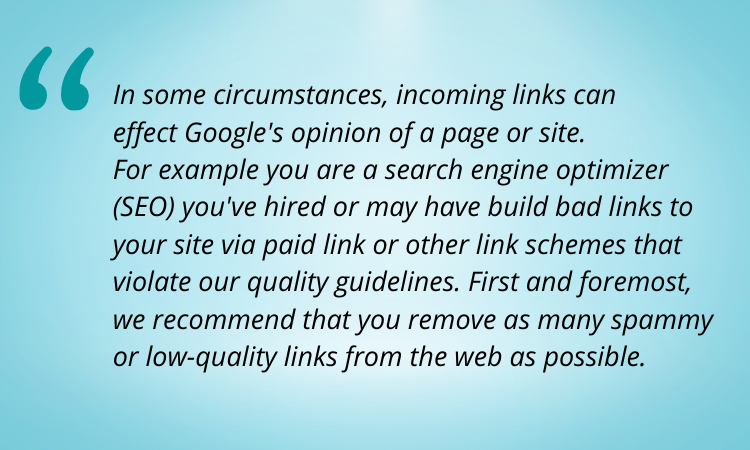 Click on the link below to get to know how to generate backlinks.
Read More: Anchor Text: An Ultimate Guide About Building Backlinks
Offer An Undeniable Lead Magnet
So, you have created a smart strategy to get traffic to your website. You have understood the intent of your audience and created high-valuable content.
After you follow all the steps above, it's the right time to collect their contact information by giving them an undeniable lead magnet.
It's important to make them fall down into your funnel and build relationships with your customers.
Create lead magnet relevant to your content which are ranking best on Google.
Let me show you an example of Lead Magnet
See, I have given a book pdf to my visitors and I am getting their contact information in exchange for that. This is my lead magnet.
They will only be able to get this if they provide me their contact info. and make sure your lead magnet is valuable. It must have some useful content for your target audience.
Your lead magnet must make them think, "If their free service is this valuable, then how about their paid service?"
Lead magnet is like a free trial of your paid services.
And of course, the lead magnet must be relevant to the niche of your target customers.
And this is exactly what I have done.
My target audience is business owners who are in need for growth so I have created such a lead magnet.
Just imagine, how many SEO leads I must have got till now.
If you want to know more about lead magnet, you can click on the link below
Read More: Lead Magnet Ideas To Convert Traffic Into Leads
Nurture The SEO Leads
Then comes the last part of the process, nurturing the leads. The goal of nurturing the leads is to move them through your sales funnel and let them make purchases.
Let's look at all the steps given below:
i. Qualify The Leads: You must have created a buyer persona for your business. Check out if the leads you have generated matches with your buyer persona. Find out how closely the information that they have provided matches with your buyer persona.
Ii. Contact Your Leads: You can use personalized mails to contact your leads and learn about the pain points they are trying to solve and see if your product or service can help them.
Iii. Follow Up Occasionally: Remind them occasionally about your brand (eg: 3 times in a week). Remind them how your product or service can help them solve their problems or pain points and try to meet their needs.
SEO Lead Generation Funnel
Above we have discussed the whole process of lead generation. From finding the right keyword to nurturing the leads, we have properly discussed all the phases of SEO Lead Generation.
Here I am providing you with a SEO Lead Generation funnel which is important to give you clarity about how leads are generated.
Bonus Tip
SEO Lead Generation Tool
I would like to suggest a tool for SEO Lead generation, SEO audit. With the help of the tool you can get more subscriptions to your email list, acquire qualified leads, get notification of new leads and many more things and so much more. 
You can avail the 14-days free trial and then take a package as per your requirements. The package starts from $19 per month, $29 per month and the last package is $39 per month.
Conclusion
We have discussed the whole process of SEO Lead Generation. Each & every step is important in order to convert your website visitors into leads. Later I went on discussing the lead generation funnel.
And of course, it is a vital component for a successful sales strategy and to capture more and better leads you need to follow the funnel.
For more marketing tips and services, you can schedule a free-of-cost 30-Minute Strategy session with our experts. In this call, our experts would discuss your business and provide you with the free strategies that you can use to boost your sales and revenue.