Every marketer today is curious about marketing automation, but are often unsure which options are appropriate for their businesses.
Many of you have already achieved content marketing strategy or email marketing through marketing automation tools which are algorithm-oriented.
Now, the plus point is that these tools keep on revising themselves to produce a strategy that is customized to your company's futuristic goals.
You may have used tools such as Ahrefs for keyword research, competitor analysis and other optimizing features for your content which are based on the algorithm of the search engines you have been using.
So, you get the gist of what automation would do for your company.
For example:
Marketing Automation Tools provide you with automation of regular emails services to customers, social media updates for engagement, check customer's smooth journey, provide successful campaign Ads and some even provide you with link building automation too such as Ahrefs, Hubspot.
With all of these tasks usually accomplished by human resources, you must first recognize the value of marketing automation tools before deciding which one is best for your company at the current stage of growth.
Let's start with why marketing automation is important for your business.
Importance of Marketing Automation Tools
Started two decades ago, the marketing automation industry serves as a handy worker providing software and tools that understands the algorithms of the search engine as per Google Panda and other metrics used by it.
This is done to automate various repeated processes such as Data Analysis And Reporting by feeding the continuous and repetitive information to digital automation tools that form the right algorithms for your brand.
Another such process is Identifying Clients where your clients are ready to buy or in the process of making that call to start a transactional or query-based relationship. This definitely solves the dilemma of why automation is important.
The marketing automation platforms such as maketo, customer.io provides marketing automation tools and softwares to automate this prospecting, selecting and nurturing process.
Basically, this is automating steps to attract prospects so that your sales agents or team reps may approach them directly and achieve your company's goal of closing a deal.
Marketing automation for small business helps in accomplishing various SEO techniques methodically and accomplish sizable tasks within minutes while nurturing your company's buyer-seller relationship with your customers.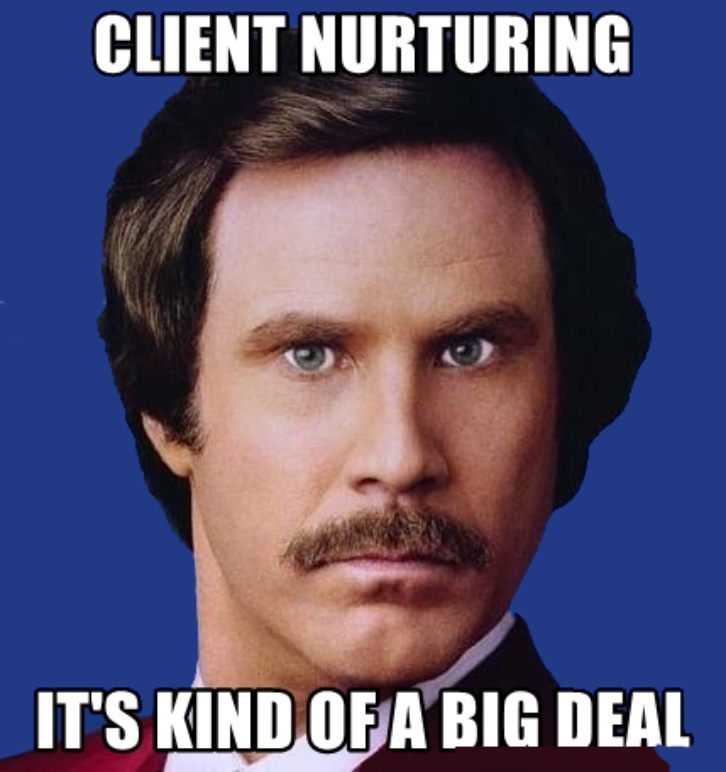 Automation systems basically collect this data so that your reps and team can use marketing approaches and tools to guide their decisions afterwards.
This answers your basic question of "what is marketing automation", so now let's get to know how it is important for your company's time, money and efforts:
A. It provides 'Accurate Data And Analysis'
B. It 'Saves Time And Increase Productivity'
C. It gives 'Personalized Response To Customers' and maintain further nurturing
D. It sets 'Campaigns On Multiple marketing automation platforms" for visibility through advertisements, postings and other means
E. It has only 'One Goal To Achieve: Ranking And Business Growth'
Now, with these points, you have a clear opportunity and would want to know which of the ecommerce marketing automation software are trustworthy in the market and reliable for your company.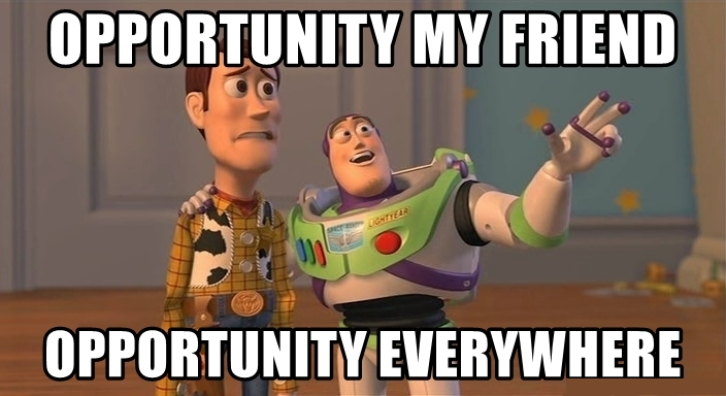 But with too many companies in the marketing arena you have to be informed because
"Almost 50% of organizations started using their platform for the first time within the last 4 years."

– estimated by Demand Spring within the Marketing Automation Platform Insights in 2021.
The above statistic is true as some of the tools and softwares are marketing automation examples which are a decade old and their foundations were laid two decades back.
So, you have to choose from a great deal of features, information and suggestions. In this blog I have provided you with 9 ecommerce marketing automation tools with enough info to choose from, so as to decide which Digital Marketing Company Can Be A Game-Changer For Your Business and help you to achieve your targeted traffic.
So, Let's dive in.
Marketing Automation Tools
There are many tools in the market today. Some even have specific highlighted features such as being the best email marketing automation software, having social media automation features, Advertising Automation, Customer Relation Automation (CRM) and various other features.
Some others like Hubspot have an all-in-one marketing automation strategy that provides a collection of every other SEO feature that your website requires to rank and get organic traffic
Let's get started with these marketing automation tools.
EngageBay
Launched:
2017
Founder:
Sreedhar Ambati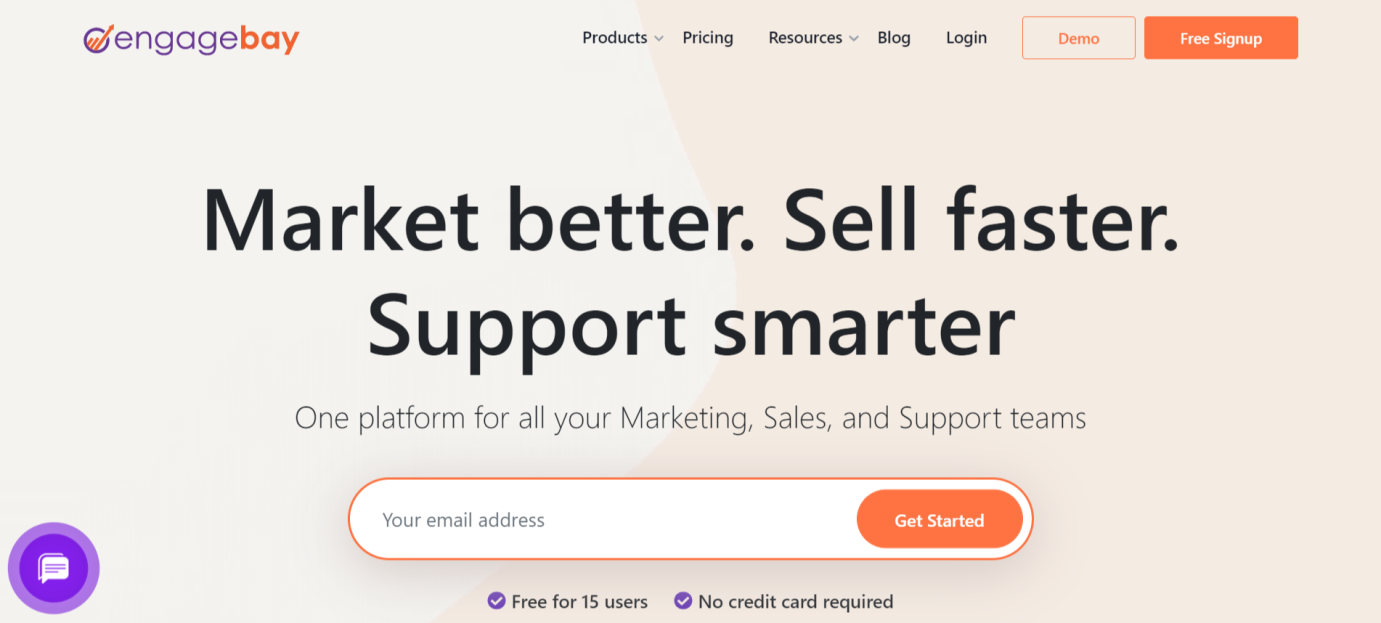 About Company:
EngageBay is a powerful marketing automation software with an all-in-one marketing, sales and service automation platform. The marketing automation suite helps you save time, nurture your audience and automate routine, manual tasks. With the free CRM and sales automation, you can organize all your email contacts, track deals and the sales pipeline to grow your sales.
The software provides a seamless experience for customers of small and mid-sized real estate agencies. This diverse package of solutions includes marketing automation, sales bay, live chat and helpdesk.
EngageBay makes it possible to automate manual tasks, track deals and sales pipeline, provide real-time assistance that easily converts visitors into customers and prioritize and solve customer support inquiries.
Major Automation Feature: Marketing Automation
Other features:
Email Marketing
Email Sequences
Landing Pages
Web Forms
SMS Marketing
Inbound Marketing
Site Messaging
Push Notifications
Contact Segmentation
Email Templates
Bulk SMS Marketing
Good For: Small And Medium Sized Businesses (SMB)
Price: Free plan available, basic $14.99, Growth $49.99, Pro $99.99.
Alternatives: HubSpot, Keap (Formerly Infusionsoft)
Website: https://www.engagebay.com/
Sendinblue
Launched:
2013
Founders:
Armand Thiberge & Kapil Sharma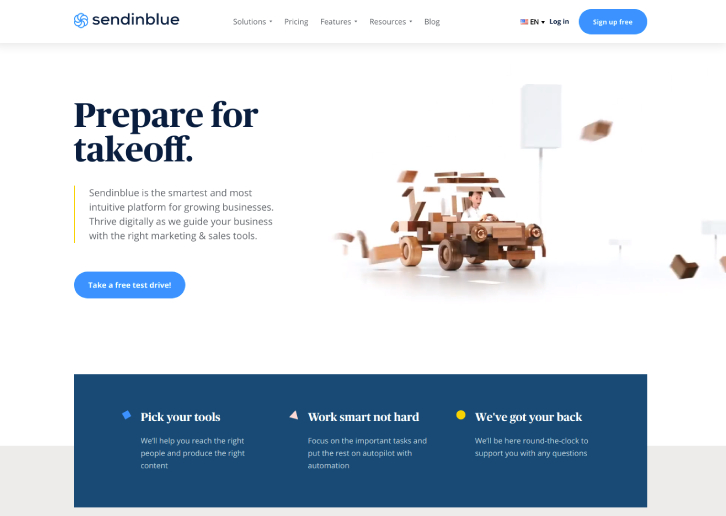 About Company:
Initially a digital agency, SendInBlue, evolved to build one of the most powerful and best email marketing automation software in the digital market today.
It is well-liked by start-ups and small business owners as their services have helped small companies to grow by building a good count of organic traffic that stays.
Major Automation Feature: Email marketing automation
Other features:
1 Reporting
2 Lead Scoring
3 Landing Pages
4 Customizable CTAs
5 SMS campaigns
6 Transaction-based emails
Good For: Small And Medium Sized Businesses (SMB)
Price: Free plan available, Premium Plan starts at $25/month.
Alternatives: GetResponse or AWeber.
Website: https://www.sendinblue.com/
Constant Contact
Launched
2004 (present name), 2014 (Toolkit made for all-in-one ecommerce marketing automation)
Founder:
Gail F. Goodman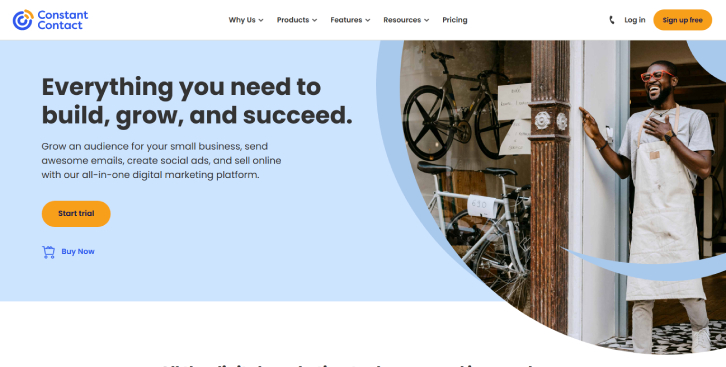 About Company:
In business for over 25 years, for ConstantContact its name says it all.
Yes, that is it builds a relationship between the brand and its customers while nurturing the leads too.
This tool, though a bit outdated, is still capable of engaging customers and reaching audiences through email automated marketing and therefore, is considered a high performing tool and one of best email marketing automation software.
But if you want to expand into the automation arena, this is not the tool for you.
Major Automation Feature: Email Marketing Automation

Other features:
2 Website Builder
3 Analyzing Marketing Campaigns
4 A/B testing
5 Popularity among US population (87% engagement)
Good For: Small Business Owner
Price: Basic Plan starts at $45/month
Alternatives: GetResponse, Moosend, Hubspot
Website: https://www.constantcontact.com/
Customer.Io
Launched:
2012
Founder:
Colin Nederkoorn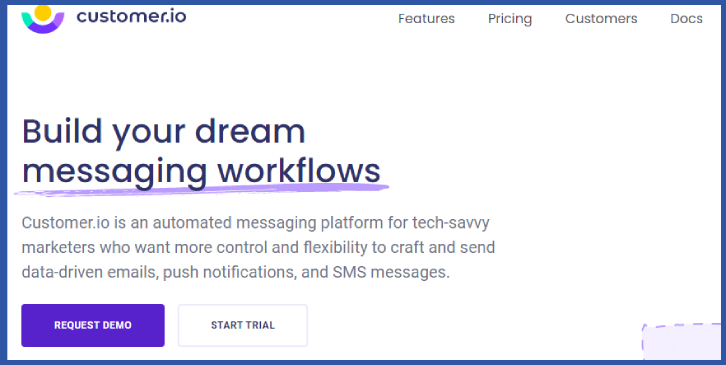 About Company:
Newbies in the digital marketing field, Customer.io has a 5-star review on Google reviews and has been growing very quickly. Their point of focus is customers.
Customer.io allows you to design behavioural and transactional campaigns according to your customer's demands by analyzing how they are interacting with your product.
The tool within cutomer.io uses this data to create sophisticated and customised triggered messages to keep your customers engaged. So, it is considered the best email marketing automation software if you are considering email list building tools.
Look at the image below that shows the companies such as shutterstock, reddit, CareGuide and others.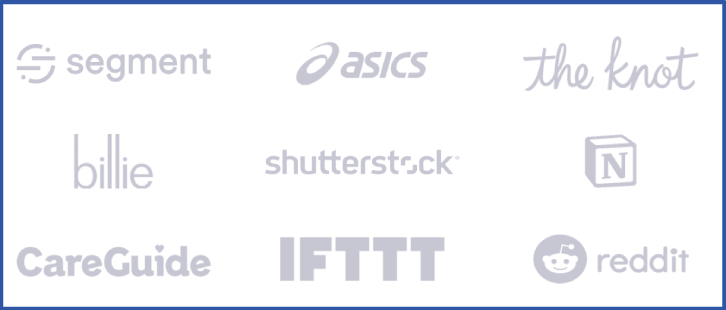 Major Automation Feature: Automated Message Campaign

Other features:
1 It has a lightweight UI, thats is easy-to-handle interface
3 Personal Customer & Technical Services Support
4 Automated Ad Audiences
Good For: Enterprises And Small Businesses
Price: 14- days trial, starting $150 and can reach more than $1,000 according to the product and services.
Alternatives: Iterable, Braze, Sendinblue.
Website: https://customer.io/
LeadSquared
Launched:
2011
Founder:
Sudhakar Gorti
About Company:
Bangalore based-software company, Leadsquared is a startup that is involved in marketing automation and sales execution.
It first and foremost works on Lead nurturing of the sales process and manages your marketing funnel by automating drip marketing basically so that not even a single lead slides through.
Lastly companies such as Olx, Godrej, practo use their managerial softwares proving it tot be a trustworthy tool as shown in the picture below.

Major Automation Feature: End-To-End Marketing automation
Other features:
1 Sales Customer Relationship Management (CRM)
2 Reporting And Analytics
3 Core System Integration
4 Lead Managements
5 Email & Landing Page Builder
Good For: Small Businesses and Enterprises
Price: 15-day free trial, Plans starts from $300 and goes upto $2000 per month
Alternatives: MobileMonkey, Klaviyo
Website: https://www.leadsquared.com/
Eloqua (by Oracle)
Launched:
1999
Founder:
Phil Fernandez, Jon Miller and David Morandi
About Company:
The Eloqua by Oracle is one of the most expensive marketing automation platforms today that provides an all-in-one marketing automation strategy.
Now, being high priced it is better suited for businesses and organizations such as CISCO, Panasonic, Victoria University as shown in the picture below.

Being a "best-in-class B2B marketing automation solution" it is the best ecommerce marketing automation solution that includes adaptable Campaigns, lead management and generation, "real-time firmographic" data and sales tools for integration.
Major Automation Feature: Marketing Automation
Other features:
1 Organizing Campaigns
2 Targeting and Leads management.
3 Team Management
4 Sales and marketing alignment.
Good For: B2B Marketers and Organizations
Price: Started At $2,000
Alternatives: Marketo, Pardot.
Website: https://www.oracle.com/in/cx/marketing/automation/
Keap (Formerly Infusionsoft)
Launched:
2001, 2019 (name changed to Keap)
Founder:
Scott and Eric Martineau
About Company:
Formerly Infusionsoft, Keap supports prospecting and client management during and after a sale. This is a finance management company with email marketing and sales platform features for small businesses.
Keeping these in mind, this platform is speedy and stable for organised and increased sales and also saves time.
Major Automation Feature: Marketing and Sales Automation
Other features:
1 CRM
2 Data Analysis
3 Email and text marketing
4 Ecommerce marketing automation (Payments)
5 Landing Pages with in-built Template
Good For: Small Businesses and Startups
Price: 14-days free trial, starting at $79/month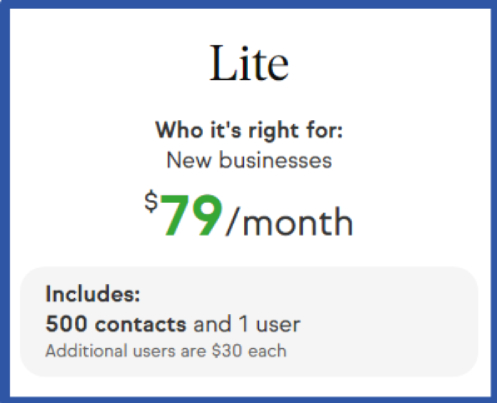 Alternatives: Zoho, Sales Hub
Website: https://keap.com/
Zoho CRM
Launched:
1996
Founder:Sridhar Vembu, Tony G. Thomas & Sreenivas Kanumuru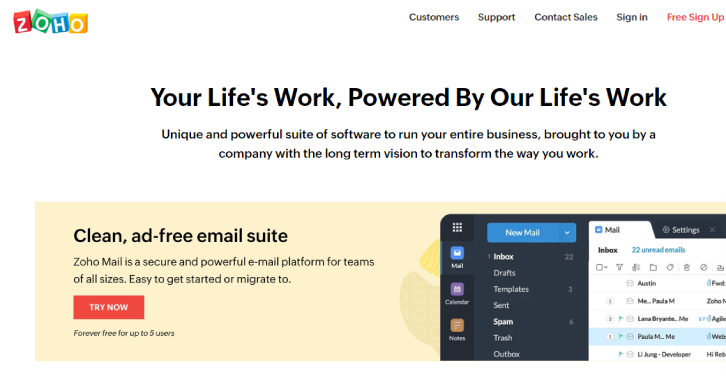 About Company:
The quote by Zoho states it to be a "Unique and powerful suite of software to run your entire business" and yes, it manages your end-to-end, customizable solutions for growing business and enterprises
They feature 30+ streamlined app integrations and have interconnected marketing and sales solutions for a growing business of 2 to more than 1000.
With how big your team develops, your consumers appreciate the personal touch that comes with the established in-depth client records that Zoho provides.
Major Automation Feature: Sales Force Automation & Marketing Automation
Other features:
1 Process Management
2 Data Management
3 Customized Website Designs and Management
4 Sales Prediction & Team Management
5 Digital Security
Good For: Small and Medium-sized business
Price: 30-day free trial from basic to entrepreneurial plan, basic plan starts at $10
Alternatives: ProofHub, LeadSquared.
Website: https://www.zoho.com/marketingautomation/
Hubspot Marketing Hub
Launched:
June 2006
Founder: Brian Halligan and Dharmesh Shah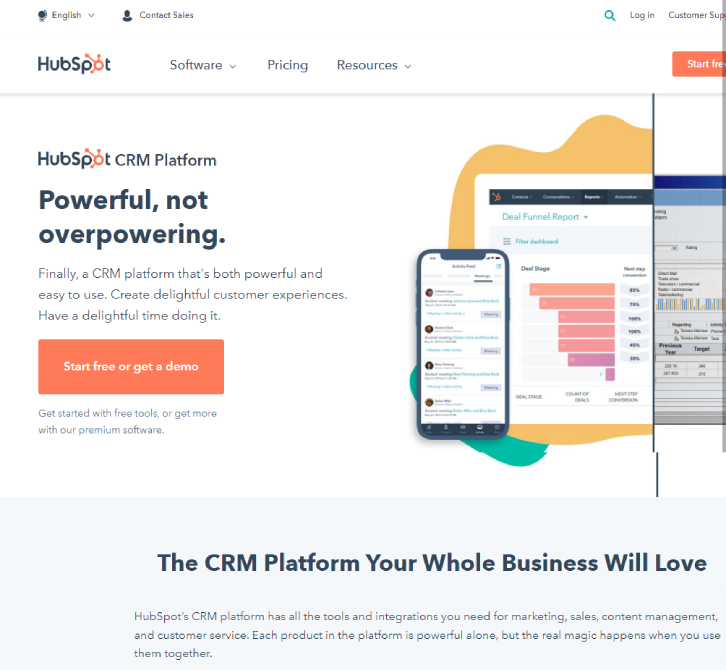 About Company:
Titled to be one of the marketing automation platforms that provides full service, Hubspot is famous for its inbound marketing skills, sales skills with managing lead journeys from prospect to nurturing.
You can create basic or complex conditional workflows using the marketing automation capabilities, which includes an optimal quality visual boards and interface.
Beyond email, the workflow tool has been automated to help you scale your business and save time on repetitive chores.
Major Automation Feature: Digital Marketing Automation
Other features:
1 Team Management across departments
2 Free CRM
3 Social Media Integration and Management
4 Paid Ad Tracking and List Management
Good For: Business to business
Price: Free Trial, Basic price starts at $50 – $3,200+ per month
Alternatives: Constant Contact, ActiveCampaign, Sendinblue.
Website: https://www.hubspot.com/
Marketo (acquired by Adobe Inc in 2018)
Launched:
20 January 2006
Founder:
Phil Fernandez, Jon Miller, and David Morandi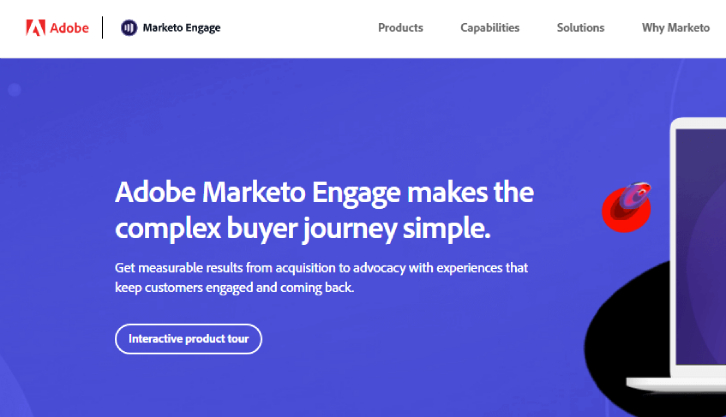 About Company:
An adobe company, Marketo, is a cloud-based tool for companies large and small that not only helps you build your customer relationships as well as nurture them for future business.
With no set-up fees and a free trial for you, this tool provides you with an easy choice of committing until you're sure it's right for you. Some of the businesses involved with Marketo such as Fujitsu, Citrix, BetterCloud as shown below.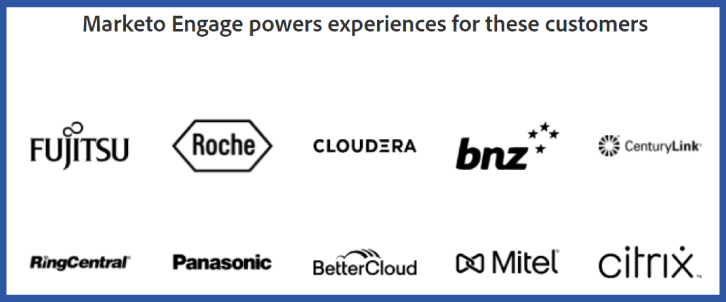 Since its first service in 2006, Marketo has grown and gone beyond basic marketing automation products and services.
Major Automation Feature: Marketing automation contains
1. Email Marketing
2. Landing Pages, CTAs And Forms
3. Campaign Management
4. Lead Nurturing/Scoring
5. CRM Integration
6. Social Marketing Capabilities
7. Marketing Analytics
Good For: Enterprises and Brands (B2B)
Price:
Contact Sales (as per their Pricing memento goes)
Alternatives:
HubSpot Marketing Hub, Zoho CRM, Salesforce Pardot.
Website: https://au.marketo.com/
Conclusion
Different marketing agencies have different capabilities and features when it comes to the marketing automation tools.
This post is well-researched to provide some of the marketing companies, their features and alternatives for marketing automation strategy.
You get enough knowledge to help you decide which marketing automation for small business is best for your company.
Marketing automation tools offer different capabilities such as email marketing automation, social media automation, lead management, and marketing programmes for lead generation.
For more marketing tips and services, you can schedule a free-of-cost 30-Minute Strategy session with our experts. In this call, our experts would discuss your business and provide you with the free strategies that you can use to boost your sales and revenue.