Many businesses nowadays use SEO to target specific regions. However, if your goal is to increase your brand awareness and gain attention from nearby audiences, doing local SEO isn't enough.
The solution to this is "Hyper Local Marketing".
It can help you increase foot traffic in the neighborhood by using hypertext keywords and on-page optimization.
In this blog, I'm going to talk about what is hyper local SEO and how to make the best out of it?
But, before that I would like you to watch this video.
What Is Hyper local SEO?
Hyperlocal SEO is basically the same kind of SEO, but for smaller, more focused areas such as neighborhoods, towns, or streets often with the intention of targeting people conducting "near me" searches in their mobile devices.
Hyperlocal SEO takes search engine optimization to a micro-level. This new algorithmic push by Google focuses on a person's current NAP, that is Name, Address, and Phone number, to give very personalized results to daily queries such as "closest ATM near me" or "restaurants near me".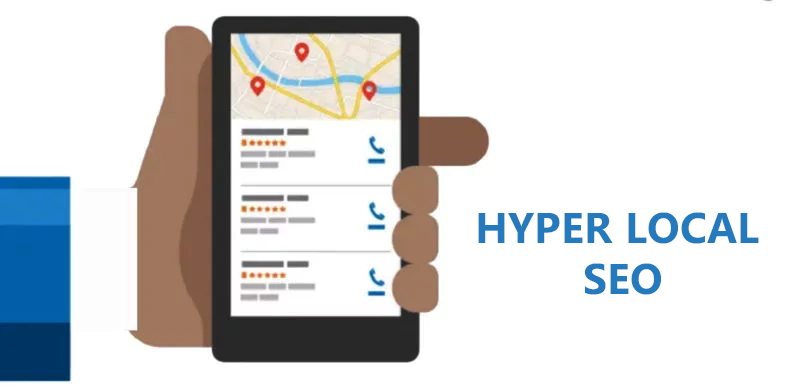 "Where to buy" + "Near me" search queries have increased more than 200% in the last two years and over 50% of them have actually resulted in a physical store visit.
Related Blog: How to Choose the Right Local SEO Service Provider For Your Business
Now let us discuss how to make the best of hyper local SEO.
Google My Business
The first and foremost thing you have to make sure of is you have a Google My Business page.
By signing up to Google My Business you can tell Google directly the name of your business, the exact location, its opening and closing time, contact details, and other elements.
Google My Business is just the starting point. Not only does GMB make it easier for people to know about your business, but it also improves the search experience for your customer – giving more 'at a glance' information than the traditional SERPs listings do.
You can also make use of the insights and analytics to give you an idea of how well your hyperlocal visibility is working.
Schedule a free-of-cost 30-Minute Strategy Session with our experts.


Read More: Complete Google My Business Guide
Location Page
If you have multiple locations for your business, you need to ensure that you have separate location pages on your website for each business because that almost gonna act as a stand alone local page for each location.
And if you have multiple locations then you need to make sure that you have a GMB listing for each of those location pages, which is, of course very important for Hyper Local SEO.
For instance, we have multiple locations. And for each GMB which we have, we have created a different location page and when someone clicks on the website button on GMB, it takes them to that specific location page, which makes it highly specific for the users.
Now if you do not have multiple location pages and you still want to do hyperlocal targeting, you can create location pages for specific areas of your city.
One thing that you need to make sure that you are not spamming it, you are not using the same content on all your location pages that is actually valuable for readers and you are giving actual insight that you are specific to that area.
For example, if you are a real estate agent in X city and you make a location page for Y area in X city, you might talk about unique real estate in that area, the challenges, the opportunities, or what the market area looks like for Y area instead of the entire X city.
You are gonna give some kind of value and you are going to do that uniquely for all the neighborhoods and areas that you are trying to target.
Now if someone is in the Y area and they are looking for real estate or the best neighborhood in the Y area, you have a very good chance of showing up.
Hyper Local Blog Content
After making your location page, the next thing is your blog, and like I said if you are a real estate agent don't write blogs like tips for selling your house or something like that. You are not going to rank for it.
What you can do is that you can start speaking specifically about the areas and neighborhoods in your city, so you can write blog posts like "the best five neighborhoods for families in Y area or the best five neighborhoods in Y area under 1000 dollars or something like that.
Do you know the benefits of these types of content?
These are the types of content that bigger companies can't compete with. So you should create content specific to those areas and what happens with that is as you are creating your location pages, blog pages, etc, it sends a signal to Google that you are a hyper-focused hyper local SEO company that concentrates on this particular area.
Advertising
You can start running targeted ad campaigns and you can do advertising with the help of Google AdWords or Facebook Ads.
If we talk about Google AdWords, all you have to do is decide on the central point of your radius targeting.
Most companies would use the physical location of their store as their central point, for example, you can do this by entering the address of your radius' center directly into the search field in the radius targeting dialogue box.
Just as you would with any campaign, you should use dedicated keyword research tools to discover new keywords that could be suitable for near-me searches.
Now let's talk about Facebook Ads. There are several highly effective and pretty cool ways to target prospective customers with Facebook Ads, and one of the easiest is Local Awareness ads.
This ad format aims squarely at local businesses seeking to raise awareness of their physical location and drive foot traffic to stores.
You can use both of these tools to run your ad campaigns. They are really very helpful.
Conclusion
In this blog, we talked about what is Hyper Local SEO and how to make the best out of hyper-local SEO?
You must take Hyper Local SEO services if you have a local business and want to target the audience near you.
So now, I hope you have learned a little about hyper-local SEO, how it works and how it is different from Local marketing.
If you wanna know more about online marketing you can visit my other blogs or even you can subscribe to my YouTube channel.
If you get stuck anywhere in the topic and need any help, you can comment down below. I will surely reply.
For more marketing tips and services, you can schedule a free-of-cost 30-Minute Strategy session with our experts. In this call, our experts would discuss your business and provide you with the free strategies that you can use to boost your sales and revenue.
Now I'll see you in another blog, until then, keep moving forward.