Do you question yourself about using free SEO tools? Do you believe that a paid tool can reduce your efforts spent on multiple platforms to get different insights? Or you simply want to know if your few grand spent on Ahrefs are worth spending.
Here in this most comprehensive Ahrefs site explorer guide that is available on the Internet, you'll come to know about all & everything about this tool so you can make a better decision about whether this tool is worth your money or not?
With the ever-shifting marketing industry, everyone is in the race to enhance their websites in order to surpass their competitors. The majorly used technique for this is SEO.
You can't do everything by yourself that's why tools are needed, tools make your work productive and provide you with easier and much better insights that can help you to enhance your SEO practice. Ahrefs is one of many such tools.
Sit tight it is going to be a rollercoaster ride around the highs and lows of this "amazing" tool.
So, let's get started with this detailed Ahrefs guide.
What Is Ahrefs?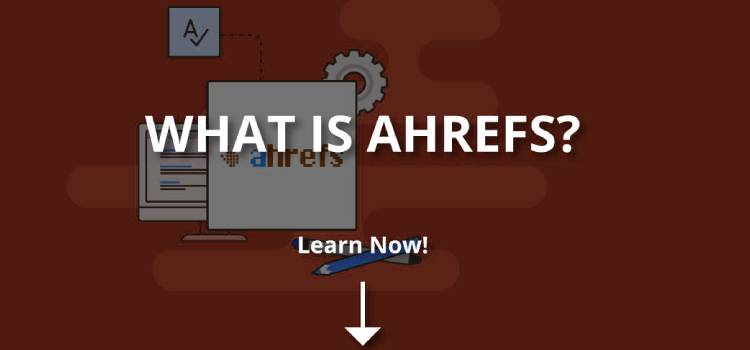 Ahrefs Site Explorer is a popular analysis tool in the universe of digital marketing, being used by companies all over the world it facilitates its user with an insanely adaptive user interface. 
Well equipped with SEO metrics it offers realistic quantitative results. There are multiple services provided by this tool such as backlink analysis, URL ranking, preparation of audit reports, competitive analysis, and the list goes on.
Don't worry moving forward we will take a close look at all the subparts within the tool. Stick to the last to get a detailed guide on the Ahrefs tool, it's working, and my feedback after using it for a decent amount of time.
Ahrefs Terminology
URL Rating (UR)
URL Rating (UR) represents the strength of the target page; it is done by evaluating the backlink profile of the page on a logarithmic scale from 0 to 100, here more rating is considered better.
Both internal links and external links are also taken into account but they're weighted differently.
The URL Rating (UR) has a strong positive association with Google rankings, implying that pages with a high UR score would appear higher in organic search results.
If you're familiar with Google's PageRank algorithm, Ahrefs' URL Rating should be simple to comprehend UR. This is because they use the same simple PageRank concepts to determine URL Rating (UR).
The logarithmic scale I talked about above has its significance, it means that it's much simpler to go from UR 20 to UR 30 than it is to go from UR 70 to UR 80.
Domain Rating (DR)
Domain Rating (DR) serves a simple purpose, it determines the strength of a target website's backlink profile on a logarithmic scale from 0 to 100. Where more rating count is considered better.
The metric of "link popularity" can also be used to estimate a website's ability to attract Google search traffic.
It can be stated that it's a great metric to use while link prospecting, since links from sites with high "link popularity" are usually more important than links from sites with low "link popularity".
Organic Keywords
An organic keyword can be defined as a keyword used to attract free traffic through search engine optimization (SEO). Organic keywords contrast with pay-per-click (PPC) keywords, which are bid on through paid search marketing campaigns.
Related: What is Better: Google Ads vs Facebook Ads
You can see the total number of keywords for which a website, subfolder, or URL ranks in the organic search results by pasting it into Ahrefs' Site Explorer.
Although the keyword database is updated every month with newly found search queries, nearly 16-20% searches all Google searches are new.
This indicates that the number of organic keywords you see for your website will rise precisely because the database has grown, rather than because your site has begun to rank for more search queries.
Keyword Search Volume
To avoid misunderstanding I must tell you that search volume is the amount of searches rather than users. For example, three employees conduct two hundred searches for "stock raise" then we will consider it as a total of 600 searches conducted by only three people.
Another essential but often ignored aspect of the meaning of the phrase "on average".
As you can see, the search demand for several search queries varies throughout the year.
Take, for example, the keyword "Halloween Party" it might be in massive demand every October before crashing down in November.
Please keep in mind that search volumes are mostly unique depending upon the location.
The default setting for most keyword analysis tools is to display search volumes for the United States. However, as per your interest, you can always alter the location by discovering how many searches are conducted in the United Kingdom, Australia, Canada, or another region.
Keyword Difficulty (KD)
I believe Keyword Difficulty (KD) is a parameter that creates a lot of uncertainty in our industry. However, let's get to know its functionality.
The Ahrefs KD score is calculated by taking a weighted average of the total of linking domains to the top-10 ranking pages and plotting the outcome on a logarithmic scale from 0 to 100. It doesn't take into consideration any other factors at all.
As a result, the final value gives a decent estimate of how many referring domains are required to rank in the top ten for your selected keyword.
In Keywords Explorer, this is written in plain English right beneath the KD ratings.
Return Rate (RR)
Return Rate (RR) is a one-of-a-kind metric that can only be found in Ahrefs.
The Return Rate (RR) shows how many times the same person searches for a given keyword within a duration of 30 days.
It consists of some sub-parameters such as, RR1, which indicates that people are unlikely to look for the keyword again in the next 30 days.
However, RR2 and RR3 do not imply that people search for a given keyword twice or three times per month. It simply implies that the second keyword is more often searched than the first.
Cost Per Click (CPC)
CPC (Cost Per Click) is a complex and highly unpredictable metric that fluctuates as companies increase or decrease their ad expenditure. As the name suggests, for a given keyword, CPC displays the average cost of a click on a paid search result.
That's why, if you're searching for the most up-to-date and reliable CPC values for your list of target keywords, we always suggest using Google AdWords, that's where Ahrefs information comes from.
Organic Traffic
This metric calculates the amount of organic search traffic a website, subsection, or web page receives per month. In simple language it is the number of visitors coming from a search engine, such as Google or Bing.
Traffic Value
This metric depicts the worth of organic traffic to a website. Let's consider an example to have a better understanding.
Suppose your website gets an average of 600 visits per month from organic search for any keyword, which has a CPC (Cost-Per-Click) of $10.
So, if we bid on this keyword in Google AdWords to buy 600 visits, it will cost us $6000 ($10 * 600).
Ahrefs Rank (AR)
The Ahrefs Rank is a ranking system that ranks all websites in the world based on the strength of their backlink profiles.
Thus, Ahrefs Rank #1 is assigned to the website with the most powerful backlink profile (Facebook.com), #2 is assigned to the second most powerful (Twitter.com), #3 is assigned to the third most powerful (YouTube.com), and so on.
What Can Be Done Using Ahrefs?
In this detailed Ahrefs Site Explorer guide, I provided you with a few bullets above, about the services provided by the tool. Now let's address them one by one.
Perform Backlink Audits
Before we dig into backlink audits let's understand backlinks first. A backlink may be defined as a link to your website from other websites.
Consider a scenario where someone has linked your website within their blog, then in this case you have a backlink from them.
Now, what is a backlink audit, well, with backlink audits you analyze your website's current links and reveal how good or bad they are for your website. The prior reason why backlink audits must be done is to avoid Google penalties.
You can understand it this way, if you get a lot of backlinks from a low-quality website then that might backfire and be a risk for your website. To analyze these risks backlink audits are performed.
Links Prospecting
Link prospecting can be described as the process of finding websites that publish similar content as you do. Now the question arises why would you do that?
Well, a straightforward answer to it is to get a link, you wish to circulate your content to similar websites so that you can fetch a backlink.
Perform Keyword Research
Keyword research as the name suggests is the process through which we look up trending words most searched phrases that might get our content ranked above in search results.
The major target of keyword research is to attract traffic to your website. Ahrefs site explorer proves to be a great tool for achieving that goal.
Validate, Qualify And Analyze Competitors
You can't just blindly create content based on your discovered keywords, you must stay updated about all the things that your competitors are doing.
Apart from just finding the keywords, Ahrefs allows you to validate and compare how your competitors are doing by using similar keywords. It opens the horizon of creativity for your content.
Track Individual Keywords
The tool provides excellent rank tracking. Any keywords growth or fall can be checked at any given point in time. We shall further discuss how these happen.
Track Organic Visibility
Just tracking keywords will not do you any good. You have to keep check of your visibility. Beside google analytics. You can check for your organic visibility with Ahrefs.
Step-by-Step Ahrefs Guide
We are covered with a basic outline of the features in this Ahrefs guide. But I believe nothing beats a visual description.
In this very section, I'll provide you with an overview of the tool. Keeping that in mind we will discuss all the menus and buttons the tool has to offer at a glance.
Dashboard
The dashboard is the first button in your title bar when you open Ahrefs. The dashboard consists of all the projects that you add to explore in-depth.
It is a personalized interface that provides statistics regarding your project in a brief context.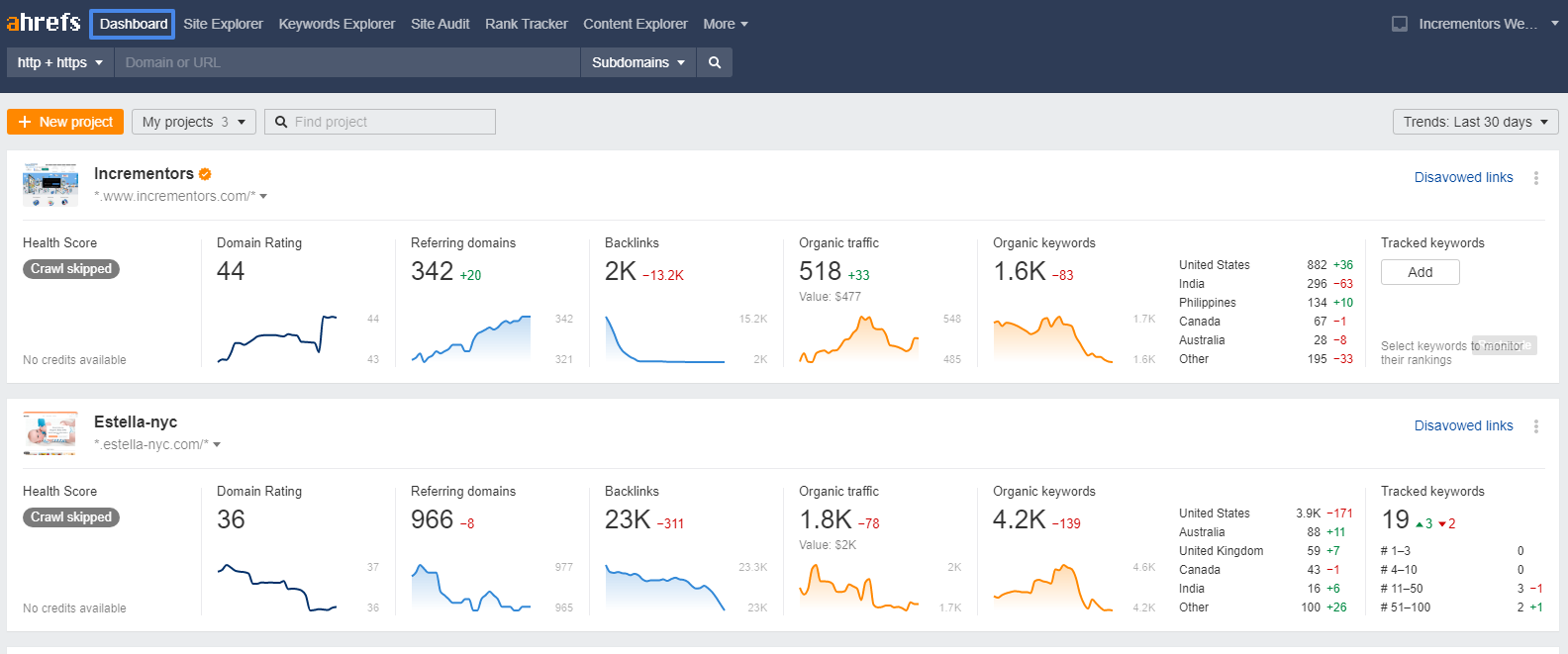 Site Explorer
Site explorer is a key feature that produces the revenue for Ahrefs. We'll know about its functionality before I explain about this feature.
Site Explorer is used for analyzing the backlinks for your site. You can find this button in the title bar (next to the Dashboard button) as shown in the figure below.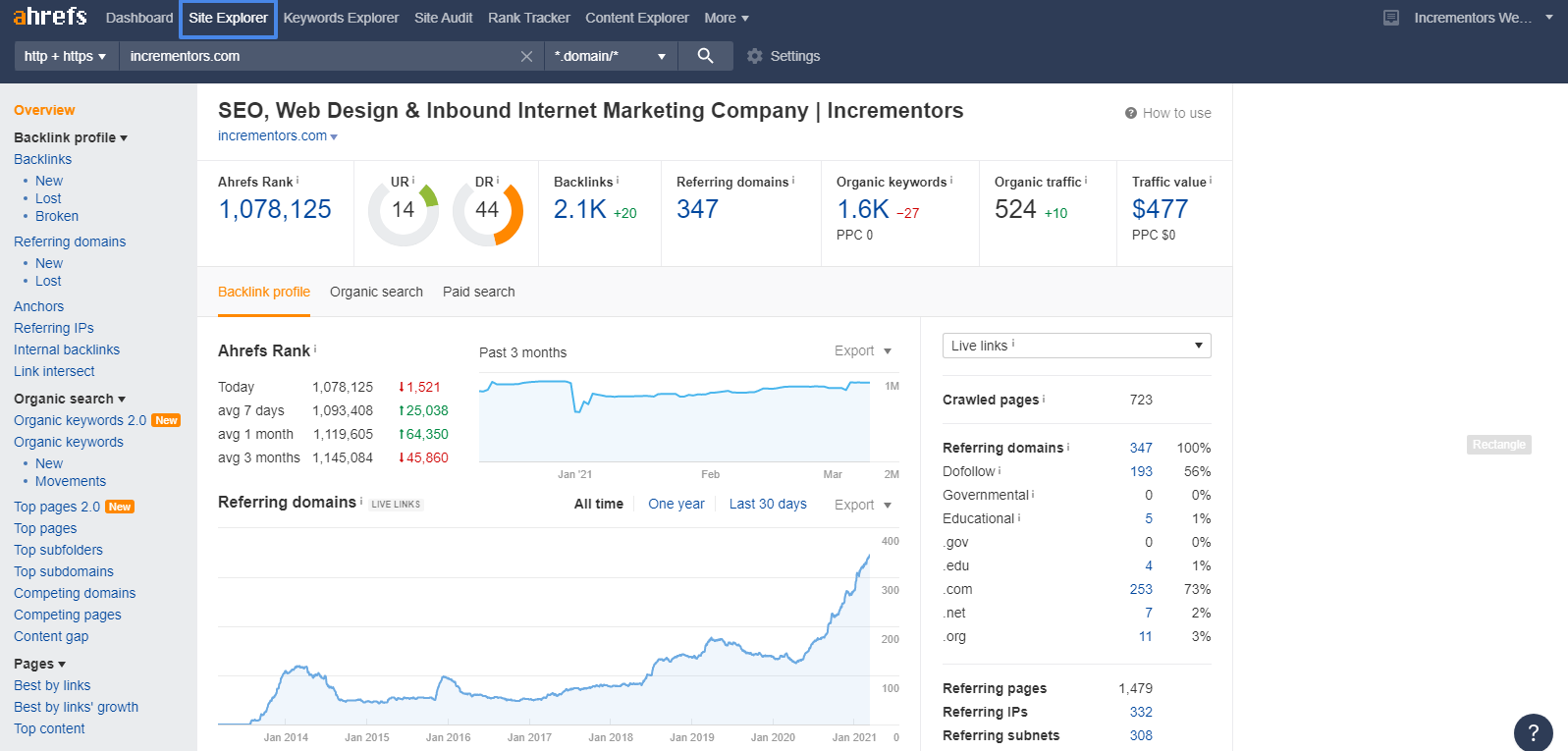 Once you click on this button you are redirected to an interactive page, where you can input your details. Now, take a look at the screenshot below you'll see the page you're redirected to once you select the "site explorer" option.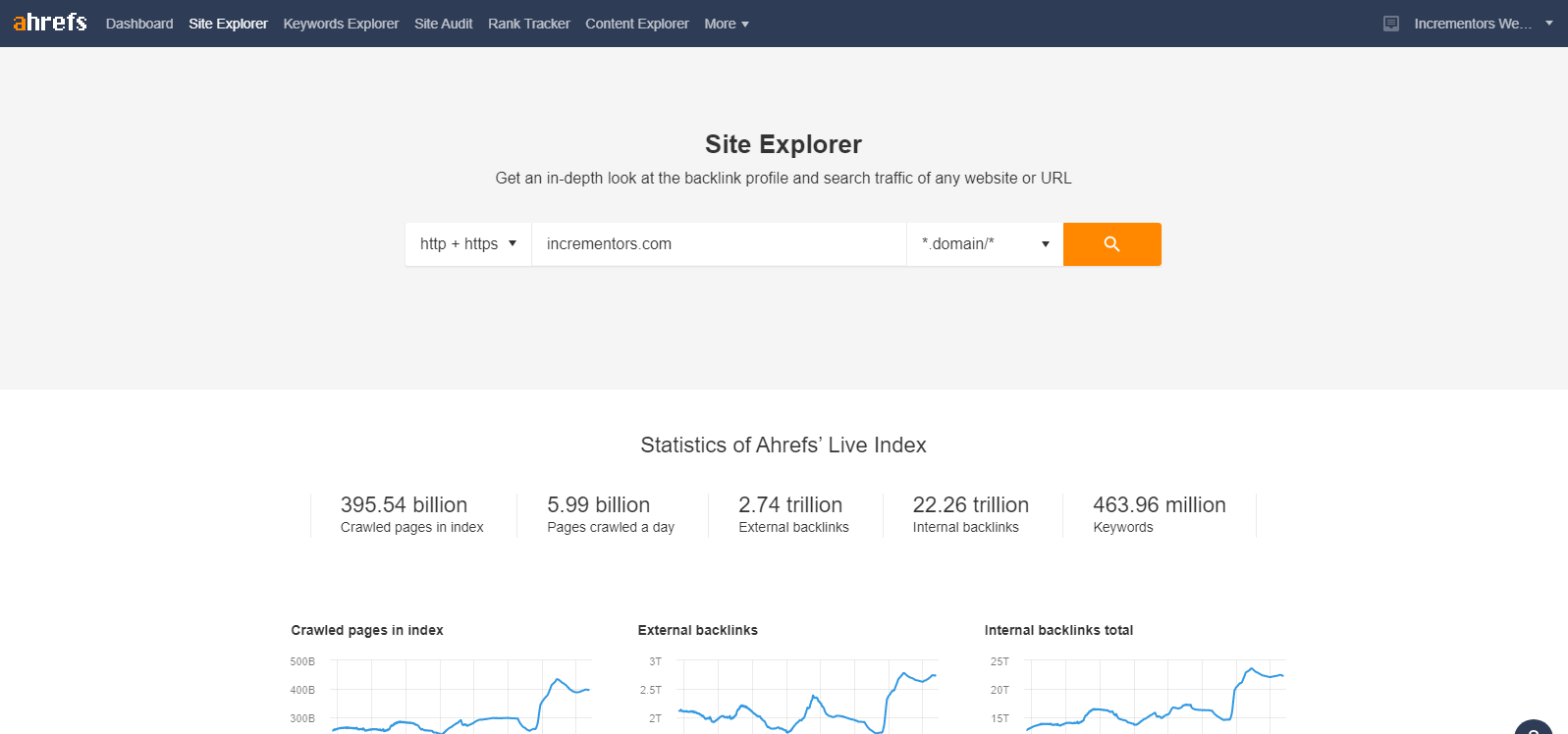 This page can be used both ways- either you can check for your site or you can check the status of your competitors as well.
Further, when you type in your domain or URL as per your requirement and search you see this page with a lot of stats and graphs next.
All the parameters that these options show have already been discussed at the beginning of the blog. I believe you are clear with UR, DR, Backlinks, Organic Traffic, etc.
Now, moving on to the left pane you see a lot of categories and subcategories.
Let's explore these.
Backlink Profile
The first heading in this pane you see is "Backlink profile" with quite a list of features, we will now address this one by one.
Backlinks
The backlinks feature provides us with a list of all the domains you have got backlinks from. You also have a varied availability of filtering options to choose from as well.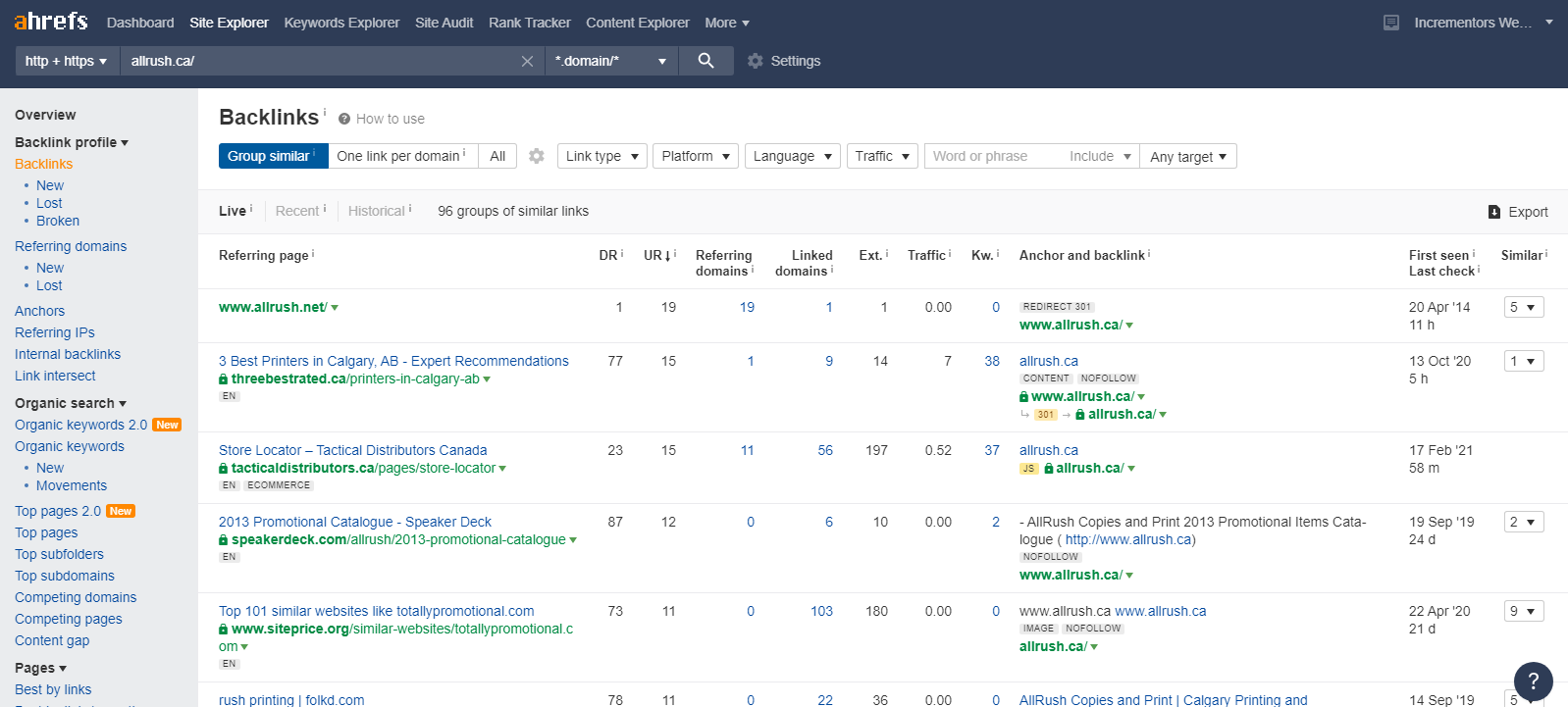 Under the Backlink menu, there are three sub-features as well, now what are these for.
All the three options tell you whenever you get a backlink, lost a backlink or have any broken one.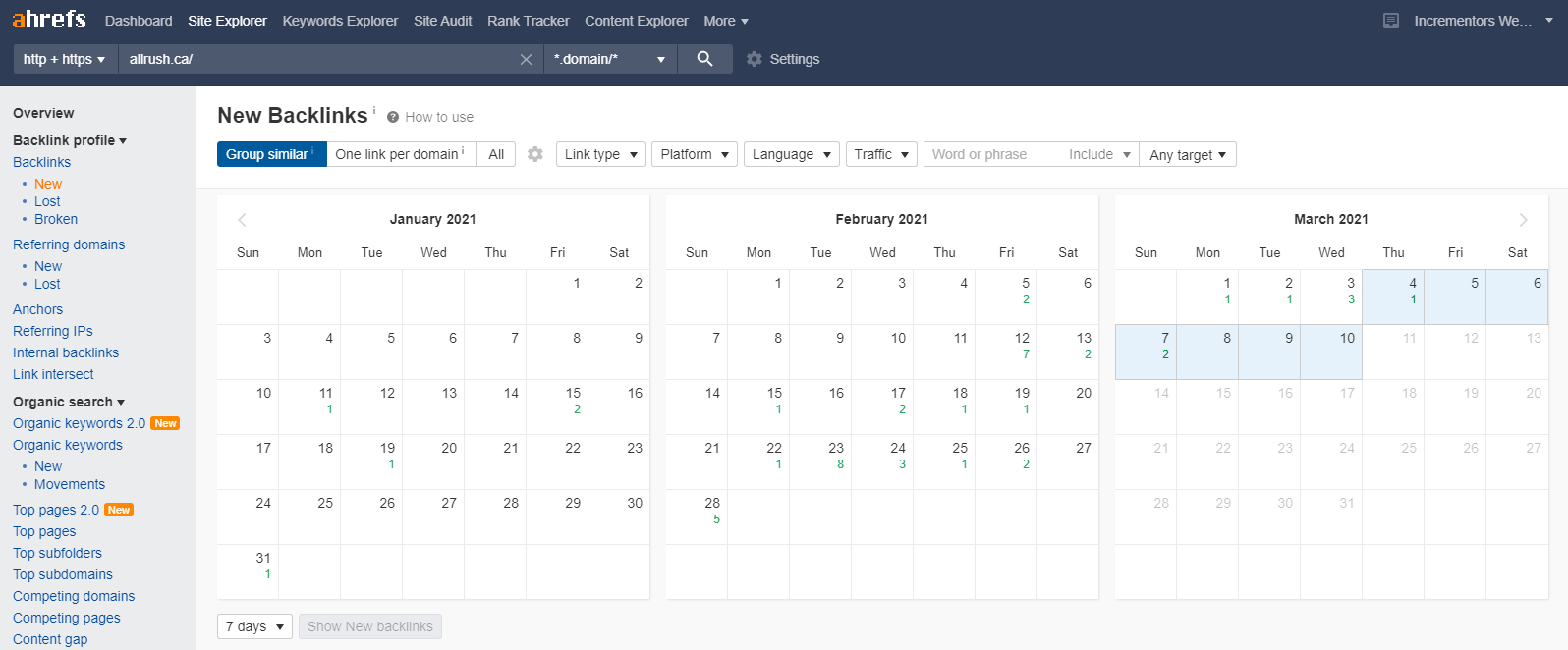 The above screenshot highlights the days when you received new backlinks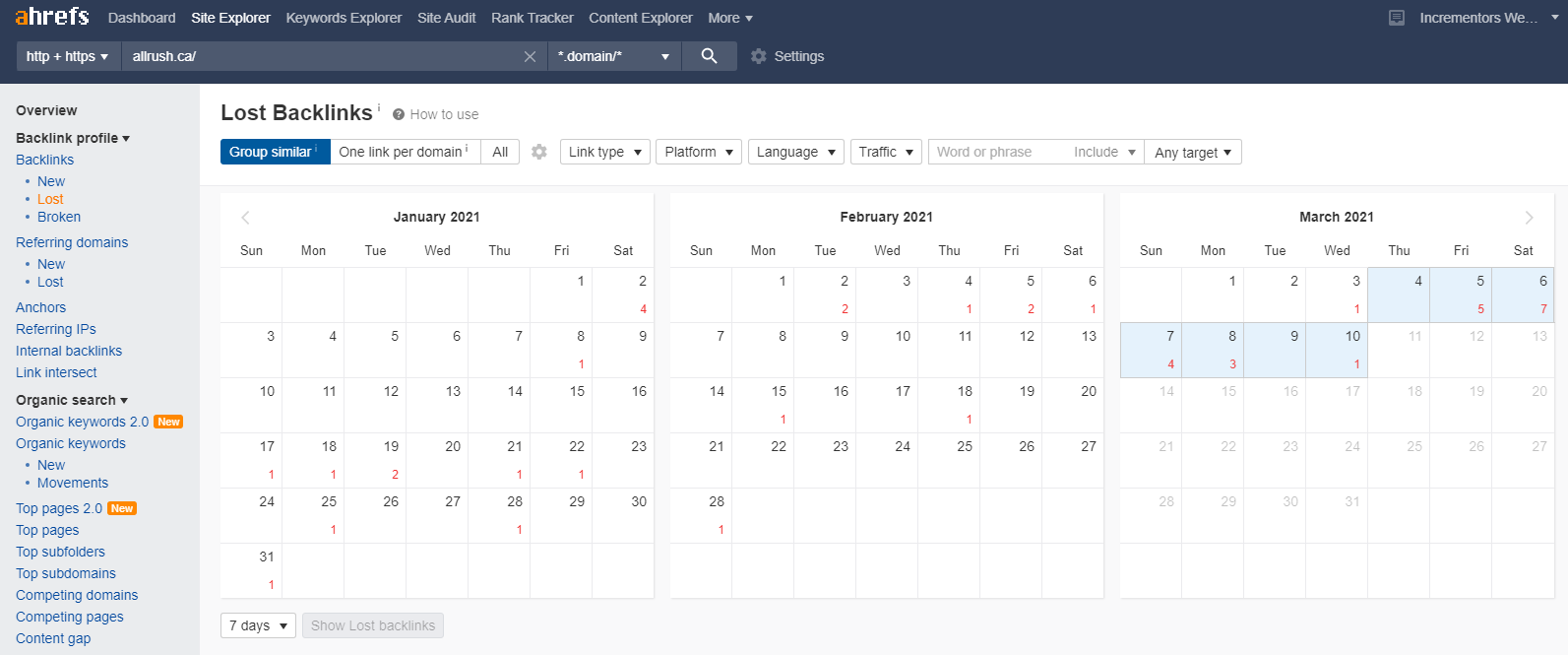 The above screenshot highlights the days when you lost backlinks
The above screenshot highlights the days when you received broken backlinks. Well, I don't have any.
In my opinion, the backlink profile and respective features offered along with it are great. You get tons of sorting and filtering options.
Who would refuse to save time with a few clicks, Not to forget the huge link index which is updated regularly. In the below image you can filter the links based on link type, it's very handy to filter out quality links from low quality links.
Here in this image you can have a links based on similar groups means links with same anchor and surrounding texts.
Ahrefs Site Explorer also claims their crawlers are second most active, but the question is which crawlers are as powerful as Google's?
The answer to this might not be to your expectations, Ahrefs does a good job finding new links but is not so quick with all the findings.
Anchors
Before I tell you what this feature does, let's understand first, what anchor text are? An anchor is a clickable word that is generally used to link another related web page to that keyword.
The anchor tag provides you with all the information regarding your websites' live anchors.
In other words, it delivers you the stats about which anchor is working fine. With the filter section, you can filter the length of your anchor tags as well.
Referring IPs
This feature allows you access to all the IPs of your referring pages.
Internal Backlinks
This feature provides you with a glance result for all the internal backlinks your site has.
Link Intersect
Link Intersect feature gives you the list of sites that link to your competitors but not to you. It is a clever approach to look into your competitors backlink profiles and look for suggestions regarding the places you can contact for link-building outreach.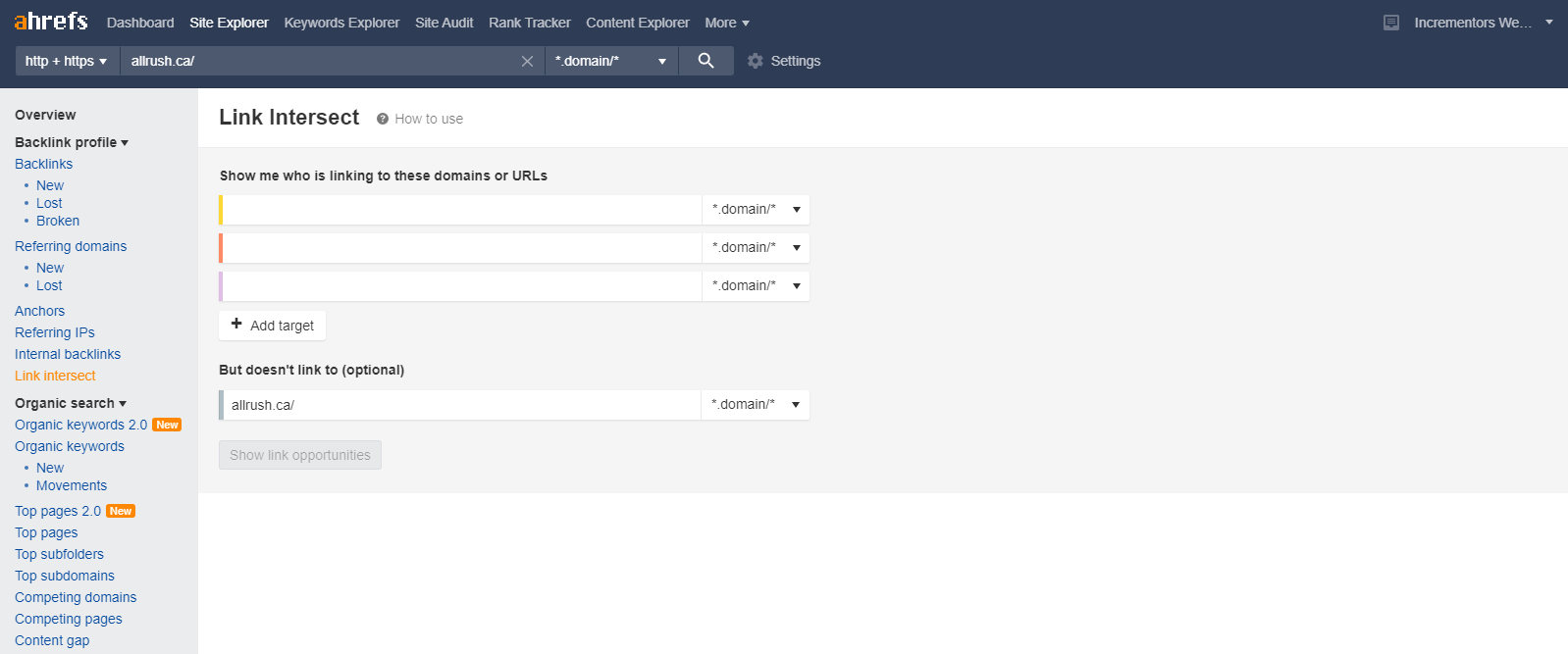 Organic Search
Now, the second heading in the left pane is "Organic Search". Exploring its subheadings:
Organic Keywords
I've provided you with a brief introduction regarding organic keywords earlier in the blog.
This feature tells you about the keywords that have attracted traffic to your webpage. Then you have other parameters such as volume, position, traffic, etc that can be used to narrow down your search.
The image above shows how organic keyword results are delivered. The organic keyword is further branched into two more features.
The new keyword features provide you with the top-ranking keywords that you might have not used.
The keyword movements feature provides you with a detailed history of all rank movements for your targeted website or URL.
Organic Keyword 2.0
Organic keyword 2.0 is a little enhanced version of the "organic keywords" feature we just covered in terms of user interactivity.
You are through with what all information "organic keywords" provides you with. The screenshot below depicts what the keyword 2.0 page looks like.
Don't worry, I am not leaving you hanging with just a screenshot to figure out the difference between the two. Here in this section, I'll describe the minute interactive changes that the 2.0 version supports over "Organic keywords".
If you take a closer look at the two screenshots just below you'll see some difference, some pop of colors and some calculative figures in the first one while a plain white screen of information in the next one. But what do these colors and numbers depict?
If you see the KD column you'll see some numbers in different colors. These numbers and colors depict the keyword difficulty and the color changes as per the graphical representation on the keyword explorer page.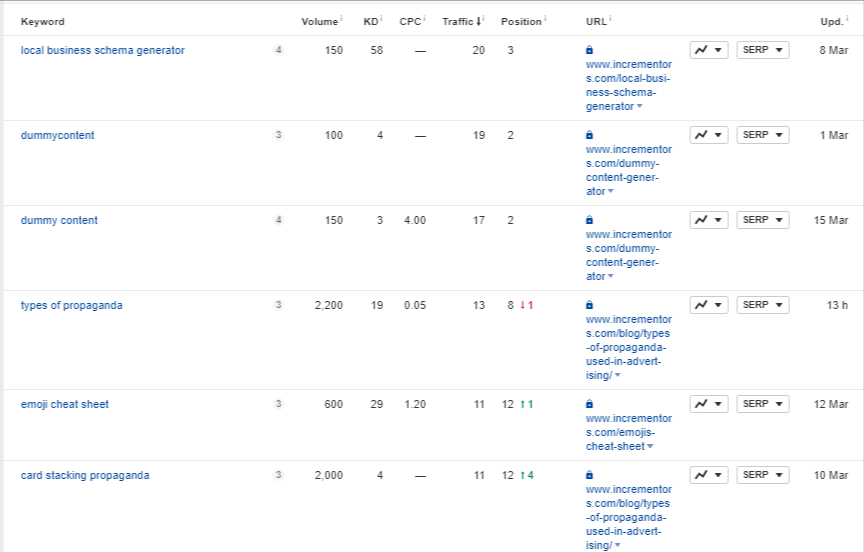 Moving ahead, if you consider the "traffic" column, it too has some calculation going on in greens and reds. We know green is for a hike and red is for a low but what makes it special here?
That is if you move your cursor any closer to the green digits it tells you on what date the traffic increased exactly.
Focus on the blue box in the image below as soon as I move my cursor to the red digit (-6 here), on the top of the cell it shows what the previous value was and the date it dropped.
Also in the URL column, consider the red block in the image below, it does show you the changes as well regarding the update of any content.
I updated this blog of mine and it shows the new URL replacing the others. Isn't it a great user experience to get everything served right away? I must say I am impressed.
Top Pages
The name for this feature is self-sufficient. It returns the pages that are performing best in your domain.
There are two more features namely "top subfolders", "top subdomain". These also perform in a similar fashion we shall see them ahead in the blog.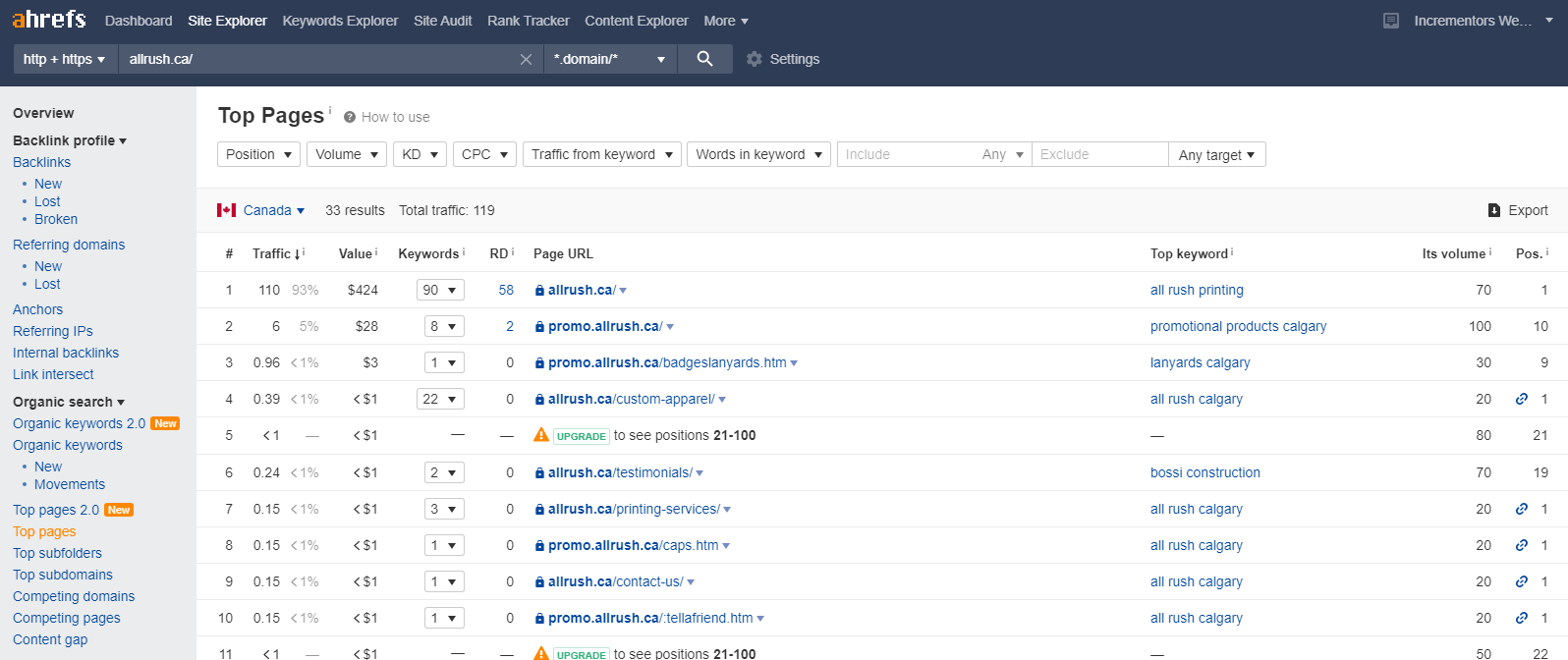 Top Pages 2.0
Like we did a comparison for the "organic keyword" and "organic keyword 2.0", we shall proceed with these as well. Yes, the information returned by version 2.0 is exactly the same but they have improved user experience and graphical addition.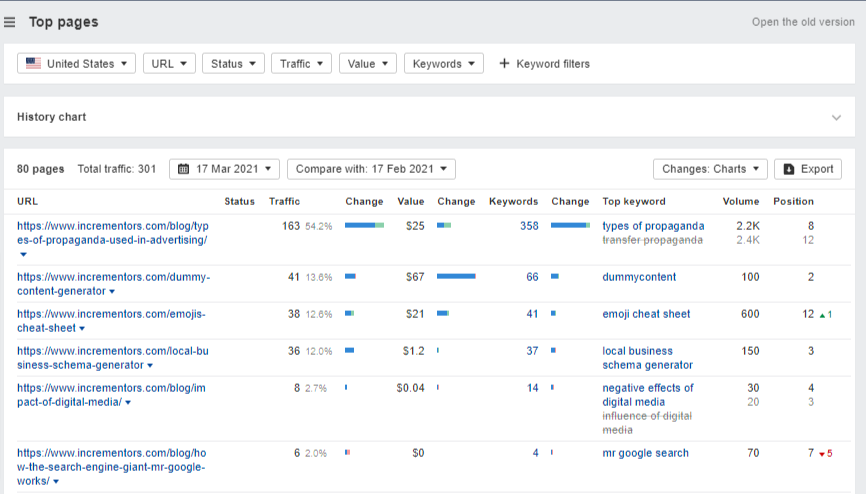 As you can tell with a look at the screenshots below, the first one is version 2.0 while the plain- sad tabular result is the "Top pages" we have had for since long.
Comparing the two, you might have seen that every column with dynamic data has a "change" column beside it.
This "change" column when hovering over displays a brief description of the previous value, the current value, and the change. Not to mention the multivariable bar representation is a sure plus.
As you hover your cursor on the bar, it'll show you all the details. Here I have attached a screenshot regarding the change data for traffic. I filtered my results with dates from February to march.
So it shows the average traffic on that day in February and the average traffic on the day in March, along with their difference.
Similarly, you can look for value changes and keyword changes as well.
Top Subfolders
This feature provides you with the details regarding the subfolders on a target website that receives the most organic traffic.
The image below depicts how the top subfolders list is returned according to your query.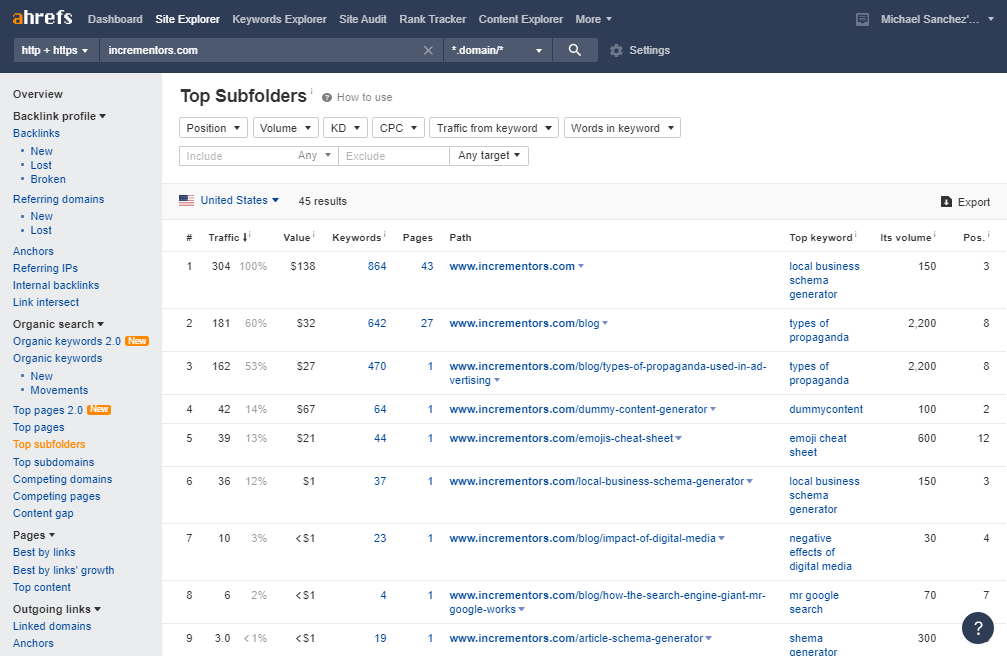 Top Subdomains
This feature ranks the subdomains of the website according to the amount of organic search traffic they get.
The image below depicts how the top subfolders list is returned according to your query.
Competing Domains
This feature allows you to have a comparison with the other competing domains. It provides you with a keyword analysis in which keywords you don't use by your competitors and have gained traffic.
Another feature "Competing Pages" does the same analysis but for pages. You're capable of picking such similarities, isn't it?
Competing Pages
This page displays a list of web pages that appear in the top ten search results for the same keywords as your goal.
The screenshot below shows the result page according to your input details.
Content Gap
Content Gap displays keywords for which your rivals rank but you do not. This feature in my opinion is more useful than reviewing a single website. Given a scenario, if you could find two rival sites that are ranking for the same keyword, you have a good chance of ranking for it as well.
If you take a look at the screenshot above you can get an instant idea of how it works. You enter a few target websites and below you enter the site you're performing a content gap.
Related: Expert Tips for Writing Quality Blog Post to Attract Visitors
As soon as you press the show keyword button you come across an interface like the one shown below with all the keywords and the rankings and other parameters that alters your content gap.
Pages
Now let's move on the third heading "Pages" of site explorer.
Best by Links
The first subheading under the pages fetches the list of all the pages that are performing great with respect to links profile.
Best by Links Growth
This feature is similar to the above one by giving the ranking on the basis of the monthly growth of any particular page.
Top Content
It is a report that lists content pages on a target website based on the total number of social shares they've received across all Ahrefs-tracked social networks.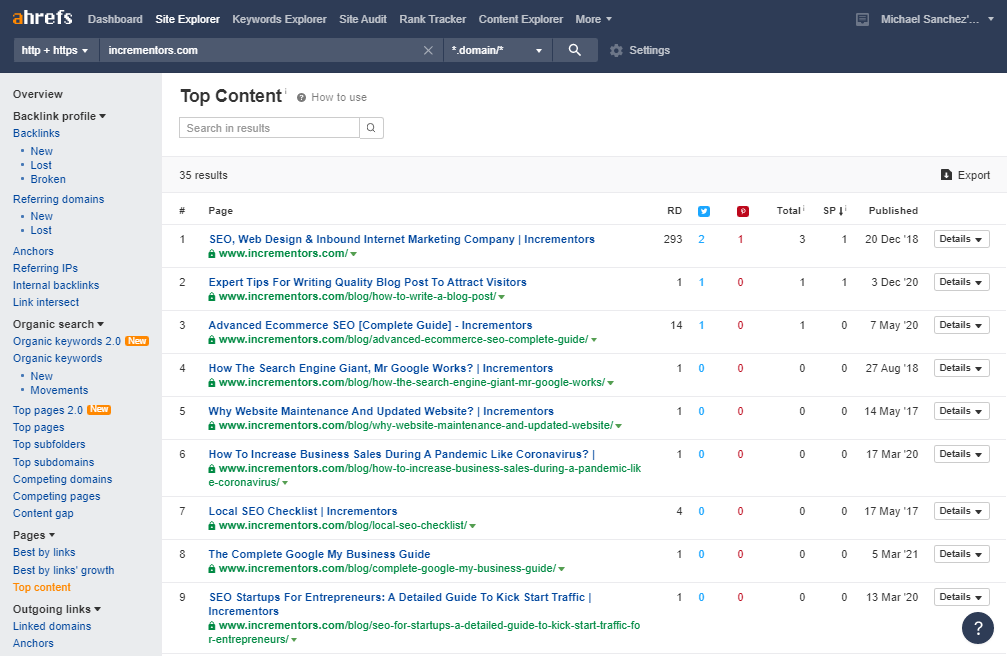 Outgoing Links
Taking over the fourth heading, "Outgoing Links" of site explorer.
Linked Domains
This feature's name is self-explanatory It displays a list of specific domains to which the target website or URL is linking to.
Broken Links
This feature provides all broken outgoing links on the pages of a target website or URL.
Paid Searches
PPC Keyword
These headings are self-defining about their services, this feature lists all of the keywords for which a specific website or URL ranks in paid search results.
Take reference from the screenshot below, about how the list is provided with all the information.
You might have as well noticed I have highlighted two columns. Since you're aware of the rest of the column headers with all the reading by far.
Considering the blue block first, the column is titled "Block". This shows the placement of the Ad on the website, whether it's on the top or bottom of the page.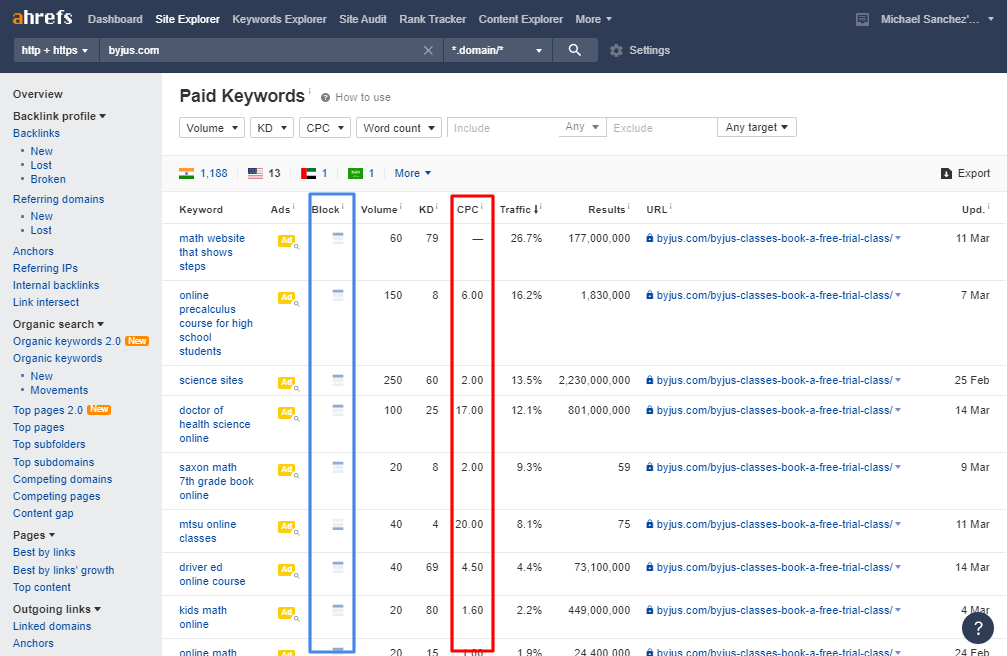 Now the red block, the column is titled "CPC". Cost Per Click (CPC) tells the average price that advertisers pay for a click on their ad in paid search results for a target keyword for a given country.
Ads
This feature displays all of the advertisements for a specific website or URL in paid search results.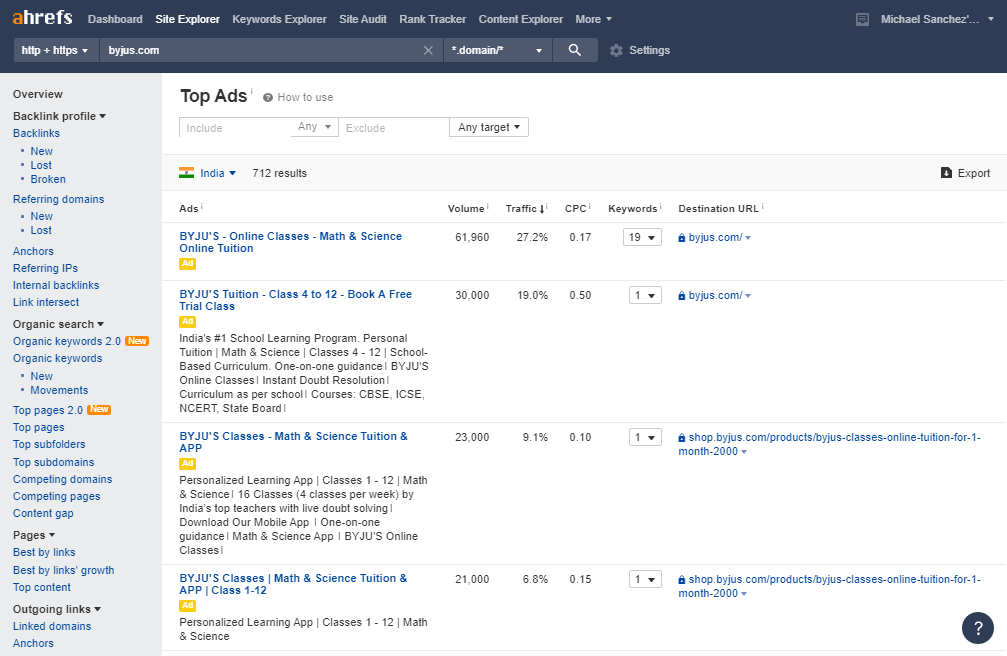 Top Landing Page
This feature returns all the landing pages ranked with respect to the traffic. It shows which pages on a target website get the most paid search traffic.
Keyword Explorer
You can find this button in the title bar (third from the left.) as shown in the figure below.
When you click on this button it will take you to an adaptive page where you can input your required queries. Now, if you can see the screenshot below you'll see the page you're redirected to once you select the keyword research option.

Talking about the page, here you are provided with multiple search engine choices to pick from as per your requirement as to which search engine you wish to target. For now, I am selecting Google.
Apart from the search engine, you can also set the location and I believe by now you know what role does location play with everything here. Moving on I have entered the keyword "digital marketing course" and click the search button.
Now, moving on once you press search you are provided with an overview of information at a glance. Look at the image below you'll see what all information is provided.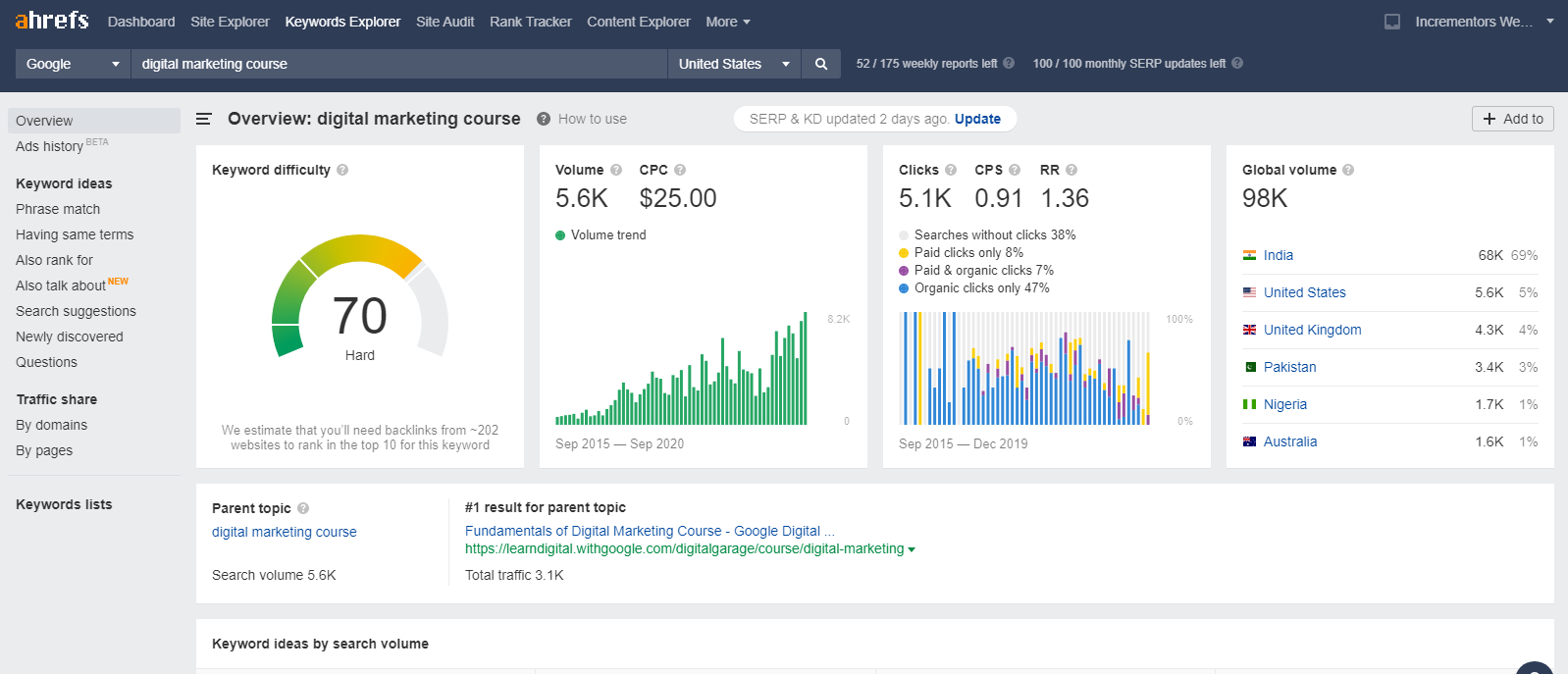 The first thing that catches your attention once the overview arrives is the keyword difficulty meter-like representation, the question that arises here is what does the number indicates. I have described keyword difficulty above in this very blog, but let's see what our searched keyword Digital Marketing tells here.
It shows a numerical value of 88 and shows "Hard" below it as a description.
This KD parameter tells how difficult it is to rank your website for a particular word but obviously, it is now considering your website's capabilities. If you have a value in the range of 30-70 it is considered hard and above it is extremely hard.
Besides, we have other parameters like search volume, CPC, a global volume which we have covered earlier in this very blog.
If you look below these metric descriptions you'll see a heading Parent Topic. Every keyword you search comes under a parent topic, for example, if we talk about Facebook ads, Twitter ads.
All of these come under social media advertisements and broadly under digital marketing.
While unlike other seo tools Ahrefs provides you with options for search engines. This is a major plus while most of the tools only give options for Google.
With all the good things offered comes some drawbacks. For Ahrefs it is the generation of new keywords, if you have used this tool you might have a contradiction with my statement here.
Yes, Ahrefs come up with a lot of keyword suggestions but they aren't all useful. In fact, I have come across some completely unrelated ones.
Keyword Ideas
Now, if you look at the extreme left pane on your screen you'll see a few options under the heading of "Keyword ideas".
Phrase Match
Phrase match is a filtering feature to filter out the relevant searches as per your keyword. This particular option allows you to see only the results which have phrases exactly the same as your entered keyword.
Having the Same Term
This is similar to the "Phrase match" feature but it is flexible with the order of occurrence of your entered keyword order.
For example, as you can see in the image above, not every search query is "digital marketing course" it contains all three words but not necessarily in the exact same order.
Also Rank For
It provides you with the suggestion of keywords that are related to yours. You don't always want the information about your keyword but something around it as well.
Also Talk About
This feature provides you with the targeted keywords and phrases that top 100 ranking pages use frequently for your mentioned keyword.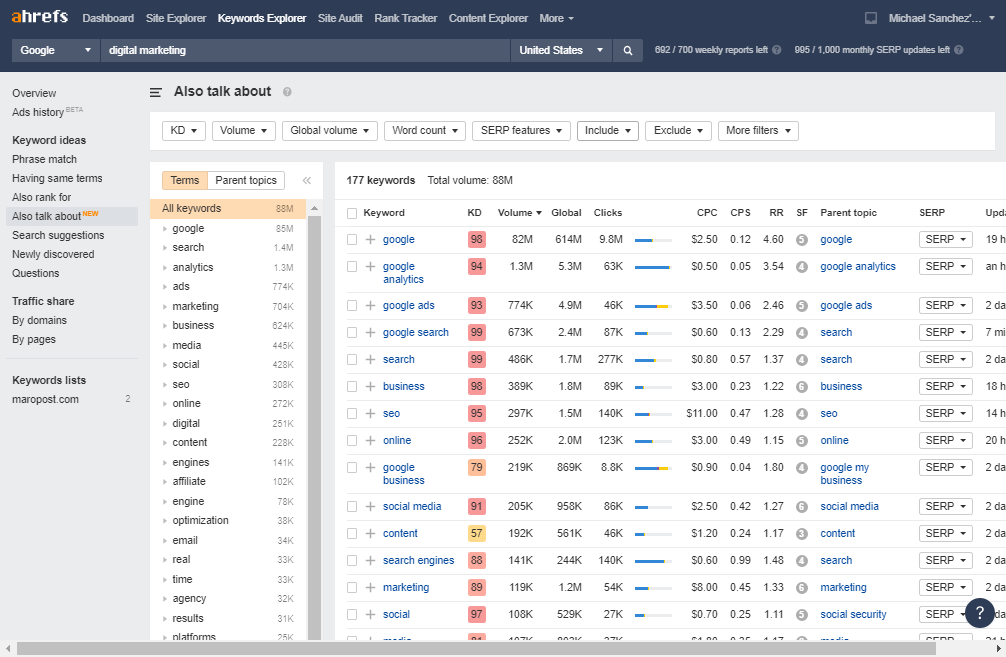 Search Suggestion
Search suggestions as the name suggest it contains just additional suggestions for your keyword-related searches. It extracts data from Google search suggestions.
Traffic Share
Moving on in the similar pane there is another heading Traffic Share with two options under it. Take a look at them as well.
By Domain
This feature gives a detailed analysis of all the websites that gained traffic and their stats along with it using the same keyword.
By Pages
This feature returns the search results as per their ranking and traffic percentage they attract using the same keyword.
Site Audit
Site audit with its names gives a hint of what functionality it might hold. Well again, you find this button in the title bar of the tool.
Site audit crawls your entire website, analyzes it, and provides you with the good and bad deeds that your file holds. What all pages or URLs are creating an issue or what is the issue, it also provides the necessary suggestions to resolve them.
When you click the on-site audit, you'll be asked to add a project which is basically your sites' domain or URL. You can refer to the image above. I have already added a project.
Once you add a project and start the site audit you get a detailed overview of the site as shown below. Now let's talk about what all this overview page holds.
Related: Learn the Effective Purpose of Screaming Frog Tool to Find Broken Links in a Website
Health score: It depicts in percentage how many pages are without error on your website.
Content types of internal URLs: it provides you with a chart showing the fraction of various technologies that your site has used to create different URLs.
HTTP status codes of internal URLs: it provides all the URLs division with respect to HTTP codes.
Content types of internal URLs by depth: It gives a representation as to how many steps the crawler has to take to reach the content.
Now, take a look at the screenshot below, there are two donut charts one depicting "HTTP status code distribution" and the other with "content type distribution". But what significance do they hold?
The HTTP status code distribution provides you with a glimpse of all the kinds of code that are being used by the site.
Whereas the content distribution chart tells you about the different technologies and their percentage that are incorporated together to make it work.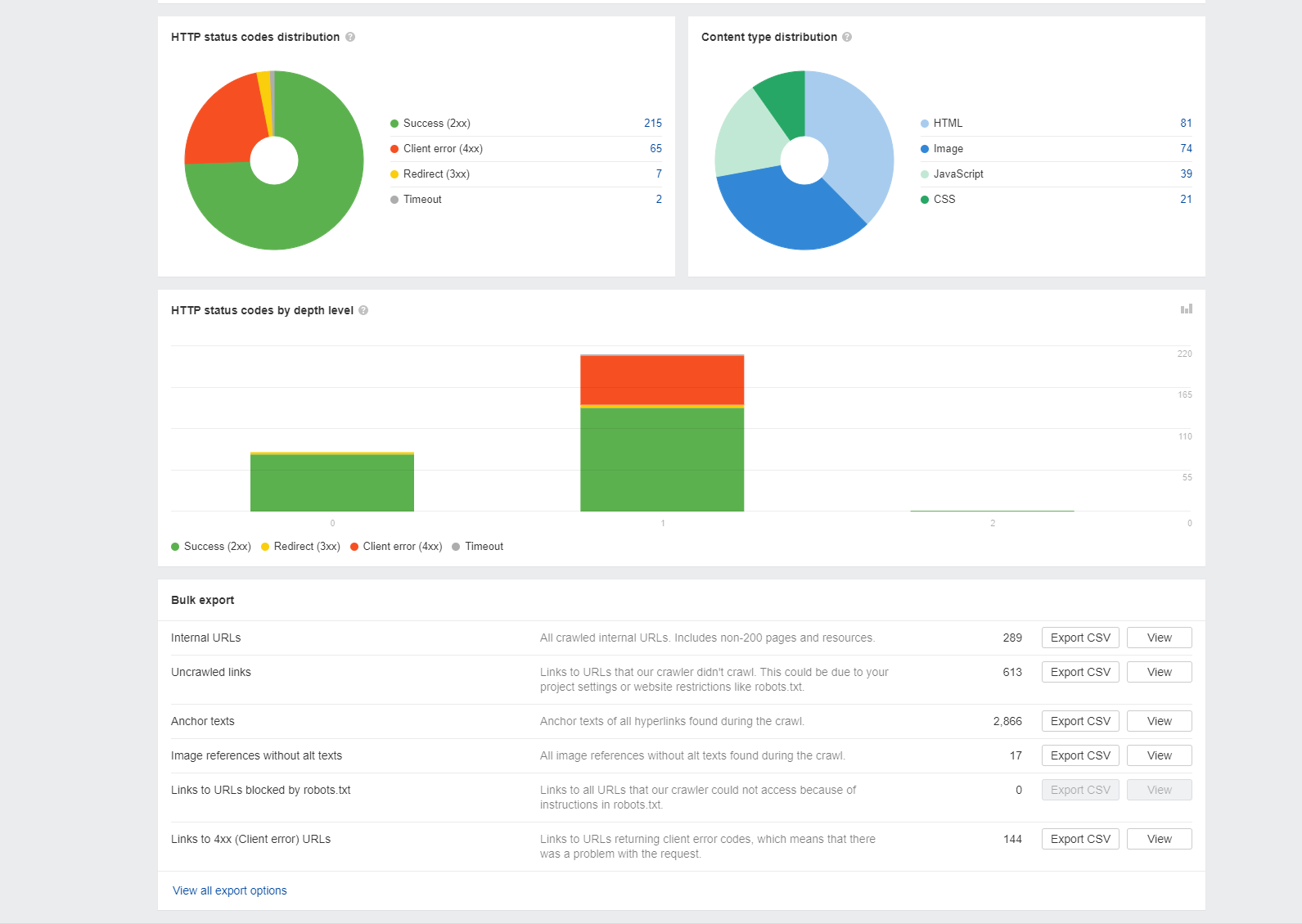 Look at the left pane features.
Here we have "CRAWL LOG" lets take a look at it
Crawl Log
This feature holds all the information regarding the crawl logs that have been performed. It consists of all the information about the time it took to crawl, the number of URLs that have been crawled.
Tools
In the left pane our next subheading is "Tools"
Page Explorer
As the pages are crawled the data is stored systematically. The page explorer features allow you to access that data and perform your analysis.
Structure Explorer
This feature provides you with information about the site structure from the crawler's point of view.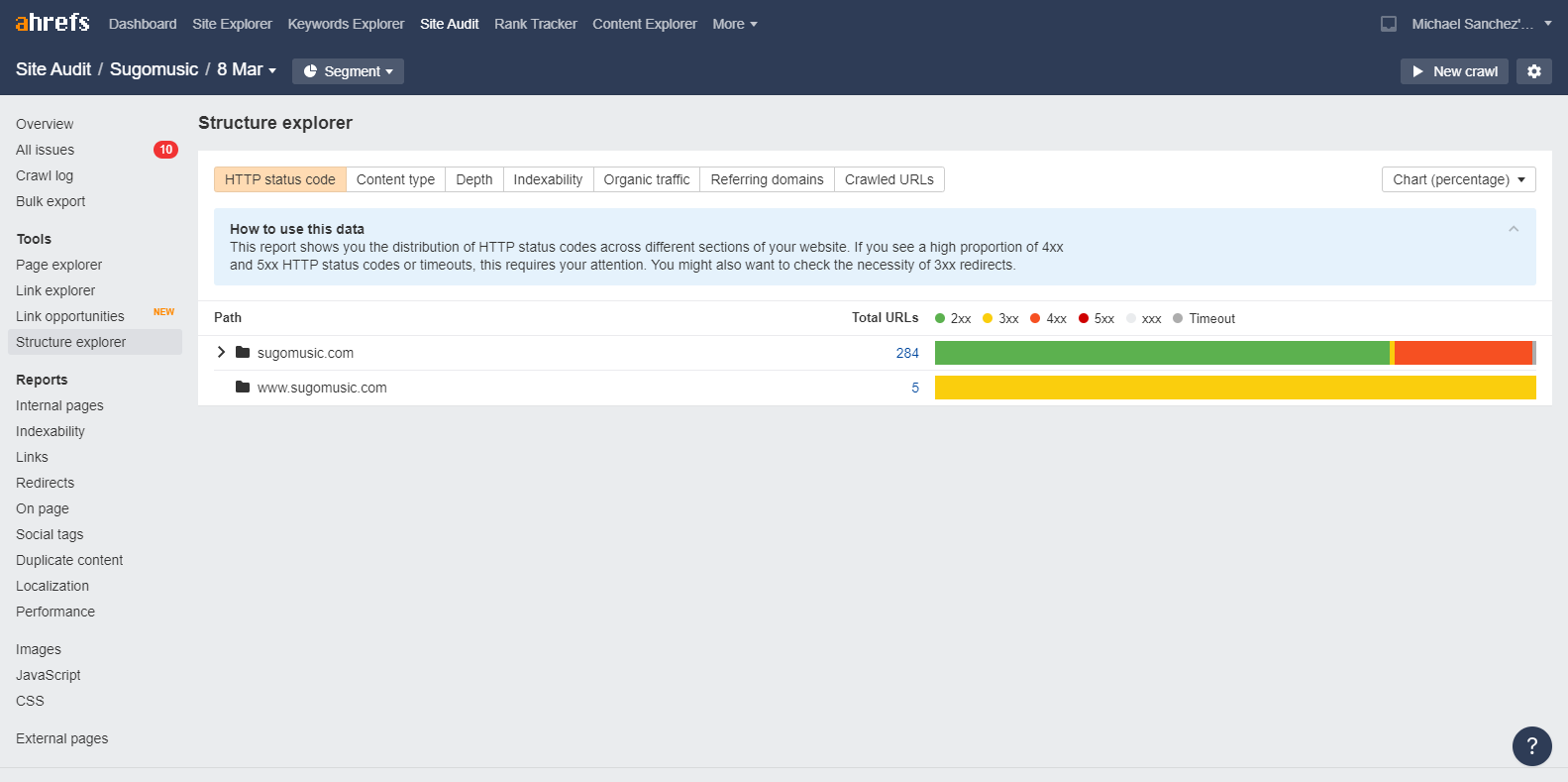 It holds all the information about how many URLs are present in which segment, the pictorial representation adds to informative content. You can see how various aspects are depicted in a fine way.
Report
Apart from these, we have a "report" heading as well in the left pane which is further divided into 'internal pages', 'external pages', and 'resources'
Internal Pages
Internal pages provide the report about all the internal pages within the site and their various aspect related representation of problem and suggestions to cope up.
It holds other subdivisions such as performance, HTML tags, social tags, content quality, localization, incoming link, and outgoing links.
Resources
Resources take care of styling aspects of the website and issues related to them. Resources feature is further subdivided into three categories namely, CSS, javascript, images
External Pages
This feature provides the data about the embedded pages you may have on your website.
Rank Tracker
The rank tracker feature can only be used if you add projects. But what does it do?
It provides you information regarding the rank of your site with respect to all the affecting parameters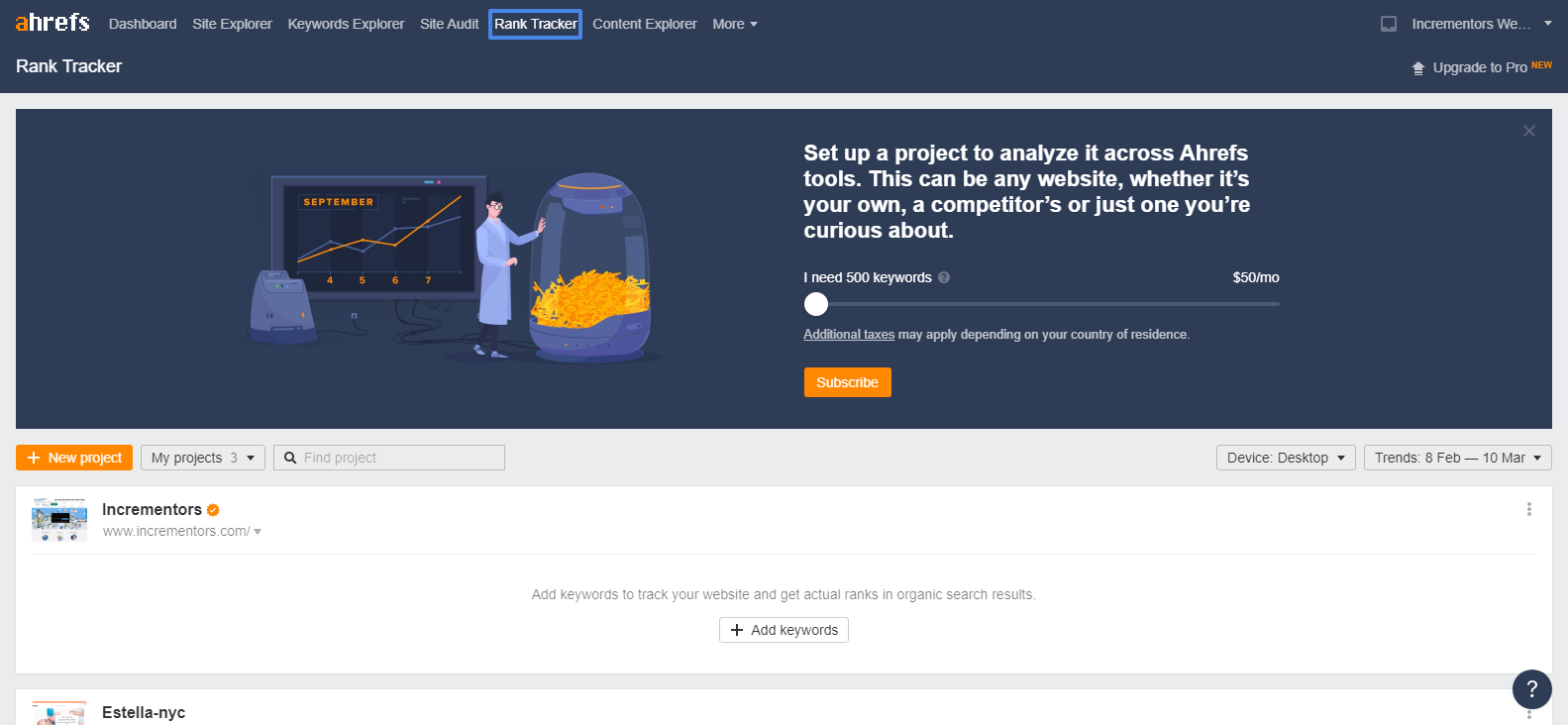 Once we open the rank tracker we are redirected to the overview page as shown below.
The overview pane gives a piece of well-structured information about the keywords that you might have used while adding the project.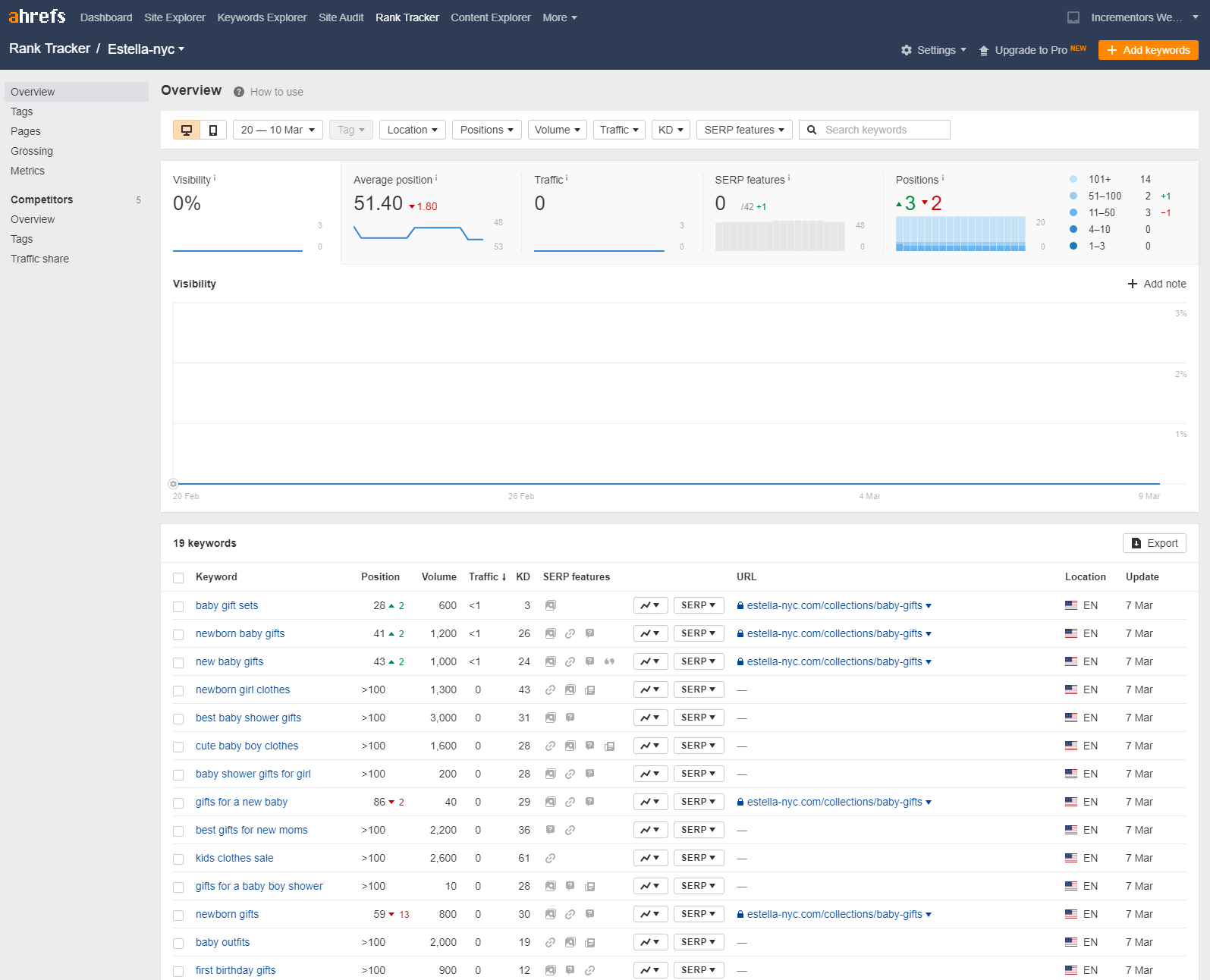 Apart from metrics for your website. You can compare your competitor's efforts against yours as well. Moreover, you can have a graphical representation of the highs and lows that your competitors face.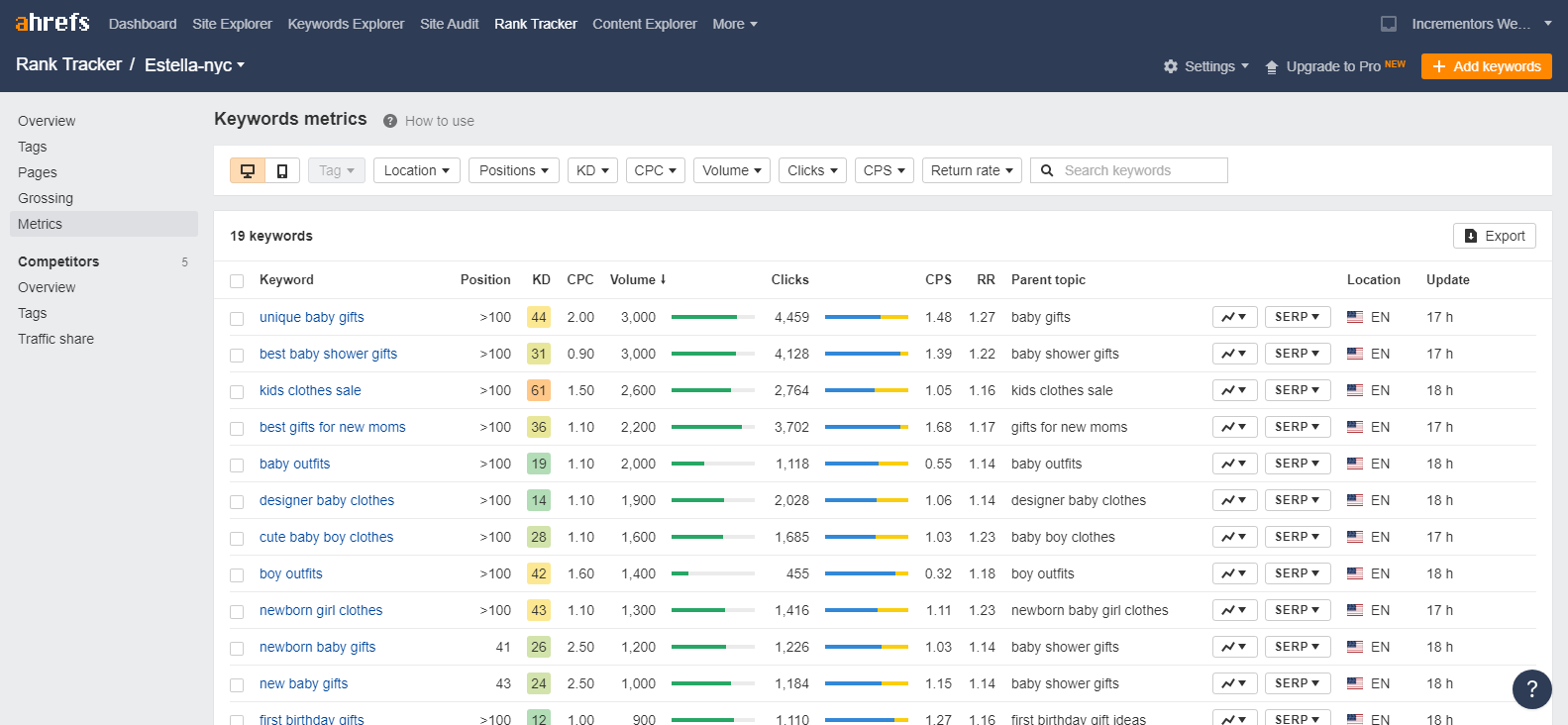 The metric page shown above gives a similar metric that you can have in keyword research. The only difference being it is project-specific here.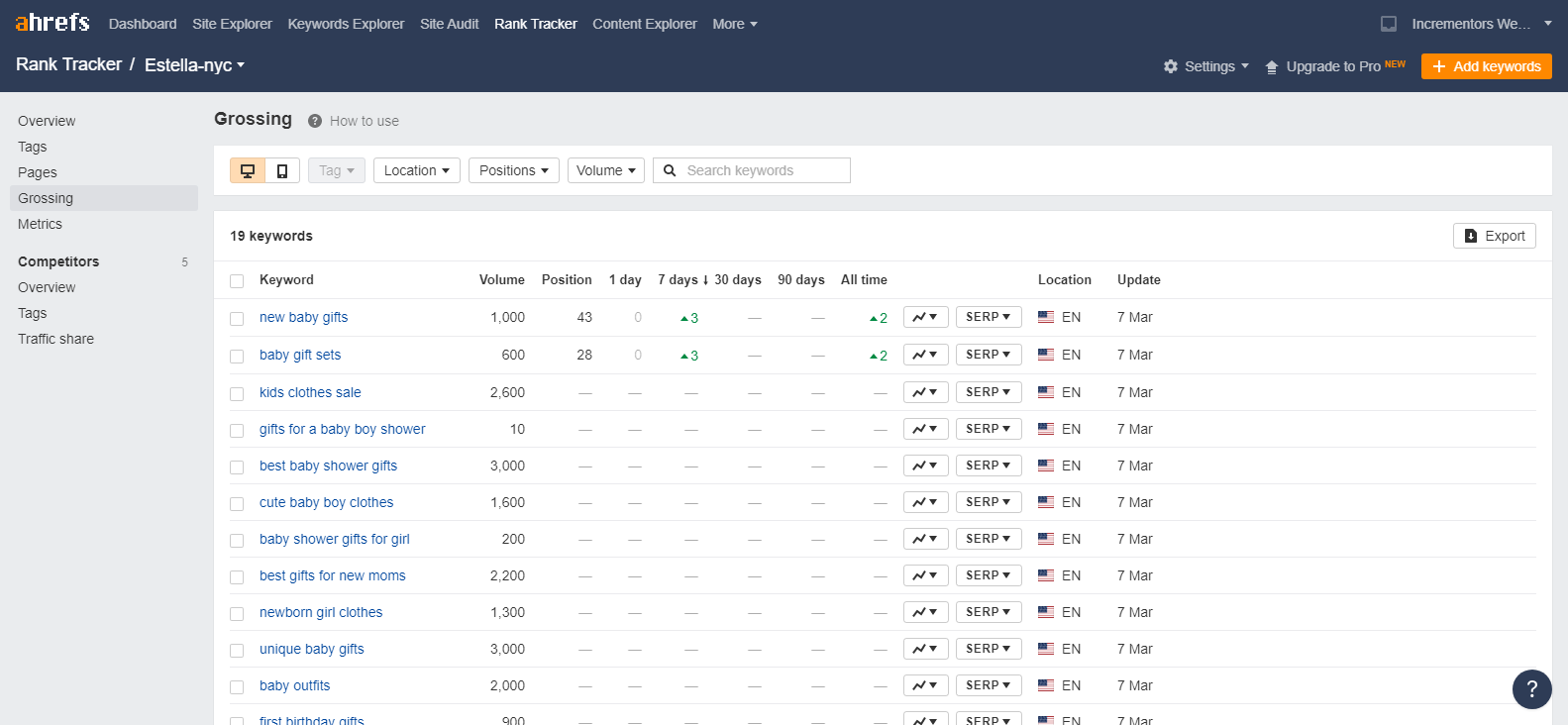 Grossing provides you with a tabular detail regarding the position of your website on desktop and mobile date wise
There is no big difference with the rank tracker that Ahrefs offer, like all the other tools you drop in some keywords and check where they rank on Google.
But what concerns me is that Ahrefs doesn't regularly update the rank trackers. The frequency depends upon the plan you choose and not even the highest plans have regular rank tracker updates.
Take a look at the plans offered by Ahrefs and the update frequency mentioned in the image given below.
Content Explorer
Content explorer features can also be found in the title bar of the tool as shown in the image below.
Content Explorer by Ahrefs let you find the most popular content around any topic or from any website. You can sort content based on social share or backlinks.
It's used to extensively analyze the content on your website. What role it plays, what are the threats related to particular content, and everything else along those lines.
It allows taking a deeper insight into your content- which content is doing great which isn't. You can easily look at which page is gaining or losing backlinks. What is the traffic pattern on multiple pages?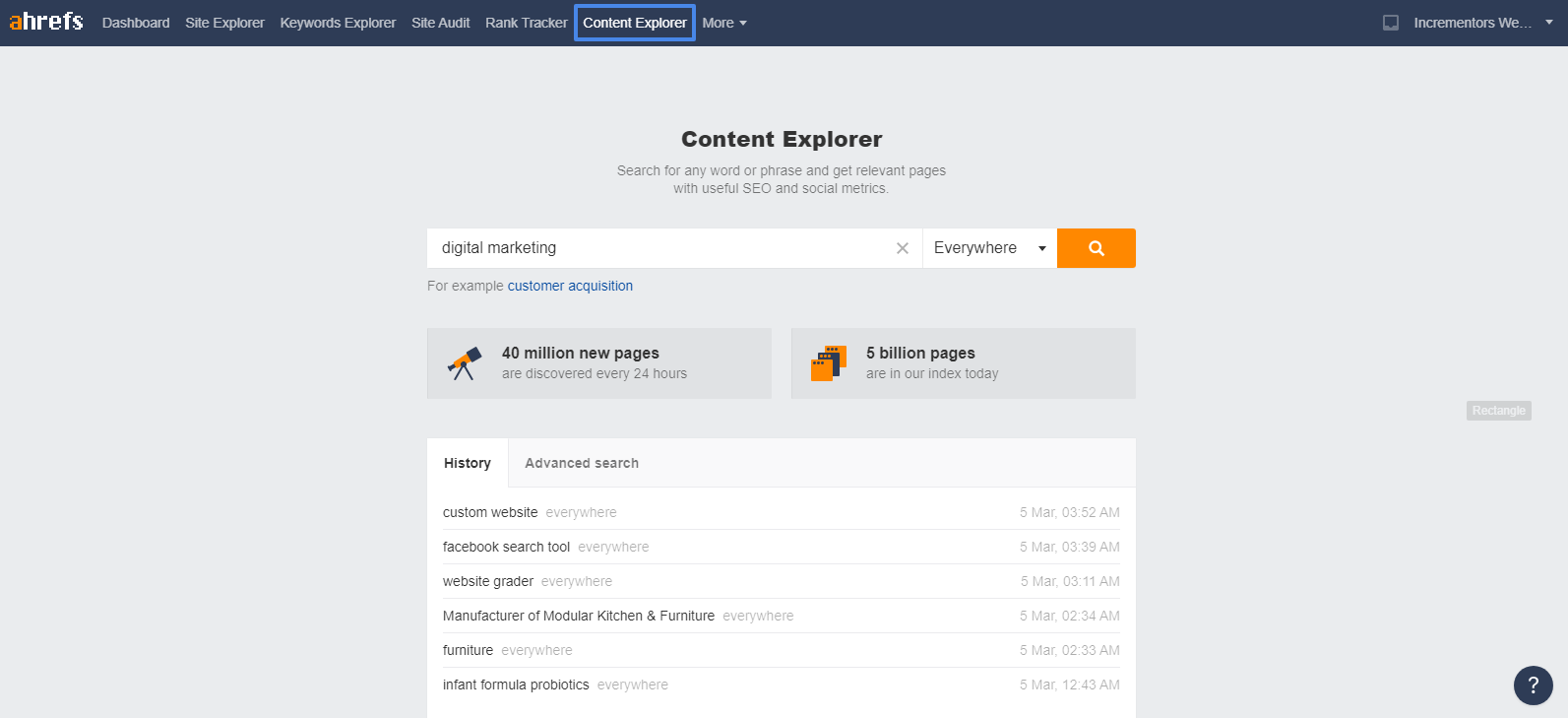 Once you fill in the keyword for the content you're looking for you can use a filtering option right beside the search button that consists of multiple options to narrow down your search.
After you click search you are redirected to another page with a lot of graphs and statistical values, refer to the image below.
This "pages over time" representation shows the amount of content that has been posted related to your keyword over time.
You can always play around with filters and widen or belittle your searches. Now, if you take a look at the image below it is a detailed history of the content result that we got for our keyword.
With content explorer Ahrefs takes a big lap because the competitor tools SEMrush and MOZ Pro both don't have anything to explore through content insights. Content Explorer hands down is a great feature.
The 'more' menu in the title bar undoubtedly holds a lot more than you can guess, lets dive into less known features of this amazing tool. Shall we?
Alerts
This feature can also be found in the title bar of the tool, the objective of this feature is to provide notifications regarding the backlinks, the new keywords, and mentions after a set interval of time for the projects that are available on the dashboard.
Ahrefs Rank
By this feature, the Ahrefs tool provides you with a list of all the websites that are present in their database ranked on the basis of their size and backlink profiles. The higher the DR value the website holds the closer is its ranking toward Ahrefs rank #1 .
Domain Comparison
This feature allows you to compare your domain with at max 4 domains at a time and return a tabular difference on multiple aspects.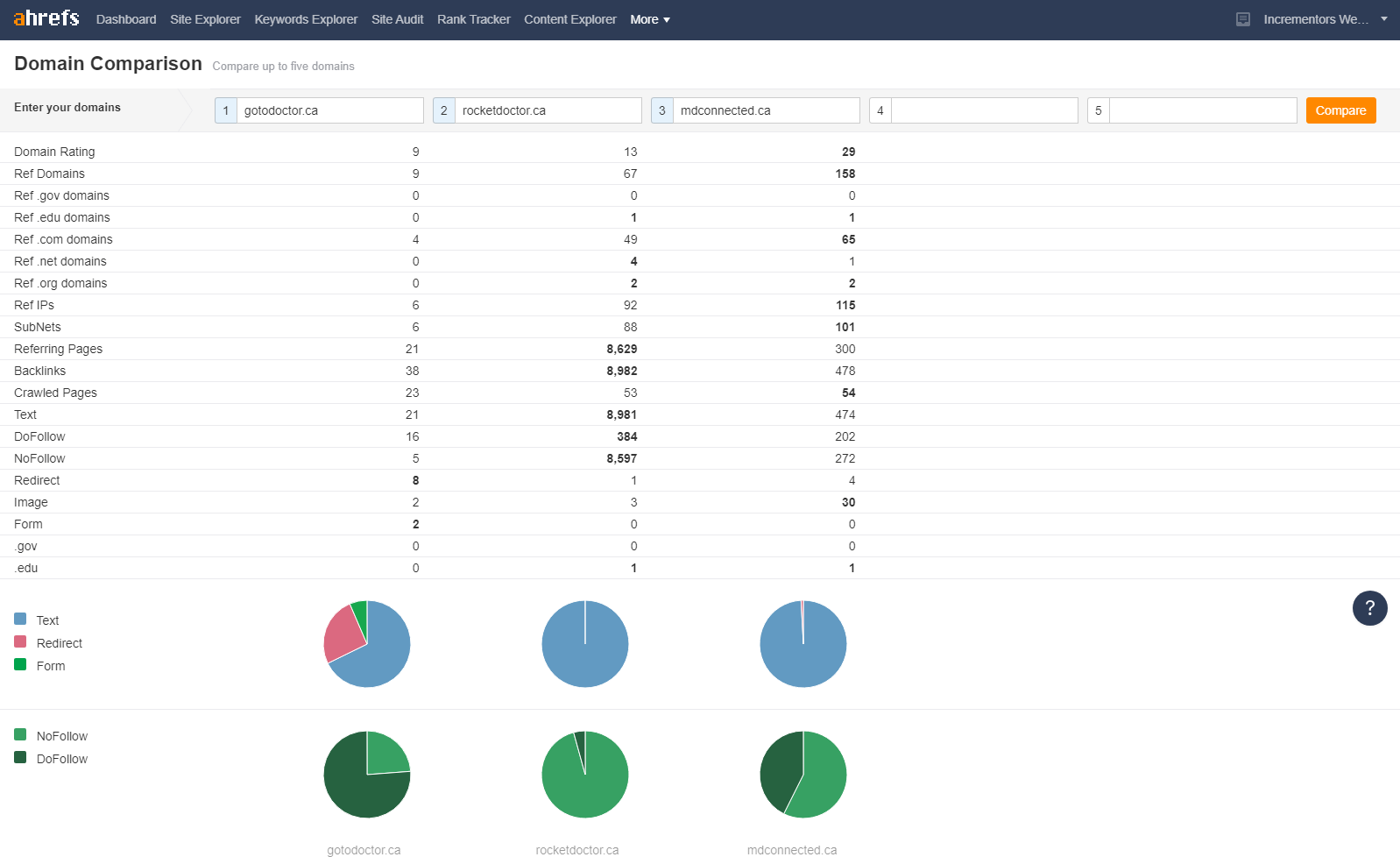 Batch Analysis
It allows you to analyze in a batch. Suppose you have a list of 100 competitors. You just have to type that in, and you will get a curated analysis for all those competitors.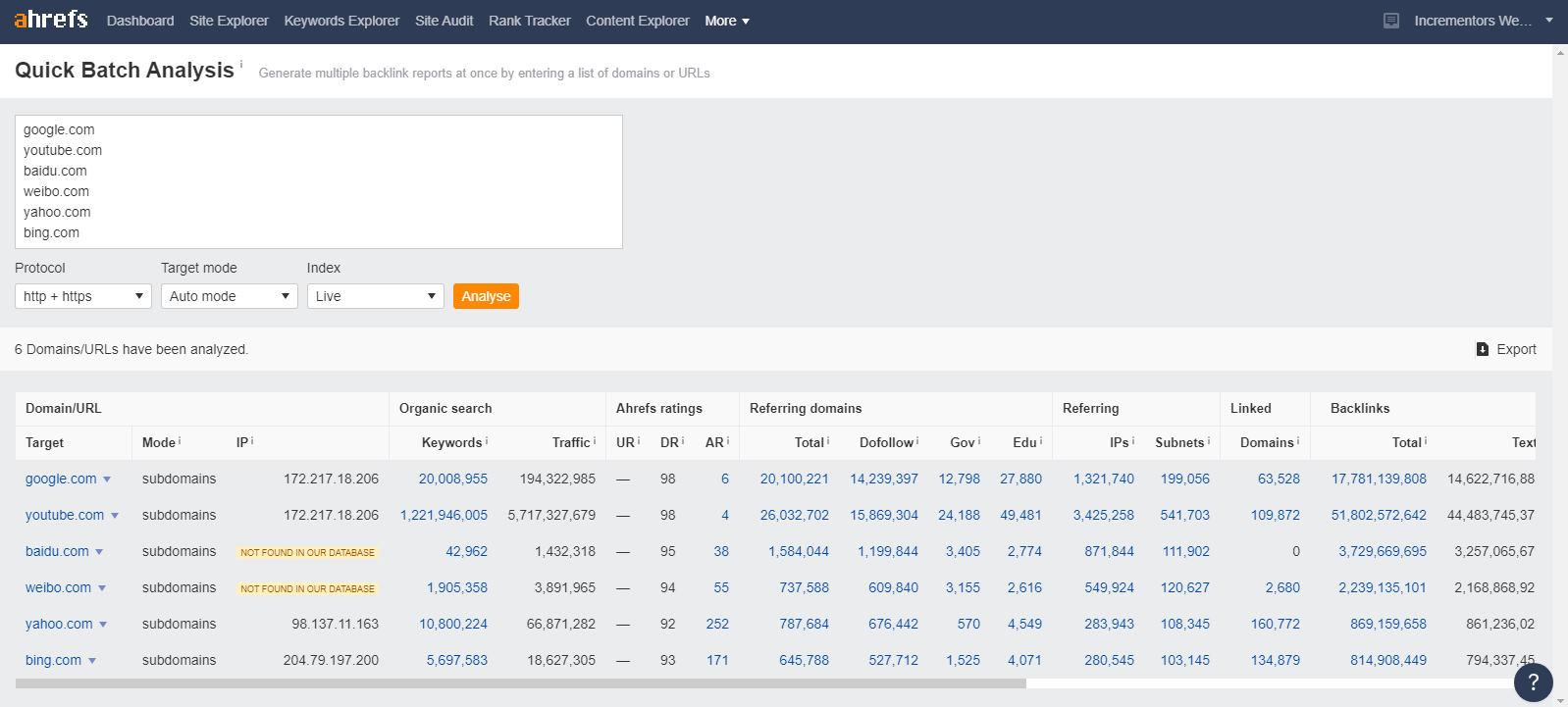 Ahrefs SEO Toolbar
Ahrefs SEO Toolbar is a free extension for Chrome and Firefox that provides useful SEO data about the pages and websites you visit. You just have to install the SEO toolbar extension and incorporate it with your browser.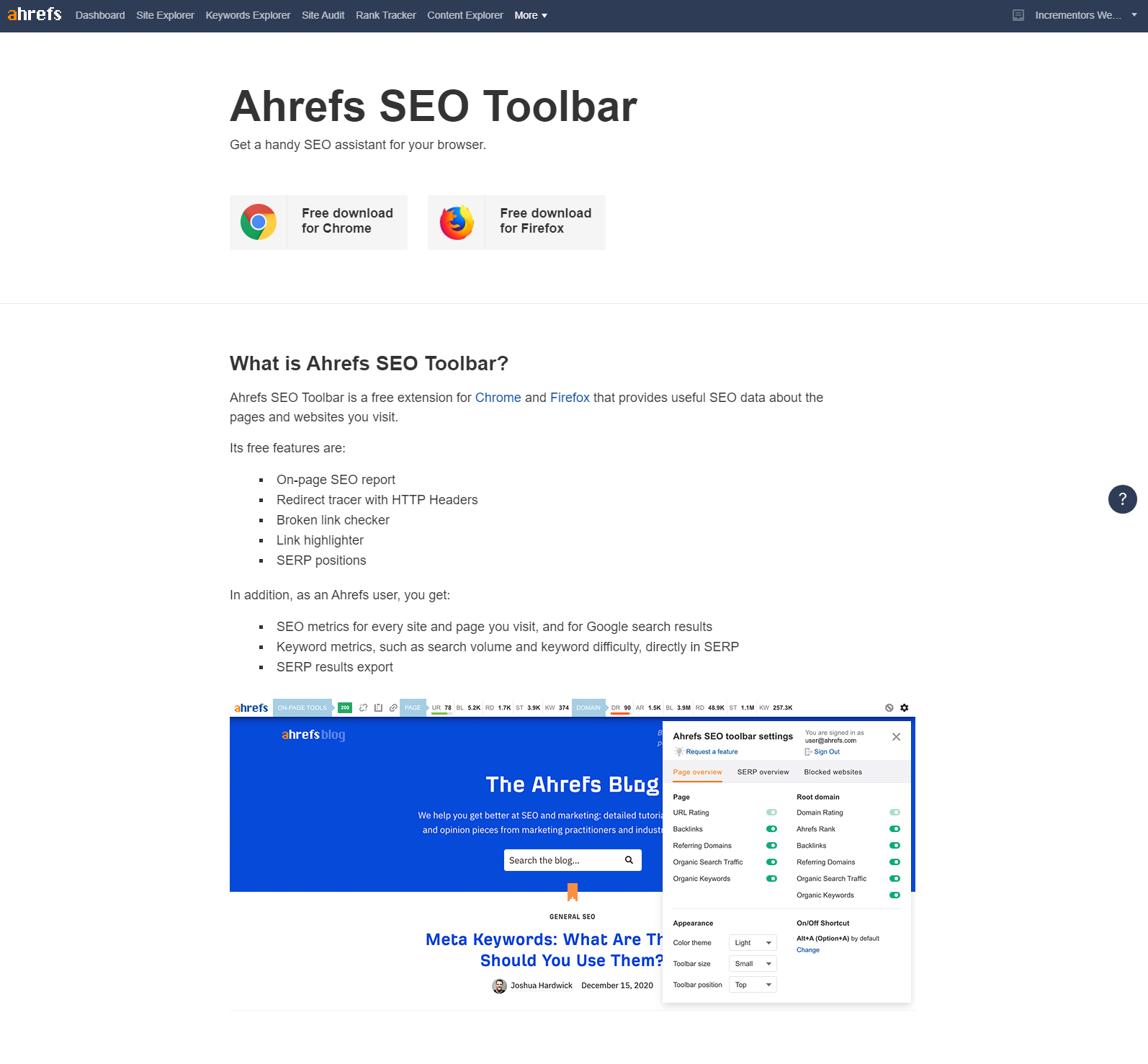 This enables you to see the keyword metrics for the search query in your SERP results for the selected country. By default, the country is set to the US, though you can always change it and metrics change with it.
Not just this, the toolbar is integrated with SEO tools so you can simply see the detailed metrics just by clicking on the metrics toolbar. The most intriguing part is that if you scroll down to the results you can see SEO metrics for all the results right below them.

Ahrefs API
You must be well aware that every tool has its own database where it stores the data and there are rules and regulations to get access to it. Ahrefs API isn't anything fancy but a way to get access to its database.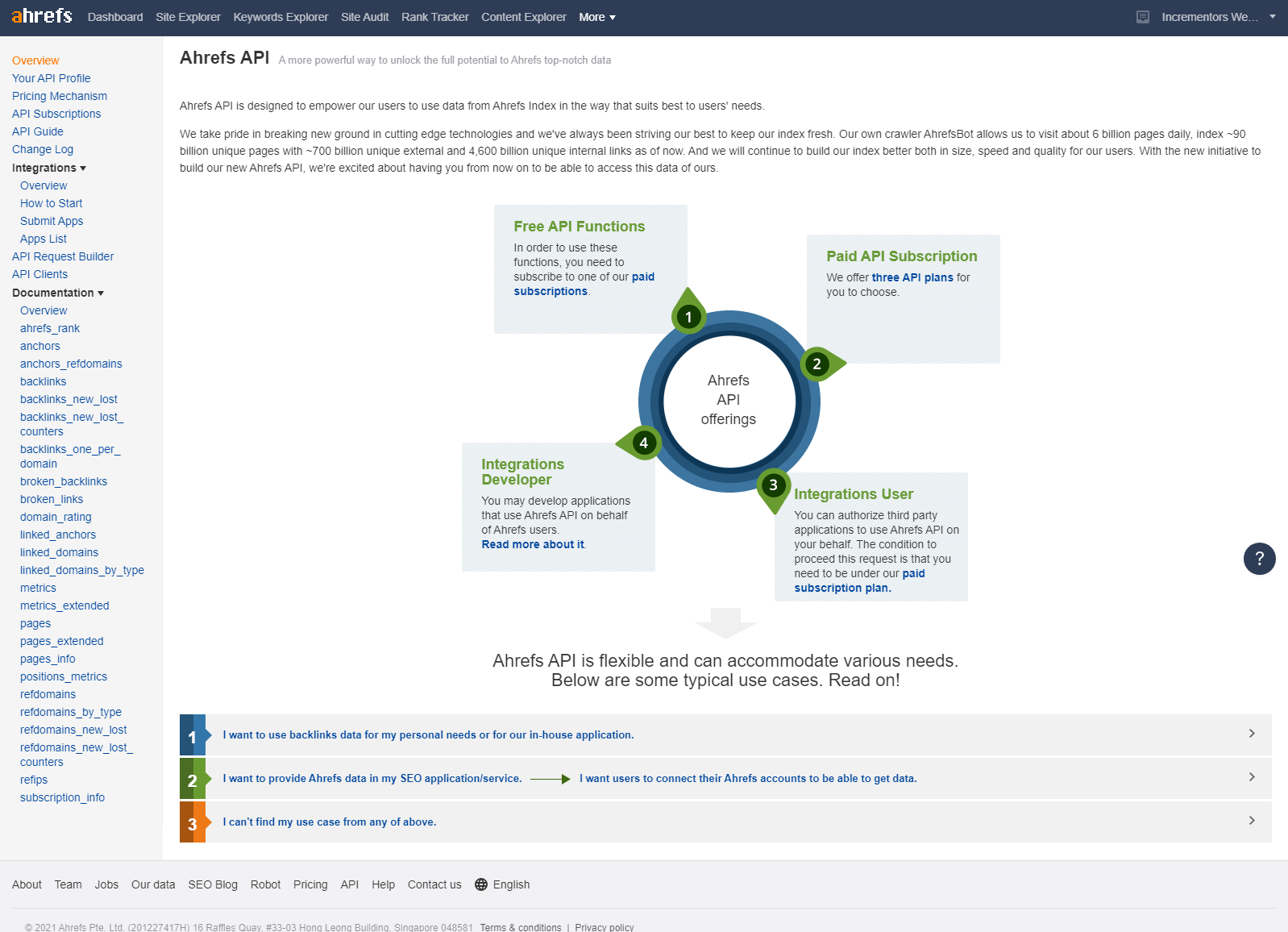 Ahrefs Pros
Provide adaptive user interface.
The data that Ahrefs offers both quality and quantity.
Their keyword analysis for any marketing professional is a satisfying treat.
The little details offered across columns and features are of great help.
Serves an insane user experience.
Features like 'Content Gap', 'Link Intersect'. 'Competing Domains' don't just help but guide you.
Content Explorer and many features like this makes this tool one of a kind.
The site Audit feature provides the maximum adaptiveness, serves better than the tools that are meant for just site audits.
Ahrefs Cons
Less frequent Rank Tracking.
Random and unrelated Keyword Suggestions.
Traffic stats can be updated more frequently.
Referring to domain feature is not very intuitive, they can include more filters there.
The reports with a lot of graphs in one view are difficult to understand.
Lack of mobile version.
It is EXPENSIVE.
With all the features it offers, the user requires a good knowledge of the tool.
Conclusion
Congratulations! You've made it to this Ahrefs site explorer guide. I have discussed all the possible features you might encounter while dealing with this massive tool. You can always explore more tools in order to widen your knowledge horizon.
But I am confident that if you have followed this guide attentively you're all caught up with micros and macros possible within your analysis. I hope now you can make up your mind if you need Ahrefs or not.