Nowadays, everyone is on a rising quest to improve the performance of their website.
From having trouble in finding suitable keywords to not having funds to invest in paid tools, your resources are depleted.
Google Keyword Planner used to be great at this where you could enter any 'seed' keyword and see tons of keyword suggestions, along with search volumes.
But that is not enough now, is it?
Some tools promise to be free forever but lack the terms needed to construct a basic outline.
While other tools are just a sham.
So, how can you figure out which keyword research tool is the best fit for you?
Don't worry! I would help you.
In this blog, I have compiled a list of the best keyword research tools and would present information for each one.
So, without further thought, let's get started.
Why Is Keyword Research Important?
If you have launched a website or published a blog, you know SEO is important to get the eyes on what you have built and keyword research is the core part of optimizing your site.
Also, it is important because that can help you expand your business online. Keyword research can tell you what phrases people are actually looking for, how competitive those keywords are, and how to improve organic search exposure, ranks, and traffic with your content marketing strategy.
And believe me, there's no shortage of keyword research tools out there and they are available for everyone from beginner to an experienced SEO expert. The greatest SEO keyword research tools simplify and streamline your SEO workflow when used correctly.
They help you locate the correct keywords to target and provide the information you need to rank for them. Also, they might make your search more difficult and slow you down if done incorrectly. So, here's the list of some best keyword research tools. Or, you can also watch my video on Youtube about 6 Best Free Keyword Research Tools for SEO.
11 Best Keyword Research Tools
There are several keyword research platforms available for both SEO and PPC. Let's discuss them.
Schedule a free-of-cost 30-Minute Strategy Session with our experts.


WordStream Keyword Tool
If you are searching for the best keyword research tools then it would be WordStream Keyword Tool. Why? Because it is a free tool that also comes with strategic advice. Yes, you read that right. Let's know its speciality further.
Good for: Simple and painless PPC keyword research.
A unique feature: It has a keywords database with strategic recommendations for 60 verticals.
Price: The first 25 results are free, and the remaining results are sent to you by email which is also free.
How To Work On WordStream Keyword Tool?
Step:1 Enter a term or URL into WordStream's Free Keyword Tool search bar.
Step:2 Sort by geography (there are over 23 nations to choose from) or industry (by 24 different verticals) that you are targeting.
Step:3 You would get a list of related and long-tail keyword recommendations, as well as search volume, competitiveness, and CPC for both Google and Bing. The program would immediately provide the top 25 keywords, and choose from them.
Advantage: This tool is great for identifying seed keywords and starting points for your campaigns.
Even better, browse down the Popular Keywords page for advice on how to use high-volume keywords and the individual vertical sites for advice on how to promote in that niche.
Keyword Surfer

Keyword Surfer is a recent tool that integrates with the Chrome browser. When you turn it on, results appear on the right side of your results page whenever you enter a search query.
Keyword Surfer provides the following information:
1.Ideas for keywords and their volume.
2.For each search phrase, the cost per click (CPC) is calculated.
3.Pages are ranked for the search phrase you typed in.
4.Pages that are ranked from 1 to 10 for that keyword received the most traffic.
This keyword research tool gives you results right in your browser.
Cons: There may be some glitches to iron out as a new tool. The data provided by the plugin may differ from that provided by other Google search tools. This tool, however, has a quick and simple technique to generate content ideas by not only giving keyword research but also providing other ranking pages for analysis.
Ahrefs Keyword Explorer
Ahrefs Keyword Generator is a free tool provided by Ahrefs. It has both free and paid services to optimize your digital journey. It is one of the best keyword research tools you would ever find.
The Keyword Generator shows the following information for the entered keyword phrase:
1.The number of searches
2.The complexity of keywords ranges from 1 to 100.
3.When was this result last updated?
4. A collection of similar questions to your search keyword
PROS
It provides upto 100 keyword suggestions from its database of over 8 billion terms for the entered keyword or phrase. This keyword research tool may help you find long-tail keywords, target less competitive terms, and narrow down your search by area or search engine.
It allows you to get your result list and export your data. Apart from the Google Keyword Generator, Ahrefs also offers free Bing, YouTube, and Amazon tools.
Ahrefs offers a separate page for their free SERP service, whereas other freemium providers integrate SERP results within the keyword search tool. The Ahrefs Keyword Generator allows you to do infinite searches without having to create an account.
CONS
It does not, however, allow you to download your results, unlike other programmes. You also have to confirm you're not a robot with each new search because you can't make an account with the free service.
Google Keyword Planner
Google Keyword Planner is one of the most famous tools by Google and it is 100% free.
Good for: PPC keyword research and account insights for intermediate to advanced users.
Unique Feature: Bidding data and extensive attribute filtering are two unique features.
Price: It's free with an active Google Ads account.
This refined keywords tool allows you to filter terms based on certain properties.
For example, if you have keywords linked to dry skin, you could limit your search by skin type, symptom, condition, branded versus non-branded phrases, and more.
PROS
You would also see how much marketers have previously paid for the top of page bid for that term. If you're currently advertising for that term, you would also see your ad impression share and whether or not the keyword is in your account.
GrowthBar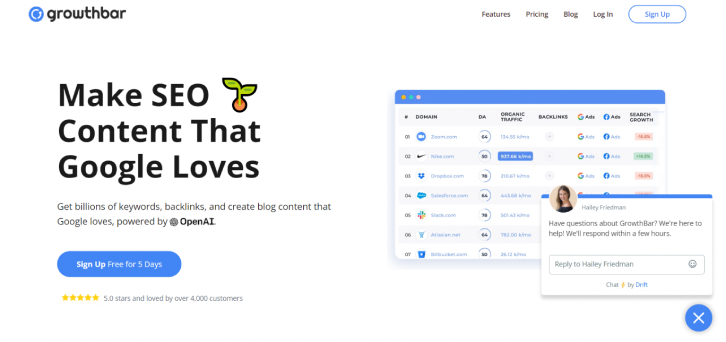 With the help of a growth bar you can track any site's keyword rankings and get access to billions of keyword suggestions, keyword difficulty scores, and related long-tail keywords—all in delightful dashboards.
Good for: Business owners and content marketing newbies who are computer savvy.
Unique Feature: AI is used to produce SEO content outlines.
Price: Starting at $29 per month, with a five-day free trial and a seven-day money-back guarantee.
PROS
Growthbar has all of the normal SEO features, such as keyword ideas with monthly search volume, CPC, difficulty scores, rank monitoring, and site assessments with domain authority, keywords, backlinks, and even Facebook and Google Ads.
Subscribers of the platform receive a free chrome extension that delivers this information as you search. And being a product of Artificial Intelligence, it has an intelligence to generate data and use this data itself to provide content outlines for you with keywords to target, titles, introductions, headers, word counts, photos, links, and much more. Artificial intelligence in marketing is a good thing!
SEMrush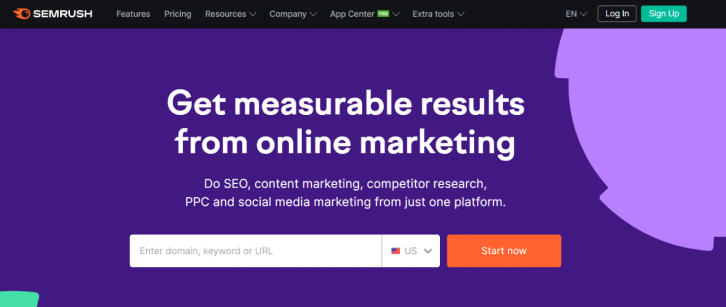 Semrush Tool is one of the free tools provided by the SEO powerhouse Semrush. You just have to create an account and choose Skip Trial to have access to their free tools, and if you like it, you may upgrade to the premium service later.
The Keyword Magic Tool provides you with access to over 20 billion keywords from over 120 different geographical datasets.
The following reports are available for free:
1.The number of searches each month.
2. Density of competition (competition among paid advertisers)
3. Keyword difficulty (the challenge of ranking in Google's top 20 results)
PROS
There are some useful sorting and organizing tools that let you arrange terms into topic-specific subgroups. You can use smart filters to restrict or broaden your search, and export your results rapidly. Related keywords may be found by subject, semantically related keywords, and keywords with similar wording.
CONS
The free account allows you only 10 searches per day across all of Semrush's related products.
Ubersuggest
It's a tool by Neil Patel digital. With its free edition, Ubersuggest gives a variety of information. It displays the search volume, SEO difficulty, paid difficulty, and CPC when you input a search query.
The amount of backlinks required to rank on the first page of Google for that keyword phrase is displayed immediately underneath that display.
You may see lists of keyword suggestions and page content ideas as you scroll down. The associated blog names are displayed in the list of page content suggestions.
You can see how many people have clicked on and shared each item at a glance. You can preserve and sort most of your data reports by exporting them to CSV. Ubersuggest is a free Chrome add-on that allows users to see data directly on the SERP.
Keyword Tool.io

Keyword Tool generates long-tail keyword recommendations for any query. It uses Google autocomplete which works on search behavior and statistics.
Good For: Finding long-tail keywords for SEO and PPC is a good use of this tool.
Unique Feature: Suggestions for eight distinct platforms.
Price: Free with no numerical data; premium subscriptions start at $69 per month with a 30-day money back guarantee.
PROS
Keyword Tool.io displays hundreds of options whereas Google autocomplete provides only five possibilities for keyword research. Also, this tool adds words and prepositions to the keyword and provides tailored suggestions to Google, YouTube, Bing, Amazon, eBay, Play Store, Instagram and Twitter. The tool's free edition allows you to sort questions and prepositions, as well as filter results to include or exclude certain terms (a maximum of five exclusions).
CONS
The commercial version begins at $69/month which gives access to the whole list of ideas, as well as statistics such as search traffic, cost per click, competition, and trends, as well as competitive analysis tools.
Serpstat
Serpstat gets on the line between premium and low-cost keyword research tools. Competitive analysis is this tool's primary focus. You can compare the components of your website to your rival's from the generated analysis of the top competitors.
You would see how many keywords each site is targeting with organic content as well as paid advertisements. This also tells how many keywords are shared between your site and your competitor. Even similar samples of ads for that term can be compared.
Good For: Intermediate SEO, PPC, and competition analysis

Unique Feature: It displays a graph of rivals as well as ad samples for keywords.
Price: Free for the first ten requests per day and then, charges $55 per day.
Paid and organic reports are kept separate; a depiction of your competitors is another nice feature.
Moz Keyword Explorer
Moz (the firm) is one of the most well-known SEO resources and the best keyword research tool. It's the creator of Domain Authority, Whiteboard Fridays, and a free Chrome plugin that shows you the Page and Domain Authority of any page.
Good For: SEOs and PPCs

Unique Feature: Organic CTR and Priority Score

Price: Free for 10 searches per month and premium plans start at $99 per month.
Moz Keyword Explorer is the company's tool that provides basic keyword data as well as rank tracking, site audits, and page optimization reports. It calculates a Priority Value based on the data for a term and your "My Score"— a score you assign to how significant a keyword is to your business.
Organic CTR score – This click-through rate demonstrates the number of clicks you're expected to attract on page 1 of Google.
Priority score – The priority score is a mixture of all the individual factors a typical tool uses to suggest keyword options.
It combines data on CTR, search volume, and keyword difficulty to help you select the best terms for your project. However, it misses a lot of features that Semrush and ahrefs provide, such as SERP position history and the amount of keywords a ranking result ranks for.
Since Rand Fishkin departed the firm in 2018, the platform hasn't been upgraded significantly. Nonetheless, if you're searching for a less intimidating and more straightforward platform, it's an excellent choice.
Keyword Sheeter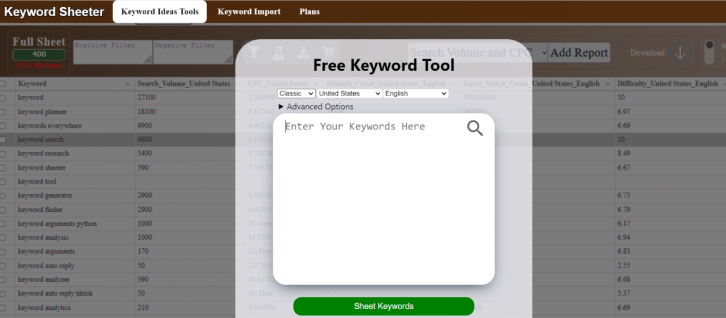 Google autocomplete results are pulled by Keyword Sheeter. It provides real-time information about what individuals type into the search engine.
Keyword Sheeter is a great tool for quickly generating a huge list of keyword suggestions. It generates 1,000 ideas per minute and allows you to export your list for free. It's a basic yet effective tool for coming up with blog subject ideas. Keyword Sheeter's free services, on the other hand, do not provide data on search traffic or how competitive it is to rank for a term.
Conclusion
So, here, we took some of the best keyword research tools which could help you in generating the best keywords for your SEO optimization and PPC.
Each page you produce requires time, work, and expertise, whether you're advertising a blog or establishing an e-commerce website. When you employ the greatest keyword research tools for your company, you can rest assured that your efforts would bear fruit.
Throwing darts in the dark and hoping they hit their mark is not a good idea. These 11 keyword research tools include all the information you need to make informed content planning decisions.
For more marketing tips and services, you can schedule a free-of-cost 30-Minute Strategy session with our experts. In this call, our experts would discuss your problems and provide you with the free strategies that you can use to boost your sales and revenue.