Roadmaps! Strategies! Plans!
All these terms are an important piece of your business' puzzle when you are setting out to achieve your goals like, attracting organic traffic through lead magnets and secondly, getting the sales and revenue through.
Now, the important fact about the digital market is that it is not what it used to be.
And, SEO is the major factor in your marketing website's appeal to your customer; the stakes have gone higher and because the ever-changing algorithm has a direct impact on your website's SEO, your work never ends.
The rules and guidelines for the optimization of your website are changing.
This can be seen in the tweet given four years passing in 2018 that states the dynamic of Google intelligence that works to enhance your website by making it more result-oriented of specific queries by being committed to changes and updates of its algorithms.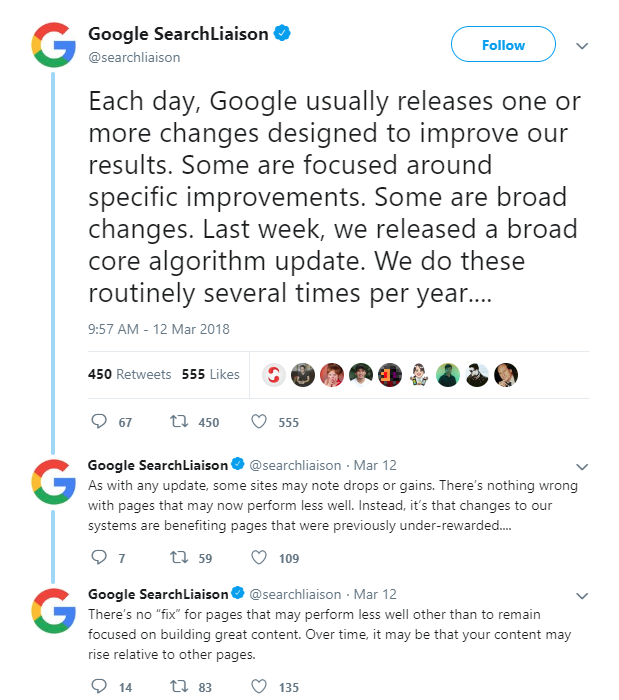 Now, don't think that just because the statement by Google SearchLiasion doesn't impact your ranking, this statement is pretty much obvious and equally true today as it was 4 years ago.
I would even say 'SEO is the essential part of your overall company's digital growth' and the Google algorithm changes impact SEO ranking drastically.
For example, Mobile Optimization is an SEO tactic used by 80% of the top-ranked websites as around 70% of web traffic comes from mobile phones.
The numbers you read above are studied and researched and are just a few years old what with mobile-first indexing starting in 2019.
This SEO was enabled by default for all new websites (new to the web or previously unknown to Google Search) by Google.
Google algorithm works to create a better online environment for virtual traffic through it's guidelines which prompt the SEO strategy.
In this blog, you would learn to strategize your SEO in digital marketing step-by-step, but before that let's understand what an SEO strategy is.
What Is An SEO Strategy?
You know that SEO supports your business by providing it a platform of global discoverability, its relevance to targeted customers, and authority among your peers that is achieved through organic traffic and search engine guidelines.
Visibility, Relevancy, and Authority is the primary goal of any SEO expert seeks for the success of business website.
Therefore, an SEO strategy is a process put together to organize search engine tactics such as content by Title, Technical faults, and Errors to improve a website's search engine ranking which simultaneously brings in organic traffic to it.
Making SEO a key search engine marketing strategy that when administered with the following best SEO practices meets the goals of gaining organic traffic through SERPs.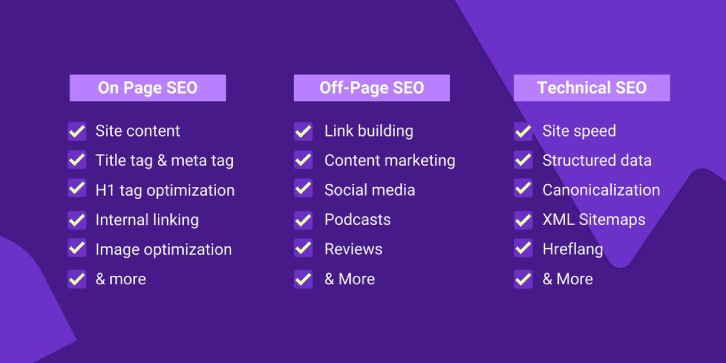 On-Page SEO
The On-page SEO is concerned with the website's content and its optimizing strategies so that you can achieve your ranking goals by following,
– Title tags and Meta Tags
– Intended Keywords
– H1 tag optimization
– Image optimization and more
These relevant content and optimized pages help in gaining a better user experience according to the search engine intelligence.
Off-Page SEO
The Off-page SEO is concerned with building authority by linking your website with other websites or other platforms visited by your targeted users.
Some such SEO tactics are:
– Link Building
– Content Marketing
– Reviews
– Social Media and more
These tactics produce natural links for your website from Authoritative and relevant websites that create the Trustworthiness of your user as well as the Google crawlers.
Technical SEO
Technical SEO is fundamental to the core of optimizing a website for smooth navigation and engagement of your traffic online by eliminating the faults and errors and boosting 'under-the-hood' aspects of a website.
Some such improvement includes:
– Canonicalization
– Page Load Speed
– Hreflang
– XML Sitemaps and more
These are focused on how search engines can crawl your website and how smooth the navigation would be for targeted customers. This ultimately helps in indexing your websites among other SERPs of a search engine.
The ultimate collaboration of these three SEO techniques creates the fundamentals of SEO planning, which is firstly winning your targeted customers and then, encouraging them to new opportunities while bringing in new prospects through all means necessary.
The graph below shows the major elements of a search engine marketing strategy which includes Content, Keywords, and Page Organization to Image Optimization.
Here in this blog, I have provided you with 9 straightforward methods to begin your "How to create an SEO strategy for a new website" journey.
So, let's get started.
How To Create An SEO Strategy For New Website
Creating an SEO strategy is constant work for SEO experts but some of the previously applied concepts remain powerful, even in the afterglow of newly updated and added algorithms in the search engines.
I have divided these SEO strategies into two major parts that are within your website and its content representation in digital markets.
Website Optimization Strategies
With the internet reaching far-fetched locations around the globe, it is time you understand the reach of search engine algorithms that prioritizes the user experience in terms of accessibility.
Accessibility is a factor responsible for smooth Google crawling and is a green card to boost your Search Engine Optimization (SEO) efforts that enhance your website's organic search rankings with incoming organic traffic.
Meaning your website should provide a better user experience with reliable elements so that the Google search engine algorithm deems your website worthy to rank among SERPs.
Here are 8 website optimization strategies that can help you in SEO planning are:
1. Page Load Speed In Check
The page speed of your website's pages and landing page is a measure of how quickly the content loads which is also a factor to gain online traffic and keep them exploring it further.
This is especially important when you are making an SEO strategy as 'Page Load' is a primary ranking factor used by Google.
Even though user engagement depends on the content to which they are directed, the Page Loading Speed of URLs is the major part of SEO that can affect traffic.
Because when a user clicks on your URLs they are in for immediate loading of the specific webpage. But the longer the page takes to load, the greater would you face the trs\affic loss on a website.
As a matter of fact, the more the page load time the higher the chances of you losing leads, as shown in the stats below,
Your page load speed may be slow due to the lack of the following elements that may be lowering site speed, so taking actions against these can help your website load faster.
– Lessen CSS, JavaScript, and HTML unnecessary codes
– Compress images, videos, and other multimedia resources.
– Reduce redirects
– Use browser caching
– Use optimized visual materials
– Prohibit using rendering JavaScript
These are some major factors that could be causing your page load time more than it needs to be, so check for these factors and add them to your search engine marketing strategy.
2. User-Optimized Template
Templates must resemble something eye-catching but not distracting, that is keep your user intent clear even if you are performing a single task of designing your website.
The thing is templates are representative of your business, so a good business strategy and in digital cases, SEO strategy must include user-friendly fonts, navigation buttons, divisions, and other sections within a webpage that compels a customer to explore further.
Look at the picture below.
The mess of template elements makes this website a bad example of a website's template with the use of different colors, no proportional divisions, the content not distributed, and the logo not being clear too.
Now, look at the picture of my website given below – the clarity of intent, the navigation button, and contact information – makes it a good example of a website template. Even CTA provides the primary function of my business which is helping in sales.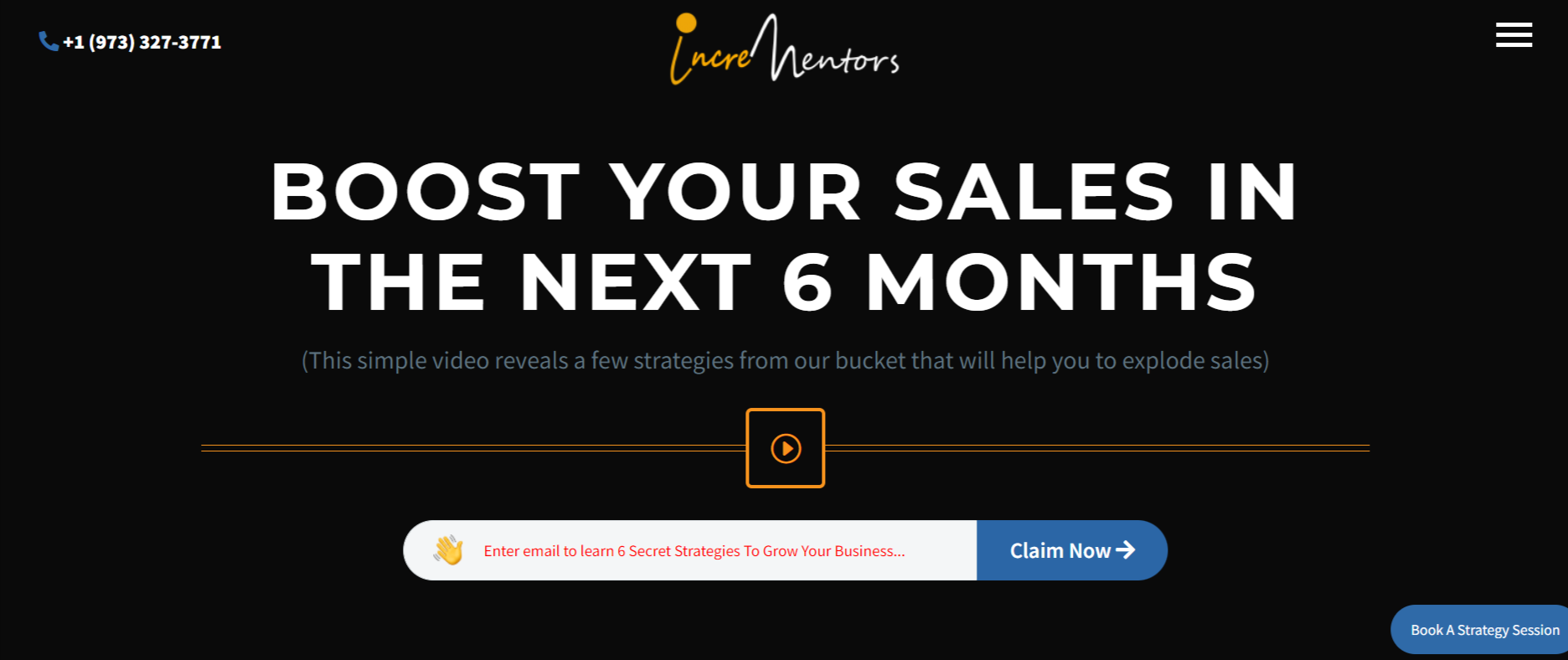 3. Clear Search Intent
Search intent is when your users have a search query goal. Also, search intent or user intent is the primary goal of Google for a better user experience by providing satisfactory and relevant query solutions.
This makes it important for SEO of a website because irrelevant information provided to users can lead to loss of online traffic for Google and other search engines and therefore, a disadvantage to your website if the user intent is unsatisfactory.
Think of it this way, a user searches for "boxing bag" and your website sells bags.
Now, if your website does not contain content related to such Google is signaled and it searches for one that has relevant information about the searched terms.
Here, the intent was a mismatch and Google understands this, that is why if you are an SEO service providing company your company cannot provide content irrelevant to your business.
Read More: A Complete Guide To Search Intent SEO
4. Mobile-First Approach
Mobile optimization is a 'must-have' SEO strategy that from beginners to experts, everybody must apply to their desktop website.
Today, every household has at least 2 smartphones that have access to the internet and are used to exploring it. The mobile-first approach becomes the most used technical SEO strategy and a metric used by Google that keeps the relevance and user experience at the top.
Given below is a 3-point chart regarding the use of the technology shaping your website for mobile-friendly surfing that needs to be focused, planned, and faster in design.
Mobile searches are frequently occurring searches that have crossed its 50% global population usage since the beginning of 2017 and have been increasing since. Here are some well-researched statistics,
"77% of adults in America own a smartphone and spend around 5 hours a day on their smartphones."
"In the fourth quarter of 2021, mobile devices (excluding tablets) generated 54.4 percent of global website traffic, consistently hovering around the 50 percent mark since the beginning of 2017 before consistently surpassing it in 2020."
The second statistic by statistica states the blooming industry of smartphones. This makes smartphones an asset for online businesses that actively use SEO strategies.
Because this technology has enabled the access of information to regular life necessities to become available at one click.
Also, according to Blue Corona, "70% of web traffic comes from mobile phones."
So, mobile optimization is a major SEO campaign example that ensures the availability and accessibility of your website and its content to the visitors that are majorly on mobiles.
This is to provide targeted users with a similar experience and quality of SEO websites as on desktop browsers. And lastly, 70% of the searches made on mobile phones lead to online activities such as shopping, searches, and services.
Read More: An Introduction To Mobile SEO Best Practices
5. Keep Core Web Vitals
Core web vitals are basic requirements of a website from search engines as well as the online traffic. They simplify the digital landscape and help your website focus on the metrics that matter most to search engines.
There are three core web vitals:
– Performance,
– Responsiveness, and
– Visual stability
They are the three pillars of user experience and are Google's user experience updates. They provide input regarding the performance of a site, which is based on real-world usage of your site by users.
This is a potent part of search engine marketing strategy and the SEO strategy may use the data provided through these metrics to further improve the website.
Read More: Core Web Vitals: How To Measure & Improve Them To Rank Higher
6. Linking Authority: Backlinking
Backlinking is a highly demanding service that is essential for SEO in Digital Marketing as it builds the authority of your website among Google crawlers that helps you rank in the SERPs.
The foundation of Google's original RankBrain algorithms, backlinking is the hidden gem of Google's algorithm that now puts the quality of those links in the front due to various blackhat activities that led to the ranking of irrelevant websites.
Here are some Backlink importance statistics by Ahrefs,
"Most top-ranking pages get 'followed' backlinks from new websites at a pace of +5%-14.5% per month."
"Generally speaking, the more backlinks a page has, the more organic traffic it gets from Google."
Reading these statistics you get that major SERPs sites are getting 'followed backlinks' per month that has helped them in generating more organic traffic for their websites.
Placing you among the metrics of Google algorithm, backlinks are the vote-of-confidence that it needs.
So, here are some activities that can help you speed up your backlinking process and build an SEO strategy for new websites,
– Guest Blogging
– Posting on Social Media (Facebook, Instagram)
– Answering on platforms (Quora)
– Creating Shareable Content (video, images, graphs, etc)
– Using Social Networking platforms to Build Connections (LinkedIn)
Using these platforms and methods you can build strong authority over your website's URLs and direct some traffic to your website for further exploration.
Read More: Anchor Text: An Ultimate Guide About Building Backlinks
SEO Content Strategy
Being a new digital business, you should know that "Content is the King" of SEO strategy.
And the CMI had confirmed in its reports stating, "42% of B2B marketers believe they are effective at content marketing"
Well, a good content strategy helps your website in getting attuned to your customer's needs which indicates your availability to solve their problems and not only telling them to buy this or that within your website.
So, here are some SEO best practices for digital content,
1. Target Long-Tail Keywords
Keyword research is the heart of SEO and the most essential SEO strategy for targeting organic traffic.
Long-tailed keywords are the blood of content which are specific queries made by users online in search of information on a specific problem, service, or product.
These are three to five words phrases that are more specific than the target keywords targeting industry targets as Google recognizes them for their relevancy when a search is made and if fit the algorithm and semantics, your content is displayed in SERPs.
And according to Google's ThinkwithGoogle report on "ensuring max coverage with a long tail strategy" for SEO within a website,
"The long tail could provide an untapped opportunity to connect with potential customers. Invest in these areas and see volumes grow."
These lines provide insight as to how creating a content strategy for SEO is more inclined to long-tail keywords than those that are non-specific but broad fields keywords.
So, here is how you can target long-tail keywords in your content.
– Take the most relevant keywords with less volume.
– Long-tail keywords should not have high competition with less volume
– Use tools such as Ahrefs, Google suggests, and People Also Look For, where you have the most frequently asked queries for topics.
– Choose keywords with specific search intent rather than it being generic in function
– Insert keywords in URLs for crawlers' analysis, and the relevancy factor that they rank content on.
– Use keywords in metadata for better customer experience along with proper CTAs so that users are compelled to click on your webpage's URLs
– Optimize visual data such as images, videos, and other sharable content by using targeted keywords in their hyperlinks and descriptions.
– Keywords in the header and body of your content as this SEO content strategy is a must in today's competitive digital arena.
These are some of the ways you can target your website's content and Google crawlers would analyze your link with the specification provided.
Read More: 11 Best Keyword Research Tools In 2022
2. Write For Humans
Algorithms measure the relevancy, authority, and trustworthiness of your website within an SEO strategy.
But, the thing is when a search engine's algorithm analyses online websites, it is to record users' data, understand their new behaviors and change the algorithm accordingly to provide a better user experience.
Google is a service-providing search engine, so it is more user-centric than most other search engines, therefore, keeping its position at the top in the world's search engine share market with more than 90% shares.
Given below is the difference between product-centric and customer-centric businesses and so proves the best quality of Google algorithm to be customer-centric offering the best solutions according to the data and analysis.
So when you are preparing content for your website which would be published online, you write content for blogs, Prepare scripts for videos and illustrate infographics!!!
These activities are done to encourage users to your website while providing the theme to the best of your ability query solution.
User experience should be the first priority.
Keep these SEO best practices for digital content strategy in mind,
– User-friendly content that is in communicative form
– Check internal links as well external links for faults or errors
– Readability and usability of your content must be accessible and navigable
– In case content doesn't load, use alternatives (404), redirects, and other such means to provide the best of your website navigation.
– Keep your content high Quality with a 7-minutes read that is more than 2500 words. This keeps your users engaged and builds your website's authority.
– Use statistics, data, memes, images, and quotes to provide your users with all the facts
– Embed related videos or blog links to keep readers engaged within your website.
These all together help in creating a content strategy for SEO and provide some best SEO campaign examples to keep users interested, and engaged and build their trust in your business and brand.
Read More: Why Content Is the King When It Comes to SEO
3. Improve existing content: Update
Trends keep on changing, and so does Google's algorithm that has improved itself per year 100s of times. This has been a regular occurrence for over a decade now since its first user-based algorithm update, The Knowledge Graph.
You see this, Google's strong willingness to provide the best user experience has led it to become the most used search engine worldwide with 91.56% Search Engine Market Share Worldwide in March 2022.
Given below is a graph of some search engines in the Market Worldwide with their shares (Jan 2022 – March 2022).
In the graph above, Google's popularity is clearly seen on a global level, the thing is this didn't come easily but after more than a decade or two of regular revisions and updates of old methods, contents and data gathered since its making.
Google has collected online user data by crawling over 1.7 billion website URLs and analyzing them for relevancy and guidelines.
This data along with more than 200 algorithms working together has formed rules, algorithms, and guidelines that make the user experience much better than it was 10 years ago for businesses and users alike.
Now, you don't have to crawl through billions of websites or take care of every user.
Firstly, stay up-to-date with the search engines' guidelines, and ever-changing algorithms. As such Google has improved its algorithm within last 5 years with following updates
2. Featured Snippets, and
Now, these updates are revolutionary as it has given various ideas for products and services such as chatbots, voice search in devices, and meaningful content.
This way you can formulate your very own customized content model for SEO planning of your website.
Secondly, keep updating old content because many of your users come to your website through your old content, so putting a new report, other free tools, and other relevant information makes it current for users to learn from.
Keeping these two in mind, remember that SEO updates are a two-step process that involves updating old content and introducing new data as per the rules and guidelines of Google's algorithms.
Conclusion
The SEO strategy has two basic divisions-website optimization strategies and SEO content strategy which are products of interlinking, content, and other SEO campaign examples – Mobile-friendliness, clear search engine, and user experience.
With these 9 how to create an SEO strategy for high traffic in 2022, you can start your business journey in website optimization by applying these points.
The key factor in all this is to optimize your website and content for a better user experience.
For more marketing tips and services, you can schedule a free-of-cost 30-Minute Strategy session with our experts. In this call, our experts would discuss your business and provide you with the free strategies that you can use to boost your sales and revenue.