It's critical to improve your chances of being found in online searches to be successful in today's modern business world.
Differentiating yourself from your competitors by ranking higher in search engines is a wonderful way to do so…
Continue reading to see how 302 redirects might improve your search engine ranking!
In today's fast-paced digital world, ranking online is critical to success, especially as a rising number of people turn to the internet to find products and services.
Failure to stay current with SEO developments can have a negative influence on your search ranking, which is why redirects are so vital.
Here in this blog, I am going to talk about all about 302 SEO.
So, lety's get started:
Read More: Why 302 Redirect Can Hurt Your Website and SEO Efforts?
What Is A Redirect?
A redirect is a way of establishing a link between an old, maybe defunct URL and its active version.
A webmaster can declare such a connection and redirect anyone trying to access the old URL to the new website using a simple line of code; more on that in a moment.
A normal redirect appears like a command provided to the browser (or a server) to forward a visitor to another website in its most basic form.
This redirect code, for example, permanently redirects visitors seeking to access page A on a domain to page B:
https://www.mydomain.com/pageA.html to https://www.mydomain.com/pageB.html 301 Redirect
Anyone trying to access the /page.html file through their browser will be instantly forwarded to /pageB.html if the redirect command is in place.
What Is A 302 Redirect SEO?
Before understanding the 302 redirect SEO, you must understand what 302 redirect is…
A 302 redirect is a one-time redirect that sends users and search engines to the target page for a set period before being withdrawn. It could be displayed as a 302 (HTTP 1.1) or moved temporarily (HTTP 1.0).
Instead of accessing server files and putting in the extra time and effort required for a 301 redirect, a 302 redirect can be done with a meta tag or JavaScript.
Some webmasters choose to utilize 302 redirects instead of 301 redirects. Some people may want to avoid the 301 redirect's Google aging delay.
This poses a problem for Google, as they must determine if a 302 or 301 redirect was genuinely intended to improve the search engine experience, yet webmasters have frequently used a 302 redirect when a 301 redirect was suitable simply because they were unaware of the difference.
This can affect your search engine ranking, among other things.
There may be issues such as continuous indexing of the old Google URL and a split in link popularity across the URLs.
When To Use 302 Redirects?
The first possible scenario: is when a page becomes unreachable for some time or permanently; but, redirects can be useful for a variety of other reasons.
First and foremost, redirects benefit both visitors and Search Engines, especially when information is relocated or becomes unavailable.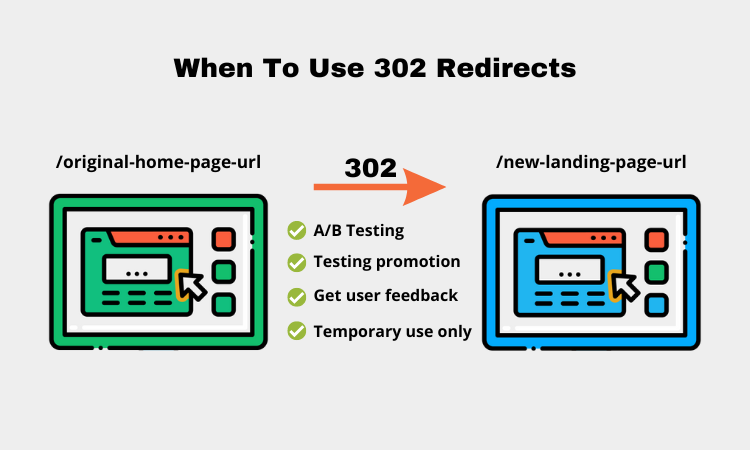 Redirects aid in providing a positive user experience for visitors. Instead of landing on a 404 page and having to search for other related content on their own, a webmaster can create a redirect link to ensure that visitors always land on the information they want.
Redirects relieve search engines of the burden of analyzing and deciphering broken URLs and internal links. Instead, the engine can use the crawl budget to see and analyze live material.
Although we'll go through specific redirect use cases in greater detail later in the tutorial, it's helpful to have some instances to demonstrate what we've just said.
302 vs 301 Redirect SEO
To understand about 302 redirect SEO, you must know a little about 301 redirect SEO.
So, let's get started:
A permanent redirect is known as a 301 redirect.
Status code for HTTP A 301 indicates that a page has been permanently moved. To achieve better compatibility, 301 codes are frequently utilized.
A 301 redirect will automatically alter the address request and send them to your new website or page when someone fills in your website's address.
The main distinction between 301 and 302 redirects is the persistence of the change. If you're transferring a page for a brief period, you'll want to utilize a 302 redirect to protect the integrity of the original page (and your ranking).
Browsers can also cache the new forwarding URL with 301 redirects. The address may resolve more rapidly with this provision, but the initial modifications may take longer than with a 302 redirect.
301 redirects are thought to pass on 95 to 99 percent of the page authority you had at your original URL.
301 Redirects Are Also Commonly Used:
If you move your content to a new domain permanently. If you make the switch from HTTP to HTTPS.
When you want to permanently merge multiple websites or pages at a new web address.
When you want to make a permanent modification to your website's URL structure.
If you need to fix non-www or www duplicate content problems.
If you're having trouble with duplicate material, whether it's non-www or www, this is the place to go.
301 redirects are used for modifications that are intended to be permanent. We recommend using a 302 redirect instead of a permanent redirect if you don't want to make a lasting change.
When To Use 302 Redirect SEO?
When A Page Is Temporarily Moved
The user experience is unaffected by a 302 redirect. Regardless, they are sent to the new page. The transient nature of the changeover, on the other hand, is critical for search engines.
"Hey, don't worry about this page right now; the other page will be back shortly," you're telling Search Engines.
If you're sure the transfer will only be temporary, 302 is the way to go.
For Example, You Might Temporarily Change A Page Because:
You're changing the page, but it hasn't gone live yet.
You want to obtain some input on a new page before making a permanent change.
You're running a limited-time promotion and want to send visitors to a specific page for a specific amount of time.
When A Page Is Under Development
When a page (or website) is under construction, another reason to employ a temporary redirect is to save time. Large-scale redesigns may necessitate putting your site down, which can be inconvenient for visitors and search engines alike.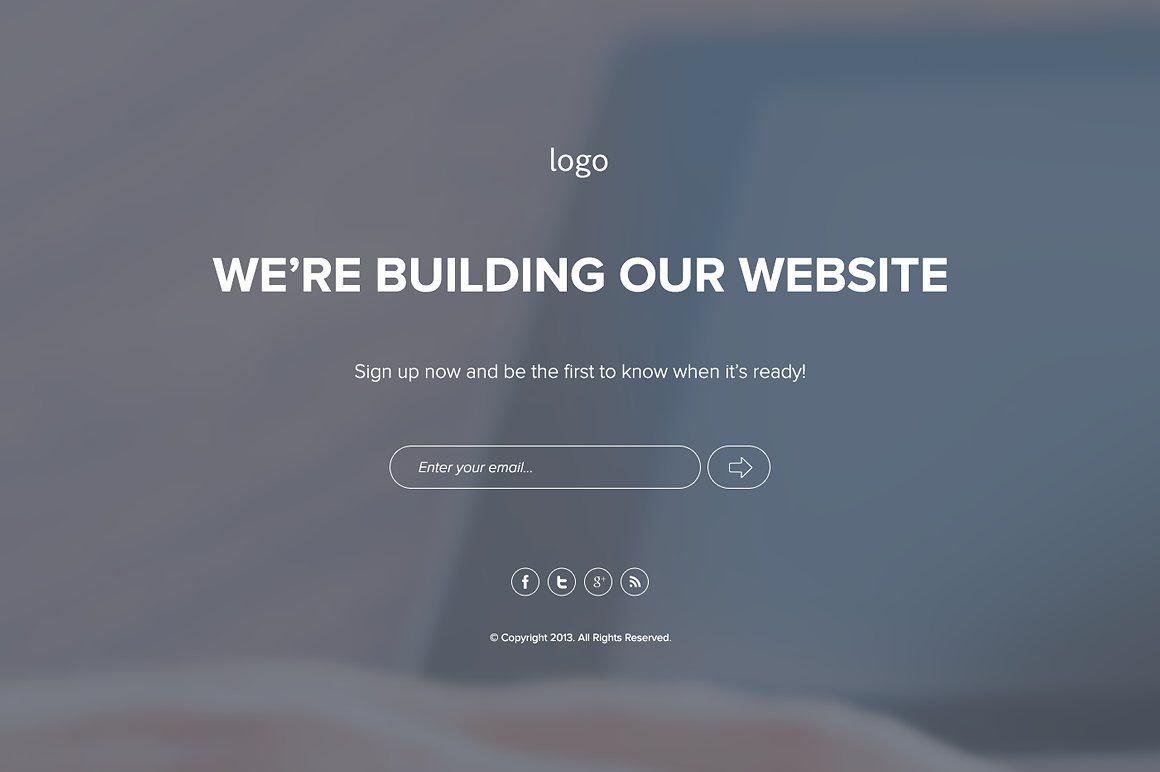 Instead of keeping users in the dark, a temporary redirect informs them that the page or site will be returning soon.
In this case, you may direct customers to an email sign-up page or provide a countdown clock to let them know when the site will be available again.
When The Content Isn't Working Or The Page Isn't Loading
When a page is damaged or inactive, you can utilize a 302 redirect. A temporary redirect SEO may be the best option if you don't want users to land on a blank page (or get a 404 error). Remember to use a 302 only if you intend to return to the page.
For example, if you have a semi-annual sign-up period for a membership site or a landing page for a recurrent webinar that is now offline, the material may be inactive. When you want to reactivate the page, a 302 should ensure that the site maintains its SEO rating and is ready to go.
The truth is that products do fall out of stock from time to time. It's just a fact of life in the business world. A manufacturer may run out of stock, or the supply chain may be disrupted by circumstances beyond your control.
While you may not always be able to control stockouts, redirection can help you maintain a positive user experience.
Read More: Tips On Creating Content That Sells Your Products Naturally
When A Product Is Out Of Stock
Consider the last time you attempted to acquire something online only to discover that it was out of stock. You were so close to getting your hands on that thing, only to discover it's sold out and you have no idea when it'll be available again.
It's infuriating, and you're more likely to go to a competitor to finish your transaction. This is why stockouts (when a product is out of stock or unavailable) can have a negative influence on overall revenue as well as brand trust.
You could also direct them to a related product (just make sure they're aware!). You may reactivate the original page whenever the product is back in stock, preserving all of your SEO efforts.
When A/B Testing Content Or Design
A/B testing is critical to your bottom line, whether you're in e-commerce, the service industry, or managing a small business.
A/B testing allows you to compare two distinct versions of the same page to see which one generates the most conversions, sales, or any other desired activity.
Which Type Of Redirect Should You choose? 302 vs 301 Redirect SEO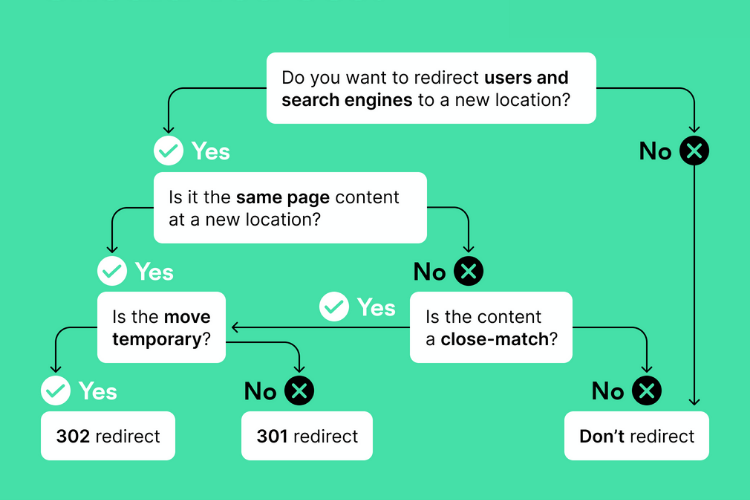 How A 302 Redirect Affects SEO?
Webmasters should be aware that 301 or 302 redirects might influence SEO. Depending on the sort of URL redirect, search engines handle it differently.
A 301 redirect indicates to the search engine that the webpage has been permanently transferred. A 301 redirect is required for permanent updates to a website as well as continuous SEO ranking.
A 302 redirect, on the other hand, is preferable if you're merely making a temporary modification. It informs the search engine that the alterations are only temporary and will not affect the SEO rating of the original page.
Read More: Top 10 On-Page SEO Techniques for Higher Ranking
Keep in mind that search engines must assess if a page has moved permanently or is simply temporarily in a new place. It's possible that the search engine will become confused if you utilize the wrong type of redirect.
Conclusion
Finally, contact your web host after you've exhausted all of your alternatives, verify that your redirect coding is correct, and ensure that all you can configure is done correctly. A host can look into your server configuration and figure out why you're getting an HTTP Error 3002.
Temporary Google redirects are effective tools for controlling what happens when a resource is momentarily unavailable. If a resource is going to be inaccessible, you should use a 302 redirect to point the browser to its new location.
A 302 SEO is useful if you ever run out of stock for a product, need to update a page, or need to perform site maintenance.
For more marketing tips and services, you can schedule a free-of-cost 30-Minute Strategy session with our experts. In this call, our experts would discuss your business and provide you with the free strategies that you can use to boost your sales and revenue.
FAQs
1. Would it be necessary to 301 redirect every page on a site?
301 redirect SEO is important to remove pages no longer in use. Also, they are used to re-built the website. When we rebuilt a website, it is important to redirect the old URLs.
2. Can redirects be cached?
If you use 301 redirect, it will be cached in to the browser of any website visitors. Of course, you can't clear the browser chache of your visitors. So, if you require to change the 301 redirect, the old redirect is stll going to effect.
3. How 302 redirect works?
The 302 redirect SEO doesn't pass the juice. Basically, it redirects the user to the new location, when tye reach to 404 error or any other error page.
4. Are redirects good for SEO?
Redirections are not bad if you put them into the right place. However, bad implementation cana cause several SEO issues and can even cause you loss of traffic.
5. How do you fix a 302 redirect?
You must only use 302 redirect only where the redirection is not permanent and content can be back to the original URL.