Do you find it difficult to create content that is both engaging for users and optimized for search engines?
Here's the truth:
It's nothing new. The difficulty that almost all content marketers confront is similar.
If you want your audience to hit the subscribe button on your blog, then you will have to get smarter with your content strategy, which is only possible with SEO copywriting.
And trust me, it is way easier than you think.
Before you begin creating SEO content, you should be aware of the fact that Google values user experience.
Google says: Focus on the user and all else will follow.
So, you must write for people, not for search engines.
In this blog, I am going to provide some tried-and-true advice on SEO copywriting that has been used for years by marketing professionals to help you achieve your marketing goals and rank No. 1 in search engine results.
What Is SEO Copywriting?
SEO copywriting is like creating SEO optimized content that is designed to appeal to the user.
Simply put:

It is to write content that Google can understand and, at the same time, it should be content that users want to read and share.
Basically, it should be optimized for both search engines and users.
I can explain…
Suppose, there is content A, optimized only for the Search Engine and SEO.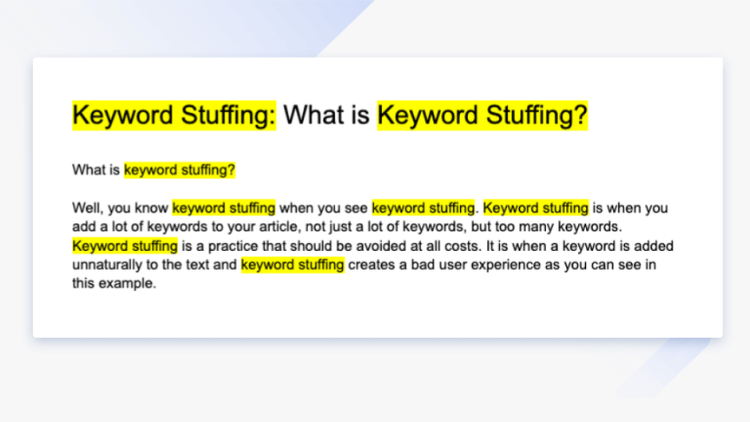 Then, there is content B, optimized for both SEO and users.
What do you think which content will bring high traffic?
Of course, the content is B, right?
Because Google cares about the User-experience(UX) when it comes to rankings in SERP.
And believe me, because the content B is optimized for both SEO and users, it will get the other ranking signals as well:
High DA backlinks
High traffic
Lower bounce rate
Above average CTR
High social media sharing
So, this is what SEO copywriting is and this is how it helps with rankings and traffic.
You have understood what copywriting is so far. Now, it's time to understand SEO copywriting tips that will eventually lead to ranking higher in SERPs.
SEO Copywriting Tips
The tips for SEO copy that I am going to provide you below are the ones that actually work. So, do read them till the last.
Structure Your Content Properly To Make Your User Satisfied
The first rule of SEO copy is to create a proper structure for your page. It is one of the most important factors for copywriting because the content structure gives the framework to your webpage or blog.
Well, you can easily structure your content to satisfy your users.
Have you heard about 'The APP Method' by backlinko? If not, then let me elaborate on what it is and how it works.
It is a technique that makes users stay on your blog and don't leave the page.
The APP Method:
Let me show you the image first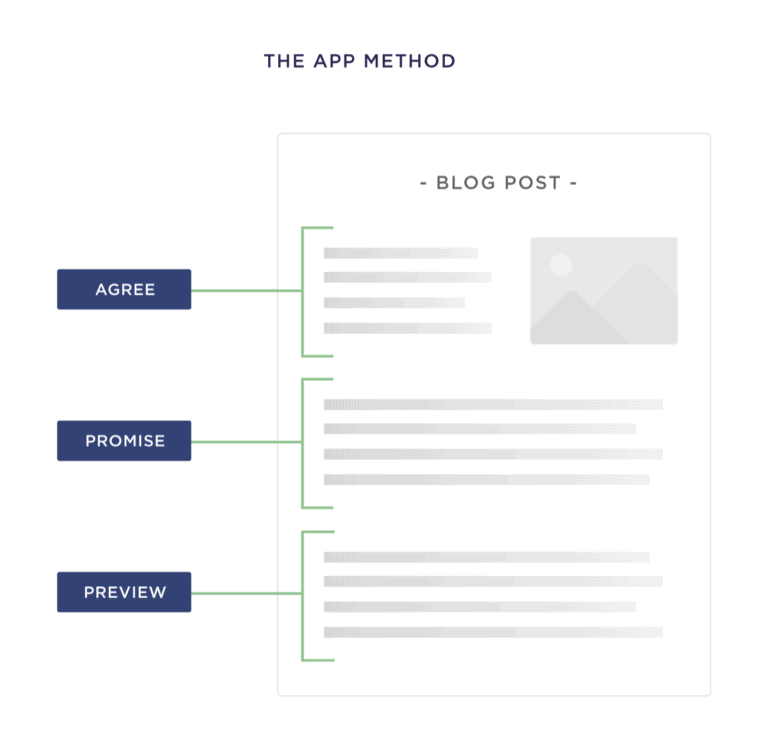 See the image above. The APP stands for Agree, Promise, and Preview.
The first phase is 'Agree'.
In this phase, we agree with a problem statement that a user is facing. This is the phase the searcher will agree with. Let me show you an example.
This is from one of my blogs, "YouTube SEO For Beginners: Rank Your Videos On YouTube."
Just read the intro of the blog and you will realize I am addressing the pain point of the user. I am actually agreeing with the user's pain point.
Most of the people who are searching for YouTube SEO tips on the internet are already frustrated with getting the same old techniques. So that's why I added this line:
"No worries! I am not going to teach you the same things that the other blogs are teaching you. This is going to be a different and game changer for your YouTube channel. Trust me!"
The second phase is "Promise"
Later, I say in my blog.

I am promising that, I am going to help them solve the problem that they are facing right now.
Then, comes the third phase, "Preview"
In this phase, we tell them what they are going to get from us which nobody else would give them.

This structure of writing would certainly help you make your user stay on your web page.
Add 'Bucket Brigades' To Make A User Stay
You certainly must have heard this term for the first time, and believe me, this works like magic.
The bucket brigades can help you make your users stay on the web page. Also, when a user stays on your page, Google takes it as a positive signal and ranks your page higher.
And here come the bucket brigades. You can also use it as a magnetic writing technique.
It acts like a connector and motivates people to stick around and continue reading your information.
Let me show you some examples:
Here, i tried to make my user stay with these words.
"You see the strategy below:"
We use bucket brigades when we feel our users might get distracted.
Let me give you some bucket brigade words that you can also use in your blogs.
Truth is:
What does that mean to you?
Here's the truth:
Let's get started:
I'll show you:
It's time to begin:
Now, off we go:
Apply them and increase your session time.
Add Title Tag Modifiers To Attract The Users
Now, you might be wondering what a title tag is?
For your kind information, words that you add to your title tag specifically to rank for long-tail keywords are known as title tag modifiers.
Let me show you:
Here is a keyword, "YouTube SEO for Beginners."
First I named my blog, "How To Perform YouTube SEO For Beginners."
And believe me, I did not receive much traffic, but later I changed my title and added one more keyword to make it a long keyword title.
And this is what I called my title:
And that's how the keyword, "Rank Your Videos On YouTube" works magically for me and this blog also ranked higher in SERP.
This blog of mine ranked No. 5 in the Google SERP just after adding a Title Tag Modifier.

Perform Keyword Research
It is one of the most important things when you are working on SEO copywriting, the reason being that you could give the content to your users without knowing what they are looking for on the Internet.
You can use various keyword research tools to get the high ranking keywords…like ahrefs and semrush.
Ahrefs -the keyword explorer is one of the best tools for keyword research. But, there is one other way too, from where you can get lots of keywords.
You can get lots of keywords from Google too.
Let me explain:
I just typed in the keyword, "SEO copywriting" and got so many keywords from it.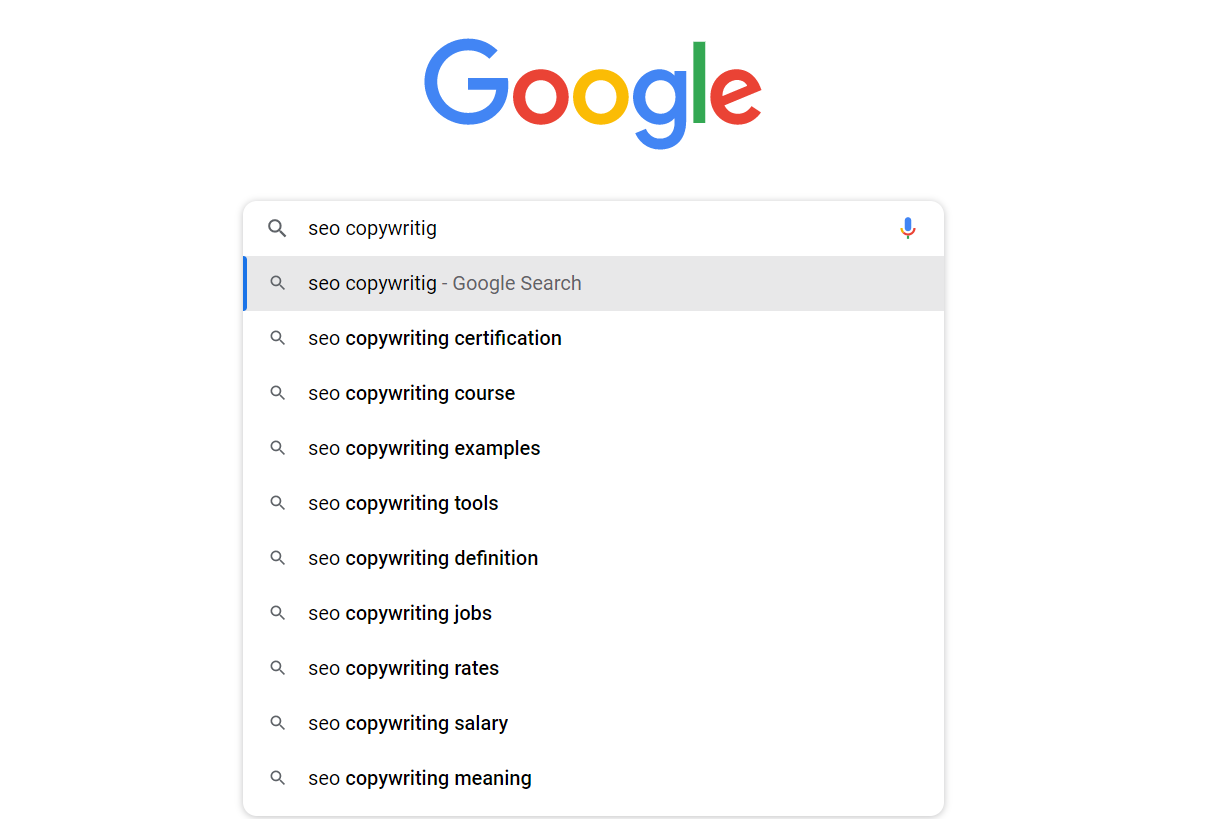 These are the things people have mostly searched for on Google.
Another way I can get keywords from Google is through related searches.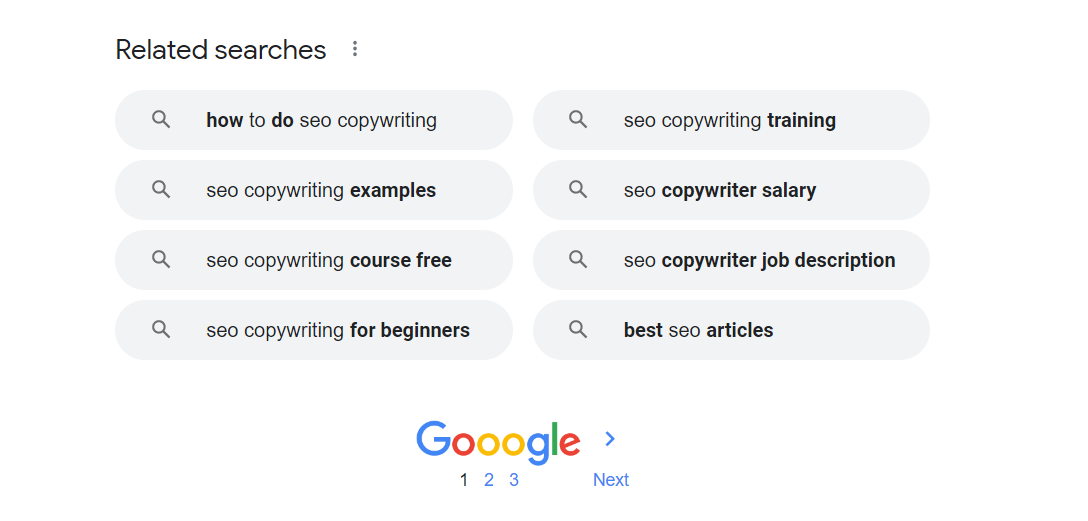 "Related Searches" is the column on Google, you can find at the very end of the SERP. This column also shows the related query that people are searching for, which is relevant to the topic you have already searched for.
Work On Emotional Headlines
Writing emotional headlines is not as difficult as it may seem. You just need the right technique.
I'll show you:
First of all, you need to use some emotional words to get them attracted to your blog. For that, you can use some emotional words like:
These are the words that attract the user, you cannot even imagine it.
Let me show you some SEO copywriting examples that use emotional words.
Apple SEO Copywriting Example
iPhones Secretly Send Call History to Apple, Security Firm Says
The Verge SEO Copywriting
Watch this amazing footage of a drone flying right through an erupting volcano in Iceland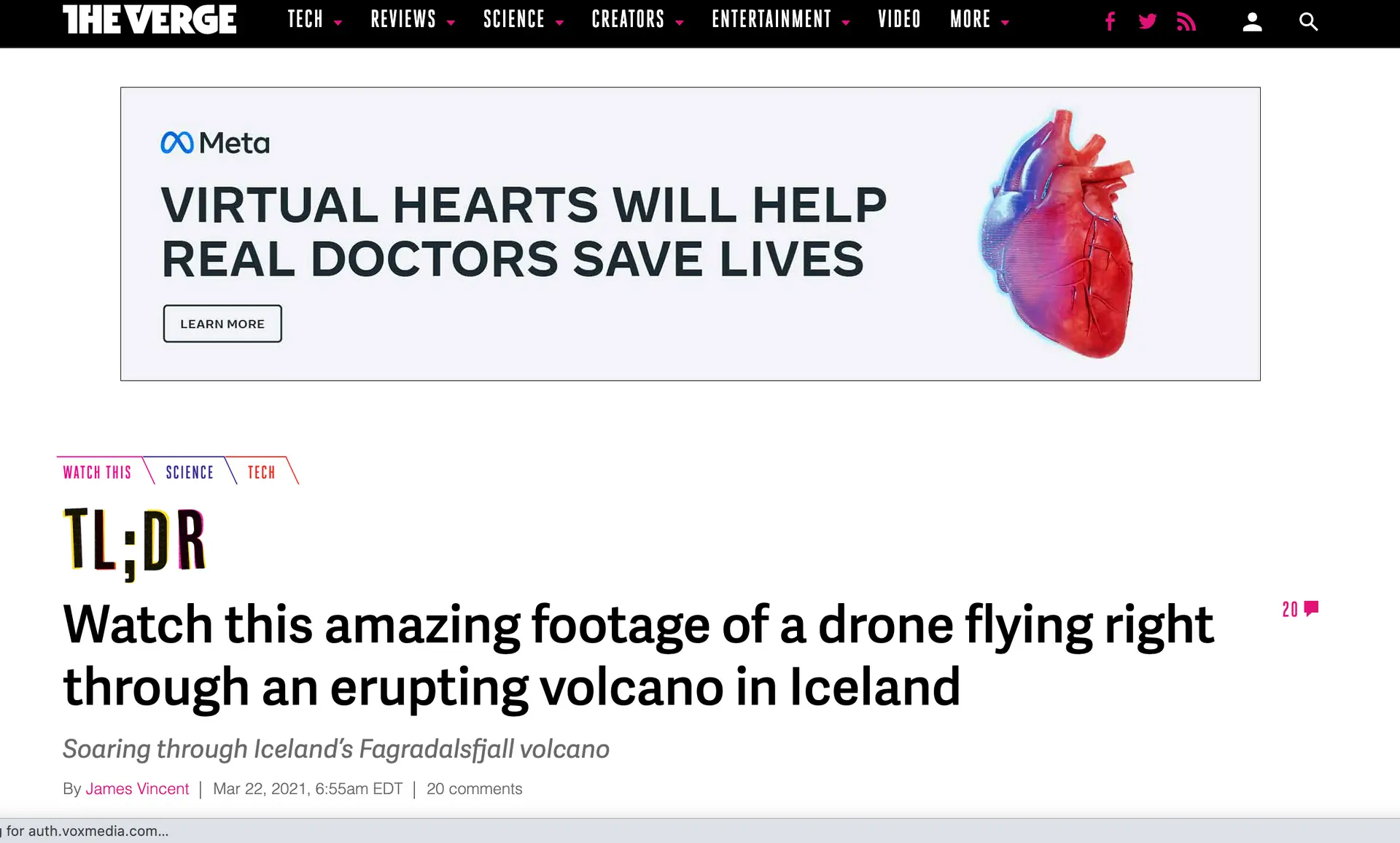 Advertise Your Content With Meta Descriptions
Do you know that meta descriptions act as a mini ad for your web page? Of course, it does. If you create an appealing meta description, it will make users click on your web page.
It's the text that shows underneath your page title on search engine results pages and is typically roughly 160 characters long.
Also, you must know the fact that Google only uses the suggested meta description 62.78% of the time.
The thing is, if Google doesn't like the way you have written a meta description, it will add the meta description from anywhere on the web page it likes.
So, make sure you write an appealing meta description by keeping user intent in your mind.
Here Are Some Tips To Write An Appealing Meta Description:
Consider the customer mindset
Make it unique
Keep it at optimal length
Make it actionable
Add a call to action
Use your target keyword
Try to avoid meta description generators
If you are eager to know more about Meta Descriptions and the tips to write a good one.
Check out the blog below.
Read More: How To Write Meta Descriptions For Blogs
Optimize Your Content For Featured Snippets
If you don't know what a featured snippet is, it is an answer box, and featured snippets are types of material that are presented on the SERP without requiring the user to go to the page where it is located.
In an effort to better serve the user, Google places these snippets above standard SERP results but below the advertisements.
See the example below: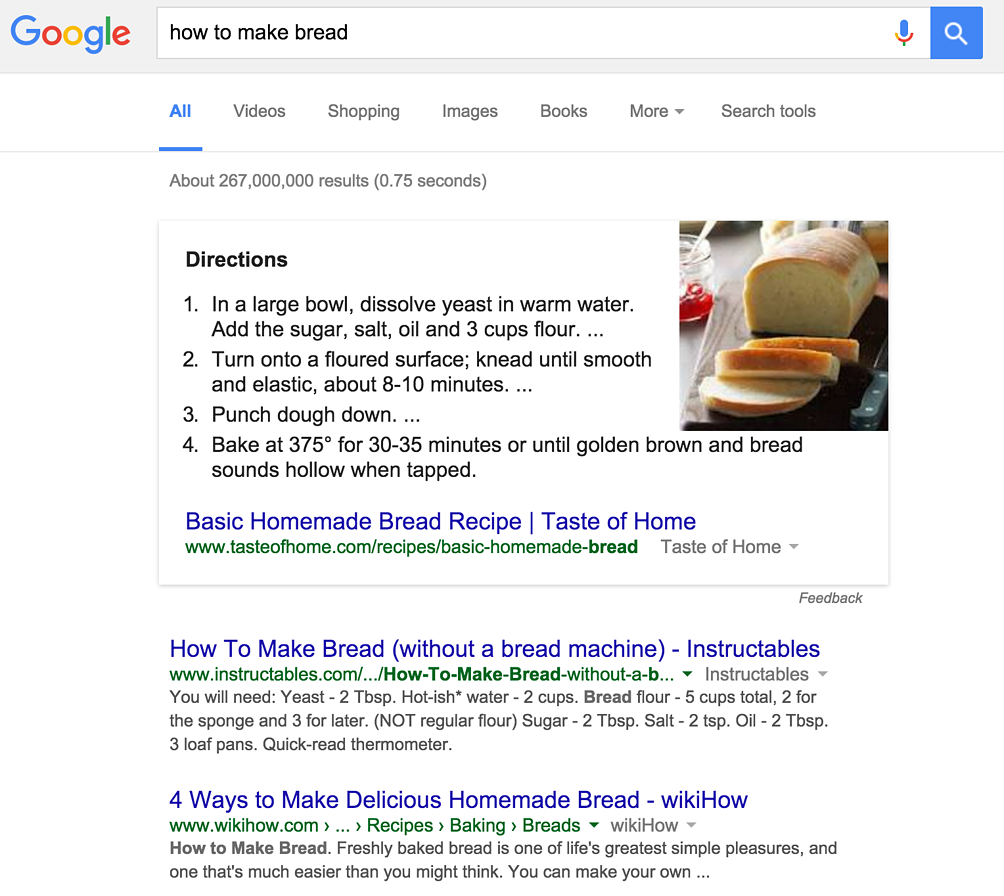 You can optimize your content to make it stand out in featured snippets.
Here are 4 types of featured snippets that Google ranks on SERP.
Video
Listicle
Table
Paragraph
You can choose to stand for any of it and optimize your content accordingly.
Here Are Some Tips To Optimize Your Content For Featured Snippets:
Match the search intent
Add relevant image
Try to answer the query in points
Create content better than your competitors
Use question keywords in your heading tags
Check out the blog below to learn more about how to optimize your content for featured snippets.
Read More: The Easiest Way To Rank In Google Position Zero (Featured Snippets)
Get Questions People Ask
Do you know that question-based title tags have a 14% higher CTR vs. titles without a question?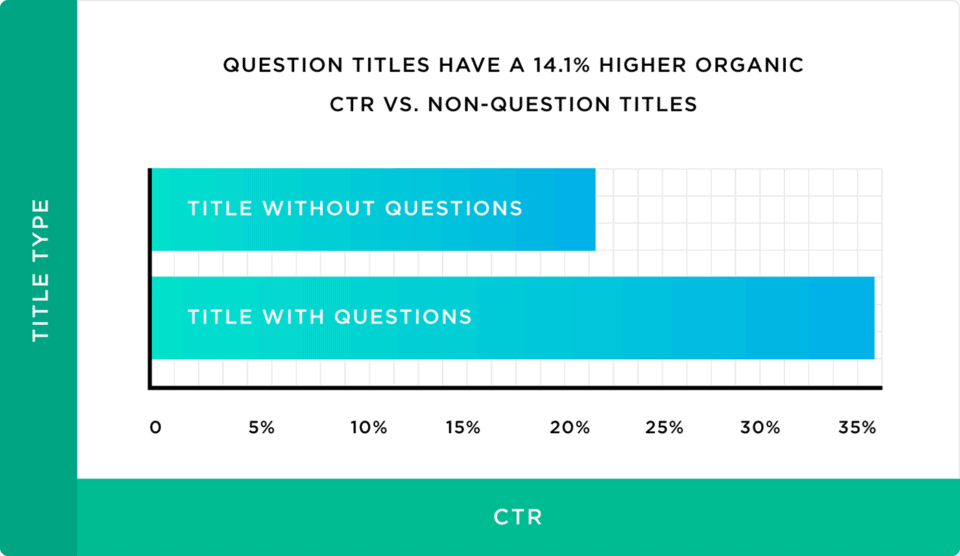 So, it is important that you get the questions that people are asking on the internet and then write a blog post or create a web page according to those queries.
Let me show you something:
See the question keyword that I have searched for and see the results.
Believe me, my website is ranked at No. 3 for this keyword. This is one of the benefits of getting the question keyword.
So, try to answer the questions of the users they are asking on the Internet.
Conclusion
In this blog, you have learned about some of the best SEO copywriting tips and tricks that are never going to fail you in the SEO game.
If you apply all the tips properly, it will benefit you in so many ways, like improving CTR, increasing traffic, and lowering bounce rate. It will not only make your page rank higher in SERP, but also create a unique image in the market.
If you have any doubts or queries, you can just comment down below in the comment section and I will reply to them for sure!
Happy Reading!
For more marketing tips and services, you can schedule a free-of-cost 30-Minute Strategy session with our experts. In this call, our experts would discuss your business and provide you with the free strategies that you can use to boost your sales and revenue.