Do you even know that your LinkedIn profiles are often crawled and indexed by Google?
Which is, of course, a good thing for you.
Because LinkedIn is one of the best platforms for connecting with professionals and developing your image.
A recent study says, 62% of buyers look for optimized LinkedIn profiles before engaging them.
But… it could be scarier if your profiles have never been found. Isn't it?
No worries! We have got your back!
To make sure the professionals and decision-makers find your profile on LinkedIn, I have provided LinkedIn SEO best practices below.
And of course, being found by the right person during the LinkedIn search is the first step toward your lead generation journey.
So, let's get started!
What Is LinkedIn SEO?
LinkedIn SEO optimization is exactly same as the website SEO.
In simple words, you just need to strategically inject the keywords into your LinkedIn profile and your profile gets found easily.
For example, if a user searches on the LinkedIn search engine, "web developer", your profile is more likely to rank if it is LinkedIn optimized.
However, it is also important to keep in mind that, LinkedIn optimization will also lead your profile to appear in Google searches.
Like this…
See the image below:
This is exactly how LinkedIn works. If you are good at LinkedIn profile optimization, it will definitely help you get high and organic traffic to your LinkedIn profile.
LinkedIn Optimization Tips
Till now, you have learned about what LinkedIn SEO is, how it works and why LinkedIn optimization is an important thing.
But next comes the approaches to how to optimize LinkedIn profiles.
You must understand the fact that LinkedIn is not like your resume. It requires building connections, SEO optimization, and many more other things…
From LinkedIn optimization to LinkedIn content strategy, the guide below covers all the LinkedIn SEO best practices.
Let's get started:
LinkedIn Profile Optimization
How you appear matters the most and the same case with LinkedIn SEO. You need to impress the users with a first impression.
So, optimize the LinkedIn profile along with the profile cover photo.
There are two features you need to be focused on:
The profile photo
The cover photo
Let me show you my example below:
i. Profile Photo
You must have seen the profile photo of professionals with formal suits and corporate smiles on their faces. Well, if you want to be different… try to stand out!
Always remember: keep photos that your target audience could relate to.
It should be something your audience will find approachable.
Here are some tips to optimize your LinkedIn profile:
High-quality image- Choose DSLR for your photos
Your face should take up at least 60% of the image
A simple background
And the last one… smile!
Let me show you mine.
Everyone knows I am a Digital Marketer. My audience knows that I am busy making strategies, team meetings, and planning for growth.
But I want to have an approachable look.
That's why I avoided formal suits and corporate image rather, I came up with an image of an 'approachable digital marketing strategist'.
That's how I make my profile appealing to my target audience.
ii. LinkedIn Profile Cover Photo
The LinkedIn profile cover photo provides you with enough real estate so you can cover it and let the visitors know what you do.
Make that blue part count…
However, you can use LinkedIn background image generator tools/software like canva and photoshop to create a profile cover photo. The tools will give your profile an appropriate background that will appeal to your target audience.
Check out my profile cover photo:
Practices to make out the best of your cover photo:
Add a tagline describing what you do and whom you serve. (like what I have done!)
Tell about your designation and what you do
Use your image
You can also add the contact info on the cover photo
With such a profile cover photo, my target audience will know what I do without exploring my profile.
As you can see… just by optimizing the profile and cover photos you can create such amazing impressions on your target audience.
Also, this makes your potential clients understand you better.
Once you are ready with the profile pictures thing… it's time to move to the other things.
SEO Copywriting For LinkedIn
Well, LinkedIn is the best place to pour some SEO copywriting magic. Being a digital marketer, I know how important SEO copywriting is for LinkedIn.
However, many people take it as a resume and forget to use it to its fullest.
LinkedIn was created to build relationships among professionals. However, you will not be able to do it effectively if you don't use the power of words i.e., LinkedIn content strategy.
You might be wondering: How do I get started with LinkedIn content strategy?
Here Are Some Strategies You Can Start Content Strategy For LinkedIn:
You can start applying content strategy on various sections of LinkedIn such as headlines, summary sections, and experience sections to get free LinkedIn followers.
Let's discuss all of them in detail:
i. Headlines
The headline is just below your name.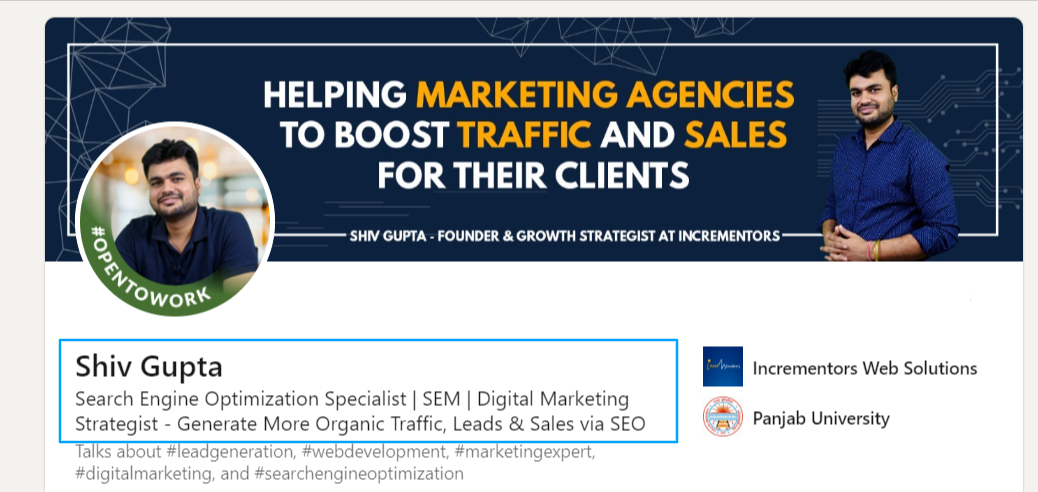 The thing that you need to keep in mind is that your headline must contain LinkedIn SEO keywords.
The reason is LinkedIn SEO keywords can grab high-quality traffic to your profile. Also, it engages the user with your profile.
Your headline must be very clear about what you do or else it will confuse the users.
Make your headline amazing and appealing to get the conversion.
You can take my example…
My headlines properly guide what I do and how can I serve my customers.
My headline includes the keywords my target audience might be searching for.
Always keep in mind:
Your profile headline should contain LinkedIn SEO keywords along with an appealing copy.
ii. About Section
The about section provides you with enough LinkedIn real estate so you can promote yourself.
It gives you 2600 words worth of space.
So, don't avoid this section.
This section is like an about us page of a website where you can describe yourself and the most important thing is… before you even start working on this section, don't forget to do market research and add LinkedIn SEO keywords.
A great copy will help you cover this section.
You can craft a summary to speak about what your target audience is looking for.
Check out my about section:
Whatever that I have written in my about section is based on market research. Also, it contains LinkedIn SEO keywords.
Conducting market research to understand the pain points, desires, and fantasies of your target audience is important… because then only you can write an appealing copy of the about section.
So, do it first!
Once you have conducted the market research, you can easily write an appealing copy.
iii. Experience Section
The experience section is another real estate where you can put LinkedIn SEO keywords and compelling copy to make the professionals think you are the best fit for their requirements…
See my experience section below: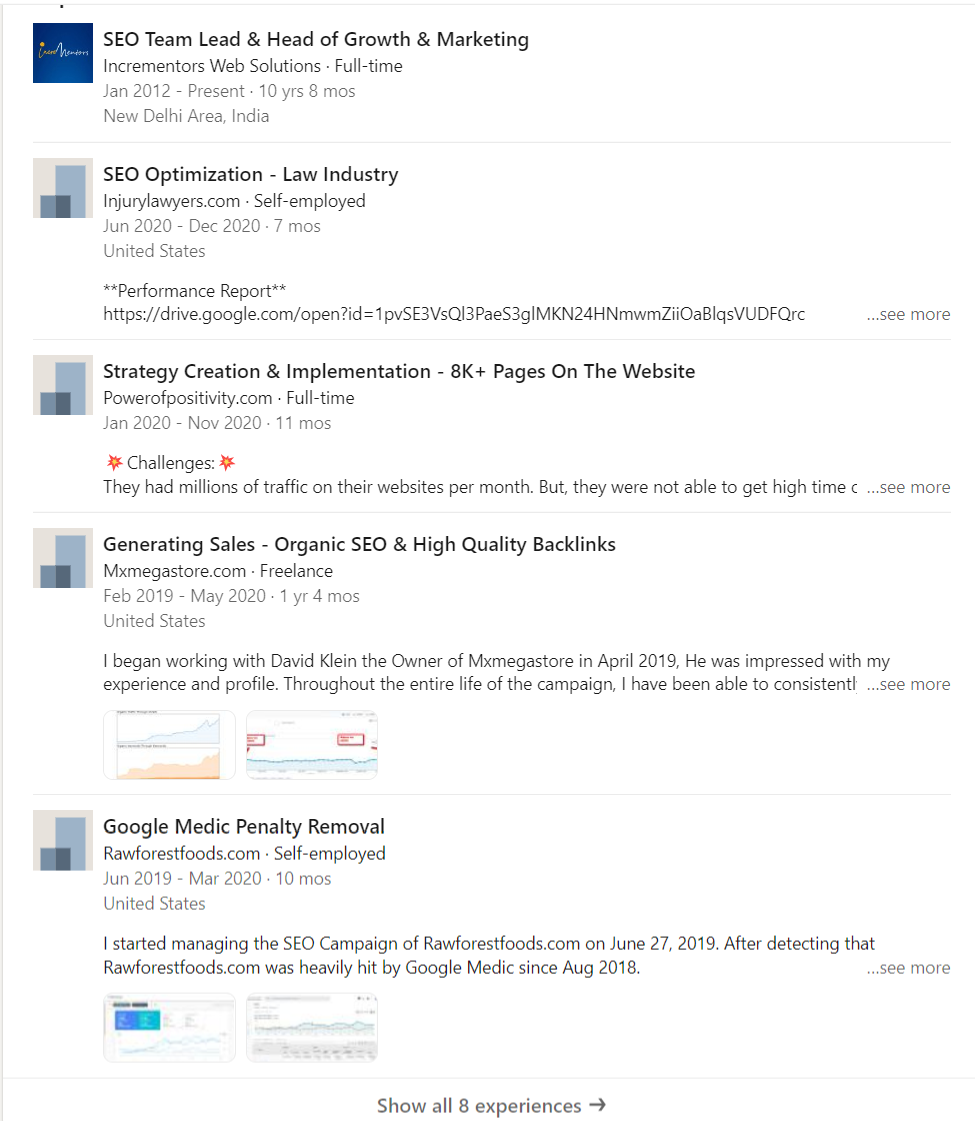 This is just my experience section… let me show you one of my experiences.
Just look below how I have written.
It is just an example of how I have used the experience section of my LinkedIn account.
I am a digital marketing strategist. So, I can brag about what I have done and what kind of results I have derived.
You can do the same.
Make it concise, targeted, and with a purpose.
Write your message effectively and then move them through the funnel.
Here Are Some Tips To Write LinkedIn Experience Section:
A. Add your clients' names and projects you have worked on and show the results you have driven for them.
B. Make it as simple as possible.
C. Don't add any experience that is irrelevant to your target audience.
Apply LinkedIn SEO
LinkedIn SEO optimization is a little different from regular website SEO.
You must have an idea about the keywords that user types on Google are different from than keywords used on LinkedIn.
Users on LinkedIn search with the short-tail keywords that match the job profile.
You must have remembered what I said in beginning, Google also ranks the LinkedIn profile in SERP.
So, that's why you must have good command over LinkedIn SEO keywords along with Google keywords.
You might be wondering:
How do I find SEO keywords for LinkedIn?
Well, no worries! Here I am going to provide you with some of the tips through which you can find SEO keywords.
Before you even go with conducting keyword research, you must consider the questions below.
What type of keywords do you want your profile to rank on?
Do those keywords have decent volumes?
Do the keywords match the intent of users?
If you can clearly answer these questions, you are ready for keyword research for LinkedIn.
i. LinkedIn SEO Keywords
Let's see the way you can find LinkedIn SEO keywords.
Search for the shortest term that describes the services that you offer.
Suppose, I search for SEO…
I just searched for SEO and see I got the top results for that particular keyword.
And if I click on 'See all results', I will get to see a lot of more similar results associated with this keyword like, connections, companies, and people.
Check below:
Like this…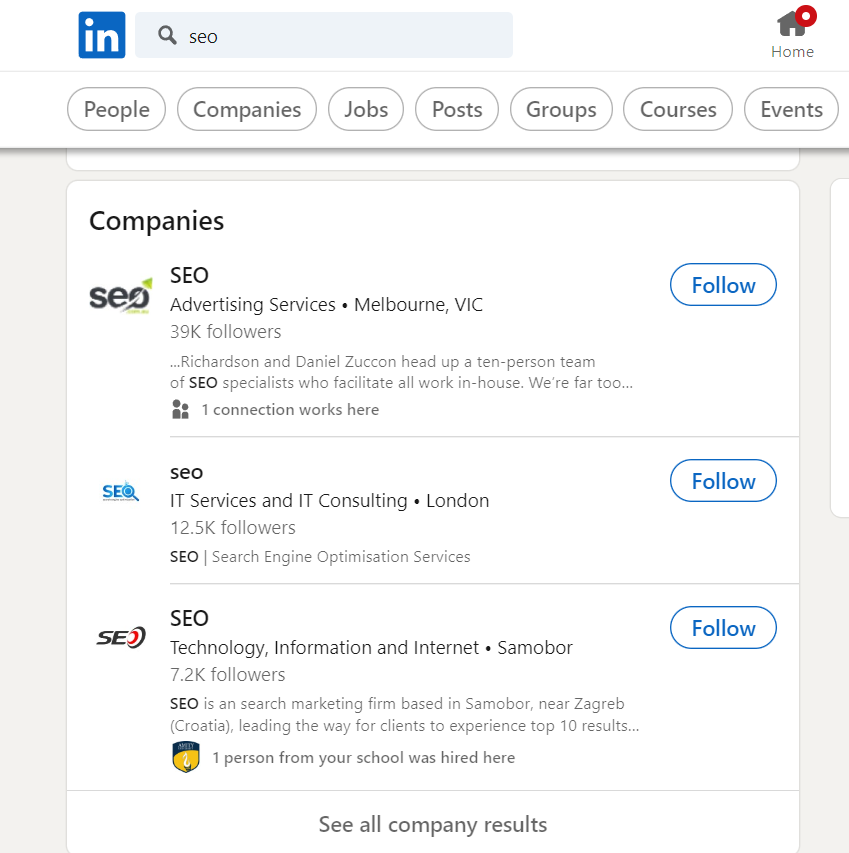 And this…
The next thing that you need to do is… observe how LinkedIn SEO keywords are implemented there.
This is one of the ways of LinkedIn SEO optimization.
You need to check out how the keywords are being used in the 'Top profiles'.
Check out if they are using direct keywords like, 'SEO specialist' or using simple terms like SEO, SEM, SMM, or what…

Then, make a list of those keywords and group them to use them effectively on your profile. This technique will help you generate free LinkedIn followers.
As you can see in the screenshot below, the top profiles have used SEO in the beginning.
So, you must also do the same.
Once you have a list of keywords for LinkedIn, you can implement them in your profile.
However, you will not get penalized for keyword stuffing, unlike Google. Still, you need to take care of your audience as well… So, inject keywords as naturally as possible.
Some Areas Where You Can Inject Keywords:
Headline
Summary
Experience section
Recommendations
Skills section

Build Connections
The next step to ranking higher on LinkedIn is to build connections.
There is an interesting fact behind that.
I can explain…
When people search on the LinkedIn search engine, you must have noticed, that the results come in three different ways.
You must have seen the number tag with the profiles like this…

Do you understand what these number tags resemble?
Truth is:
The first tag people are already in your connections and match directly with the search query.
The second tag people are your connection's connections.
The third tag people are outside of your network.
And the fact here is, that LinkedIn prioritizes the profiles that have the first tag or second tags. The profiles with the third tags barely appear on LinkedIn.
I hope you have got the reason and logic behind building connections or expanding your network.
The more connections you have, the more chances are there to be ranked higher.
You might be wondering:
How can I add people? Do I randomly send them connection requests?
Well, it's a Big NO!
You don't need to send the connection requests randomly.
Here Are The Tips For Building Connections:
Send connection requests to those whom you have met before.
Your colleagues, or people you have worked with before.
People with whom you have common connections
People with similar job positions
Avoid sending connection requests to random people because if too many people decline your connection requests, LinkedIn will ban you.
So, keep this thing in mind.
Get Endorsements And Engage With Others
The next tip for our LinkedIn SEO is adding skills and getting endorsements.
This is one of the ways of LinkedIn SEO, getting endorsed.
You might be wondering: What is endorsed on LinkedIn?
Let me explain the concept of skills and endorsements.
Skills: Skills are that you add by yourself and it helps recruiters find which skills are you confident with. For example, if you are an SEO specialist, you can add skills like SEO or digital marketing-related skills to your LinkedIn account.
Endorsements: Endorsements are done by other people those might know you. Endorsement is like a confirmation that you are skilled in that particular area. Sometimes, LinkedIn also asks how you know the person you are giving an endorsement to.
There is one thing that you need to keep in mind while adding up your skills, don't add too many skills or it will seem fake or people will get confused about which skills you have expertise.
So, you can ask your friends or colleagues to endorse you and you can do the same for them.
There are thousands of LinkedIn Endorsement examples are there on the platform. You can just go and check them out.
Or, you can do one more thing on LinkedIn…
You can also get engaged with others. So, that they also engage with you.
It will also benefit you in so many things like commenting for better reach. When you comment on somebody's post, your name pop-ups in your connections' notifications. This is of course helpful in expanding your reach.
So, for that reason… you must engage with others.
Work On LinkedIn Content Strategy
We all have heard that the 'content is the king'. Right?
The same strategy applies on LinkedIn as well… using the content on LinkedIn to show your expertise in the field.
'Post The Right Content'.
But one thing is for sure. Either your content can rock on LinkedIn or it will be gone unnoticed.
You can try any of the content like… long blog posts, images, videos, etc, and then check out which works the best for you. Figure out what kind of post bring you good traffic.
Before you even get started with a LinkedIn content strategy, you must have a list of LinkedIn SEO keywords.
Like, according to my observation and research, I can say meme posts work the best and get high engagement.
The reason behind this because memes are in trend these days.
So, properly use the LinkedIn content strategy.
One thing that I want to make clear here is… never underestimate the power of hashtags.
The reason behind this is, that hashtags give you massive visibility.
You can select hashtags relevant to your industry or some other specific hashtags according to you.
However, both help in massive growth in visibility.
According to Scott Ayers of Agorapulse Social Media Lab, LinkedIn posts using at least one hashtag received 29.59% higher impressions than posts that had no hashtags.
Now, you might be wondering: What kind of hashtags should you use?
Well, here are I provided the details below:
Add 1- 2 popular hashtags
Add 1-2 'niche' hashtags
Add 1-2 location-based hashtags, if required.
Add 1-2 company based hashtags ( #incrementors #incrementors_web_solutions)
Let me show you an example:
See my hashtags on the post.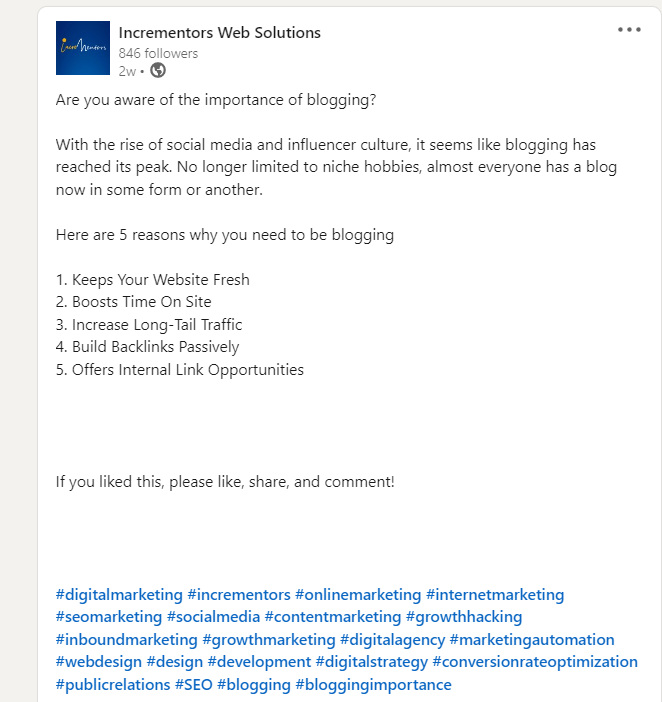 You can see I have used all kinds of hashtags in my post and mixed all the hashtags.
Join The Right Group
The thing that you should not forget is that LinkedIn is one of the social media platforms. You must use it to be social and build networks.
To make networks here, you need to join groups as well.
This is the best way you can connect with like-minded people.
Here you can boost your personal brand. If you offer great content, you can grow yourself as a thought leader among the people.
Or, you can also share the content of your website in a group and get high traffic from there as well.
Understand The LinkedIn Analytics
Do you understand the power of measurements? You know, 'what we can measure, we can improve'.
So, by keeping this fact in the mind, it is very important to have an understanding of LinkedIn Analytics.
With the help of LinkedIn analytics, you can figure out what worked the best for you and what did not… because the success of LinkedIn SEO depends on what worked best for you.
LinkedIn provides an insight into how your profile is performing and insight into things like, "who viewed my profile"
You can even check out the trend over time.
You can generate high results constantly by checking on the analytics from time to time and then improving your LinkedIn Profile.
Conclusion
Here are some best LinkedIn optimization tips that would help you generate good leads and most importantly, LinkedIn SEO will help you rank in Google SERP as well…
That is of course, a Win-Win situation for you from both sides.
The basics of these strategies include LinkedIn SEO keywords, profile optimization, building connections, joining groups, etc.
However, if you apply the strategies given above, you can generate high traffic to your profiles.
So, what are you waiting for? Do it today!
FAQs
1. Does using SEO to optimize keywords in our job profile affect LinkedIn search results?
Yes, of course. Using keywords and optimizing your profile for LinkedIn search results will definitely give you visible results. These techniques will help you rank higher not only on LinkedIn search results but also in Google search results.
2. Do hashtags increase reach on LinkedIn?
Hashtags give you immense reach and visibility. When you post something along with hashtags, the LinkedIn algorithm helps the post reach people who follow that particular hashtag.
3. How do I make my LinkedIn profile searchable?
One of the best ways to make your LinkedIn profile searchable, you must write correct headlines, put correct hashtags and most importantly optimize your full LinkedIn profile.
4. What places should I use keywords?
LinkedIn SEO keywords are the most important thing from an SEO point of view.
Here are some of the places you should put keywords:
Headlines
Certificate section
Position titles
Experience section
5. How do I find my popular keywords?
The best place to find the popular keywords is Google trends. Google trends will help you get the best and most popular keywords of all time.