Do you think the new General Data Protection Regulation (GDPR) guidelines enforced by European Union (EU) are going to be an obstacle for your marketing campaigns? There is a lot of confusion among marketers, most of them afraid of these rules.
Don't worry, fear can exist only when you don't know the truth, here in this article I will make explain how you can make your online presence GDPR compliant and how you can turn it in your favor to build a stronger relationship with your customers that will help your business to grow consistently.
In this revolutionary digital world customer personal data is the biggest currency for online businesses. From the last decade, since the internet became part of every individual's life. Both governments and corporations have become data miners, they have collected information about every aspect of people's activities
That includes the websites people use, the calls they make, the places they visit, and even the photos they take are all recorded, measured, and used to influence their behavior. It's the most valuable asset for the business.
By using these personal data companies can create custom solutions & products for their customers and influence their buying decision with the targeted advertisement. We can see real-life examples of how Spotify, Amazon, Apple, Google: these corporations are using data to give customized products and services.
However, because personal data is so valuable, it also opens up the possibility of getting misused. That's why to deal with this issue, the EU comes with strong law to empower customers regarding their data so that they become sure it's used in the right way.
According to the customer privacy study done by TRUSTe/NCSA, 92% of online customers say data security and privacy concerns.
What Is GDPR?
GDPR is the core law of Europe's digital data privacy. It's a new digital privacy regulation that was introduced on the 25th of May, 2018. It also addresses the transfer of personal data outside the EU areas.
The GDPR's primary aim is to give individuals control over their data and to simplify the regulatory environment for international business by unifying the regulation within the EU.
In simple terms, it means all the online websites that collect data of individuals who belong to the EU member nations need to ask for consent from people by clearly mentioning it and after collecting it, it's their responsibility to take care of it so that data doesn't get misused.
What Is GDPR Compliance?
GDPR compliance is the process of following the rules prescribed by the EU which includes putting data collection in regulation & keeping appropriate documentation of it.
In case any company that doesn't follow the rules made by the EU is liable for a heavy penalty. Which ranges from up to €20 million to 4% of annual global revenue, depending on the complexity and circumstances of the violation. In other words, GDPR compliance is not optional, it's something that is a must-have for online businesses.
In the above image, the left form isn't GDPR compliant because it doesn't give freedom to the user. They are forced to agree with their privacy policies and further updates via emails.
The important thing to remember is even if you're based outside of the EU but you collect or process the data of EU citizens, then GDPR will apply to you.
It means organizations have to ensure that personal data is gathered legally and under strict conditions, and they are also obliged to protect it from misuse and exploitation.
GDPR Compliance Checklist
Establish a transparent method for data collection & processing.
Review your data protection policies.
Ensure users' privacy rights.
Make sure your team is well trained & educated.
Undertake a comprehensive risk assessment.
Appoint a data protection officer.
Conduct a data protection impact assessment.
Give clear details about data processing in your privacy policy.
Encrypt or anonymize personal data for safety.
Conduct a data audit to make sure what information you process and who has access to it.
Make it easy for customers to get their data deleted.
How Does GDPR Impact Digital Marketing?
The GDPR legislation has a big impact on the way marketers approach their work and how organizations obtain, store, manage or process the personal data of EU citizens.
For some marketers, it may seem frightening especially for smaller and mid-size businesses. But in reality, it doesn't have anything to worry about.
GDPR principles every marketer needs to consider throughout the customer journey. Which comprises data collection, data storage and processing, and ending relationships. Let's look at each of them in detail.
Data Collection
Importance of Transparency
The data submission process should be transparent for customers before they submit their data. Means businesses that collect data via online forms must communicate clearly why they are asking for such data. then the individual will decide whether to give consent for it or not. they also need to be informed that at any moment they can revert their consent. It increases customer loyalty as well. In research done by Salesforce, they found 84% of consumers are more loyal to companies that have strong security controls and transparency.
Importance of Data Minimization
It means collecting only required data, the type and amount of personal data a company may collect depends on the reason for collecting it and the intended use. Companies are permitted to collect only required & relevant data more than that would be considered as a breach of EU GDPR guidelines.
The company must follow these rules for data collection.
It should have specific purposes for data collection and the company must indicate those purposes to individuals when collecting their data.
A company can't collect personal data for undefined purposes.
The company must ensure the personal data is accurate and up-to-date.
The company can't use personal data for other purposes.
Data Storage and Processing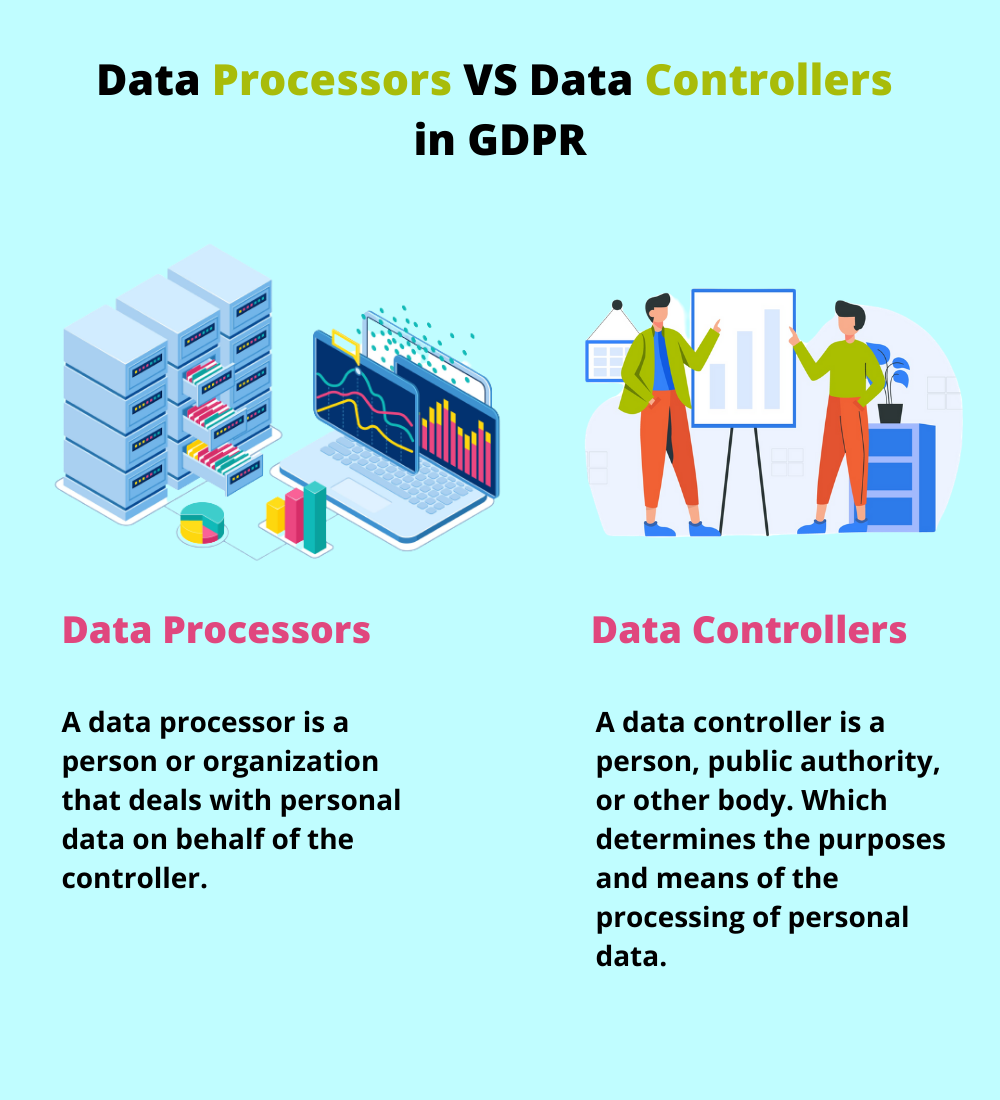 Data Storage and Processing covers a wide range of operations performed on personal data, including by manual or automated means. It includes everything from the collection, recording, organization, structuring, storage, adaptation or alteration, retrieval of personal data.
Companies can use the collected data for genuine purposes only which they mentioned before collecting it, use of data other than that without the individual permission can put companies in big trouble. Even if you plan to transfer or share your user's data with someone else, you have to ask for consent from the person.
Security
Once you collect the data from people, it's your responsibility to keep it secure. For that, companies strictly need to follow the data security provisions of the GDPR. Which states that you need to implement appropriate technical and organizational measures to ensure a level of security appropriate to the risk.
So things like unauthorized processing, accidental loss, disclosure, access, destruction, or alteration can be prevented.
To take into account encryption of personal data, companies also need a process for regularly testing, assessing, and evaluating the effectiveness of technical and organizational measures for ensuring the security of the processing.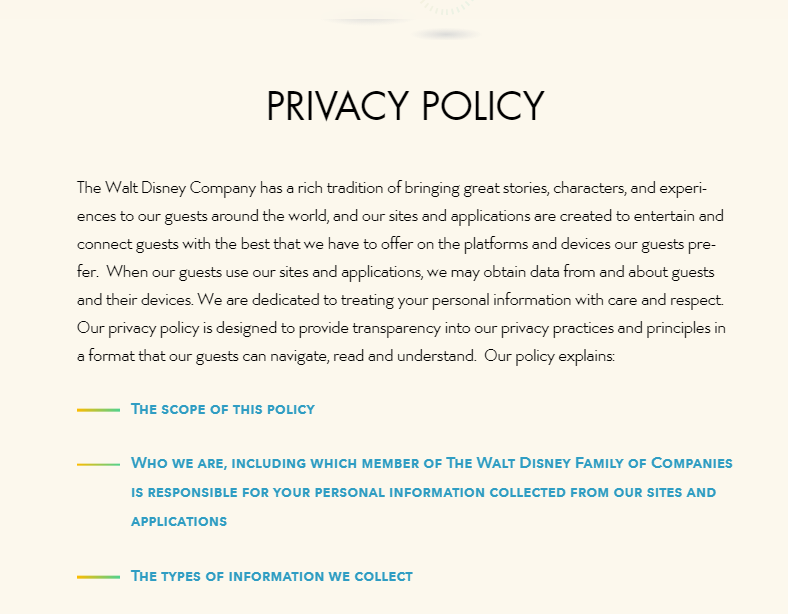 Companies should also need to give all details about about the data collection & processing to the customers in the privacy policy page. You can see how clearly in the above example, Walt Disney privacy policy page mentioned key information.
Accuracy & Accountability
Under new GDPR guidelines, consumers can anytime ask the company to update their data if it's not accurate.
GDPR also integrates accountability as a principle that requires companies to put in place appropriate technical and organizational measures. They need to have policies for data protection which is taken care of by their Data Protection Officer (DPO).
They also need to ensure that they implement a 'Privacy by Design/Default' policy. Means customer privacy should be the default position and personal data must be automatically protected in any system of business practice, with no action required by the individuals to protect their privacy.
Ending Relationship
Retention
It means companies need to keep track of how long data can be kept and how to dispose of the data when it's no longer needed. Companies must create a data retention policy to help them manage the way they handle personal information. If companies keep sensitive data for a long time without informing the person it would be still considered as an infringement of GDPR guidelines.
Deletion
If at any moment a person wants to get his data deleted for any reason then the company should strictly delete all the data which they possess.
The right to get the data deleted is also known as the 'right to erasure'. People can ask an organization anytime that holds their data to delete it if it's no longer serving the purpose for which it's collected.
For example, if someone gave consent to the organization for using their data for research purposes, but for any reason, they withdrew their consent and don't want to participate in it, then the organization needs to delete the data immediately.
In Marketing, Who Needs to Be Careful With GDPR Guidelines?
If you own an online business & run various digital marketing campaigns, then you should be aware of all the nitty-gritty of these guidelines. Especially the people in your digital marketing department, let's see how it will impact the key areas of digital marketing.
Email Marketing & GDPR Rules
According to new GDPR guidelines you can't send marketing emails or texts to individuals without their consent. But in today's digital world for B2B marketers, email marketing is are the only important source of quality lead generation. So it's one of the important driving factors for business growth.
You can send emails to those people if in the first case they knowingly given their email address to you in exchange for any piece of content (ebook, template, or video) it's considered as the initial sign of conversion, and this activity is termed as opt-in.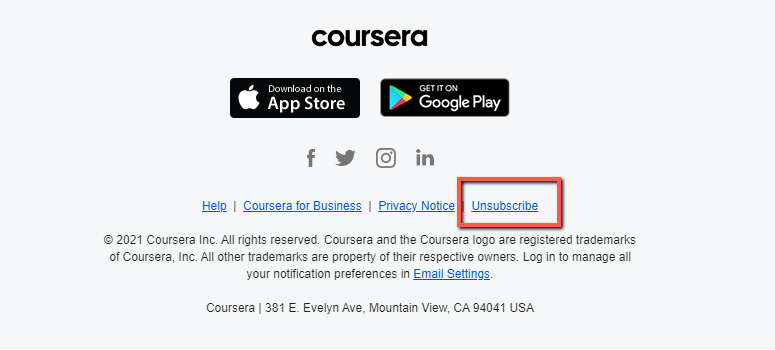 And in another case, if they were your existing customer. Who bought a product or service from you in the past and given their data. Most importantly you should not disguise your identity, and provide the option to opt-out at any moment for customers
Here is a huge difference between the older way of marketing and this new email marketing strategy. In traditional email marketing practice, you just buy a bulk email list and randomly send emails to people without their consent. Under the new GDPR rules, buying email lists is strictly forbidden.
Further Reading
Top 10 Methods to Get Business Leads Online
7 Excellent Tips for Lead Nurturing That You Must Apply
Website Analytics Cookies Policy
Many website analytics tools use cookies to track visitor's behaviors that help them to collect personal information and they share the data with other third-party tools for advertising purposes.
If you're using any website analytics platforms such as Google Analytics you need to inform users about how their data is being collected & used.
Digital Advertising
As marketing becomes more sophisticated, it frequently involves significant amounts of personal data. Nowadays, digital marketers collect personal data to personalize people's ad experiences. They do it by tracking user behavior on their website by implementing tracking cookies, apps, and pixel codes.
As soon as a user visits a website, these tracking mechanisms use their data for advertising purposes. companies can't do this without people's consent.
How GDPR Can Benefit Your Digital Marketing Campaign
There are lots of companies that don't take guidelines for customer personal data protection seriously. But according to me if you want to grow your business in the 21st century then you can't do it without giving a human touch to it. This means having more focus on personalized customer experience in a way that is authentic, empathetic, and humanistic
So instead of becoming afraid of GDPR guidelines, you should strive for excellence and creativity to keep in touch with your audience through your marketing campaigns by making things very clear from the very beginning. Below I mentioned how it'll impact positively the digital marketing world.
People Attention Will Be Given More Respect
Now due to the advent of strict GDPR rules, marketers can't target people with their ads without working hard to get their permission to see those ads. Now marketers need to do in-depth research to know their customers, then coming up with a clear strategy to influence buyers at every stage of their buying journey.
Quality Wins Over Quantity
GDPR compliance companies will have more trust and credibility with their customers that would play a key role in their success. Because people who give their consent for their data will lead to higher click-through and engagement rates, which can only be a good thing. According to Cisco, for every dollar spent on customers' privacy, the average company receives $2.70 in associated benefits.
Conclusion
Change happens for growth, marketers need to accept this fact and align their future marketing campaigns by keeping their customer's well-being in mind that would be beneficial for both companies and individuals.
GDPR isn't created to stop companies from communicating with their customers. It will help you to delve deeper into the needs of your prospects and customers. It'll lead to an increase in data quality.
Rather than going with the traditional "one-size-fits-all" approach to marketing now, marketers can target prospects with custom advertisements which satisfy their need. GDPR compliance is quite simple – don't contact unless they specifically ask to be.
Frequently Asked Questions
How has GDPR affected marketing?
As a marketer, you need to understand the GDPR as a commitment, to be honest about your data practices. It means treating people's data with respect, asking for permission to collect it, only taking what you need, and keeping it secure.
Does GDPR only apply to marketing?
No, it's not restricted to marketing, under the terms of GDPR, all organizations have to ensure that personal data is gathered legally and kept safely.
Is direct marketing allowed under GDPR?
Yes, it's totally allowed if you adhere to the GDPR guidelines while doing so.
What are the 7 principles of GDPR?
Fairness and transparency, Data minimization, Accuracy, Purpose limitation, Storage limitation, Accountability, Integrity, and confidentiality are the 7 core principles of GDPR.
What are the basic rules of GDPR?
The basic rules of GDPR include lawful, fair, and transparent processing of the data. Limitation to collecting only relevant data and not keeping it once the purpose is filled. Awareness about personal data breaches fines. Having a Data Protection Officer at your organization.