"Either write something worth reading or do something worth writing."

Benjamin Franklin
Have you ever written a diary or journal? A blog is also almost the same. For instance, you write a diary on paper, in the same way, people write about their experiences on the website.
Through blogs, you can express your thoughts, opinions, experiences, and interests to the world like I am doing right now.
Brief History of Blog
The term "weblog" was first coined by Jorn Barger in 1997. Which is further contracted as "Blog" by Peter Merholz.
After a quiet start, blogging quickly gained popularity, with an increased number of web pages, a lot of tools were built which helped users to create online journals and blogs with ease.
What Is Blog Post
Blog post is a content that is updated regularly with new information, most of them contain short informational articles.
These posts usually contain some combination of text, photos, videos, and other media. It showed on the webpage in reverse chronological order according to the recent publishing date.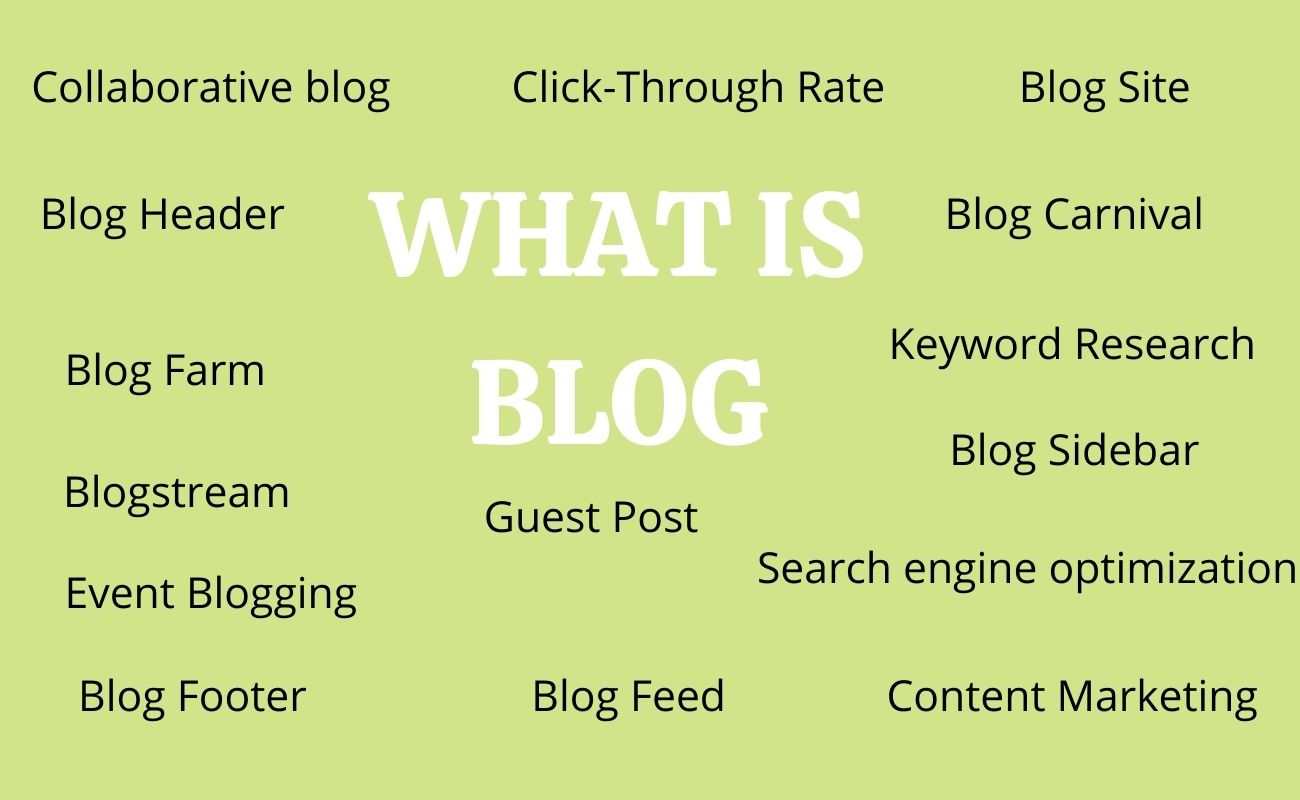 By using blogs you can share your business thoughts, stories, or publish insights on our website about any topic to boost traffic, brand recognition, revenue, and conversions.
Now a question arrives and many bloggers come to this question for sure at least once. That is how to write a quality blog post that attracts visitors?
And the best answer to this question is try to touch the heart of the reader through your content give them something that adds real value to their life.
Explain topics in easy to understand language to start any blog, try to write in easy-to-understand language so that your content can be read by the majority of readers.
Don't just answer the questions but also try to add some extra beneficial steps to let readers gain some extra and relatable tips about the topic.
Importance of Blog Post?
Do you know that websites that also have a blog are shown to have 434% more indexed pages? That means an increased possibility to be shown in Google when someone searches with keywords related to your business, which as a result brings quality traffic with high conversion intent.
Businesses that are consistent with the blogs capture twice email leads as compared to those who don't.
Related: Ways to Get More Organic Traffic to Your Blog and Website
Difference Between Blog and Website
Most people get confused between a blog and a website. A blog page can be a part of a website, but not all websites have a blog page section.
Another difference is blogs are regularly updated with new content in reverse chronological order means a new post will be shown at the top.
On the other hand website without a blog page has static pages like the homepage, contact us, and about us page. That is focused only to inform users about the features of their products and services.
Nowadays most businesses have a blog section on their website to make people aware of their business and to answer their questions and to educate them.
Here is an example from our website, we have both, a website and a blog. Where our website can be accessed from the domain name "incrementors.com". But we also have our blog on our website subdirectory as "incrementors.com/blog/"
Related: SEO Features You Must Have on Your New Website
Tips for Writing Quality Blog Post
The blog post writing process can be very easy if you keep this one thing in mind that you are not just writing for people to inform about new information.
It's about communicating with readers to make an emotional relationship with them.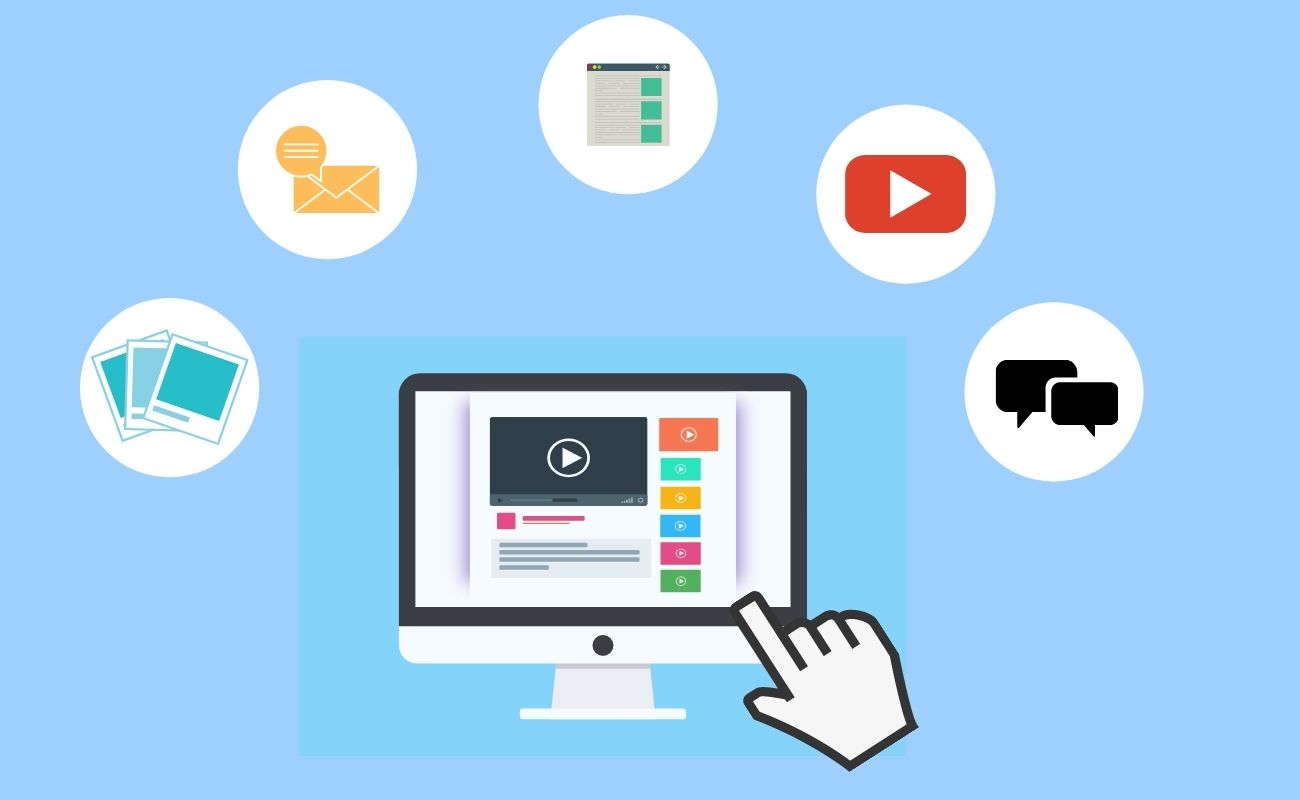 Related: How to Write High-Quality Content?
Key points to remember for writing a quality blog post:
Decide What to Write?
If you have never written a blog post, try to start with something you are passionate about. If you are passionate about something, then the writing process will become fun for you.
Make a list of all the activities that make you happy or let you forget about the time. Start expressing your experiences in your own words, gradually you'll be able to develop nice writing skills.
Start With Keyword Research
If you are writing for the web then it is mandatory for you to know the working of search engines so that you can optimize your content accordingly.
In the world of the internet when it comes to rank webpages, search engines consider signals from keywords to understand the webpage content and rank them for the searched query.
Keywords are the words that people put in the search bar to find relevant information. If you want to find keywords related to your business then you can use free tools like Google Keyword Planner. Here is our complete guide on how to use Google keyword planner, which you can refer to learn more about it.
In nutshell, if you want to be successful in this digital age then you need to possess a good understanding of SEO as well.
Related: How to Find the Right Keywords for Your Business?
Have a Subjective and Objective Knowledge
Before you start to write about any topic, you have to know about it. You have to gain knowledge about the topic you are writing about. There are two ways to know about something one is objectively and another is subjectively.
But there is a difference between having objective knowledge and subjective knowledge. Objective knowledge is knowing about the theoretical part of the subject, by reading books and other's opinions on the topic.
But subjective knowledge is about knowing about something through your experience and if you integrate both the theoretical part and the experiential part.
Then that would certainly take you apart from others who are willing to write on the same topic.
For instance, if you only have knowledge about the music, but never practiced it then it is objective knowledge.
But if you start singing and playing guitar, and take classes, and live that art through you then this is subjective knowledge.
Prepare Outline of the Content
An outline is a helpful guide for organizing your content topics that you are going to cover in your blog post. It works as navigation for you when you start writing and makes the whole content coherent and engaging for the reader.
For creating an effective outline you need to choose the topic first. For example, if I am in the digital marketing industry then my target keywords would be "Digital Marketing", "SEO", "Social Media Marketing" etc.
But when it comes to writing a blog post for my website I narrow down my target keywords for a more specific phrase, usually known as long-tail keywords.
Thus, I will make the list of blog post topics based on my target keyword.
Here are a few examples of it.
Digital marketing trends in 2020
Why digital marketing is important for businesses
How to learn digital marketing
And for the outline creation, I am picking "How to learn digital marketing".
So my outline will cover these subheadings in detail:
Search Engine Marketing
Content Marketing
Inbound Marketing
Social Media Marketing
Email Marketing
Digital Marketing Analytics Tools
Make Your Headline Compelling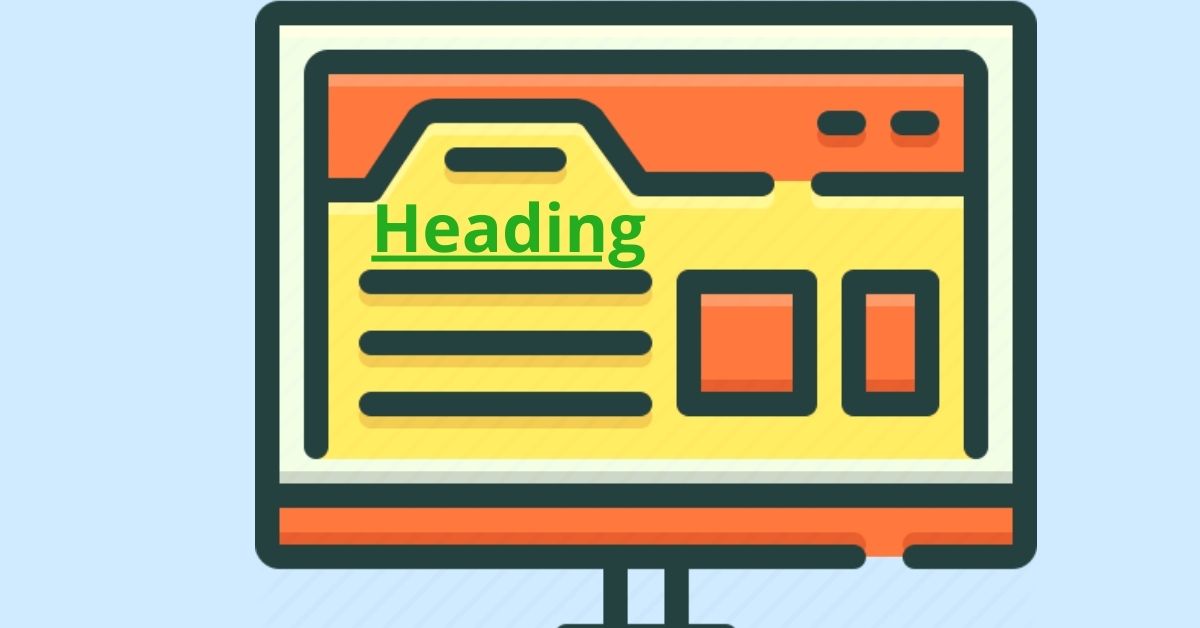 Most of the readers read the headline first then the content. So first, you need to find out the catchy headline to gain the reader's attention. If your headline is not attractive no one will read what you have written.
Your headline should push the reader to read further content, adding numbers, questions in your heading makes the reader curious about the content.
Content is important but if your headline is not catchy then it wouldn't benefit you a lot because most of the readers not going to read it.
They will judge your headline first they see your content next if they find the headline related to their search query. So, spend some time to find out the perfect and catchy headline for your blog post.
Start Writing
Most people spend hours, days, or even weeks to start writing blog posts. WHY? Because writing for the first time can be a daunting task.
You don't need to overthink a lot simply get out from your negative mental world and start writing about whatever comes to your mind.
Don't worry about the mistakes just keep your focus on writing your first draft. Then edit it again and again until you get your final content.
Average Word Count
Try to write at least between 1000 to 2000 words. Articles with less than 1000 words are bad from an SEO perspective.
People love to read long-form content that covers the topic from beginning to end. Another benefit of a long article is that you will increase the odds of ranking for other keywords that are closely related to your target keywords.
Related: Optimize Your Content for Search Intent
Be Yourself
When you begin with your first blog, it's easy to get influenced by other writers and you may start copying their writing style. Write in your own style that will help you to build your unique presence around your community.
Rule of "YOU"
While writing try to think that you are talking with your readers directly. This will make your post interactive and readers will easily understand what you are trying to explain. Use the second person context "you" in your content consistently.
Format for Readability
If you have ever visited those boring websites of the 90's era. You must have noticed how tough those articles were to read. At that time writers weren't much concerned about the format of the blog for better readability.
Don't be one of those writers use proper writing formats and use bullet points to make things simple and catchy.
Break your paragraphs in small sentences, due to information overload on the internet most people just skim through the content by reading the main headings and subheadings of the content. So, it's a good strategy to break your content into small paragraphs that is easy to read and skim.
End with Call To Action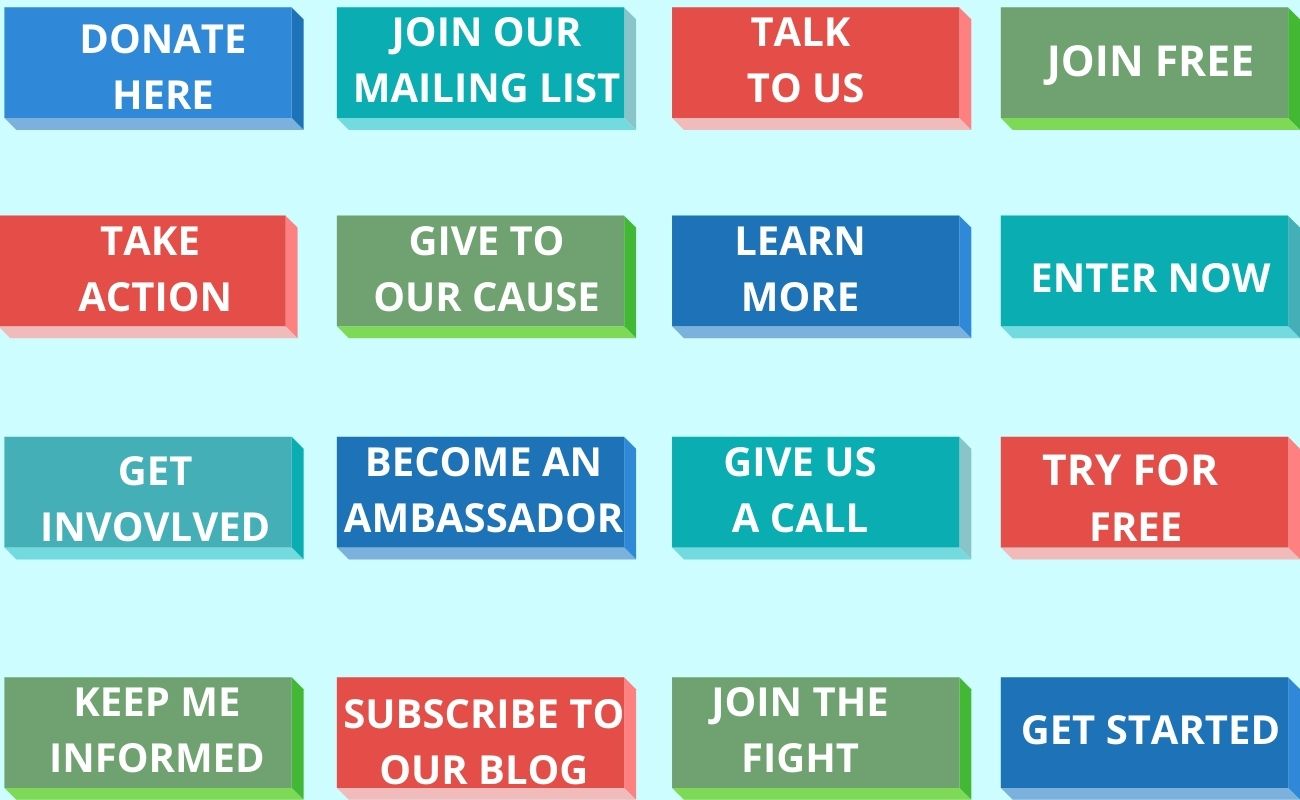 What a reader should do after reading your blog post? Don't keep them hanging in the middle. Let them know what they should do next. Always end your post by motivating your readers to do something like asking their feedback about the blog or asking them to share your blog post or to submit their emails for newsletters.
Related: Landing Page Tips
Blog Post Writing Tools
Content Idea Generation Tools
HubSpot's Blog Ideas Generator
This tool is very helpful for writers it gives you suggestions based on your seed keywords. Your seed keyword is your industry related, you just need to enter it and this tool will provide 5 trending topics on the internet based on the given keyword.
Here in this example I used Digital Marketing as my seed keyword.
Now, this tool came up with 5 ideas on which I can start writing, for more results you can subscribe to their paid plan.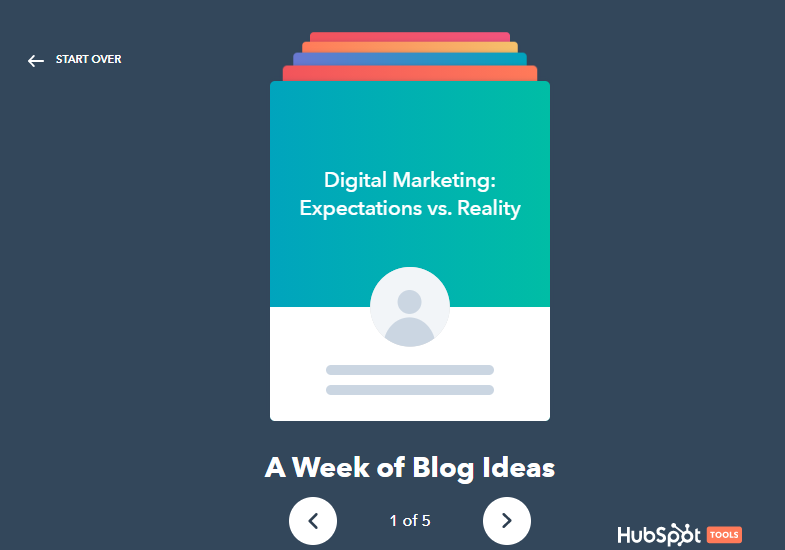 Impact's Blog Title Generator
This tool is quite different it allows you to enter your seed keywords then based on that it automatically generates question-based subtopics in the form of fill in the blanks that you can fill as per your need.
In this example I used my seed keyword as marketing.
Answer the Public
I think this is the best tool available on the internet for bloggers. It is based on "suggested searches" that are shown in Google.
It's very simple to use you just need to enter one or two target keywords in the search field then it will show you results in visual and data form. It further categorizes data into questions, preposition, comparison, and alphabetical order.
That makes it quite easy for every content writer to find out relevant topics quickly.
In the above example, I searched for the "Blog post" keyword. And you can see how beautifully this tool created visual results that I can use to write my content I can also export the data in the form of CSV to sort it as per my need.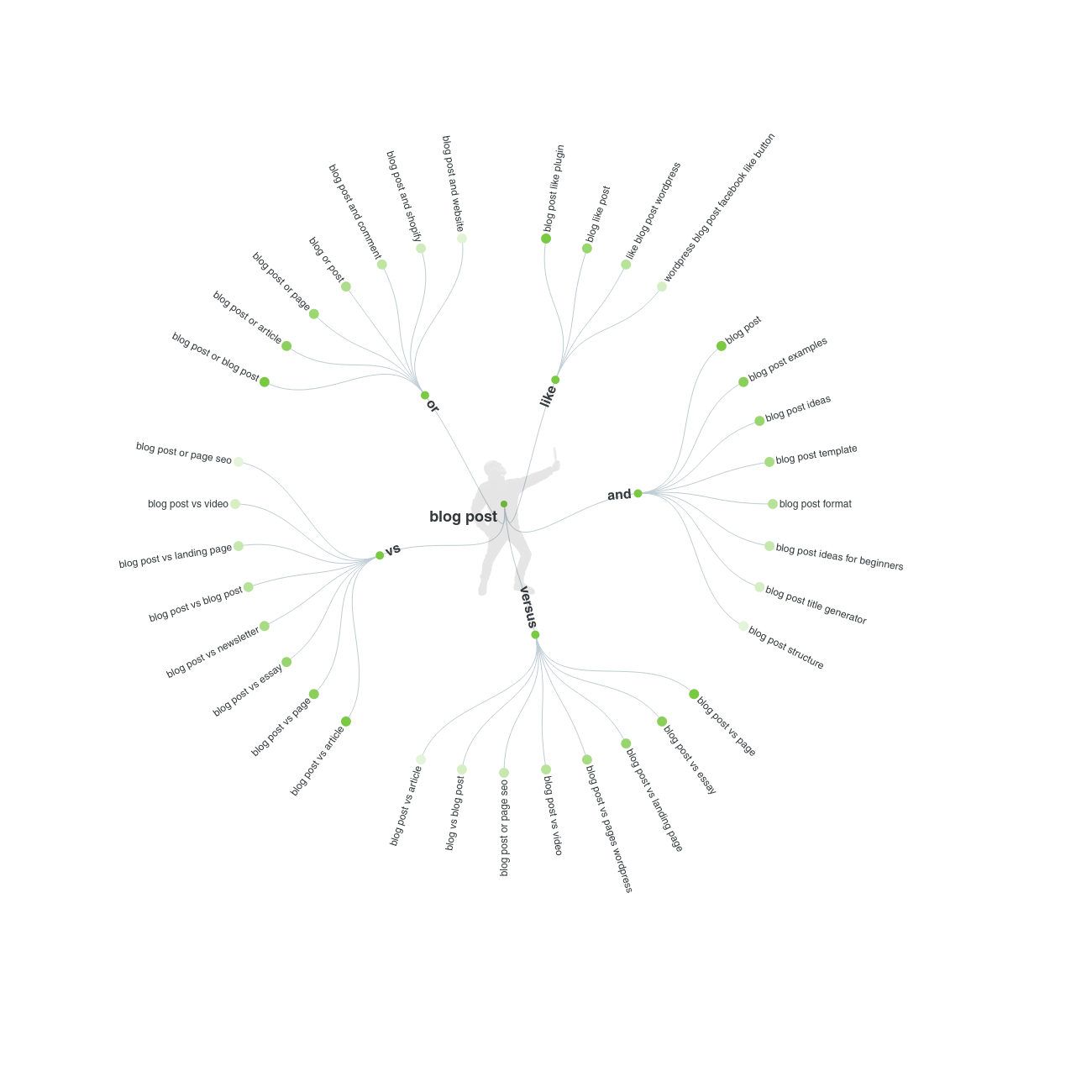 Editing and Writing Tools
Grammarly
Right now Grammarly is the best tool available in the market to check and correct your grammatical mistakes. It allows you to do more than that, like while writing it gives you real-time suggestions for synonyms as well.
Another benefit is that you can save your file in their cloud storage and continue your writing by login into any internet-connected device.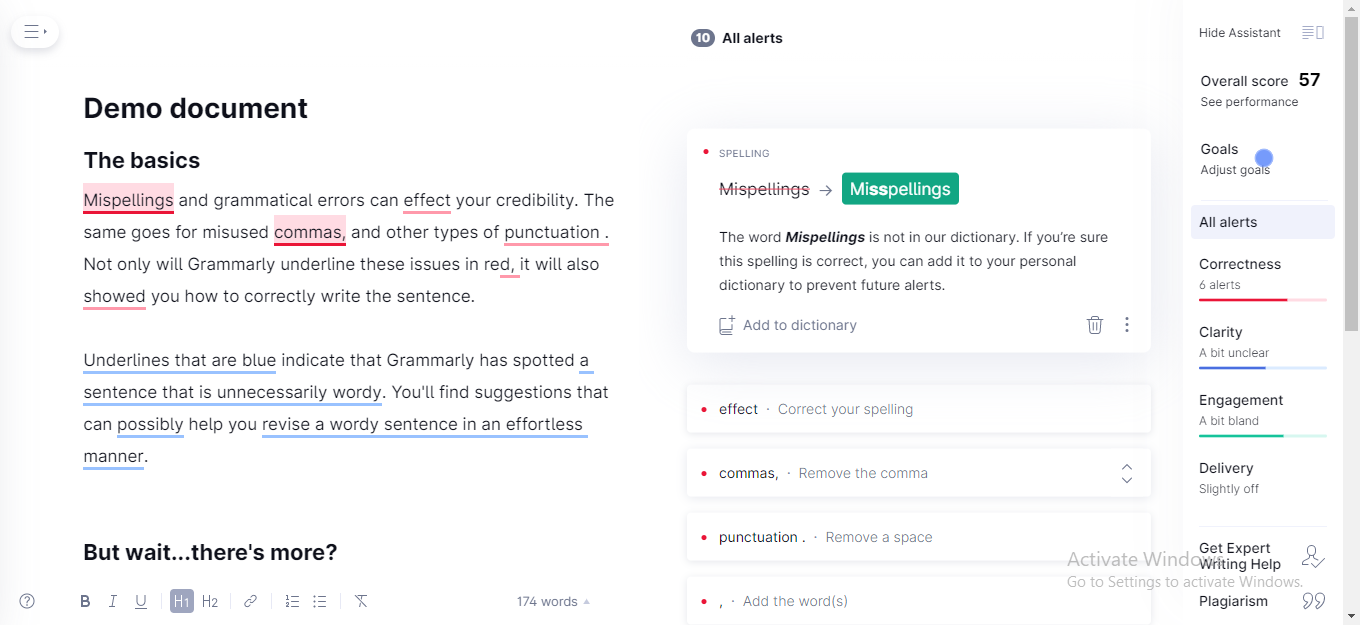 Hemingway
It's is very popular among many writers it gives you content readability optimization suggestions like the readability score, mark sentences that are hard to read, and mark those with passive voice.
It also gives you data about reading time, number of paragraphs, and sentences so you can structure your content from an SEO perspective for optimal readability.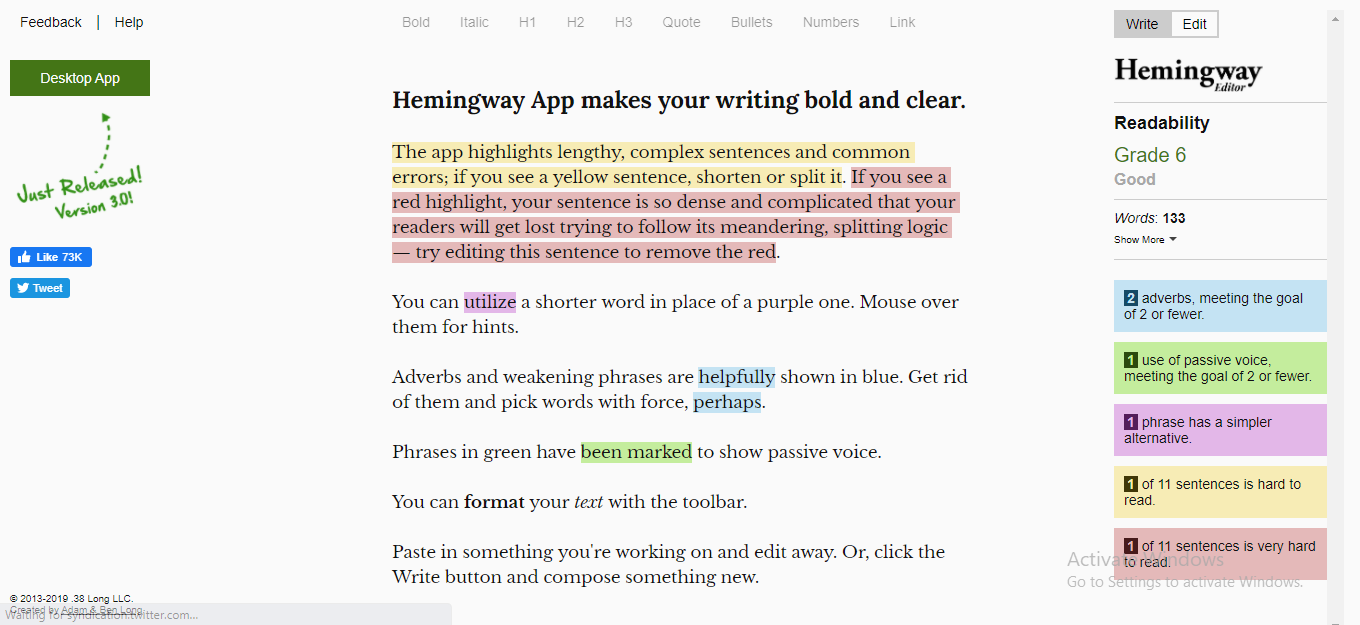 ZenPen
This is a very handy tool in this modern time where we are surrounded by lots of distractions. This tool comes with a minimalist design and completely clutter-free.
This tool is for those who want complete distraction-free space while writing, It allows writers to go into a focused zone which is the source of creativity.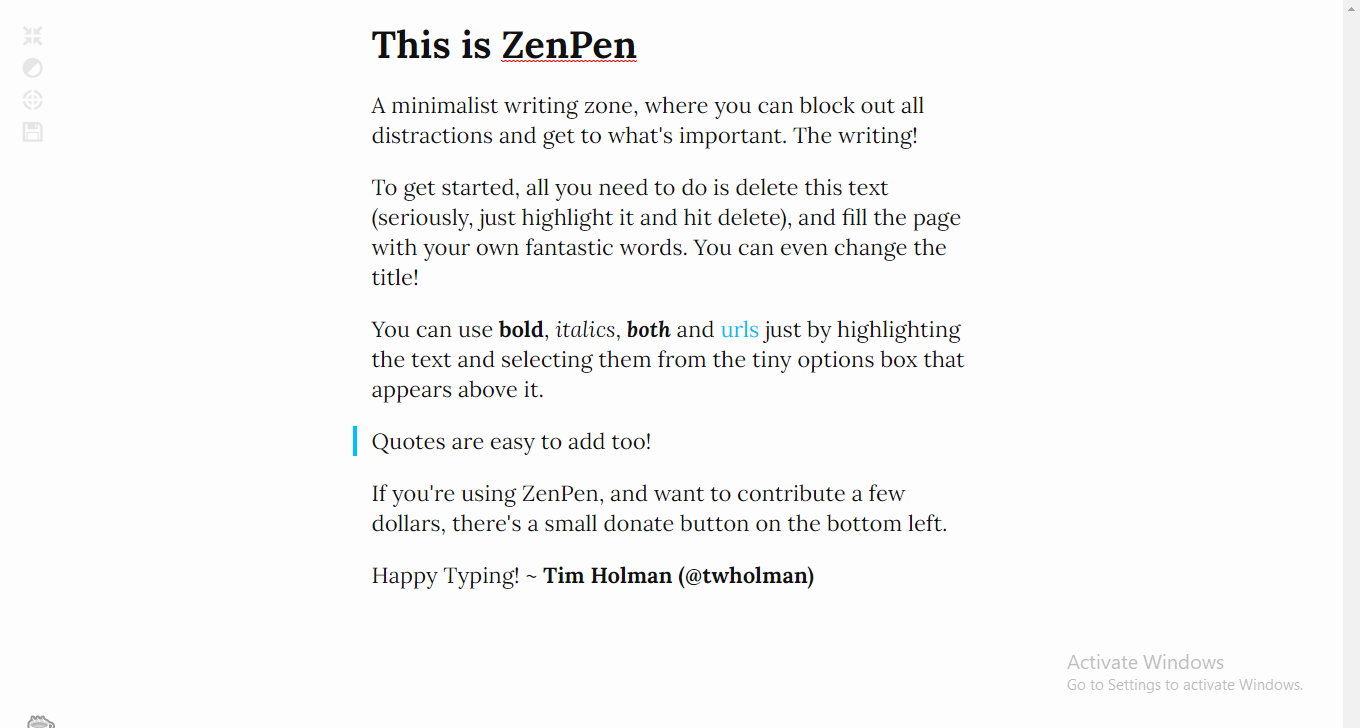 How to Promote Your Blog
Writing a quality blog post is only half journey, for getting success in the world of the internet you need to master content promotion skills.
That includes various activities but here I'll share only those that can bring optimal results for you.
Start Building Your Email List
There is know a better way to connect with your target audience by capturing their emails on your website.
By doing so you'll be able to target specifically with your content by sending personalized emails to their inbox.
Related: Top 10 Methods to Get Business Leads Online
Use Forums and Q&A Websites
You can participate in your industry-related forums and popular Q&A websites like Quora to build authority around your community.
And by adding natural links to your website you can attract traffic as well.
Promote Your Blog on Social Media
There is no denial about the fact that the social media user base is increasing day by day. If you use it correctly by understanding your users and their behavior and choose a platform to promote your article where they spent most of the time can be highly beneficial for you.
Related: Link Building Guide For Beginners
Key Points to Remember
Title
The title of your webpage is shown in the search engine result page and the browser tab, it's also an important factor for search engines.
They convey what the webpage is about, apart from that title play a key role in your webpage CTR, an effective title can help you to increase your CTR.
If you spend some thinking about the title, then surely it's worth it. Because if you post something very interesting but doesn't work on the title then how would your readers know that this article is interesting? Your title is the first thing that attracts the reader's attention to open your content and read.
Related: Organic Web Search Ranking Factors
Publication Date
The date of publication for your blog post is also an essential point to remember. People love to read updated content it's correlated with higher CTR.
Author Bio
The author's bio is a short description of the writer. It is important to include a blog post author bio because this will give readers information about the writer and also help to identify who wrote the blog.
This gives the little feeling of connectedness to reader with the writer.
Use Visual Content
There is an almost infinite amount of content is available on the internet in the form of text, video, and image. Google has indexed over 100,000,000 gigabytes of data till now and it's increasing day by day.
But for Humans processing text is a little effortful than visual content. According to this statistic, the brain processes visual information 60,000 times faster than the time it takes for the brain to decode text. That's why now most of the webmasters are shifting towards visual content.
Few examples of trending visual content are infographics, quotes with images, image-based stats, GIFs, and many more.
By using visual-based content in blog posts you can ease the things for your readers as they can better engage with and pay attention to it.
Comment Section
The comment section will allow writers to know what his/her readers want or expect from them and also this will help to get feedback about the post. In the comment sections, the writer can also interact with readers.
Highly Recommended Books for Bloggers
Here is the list of the best books that I found very helpful if you want to get success in your blogging career these books will help you to achieve it quickly.
Remember one thing learn from them but don't restrict yourself only to the knowledge contained in these books, try to experiment with new things with your own insights and creativity to express your uniqueness.
Here is the list:
Everybody Writes by Ann Handley
How to Blog for Profit by Ruth Soukup
Blogging All-in-One for Dummies by Susan Gunelius
Content Inc. by Joe Pulizzi
The Essential Habits Of 6‑Figure Bloggers by Sally Miller
Tips From Experts for SEO Optimized Blog Posts
Gregory, Third Mile Service
A great SEO tip for blog articles is to use SCHEMA markup. Schema markup is code that you put on your website to help the search engines return more informative results to the end-user.
A quick screenshot of the google search things to do resulted in a page from the city of Austin. At the bottom of the meta description, you can see they have applied Schema markup to the main pages of their site. This results in a better click-through rate [CTR] sending more traffic to this page. The person search can easily see what the website is all about before they even click on this specific webpage.
Luke Smith, Founder of We Buy Property In Kentucky
We rank on page #1 and position #1 for multiple keywords (We buy houses in Kentucky, sell my house Kentucky, etc). Consistency is so underrated. Everyone focuses on the shiny objects and jumps from one thing to the next, but if you consistently put out content, Google likes that. When you're constantly feeding Google information, it allows it to know more about your site/company. This gives Google more confidence and context as to what you do, and it shows you are active. In turn, Google is more likely to serve your website as an answer to a keyword search than someone else that took the "set it and forget it" strategy.
Keri Lindenmuth, The Kyle David Group
An SEO writer must be constantly adapting to how people are searching. Now, the search is no longer about keywords; it's about key questions. More internet users are using voice devices like their phone or their smart speaker to find information. They're not searching for "dentist," they're searching for "Where is the closest dentist?" They're not searching for "chocolate cake," they're searching for "How to make a chocolate cake?" It's important that SEO writers think about the questions those devices are being asked. When it comes to writing blog posts, frame the blog post around the question. In fact, make the blog post title the question users are asking to help optimize it. Smart speakers rely on providing the most useful information in the briefest way possible, so ensure your content is reader-friendly. Use lists and bullet points and break down content with subheadings. This will better optimize your content for voice search.
Kevin, Cachi Life
One of the best ways to improve your SEO efforts when blogging is to optimize for voice search. Voice search made up 28% of searches during 2020 and that is expected to continue growing. The best way to optimize your content to increase the chances of showing up in voice search is to include a question with your targeted keyword in your H2 heading and then directly responding to the question. This will make Google or other search platforms more likely to use your content in the question and answer query.
Ben McLaughlan, Easy Mode Media
Writing content for SEO boils down to providing a great user experience. In early 2021, Google is preparing for a major core update. The search engine rarely gives warnings about upcoming updates, but this update news is not new, indicating it will change the search engine results drastically. Does your individual post pass the Web Vitals Test? Page Speed Insights test tool and Google Search Console give information vital to understanding if your website is considered fast or slow in the eyes of Google. To improve the user experience and pass the web core vitals test, you want to pay attention to 2 main results. LCP – Largest Contentful Paint – How long it takes for the largest recourse to load. CLS – Cumulative Layout Shift – Unexpected movement of visible items. Passing these two benchmarks will help the chances of your blog post and website overall doing well in the near future.
Charalampos, Dear Boss I Quit
Analyze Your Competition:
One of the best practices that you can utilize towards skyrocketing a post's SEO rankings is manually studying and analyzing the articles that you'll be coming up against. The way to do that is by simply heading over to Google, typing in your target keyword, and checking out the articles that rank in the top 5 results of the SERPs. Conducting this kind of competitor analysis could help you understand who your competitors are to uncover new keywords to target & new topics to talk about.

Decide upon the length of your articles figure out where your competitors' content lacks and discover how many backlinks your competitors have & more.

Gathering all this data is going to ultimately help you not only and locate, reverse-engineer, and implement your competitor's strengths into your own SEO strategy but also locate and capitalize upon their weaknesses.

For example, when I found out that the table of contents one of my competitors used within their articles generated some kind of rich link snippet under their Google listing, I started including a table of contents in my articles as well.

After a while, I got the exact same results, something that resulted in a significant boost of my CTR. What we have to realize about our SEO efforts is that they should not be fixed and absolute, but rather dynamic and adaptable depending on what we're about to compete with.
Rachel, Margaux Agency LLC
Identify Your Target Market To Generate Strategic Keywords:
This is a systematic process, which is why it will be hard for you to get to identify your topic ideas and your keywords if you haven't yet identified the answers to the questions above. Once you have done the research on your target market, you can go on to identifying the topic ideas and keywords that you should target. Obviously, the keywords should be well-crafted so that you rank well on Google and are able to get the attention of your consumers and readers. Additionally, you would want topic ideas to be helpful and useful. After all, your blog posts will often be answers to problems people are searching for, such as "what are the best things to put in a salad?" Don't put the spotlight on yourself, but make sure that it is on the reader. Don't tell what you want to say, but rather tell what your readers want to read. The key here is to talk less about yourself and more about what the readers want to know. With the right strategy in place, you will soon see a rise in your traffic. That's because more and more people will make their way towards your website as your helpful information caught their eye.
David Bakke, National Air Warehouse
To make your blog post more SEO friendly, make sure it has transitional words in it. What I mean by that is say you're talking about a certain point and you have two reasons for backing it up. In that instance, one of your transitional words should be "first" (at the beginning of the next sentence), and then "secondly" which would start off the next sentence. If you're giving a concrete example to back up a point, start the next sentence with "For example". If you're going to switch gears at some point in the piece, start that sentence off with "however". Start off your conclusion with a phrase like "In the end". Using transitional words helps your readers quickly scan through your post to get to the information they need, it gives structure to the text of your article, and will certainly go a long way in improving SEO.
Peter Thaleikis, Bring Your Own Ideas Ltd
Naturally, SEO is a wide field and spans different areas such as technical SEO, link building, content, and creativity. When working on new posts it always pays to concentrate on one keyword and search for it to get an idea of the used elements on the results. Are the articles long or short? Do they contain lots of data in lists and charts? Do they use a lot of images or other media such as videos? On the basis of this and the knowledge of the topic, an outline is crafted and then step by step filled with content. After completing the article, sprinkle a few keyword-mentions more in than you originally planned.
William Taylor, VelvetJobs
To write an effective SEO blog post, ensure that its readability is high. To achieve a high readability, be sure to use transition words regularly throughout the post, and make your sentences short, clear and simple. Your paragraphs too need to be clear and concise. Refrain from using running sentences as well, and use simple language. Bottom Line: The most important tip for writing an effective SEO blog post is to heighten the readability of the post by using short paragraphs and sentences, easy to understand language and well-placed transition words.
Karan Bhatt, Founder of Bestwebhosting.ws
For writing an effective seo blog post, you don't have to know rocket science. Just keep a few things in mind and you're done. Make sure you do your keyword research before writing anything, to get an idea of what to write about. Put yourself in the reader's shoes and write what they would be looking for, not what you want to write. Sprinkle long-tail keywords in your blog post, to rank for more related keywords. But don't just include them for the sake of it. Include them in a way that would make sense to readers. Write an in-depth detailed article. So, that the reader would know everything there is to know for that topic and wouldn't need to go to another article to learn anything else. Don't write big walls of text. Write short paragraphs of 3-4 lines and break you content with relevant images, videos, infographics etc.
Brian Robben, CEO of Robben Media
Outline your blog post before writing it is my best tip. Doing so will allow you to organize the content in an exciting and informative way. You'll know every link and data point in advance of writing. And you can ensure the SEO keyword is included in multiple instances in the blog post. This additionally saves time when you sit down to write because you don't need to open other tabs and research points, you have everything you need to finish. Outlining will change how you write SEO blog posts. Trust me.
Sean Carroll, Vixen Digital
One of the best tips I could share as we head into the 2020s is one that is simple but often overlooked. Develop the author profiles on your site and make sure you assign a qualified author to your blog post. One of the big changes we're seeing is that Google is starting to show a preference towards blog posts and articles that have accessible information on the author of the post itself. Google likes to see that the author of a particular post is aptly qualified to be giving out information on the subject they're writing about. Google seems to be moving away from the days when anyone could start a blog, write a post about anything, and achieve good rankings. In our experience, Google seems to be more often favoring blog posts that have well-developed author profiles that link to real individuals who have certain expertise or specialty. This is especially applicable in the health and medical industries where Google is cracking down on health and medical advice being provided by non-qualified individuals in blog posts. Instead, they're looking to show searchers content that has been approved, reviewed, or even written by qualified health professionals with accessible author profiles.
Guy Dekowski, Luxe Media Co
One of the most overlooked elements to SEO and SEO targeted blog posts is long-tail keywords. Folks do a great job of researching their keywords, but a lot of time the keywords they're targeting are highly competitive. My favorite example of keyword strategy is Nike shoes. A page optimized to target "Nike Shoes" vs "Nike Air Force 1s" will see completely different results and receive clicks from different demographics. Long Tail Keywords are less competitive; Using the example above, tons of websites and companies could have a reason to target Nike Shoes. You'll see less competition, making it easier to rank on search ranking by being more specific. A quick check on google shows 1.4B results for "Nike Shoe": vs 150M for "Nike Air Force Ones", 1/10 the amount of competition. Long Tail Keywords target people further down the path to purchase: The broader the keyword the more likely a potential customer is still in the "research" phase of their path to purchase. By being optimized for more specific keywords, you are targeting folks who are further down the path to purchase.
Susan Thompson, Topp Casino Bonus
Optimize your Post for Featured Snippet:
The featured snippet is the one that typically appears on the top of the SERP. Google tends to generate a custom snippet from the blog post, which google algorithm believes that's the right answer for users' queries. However, there is no specific set of instructions on how google picks the featured snippet. But there are ways we can attain featured snippet, but before that, you need to figure out what kind of snippet you are aiming for- i.e. List Snippet, Paragraph Snippet, and Table Snippet: List Snippet- Lists are powerful tools to use in a blog post to increase the chances of getting into featured snippet results. The best way to optimize for list snippets is to use many subheadings and numbered lists in your post. Paragraph Snippet: You probably may have seen that when a query is searched using interrogative words or phrases, Google may tend to display the result in "Paragraph". So make sure you include the question as a heading and provide your answer in 40 to 50 words. Table Snippet: It's one of the popular snippets that display data in tabular form. You don't need to summarize the data in the table format; Google shows tabular information.
Janice Wald, Mostly Blogging
Conduct Effective Keyword Research
Writing a blog post to attract visitors is all about conducting keyword research. You write to attract visitors; otherwise, you are wasting your time. You are blogging not journaling. Blogging entails attracting an online community. Google has 40,000 searches per second according to Oberlo. When your posts get strong Google rankings, you can generate Google traffic to your blog for years. Use a keyword tool to find topics people are interested in. Check out your online competition to make sure your blog is higher authority. Check out the post in Position 1 for your keyword to make sure your article is better. Wait for Google to rank your post. Then, update the content so your rank goes higher. Repeat with each article that ranks. That's how you write to attract readers.
Frequently Asked Questions
Can anyone start to write a blog post?
Yes, anyone can start to write a blog post, you only need to have a firm determination in your skills, and a resilient approach. My tip would be starting small and being consistent.
I don't get enough traffic. What do I have to do?
Start to write valuable content that solves people's challenges on your website and use trendy keywords. Post articles on a regular basis and try to cover the updated topics as readers love to read about the trending topic.
I don't know how to code. Can I still be a blogger?
Yes, for blogging you do not need to know any coding or any tech skills. All you have to know is the knowledge of how to write a blog post. There are many platforms available that make it simple for you to start blogging. You can start by using popular CMS like WordPress.
How many words should my articles have?
There is no definite or I would say fixed range of words for an article. There are many trending articles in just 100 words or 10,000 words also. To attract visitors try to cover all the information and details in your blog. So that if any person comes to your blog he/she will find all the answers to his/her question.
What blog should I start?
Start with the blog, you are passionate about. Because the thing you like the most you can also write about it in detail and you can spend your more time researching even though it is not required.
What are different blogging platforms to start a blog?
There are many different blogging platforms to start a blog. Free website builders like wordpress.com and wix.com are great places to start.
If you want more control than you can choose open source CMS like WordPress.org or Joomla.
Why blog is important for business?
Posting a blog on a regular basis is a very useful tactic to attract more clients and it can help you to significantly increase the traffic to the website. By posting a blog, customers can read about the business and you can build stronger trust with your readers.
What is a domain name and why do I need one?
A domain name is your website's name and the address where users can access your website, like Incrementors.com. To post blogs on the internet, bloggers need to have a domain name so that your readers can search for your blog on the internet easily.
How can I check my website traffic for free for analysis?
To check the website traffic on your site, you can use Google Analytics for this. Google Analytics can tell you the exact traffic you are getting on your site and makes it easier for you to explore what you need to work on next.
How do I back up my blog site?
Our company uses a Backup Buddy plugin in WordPress. You can set your backup such as daily, weekly, or monthly, as you wish and even you can take a copy of everything you post on your blog like databases, images, content, or more.