Do you know that YouTube has over 2 Billion logged-in active users who visit YouTube each month? Each day people watch over a billion hours of video and generate billions of views, YouTube is the second most visited site after Google.
It means that people's content consumption habit has shifted from text to visual content. The reason behind this is the human brain's natural tendency which understands complex things easily in a visual form rather than texts.
That's why early humans started making symbols first then later started a complex writing system gradually over the period of time.
All of the above facts are pointing to a great opportunity for content creators. If you have something valuable to share, using videos as your medium is a perfect way to share your ideas.
Here, in this article, you will get to know different strategies, which you can adopt to increase the traffic on your channel.
If you run a YouTube channel but are struggling to get a targeted reach?
No worries!
There are many quick and easy ways to increase the number of subscribers. But, it is only for short term pleasure. Most of these subscribers are fake and they hardly visit your channel. Having a million subscribers and a few hundred views is a drawback for your channel. Don't lose hope, just follow these steps, and get real and true subscribers.
Related: Youtube video marketing guide
The 11 Simple Steps to Grow Your YouTube Channel
How to Make Professional Looking YouTube Videos
You don't need to be a pro videographer and editor, in fact, you don't even need to invest a big chunk of money in buying expensive video recording equipment to make professional-looking videos.
In this technologically advanced world, where lots of advanced features you can get in your smartphones, and by using them smartly you can easily record, edit, and upload good quality videos for your YouTube channel right through your smartphone camera.
But you need to make sure few things to record high-quality videos, as you all know from your experience that while watching videos clarity of the video is important for better engagement, so for that try to record your videos in proper natural lighting conditions with a clean background.
Another important aspect of great video is sound quality, for enhanced sound quality go with a dedicated microphone rather than using a built-in microphone on your smartphone.
Maintain the Consistency
Consistency is the key to success whether it's real-life or YouTube this principle remains the same in every aspect of life.
Before maintaining consistency for your channel you should decide the niche of your channel. The videos which you offer to your viewers should fit the target niche.
Uploading random videos will make your viewers confused, If they don't know what your channel is about they won't subscribe to your channel.
Your viewers must have a reason to visit your channel, so do your research and decide a niche that can help you get your target audience.
Here are few popular niche list you can choose from:
These are just a few examples, there are unlimited topics to create a YouTube channel. Just choose your favorite topic on which you can present your ideas well. A well explained video is undoubtedly the choice of every one.
Here is the example from Cutepolish, It's a fashion channel on YouTube, run by Sandi Crystal Ball. Instead of covering broad topics, this channel mainly focuses on nail polish and nail art.
Nail Polish art has recently become a really popular trend and many womens follow this channel. This channel only started as a hobby but the high quality video and relatable contents has earned nearly 4 million subscribers.
Create a Searchable Video Title
First, let's understand what the video title is, It is a piece of short and clear information about your video so that YouTube can understand better about your content and show it for the relevant queries.
No matter how good your content is? People will not be able to find it until you give it a searchable title.
You can ask why optimizing your title is important, the answer is when it comes to understanding text-based content search engines are quite efficient.
But they can't process or understand the video content. For that, they need help from titles, descriptions to understand what videos are about and to rank them.
Here is an example of a great video title which has triggered people to click on it. Because numbers don't lie 428k views are enough to justify the effectiveness of this title.
For finding keywords for your title you can use a free tool like Google's Ads keyword planner tool or Wordtracker, they help you to identify what people are searching for around the keyword niche that your video occupies.
For example, if your video is about Dwayne Johnson giving workout advice, add keywords like "workout tips" or "weight lifting advice". Most keyword tools, including the Google Ads tool, will suggest synonyms with monthly search volumes.
For further optimization, you can add a highly searched title with low competition. Many searches for videos include the word "video" Including the word in the title of the YouTube video increases your view page's relevancy when a searcher's query contains the word "video."
Additionally, you need to come up with a unique, brief, and descriptive title to stand out from the competition.
Write a Compelling Channel Description
YouTube marketing starts with a great channel description. A YouTube channel description is the text which tells about your channel. It helps viewers to find your content and decide whether to watch it or not.
So, be alert while writing your channel description.
Here are the few suggestions to write an effective channel description:
Use keywords
Use the keywords that describe your content well. This will maximize your search traffic, include the keywords in the description, and in the title of the video as well this increases the chance of your search optimization.
Repeat your keywords
Repetition of keywords lets YouTube know that the particular term is relevant to your video or channel. Use your keywords two to three times for better results.
Related: How to find the right keywords for your business?
Tell your viewers what your channel is about
Don't confuse your viewers, tell them exactly about your content. Misrepresenting your video will distract your viewers. This will damage your search rankings—as well as your reputation.
Write in simple language
Know your audience, use language that your viewers will understand and relate to. Incorporate keywords in a natural way, not as a list.
Related: How to Write High-Quality Content?
Execute the important information in the beginning
Always begin with a short summary of your video or channel. Mention your top keywords in the first two to three sentences of your description for the best results.
This is because YouTube's algorithm prioritizes the beginning of your description. Getting the first sentences right is key for your SEO.
Add links to relevant playlists
If the viewer stays long on your channel it means he likes your content.
Use this opportunity to promote your brand. You can add links to other videos of your channel in the description box. This strategy proves effective to increase the number of views and watch time of your videos.
Here is a great description example of this popular YouTube channel. You can see how clear his message is from the very beginning, it starts with what his videos are about, and at the bottom.
He added popular personalities names which he interviewed recently. Which surely going to compel people to explore more about him through his videos.
Provide Your Video an Eye-Catching Custom Thumbnail
Along with a good title you need to create an appealing thumbnail for your video. Our mind moves towards attractive visuals, this is the reason why impressive thumbnails bring you traffic.
YouTube automatically creates thumbnails for every video, but it is often ignored by the viewers. So, create a notable thumbnail for your video.
Follow these steps to create an eye-catching custom thumbnail:
Resolution: 1280 x 720 px (but any 16:9 aspect ratio should work)
Format: .JPG, .GIF, .BMP, or .PNG
Size: respect the 2MB limit
Use high contrast image
Add text and colors to encourage clicks
Use a relevant and great image
Analyze your competitor
Be consistent with branding
Create a design for a small screen
Here is an example of a good thumbnail which is intriguing, and sends a clear message to the user that what he is going to get out of the video? which as a result brings more clicks and engagement.
Here from the below example you can see clearly the message is ambiguous, the guy held a big piece of pizza in his hands and it's very hard to interpret any meaning out of it by just looking at it.
Instead of communicating a clear message to the user they are confusing them, which definitely affects video click-through rate negatively.
Promote Your Channel on Website and Social Media
If you run a website where you get consistent traffic, it's a plus point for you. This can be a great platform to promote your channel, grab this opportunity to post your video links, and let others visit your channel.
You can also promote your channel on different social media platforms. If you are running your website on WordPress then "Smash Balloon" is the best social media feeds plugin for WordPress.
Smash Balloon is a combination of four plugins that makes it easy for you to create and display custom Facebook feeds, custom Instagram feeds, custom Twitter feeds, and custom YouTube feeds on your WordPress site.
This will help you to automatically sync your YouTube channel with your website. This will show your visitors the videos you've posted on your YouTube channel. Not only will this grow your channel's subscribers, but it will also increase the amount of time visitors spend on your website.
Whenever you publish a new YouTube video, create a social media post to get more views and subscribers.
Related: What is Better Google Ads vs Facebook Ads
Ask Your Viewers to Subscribe
CTA (call to action) is an important YouTube marketing strategy.
There are two ways to do this.
The first is to include a screen, often at the end or during the video that indicates what the viewer should do next. For example, you can use the watermark of the subscribe button and ask viewers to click on that to subscribe to your channel.
Second is, whenever possible, include an auditory request to your viewers by saying "thanks for watching you can subscribe to my channel for future updates"
You can also ask your friends and family to subscribe to your channel, it'll bring you closer to getting your first 100 YouTube subscribers.
Join Online Communities
If you intend to get more subscribers, be a part of online communities and groups. Being an active member of these communities builds your relationship with other users and builds your online presence as a YouTube creator.
There are a number of online communities specifically created for YouTubers to have conversations and support each other.
You can also search Reddit, Quora, and other online forums for conversations about the topic of your YouTube videos.
Quora is a good platform to ask questions, get useful answers, and share what you know with the world.
Quora provides advice, ideas, perspectives, explanations, and answers to things you've always wondered about.
Track Your YouTube Analytics
Tracking your efforts is essential to grow your channel. You can easily monitor the performance of your channel and videos with the reports in YouTube Analytics, it will help you decide which types of videos you should focus on.
To check your analytics data, log in to your YouTube channel, then click on your "Name Icon".
It will open up a dropdown then select "YouTube Studio".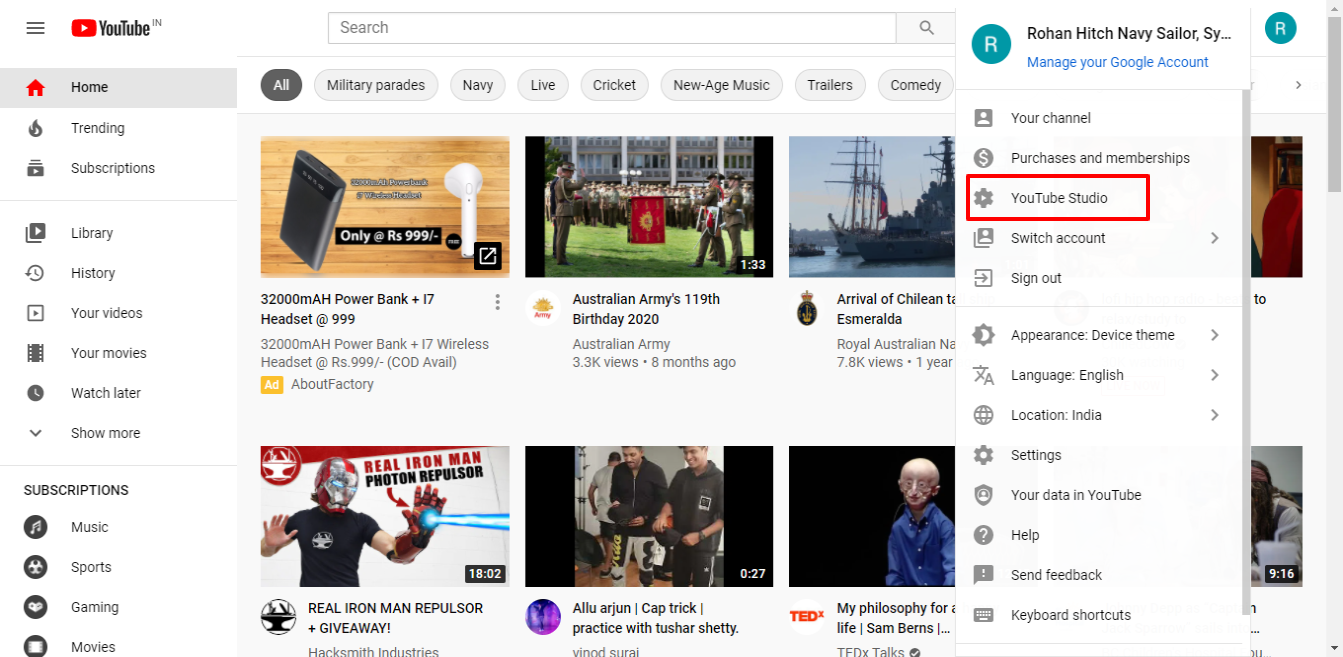 This will take you to the new interface, wherein the sidebar select "Analytics".
This will open up your channel overview report within the YouTube Analytics overview report, you'll see different tabs. Apart from the overview tab, other tabs are dedicated to help you see detailed relevant data of your channel. Let's start with an overview report.
Overview Report
Top videos: Top videos as per views.
Realtime activity: Your performance over the last 48 hours.
Latest videos: Performance of your last 10 videos.
( Note: You need to have enough data in your channel to see these reports )
Reach Report
The Reach tab shows you your video overall reach, first graph in the report shows the number of impressions, click-through rate, views, and unique views.
Traffic sources: In the image below you can see your video traffic sources which are divided into three parts.
Channel pages: It means the percentage of viewers who came from your channel or other's channel who added your channel to their channel subscription list.
YouTube search: It gives you data about people who reached to your videos through youTube search
External: It means traffic from websites and apps that embed your video of add a link to it.
Impressions and how they led to watch time: This report tells about the number of people who saw your videos and the people who finally watched it.
Demographics Report
YouTube analytics also gives you insight into the demographics of who is watching your videos. You can break down your views by gender or location then you can optimize your content as per your audience needs.
YouTube analytics will help you to find the area where you need to focus more to get more reach.
It gives an idea which type of content is working more on your channel and which content is not liked by your viewers.
Make Sure Your Video Are Not Too Long
YouTube viewers generally are least interested in long videos. Long videos and YouTube do not go together.
Viewers always demand short, precise, and well-explained videos. If you are offering a combination of all these you will definitely get a positive response from your viewers.
Researches prove that online video viewers have a short attention span. 20 percent of viewers drop off within the first 10 seconds.
So, if you want to grab the attention of your viewers make your video relevant to the topic. Provide only important information, no one is interested in your useless facts.
How will you catch the attention of your viewers in the first 10 seconds?
Indicate to them what your video is about in the very beginning, some YouTubers try to impress their viewers with fancy graphics or spend the time telling the story about themselves.
You can also come up with ideas like making viewers aware of what new facts you are going to discuss with them in that video.
So, plan your content accordingly keeping in mind the interest of your viewers.
Tips for a Viral Video
Actually, there is no formula to make a video viral or doing viral video marketing. Content, description, promotion, and representation are all that make a video viral.
Good content that can touch the heart of the viewers in order to make them see your video, again and again, can make your video viral.
Tell them, what their real-life problem your product and service can solve or try to add explicit values in their life through your content it can be valuable knowledge, entertainment, or anything else.
For example, Dollar Shave Club's video went viral because of its representation. When reason was asked by its creator he said, "People tend to like something musical presented with some comedy and they remember it for the longer period."
Similarly, Gangnam Style was a viral video, despite having incomprehensible language for most people its music touched people's hearts and made them crazy about it.
Actually, the first 10-15 seconds of any video are very important to decide whether the customer will take interest in your video or not.
Take help from creative people to learn from them, but apart from this stick to basics too. Promote it wherever you can without spamming, send emails to people subscribed to your channel. And finally, admit the fact that it is a random operation whether a video will go viral or not.
Conclusion
In the end, the overall growth of your channel would depend upon applying these tips and measuring the results. Experiment with them, always keep the user first, and try to add value through your content. Then gradually results will follow.