An SEO web crawler crawls your website and helps you find technical and On-page SEO issues. So, you can quickly fix any issue and ensure high traffic in SERP.
Basically, the tool helps you find the basic errors in your website and rank in SERP by leaving the errors behind. This is exactly where SEO Audit helps you.
But there are several web crawler tools available in the market to boost rankings, visibility along with conversions. The best use of a web crawler tool is to find the broken links, duplicate content and missing page titles, and recognize major issues.
But this need leads you to a question: how would you find the best tool when there are hundreds of tools already available in the market?
Don't worry! I am going to help you!
In this blog, I will share some of the best web crawler tools for SEO professionals.
So, let's get started!
But before we move further, let's first understand what factors you should look into when going to purchase the web crawler tool.
Factors To Look For In Web Crawler Tools
Before you go to purchase the web crawler tool, you must first understand the factors that you should look for or how will you select the right one as per your requirements.
So, here I am going to provide some factors that you should evaluate while buying an SEO crawler tool.
Let's see those factors
1. Easy To Use: This is one of the most basic and important factors to evaluate when buying a web crawler tool. Check if the tool has a clear and simple dashboard.
2. Scalability: Find out if the tool can crawl many websites. For example, if we use botify it can crawl up to 50M URLs. If you require more or fewer URLs to crawl, you can use any other tool as per your requirements.
3. Crawling Speed: The next thing that you should check is the crawling speed of the tool because crawling speed matters. Some tools can crawl up to 250URLs per second.
4. Crawl Modes: Check out how flexible the tool is with crawling the URLs within the website. For instance, if you require to crawl on a domain or the subdomain, or need the lists of URLs like what you get in the screaming frog, you can choose accordingly.
5. Crawl Configuration: It may also happen that you don't need the whole website to crawl but some other URLs from the website. Find out if the tools provide you with the custom crawl configuration. Does the tool allow you to include or exclude the specific URLs?
Best Web Crawler Tools In 2022
Now, let's see some of the best web crawler tools. Here is the complete list of web crawlers.
Screaming Frog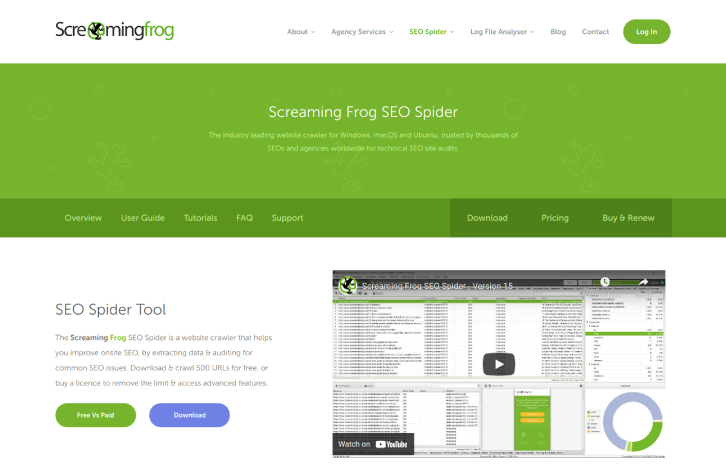 The Screaming Frog SEO Spider Tool is a powerful desktop website crawler tool that allows you to quickly and efficiently crawl websites of any size. It can crawl any website in just a second.
Thousands of SEOs and agencies throughout the world, including Apple, Disney, and Google, rely on it to collect critical onsite data and make educated real-time choices.
Key Web Crawling Features:
Use Googlebot, Bingbot, mobile user agents, or your own custom user agent to crawl.
For improved reporting, map third-party data points from Google Analytics, Search Console, Pagespeed Insights, Ahrefs, Moz, and Majestic.
Find duplicate and insufficient material.
To measure technical SEO progress, and compare past crawl data.
Compare staging and production sites, look for changes in important features and data, and look at the overall structure of the site.
Crawl websites and frameworks that use JavaScript to generate dynamic content, such as Angular, React, and Vue.
Pricing
There is one free version and the other one is paid. The paid version starts at £149.00 per year
Read more: Learn the Effective Purpose of Screaming Frog Tool to Find Broken Links in a Website
Sitebulb
Sitebulb is a website crawler tool that suits both small and large-size businesses' websites. The tool has a user-friendly interface and visual reporting, helps your website get audited faster, and communicates more effectively with your clients and teammates.
Key Web Crawling Features:
Crawl sites of any size, including those developed using Javascript frameworks like AngularJS and ReactJS.
Crawl numerous sources, such as pages from XML sitemaps or Google Analytics pages.
Make a list of Hints that are prioritized (recommendations).
Create executive summaries for clients and management using audit scores to get perspective.
Track historical trends and changes for every statistic to observe how things have changed since your previous audit, and use graphs to show progress.
Create Crawl Maps to better understand website structure, detect orphan pages, and uncover internal link flow.
Builds custom white label audit reports.
Pricing
The lite version starts at $135 per year
The premium version starts at $378 per year
Oncrawl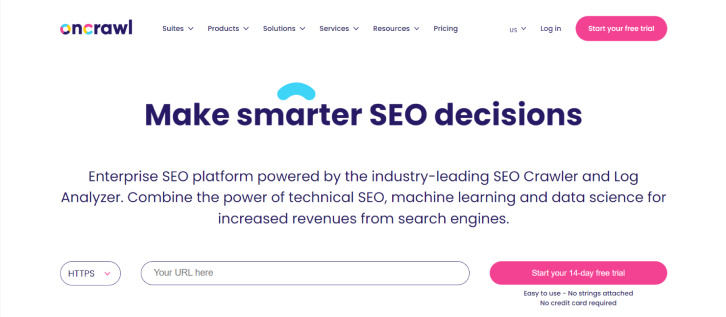 Oncrawl is mainly for the enterprise SEO crawler by allowing you to run technical SEO audits. It allows you to crawl over 300 million URLs every crawl and delivers over 500 charts and 1,200 data points to track the SEO success of your website.
Key web crawling features:
Integrate data from multiple third-party sources, such as web analytics services' traffic and Majestic's backlink profiles, with your crawl data to offer further levels of information.
Integrate crawl data with Google Analytics, Search Console, Majestic, AT Internet, and Adobe Analytics via native connectors.
With advanced configuration settings including lists of URLs, JS crawling, virtual robots.txt, DNS override, staging sites, subdomains, crawl speed, crawl scheduling, and more, you can control how your website is scanned.
Save all of your crawls in one place and evaluate your website over time with unlimited storage.
Pricing
The explorer pack starts at $69 per month
The business pack starts at $249 per month
Netpeak spider
Netpeak Spider is one of the best web crawlers and SEO crawler tools(Windows-only) that checks for faults, and analyses your website in-depth. It's utilized by Shopify, TemplateMonster, and Thomson Reuters, and it's one of the quickest, most adaptable, and in-depth crawlers for analyzing your site's SEO health.
Key web crawling features:
Identify more than 100 possible site optimization issues, such as broken links and pictures, duplicate content, titles, and meta description tags.
Examine more than 80 technical SEO characteristics, such as redirects, robots.txt, crawling and indexing instructions, and pertinent tags.
Check the status codes of a large number of web pages at once.
For more in-depth research, import data from Google Analytics, Search Console, and Yandex.
Pricing
The one is the freemium version and you can avail of that for absolutely free.
The lite version starts at $20.80 per month
The pro version starts at $31.20 per month
The business version starts at $55.20 per month
Open search server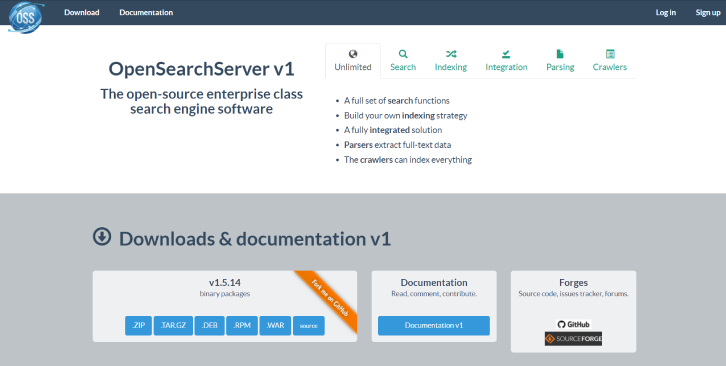 Open Search Server is a free and open-source web crawling tool and search engine. It's an all-in-one, super-effective solution. One of the best alternatives available.
Open Search Server has one of the top ratings on the internet. It has a robust set of search functions as well as the ability to construct your own indexing strategy.
Key web crawling features:
It's a completely integrated solution
Crawlers can index just about anything
There are full-text, boolean, and phonetic searches to choose from
You may pick from 17 different languages
Automatic classifications are made
Making a timetable for things that happen frequently
Pricing
Pricing is not available on the website
Helium scraper

Helium Scraper is a visual online data crawling application that works best when there is little association between elements. It does not necessitate any coding or configuration. Users can also get online templates for specific crawling needs. On a fundamental level, it suits users' crawling requirements.
Key web crawling features:
Multiple Chromium web browsers are used off-screen
Using a simple and clear user interface, choose and add tasks from a specified list
Increase the number of simultaneous browsers as needed to obtain as much information as feasible
Define your own actions or utilize custom JavaScript for more complex instances.
It may be installed on a personal computer or a dedicated Windows server
Pricing
The basic plan starts at $99
The professional plan starts at $199
The business plan starts at $399
The enterprise plan starts at $699
Website auditor
Website Auditor is a desktop-based software suite that includes on-page examination, technical SEO guidance, and graphic reports. You may also use the Core Web Vitals evaluation module to examine how your website performs in light of Google's Page Experience Update.
Key web crawling features:
Crawl your whole site to locate and audit all internal and external resources, including HTML, CSS, JavaScript, Flash, photos, videos, and more.
Carry out a site crawl examination in accordance with the robots.txt directives, just like the search engine bots do.
Reveal any technical SEO issues on your site that may have an impact on search engine indexation, ranks, or user experience.
Based on your own on-page analytics and those of your top-ranking rivals, assess the health of any web page and any keyword
Pricing
The pricing is not available on the website
UiPath
UiPath is a free online scraping tool that allows you to automate robotic procedures. It automates online and desktop data crawling for most third-party programs.
You may install the robotic process automation application on Windows. UiPath can extract data in tabular and pattern-based forms from a variety of online sites.
UiPath has the ability to conduct additional crawls right out of the box. This method is especially useful when dealing with complicated user interfaces. The screen scraping program can handle individual text components, groups of text, and blocks of text, as well as data extraction in a tabular format.
Key web crawling features:
By optimizing processes, recognizing economies, and offering insights, companies may achieve rapid digital transformation at lower costs.
More than 200 ready-made components in the Marketplace give your team more time—in less time.
UiPath robots increase compliance by following the exact method that meets your needs. Reporting maintains track of your robots so you may consult the documentation whenever you want.
If you standardize your procedures, your results will be more efficient and successful.
Pricing
The automation developer pack starts at $420 per month
The unattended automation starts at $1380 per month
The automation team starts at $1930 per month
BUbiNG
The authors' experience with UbiCrawler and 10 years of study into the issue have resulted in BUbiNG, a next-generation web crawler tool. BUbiNG is an open-source Java crawler with no central coordination that can scan thousands of pages per second while following strict politeness standards, both host- and IP-based.
Unlike earlier open-source distributed crawlers that relied on batch techniques, BUbiNG job distribution is built on contemporary high-speed protocols to deliver extremely high throughput (like MapReduce).
Key web crawling features:
There are a lot of parallelisms here.
The product has a large number of users.
Detects (currently) near-duplicates using the fingerprint of a stripped page.
There are a lot of them crawling about
Pricing
The pricing is not available.
Dexi.io
Dexi.io is a web crawler that works in your browser and allows you to scrape data from any website. Extractors, crawlers, and Pipes are the three types of robots you may utilize to make a scraping operation.
Your gathered data will be saved on Dexi.io's servers for two weeks before being archived, or you may export the extracted data as JSON or CSV files directly. It offers commercial services to help you fulfill your real-time data needs.
Key web crawling features:
It is possible to track stock and pricing for an unlimited number of SKUs/Products.
To link the data, use live dashboards and detailed product analytics.
Prepare and rinse web-based structured and ready-to-use product data.
Market developments are forecasted using Delta reports.
There are professional services offered, such as quality assurance and ongoing maintenance
Pricing
There are 4 packs to go with but pricing is not available
Apache Nutch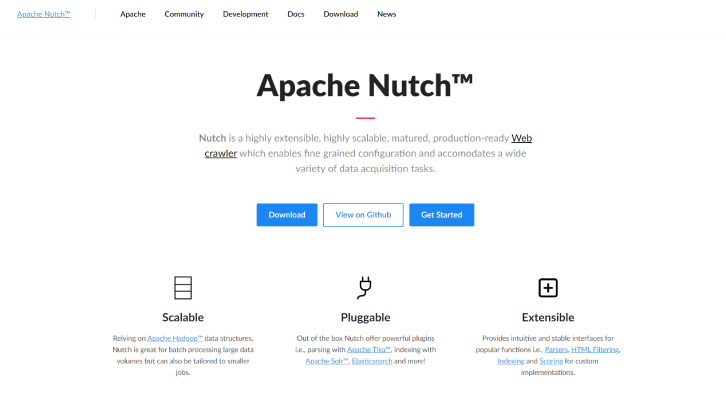 When it comes to the best open source web crawlers, Apache Nutch is undoubtedly at the top of the list. Apache Nutch is a popular open-source data mining software project that is both versatile and scalable.
Nutch can operate on a single machine, although it performs best on a Hadoop cluster. Many data analysts and scientists, application developers, and online text mining professionals utilize Apache Nutch all around the world. Apache Nutch is a cross-platform Java application.
Key web crawling features:
Fetching and parsing are done separately by default.
XPath and namespaces are used to map the data.
The distributed filesystem (via Hadoop).
A collection of link graphs in a database.
For authentication, the NTLM protocol is employed.
Pricing
The pricing is not available on the website.
Conclusion
If you want to grow digitally, you need to have an amazing website and work on it accordingly. To work on a website, you must have known the issues your website might have.
To figure out all those issues, you need to have web crawler tools. So, here was the list of some amazing web crawler tools available on the internet. Avail them and improve your website.
If you have any doubts or queries, you can just comment down below in the comment section and I am going to reply for sure!
For more marketing tips and services, you can schedule a free-of-cost 30-Minute Strategy session with our experts. In this call, our experts would discuss your business and provide you with the free strategies that you can use to boost your sales and revenue.
FAQs
1. What Is Crawler In SEO?
Software used by search engines to browse the internet to gather and index material are known as a crawler. A link will direct a crawler to a certain website. Before leaving the website, the crawler scans the links that are embedded in the site's content.
2. How To Choose The Best Website Crawler?
When Selecting The Finest Website Crawler, Take Into Account The Following Factors:
An intuitive user interface
Features provided
A sitemap and robot.txt file must be simple for a web crawler to recognize.
It needs to be simple to detect broken links and sites.
A site crawler should have no trouble connecting to Google Analytics.
It must recognize moving objects.
It ought to support a variety of file types.
Multiple devices must be supported by a web crawler.
3. What Are The Best Open-Source Web Crawlers?
List of the best open source web crawlers:
SCRAPY
HERITRIX
MECHANICAL SOUP
PYSPIDER
PORTIA
NODE CRAWLER
APACHE NUTCH
4. How Does A Web Crawler Work?
Explorers in a foreign land are crawlers.
They constantly scan pages for linkages that can be found, noting them on their map after they have figured out their characteristics. Website crawlers, however, can only browse public pages on websites.
Web crawlers collect data about a page while they are on it, including the copy and meta tags. The sites are then saved by the crawlers in the index so that Google's algorithm may subsequently retrieve and rank them for visitors based on the phrases they contain.
5. What Is The Difference Between Web Crawling And Web Scraping?
Web scraping is the process of obtaining data from one or more web pages. Crawling focuses on locating URLs or connections on the internet. Usually, crawling and scraping need to be combined in web data extraction operations.