Do you know more than 80% of Americans have taken steps to improve their digital wellbeing and had a positive impact on their overall sense of wellbeing?
With crazy busy lives and increased digital interaction, we need something to tone down all the pressure.
Mental wellness is appreciated but what about digital wellbeing. I am sure some of you might have come across this term for the first time.
A 2017 study in young adults aged 19–32 years found that people with higher social media use were more than three times as likely to feel socially isolated than those who did not use social media.
You can see around yourself, almost every working person takes help from digital tools to keep themselves organized and productive.
But, do you know these digital tools are the reasons why most of us can't imagine our days with our phones or other devices.
Gone are those days when people used to focus only on their physical fitness, now they've started to focus on their digital wellness as well to keep themselves free from devices and start to spend some quality time with their loved ones.
In this article, I will help you to know more about digital well-being and how you can maintain a healthy relationship with these technologies.
Let's begin with the basic question.
Are We Controlling the Technologies or Technologies Are Controlling Us?
After the pandemic what I observe in my surroundings, and in myself is that we started to use technology even more than we used to do. Why?
Because we all were cooped up in our homes for almost more than six months. We started to use more social networking sites, started to learn new skills online, attending meetings on video calling apps, and many more.
In this digital world, all of us want to stay connected with everyone not socially but on social media. Kids nowadays do not prefer to go out if they want to play but they just stay at home and keep on playing video games.
Technology helps in many ways but we can't let technology control us. To maintain a better work-life balance we need to cut ourselves down from these distractions and need to find some time for ourselves, for families, and friends.
What is Wellbeing?
According to oxford university wellbeing means the state of being happy, healthy, and comfortable. You can understand wellbeing as a state of mind when you're genuinely happy and satisfied with the present life situations it can be personal as well as professional.
It is more important to know wellbeing is not about the happiness we get for a moment or for a while, it is about the state of being actually and genuinely comfortable with the emotional and mental stage.
What Is Digital Wellbeing?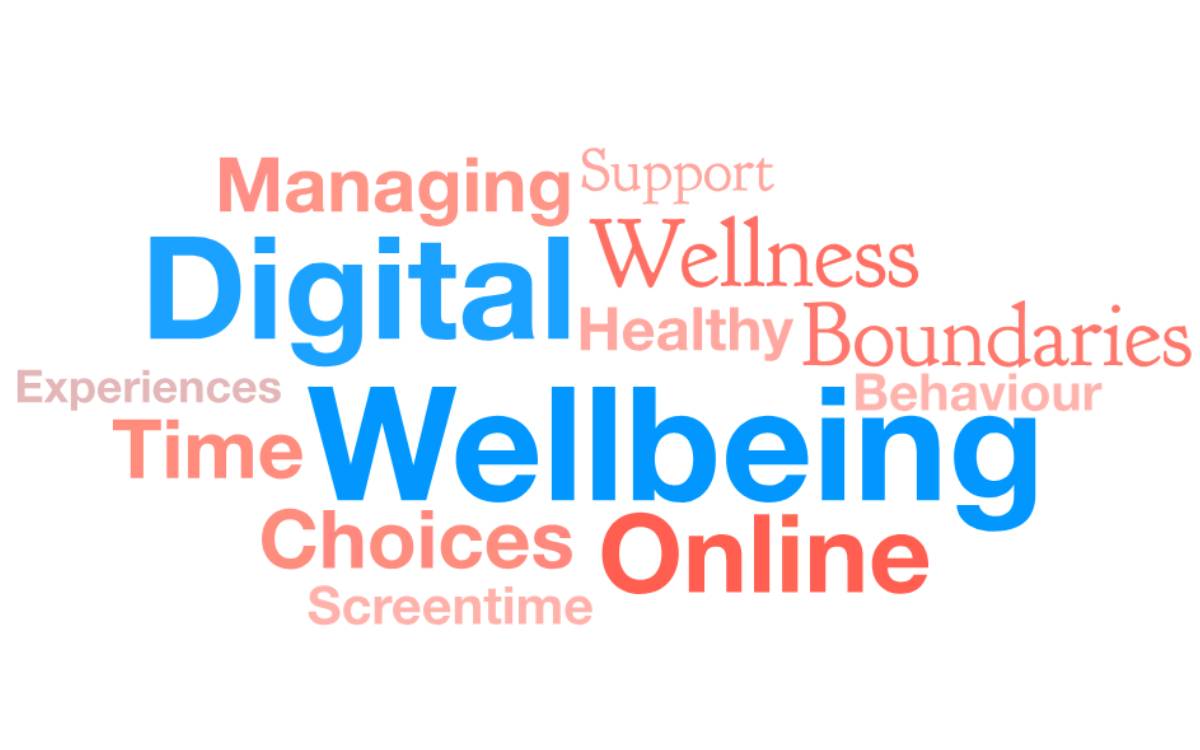 As digital technologies are increasing day to day and becoming an important part of our lives, we are avoiding the impact that these digital technologies can cause on our well-being.
Digital Wellbeing a term that defines the capabilities and the skills one has to make successful use of digital technologies. If you don't maintain a positive relationship with your digital gadgets then it can cause harm to your mental, physical, and emotional health.
Our Lifestyle In This Digital Age
In today's world, all have been adopting to work from home where we spend sometimes more than working hours just to be more productive. We started to use more gadgets, more tools, and more devices in this pandemic and adopted many new habits.
Almost everyone depends on their phones nowadays and digital products. From waking up early to getting daily updates about anything. We surround ourselves with gadgets and they actually are taking more time than the need.
For getting the information about how our employees start their day and what do they use their phone for? We conducted a survey in our company and collected their responses.
What almost every employee does in the morning first is, checking their phones, after that, they start their day. They all use their phones for getting day-to-day updates, they have saved their daily routine in their phones, so many meeting reminders, important notes, etc.
Now you can imagine how our life would be if somebody asks us to live without our phone or digital gadgets for a week, for 4 days, or for a single day? We can't actually.
How To Improve Your Wellbeing In This Digital Age?
There are many ways that can help you to improve your well-being. The easiest way to improve your wellbeing is to start taking care of yourself. By taking care of yourself you can prevent yourself from anxiety, depression, and many more serious problems.
There are few effective ways that can help you to improve your well-being. Here I listed a few of them.
Connect With Friends And Family
Having a healthy relationship with friends or any person can help you to build a sense of belongingness and self-worth. Having someone to talk to can decrease your anger, frustration, and negative thoughts.
There are many things that you can do to build a healthy and strong relationship. Like, you can start spending time with your family where you and all your family members can sit together also.
If you have not met your friends for so long, then what are you waiting for? Go and make some plans with your friends.
Try to be available for those who need your support or help.
Be Active
It is scientifically proven that being physically active not only improves your health and fitness but also helps your mental wellbeing. It helps in improving your self-esteem, also helps in achieving your goals.
Being physically active can help you to change your thoughts and mood. It decreases the negativity from you and you start to feel positive.
You can find some easy and free activities that can help you to be fit. Start to develop some hobbies like learn how to swim or start cycling.
Sleep Properly
Sleep is the common advice and most people do not follow. It is the basic and simple method for their overall wellbeing. It is important for our body to take rest and proper sleep to heal and regain energy.
Enough sleep helps regulate the hormones that are directly connected to our mood, emotions, and way of thinking. Not taking enough and proper sleep can cause mood swings, irritation, and a lack of positive energy in the body, so sleep properly.
Spend Some Time Outside
Going outside and taking a break from the office or from your daily life can help you a lot in exploring new things and having an experience. Going on a trip with friends or family can make you feel refreshed and you can start to think about anything with a fresh mind.
If no one is ready to go out with you, go on a solo trip. You will find more people like you on the trip which can help you to learn something new.
Well-being cannot exist just in your own head. Well-being is a combination of feeling good as well as actually having meaning, good relationships, and accomplishment.

Martin Seligman
Google Digital Wellbeing App To Combat In This Digital Age
To help you with the technology distraction Google invented a tool called Digital Wellbeing. The main purpose of this app is to help you to maintain a balance between your digital world and the real world.
This app not only helps you to get focus on the work but also helps you to keep yourself away from technology when you are at home with family or friends.
With Google Digital Wellbeing App, users can overview their digital habits like how many times different apps are used and how many notifications are received.
You can even track how many times you checked or unlocked your phone. You can set app timers so that you won't receive any notifications from the selected apps during that set timing. You can manage our notifications.
This app doesn't support every device but with phones that have android pie update. To find this app on your device, go to the settings, and search Digital Wellbeing.
If this app is not installed on your phone then you can install it from Google Play Store, then follow these steps.
Open the Google Digital Wellbeing app, on the main page, you will get the option of Digital Wellbeing dashboard that shows the app used and the time you spent on that app.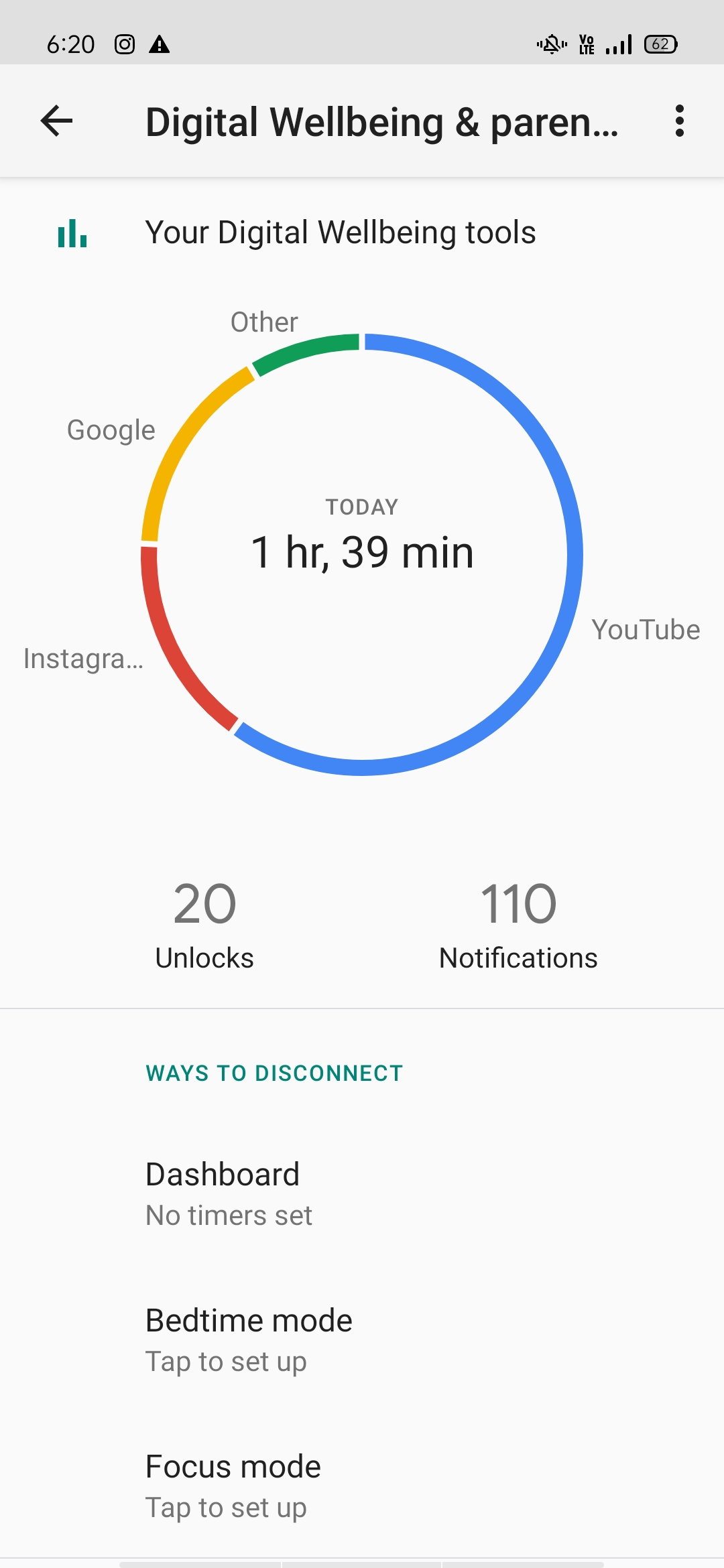 With the Digital Wellbeing dashboard, you can limit the usage of apps by setting a timer. When you set the timer you can only be able to start those apps when the set time will be over. If you try to open the app during the set timing you will get the warning that the selected apps are paused right now.
You can select an app by checking the box as per your need and can block few apps to avoid distractions completely.
In the below image you can see that feature, it is very important if you want to do something productive and creative.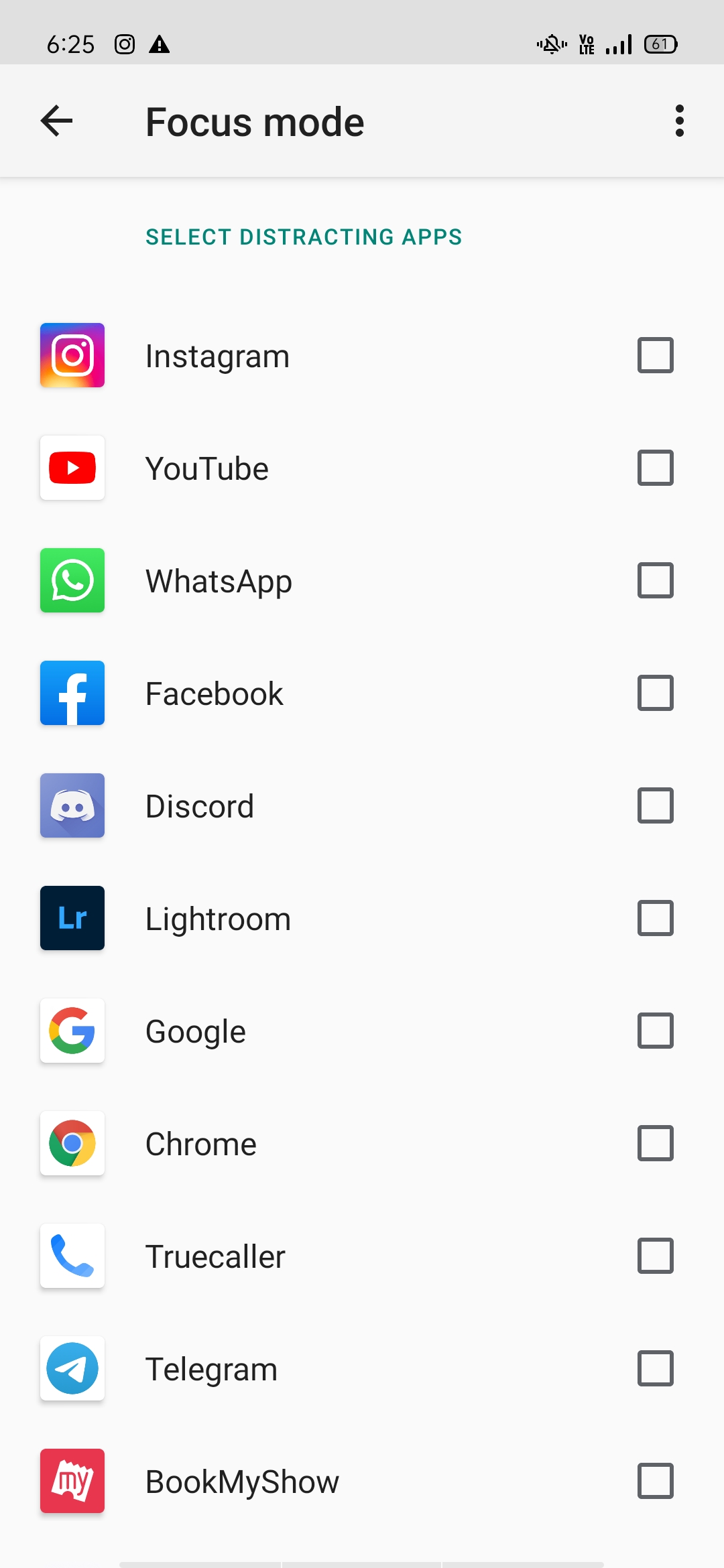 Here is the notification that you get if you try to use that blocked app while in focus mode.
When you come back to the dashboard of the app there you will see the total screen time of your phone usage.
Bedtime Mode is the option where you can set the timing when you go to the bed. By allowing this feature, your apps will automatically stop working and stop all the distractions from the phone. You can turn on Bedtime mode based on schedule or while charging at bedtime.
When your Bedtime mode is on you can also activate do not disturb mode where your phone gets silent and stop all the notifications.
The grayscale mode is, when you activate your bedtime, on the set timing your phone will start to diminish its color to grey which helps you get distracted from the app and you can go to bed.
How Can Digital Wellbeing Apps Improve Your Life?
Google develops Digital Wellbeing apps to improve your life and help you to maintain a balance between your life and technology. It helps you to limit your screen time by setting up the time of using your phones or technology.
This app also prevents unforeseen mental health diseases. Using multiple technologies can increase your stress and anxiety and it also leads to depression.
The primary purpose of Google's Digital wellbeing app is to make your device more useful and efficient. These apps help us get to know which apps are overused. Being able to manage real-life and digital life can increase our focus and help us get things done faster.
Google Digital Wellbeing Alternative Apps for Android
If you can't use the Digital Wellbeing app but still want to keep an eye on your phone to protect it from draining your productivity. These apps can help you to track your daily activities. There are many alternative apps for android.
ActionDash
ActionDash is available for android users that helps to overcome your phone addiction. Increase your self-control and productivity. It is available for free and also has a dark mode.
The best alternative to Digital Wellbeing is ActionDash. This app lets you know how many times you have unlocked your phone and how many notifications you have received in a day.
The main difference between Digital Wellbeing and ActionDash is ActionDash is built for any type of android phone.
Forest: Stay Focused
Forest gives you a meaningful solution to save you from technology addictions. This app also actually won the title of "Self Improvement" app of the year and many awards.
This app is like a mini-game where you need to plant a seed in the forest and do not have to use a phone, but if you start to use your phone the tree will not grow. This app helps you to be self-focused.
Digital Detox
Digital Detox limited access to your phone during the focus time and this app also has leader board games. These games improve their concentrations.
Final Words
Well-being is important for everyone. Try to avoid overuse of the technologies and make some time for the family and friends. You can use a Digital wellbeing app or its alternative to make better utilization of your time.
It's important to be genuine with yourself and what you can honestly achieve in a given amount of time. Having unreliable expectations can drive you to give up before you've reached your well-being goals.
So it's key to build a practical plan for your well-being, hold to it, and take little actions every day that sum up to big improvements over time.