Do you feel like you have top-notched content and worked on user experience, you have dedicatedly worked on on-page SEO along with off-page SEO but why the hell is your website not ranking?
Then, the reason could be Technical SEO.
It's a way you configure some parts of your website like crawling, indexing, site structure, page speed, and many more things.
Technical SEO directly impacts lead generation, conversion rate, and sales.
If your website has all such issues, it will not be indexed properly and if the website is not indexed properly, it will eventually lead to a low ranking.
So, it is important to understand where the problem is starting from which you can understand with the help of a Technical SEO Audit.
In this blog, we would take a dive into some basic technical SEO audits that require improving your complete website's user experience for better.
Let's get started with the Technical SEO Audits of a website.
What Is A Technical SEO Audit?
Technical SEO is the 'behind-the-display' function of your website that is responsible for the smooth working of a website, building its authority, and making the site responsive & uncomplex for users and Google bots as well.
The term 'Technical SEO audits' defines the responsiveness of your website and is more about "how your website works" by identifying issues or errors in areas where SEO processes and systems need to be improved.
So your question 'what is technical SEO audit' is a required before we move into the blog, so here is the definition.
A Technical SEO Audit is the monitoring of your website's performance by keeping a check on issues of your website's basic and 'behind the scene' elements such as page loading speed, URLs, and HTML and resolving ranking and indexing issues.
It helps in identifying potential risks and increasing the quality of your website contents to attract customers and for your business to generate revenues and conversions through organic traffic.
You can understand Technical SEO in a better way with the help of the image below:
With the help of the image shown above, you can clearly understand what Technical SEO is and what factors it works on.
This results in a satisfying customer experience and beforehand addressing any shortcomings with the company's technical side.
Also, website optimizations help search engines to crawl and index your site more effectively and help to improve organic rankings.
Now, the measuring and monitoring of faults in the site's technical components provides you with an educated and smart decision-making system, for where SEO is needed on your website.
The organic traffic on the website and its engagement become possible because Google crawlers find your website to be crawlable, your content to be readable & relatable to targeted users, and only then did the Google algorithm rank you on SERPs.
Therefore, the ranking of your website depends on the correctly performed technical SEO audits by ensuring that your website receives sufficient traffic and continues to grow over time with cost-effective optimization.
This is the issue of "what is technical SEO audit," and some technical SEO audit software includes Google Search Console, Ahrefs Site Audit Tool, and others.
Elements Of A Technical SEO Audit
With some recent studies showing new faults and errors in the websites, Google is setting and updating new metrics and guidelines for a better user experience.
One such metric is Technical SEO auditing which contains the following elements:
– Mobile optimization
– Page load speed
– Link Building and Schemas
– Plagiarism
– URL structure & Crawl errors
– XML sitemaps & Site architecture
– Image issues
– Site security
– HTTP status codes
– 404 pages & 301 redirects
– Keyword optimize web pages
– Canonical tags
These are technical elements within the searched web page and defects in any of this technical SEO can cost you, your website's rank, and visibility.
And according to a survey report regarding broken backlinks and duplication of content
presented by "proict",
"In the recent survey, it was revealed that around 80% of the website is running with 4xx broken links and more than 60% of websites have duplicate content."
Hence, your site must not contain broken links or duplicate content (whether due to URL duplication or website duplication) or any other Technical SEO element deficiency.
As it may cause Google to consider your website not user-relevant and Google, even though your website's content, template, and other scenarios are awesome, would be forced to rank you very low.
So, let's take step-step processing of the Technical SEO audit.
How To Do A Technical SEO Audit
Find & Fix The Indexation Or Crawlability Issue
Your website and its content can be analyzed by Google only when it is easy for search engine bots to crawl your website and its web pages without any issues.
To make sure that your site is crawlable and can be indexed, you should know the cause of errors, which can be:
1. Broken links
2. More redirects and Duplicates
3. Pages not linked properly
4. Poor images
5. Content titles or keyword stuffing
All of these issues can be easily noted when you analyze your website on some tools available online such as Google Search Console, DeepCrawl, and Screaming Frog.
Look at the image of Google Search Console given below shows errors in your website,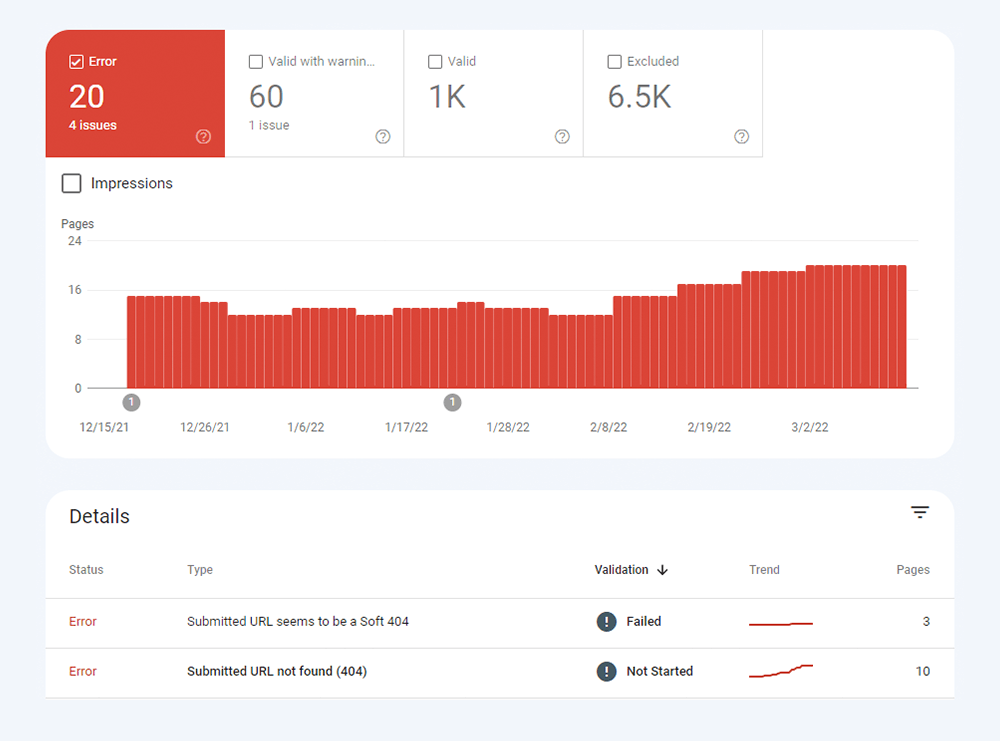 You can also search on Google this gives an idea of issues that are affecting your website's ranking. For example, the submitted and indexed pages through Google search can be tested by entering
"site:www.domain.com" or "site:domain.com" respectively
Now, making sure your website's crawlability remains, the site audit tools can help you explore your sitemaps, subdomains, and robot.txt files and you can compare several pages indexed and the number of them submitted.
Once you identify the issue you can,
– Provide parameters to your website's elements such as URLs, HTML, and XML
– Cut off too many redirects Remove duplicate URLs and Content
– Restrict Indexation of pages that are not required to crawl by disallowing commands.
These are some SEO audit examples that could resolve your technical SEO
Reviewing The Sitemap Is Important
Not to underestimate the mapping of your website as another practice of SEO, a sitemap is the second most essential step after crawlability & indexing.
It helps in generating information regarding your website's structure by providing a "flat" structured website that Google and other search engine crawlers discover new web pages. This easy crawl helps in ranking your website.
In simple words, A sitemap is a list of your web pages that are important for building authority, and hence, this listing makes sure that search engines can easily find your pages and crawl them.
The sitemaps come in two, as shown in the flowchart below,
1. HTML(This form of sitemap is purely for online users)
2. XML (This form is search engine crawlers)
The picture below shows the difference between a sitemap and a website listing its elements.
Creating a sitemap includes,
– You can find a page from the home page utmost three clicks
– URLs must be without extensive parameters and have canonical versions instead
– Remove non-indexable websites
– If you added or updated a new page to your website when you update or create them in sitemaps too
Creating a sitemap includes specifications of various competent to efficiently let Google bots crawl and index your website. Here are some tools to create Sitemaps: XML-sitemaps.com Generator, SureOak's Sitemap Generator Tool.
Check Internal Linking
Technical SEO audits submit a variety of links within your website to have a connection with each other and that hierarchy works for your website ranking when Google crawlers are assessing your website's pages.
And to check such links is not limited to the ones that are internal but checking the ones that give authority to your website is the one that drags traffic from other websites, the external ones.
According to Databox reports,
"The largest percentage of people (42%) spend an equal amount of time on both internal and external links. Another 34% spend more time acquiring external links, and nearly one-fourth (24%) spend more time building internal links."
These statistics show where the linking stands in the world of SEO and how at least 42% of people are working on link building as shown in the graph below.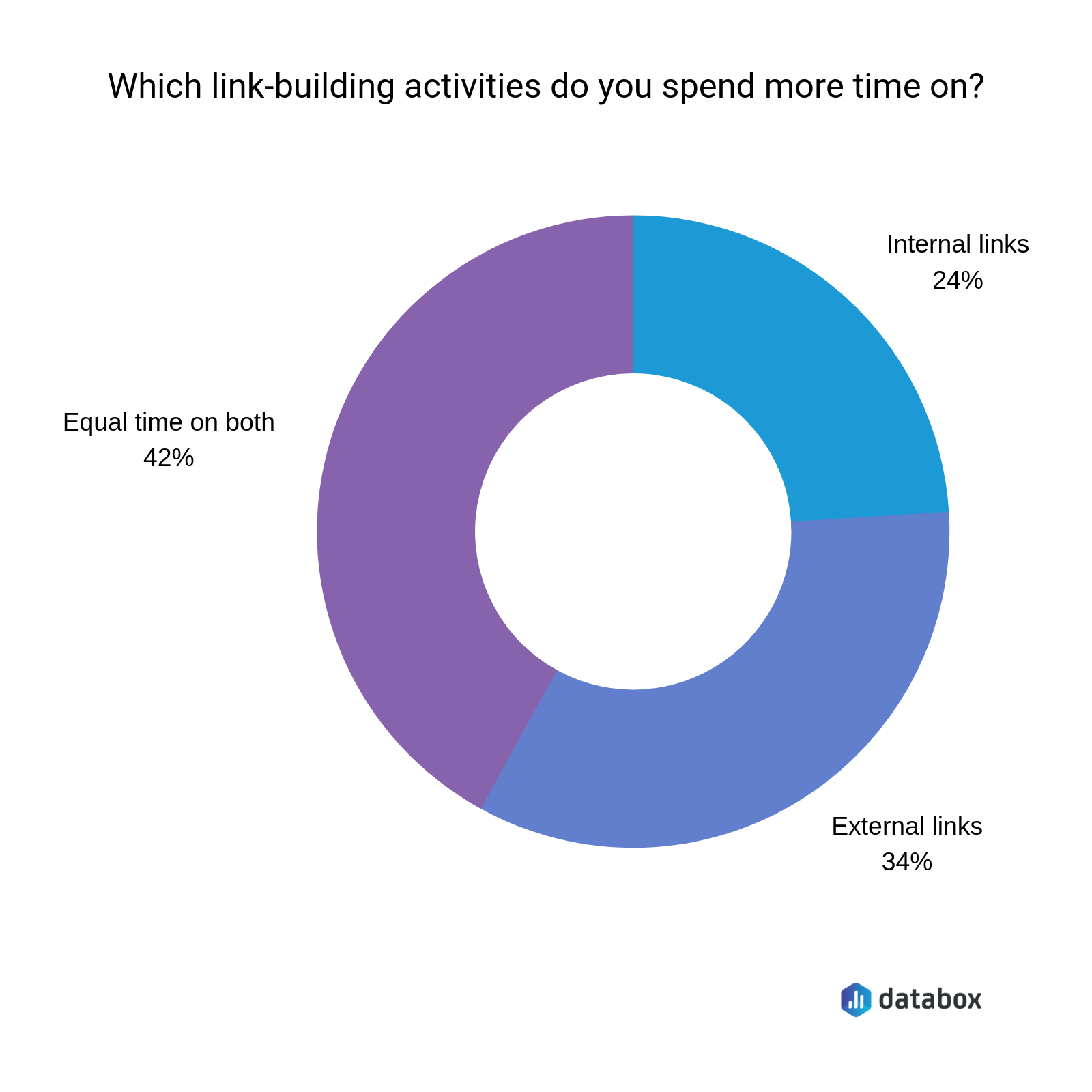 Now, some technical site audit software such as Moz Webmaster Tools or Google Webmaster tools would help you check on,
– Click depth to reach a webpage(this should be below 3)
– Broken links (no web page confuses or annoys your site visitors)
– Orphan Pages (pages linked to no other pages on the website)
All of these if found errors while crawling by search engines and other tools can aid your website from future loss of rank and organic traffic when the errors are fixed in internal linking and is another point on the SEO site audit checklist.
Site Speed Test
The higher the site speed the higher your bounce rate and the lower would be the incoming organic traffic to your website.
The statistic given below by Unbounce reported about site speed that impacts organic traffic and ranking of your website as,
"Nearly 70% of consumers admit that page speed impacts their willingness to buy from an online retailer."
Now, Google in a report 2018 stated that,
"The average mobile web page takes 15.3 seconds to load."
And the problem kept going even after data usage from 3G to 4G due to heavy images, heavy coding, unessential codes in Java and CSS
And in 2019 an announcement was made by Google that Speed is now a landing page factor for Google Search and Ads,
"0-4 second load time is best for conversion rates" and "the first 5 seconds of page load time have the highest impact on conversion rates"
The earlier it takes a page to load, the much better the customer experience.
Here is an SEO technical audit tool to measure the Site Speed of your website, PageSpeed Insights.
Check HTTP Status Code
HTTP status code is a browser request that is responded to by the server.
That is when your organic traffic (or searchers) searches for a relevant query's solution, that your content has the best solution for would not be shown in SERPs result if your website is still using HTTP (Hypertext Transfer Protocol) URLs.
The problem is that Google and other search engines consider HTTPS, Hypertext Transfer Protocol Secure, to be much safer than HTTP as suggested by the search engines.
Now, these conversions of HTTP TO HTTPS URLs can be performed by Setting up an HTTP-to-HTTPS redirect for global external HTTP(S) load balancers which is a classic in Google's books.
The picture below shows how the presence of SLL certification in HTTPS URLs prevents your website from external attacks from hackers and others.
Therefore, HTTPS on your web pages helps in sorting out your lists for sitemaps and finding broken links within your website without giving away any information about your customers such as name, Id, and card information.
Check If Your Site Is Mobile-Friendly
Mobile-friendliness of your website means that your website must show an optimized version of your website when opened on a mobile phone or tablet to ensure that the vision of your website is optimized to their website
The tool with which you can check whether your website is mobile-friendly or not is the Mobile-Friendly Test by Google Search Console as shown in the screenshot below.

But then again, how is this useful for your marketing business?
I would like to give you an answer in the form of statistics by Blue Corona which reports,
"Even if mobile-friendliness is only one of 200 ranking factors, 70% of page one search results are mobile-friendly."
The page one SERPs are the only relevant searches in the history of data search online, and as 77% of adults in America own a smartphone, the need for mobile-friendly sites has increased immensely.
Check Your Site's Robots.txt File
If you have searched for your indexed web pages online during site mapping, you already know that many of the pages are not indexed.
The robot.txt is responsible for these files being not indexed.
These files are based on REP (Robots expulsion protocols), which are standards set by Google for the web accessing and indexing content within a web page while serving this content to users.
As per Moz, the basic format of robot.txt is
"User-agent: [user-agent name]Disallow: [URL string not to be crawled]"
Here you have to apply these Google standards in regards to robot.txt files,
– The files must be named robot.txt
– It must be placed at the root of the website host.
– Only one robot.txt file is allowed by Google
– Robots.txt file must be a UTF-8 encoded text file (because Google may ignore characters that are not UTF-8)
– Robots.txt file can apply to subdomains or on non-standard ports
For example,
https://website.example.com/robots.txt (subdomains) ,
http://example.com:8181/robots.txt (non-standard ports)
These file standards must be applied only to non-relevant pages and not to your relevant pages as they would be accidentally disallowed and your website's ranking would be heavily affected because your content is not crawled.
Perform A Backlink Audit
Backlinking is a huge part of technical SEO audits and is a site audit example that provides authority and trustworthiness among users as well as other competitive websites.
So, for the success of your website, that is ranking and generating traffic, you need to have your website linked with other more relevant websites as this is one of the metrics used by Google's search engine for ranking websites in the SERPs.
Performing a backlink audit includes,
1. You can compare the backlinks of your competitors to get more website lists that they used for backlinking.
2. Assess each backlink on the lists, so that you know whether the websites are relevant to your industry or not.
3. Remove bad links and decide on links that can be useful for backlinking your website's content.
4. Reassign new backlinks but before that clean old ones that have not been used for a very long time now.
5. Find new platforms and websites that are willing and valuable to build new backlinks.
This assessment and decision-making has become important since the announcement of the new Penguin update in 2012 and had greatly affected many websites' contents, some of which were webspam.
So, the backlink shows search engines the relevance of your website's content. Look at the gif below which shows backlinks for amazon websites and an 83% non-toxic, that is good, backlinks.
Though if these backlinks come in great numbers suddenly, you need to clean it up fast because Google believes in a slow process and if these sudden links had alerted Google of something spammy going on your website.
Check For Duplicate Content
Duplicate content may refer to copies of your website content, pages, or URLs that cause your elements to be analyzed as less worthy than the one it is similar to.
Or due to this duplicate, your page's face value has been distributed and your main web page loses its authority and ranking when analyzed by Google because the crawlers are confused as to why there are similar copies of content in different URLs or pages.
The thing is the duplicate content is a result of each user being directed to your website through different means (such as advertisements, posts, and backlinks) and each of these users has a different customer's Id.
You would question how does it affect the performance of my website,
Well, here are at least
1. The Wrong version of your content is ranked.
2. Google may confuse their existence and your webpage may face indexing issues and so does not perform well
3. Your core metrics, that is the total authority of your webpage or sites distributed causing your website to fall in rank.
Now, these three issues are enough to alert you that your website is in clear distress of losing its ranking if your website has this many duplicates.
According to Matt Cutts
"25% to 30% of the web consists of duplicate content and Google doesn't consider duplicate content as spam, and so doesn't lead your site to be penalized unless it is intended to manipulate the search results."
So, according to these words you don't need to worry Google is just confused when it sees duplicate content, for irrelevant content such as the Terms and conditions guide you don't need to worry just clear your website of duplicate content of relevant websites.
To ensure that your websites have no duplicate content from relevant websites use the following tools,
1. Copyscape
This is a free tool that checks your content against published ones and provides the percentage of your content that has been already published in mere seconds.
2. Duplichecker
A free tool that checks how original your content is, as compared to others that you are ready to publish online with a limit of 50 searches/day.
3. Grammarly
Grammarly is a premium product that guides your content in the grammar, and phrases section and checks for plagiarism in the content that you are ready to publish.
These tools help you keep an eye on your content as almost 66% of websites have duplicate content issues and so with prior knowledge you can change accordingly.
Now, the question is how can you resolve duplicate content issues.
To resolve duplicate content issues,
1. Use Canonical Tags as they redirect the authority and user of the page both to the main page.
2. Don't create duplicate content
3. A 301 redirect from HTTP to HTTPS
4. Placing an HTML link to the canonical page from the duplicate page.
These technical elements of a duplicated web page can easily fix the issue of your website and are very easy to apply.
Technical Site Audit Tools
So, now you know all about the technical SEO audit. Now, it's time to see some technical site audit tools.
Google Search Console:
Google search console is the tool that can give an insight of the technical SEO of your website. With the help of the tool, you can easily find out which pages google have issue with indexing, you can even ensure your pages get crawled and indexed. It is a free tool provided by Google.
GTmetrix:
GTmetrix is the tool that captures the data of your website and then provides you a performance score and shows you indiexing issues if your website have any.
The tool will measure all the parameters of technical SEO and show you a comparison data to other websites.
Conclusion
Technical SEO audit is an asset for a marketer who needs their site to be ranked in SERPs.
Now, with the addition of a new page constantly, performing Technical SEO audits regularly means you are keeping a constant eye on the key elements of your business website that follow basic elements of Technical SEO from canonical tags to mobile optimization.
Technical SEO seems complex but when performed in steps, it is pretty easy to understand and conduct to gather organic traffic as well as customers to generate revenue.
For more marketing tips and services, you can schedule a free-of-cost 30-Minute Strategy session with our experts. In this call, our experts would discuss your business and provide you with the free strategies that you can use to boost your sales and revenue.