Have you ever thought about why your product is not ranking at the top when searched on Google…?
This could be because of images not optimized, your product doesn't have good reviews but most importantly, it could be because of a non-appealing product description…
The SEO-friendly product description plays a vital role in ranking your product.
When done right… it could even get you high sales and revenue.
Now, you might be wondering: How could I write a product description that would make a conversion?
Well, no worries!
In this blog, I am going to tell you all about "How to write SEO-friendly Product Descriptions".
So, let's get started!
What Are SEO-Friendly Product Descriptions?
Search Engine Optimization (SEO) helps your website rank higher and gather organic traffic.
Also, it helps a website in its product description based upon its principles.
SEO-friendly product descriptions, when done right, can help your products rank higher on search engine results, increasing the overall visibility of your site and online store.
It also provides customers with better UX.
For example; If your product description contains good keywords, all the features of the product are mentioned, with no duplicates can have a significant impact on the rankings and customers as well.
The concept is that simple.
Just check out the image shown above. This is what an SEO-friendly product description looks like.
Now that you know about it,
"What are SEO-Friendly product descriptions?".
Let's move forward and see "Ways to write SEO Friendly Product Description".
Simple Ways To Write SEO-Friendly Product Description
Want to lead your customers through the sales funnel…?
Well, then you must know that, unique, well-written SEO-Friendly product descriptions are vital tools for achieving this.
By adding creativity and excitement to your descriptions, your products can become more attractive and are more likely to convert into actual sales.
Now I am going to provide you with a few tips for writing SEO-Friendly product descriptions:
Let's get started:
Understand Your Audience
If you are in the eCommerce industry, then you must have heard that the SEO-Friendly product description should include content that the customer wants to see and is related to them…
You must know about the needs, preferences, and behavior of your customer.
Having less knowledge about the audience will make it harder for you to rank high…
To achieve this, you must know about the 'Buyer Personas'. Without this, you just cannot fulfill the needs of your customer.
A buyer persona mainly has the personal demographics of the customer,
What are the goals and desires of your customer?, what challenges your customers are facing to achieve that goal? and, how can you help them achieve that goal?
Buyer personas are very important in any marketing strategy as well.
Now,
What is a Buyer Persona and why is it important?
See…
Buyer Personas are the systematic representation of an ideal customer, which helps you to understand your target audience.
Let me show you:
Here is a buyer persona of the world-famous brand, Starbucks.
Just check out this buyer persona…
When Starbucks understood its audience well, it could create a high-pitch message for its audience.
Just like this, you must understand who your audience is, and who is going to purchase your product so that you can create the right product description for them.
They must be constructed in such a way, that focuses on the pain points of the target audience…
If you can't engage with your desired audience, you will lose them.
And if you lose your audience, it's hard to get that back.
Use The Right Keyword Strategically
Keywords play a major role when it comes to ranking your product.
It is all about what kind of keywords you use and whether they are relevant or not.
Using long-tailed keywords sometimes can be beneficial for the product as the purchase rate for such keywords is often high.
But how will get to know which keyword is suitable for the best results?
Not a problem…
Simply, Start by, research work, researching keywords that your potential customers use when searching for similar products.
Make use of long-tailed keywords. Long-tailed keywords tend to attract low volume but, gather more organic as well as relevant traffic.
Analyze your research and utilize the best-suited keywords.
Let me show you:
You searched "Dog Food" on Google…
You will see multiple results for this keyword.
But how will google get to know what this keyword means and what to show in the results?
You will get some mixed results in SERP and not specific.
So, for this, you have to use Long Tail keywords in SEO-Friendly product description, to make it easy for the search engine to understand your target keyword and provide the best suitable results.
which could be…
"How to make dog food at home"
For this keyword, a search engine like google can help you by showing the recipes or any tutorial related to your to you query.
This can help you get more relevant traffic that can buy that product.
Once you are completed with your research work, make sure that your keywords are there in your product description in a natural way.
Also, there are some tools available in the market for keyword research.
Do not use them everywhere.
It may result in over-stuffing and Google doesn't appreciate keyword stuffing.
Point to be noted…
Let me explain this with a quick example below:
Here, as you can see the word 'red apples' is repeated again and again which can be a turnoff for any user.
To avoid this, you should write your content very concisely, and short so that people can read it easily.
Set The Scene With Storytelling
The SEO-Friendly product description contains the art of storytelling.
Storytelling is a great way of engaging with your customers and leading them to purchase the product.
When you think about a person sitting on the other side without feeling or holding the actual product, relying on only seeing the images and the description of the product.
Have you seen that meme, online shopping expectation vs reality?
That meme perfectly suits here…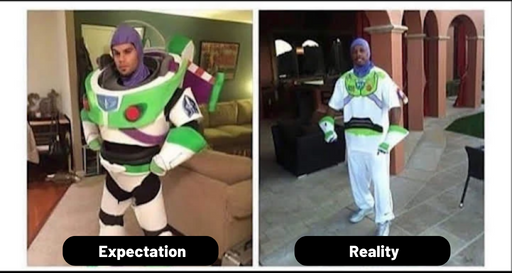 This is when the quality of product description comes into play…
If your content, which is the SEO-Friendly product description, is appealing to the reader's imagination, can be a smart tactic to make conversions…
Get to the customer's pain point and then create a path for them that shows how the product can be beneficial as well as useful for the customers.
The above picture clearly shows how product descriptions should be in a way of storytelling.
Simply by looking at the image you can tell that it is a Lamp.
Then as you can see in the description that the lamp is made of Himalayan rock.
In simple words, tells the features and benefits of the lamp i.e anti-allergenic, non-asthmatic, and relieving headaches.
This is how you should also drive your customer by telling in a story writing way about the description of the product and then stating the features and benefits.
Be Unique For Each Product Description
Have you noticed…?
Several brands just copy the description of the product and simply apply it to many other products.
It can lead to a bad user experience for anyone even Google also.
Duplicate descriptions may affect your rankings.
The aim should be – To write naturally relevant, rich in keywords, and content that works for both users and bots.
Showcase the most relevant content which gets customers engaged in the product.
Use your own words which relate to the customer and be real to what the product is all about.
Imagine this:
You are having two pages with the same product descriptions.
Chances are high that only one of them will appear. What if that one website is not yours…
This can be a disadvantage for you and an advantage for your competitor to appear before you.
So, after all this you must think of:
How can you bring uniqueness to your product description?
Not to worry,
I'll give you some tips on this…
To make your Product Description unique, you should:
Always assign the best suitable keywords to your product description.
Content should be natural and easy to understand.
Be relevant in terms of information.
Use bullet form to explain.
Mention key benefits and features of the product.
Understand The Difference Between Features & Benefits
Features and Benefits are two useful terms that give the customer essential knowledge about any product in a simpler way.
These are part of any product description.
Features are the descriptive aspect of your product whereas Benefits are all about why that feature is important in that product. What value this product will bring to your life?
Let me show you:
Let's take the example "Office Chair".
What can be its Features?
Seat Height
Backrest support
Armrest
Headrest
These are the features that create a descriptive image of the Office Chair.
Now, let's talk bout the Benefits…
Good Posture- sitting on an old chair can harm your back and lead to strain your back. But this chair makes your sitting posture more comfortable.
Back pain reluctant- this chair improvises back pain in your body as it has a fully adjustable seat.
Headrest- sometimes people complain about pain in their head, neck, and shoulders because of no headrest facility. But, this chair has good headrest support which provides support to your neck and shoulder too.
Productivity Boosting- good posture boosts a person's working capacity, automatically eliminating pains and aches from your body and making you work properly and pain-free.
What's the bottom line?
The bottom line is that both features and benefits are useful for any product description but, for marketing purposes, it is better to go with giving priority to the 'benefit'
Because benefits are what makes the customer purchase your product.
Optimize Images
Large-sized images which take more loading time are a major setback for the visitors.
Do you want them to skip your page and go onto the other pages?
To avoid this, make sure that your images are compressed which could easily load and make your product description more readable and understandable for any visitor.
Also, optimizing images does not mean making your image too small… Too many compressed images also look bad.
A limited amount of images are enough to make the visitor understand what the product is all about.
So, this is why it is important to optimize your content ( images, videos) especially for voice search before uploading them.
Write Copy In Short Paragraphs
Content that is short, simple, readable, and contains bullets with important information is very good for any product description.
Writing long paragraphs makes it difficult for anyone to fully read the content…
Make it conversational with short sentences not exceeding 2-3 lines which makes the flow go on and on.
Your content should have enough information with which the customer can relate and find it easy to purchase it.
Using bullet points to highlight key features and benefits of the product makes the content more informative and easy to digest for any customer.
Conclusion
By now you got to know what is SEO-friendly product description,
And how to write a product description that can gather a tremendous amount of traffic to your page.
To sum up:
SEO Friendly product description is the first step to increasing the visibility of your website on top rank.
SEO can help you drive traffic that purchases your product and increases your revenues and profits…
So, what are your waiting for?
Just go for it and make your "Product Description" stand out on the top!
FAQs
1. How do you SEO a product?
To perform SEO for your products, you must optimize some of the most important elements like, Title, description, headings, high quality images with descriptive Alt tags.
2. Can you suggest some best SEO product description generator?
Yes. there are some best SEO product generator tools like, https://www.copy.ai, https://aiseo.ai, and, https://www.frase.io.
3. Are product descriptions important for SEO?
Yes, to make your product stand out in the top rank it should have a good product description. A customer should purchase your product only if he/she can relate to your product and feels that this product is useful for them in many ways.
4. Are keywords important for product descriptions?
Keywords are the most important part of any SEO product description.
As they are like a link between what the buyers are looking for and your content in the product description.
5. How long should an SEO product description be?
An ideal Seo-friendly product description should be between 300-400 words, If required, it can be longer to state the product's benefits and features for an overview to the customer.