Back then in the Mid 80s, No one thought of using a "Smartphone".
Who thought that smartphones can even be useful in one's life?
But now the irony is that…
Smartphones are dominating the market from all perspectives.
And most businesses have adapted themselves to become well-designed mobile-friendly websites.
For this, there are several SEO practices you can implement to rank your website at the top of search engines.
Also, these SEO practices require some SEO tools which can be used to measure the performance of your website.
Many SEO tools can be used.
In this blog, I will list the top 13 Must have mobile SEO tools which you can use to make your website mobile-friendly.
So let's get started:
Why Do You Need Mobile-Friendly SEO Tools?
You might have a question that,
Is there any need for these SEO tools?
A short and simple answer to this is YES!
Let me explain…
Imagine, you repair a Computer.
Will you be able to repair a computer with only your hands? NO!
You need tools to do it… screwdrivers, nuts, and all are required.
Similarly, in the case of a website,
SEO Tools are the most important part to make a website Mobile Friendly.
A mobile-friendly website makes it easy for visitors to understand the content provided, on their smartphones.
Sometimes…
It makes frustrating for the users when the content is not readable or they have to zoom in again and again.
Therefore you can use some mobile SEO tools to make your website stand out from your competitors.
As these SEO tools help you check your mobile SEO analysis and tell you how to tackle the issues.
Now…
Here's the list of 13 Must-Have Mobile SEO Tools can help you to check and enhance mobile optimization of your website.
Must-Have Mobile SEO Tools (Free/Paid)
Google Test My Site 
This tool is a mobile optimization checker which tells your website's speed and how can improve it to rank higher.
This mobile-friendly tool access data and provides recommendations to improve your website.
Analyzes page speed and site speed based on the overall experience of what matters to the customers.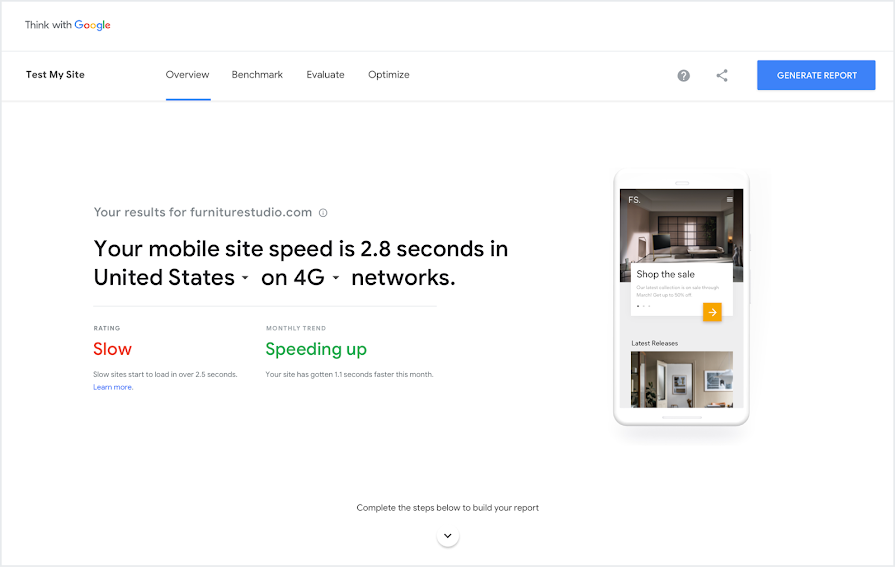 Features:
1. Check your mobile site speed- Calculates the overall speed of your website on mobile.
2. Track your progress- Tells if your website is performing well or not on monthly basis.
3. Stay ahead of your Track- Makes sure your website speed is more than your competitors.
Pricing:
It is a free mobile-friendly tester provided by Google.
Mobile-Friendly Test
Having a mobile-friendly SEO website is nowadays becoming a critical part of your online presence.
Mobile-friendly Test is mobile optimization checker tool that helps you in mobile optimization tests.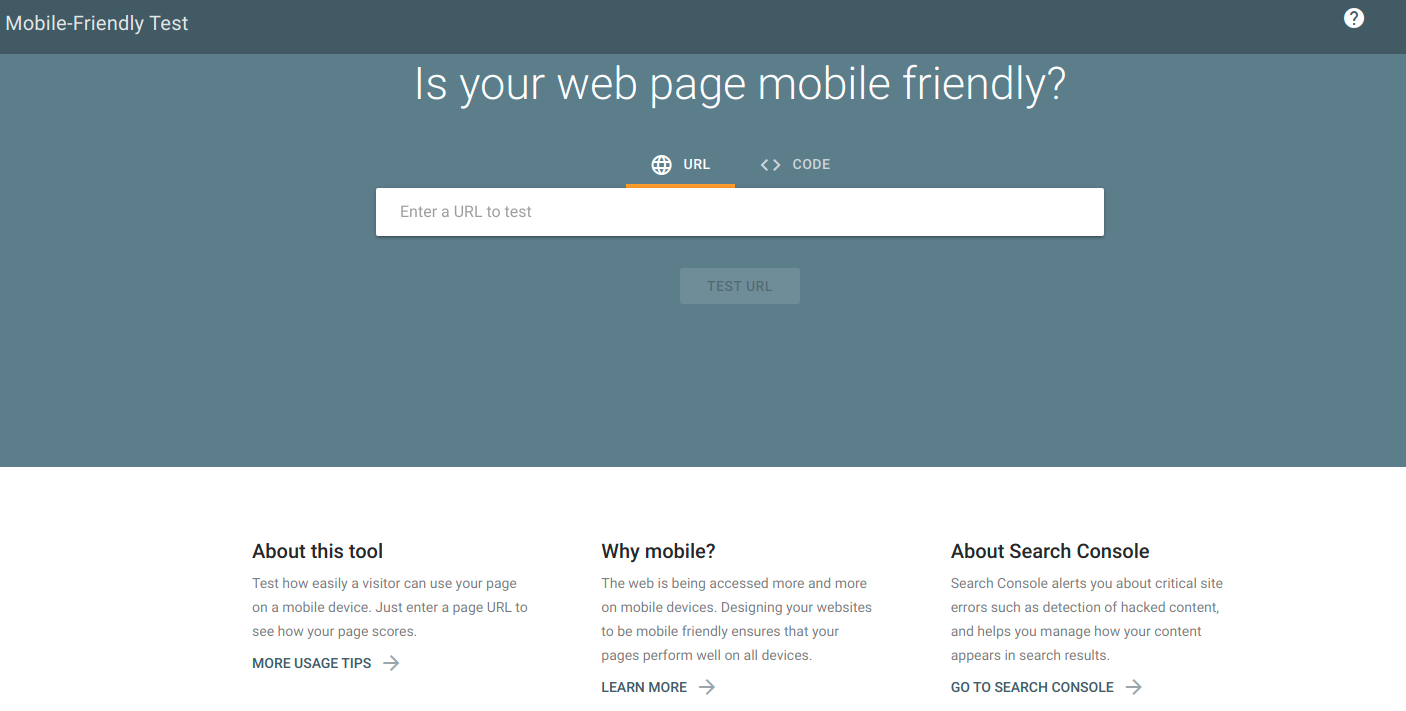 It is very easy to use Mobile-Friendly Test.
Just type the URL in the search box and tap on the Test URL button.
It will show the results in less than a minute.
Features:
1. Mobile Friendly Page- your website pages should have a high loading speed on the smartphone.
2. Mobile-friendly errors- Errors such as the content being wider than the screen, and text being too small to read.
Your content should fully fit on the screen and the text should be big enough for anyone to easily scan the data.
Pricing:
This mobile-friendly tool is also free of cost.
Mobile First Index Checker 
This mobile-friendly tool plays a vital role as a mobile optimization checker.
You can easily find out whether your pages are ready for mobile-first indexing or not. It can also be used for on-page SEO.
You can see the differences between your desktop site and mobile site.
Features:
1. Well-Structured Data- Makes sure that data is structured in a way that is compatible with desktop and mobile.
2. Placement of Ads- keep in mind that the advertisements should not overlap your content on a mobile device.
3. Visual Content- Checks the alignment of images and videos so that they are easily found on a mobile device.
Pricing:
This mobile-friendly tool is also free of cost.
Google Search Console
Google Search Console is the best-suited mobile SEO software for any website.
It helps you measure the organic traffic and overall performance of your website.
For any website, it is very important to conduct a mobile SEO analysis. It makes an overview for you to make suitable changes.
Google console comes with a Performance report.
As a result, you can see your performance through which tells you what improvements are to be made to your website.
Features:
1. Viewport – This helps the browser to change the size of the pages according to devices. Without this, the page may not resize.
2. Content wider than screen – manages the presentation of the text for a mobile screen. If your content is messy it will be difficult for any reader to read it.
Pricing:
1. It is a free-of-cost mobile-friendly tool provided by Google.
Google Analytics
This SEO tool helps you understand your site and analyze the performance to resolve the issues.
It provides you with a lot of data that is, the number of visitors, number of clicks, and much more.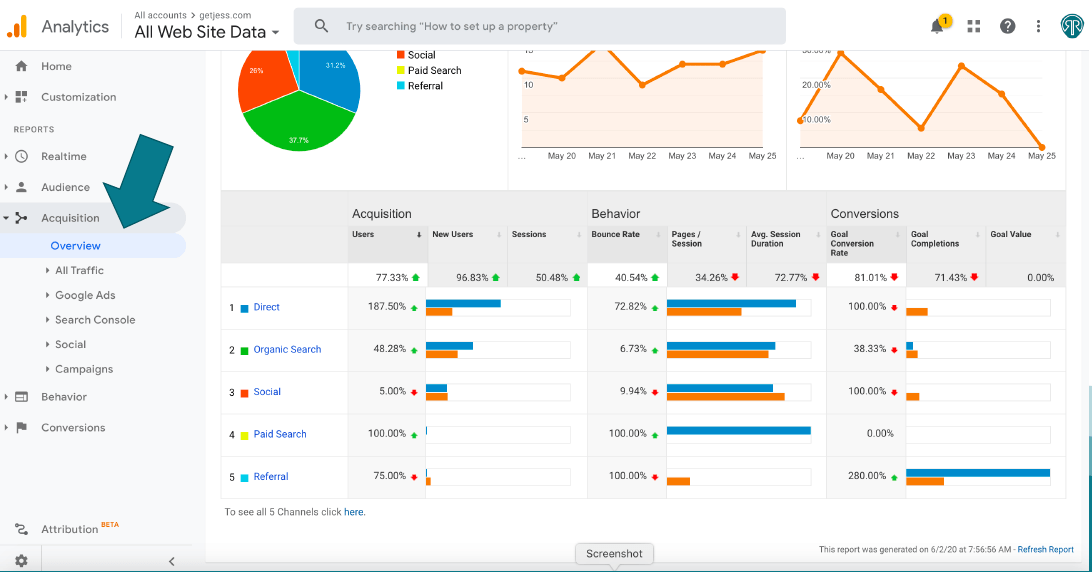 Through this, you can get an overview of your insights and take measurable steps to improve your website.
Features:
1. Analyze Insights- Get website insights on your mobile phone with just a few clicks.
2. Content Strategy- Analyze your content on the mobile itself and make improvements accordingly.
Pricing:
1. Google Analytics has both free and paid versions.
2. The free version provides you with basic features.
3. The paid version is Google analytic 360 comes with advanced features and costs up to $12,500 per month.
SEO Explorer
This is an incredible mobile SEO tool for your Google mobile-friendly score. It provides many tools such as keywords, backlinks, page speed, and many more.
Also, you can track your website's overall performance as shown in the image below.
Features:
1. Keyword Explorer- Keeps a watch on your competitor's keyword research, and helps you find new keywords to rank.
2. Backlink Checker- Keeps checking your backlinks, and finds new backlinking opportunities.
Pricing:
Free- this version is for beginners, it is for a limited period with limited features.
1. The tiny plan starts at $9.99 per month which provides 30 domain searches, 15 keyword searches per day, 2000 backlinks, 70 keyword suggestions, and access to APIs.
2. The Lite plan starts at $24.99 per month that provides 100 domain and keyword searches each per day, 5000 backlinks, 200 keywords suggestions, and 10,000 APIs per month
3. The Pro pack plan at $44.99 per month which includes 250 domain searches and 350 keyword searches per month, 10,000 backlinks, 500 keyword suggestions per report, and 25,000 APIs per month.
4. Guru pack plan at $85.99 per month which includes 750 keyword searches, 600 domain searches, 25,000 backlinks, 1000 keyword suggestions, and 55,000 APIs per month.
AnswerThePublic
This tool helps you find all the questions of your audience. You just have to type the keyword and the magic begins…
This tool will show 100s of questions that your audience is asking.
Features:
1. Unlimited Daily Searches- This mobile-friendly tool helps to perform unlimited searches with its premium feature.
2. Set Alerts- You can set up alerts to get the weekly questions that the audience is asking.
3. Monitor New Suggestions- Helps you to get the trending brands' perceptions, and new ideas, this tool alerts you to stay off your competitors.
4. Hide Unwanted Suggestions- This helps you hide irrelevant suggestions.
For example, if you want 'men's shoes you can easily remove the suggestions for women's shoes.
Pricing:
1. Monthly- For $99, you can the monthly plan and enjoy the features without making a long-term commitment.
2. Annual- for $79, the level of feature will get enhanced plus you'll save 20%off your monthly rates, and more benefits will be there as compared to the monthly plan.
3. Expert- for $199, this plan is for companies or agencies.
Screaming Frog SEO Spider
Screaming frog is a mobile-friendly tool that crawls both small and large websites easily and analyzes the results in real-time.
It helps you improve your website by extracting the data and common SEO issues. Also, while crawling it performs a mobile optimization test of your website.
The main task is to conduct mobile SEO tests and check whether your website is performing well or not.
Features:
1. Analyze Page Title, Meta Data – Screaming Frog crawls your website and identifies which title or meta descriptions are too short, long, or if duplicates are found.
2. Finds Broken Links – Identifies and tells for broken links in your website during the crawling process.
2. Scheduling – Helps you schedule crawls on time to time basis.
Pricing:
1. It provides free SEO tools version with limited functionality.
2. The paid version starts at $209 per user.
3. Also, there are discounts for multiple licenses
Google Trends
You can easily see the points of interest of your target audience with the help of this mobile-friendly tester.
You can categorize according to, various countries,  language preferred, most recently search keywords, and much more to have a brief comparison of other websites with yours.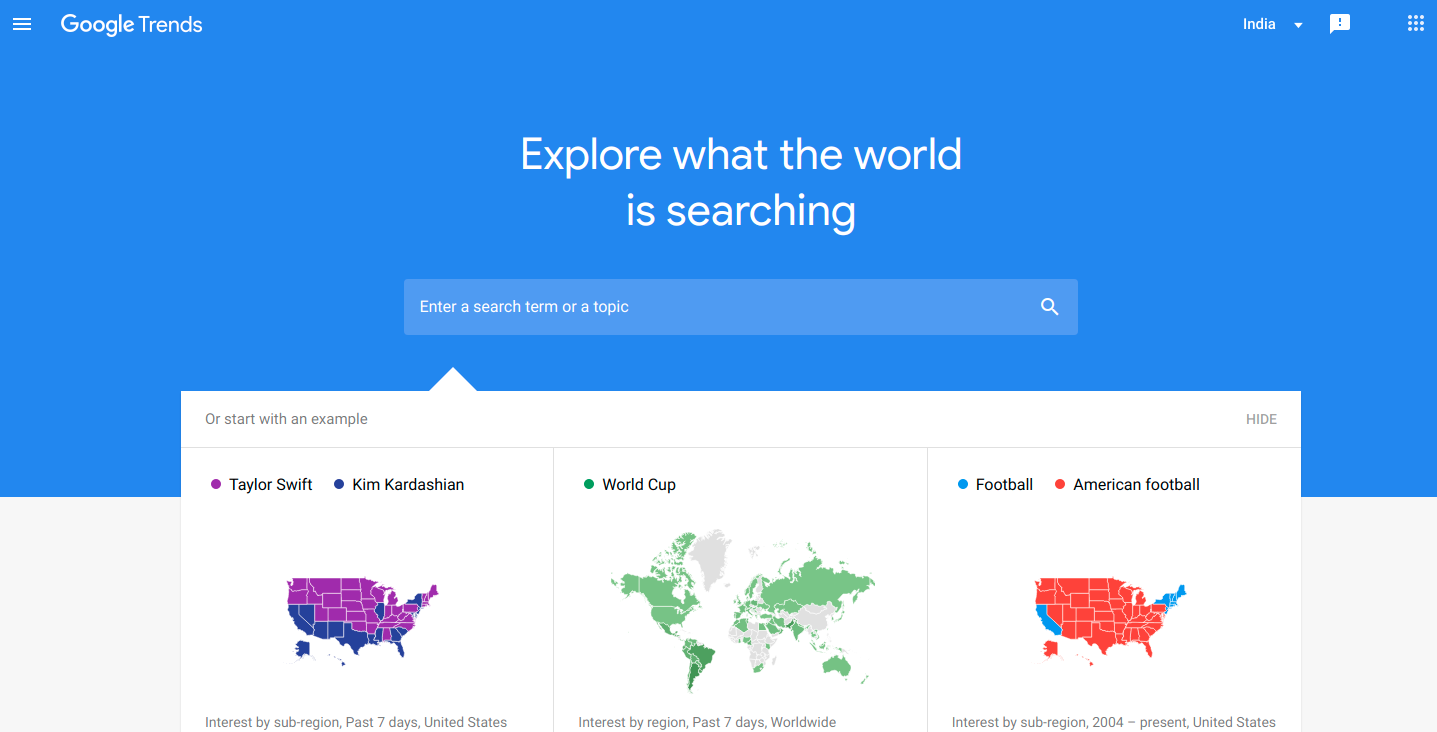 Features:
1. SEO Audit- It is a completely mobile friendly website tester that helps you to monitor your performance and track changes in your website.
2. SEO Content Strategy- You have to make the target audience stay on your site. To achieve this, it offers a mobile-friendly tool to optimize your content.
3. Link Building- Provides mobile SEO tools for backlinks to your website which further enhances the rankings.
4. Keyword Research- Keywords play a vital role in ranking your website. Having the best keywords can easily drive traffic to your website.
Pricing:
1. It is free of cost tool provided by Google
Ubersuggest
This Mobile Friendly Tool offers you insights that help in making strategies rank higher.
It also helps you know your competitor analysis, so that you can adopt them and make improvements to your website easily on your smartphones.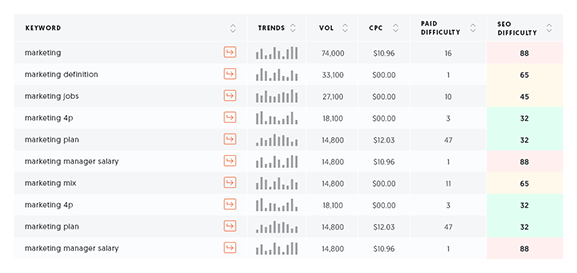 Features:
1. Keyword Research- Helps in keyword suggestions to make things easier for you to know what is working for your competitors and what the audience is asking for.
2. Content Strategy-  Provides you with content ideas to make your content more attractive and easy to scan while reading on your smartphone.
Pricing:
1. It a gives 7-day free trial for all businesses.
2. The individual plan starts at $12/month for entrepreneurs and small businesses with 1 website.
3. The business plan starts at $20/month for small and medium businesses with 4-7 websites.
4. The enterprise or Agency plan starts at  $40/month for large businesses and agencies with 8+ websites.
SEMrush
SEMrush helps marketers and publishers optimize their websites for discovery by consumers using popular search engines like Google, Bing, and Yahoo.
SEMrush is a solid tool to track the overall performance of your website.
Features:
1. Keyword Research- Bring organic traffic to your site with rights keywords
2. On-Page SEO- Provide innovative ideas to improve a site's SEO performance
3. Competitor Analysis- Analyzes competitors' performance and drive traffic with suitable improvements.
4. Rank Tracking- Regularly keeps track of your target keywords.
5. Link Building- Finds opportunities to develop the backlinks of your website.
6. Content Optimization- Create search-friendly content to drive more traffic to your website.
Pricing:
1. You can get a 7-day free trial with all the toolkits.
2. Pro- $119.95/month ( includes SEO, social, and PPC Tools).
3. Guru- $229.95/month ( includes all Pro features like Content Marketing Toolkit, Historical data, and, much more).
4. Business – $449.95/month (includes all Guru features like the share of voice, free migration from third-party tools, and much more).
Ahrefs SERP Checker
Ahrefs SERP Checker is one the best mobile SEO tools that give you accurate search results for any keyword.
It identifies the top 10 search results for that particular keyword.
Also, it uncovers how your competitors may have achieved the top ranks by reflecting their insights.
Features:
1. Evaluates Ranking Difficulty- Ahrefs Rank checker tools help you find links of your competitors that are ranking on the top list.
2. Analyze Search Traffic- Once you get to know that which pages are getting the most traffic on SERPs, you can analyze and implement them for improvements
3. Keyword Research- With this tool, learn which keywords are being searched by the audience, and know which keywords your competitors are using.
Pricing:
1. $99/month (Lite) Essential data for small eCommerce platforms
2. $199/month (Standard) perfect SEO for professionals.
3. $399/month (Advance) Indispensable tools and data allowance as business scales.
4. $999/month (Enterprise) is ideal for big agencies and enterprises.
Check My Links
Check My Links is a link checker tool that crawls through your website and finds out broken links.
It is an extension used by developers and content editors.
When you are designing a website with a lot of links…
Simply, with the help of this tool can easily find all the links and check whether they are working properly or not.
Also, you can copy all the bad links with just one click.
Features:
1. Find Direct and Replace- you can easily find the broken links of any blog and replace the broken link with the correct site link.
Also, you can help other websites to make required replacements in their content.
Pricing
1. As it is an extension provided by Google, it is free of cost.
Conclusion
There are more SEO Tools than just these 13 that have been discussed.
Making use of these mobile website optimization tools makes your task easy to build a well-constructed SEO website.
As most of them are free of cost which makes them even easier to use.
But the bottom line is this:
We have to deal with real people and not the algorithm of Google.
So, to make your website attractive and appealing to drive organic traffic with suitable keywords to stand out from your competitors…
You must use these SEO tools and have mobile optimization check to make improvements to your website.
FAQ's
1.What is mobile optimization?
Mobile optimization is ensuring that your content is fully optimized with suitable adjustments so that when the visitors see your content they should not face any difficulty getting what is there in your content.
2.What are the characteristics of mobile SEO?
The main characteristics of Mobile SEO are:
I. Page speed- loading time of content and pages.
II. Page size- data consumption on limited internet plans
III. User Experience – navigating, viewing, and much more.
IV. Fidelity- similarity of the desktop version in terms of features and content.Why is SEO important for small businesses?
3. Why is SEO important for small businesses?
SEO is important for every business whether it is small or an agency.
One can make his/her website optimized to grow the organic traffic and make revenues.
4. What is a mobile Optimised website?
A website that can be easily used on any smartphone is known as a mobile Optimized website.
5. How do I make mobile-friendly content?
Think like if you are a visitor to a website, you will go through what is written if the content is catchy and well constructed with images. This is how you can manage your content with easy reading content, short and catchy titles, images, and simple words.